The Best Ammo Safes
Written By
Michael Crites
Licensed Concealed Carry Holder
Reviewed by
Editorial Team
Learn About The Editorial Team
Share:
Products are selected by our editors. We may earn a commission on purchases from a link. How we select gear.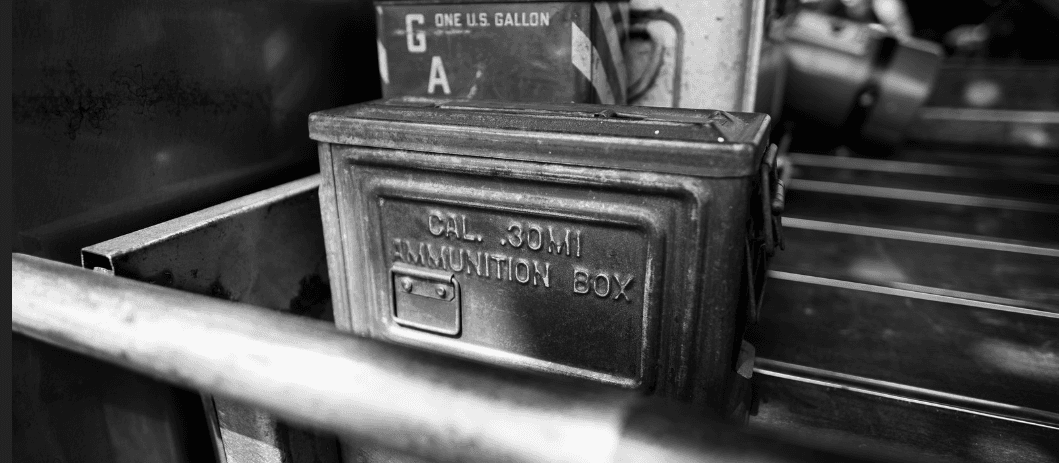 After researching every variety of ammo safe from the major manufacturers and Amazon, testing more than a dozen, including testing room for loose ammo, ammunition boxes, handguns, and a few firearm accessories, we recommend the SentrySafe SFW123GDC Fireproof/Waterproof Safe as the best ammo safe you can get for your home or office.
Below is my list of the best ammo safes. I list the best choices in terms of value, performance, design, and cost.
Click on the name to head to the product page, read reviews and check prices or skip ahead to the list of ammo safes.
| Name | Selection | Lock Type | Price |
| --- | --- | --- | --- |
| | Best Overall | Keypad | $299 |
| | Best Budget Ammo Safe | Keypad | $103 |
| | Best Ammo Cabinet | Keyed | $89 |
| | Best Budget Ammo Cabinet | Keyed | $79 |
| | Best Biometric | Bio Fingerprint | $270 |
| | Best Ammo Box | Non-Locking | $33 |
| | Best Hidden/Wall Safe | Bio Fingerprint | $269 |
1. Best Overall: SentrySafe SWE123GDC Fireproof Safe
The SentrySafe SFW123GDC Fireproof/Waterproof Safe is independently verified by the safety organization UL to store and protect your ammo and other items during a fire, with fire protection for up to a full hour with heat up to 1,700 °F.
Specifications:
Dimensions (H x W x D): 17.8″ x 16.3″ x 19.3″
Weight: 87 pounds
UL fire rating: 1 hour at 1,700 °F
What we liked:
UL rated fire resistant
Water-resistant
Sturdy & heavy
Interior light & locking drawer
Quad locking bars
What we didn't:
Handle is plastic, which will melt in a fire
SentrySafe also rates the SFW123GDC as waterproof when submerged in up to 8" of water for 24 hours.
At 1.23 cubic feet of storage, it easily met our minimum size threshold for effective ammunition storage (we wanted at least 1 square foot of storage), which is large enough to 2,000+ rounds of ammo, a few accessories, and a gun count of 1-2 handguns.
Drop rated as well
The additional protection also comes in the form of 15 foot ETL Verified drop protection.
This means that if the safe is on the second floor and it burns through in a fire, the safe is verified to maintain its integrity even if it falls through the floor. The perma shelves should stay put even with the jolt of falling from one floor to the other.
Heavy & feature-rich
These features make the SentrySafe more than worth the price – as it's one of the most expensive of our safe recommendations.
That said, the SFW123GDC is a quality product – it's noticeably heavier than many other safes of similar capacities—it weighs 87 pounds—and takes up about the same amount of floor space as a large mini-fridge.
It also offers nice safe-level features like a solid steel construction, no external hinges, a pry-resistant hinge bar, locking drawer, interior light, 4 locking bolts, and bolt down hardware, and back-up physical key lock.
We liked it enough to consider it a decent gun safe as well.
In our opinion, the extra weight coupled with the fire and water-resistant features make it well worth it because it maximizes the chance your items will survive a disaster or determined thief.
2. Best Budget Ammo Safe: AmazonBasics Home Keypad Safe
The AmazonBasics Home Keypad Safe is the best option if you're limited to $100 or less on an ammo safe, don't have a need for a biometric entry, and aren't interested in a UL rating for fire resistance.
Specifications:
Dimensions (H x W x D): 16.5″ x 13.5″ x 13″
Weight: 37 pounds
UL fireproof rating: None
What we liked:
Surprising amount of storage capacity
Solidly heavy
The keyed lock is consistent and kid-safe
Price
What we didn't:
Keyed entry only means no quick access
Not UL rated for fire or water
Dual locking bars are small
Lots of storage space for little investment
Its main advantage beyond price is it packs a lot of storage space into a small package – giving you 1.5 cubic feet of storage in a smaller package than our top recommendation, the SentrySafe. you have limited floor space. It's also considerably lighter than the SentrySafe at just 37 pounds, making it easier to move if necessary.
We also like that it has all the same entry mechanisms as our top pick (both a digital keypad and physical key) so you're not sacrificing entry options with this choice.
3. Best Ammo Cabinet: Stack-On GCB-900 Ammo Cabinet
If you need to store ammo securely, are looking for the simplest storage option (a basic key lock ammo cabinet) and don't want to spend more than $100, the Stack-On GCB-900 Steel Ammo Cabinet is a good choice.
Specifications:
Dimensions (H x W x D): 10″ x 18″ x 21″
Weight: 25 pounds
UL fire rating: None
What we liked:
Price
Easy to use
Sturdy
Wall & floor mountable
What we didn't:
Not a safe
Light enough to be carried off
Not quick access capabilities
Plenty of storage & features
It's no rifle cabinet at 1.8 cubic-foot capacity. Still, it's the larger version of our runner-up ammo storage cabinet pick (also a Stock-On – the smaller GCB-500 cabinet) and designed to hold ammo, handguns, optics, grip replacements, spare magazines, and accessories safely.
We liked how it has two separate internal shelves, which create three different compartments. Most safes in this size range have a single shelf and two compartments, so the additional compartment helps with organization.
Flaws worth noting
It lacks the kinds of features you'd find with an actual gun safe – things like a UL fireproof rating, locking door bolts, a digital keypad, & thinker, more durable exterior steel construction.
Compared with the SentrySafe, it is not rated for any length of time in a fire, but it's still an easy way to safely keep your ammunition and associated firearms safe from prying eyes.
It's also much lighter than a proper safe at 25 pounds—making it easier to move around—and less considerably expensive.
4. Best Budget Ammo Cabinet: Stack-On GCB-500 Ammo Cabinet
The smaller sibling to our top ammo storage cabinet recommendation, the Stack-On GCB-500 is smaller, lighter, and less expensive.
If you're looking for the minimum possible investment for storing ammunition safely the GCB-500 offers the best mix of purpose-driven ammo cabinet design and budget-friendliness.
Specifications:
Dimensions (H x W x D) 15″ x 17″ x 10″
Weight: 20 pounds
UL fire rating: None
What we liked:
What we didn't:
Not a safe
Light enough to be carried off
Not quick access capabilities
This safe is the same depth as the GCB-900, but 4 inches narrower and 3 inches shorter, so if you have limited space available and want a key lock entry, this could also be a solid choice.
Due to the GCB-500's shorter stature, this cabinet has just a single shelf, and 2 compartments – but for less than $70 it's really the lowest possible bar to a quality ammo cabinet.
5. Best Biometric: BARSKA Biometric Safe
The BARSKA Large Biometric Safe is a good alternative if you really want the speed of biometric access (or our top pick is out of stock).
Specifications:
Dimensions (H x W x D): 20″ x 14″ x 13.5″
Weight: 44 pounds
UL fireproof rating: None
What we liked:
Biometric entry mechanism
Larger internal storage space
Heavy & secure
Triple locking bars
What we didn't:
The biometric entry makes access quick & easy.
The biometric entry is great if you're like us and seem to be great at losing keys – plus, it's the best option of child-safety is a top concern as the fingerprint reader is basically foolproof and programmable with multiple fingerprints so that you can provide access to a trusted loved one.
It was also the second-heaviest safe we tested, at 44 pounds, so it's certainly not something most folks would run off with.
Not cheap but worth the investment
It's not going to be helpful if you are on a tighter budget (it generally retails for as much if not more than our top pick), but if you have less floor space, the BARSKA might be one to consider as it's slightly smaller than the SentrySafe in terms of footprint.
Not UL rated but sturdy & well-made
The BARSKA is not UL certified like our main pick, the SentrySafe, so given the price, that might matter to some buyers. It is also not waterproof, but even if it doesn't survive a flood, the safe should at least keep out moisture from basements or other damp areas.
6. Best Ammo Box: MTM ACR5 Ammo Crate
If you're less concerned about security and fancy features like biometric entry mechanisms and are more interested in straightforward ammo storage that's easy to move around, check out the MTM ACR5 Ammo Crate.
It's designed to store ammo safely and has a stackable design that allows you to compartmentalize your ammunition by whatever criteria make sense.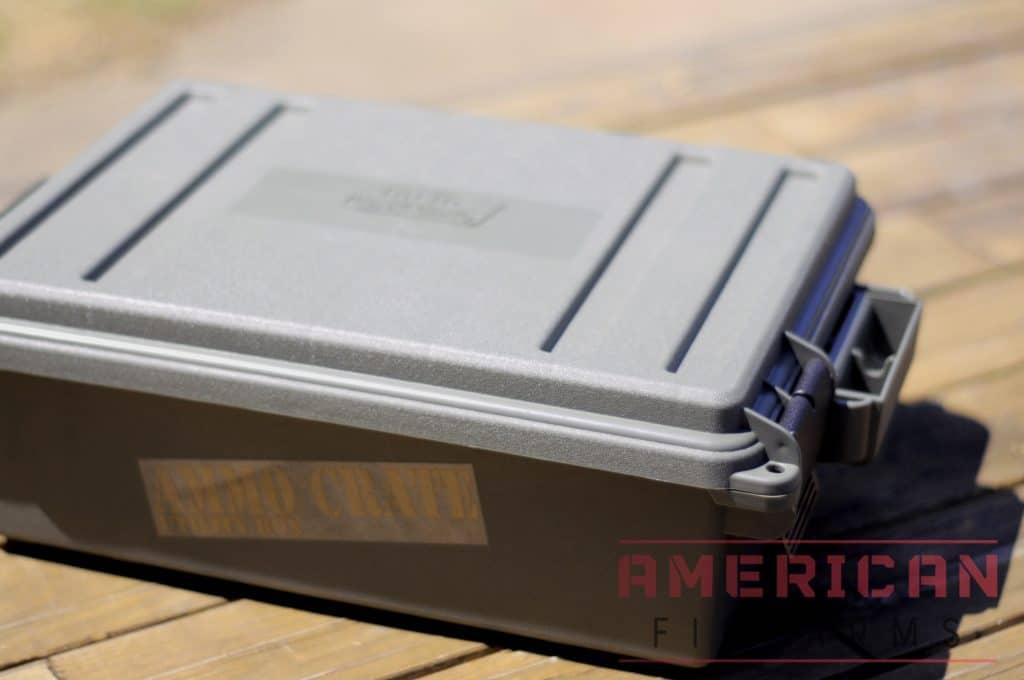 The MTM Case is about as simple as it gets when it comes to ammo storage.
Specifications:
Dimensions (H x W x D) 5.25″ x 19″ x 15.75″
Weight: 2 pounds
UL fireproof rating: None
What we liked:
Easy to move & stack
Room for ammo, survival, & more
Security features
Water-resistant
What we didn't:
Not going to survive a fire
Will break if thrown around when loaded
Thousands of rounds of ammo in one box
In our tests, each crate accommodated about 2,000 rounds of 7.62 ammo – so you should be able to get 2,500 rounds of rimfire ammo, and possibly less with larger bore rounds.
Designed for mobility
The crates have 2 side handles that make moving them around easy – even when loaded with ammo and gear.
They also have a water-resistant rubber gasket that runs the lip of the crate, while not submersible, will keep things dry in a variety of environments, so storing ammo in one, dry goods in another, and survival-oriented stuff in a 3rd crate makes for mobile survival unit that's stable and convenient.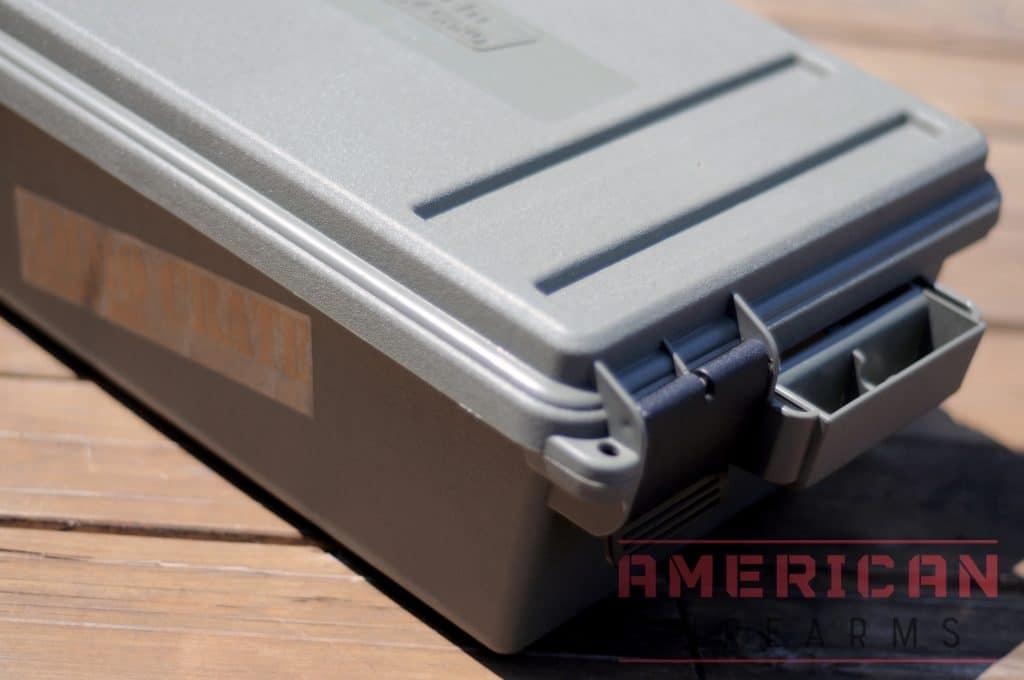 The MTM Case's lock tabs & carry handle.
Subtle safety features
Even if it doesn't have an actual locking mechanism, the ACR5 isn't devoid of safety/security features. There are padlock tabs on either side of the crate body so that you can lock them up securely (even though the polypropylene wouldn't take much to get through with a hacksaw).
There are also 4 tie-down points to cinch the box to your truck or motorcycle and keep in place for travel.
Priced right
The best part is the price – they're about $15 each—a fantastic price for something so durable and purpose-built for ammo containment.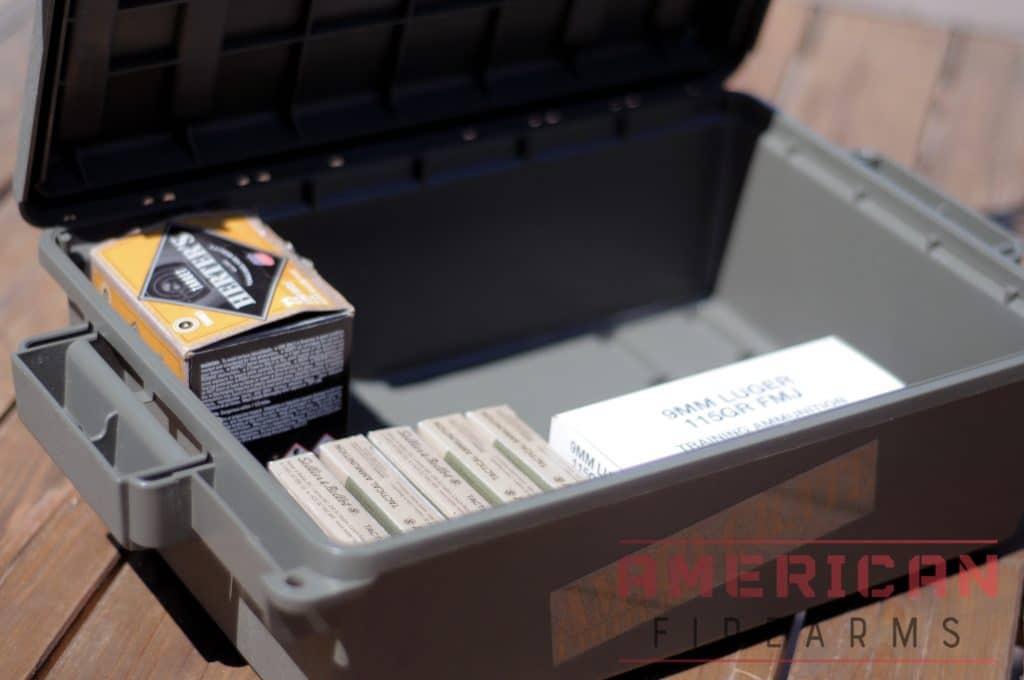 Room for more!
7. Best Hidden/Wall Safe: Viking Security Biometric Wall Safe
Specifications:
Dimensions (H x W x D): 19" x 14" x 4"
Weight: 37 pounds
UL fireproof rating: None
What we liked:
Easy to install
Deep enough for effective storage
Quick access biometric sensor
Interior LED light
What we didn't:
Some reports of burning through batteries
Can experience QC issues
Packaging may be insufficient to prevent dings in shipment
If you're interested in concealing your ammo & smaller firearms with a wall-mounted safe, we recommend the Viking Security Safe VS-52BLX. It's designed to fit snugly between wall studs and offers a biometric scanner for quick access to its contents. It also offers a digital keypad and physical key with multiple entry mechanisms.
We liked the Viking Security Safe, in addition to the biometric scanner, the 3.5" internal depth. Most wall-mounted safes offer less than 3" of depth, which can make storing boxes of ammo or handguns difficult. The VS-52BLX is deeper than other small safes, which opens up lots of storage options.
We also appreciated the range of features this safe offered for the price – an interior LED light, 3 separate shelves and 4 compartments, a carpeted interior to prevent dings, and key hooks on the door – a natural spot for backup keys.
It doesn't fit 100% flush to the wall, but the small bulge from the fingerprint reader is more than worth the speed of entry and additional room for storage.
Many firearm owners, especially when ammo is expensive, tend to buy ammunition in bulk — doubly when we can find it reasonably priced. That often leads to multiple boxes, even cases, of several kinds of ammo.
When you have a lot of ammunition sitting around, it's essential to keep it all organized in a safe or storage cabinet. That's one of the main reasons that I like ammunition safes: they help me keep track of the various kinds of ammunition that I have on hand, store it all in one place, and provide peace of mind. Dedicated gun safes often have small shelves or spaces for little items, but these are often insufficient for storing the amount of ammunition gun owners are likely to have on hand. A dedicated ammo or gun safe gives you the right amount of secure storage space.
Second, storing ammunition is a matter of safety in two regards. If someone gets their hands on a firearm without permission, limiting their access to ammunition can prevent something awful from happening, which is the primary obligation of responsible gun owners. Storing guns in a gun safe separate from ammo is a good standard practice. Second, ammunition is reasonably sturdy but can degrade over time, especially when exposed to the elements.
Locking up your ammo in a safe can keep it fresher for longer so that when you go to fire it, the ammo functions without incident. Also, with ammo as expensive as it is these days, locking it up also secures a costly asset of yours.
Types of Ammunition Safes
Plastic Crates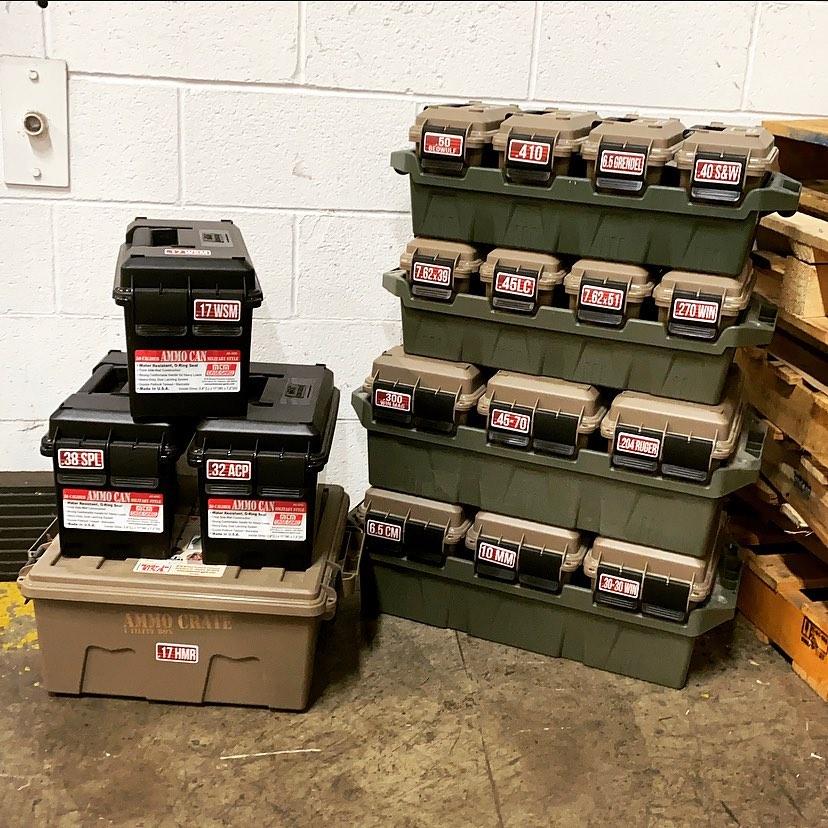 Ammo crates are inexpensive, stack easy, and travel well.
The cheapest and most straightforward ammunition safe is a plastic tub, crate, or box. While these are not the most secure way to store ammunition, they're affordable and effective. These are awesome for people on a budget, those concerned about humidity getting to ammunition or moving ammo to and from the range in something portable. The premium models in this category usually have carry handles and a padlock tab so you can secure your ammunition and prevent unwanted entry. The mobility of these makes them an attractive choice.
Metal Lockboxes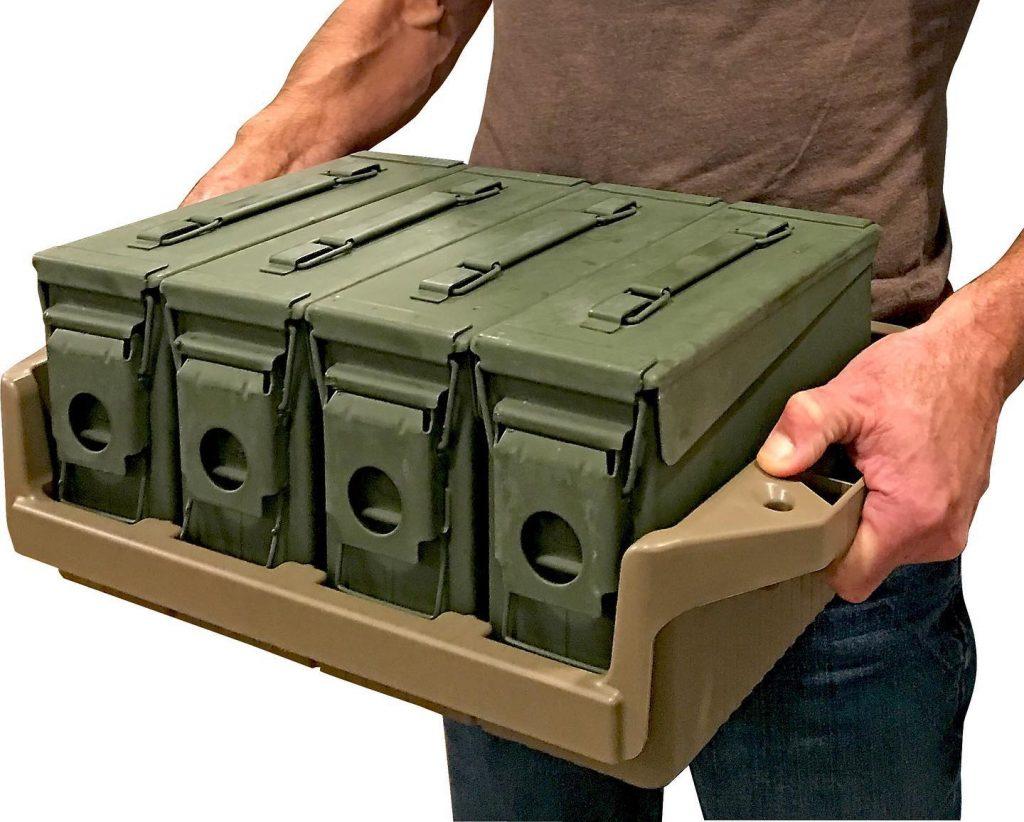 Who doesn't love the classic ammo box?
A bit of an upgrade along the lines of the same idea, there are also metal lockboxes that are relatively portable. These, again, are not particularly secure in that they're designed to be portable, but many people rig up a more permanent solution.
When they were cheap, many people used surplus machine gun ammunition boxes, simply writing on their sides to indicate which kind of ammo was in the box now. This solution still works today, but the days of free ammo cans are likely over.
Standalone Safes
Getting more into safes proper, people use home security or floor safes to secure ammunition. These benefit from being much more secure than either a plastic or metal box and generally come with some kind of combination lock pre-installed into the safe door. Their weight and security make them a go-to choice for people concerned with storing expensive items in some level of fire protection. These safes have the downside of being a bit of a pain to move from place to place — for example, if you decide to move out of your current living arrangement or move your collection to another room in your home.
Wall Safes
Finally, there are wall safes for those concerned about security and subtlety. These often have less storage than a floor safe and are immobile for all intents and purposes, being permanently installed into a wall. Wall safes are an excellent option for people who want to store their ammunition out of sight and out of mind.
Generally, a wall safe will be pretty shallow as it has to fit into a wall, so these are mainly for folks who don't have a large volume of ammunition to store but want to do so without others knowing where it is.
Important Ammunition Safe Features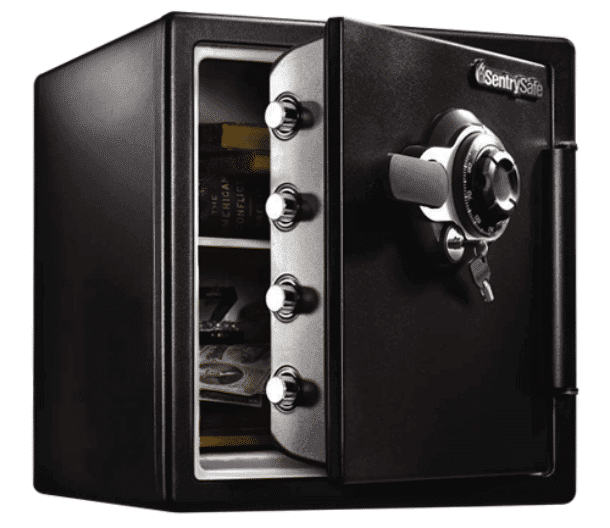 The 4 locking bars in this SentrySafe model give you a sense of how secure it will be.
Portability vs. Security. The first thing I think about when buying an ammunition safe is whether or not I need it to be portable. If I want to take ammunition from place to place without removing it from the storage vessel, then either a plastic or metal lockbox will be the way to go. On the other hand, if I need more stable permanent storage, then a floor or wall safe will be the way to go. Sure, a lockbox is not as secure, but they are an excellent way to organize ammo and keep things portable.
Storage Needs. Second, think about the amount of ammunition that you have to store. Lockboxes are the cheapest way to store things, usually followed by home safes and floor safes in terms of price versus storage space. Generally, wall safes can hold a lot less stuff than the options that don't have to go into a wall, but they can be great for people who need to store a little bit of stuff in a place that's out of the way. It's pretty standard for people to combine a few different methods to meet their storage needs.
Locking Mechanism. Third, the kind of locking mechanism, the level of security they provide, and your preferred mechanism are worth considering. If, for instance, you live by yourself and a break-in is not a genuine concern, then a simple plastic box may be an excellent option. If things are a little less secure where you are — either you have children running around or crime is a concern — then something with a combination lock might be well worth considering. Higher-end safes may also offer biometric locks: these often use batteries and are decidedly reliable, but a physical, mechanical lock is always a safe bet.
Material. Lastly, the material choice does matter a fair bit here. Plastic boxes are the lightest, making them easier to transport than heavier options, but plastic is also easier to break into. Metal boxes usually consist of a single layer of steel between 18 and 14 gauge. On the higher end, and most heavy, are safes with multiple layers of coated steel and are often filled with concrete inside the walls, which adds security, peace of mind,  and potential fire and water resistance. Heavy-duty safes are the most secure, often with multiple, thick locking bars, but these behemoths can be tough to move, which is something to consider if you're not in a final permanent living situation.
Under $50. For under $50, it's often possible to get stackable, plastic lockboxes suitable for storing ammunition. At this price range, you'll get organized but will have almost certainly to provide a lock of some kind.
$50-$100. At a little less than $100, you can get metal locking boxes that have physical, keyed locks or some of the smaller home safes.
$100-$300. Around the $300 mark, it is possible to get either a floor safe or some of the entry-level wall safes. These will have mechanical locks or some lower-end biometric locks.
$1,000 and above. You can spend well into the several thousands of dollars for a floor or wall safe. The more you spend, the higher quality, more feature-rich final product you will get. At some point, biometric locks will come somewhat standard, as will increasing size and compartments on the inside.
As you can see, there are many options for storing ammunition at varying price points. Depending on what you need and want to do in terms of portability, size, and features, it's possible to spend as little as the cost of a dinner out or as much as your first car for a storage solution for your ammunition. Whatever you pick, thinking it through beforehand will save you a lot of time and headaches later.
SentrySafe SFW123GDC Fireproof/Waterproof SafeWe loved that it's independently verified by UL for up to a full hour with heat up to 1,700 °F. It touched on all the important criteria for an ammo safe:
Quality build
Reliable entry systems
Multiple entry mechanisms
There are quite a few options out in this category of gun safes, but we hope this article steers you in the right direction. If you have any questions or feedback please drop us a line. If you're in the market for a gun safe – check out our guide to the best gun safes, bedside gun safes, and gun safes under $500.

March 15, 2023 — We've updated information for each ammo safe in our guide to ensure everything is up to date, and we've links and images where appropriate.
Sign up for our newsletter
Get discounts from top brands and our latest reviews!