The Best AR-15 Mag Releases
Written By
Michael Crites
Licensed Concealed Carry Holder
Reviewed by
Editorial Team
Learn About The Editorial Team
Share:
Products are selected by our editors. We may earn a commission on purchases from a link. How we select gear.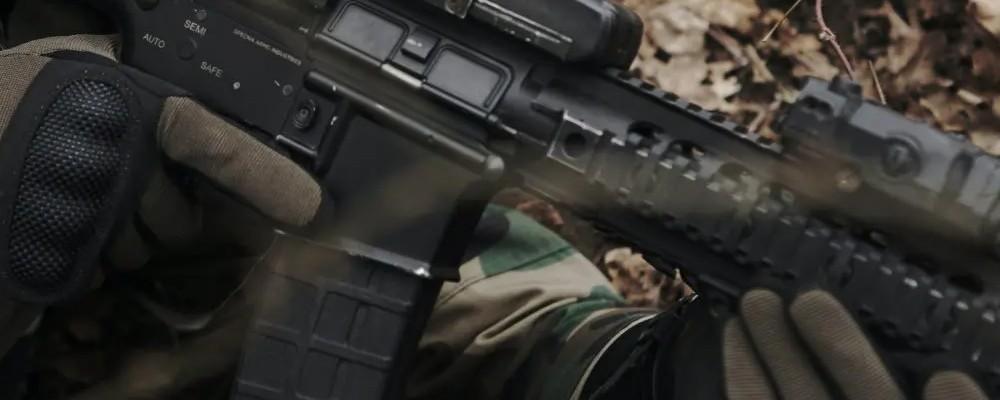 The best AR-15 mag release is one that allows you to activate the magazine release quickly, consistently, and improves the overall functionality of your rifle.
When it comes to effective use of a firearm few things are as critical as comfortably and quickly swapping magazines.
It's amazing how many times you'll touch a magazine release when using your rifle – they're a lot like light switches in your house – you use them every time you pick up your firearm. The mag release is a vital part of your rifle, which is why many shooters upgrade this component to make mag swaps faster and easier.
One of the things that make AR-15s such incredible firearms is that almost every part of them can be customized, upgraded, or otherwise changed, and the mag release is no different.
With so many options available, it may be hard to know what style you want or what would work best for you. In order to help make the decision easier, we've pulled together a list of our favorite AR-15 magazine releases, outlining the perks and important considerations for you. This article is part of our ongoing Guide to Everything AR.
AR-15 Mag Release Comparison
Below is my list of the best AR mag releases. I list the best choices in terms of value, performance, design, and cost.
Click on the name to head to the product page, read reviews and check prices or skip ahead to the list of mag releases.
| Mag Release | Selection | Price |
| --- | --- | --- |
| | Best Overall | $34 |
| | Runner-Up | $21 |
| | Best Extended Release | $20 |
| | Also Great | $20 |
1. Strike Industries Ambi Mag Release
If you want to upgrade your mag release to an ambidextrous option it's hard to go wrong with Strike Industries Magazine Release.
Designed to drop into any receiver which accepts a mil-spec magazine catch, this enhanced magazine release features a low-profile, ergonomic design and an improved release button that'll make it easier to release your mags – even if you're wrong-handed.
The uniquely-designed magazine release button serves double duty, as it provides a more tactile feel to aid speedy releases and makes the release less prone to accidental activation and control interference. It's not an extended release, so it won't help much if you're struggling to hit the factory release button, but paired with the included spring is a quick and easy drop-in upgrade – plus the release comes in multiple colors if you're coloring outside the lines.
What We Liked
Ambidextrous magazine release
Drop-in simple
Available in multiple colors
Quality anodized coating & high quality materials
What We Didn't Like
More expensive than other options
Not an extended magazine release
2. MFT E-VOLV AR Extended Mag Release
This simple mag release is easy to install yourself with just 2 allen screws and a straightforward 2-piece design. You'll increase the size of the release contact area, allowing you to quickly swap out your magazine and speed changes.
The EFT E-Volv is mil-spec anodized aluminum, so it's durable but can certainly be stripped out with over-tightening, so be mindful of that with installation.
What We Liked
Easily installed
Large contact surface for positive activation
Mil-spec anodized aluminum
What We Didn't Like
Screws are easily overtightened
3. Armaspec B1 Extended Mag Release
If you struggle to activate your mag release consistently the Armaspec B1 Extended Mag Release will help. It's engineered to extend the length of the activation button, making it easier to reach the release without adjusting grip or hand position.
In addition to the improved functionality the Armaspec B1 is available in 5 colors making it  customization-friendly.
What We Liked
Increases surface area and eases release activation
Complete package includes Allen wrench
Compatible with 5.56/.223 and 7.62/.308 receivers
What We Didn't Like
Can chance pressure-point location for mag release
Requires some break-in
4. Odin Works Extended Mag Release Gen II
If you're looking for a billet extended mag release with some flair, take a look at the Odin Works Extended Mag Release Gen II. This release comes in 6 colors so you can coordinate it with the rest of your custom AR-15 accessories and it installs in minutes. The XMR 2 is considerably larger than mil spec buttons, making it easily accessible and speeding mag drops, plus the button contouring both looks sharp and helps reduce slip.
What We Liked
Easy to reach
Ergonomic design
Contoured for added grip
What We Didn't Like
 Will not work with anti-walk pins
What is an AR Magazine Release?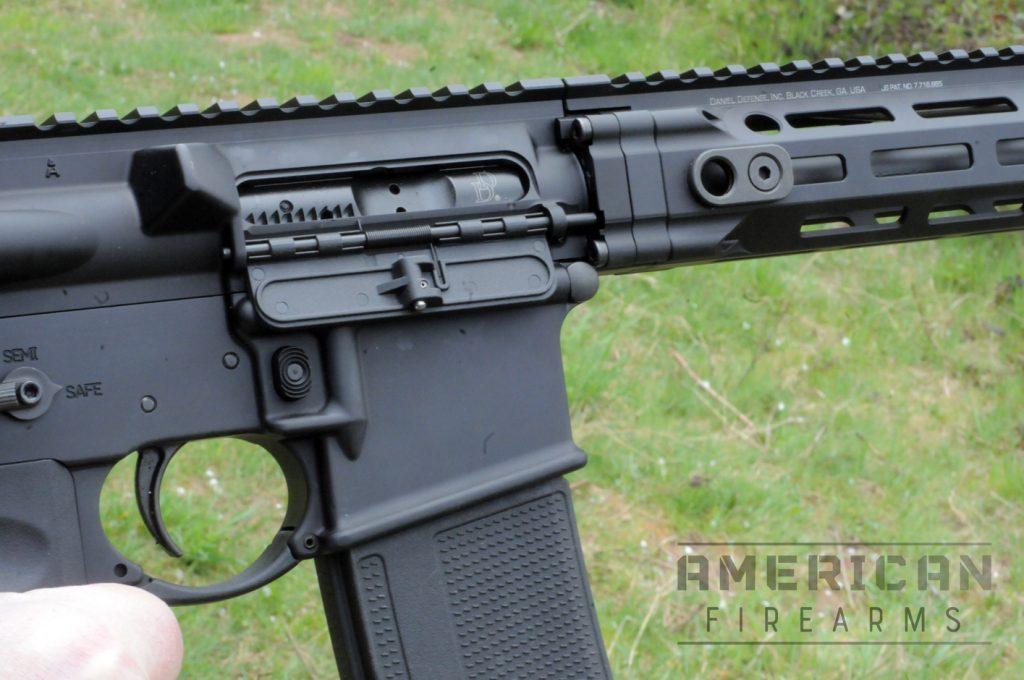 The mag release on my DDM4 isn't ambi, but with one of the below releases I could certainly make it so!
A mag release does exactly what it sounds like – it releases the installed magazine from your rifle, allowing you to drop your empty and swap it with a full magazine. Not all rifles have a release that is easy to use or ambidextrous and some people prefer a lever over a button or vice versa.
Whether you are having difficulty reaching the release, it's clumsy to use, or you simply don't like the plain-looking stock button-style release, customizing your mag release will do a lot to upgrade the feel of operating your AR, and they're a relatively inexpensive upgrade that makes an outsized tactile impact.
As the name would suggest, an AR-15 magazine release is a lever or button used to release the magazine from your AR-15 rifle. For most people the stock mil-spec release on their firearm does the job, but as with all things AR-related, the fun is in making it your own.
There are a few different styles of magazine releases that you can choose from. There is no "best style" – they each have their benefits, and what feels right is largely subjective.
When on the look-out for your new mag release, consider what you dislike about your current release set-up. Maybe you need a larger button that's easier to reach, you want to coordinate the color of the release with other components, or maybe you need something that works just as well for left and right-handed folks. Whatever your needs are, there is an upgraded release out there for you.
What to look for in a AR-15 Magazine Release
For most people, customizing their AR-15 is half the fun of owning it. Whether you're putting together a custom AR build or simply updating a few components as you go, there are a ton of benefits to swapping out your magazine release:
Faster Mag Changes
One of the biggest reasons to replace a factory mag release is to increase the speed with which you can swap magazines.
No one wants to be fumbling with their mag release when they need to move quickly – be it in a competition or real-world situation.
A quality mag release will make swaps more reliable and faster all around. Look for buttons that offer better tactile engagement, unique designs, or higher quality materials.
Ease of Use
It's essential that your rifle is easy to use, but no two pairs of hands are the same. Upgrading your magazine release can create a larger contact area, making it easier to reach without taking your hands out of position, regardless if your mitts are an XS or XL.
Durability
While the stock release on your rifle will certainly work and can last for years, chances are – like all wear parts – it will eventually need to be replaced.
Upgraded magazines and releases give you an opportunity to select products that are engineered beyond mil-spec – meaning they'll last longer and perform better than those Uncle Sam-approved units.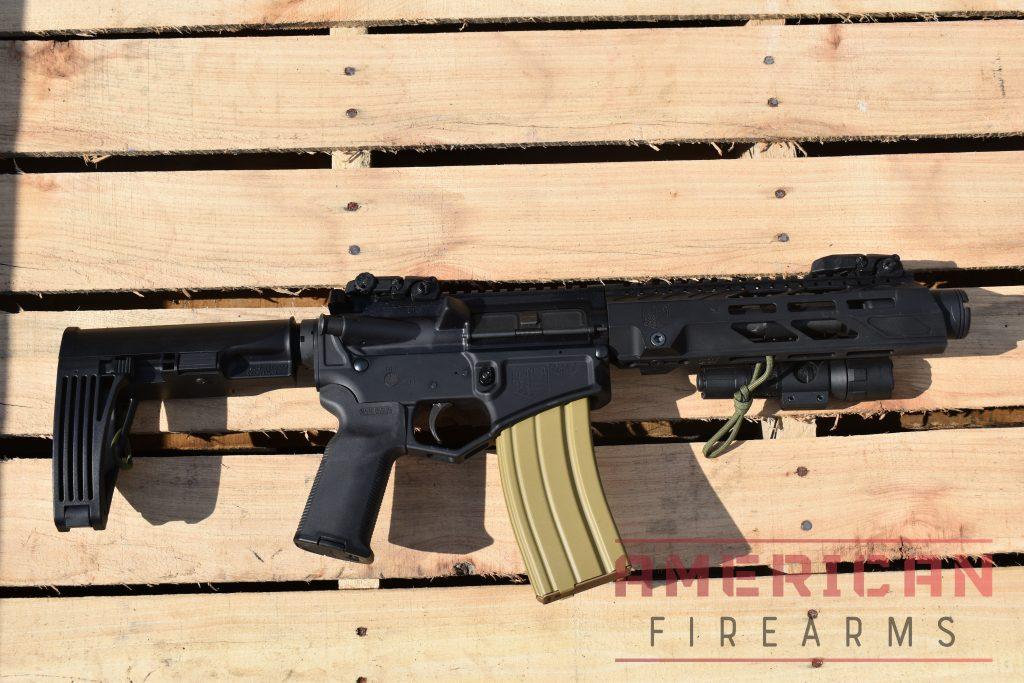 My DM15 Pistol is ready for a new ambi release.
No one wants to waste their money on something that won't last or doesn't perform, but getting something as subjective as the feel of a magazine release right can be a matter of trial and error.
That said, our top choice is the Strike Industries Ambi Mag Release, which offers a lot to like in a single package – impressively engineered low profile button design, ambi orientation, and customizable color options.

March 15, 2023 — After careful reexamination of this guide, we stand by our present AR mag release recommendations. We've added and updated images and links where appropriate.
Sign up for our newsletter
Get discounts from top brands and our latest reviews!