The Best Backup Iron Sights (BUIS)
Written By
Michael Crites
Licensed Concealed Carry Holder
Reviewed by
Editorial Team
Learn About The Editorial Team
Share:
Products are selected by our editors. We may earn a commission on purchases from a link. How we select gear.
For most of us, our rifles are only as effective as our optics. But if your optics are powered by batteries, as are all red dot and other electrical sights, then those batteries will eventually run dry (often at the worst time) leaving you without any sights whatsoever.
Backup iron sights, or BUIS, are a great alternative to using another electrical optic. These sights will never fail you because of lack of power and can often be sprung up or engaged only when necessary.
They're also great additions for rifles that would otherwise only use long-distance optics, like scopes, as those won't offer you any kind of fixed sight.
Today, let's break down the best backup iron sights on the market. This article is part of our ongoing Guide to Everything AR.
| Name | Selection | Price |
| --- | --- | --- |
| | Best Overall | $82 |
| | Budget Option | $39.99 |
| | Also Great | $32.99 |
| | Honorable Mention | $39.99 |
| | Best Offsets | $169 |
1. Best Overall: Magpul MBUS Pro Flip-Up Sight Set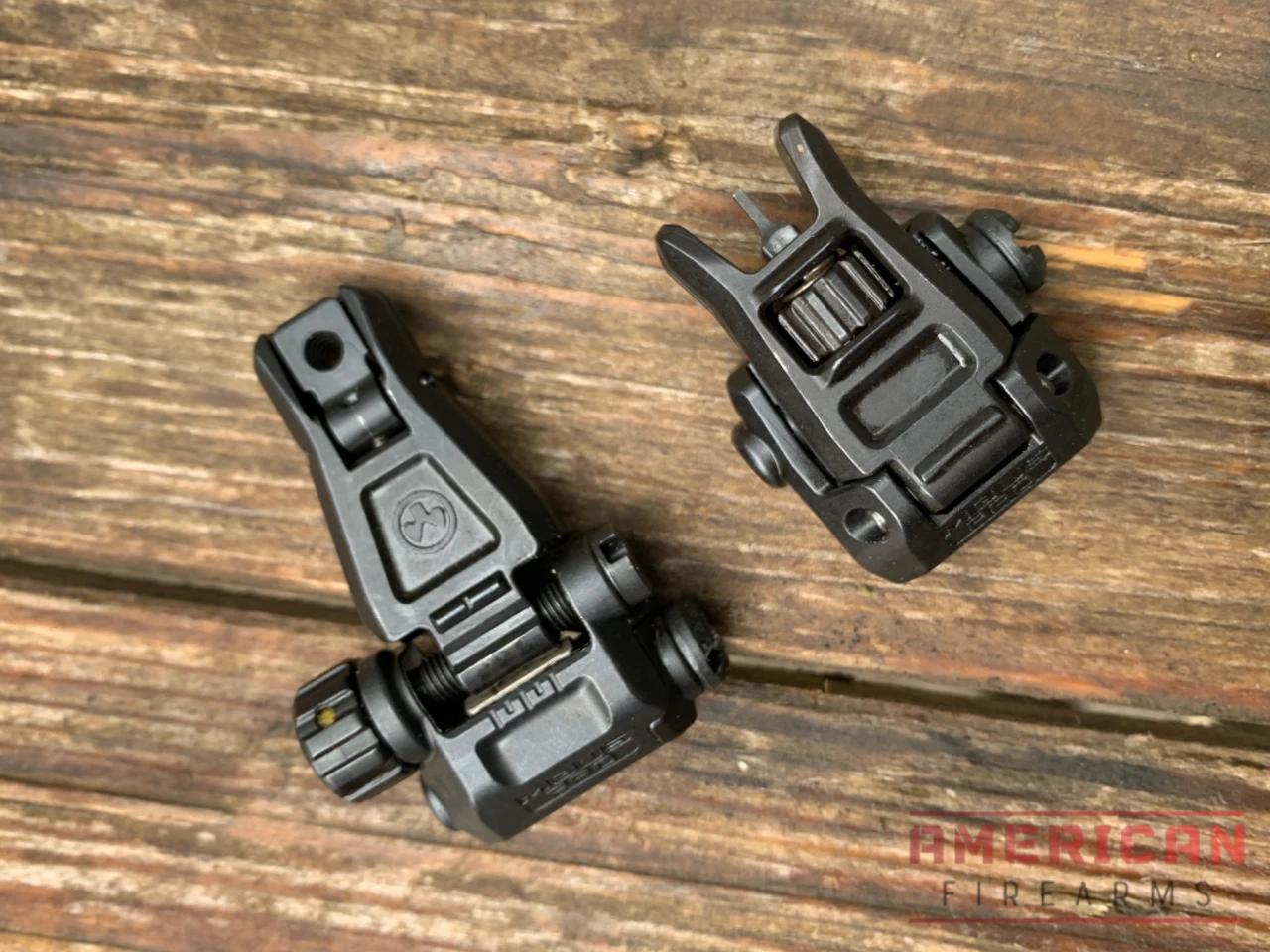 The MBUS Pros are all steel, which adds strength and allowed Magpul to make them really, really small.
Magpul is a premium name in firearm accessories, and their Magpul Back-Up Sights (MBUS) are available in both standard (see: polymer) and Pro versions (see: steel) – allowing you to purchase a budget set or something that's even more durable.
I love the MBUS Pros — they virtually disappear when mounted on your rifle. The steel construction helped Magpul really reduce the size from the standard MBUS, which I prefer. You don't get the spring-loaded activation of the standard MBUS, but the blacked-out Pros will hold zero forever and use a positive detent to keep them in place when activated, which makes them both quick to deploy and easy to fold down.
When folded down the MBUS Pros are virtually invisible.
The Pros also have a dual aperture, which I love, which helps wring out decent yardage or keep things open up close. They also sit at the same height as standard A2 sights, so they should feel natural from day 1.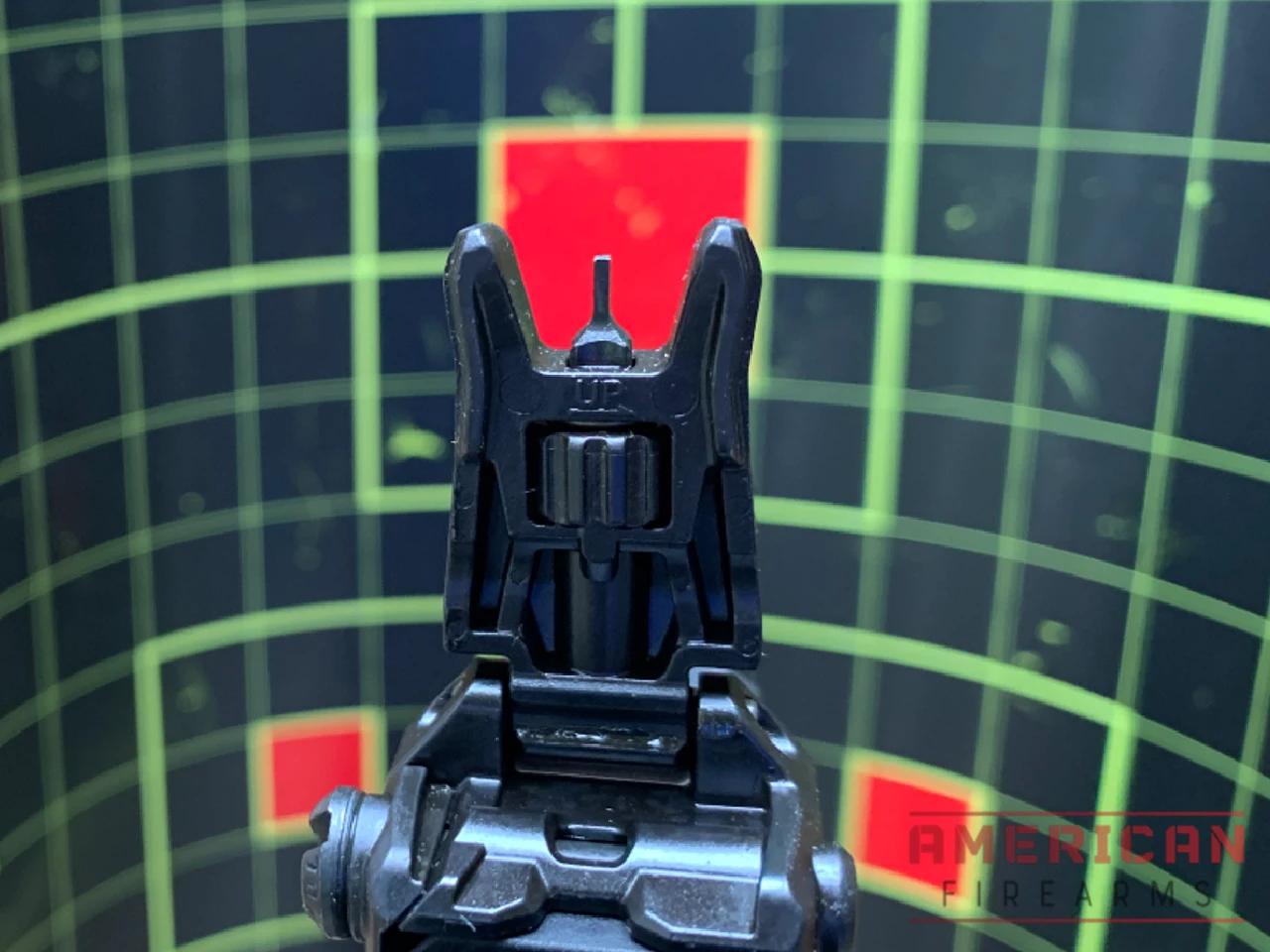 The MBUS Pros are A2 height, and will feel natural from day one. The front post features a tool-less elevation adjustment.
My only real gripe is that they're really, really small — which for the clumsy folks out there (like me) made mounting a little challenging. I had to activate both sights and fully remove the screw to get them in place, while most sights you can squeeze into the Pic rail without full disassembly.
That said, once they're on they're a fantastic addition to any rifle.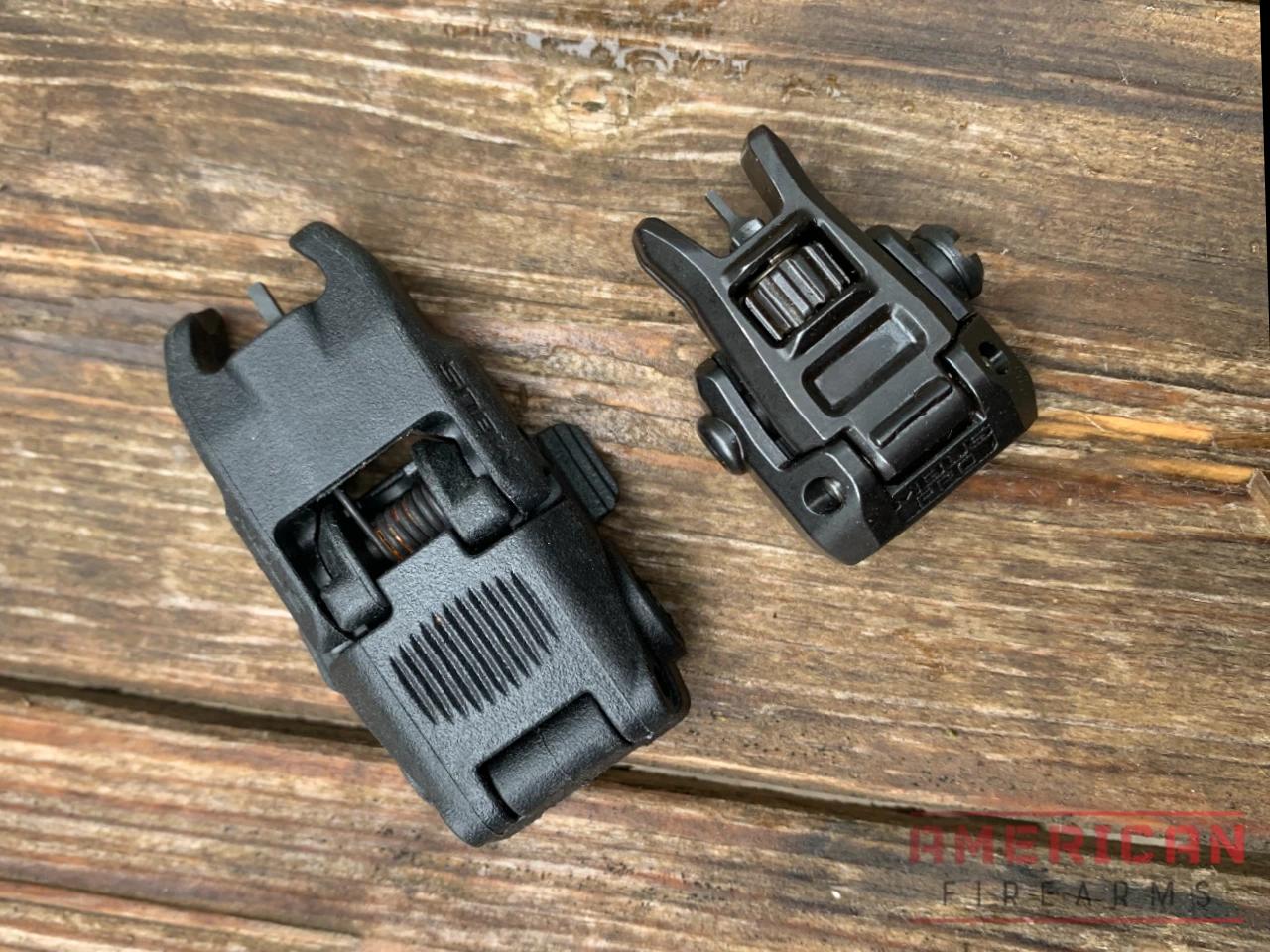 The Pros are about 50% the size of the standard MBUS. The discrepancy isn't so pronounced with the MBUS 3, but you don't get steel, either.
What we liked:
Teeny tiny
All steel!
Hold zero like a boss
What we didn't:
Tough to mount
No push-button deploy
2. Budget Option: Tacticon Flip-up Iron Sights
These first backup iron sights are a flip-up set that can be engaged quickly and separately – use either of them according to your needs at the time with the press of a button.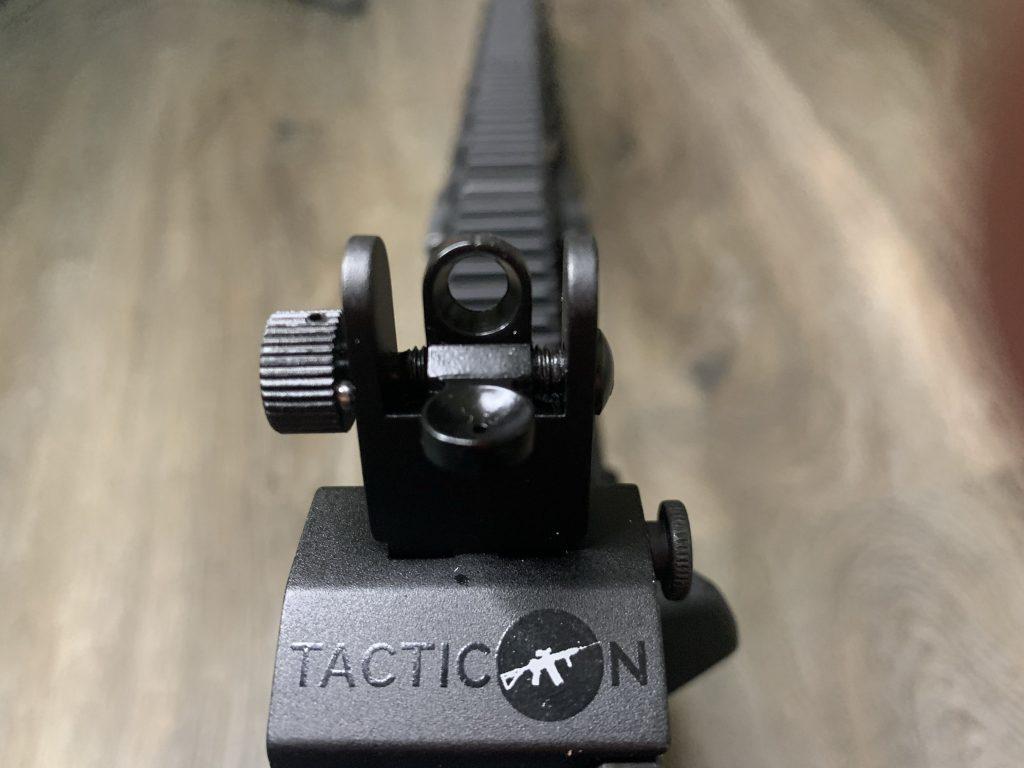 Super quick install on the Tacticon BUIS - took me all of 5 minutes. Large peep was very open. I found the large button (right, bottom) easy to engage. Left side knob controls for left/right calibration.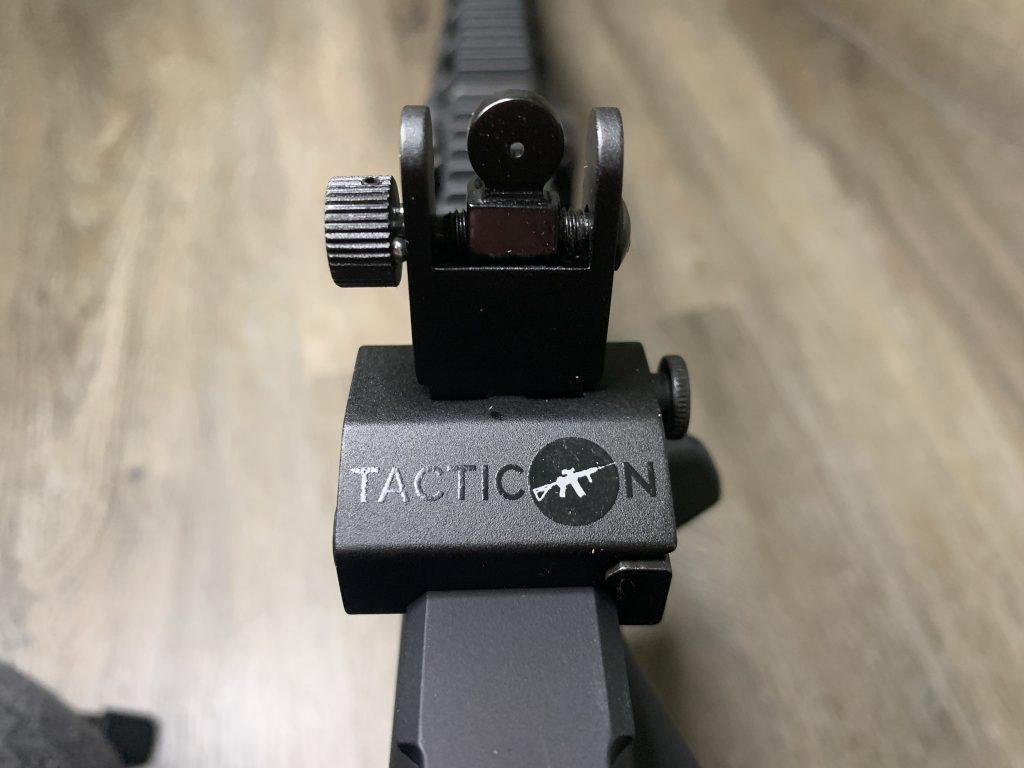 Small peep was tight enough for solid groups at 30-50 yards but the overall wight of the rear sight felt a little too chunky for my taste.
The front sight post is a little crude and pretty large. The large button (right) engages the sight. Again, its noticeably wider than the rail.
One of the best features of the Tacticon Armament Flip Up Iron Sights is the ease of deploying them. A large push-button release quickly engages the sights, snapping them into position.
Also – mounting is with an allen wrench so you're not stuck fiddling with a knob. It took me all of 5 minutes to install them on my DDM4.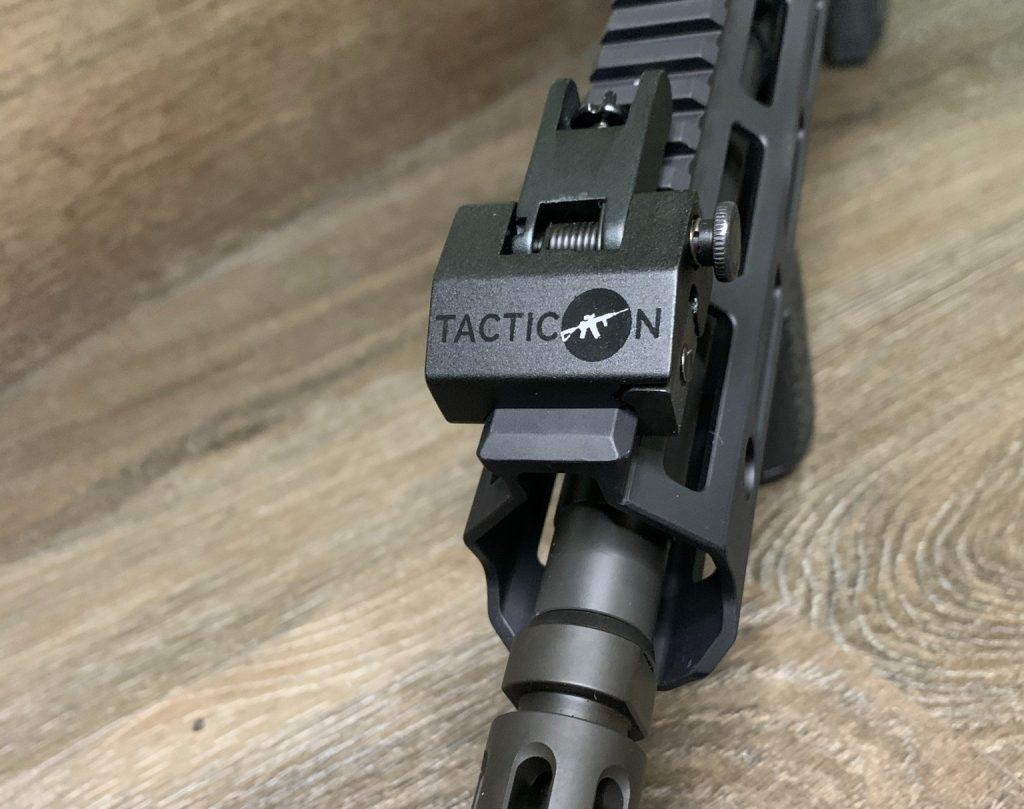 I was happy to see the front sight folded pretty flat -- if not fully low profile.
Both sights are made of hardened aircraft-grade aluminum alloy to ensure top-tier durability. Furthermore, the set comes with a high-quality wooden box for storage and for an added touch of class.
Like I said -- the front sight post is pretty large. This is on a 16-inch DDM4 barrel.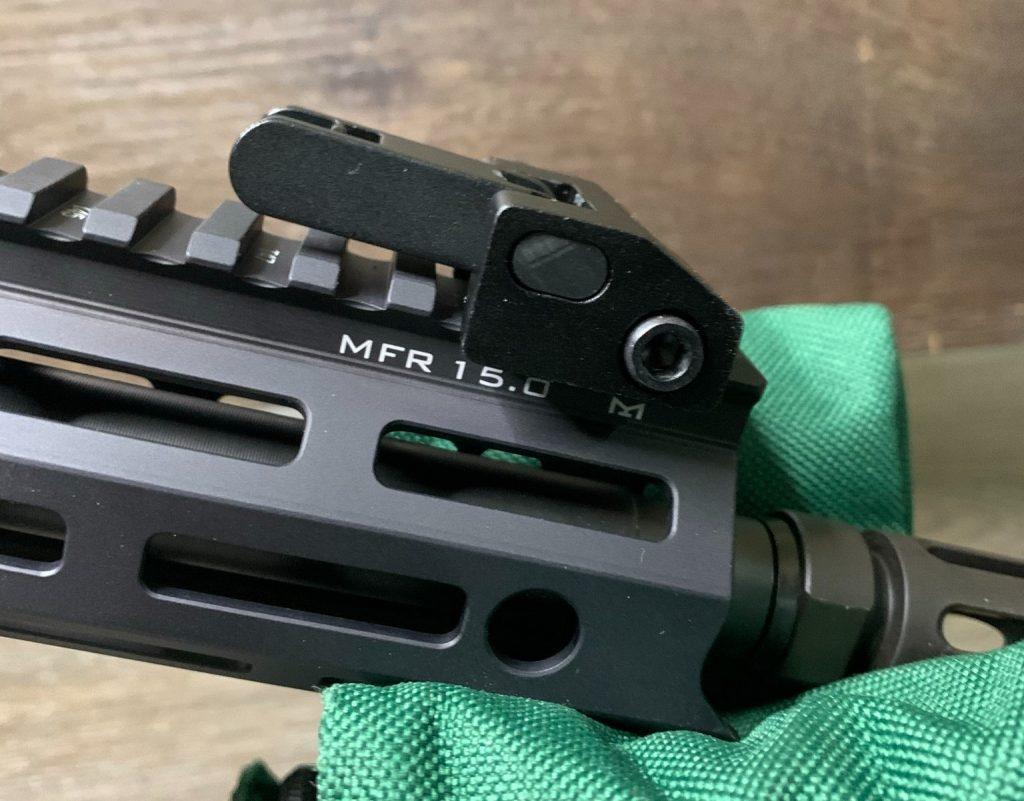 The front sight folded, side view. Here you can see the allen wrench slot for mounting.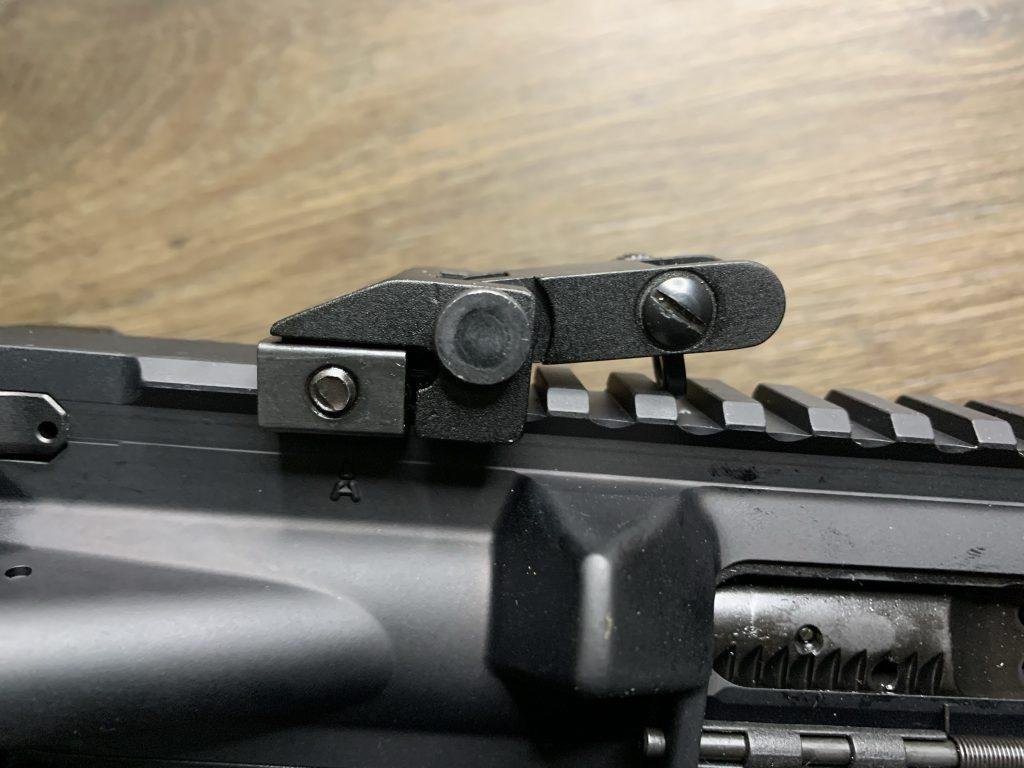 Rear sight not exactly flat.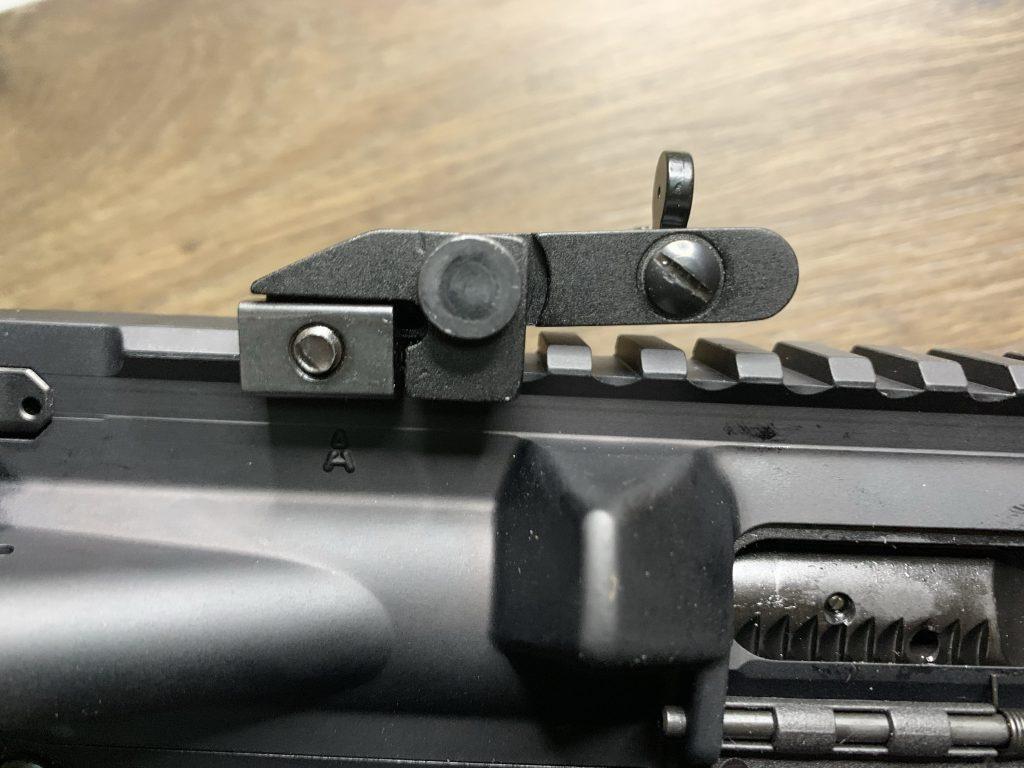 Rear sight folds better with the tight peep folded back.
The sights also offer a black anodized finish that protects against corrosive damage and ensure they're up to the task no matter how much moisture, dust, or dirt get worked into them. The sights are fully refundable – so if you aren't satisfied, the lifetime warranty ensures you can return them no questions asked.
All-in for less than $50, I think these are hard to beat.
What we liked:
Solid value
Made of high-quality materials
Both sights are fully adjustable
Easy to flip up
Lifetime warranty
What we didn't:
Price could be a little more affordable
Adjustment requires a tool
Don't lay perfectly flat when folded
These flip-up backup iron sights from Ozark Armament are made with heavy-duty aluminum and have a spring-loaded button on each base. This allows you to deploy them quickly and easily and in the heat of an engagement. Combined, the sights are fully adjustable for both windage and elevation.
More importantly, these produce some of the lowest profiles when pushed down. Thus, they're a great choice for combining with heavier and bulkier optics, like rifle scopes, so you can capably handle any accuracy needs for both close quarters and long-distance engagements.
The sights come with a full one-year warranty and are set to last for a lifetime anyway, thanks to the durability of their construction and aluminum material. The only downside is the mounting difficulty, as these can be tricky to install on your rifle without a little assistance and a few advanced tools.
What we liked:
Surprisingly durable given the price point
Come with a one-year warranty
Super low profile when not deployed
What we didn't:
4. Honorable Mention: Dagger Defense BUIS Iron Sights
This last set up backup iron sights is a great choice if you have an AR-15 rifle of any type.
It's an incredibly low-profile set, offering orientations of either left or right angles at 45°, depending on your aiming needs. These sights can mount on even large rifles and in combination with other optics, so feel free to use them with bulkier scopes.
The dials are particularly nice since you can adjust for windage and elevation without having to use a tool. The sights are also exceptional since they work well for left or right-handed shooters: a rarity in the industry.
Though they weigh 3.4 ounces combined (and are thus a little heavy in comparison to other sights), they're made with durable steel and aircraft-grade aluminum to ensure a lifetime of performance.
What we liked:
Easy to mount on most AR platforms
Can adjust for windage and elevation without tools
Suitable as ambidextrous iron sights
Can be calibrated for different aiming angles depending on your needs
What we didn't:
A little heavy
A bit pricey
5. Best Offset Irons: Magpul MBUS Pro Offset
If you want to run and gun more than standard BUIS traditionally offer, offsets are a great way to add both backup reliability and functionality, and Magpul MBUS Pro offsets are my favorite of the bunch. They mount on your flat-top receiver but are set at 45 degrees, but just like the standard MBUS Pros, are really tiny and fully steel — so they basically disappear into the side of your rifle when folded down.
The MBUS Pro Offsets give you the same all steel, high quality feel of the regular MBUS Pros, but in an offset orientation.
The MBUS Pro offsets have the same shortcoming as the standard MBUS Pros — no push-button activation and they're hard to mount, but again, once they're in place you'll be CQB-ready without having the futz with you main optic. Sure, offsets are a touch awkward, but with practice, it becomes a really satisfying skill to master — and offsets don't interfere with any other optic you've got mounted.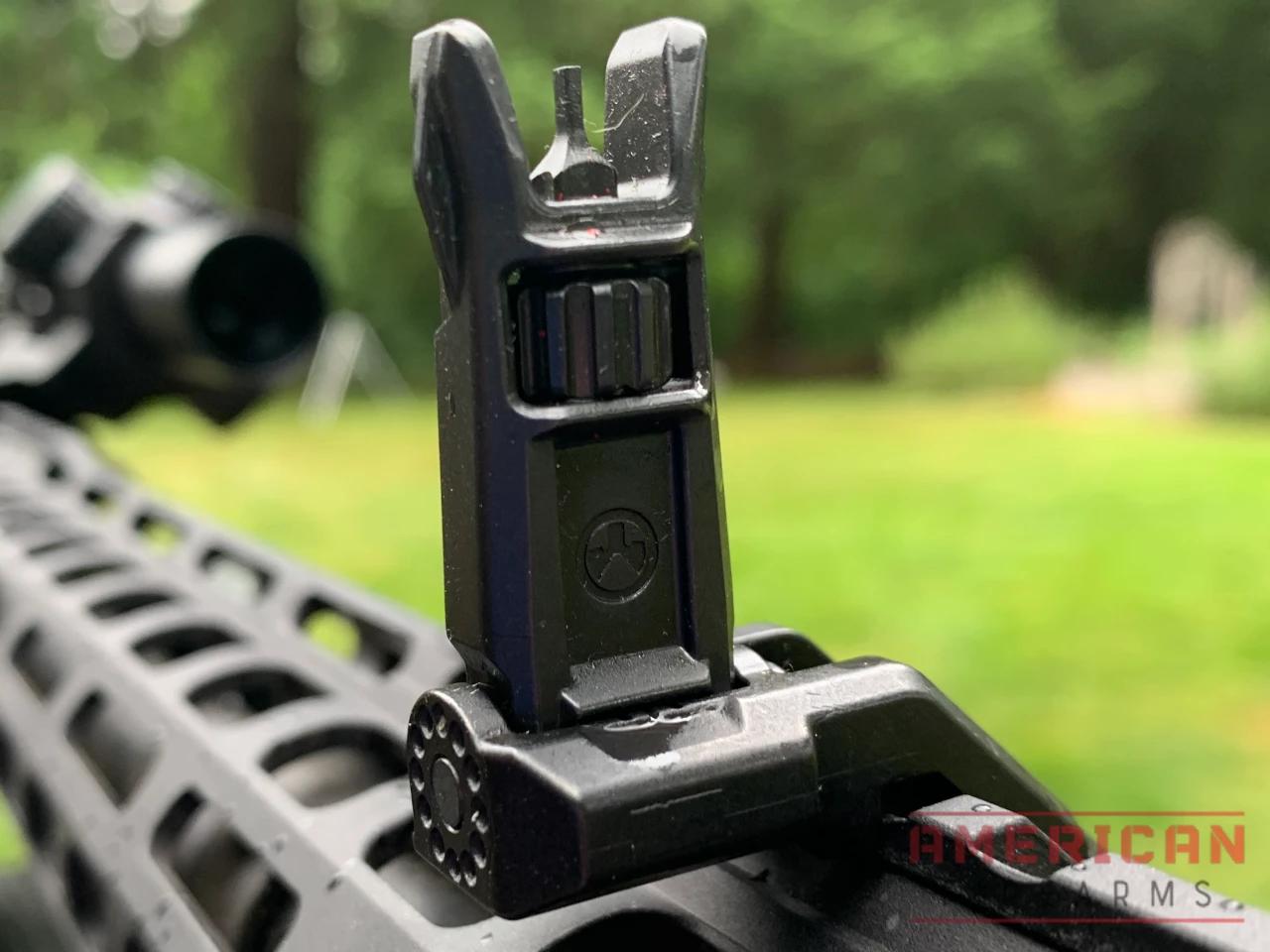 You get the same tool-less elevation adjustment with the offsets.
I also really like how Magpul handled the simple flip-adjusted aperture — and rather than rotating multiple apertures in place (which always feels odd to me), the tighter MBUS Pros aperture pops down and out of the way, exposing the larger aperture and all its wide-ranging glory.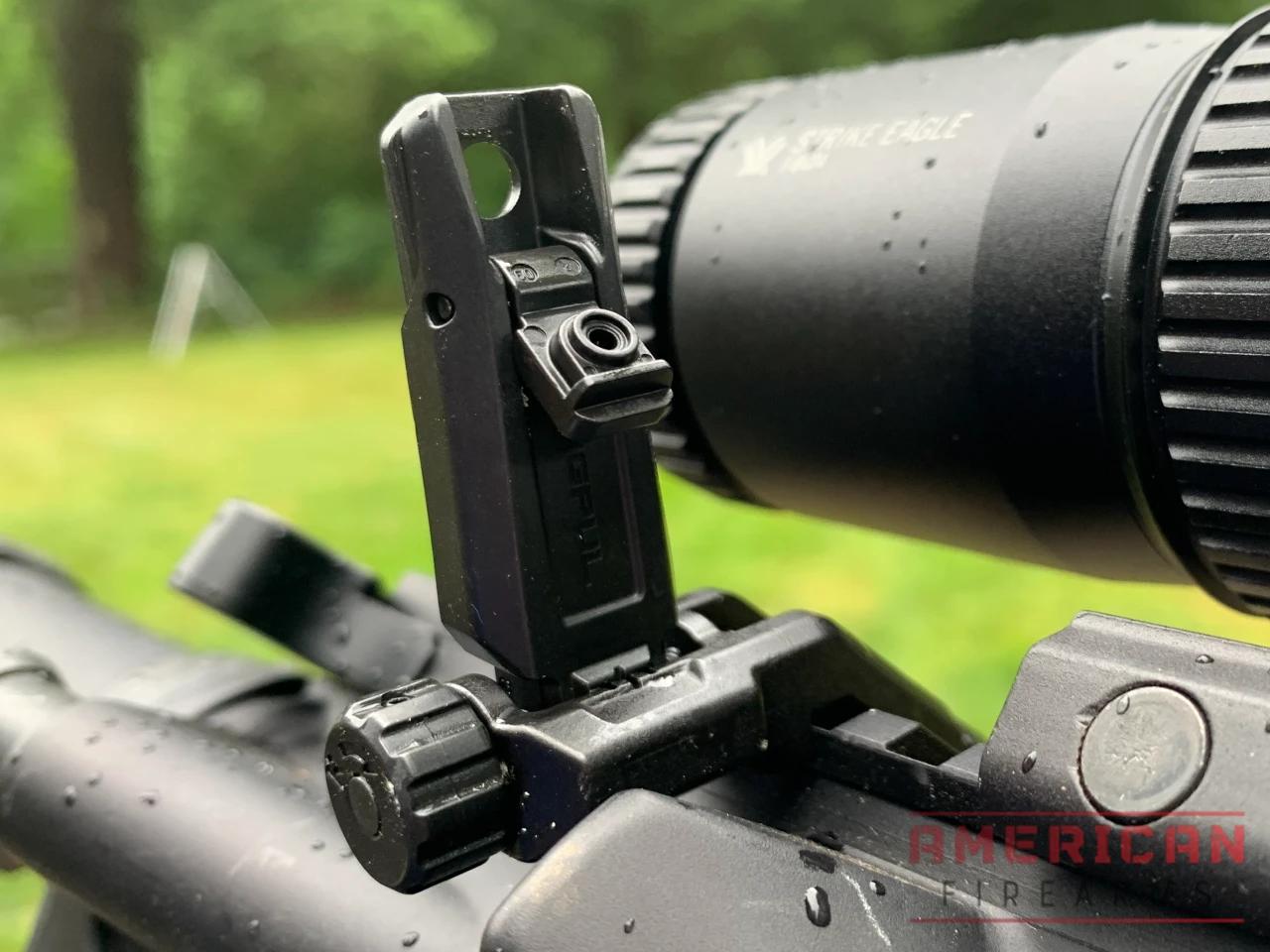 The tighter aperture pops down and out of the way with the MBUS Pro Offsets.
View through the smaller aperture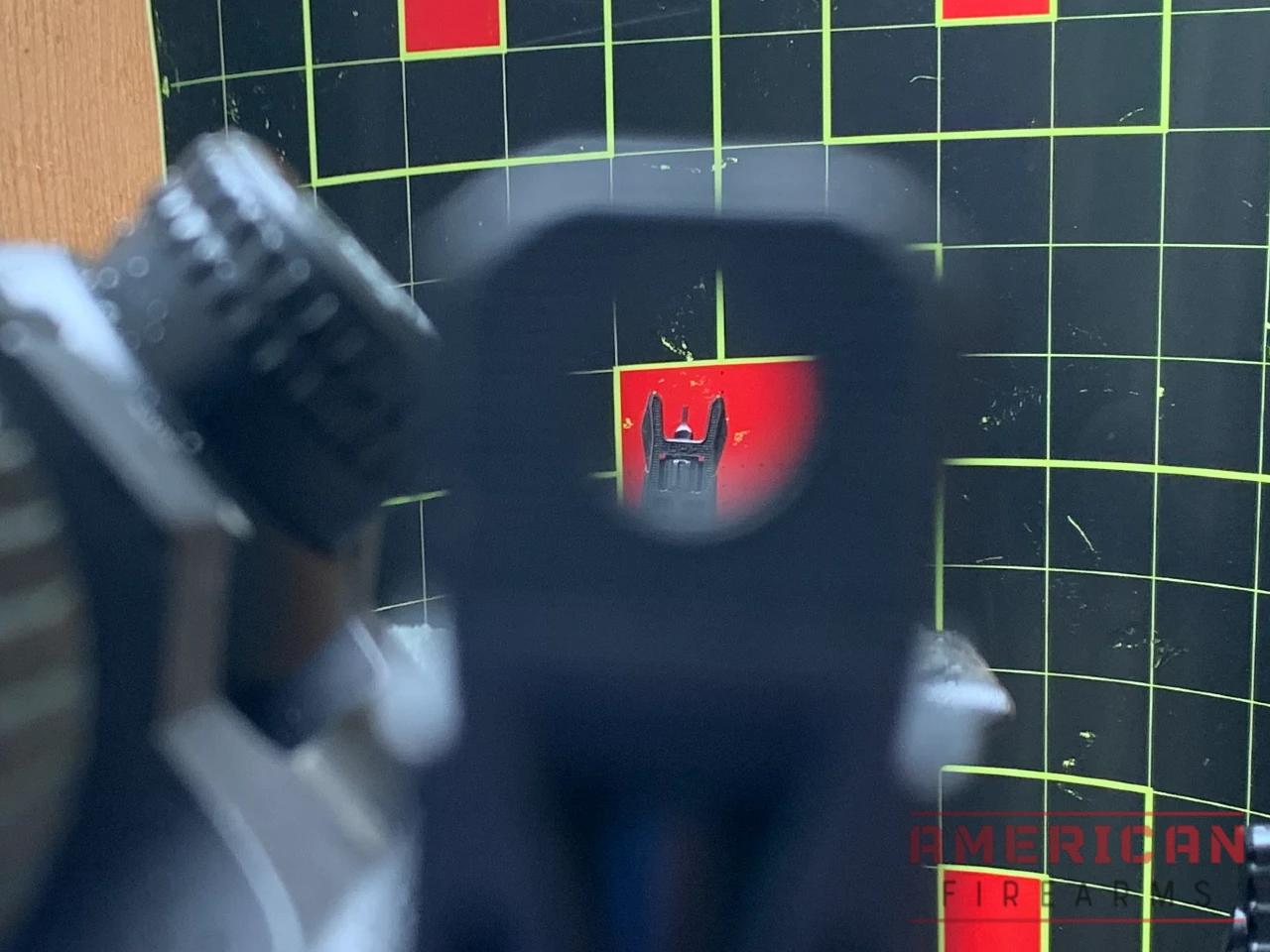 View through the larger aperture
Why Do You Need Backup Iron Sights?
Let's face it – the majority of rifle manufacturers these days will assume that you'll go out and buy a red dot or another optic to mount on the weapon's rail. There are tons of manufacturers that simply don't produce their firearms with pre-installed classic iron sights like they used to.
But while red dot sights and other optics are fantastic – what happens if the battery on your primary optic runs out or the sight breaks? In that case, iron sights can be a tried-and-true secondary sight option that allow you to retain close-quarters accuracy.
Backup iron sights are just that: backups. But they're crucial if you really want to be ready for everything.
Types of Backup Iron Sights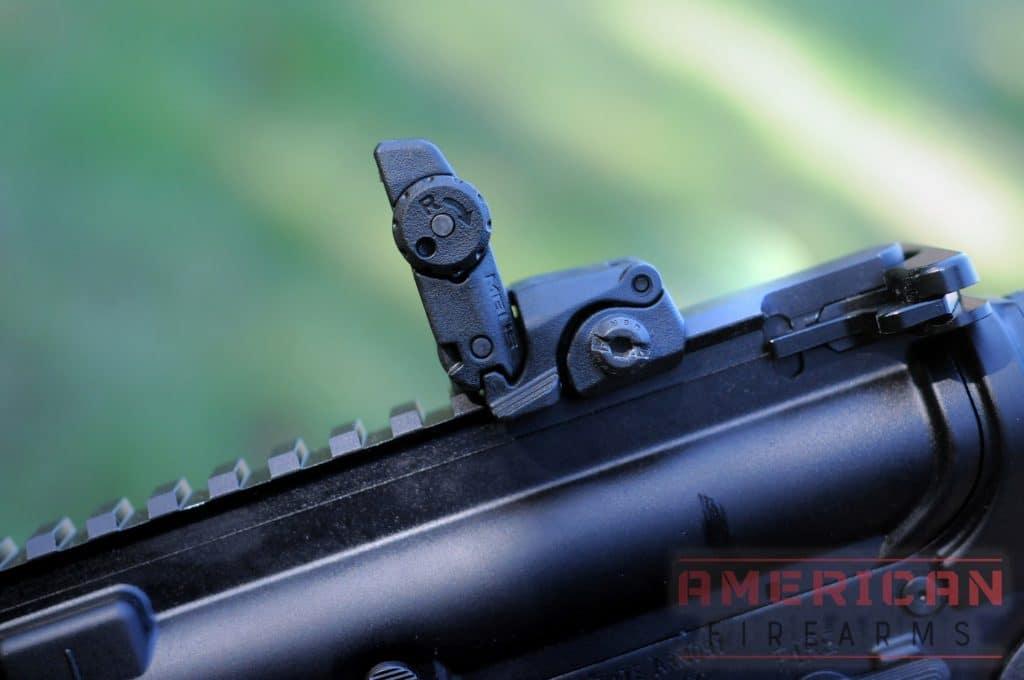 PSA PA-15 with Magpul MOE BIUS
Different iron sights are engineered for different purposes and offer a variety of features. Consider the following factors to make sure that you pick a pair of iron sights that are perfect for your needs.
Flip-Up or Fixed?
Backup iron sights will come in either flip up or fixed orientations. Flip-up backup iron sights can be collapsed and more easily combined with other optics, like red dot sights via co-witnessing. Pairing your BUIS with a red dot gives you another level of familiarity by forcing you into regularly using the front sight post. However, fixed backup iron sights never need to be engaged and both front and rear sights are always ready to go. Either option can work, but flip-ups are better if you do plan to combine backup iron sights with other optics regularly.
Gas Block or Same-Plane Sight
Gas block backup iron sights feature a post that will let you mount your sights at varying elevations. Meanwhile, same-plane sights will have both backup iron sights mounted on the same level. Gas block sights are usually a little bigger, but this it's ultimately a matter of personal preference.
What to Look for in Backup Iron Sights
best back-up iron sights
Straightforward Installation
Some backup iron sights are considerably easier to install than others, which may require the assistance of a gunsmith or complex tools. Go for backup iron sights that are easy to install if you want to handle everything yourself and/or you like tinkering with your setup from time to time.
Durability
Lastly, be sure to consider durability before purchasing a pair of backup iron sights. Long-lasting iron sights are usually well worth the higher asking price since you won't need to get a replacement as quickly and quality hardware is worth its weight in gold – often holding up much better if you're a tinkerer.
All in all, the Magpul MBUS Pros are the best backup iron sights on the market.
They're top- tier due to their build quality, flexibility, and durability, and the included lifetime warranty. Although those sights are excellent, each of the above backup iron sights is offers something unique.
Go with the sights that best suit your budget and rifle's needs and you won't be disappointed.

June 9, 2023 — After putting Magpul's MBUS Pros to the test in both standard and offset orientations, we've updated our top recommendation to the MBUS Pros and added their MBUS Pros offsets as our offset BUIS recommendation.
Sign up for our newsletter
Get discounts from top brands and our latest reviews!