The Best Concealed Carry Revolvers
Written By
Michael Crites
Licensed Concealed Carry Holder
Reviewed by
Editorial Team
Learn About The Editorial Team
Share:
Products are selected by our editors. We may earn a commission on purchases from a link. How we select gear.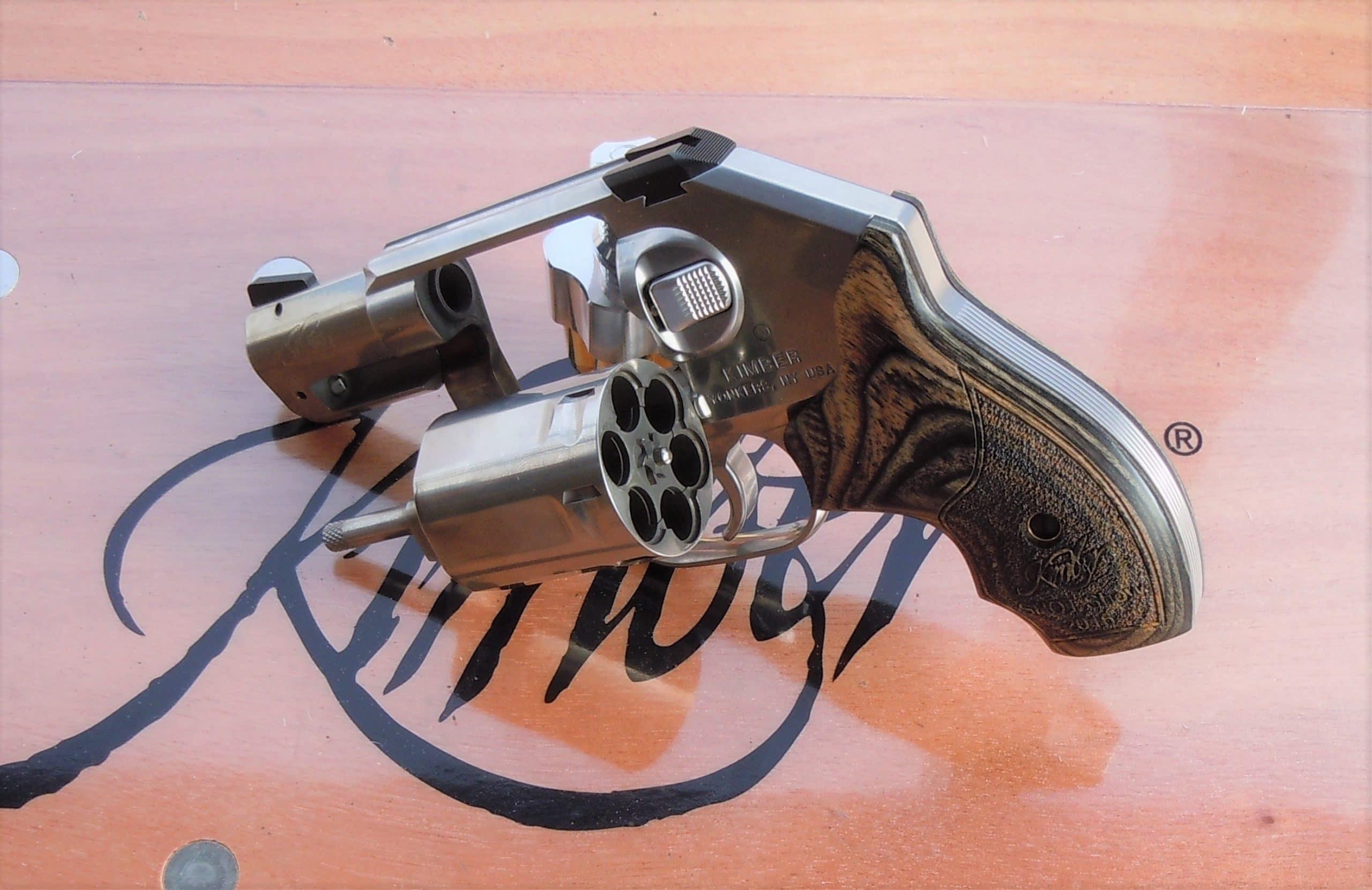 Deciding to take responsibility for one's self-protection is a big step, but millions are taking the plunge every year to carry a concealed handgun and today it has never been easier to do it successfully provided you make the right critical choices
Concealed Carry Revolver Comparison
Below is my list of the best concealed carry revolvers. I list the best choices in terms of value, performance, reliability, and cost.
Click on the name to head to the product page, read reviews and check prices or skip ahead to the list of revolvers.
| Product | Selection | Price |
| --- | --- | --- |
| | Best Overall | $985 |
| | Lightest | $529 |
| | Also Great | $519 |
| | Budget Pick | $329 |
| | Also Great | $699 |
The Best Concealed Carry Revolvers
1. Best Overall: Kimber K6S CCW Revolver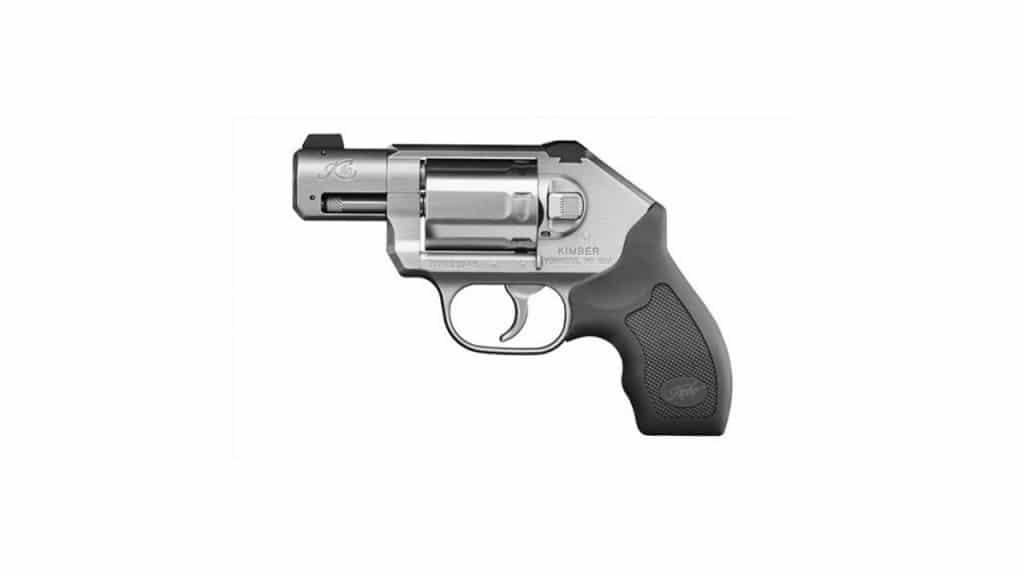 Specs:
Caliber: .357 Mag
Height: 4.46″
Weight (empty): 23 oz.
Length: 6.62″
Width: 1.39″
Capacity: 6
Best known for their M1911-style pistols, Kimber in the past few years has moved into the revolver market with their K6S series.
Beautiful all-stainless steel 6-shooters, they have great ergonomics and a match trigger. AT 23 ox the K6S is also lighter than a number of other options out there.
We really liked how the frame is fully de-horned – and when paired with the fully internal hammer there's really nothing to snag on any clothing during a draw stroke.
The sights are low-profile and drift adjustable – although the front sight has lower visibility than we'd prefer, overall the Kimber is a great carry option for anyone looking for a CCW wheel gun.
A super comfortable carry revolver
Pros
Fantastic ergonomics
All stainless frame
Match trigger
6 round capacity
De-horned frame
Cons
Unproven product relative to other brands
Front sight is a little low visibility
2. Lightest: Ruger LCR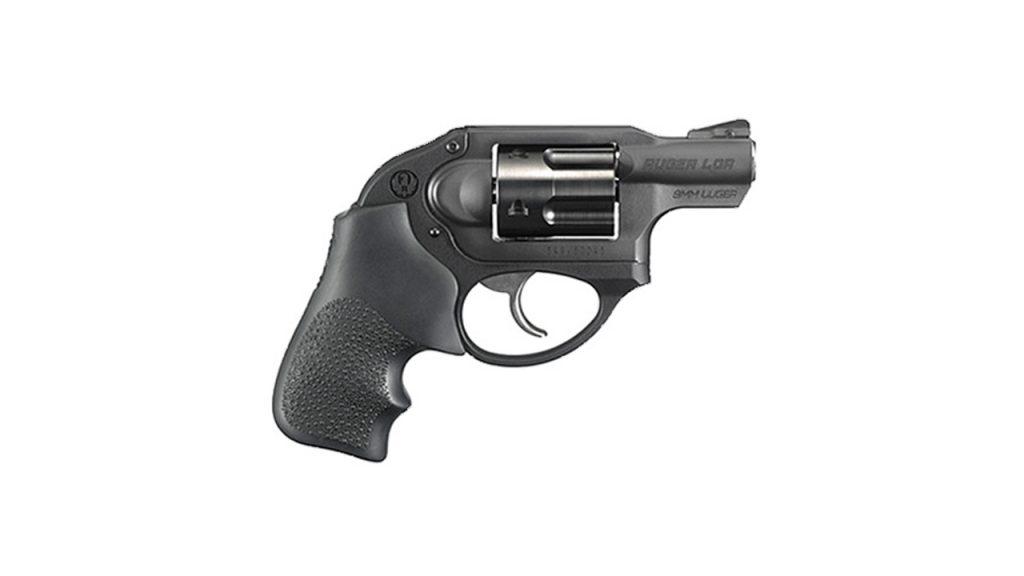 Specs:
Caliber: .38 Spcl
Barrel Length: 1.875″
Height: 4.50″
Weight (empty): 13.50 oz.
Overall Length: 6.50″
Width: 1.28″
Capacity: 5
Ruger has delivered popular double-action revolvers to the consumer market for generations, going back to their solid Safety/Security/Speed Six series of the 1970s along with the follow-on GP100 and SP101 guns of more recent vintage.
Building on that reputation, the Ruger LCR uses a monolithic frame that incorporates alloys and a polymer fire control housing to drop the pounds while a Hogue grip tames the recoil, allowing 5-shot 38 Spl +P models to weigh just 13.5-ounces.
Easy to shoot and carry
Pros
Light
Easy to use
Proven
Nice cylinder release
Cons
Only 5 round capacity
Pronounced recoil
3. Smith & Wesson Airweight J-Frame Revolver
Specs:
Caliber: .38 Special
Barrel Length: 1.88″
Overall Length: 6.3″
Weight: 15.5 oz
Capacity: 5 Rounds
Big Blue has been making snub-nosed J-frames for more than 70 years and it is hard to find a gun that is more often used for concealed carry.
Designed to take a beating, many old S&Ws have served multiple generations of owners. Likewise, they are light, with Airweight models tipping the scales at under 15-ounces. They also offer a hammer spur which you can use in single-action mode for precision shots, and lots of different barrel lengths.
When you consider that some variants, like the Model 360, are 5-shot .357 Magnums, that is a lot of peace of mind for under a pound.
A classic revolver in every sense
Pros
Proven for more than 70 years
Easily concealable
Longtime favorite of military and security
available in lots of calibers – .38 special or .357 magnum
Cons
More kickback than some prefer
Limited to 5 round capacity
4. Budget Pick: Taurus 856 Revolver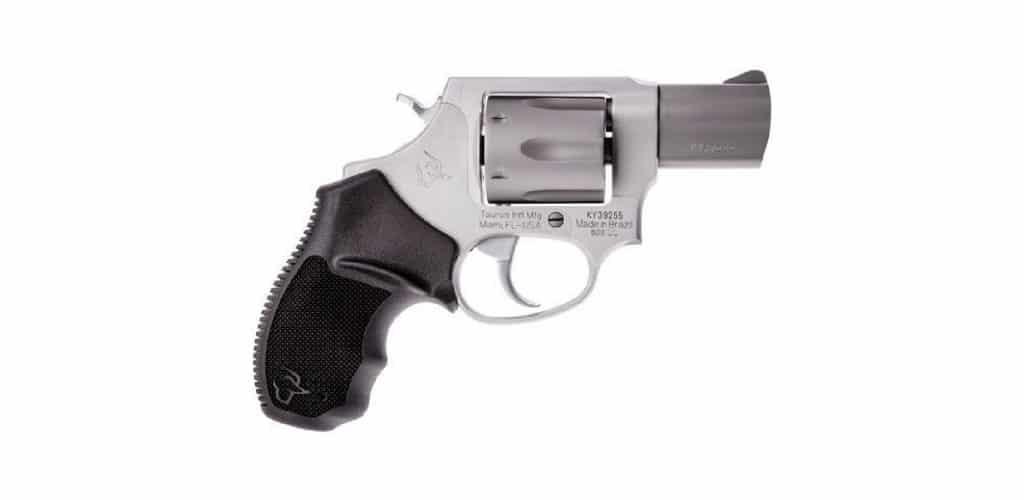 Specs:
Caliber: .38 Special
Barrel Length: 2"
Overall Length: 6.55"
Height: 4.8"
Width: 1.41"
Weight: 22 oz.
Capacity: 6 Rounds
Budget Brazilian gunmaker, Taurus, has increasingly been moving production to the U.S. and recently set up a factory in Georgia.
The company made inroads to the States with a series of S&W K-frame clones in the 1960s and 70s but long ago moved to their own in-house designs.
One of the most popular is the 6-shot Model 856, which they brought back (possibly) in response to Colt's re-entry of the Colt revolver. A snub-nosed .38 that is lightweight and, best of all, affordable, with a price at retailers of under $400.
An impressive revolver for this price point
Pros
Affordable
6 Shot Capacity
Ambidextrous grips
Transfer-bar safety
Cons
Heavier than other options
Exterior hammer may not be preferable
Very basic, low visibility sights
5. Ruger SP101 .357 Mag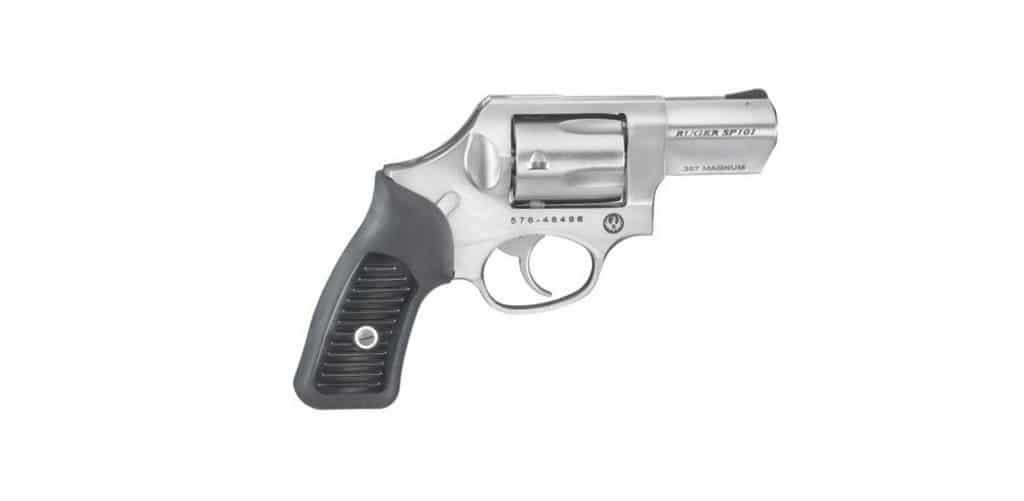 Specs:
Caliber: .357 Magnum
Barrel Length: 2.25″
Length: 7.2″
Weight: 25 oz.
Capacity: 5 Rounds
Offering CCW revolver fans a wheel gun with some punch – the Ruger SP101 has a lot going for it. The simplicity of this revolver makes it fun and functional.
The SP101 is a family of revolvers, all stainless steel, and based on the Ruger small frame specifically for carry, and this SP 101 comes with just over a 2-inch barrel and rubber grips, which can be swapped for wood inlays if preferred.
These small-frame revolvers can pack a punch given their smaller frames, but they're tough workhorses that simply get the job done. At 25 oz the SP101 is a little heavier than others, and with only a 5 round capacity it's one short of competing wheel guns, but with the sheer range of options available on the SP101 line (from .22 all the way up to the magnums), there's an option that will work for anyone.
A Potted History of Concealed Carry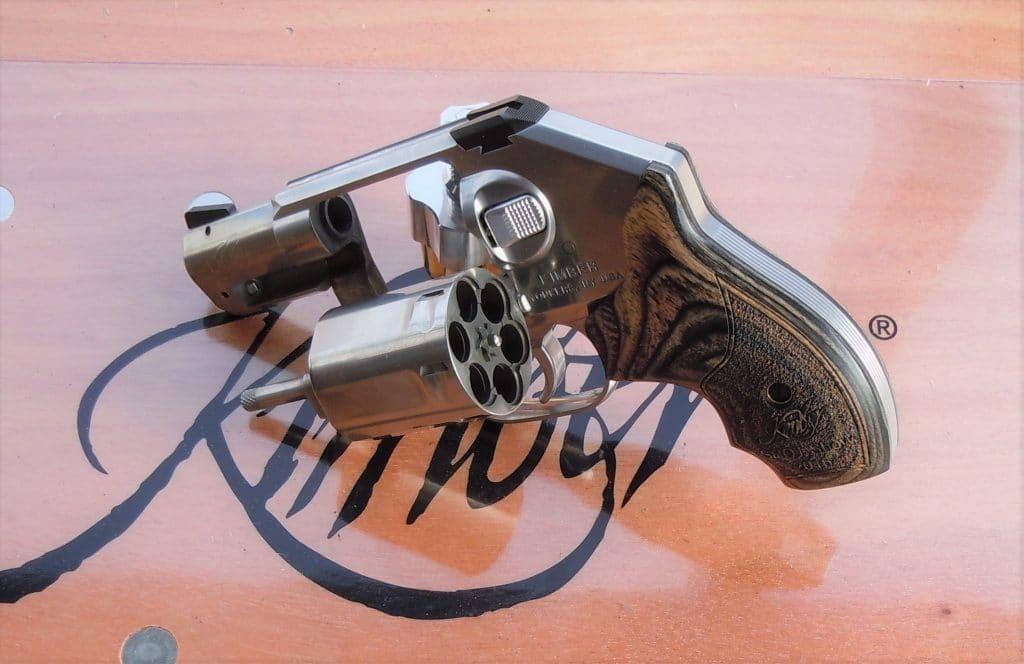 Best Concealed Carry Revolvers
While some media pundits and talking heads will paint the current boom in legal concealed carry as some sort of shocking new development in society. They are also very wrong in that assessment.
The fact of the matter is that the carry of concealed arms likely goes back to the first cavemen who decided that– while a big stick carried outwardly was effective in warding off violence to their person– appearing to have no stick while tucking a nice, pointy one away quietly in their furs for unexpected trouble, also had merit.
It is not sneaky, it is self-protection. Neither porcupines nor pufferfish advertises their defense against predators, but they most definitely have them.
When it comes to the concealed carry of firearms, the practice goes back literally centuries, with the gentlemen of old often toting small, purposely-made pistols on their person for resistance against brigands or highwaymen ready to relieve them of their funds, and, in many cases, their lives.
The first revolver marketed by Smith & Wesson, their Model 1, was a small, pocketable wheel gun pitched for vest carry.
Likewise, some of the earliest semi-auto handguns, such as the Pieper Bayard of 1908 and John Browning's Colt Vest Pocket of the same era, were marketed for their ability to be easily concealed inside one's clothing. Today, both firearms and techniques have continued to evolve.
Going back to the 1830s, revolvers or "wheel guns" have been a favorite for self-defense as they allow five or six shots at the ready for self-defense. Easy to use and with a simple malfunction drill, they can be loaded and stored, ready to use, for lengthy periods.
Short-barreled or – snub-nosed – revolvers are also extremely concealable.
On the downside, they are slow to reload, typically have heavy double-action triggers that can pull the user off-target if they rush the shot, and can suffer stout recoil, making follow-up shots tougher.
Things to consider when buying a new revolver
What should you keep in mind when looking considering revolvers for concealed carry?
Caliber
From left to right: .44 Remington Magnum, .357 Magnum, .38 Special, 7.62x25 Tokarev, .45 Auto, 9x19 Parabellum.
Caliber impacts all kinds of things – like weight, recoil, and capacity. Make sure you're not considering a .44 mag if you're more of a .22 LR kind of shooter.
When it comes to concealed carry, some of the most popular revolver calibers include 22 LR, .38 Special and .357 Magnum. The bigger the caliber, the more felt recoil you'll experience and difficulty you'll have staying on target with follow-up shots.
Try to find the right balance of power and control, which is all about experience and personal preference.
Capacity
When it comes to concealed carry revolvers you're really stuck with 2 options – 5 rounds or 6. If you must have the most available stick with revolvers that offer that additional round.
If 5 rounds will do you'll probably save a little weight and it will open your options up considerably.
Hammer or Hammerless?
A hammerless revolver is great because it removes the one thing that's literally sticking out of the gun and likely to get snagged in a draw – the hammer.
If you prefer hammerless options (which we recommend) there' a ton to choose from and they're all generally designed for concealed carry, which is a bonus.

March 13, 2023 — After reassessing the information in this guide, we continue to stand by our picks. We've updated images and links where appropriate.
Sign up for our newsletter
Get discounts from top brands and our latest reviews!