The Best Gun Vices & Cleaning Stands
Written By
Michael Crites
Licensed Concealed Carry Holder
Reviewed by
Editorial Team
Learn About The Editorial Team
Share:
Products are selected by our editors. We may earn a commission on purchases from a link. How we select gear.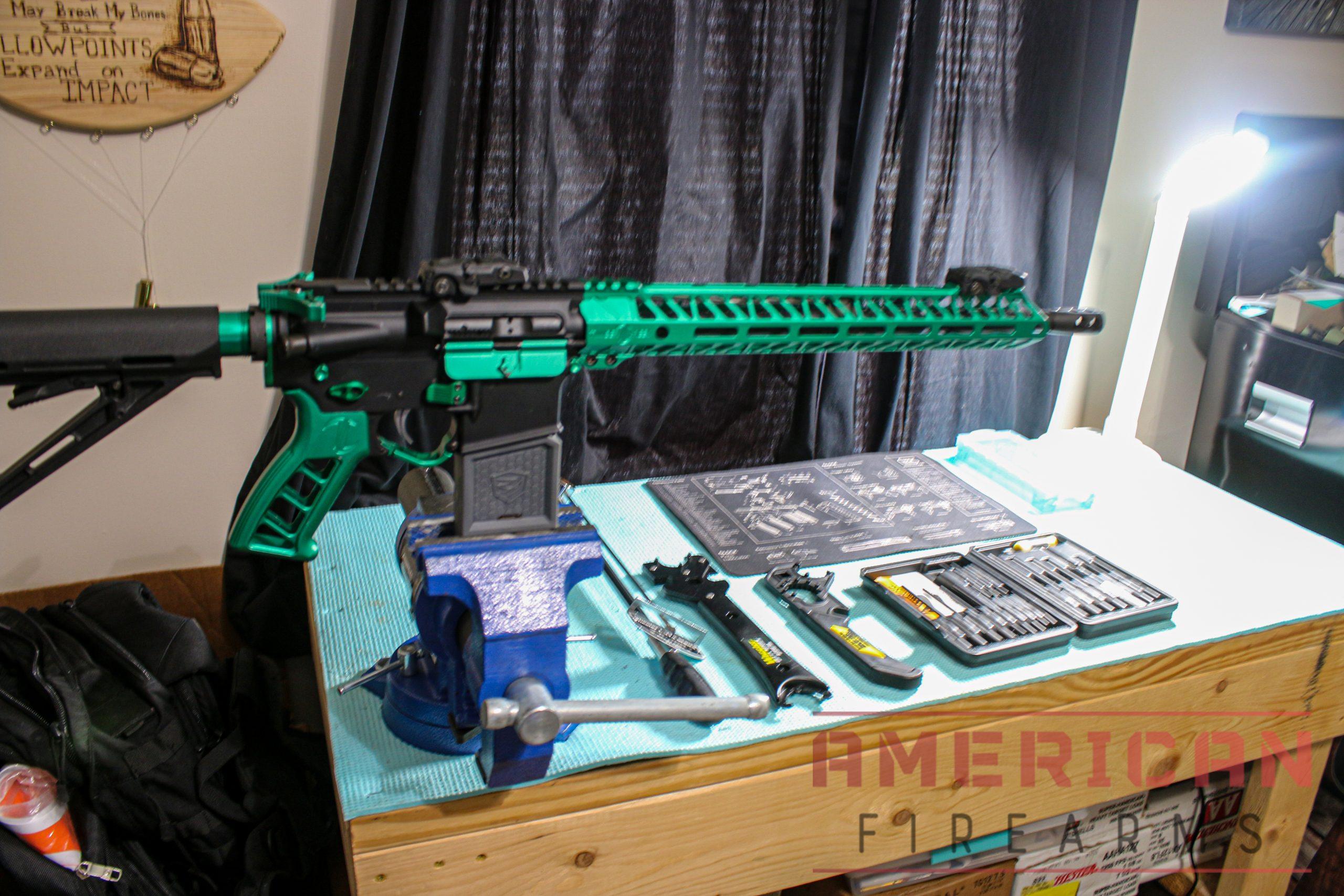 Have you ever tried cleaning and gunsmithing your rifle without a vise?
It's slow, sloppy, and super impractical, which is why a vise is as critical to your rifle's life and functionality as changing the oil in your car.
Every professional gunsmith uses a gun vise and you absolutely need an appropriate platform for routine gun maintenance and things like scoping your bore.
In this article we wanted to understand what makes for the best rifle cleaning vise, so we took a look at a number of the highest-rated gun vises, spoke to a number of gunsmiths about the features that matter most, and explain below the nuances of picking the best gun vise for your purposes. Hopefully this buying guide will make it clear what you should look for in your next gun vise.
Below is my list of the best gun vices for 2022. I list the best choices in terms of value, performance, design, and cost.
Click on the name to head to the product page, read reviews and check prices or skip ahead to the list of vices.
| Name | Selection | Rating | Price |
| --- | --- | --- | --- |
| | Best Overall | (4.7/5.0) | $69.97 |
| | Simplest Design | (4.7/5.0) | $139.99 |
| | Also Great | (4.6/5.0) | $89.99 |
| | Budget Option | (4.4/5.0) | $41.99 |
Gun Cleaning Stand Reviews
1. Tipton Best Gun Vise
The Tipton Best Gun Vise is probably the most popular gun vice on the market – and for good reason. It's a very well-engineered product (even if the plastics base is less than perfect.) Any way you cut it, this is a very adaptable gun cleaning station.
The gun vise supports are entirely elevation adjustable, rubber feet hold it in place, and the rear clamp features two flexible, padded quick-release clamp blocks, which feature padded jaws that are vertically independent and can be locked in at different points off the centerline.
You'll be able to work on all types of long guns and handguns with this little wonder – any stock configuration, style, and size of firearm. And while plastic may not be everyone's cup of tea, the plastic is non-porous, so gun cleaning solvents and cleaning supplies won't make a dent. It's a quality gun vise any way you cut it.
Once you've positioned your firearm in the adjustable plastic clamps, raise the forend support to the correct angle, then tighten the rear clamps.
Once the clamp pads make contact with the stock engage the cam levers to securely hold the stock and you're off and running with gun maintenance or basic gunsmithing.
Pros
Solidly engineered
Adjusts to fit most firearms
Compartments to keep parts and tools handy
High quality plastic
Solvent resistant
Cons
Plastic gun vise isn't heavy-duty
Vise can flex when clamped down with force
No clamp mount
Feet can fall off the bottom of the unit
Center brace non-adjustable
2. CTK PRECISION P3 Ultimate Gun Vise
Pros
Adjustable, telescoping tubes accommodate basically any gun size or style
High quality, American made product
Heavy Duty Steel Construction
Secures your firearm well
Cons
Clamshell clamp has limited force
Option rear rest is a requirement for longer projects
More of a vise than a real shooting rest
Another one of the most popular gun vises on the market is the CTK Precision P3 Ultimate Gun Vise which works well for maintenance, as a gun cleaning vise, and for boresighting.
This is another gun vise that can be easily adjusted and is engineered to accommodate a range of firearms – from rifles to pistols.
The front and rear rests are mounted on telescoping tubes, which give the vise a more modular, adjustable feel, but definitely makes the vise feel less stable than a single-piece vise, but helps it work well as a gun cleaning stand.
With the optional Shooting Rest attachment, the vise can double as a shooting rest, which is a nice feature, and one that will allow you to work around the gun while you zero in your sights – saving time and shoulder wear.
Another useful feature of the CTK gun vise is the three-point leveling system, which uses 3 leveling screws on each of the 3 legs, so you can find level on almost any surface or terrain.
The adjustment screws can be locked in place with thumb locks, which gives you a durable platform to work. 
The rests are covered with PVC foam, which ensures they won't mar your weapon but are less than top-notch quality compared to some other units. Overall this is a good gun vise that tries to bridge the vise/shooting rest worlds admirably.
3. Hyskore Cleaning & Sighting Vise
The Hyskore Sighting and Cleaning Rest is focused on making optic mounting & sighting easy, and it essentially doubles as a gun vise.
It's fully adjustable – and this worked well for our long gun and handgun test mounts. No issues getting our cleaning rod where it needed to go. One interesting feature is the rest collapses to under 10 inches (other than the rods) which makes for easy storage.
The vise is made of metal, (with the exception of the adjustment knobs and feet). Assembly took under 10 minutes – and in our tests levelling was quick and easy – drop the stock into the rear vise, place the front stock into the front and tighten them both in while using the center support to support the center of the rifle.
Using the magnetic bubble level (included with the vise) we had our bolt action rifle leveled in less than 30 minutes total.
This vise can also be used for cleaning and is a mechanical sighting platform. You can't fire a weapon when fully clamped – but you can collapse the rear clamp and center support to fire your gun and sight in your groups.
A little finicky but capable sighting/vise designed for scope mounting & light gunsmithing.
Pros
Adjustable telescoping design
Sturdy platform
Quality materials
Easy to assemble
Multiple strap & clamp configuration provides secure hold on firearms
Cons
Welds are small
Not a shooting rest
Critical components are plastic and can flex with the application of force
4. Plano Shooters Case (X-Large)
This is considered an all-in-one shooter's case which allows one to perform rifle maintenance at home and in the field. It's not a bench vise, and it's pretty large at 14.5 inches wide x 8.25 inches deep (without the inside tray) so it works well as a field gun cleaning stand.
Cleaning supplies, ammo, gun cleaning solvents, cleaning rods, tools all fit inside securely, and the yoke system holds your rifle above the case, which serves as the unit's base.
The lift-out tray provides a nice area to keep small items, tools, and parts while the deeper chamber accommodates larger items.
It's pretty light at just under 6lbs, which is about what any hard-bodied larger case would weigh. Overall a solid field case, even if it's essentially a storage box with simple gun rests. 
Pros
Lightweight
Lots of storage
Accommodates both larger and smaller items
Cons
Essentially just a storage box with gun rests
Yokes are designed to be stored within the unit, which consumes storage space
A number of people reported not receiving the yokes with their unit
The lid hinge is plastic rather than metal and prone to breakage
Rifle Cleaning Tools & Accessories
Regardless of whether you're using a gun cleaning stand, gun vice, or other gun cleaning station, if you're not putting a gun cleaning mat beneath it you're asking for trouble. Many gun vises have built-in maintenance centers for cleaning products, small gun parts and tools, but the process of gun maintenance will inevitably lead to spills. A gun mat is your bench's best friend.
For light weight gun maintenance, a simple set of torque wrenches will aid in basic maintenance, repairs, and adjust small parts, which is half the fun of owning a gun vice in the first place.  The best gun vise avoids cheap plastic parts and provides an ideal method for keeping your tools on a single work surface and possibly a cleaning parts tray.
Essential Gun Vice Features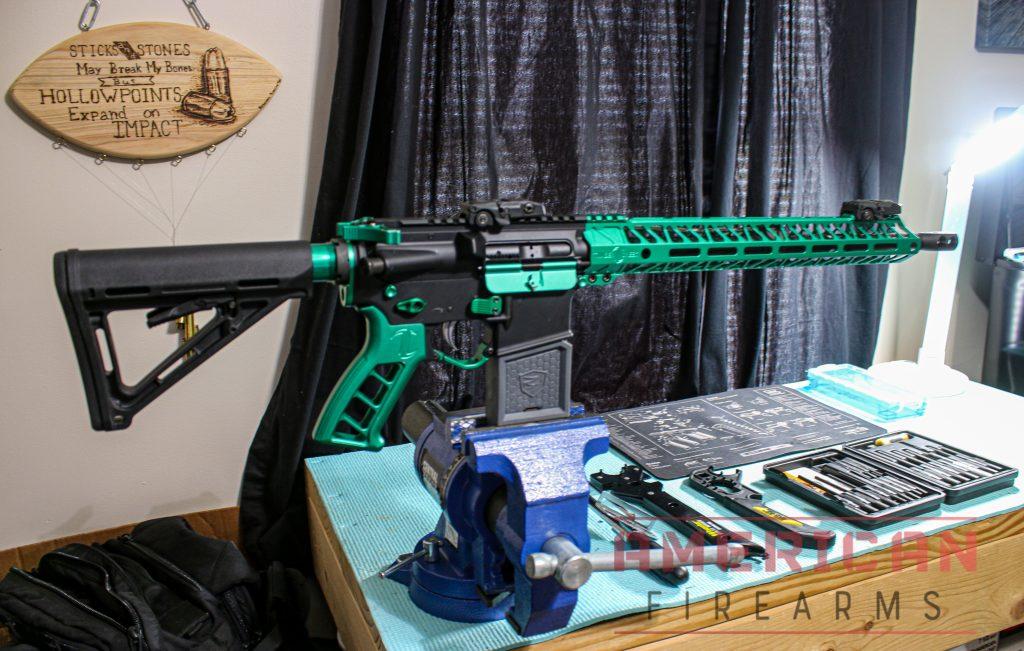 Sometimes a clamp and mag block are all it takes...
When it comes to determining the best gun vise there are a number of forms and sizes out there – but our experts highlighted a few features that will make sure you get the most out of your gun vise, regardless of the make, model, or price.
1. Flexibility
You want a cleaning platform that can accommodate all types of guns – rifles, shotguns, ARs, and other long guns.
Look for gun cleaning vises that offer an adjustable center aluminum channel or center supports that allow you to work on bolt action, semi-autos, break-open guns, and different magazine sizes/formats. You may need a dedicated gun vice if you're working on shorter weapons like handguns or short barrel revolvers.
It's also critical that your gun vice has end blocks that are adjustable and move independently from one another. This will provide room for any stock shape.
Quick releases are nice on your mounting blocks to speed up transitions, but not critical features. 
2. Base Material
With the base, you have a few options – generally a polymer/plastic or metal base when it comes to a more professional gun vise.
Lots of people prefer to mount their gun vise to their working areas, so metal is fantastic for mounting, but it tends to be a lot heavier than polymers and the vises can be made of multiple pieces/rods which can impact stability.
Polymers are very hard, tend to be non-marring, and resist solvents & cleaning products for years, but they may be a little less durable than their metal counterparts. Although they can be comprised/molded from a single piece of polymer which improves stability, especially when coupled with protective rubber feet.
In addition, clamp mounts can help keep your rifle vise in place when applying force while working.
3. Clamp Style
When a vise doesn't have clamps it's technically a gun rest, which can certainly work for maintenance, but in general, you'll want to look for adjustable or quick release clamps that can hold at least one portion of the gun – preferably the stock.
4. Durability
Guns are tough – and sometimes it takes serious torque, pounding, or wrenching to move your project forward.
The last thing you need to be concerned about when replacing a barrel or dropping a new scope on your rifle is whether or not the rifle vise will provide a stable base to work from or if you're going to knock a chunk out of your vise with a brass hammer.
5. Working Compartments
When you're mounting a scope, lubricating and cleaning, or otherwise working on your rifle you'll be using a variety of products, bottles, screws, and tools. It's often helpful to have a variety of wells and compartments to set these products, parts, and your cleaning kit.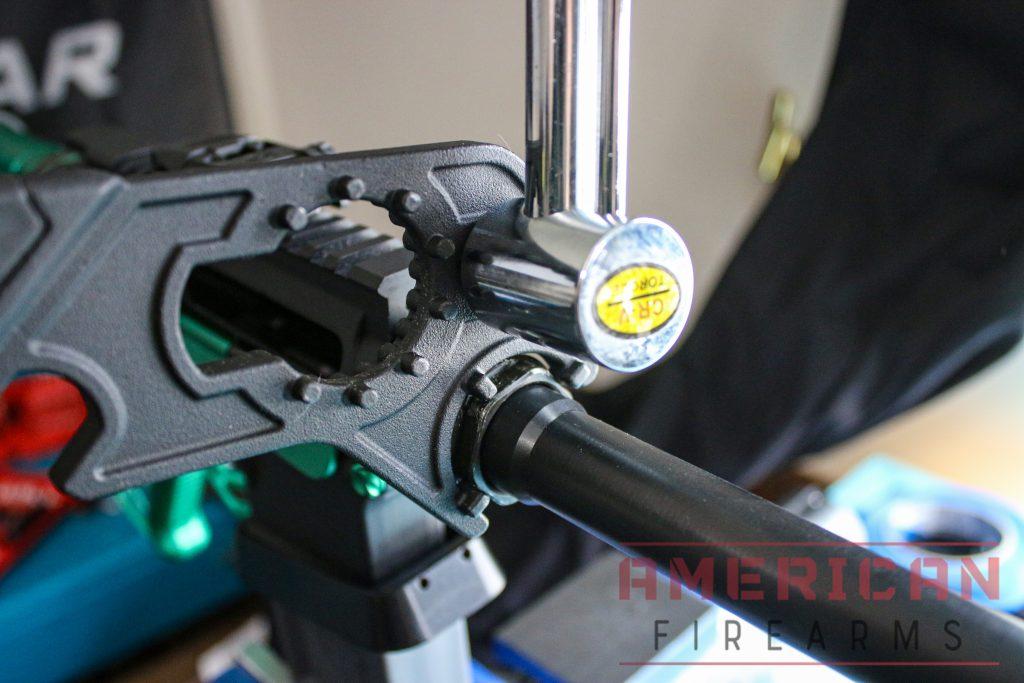 Wrenching on an AR is challenging enough without a stable base to work on.
Anyone interested in the optimal performance of their rifle. Like we noted above – gun maintenance isn't really optional, and while lots of gun owners maintain their guns without a vise, but they sure do make the process easier, faster, and improves the final product. A gun vise will also allow you to alter your weapon (attach a sight, change out components, etc.) which can open up a new level of personalization and performance for your weapon. There's also something special about truly knowing your firearm inside and out, which a vise allows you to get at.
Aspiring gunsmiths. If you want to seriously alter a weapon a gun vise is a must. Aspiring gunsmiths can begin learning the trade in a few different ways – including gunsmithing apprenticeships & seeking the guidance of an experienced gunsmith – but it's so important to and gain hands-on experience by learning on your own bench with your own tools. There's simply no way to get your feet wet in the world of gunsmithing without a vise.
How we selected these products
As much as I would love the put all these gun vices to the test there are times when certain products or categories are a real challenge — be it availability, cost, or simply a lack of resources — we can get stymied going hands-on with all the potential candidates. Rather than present a never-ending list of all the gun vices on the planet, we selected those which we felt best represent the price points you're likely to encounter when shopping — giving you a solid representational list to serve as a jumping-off point for your own research (you are going to do you own research, right?)
To avoid disappointment or steering you in the wrong direction, we bolster our own experience with conversations with experts, comb through reviews on retailer sites & sales data, review industry publications, other blogs, and otherwise surface the best information available.
We aim for all thriller, no filler, as they say.
While all of these rifle cleaning vices excel for a variety of applications the overall winner in our opinion is the Tipton Best Gun Vise.
It met all the important criteria for a high-quality cleaning vise:
Incredible flexibility to accommodate a variety of firearms
Strong base material to stand up to torquing and pounding
Solid clamps with lots of holding power
Nice compartments to hold cleaners, screws, and bolts as you're working on your rifle 
Hopefully, this guide will help you find the best gun vise for your needs, and if you have any questions or comments feel free to drop us a line.