The Best Pistol Cases
Looking for a quality pistol case but overwhelmed by the variety of options? We've scoured the market and highlighted the top pistol cases to help you find the perfect case for your needs.
Written By
Michael Crites
Licensed Concealed Carry Holder
Reviewed by
Editorial Team
Learn About The Editorial Team
Share:
Products are selected by our editors. We may earn a commission on purchases from a link. How we select gear.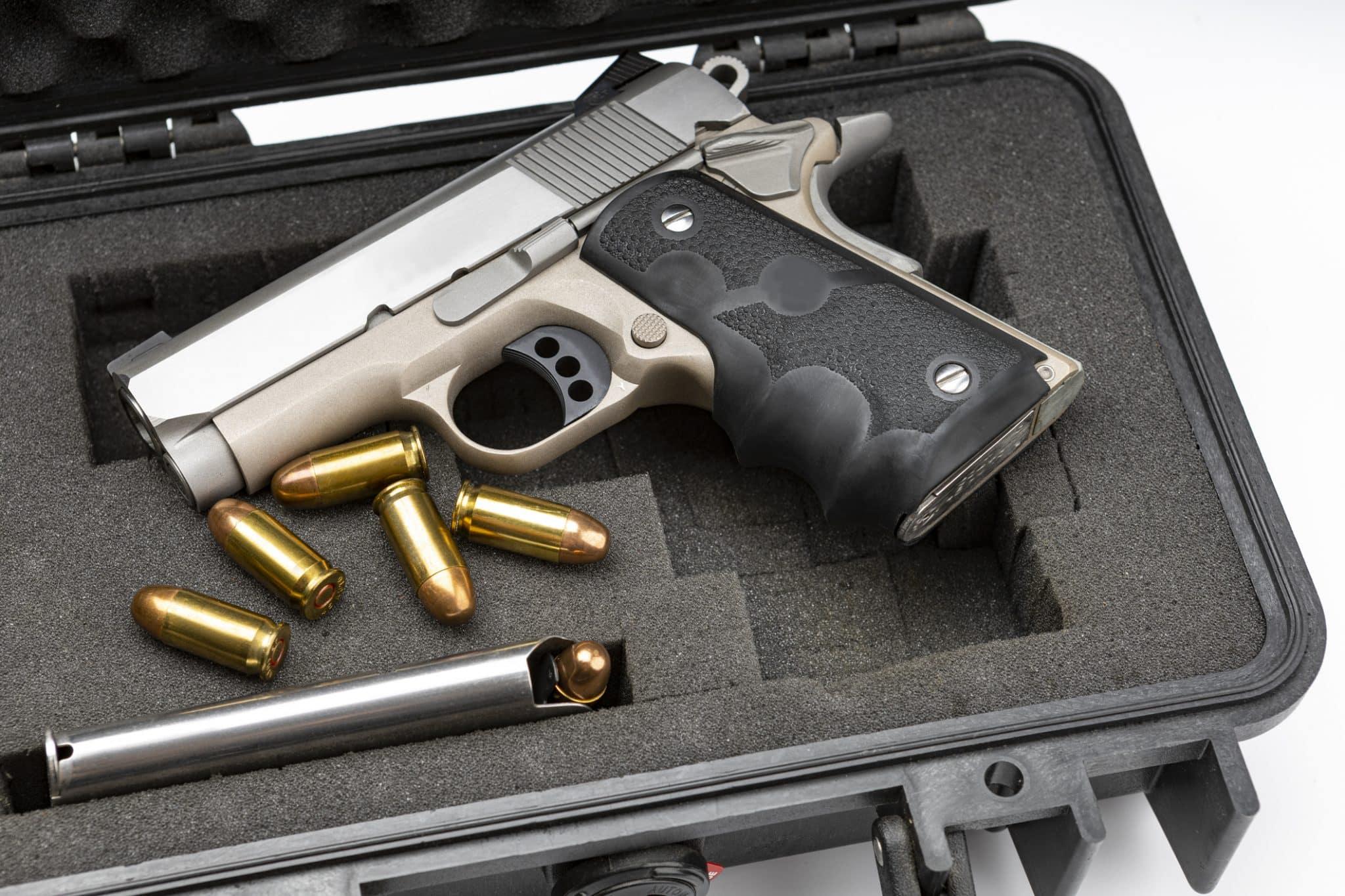 Part of being a safe and responsible gun owner is storing your firearms securely, especially pistols. You'll also want a convenient and easy way to transport them and to keep them safe from the elements and from getting scratched and scuffed.
Both of these problems can be handily solved with a high-quality pistol case.
Today, we're going to go over everything you need to know about choosing a pistol case and highlight some standout offerings that we've tested and reviewed over the past year or so. These are all handgun cases that we've used ourselves and will be continuing to use for years.
Let's talk a little about our testing experience, then we'll dive into some product recommendations, and end things with a discussion of the different features and considerations to think about when you're choosing the perfect pistol case to meet your needs.
Below is my list of the best pistol cases. I list the best choices in terms of value, performance, reliability, and cost.
Click on the name to head to the product page, read reviews and check prices or skip ahead to the list of cases.
| Case | Selection | Price |
| --- | --- | --- |
| | Best Overall | $62.95 |
| | Best Hard Multi-Pistol Case | $102 |
| | Budget Soft Care | $37.20 |
| | Hard Case Runner-Up | $36.99 |
| | Budget Hard Case | $34.99 |
| | Best Soft Multi-Pistol Case | $39.99 |
| | Soft Multi-Pistol Case Runer-Up | $79.99 |
| | Best Stationary Pistol Case | $205 |
| | Best Locking Pistol Case | $299 |
Why Should You Care What We Think?
Not to put too fine a point on it, but my whole job, and the job of everyone on this site, is to test and review firearms and firearms equipment. Pistols are the most popular firearms around, and there's a new one out every other week.
That means we do a lot of time and effort storing, transporting, and generally using pistols. Which of course means we use a lot of different pistol cases.
I personally have bought most of the options on this list with my own money at one point or another just to help keep my handguns organized, safe, and secure. It's easy for me to talk about this kind of thing because this is the kind of thing I use every day.
In a way, my job and my livelihood depend on it. I can't send a loaner gun back to a manufacturer and say "Sorry it's all scratched up now, it just got beat up flopping around in my range bag". Even worse, I could be on the hook (in more ways than one) if a manufacturer's gun gets stolen from me.
So, keeping handguns safe from damage and theft, and keeping various models organized is a huge part of my job, which is how I pay for fun little things like health insurance and my mortgage. That should tell you exactly how seriously I take this topic.
1. Best Overall: Pelican 1170 Case with Foam
First up, we have my personal pick for high-value handguns that you absolutely don't want to lose or have damaged. The Pelican 1170 case is a favorite among outdoorsfolk, photographers, and shooters alike.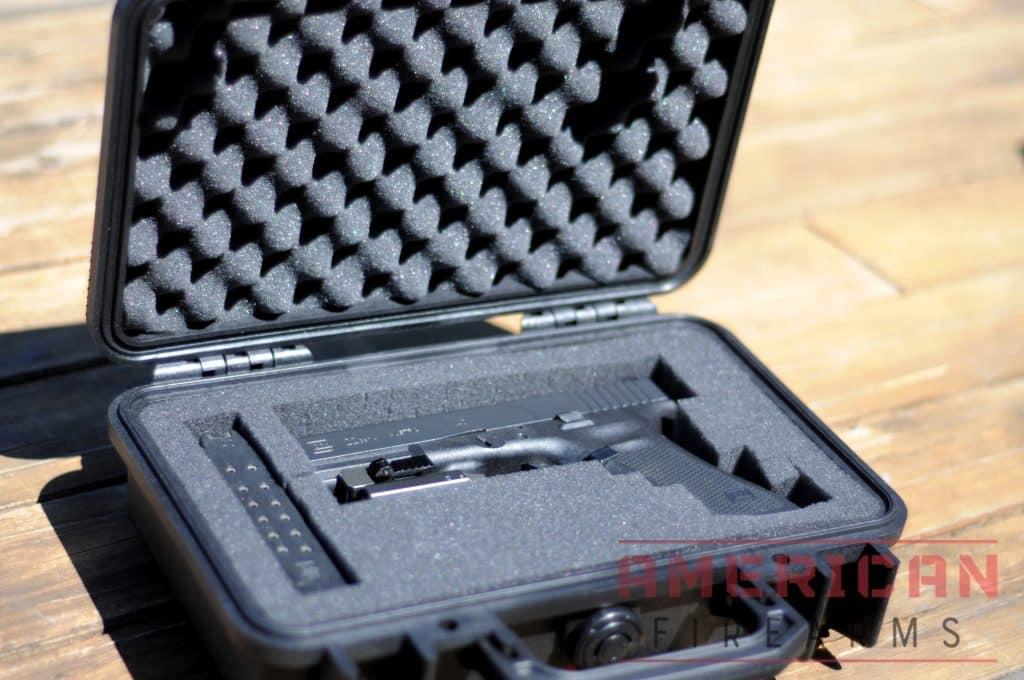 My Pelican 1170 with the foam cradling my G22.
Very often you'll see competition shooters pulling $3,000+ race guns out of these at professional competitions and high-level matches, and its easy to see why. Pelican makes damn near indestructible cases, and the 1170 is no different from their usual quality of work.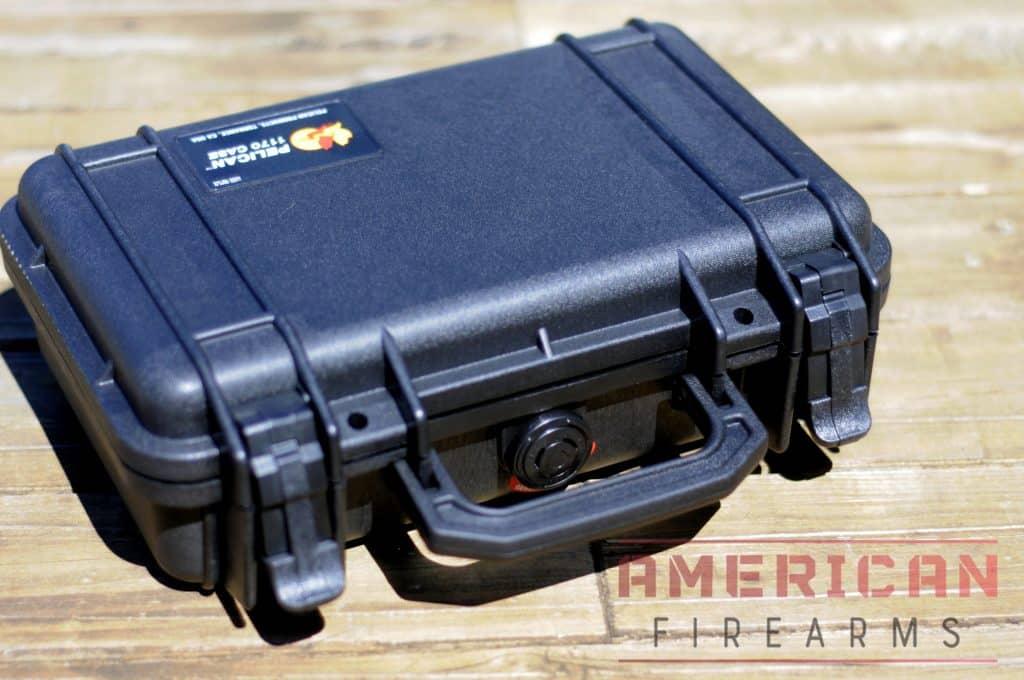 Pelican 1170 closed and locked.
The interior is 10.54in x 6.04in x 3.16in, which is plenty of room for most full-size handguns, and the pick-and-pluck foam means you can customize the inside to fit your gun and accessories perfectly. It is a little on the expensive side, but you definitely get what you pay for.
The pick-and-pluck foam is pre-scored, and it took me all of 3 minutes to pull out enough form for a tight fit on my Glock 22 and its spare mag.
I also really liked the double-throw latches, which both lock down super tight and create a watertight seal, but are quick and easy to open. I never pinched my fingers or strained to get the 1170 back open.
Highly recommended if you want a simple, durable, single pistol case.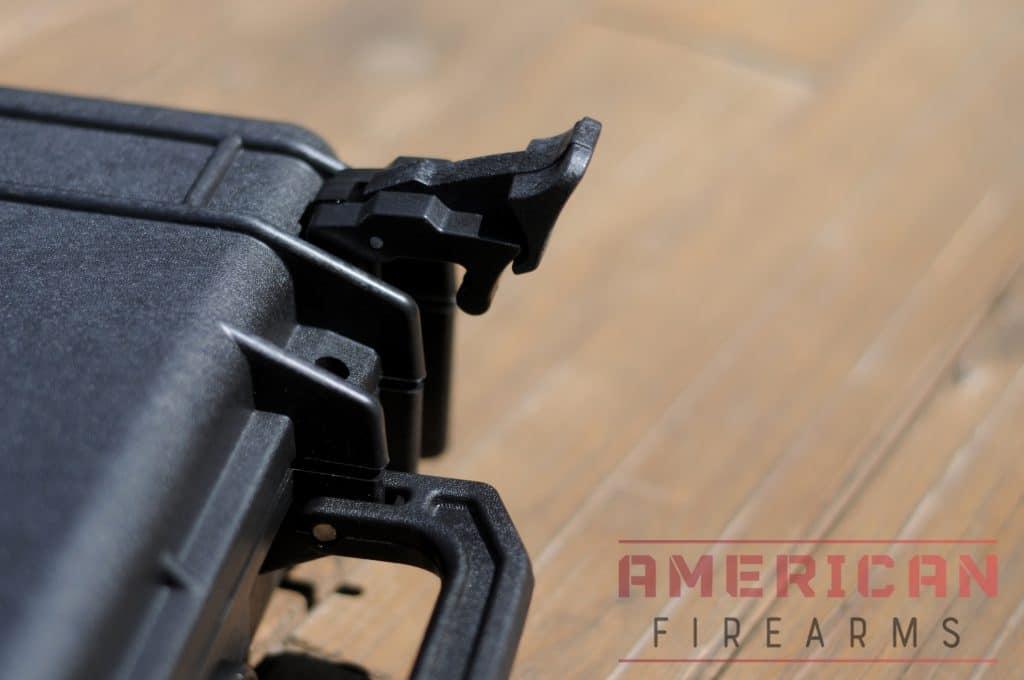 The Pelican 1170 has double-throw latches that lock down tightly but are easy to open.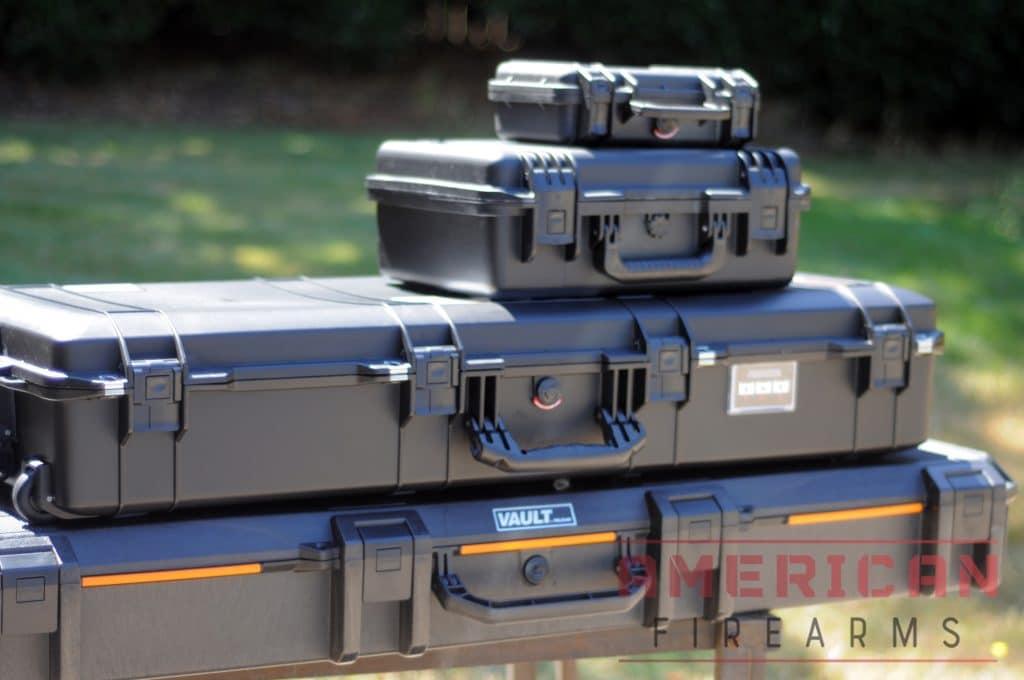 The 1170 is just one of the Pelican products I own. You can say I'm a fan.
2. Best Multi-Pistol Case: Case Club Waterproof 4 Pistol Case
If you're looking to store multiple handguns, then case club has you covered. They have many different sizes available, including huge ones you can probably store your whole handgun collection in, but my favorite is the Waterproof 4 Pistol case.
I bet you can guess how many pistols this case can hold, but just in case, it holds four quite comfortably. It will also hold 12 magazines, or you can remove the magazine organizer if you'd like more space for something else like ammo boxes or tools.
They very thoughtfully include a silica bead canister to absorb excess moisture and prevent rust, and the military-style closed cell polyethylene foam is easy to clean and wipe down if it becomes oily or dirty.
The whole thing is also TSA-approved and great for checking multiple pistols in your luggage.
3. Budget Soft Case: Drago Gear Double Pistol Case
If you're looking for an affordable option to cart your firearms to and from the range, then the Drago gear double pistol case is a great option. It has space for two full-size handguns, plus up to five magazines and some tools or extra ammo.
The center compartment has some nice organization, and the whole thing is very well padded, as well as treated with a water-resistant coating. The bag is made of 600D polyester and uses heavy-duty non-rusting zippers that won't corrode on you in the presence of gun-related chemicals.
Lastly, the whole thing is low-key enough that you aren't going to freak your neighbors out too much carrying it to your car, which is always a good thing in my opinion, and it comes in a few different colors to boot.
4. Hard Case Runner-Up: Eylar Tactical Hard Pistol Case
If you're looking for a hard case, but don't want to spend a ton, Eylar Tactical's hard gun case is one we've used often. I really enjoy this one, and the price is very attractive (as is the fact that you can get them in about a million colors).
Seriously, black, tan, gray, blue, cyan, neon green, OD green, pink, white, red, and yellow are all on offer, so you can color-code your pistols, or get some for use with first aid kits and other emergency supplies.
The interior is designed to hold one full-size pistol, and the rugged outter shell is waterproof, stackable, and incredibly crush resistant. We actually backed over one with a Subaru Outback to test it and it survived. That was on sand though, so your mileage may vary.
Still, my husband is a big dude and he can jump up and down on it without any issues. Not bad for under $40.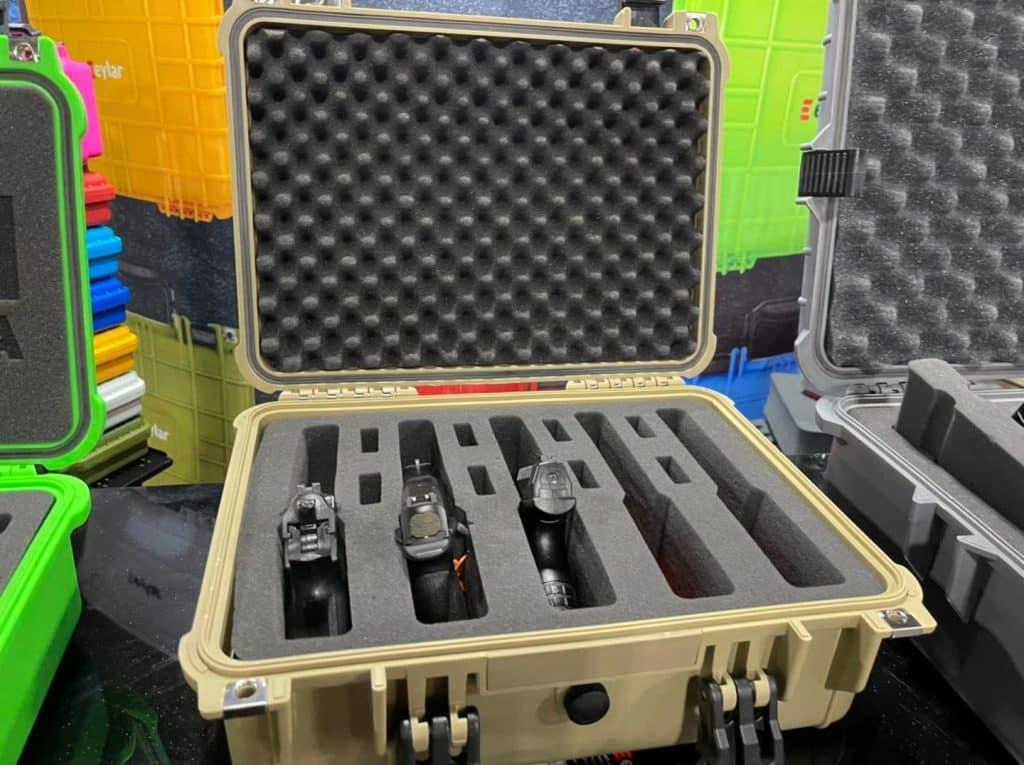 Eylar Tactical case with multiple pistols.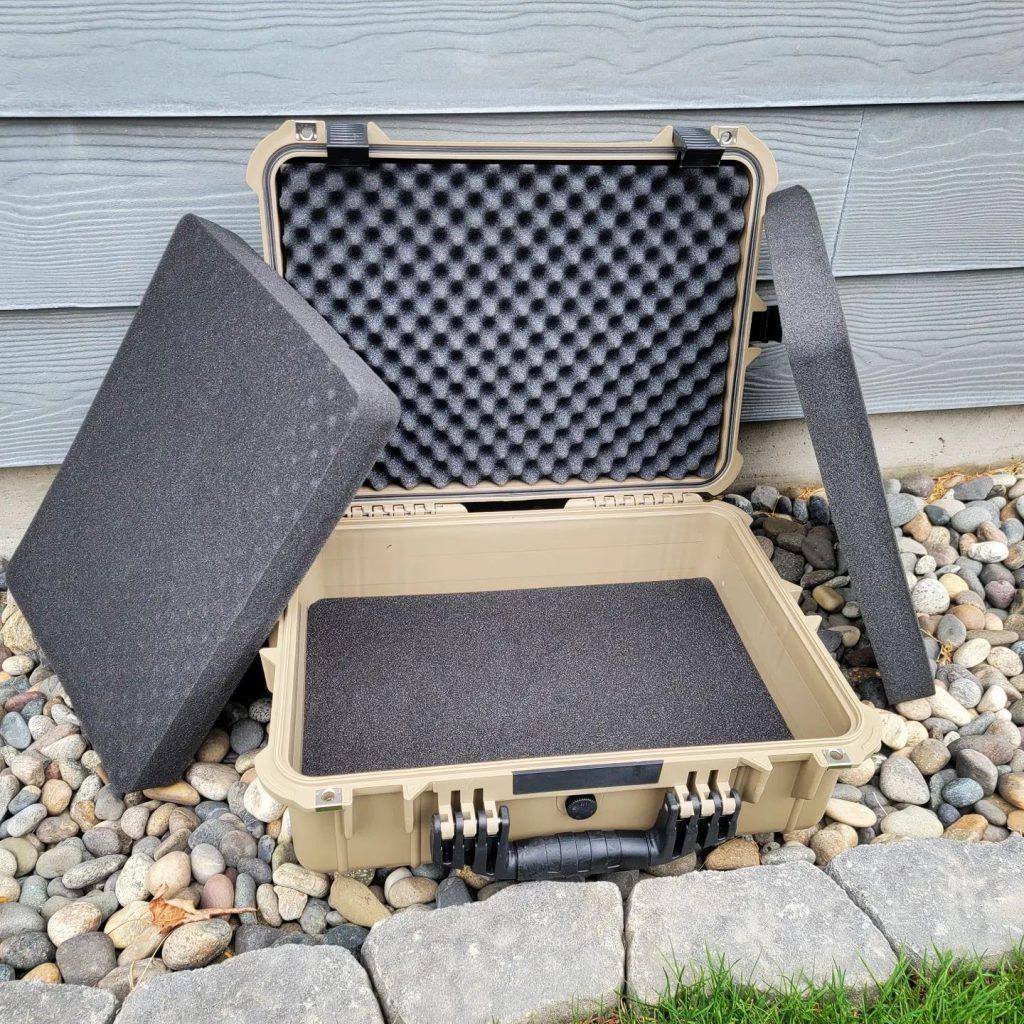 Eylar Tactical case with foam removed. You can see the sturdy hard sides, carry handle, and reinforced lock attachment points.
5. Budget Hard Case: Plano Protector Series Pistol Case
If you're looking for an extremely affordable hard-sided case for throwing into a checked bag, or you just want something you can take to the range and not worry if it gets beat up, Plano has you covered with their very budget-friendly Protector Series Pistol Case.
This is not an incredibly durable case, but it will definitely keep your guns from getting scratched up in a bag, and it's durable enough to handle some abuse without just popping open.
There's room for four pistols, two on either side of the included foam divider, and while I don't necessarily recommend loading it up with four full-size 1911s, four smaller handguns will certainly work.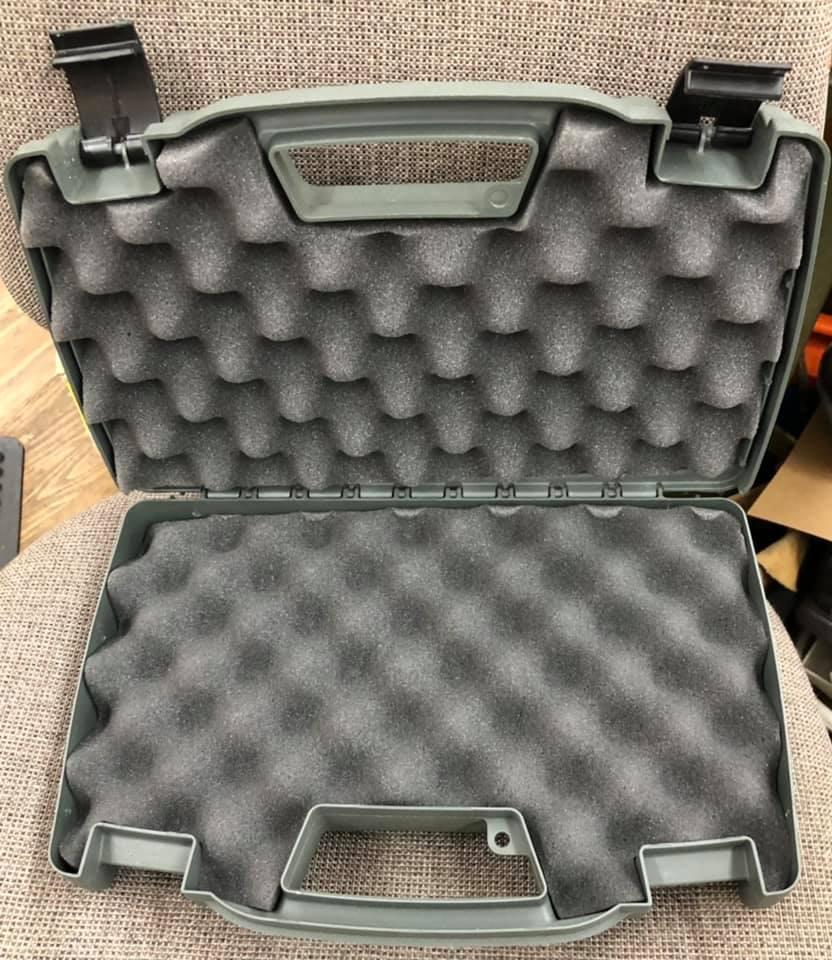 The Plano Protector Series is a typical Plano case -- the clasps are lightweight, foam is akin to a mattress topper, and the case itself is thin, but it'll do the job for less than the price of a pound of decent coffee. It's also lockable.
6. Best Soft Multi-Pistol Case: DBTAC Gun Case Bag
Next up, we have one of my favorite range bags, and the one my .22LR competition pistol setup currently lives in on range days, the DBTAC Gun Case Bag.
This is a big bag that can store up to 4 pistols quite comfortably, with plenty of extra room for mags, ammo, holsters, snacks, ear protection, targets, more snacks…basically whatever you could need for a day at the range.
The bag is very well-made, with reinforced stitches at all major wear points, and the whole shebang is made of some high-quality 600D polyester that is lightweight and water-resistant. Like a lot of range bags, the zippers feature lock holes so you can secure it with a luggage padlock.
7. Soft Multi-Pistol Case Runner-Up: Orca Tactical Range Bag
Another range-bag style option that we really like is the Orca Tactical Range Bag. This is another bag I've used a good bit, and my husband still uses it to this day.
The bag can easily carry three holstered handguns, and has additional pockets with elastic loops for ammo, tools, mags, or a protein bar or two.
There are also two accessory pouches sized for water bottles on the ends so you can stay hydrated or shove some extra ammo in there if you're expecting to shoot a lot.
Lastly, the whole thing is made of 600D polyester and features YKK zippers that won't bind or snag or separate on you pretty much ever, even if the bag is loaded right up to capacity. The zipper pulls also feature luggage-style holes you can thread a small padlock through to secure things further.
8. Best Stationary Pistol Case: Gun Vault SpeedVault
Next up we have something a little different, the Gun Vault SV500 SpeedVault. This, like our final entry, is less of a "case" and more of a "safe", but might be the right option for folks who want a way to secure a gun somewhere within easy reach.
This is a mountable single-pistol safe that you can attach under a desk, on a nightstand, or even somewhere in your vehicle to have a reliable place to store your fiream when you're on the go. This is an especially great option for those looking for a secure pistol case that they can get into quickly.
We may or may not have a couple of these in our own home in strategic places for those "just in case" kind of scenarios, and to have a safe and convenient place to lock up our carry guns at the end of the day. The 18-gauge steel body is pry-resistant, and the keypad is quick to allow access to anyone with the proper code.
Speed Vault Out of the Box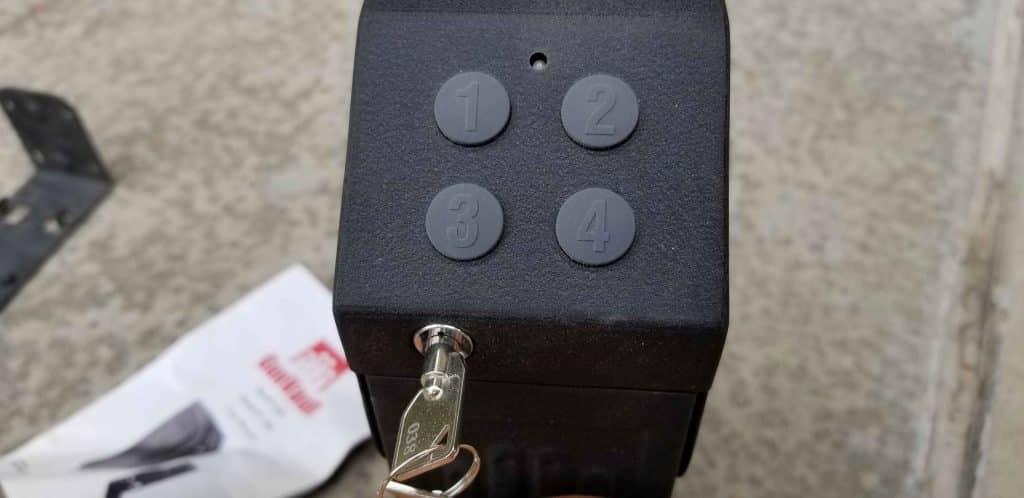 Speed Vault Touch Pad
9. Best Locking Pistol Case: Fort Knox FTK-PB4
If you're looking for something truly secure (and a pain in the ass to get into without power tools) then the Fort Knox FTK-PB4 is a great option. It's designed to be bolted down, and is constructed of 10-gauge steel so it isn't going to be easy to get into without a grinder.
The door is 3/16" thick and the whole thing is 9" wide by 12" deep and 4" tall, so you have plenty of room inside for two full-size pistols. This is just about perfect if you're going to be bolting something in place under a bed or in top of a closet where it will be hidden but very accessible.
Punching in the code takes just a few seconds, and there are sufficient possible combinations to stymie casual examination, though we would still recommend further protections if you have curious kids that you're worried about.
Still, for locking something up in a hotel-style safe, this is a great option. Provided you are willing to drill some holes in the floor of course.
Some of you might be wondering why you even really need a pistol case. After all, if you're just going straight from the safe to your holster or straight to the range, does it really matter?
Well, yes actually. In the US alone, almost 6,000 handguns were stolen last year, most of which were snatched out of vehicles. And that's just the ones that got reported. That number is likely significantly higher due to reports not being filed federally, plus guns that aren't reported stolen by owners who don't want to be criminally liable.
Speaking of, in many states with secure storage laws, if your firearms are stolen from a container that doesn't meet requirements, you could be looking at a charge yourself.
There are basically two different types of pistol cases you can get to protect and transport your firearms.
Soft-Sided Pistol Cases
The most common option, and the one you're most likely to see at the local sporting goods store, is a soft-sided case like a range bag. These are constructed similarly to like a tool bag, or a really beefy gym bag, and typically have elastic straps inside to secure your pistols.
They range in size from being able to hold just a single pistol and maybe a spare mag or two, to larger range bags that can hold up to four full-size pistols and have multiple magazine compartments and places to store extra ammo or even tools.
Hard-Sided Pistol Cases
Hard-Sided cases are what we recommend for most folks, for a couple of reasons. For one thing, they're more secure and are more likely to prevent theft, which is the main goal of all this.
For another, they're actually easier to transport than soft-sided cases sometimes because you can just shove them in anywhere and stack other items on top of them. I've jumped up and down on several of my hard cases and not even come close to damaging them.
These are a great way to carry other gear as well, like drones, camera equipment, rifle scopes, and more, so long as you have the right foam insert, so hard-sided cases are typically much more versatile than hard-sided cases as well.
A Note About the TSA
If you're looking for a pistol case you can fly with, you should check the updated TSA guidelines before you fly as they can change often and without warning, leaving you to find an expensive last-minute storage option at the duty-free shop (ask me how I know).
You'll also want to check with your specific airline, and if at all possible call them and confirm everything before you fly.
I know it's a pain in the ass, but Delta, Southwest, American, Frontier, Lufthansa, and Spirit all have slightly different rules that can also leave you in a pickle (again, ask me how I know).
As a general rule, you have to declare your firearm, and it has to be stored unloaded, and in a lockable hard-sided container. You don't have to furnish TSA with a key, and frankly, I recommend that you don't, but they can ask you to open the case. If they do, don't just give them the key, but insist on being there when they open it. Otherwise, you could have some butterfingers in the TSA scratch the lens on a very expensive optic and never be able to prove it and be out one very expensive optic plus some legal fees (again, ask me how I know).
As far as containers go, they just want the gun to be unloaded and in a hard-sided case with a lock, and yes you can store ammo in the case as well, as long as it's not rolling around loose. And "unloaded" to the TSA means no mag in the gun either.
Beyond that, we recommend a case with a pressure valve so that the air pressure inside your case can self-regulate with changing cargo hold pressures and air temperatures.
Important Pistol Case Considerations
There are a few things you need to keep in mind when choosing your pistol cases. There are many, many different options available on the market today, so it's important to get something that is going to meet your needs.
What Are You Using It For?
First and foremost, think carefully about what exactly you're going to be using this case for.For example, if you're just taking your pistols out of the safe and transporting them to the range and back, a soft-sided range bag-style case is probably just fine.
If you're storing them long-term in a hard-sided case in the top of a closet or under the bed, then your needs are going to be a little bit different, and the same goes for if you need a lockable, TSA-friendly case so you can check your firearm on a flight.
Dimensions & Interior
Next, you'll want to think about the kind of interior dimensions you need, and what kind of interior organization you'll want. If you just need a case for a single pistol, this should be pretty easy, but what about two, or three, or even up to four handguns in a single case?
If you're storing more than one gun, you'll want to make sure that you either have foam that's already cut for multiple or storage compartments built in if it's a soft-sided case. You'll also want to make sure there's plenty of padding between the guns themselves, and between each gun and the outside of the case.
A popular option is pick-and-pluck foam which will let you customize the interior of your case to fit your guns without having to take something like a hot knife to the foam (even though it is a fun and satisfying little project to take on).
If you're going with a soft case or bag, make sure you get something that's going to hold your pistol or pistols, as well as a cleaning cloth, mags, extra ammo, and whatever else you might need to have with you, especially if you're looking for a range kit that you can work out of.
Portability & Materials
Next, you'll want to think about how portable you want your case to be, and what kind of materials you need to look at. Many people choose a soft-sided case or range-bag style setup for easy transport, and this can work, but it'll need to be well-secured in a vehicle.
Hard-sided cases are a great option and are able to be locked down much more securely, and are what I typically recommend for regular vehicle storage. You can use one of those little cable locks you get with every handgun to secure these cases to something solid in the vehicle as well.
You can also get locking cases that you can mount on the outside of your vehicle, but I'd recommend being very careful about these.
A dedicated thief is going to see that and know there's something juicy inside. I know all you overlander types love bolting stuff to the outside of your Tacomas, but keep the rifle cases inside the vehicle, okay?
As far as hard cases go, you generally have the option of either a polymer/polycarbonate exterior or an aluminum one.
We recommend the polymer option to keep weight down and make things less of a pain to transport unless you're looking for a case that is going to live in your house somewhere bolted to the floor.
Impact & Water Resistance
Lastly, you'll want to think seriously about impact and water resistance. If you're going with a hard-sided case, the risk of the guns inside being damaged if the case is dropped or knocked around in the back of your vehicle is pretty low. The hard outer shell plus the foam will keep things safe.
You can also get water-resistant hard cases, which we definitely recommend if you're going outside much with it. Just make sure that if you're storing the guns in a case like this long term you toss in some silica packets as the foam likes to hold onto moisture in humid environments.
Silica packets are great at preventing gun rust, and every gun owner should save the ones that come with shoes and other such products, or just buy them in bulk on Amazon. Having an o-ring seal on your case is great for keeping moisture out, but it also locks it in whenever you close the case.
The upside is the case will be impervious to water spills and can even be fully submerged while still keeping the contents inside perfectly safe. This is a great option for boaters who want to keep a gun close to hand, especially since plastic cases like this will float in water.
If you're going with a soft-sided case, obviously the guns inside are at a higher risk of being damaged so you need to be a little more careful when moving the case around, but a good soft case will offer almost as much protection as a hard-sided one.
Get a soft case with thick foam padding to protect against a sudden impact, and ideally at least some luggage-style lockable zippers like you get on travel bags to put a small padlock through.
This will at least prevent easy access by would-be thieves, especially if the case is cable locked to something inside your car.
Price Ranges vs. Features
<$50: This is typically what you'll pay for a simple range bag. Expect soft-sided containers for the most part that hold a pistol or two.
$50-$100: The realm of nicer bags and more durable, hard-sided cases, many of which are lockable. Great for transporting a firearm in a checked bag, or securing it inside of a vehicle.
$100+:This is where we get more into the territory of a safe than a simple case, and you can quick-access options, biometric options, or heavy-duty hotel-style safes.
How we selected these products
I always like reviewing products that I've used myself, and this was a great piece for that. I've been doing this stuff professionally for years now and in that time I've been through a lot of pistol cases. During that time, I've also developed strong feelings about iffy cases.
I don't want anything that isn't going to adequately protect my guns. Sure, I get some cases at no cost but still don't want anything to happen to them, just the same as with cases I buy outright.
More on shooting accessories:

March 15, 2023 — We've updated the links in this guide and reviewed pricing and availability for our pistol case picks.
Sign up for our newsletter
Get discounts from top brands and our latest reviews!