The Best Scout Rifles
Written By
Michael Crites
Licensed Concealed Carry Holder
Reviewed by
Editorial Team
Learn About The Editorial Team
Share:
Products are selected by our editors. We may earn a commission on purchases from a link. How we select gear.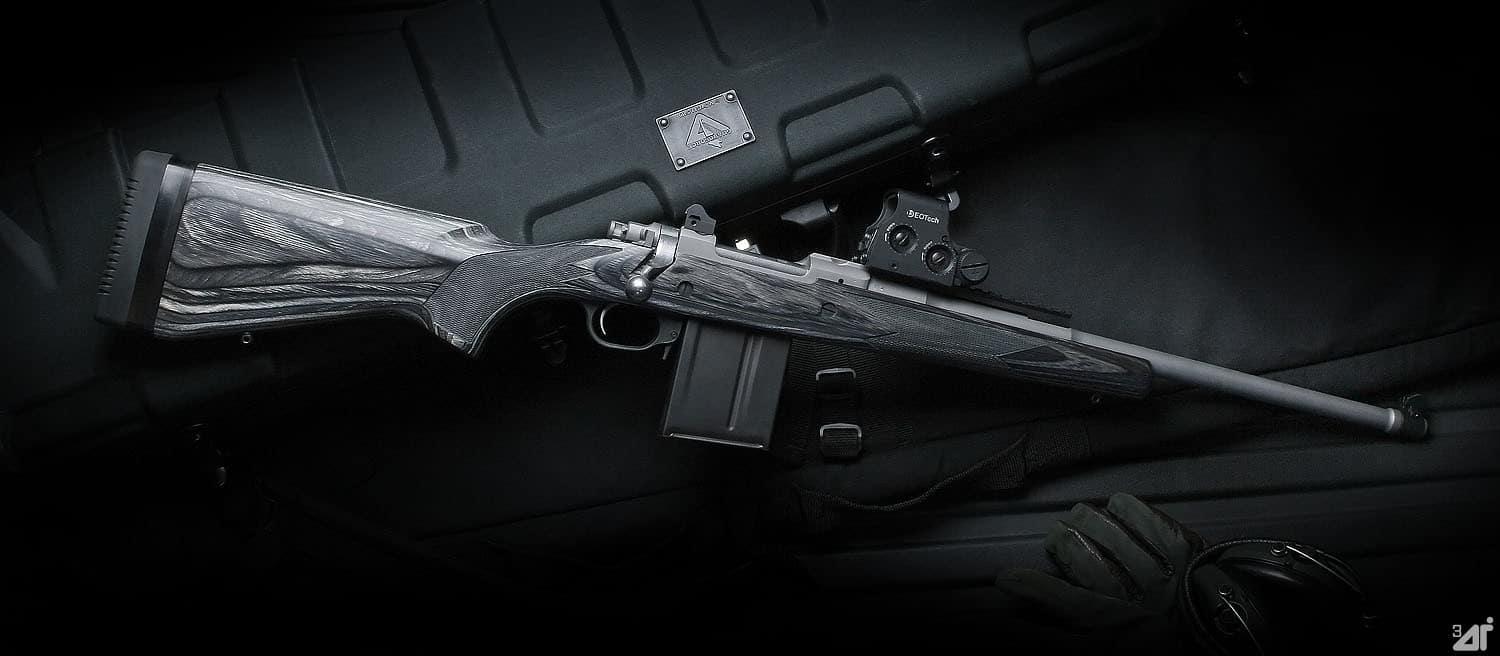 The scout rifle, as a concept, came largely from the thinking of Col. Jeff Cooper, a Marine who spent much of his life planning, practicing, and teaching practical shooting. 
As part of his work, Cooper wanted to create a generalist rifle that would be useful for the real conditions found in hunting big game, especially in North America. Cooper desired bolt action rifle chambered in .308, kept as light as possible for long treks through rough terrain. 
Cooper's vision for the rifle suggested a sixteen-inch barrel, a forward-mounted scout scope, and a detachable box magazine.
These features, combined with sling attachment points and a synthetic stock, meant that the scout rifle was a capable rifle that you could practically carry for long distances and be able to make accurate shots.
This concept, still a relevant one today, has been modified slightly in some rifles, which prefer a more aggressive muzzle break than some of the original rifles, as well as the adoption of a semi-automatic format. Still, the main idea is for a capable and compact rifle intended for the kind of shooting that a lot of us actually do.
Below is my list of the best scout rifles for 2022. I list the best choices in terms of value, performance, design, and cost.
Click on the name to head to the product page, read reviews and check prices or skip ahead to the list of rifles.
1. Best Overall: Steyr Scout Rifle
The Steyr Scout was designed with Col. Cooper's ideas in mind and thus checks pretty much all the marks for a Scout Rifle.
It's about as close as it gets in rifles that you can still find new. A little rarer, but from the same time period, is the Ruger Gunsite Scout, which was made in Cooper's honor. Another close competitor is the Mossberg MVP, which, as best our experts can tell, has been discontinued and is thus hard to find at all.
With that said, the current version of the Steyr Scout is our pick of the litter for a compact rifle. It's short, handy, and light thanks to the synthetic stock.
In that stock are some of the more clever design features, such as a magazine in the butt of the stock and a built-in bipod that, while seriously slick, is just a touch too thin for our tastes. It also has Picatinny rail up top for mounting of the traditional long-eye relief scope as well as the mandatory sling attachment points.
In terms of scout rifles, this one is the clear winner if we're being strict about Col. Cooper's ideals.
Pros:
It's one of the original scout rifles. 
Comes with an integrated bipod. 
True to Cooper's concept, it's super light.
Safety is extremely easy to access. 
Has great scope mounting capabilities.
Cons:
The integrated bipod is a little flimsy. 
The included magazines have a small capacity.
Replacement magazines are expensive
2. Runner-Up: Ruger American Scout Rifle
As our runner up pick, we've chosen the Ruger American. In many ways, this rifle is the spiritual successor to the Ruger Gunsite rifle: it's light (just over nine pounds), comes with detachable magazines, and has Picatinny rail for the mounting of a short eye relief scope.
Between that and the stock that's meant for fast follow up shots, as well as the apparently quite good muzzle brake, this certainly meets the criteria for a scout rifle.
Our experts do have a few conceptual issues with the Ruger American if we're being picky, though. One, the barrel is 20 inches long, which is longer than Cooper hand in mind.
Additionally, the rail is just over the action, which might limit the mounting options when compared to something like the Steyr.
With that said, the Ruger American more than makes up for it with one feature: it can accept standard .308 AR magazines.
Pros:
A more modern take on the scout rifle concept. 
Slightly longer barrel for more velocity.
Highly adjustable stock.
Reasonable priced. 
Comes in multiple calibers.
Cons:
Technically too long to be a true scout rifle.
Picatinny rail might be a little too far back.
Would be nice to have additional magazines.
3. Also Great: Savage Arms
If we're willing to keep in mind the spirit of Cooper's ideas for a short, light, and handy rifle and still be willing to modernize some of the ideas, then we can open up to rifles like the Savage Arms GRS.
This one meets most of the criteria, especially in terms of overall length (forty inches) and weight (just under nine pounds). In terms of looks, however, it's pretty different and more closely resembles a modern tactical rifle than a traditional scour rifle.
With that modern design, however, you get some really nice modern conveniences such as a pistol grip that we think would aid in shooting from a standing position.
Also, the barrel is threaded from the factory: that makes this an ideal suppressor host, which can be a great tool for hunting. On the back end of the stock, both length of pull and cheek risers can be adjusted to make sure that the rifle fits you well, which is vitally important to make consistent snapshots, which is exactly what a scout rifle ought to be good for.
Pros:
Modern ergonomics 
Threaded barrel muzzle device mounting
Paddle-style magazine release 
Lots of adjustability in terms of length of pull and cheek weld
The adjustable trigger for shooter preference
Cons:
Paddle magazine release might be a liability.
Technically the barrel is too long. 
No easy way to mount a bipod.
Ergonomics won't be for everyone.
4. Best Semi-Auto: Springfield M1A
In terms of scout rifles, some folks don't think that semi-automatic rifles do not count at all.  We politely disagree on the matter. Yes, semi-automatics like the M1A might be marginally less accurate than a bolt action, but at the ranges intended (sub 500 yards) for scout rifles, that will matter very little. What the shooter gains, however, are a lot of really nice features. 
The main attraction here is that you can make follow up shots a heck of a lot faster with an M1A than anything else on this list.
That is especially true if you use 20 round magazines, which are easily available as it takes standard GI pattern M14 magazines.
The version we're recommending is the SOCOM, which omes with forward-mounted rail for long eye relief sights, and is an overall short and handy package that we think makes a fine scout rifle.
It does, however, come in a lot of different varieties, from the wood-stocked standard, match, and tanker models (in different barrels and lengths), all the way up to a chassis-mounted M14 EBR. Currently, the US military makes good use of the M14 (the military version) as a designated marksman's rifle.
We think we see why it's an excellent rifle.
Pros:
Variety of configurations to fit your needs
Great aftermarket support for accessories
A semi-automatic firing speed
Very close to Cooper's ideas
Cons:
The blade safety takes getting used to.
Some do not like the iron sights 
Limited options for short eye relief scopes.
5. Most Innovative: Barrett MRAD
The Barret MRAD does check many of the boxes of a scout rifle. Its length is just a hair over forty inches, the barrel is seventeen inches, and it's a bolt action rifle in .308.
You can also put an optic anywhere you please on it thanks to the full-length rail, and mounting a bipod would also be a cinch thanks to the rail section on the bottom of the handguard.
Our experts think that this one is basically the 21st-century version of a scout rifle. It certainly looks a little different than the rest and has been kitted out to accept all of the modern conveniences of customization that we expect on our AR platform guns, but in a bolt format.
One concern we do have is that all the weight is going to be in the barrel, which might make aiming from standing a really tiresome experience. All in all, this is one to keep an eye on if you're thinking about a really modern scout rifle.
Pros:
Full-length Picatinny rail for optics mounting
Tons of mounting options
Accepts M16/AR15 pistol grips for familiarity 
Folding Stock for compactness of carrying.
Extremely Modular system
Cons:
Design is front heavy
Right-handed bolt only
Strays from the original concept
What makes for the best scout rifle?
Generally, a scout rifle is intended to be an all-purpose hunting rifle that can do well in a variety of circumstances.
The rifles are relatively compact, coming in around 40" overall, and light, usually coming with synthetic furniture. They are meant for engaging game at close to moderate range and with the possibility of quick follow up shots: a major component of a scout rifle is its forward-mounted scope with low magnification. 
Choosing the best scout rifle for you
To get the best scout rifle for you, our expert recommends picking the feature that matters most to you. If precise first shots are the most important, then a bolt action is best. If fast follow-up shots are a priority, a semi-automatic rifle would work better. Also, consider weight and the distances that you'll be carrying the rifle. Light synthetic stocks generally do better in wet or dirty environments. 
What is the best way to use a scout rifle?
Keeping Cooper's vision is done, the scout rifle is intended to be used as a hunting rifle when you expect to do a lot of walking. Thus, setting it up with a sling and a low to medium power scope mounted forward of the action keeps the rifle balance, quick in hand, and easy to carry. Because of the caliber and general handiness, though, they also make more than competent self-defense rifles in trained hands.
What are the advantages of scout rifles?
Scout rifles are jacks of all trades. They're not as accurate as heavier bolt actions, nor as fast to fire as an AR platform. But, they are rifles that are easier to carry than those big bolt guns and better at range than most ARs. Effectively, Cooper meant for these rifles to be a good choice in nearly all shooting conditions: they are the rifle of a skilled generalist as opposed to a specialist tool. If you had to have a single rifle, Cooper reasoned, it ought to be one that is good at most things instead of the best at a single thing. It is a rifle of reasonable compromises.
Picking a winner in a rifle list like this one is always like picking between children for your favorite. The problem this time is that all of the children are well-performing and excellent in their role. But, keeping in mind that Col. Cooper prioritized lightness and handiness in his creation of the scout rifle as a concept, we have to go with the Steyr Scout.
When compared to the Steyr Scout, some of the rifles on this list, such as the Barrett, are probably more accurate. Others, like the M1A, are faster on follow up shots.
But the Steyr Scout sits at that sweet spot where it's light enough to carry all day and accurate enough to make the shots that count while mounting the sling and long eye relief scope that the concept calls for.
Overall, any of these rifles would likely do you well, and we hope that you think about a few of them if you're considering a scout rifle!
Sources:
National Interest, Meet the M-14 Rifle: The Old Gun That Refused to Surrender, March 1, 2019
Springfield Armory Historic Site, U.S. RIFLE M14 "GUERRILLA RIFLE", M14E2