The Best Shotgun Suppressors
Written By
Michael Crites
Licensed Concealed Carry Holder
Reviewed by
Editorial Team
Learn About The Editorial Team
Share:
Products are selected by our editors. We may earn a commission on purchases from a link. How we select gear.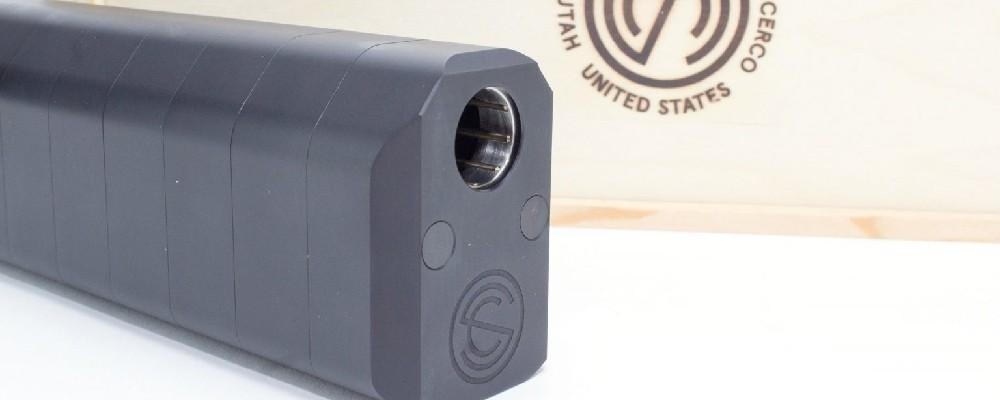 Shotguns are some of the most versatile and useful firearms ever created. They're excellent weapons for hunting, general fun and target shooting, and of course, for home defense.
It's just too bad that there aren't any shotgun silencers created to make them even better… right? Wrong!
In fact, there are a handful of top-tier shotgun silencers you can add to the most common shotgun models. They may not be common, but they're certainly worth your consideration. This article is part of our ongoing Guide to Shotgunning.
Shotgun Suppressor Reviews
1. Best Overall: SilencerCo
The Silencerco Salvo 12 is undeniably the best shotgun silencer on the market, in large part because the manufacturers spent plenty of time perfecting the design before sending it to retailers.
It's by far the most commercially viable shotgun silencer – it attaches via a standard shotgun choke, and is designed to work with chokes from Remington, Mossberg, Benelli, Saiga, and other brands.
You can check out the guide on the Salve 12 website to select the ideal choke for your needs since the product comes with a single choke for straightforward installation.
It also works with gas-operated, inertial driven, and pump-action shotguns, so regardless of which scattergun you fancy the Salvo will fit the bill, be it for tactical/home defense or a pump action favorite.
The Salvo 12 is a modular system which can be modified for several different lengths – from 6.8" all the way up to 12" long, which will lower the sound to 137 dB. Keep in mind, of course, that the Salvo 12 is only available for 12-gauge shotguns, which means it won't work with other gauge shotguns such as 20 or 410-gauge.
Still, there's a lot to like about this fantastic accessory. It's durable, comes in a variety of different patterns and colors, will significantly reduce felt recoil to help save your shoulders, and can be purchased for less than $1,000 depending on the retailer. It's also user-serviceable, so you should be able to get years of service from it and keep it operating and peak performance.
It's not super light – the Salvo 12 weighs from 19 to 34 oz depending on the length of the configuration – but all-in-all, it'll be the go-to choice of shotgun silencer for the majority of users, from home defense to simply reducing sound levels to keep your hearing safe.
Pros
Very durable
Modular design works at multiple lengths
Good sound suppression overall
Reasonably affordable
Easy to install
Comes with a choke for your shotgun
Cons
Only for 12-gauge shotguns
A bit heavy at 34 ounces
Maximum suppression requires the heaviest & longest configuration
2. Runner-up: A-TEC
This shotgun silencer is a little more specialized. In fact, A-TEC's A12 is designed around the Remington 870 shotgun since it fits extraordinarily well on chokes designed for that firearm.
It's also pretty easy to mount and comes with detailed instructions so you can screw everything into place without too much trouble – it even comes with all the tools you'll need!
This silencer also comes with a modified choke tube, and you can select the type you want at checkout. Like the Salvo 12, this silencer is only good for 12-gauge ammunition, so keep that in mind if you are interested.
This silencer is a little lighter in overall weight compared to the Salvo 12, but it can't be expanded or collapsed from its signature size. It's also a challenge to get ahold of due to it being a controlled Swiss product which is mot exportable directly from the manufacturer.
It doesn't muffle sound quite as low as 137 dB. But it's still an overall excellent choice for suppressing your shotgun's explosive reports.
Pros
Good weight
Comes with tools and choke
Smooth aesthetic
Easy to install
Cons
Only for 12-gauge shotguns
Cannot be purchased directly from the manufacturer
3. Also Great: XCaliber
This last shotgun silencer comes from a relatively unproven third-party manufacturer, so your mileage may vary in terms of overall performance. But the big thing to be aware of is that this silencer works for both 12 and 20-gauge ammunition, making it the only dual-use shotgun silencer on the market.
It's also relatively lightweight at just 28 ounces, though it's also the longest silencer on this list at 14.25 inches. The size can't be shortened, but it does a good job of lowering shotgun sound to around the 137 dB range. It's made with durable aluminum and stainless steel and has an oxide finish for added corrosion resistance.
The downsides are that there isn't much of a reputation from this manufacturer and installation may be a bit tricky.
Pros
Lightweight
Works for 12 and 20-gauge shotguns
Good material
Cons
Relatively unknown manufacturer means quality is questionable
Some difficulty with installation
What to Look for in a Quality Shotgun Suppressor
The different factors that distinguish shotgun suppressors from one another can impact how well they suit your firearm and its intended use. Let's break them down one by one.
1. Safe Operation
This is the real question; is a silencer on your shotgun even worthwhile, considering the difference between a standard shotgun and another firearm?
For starters, shotgun silencers operate differently compared to regular silencers. That's because shotguns don't fire a single bullet but instead eject multiple projectiles held in place temporarily by a wad. You see the problem – any worthwhile shotgun suppressor needs to muffle the sound of shooting a shotgun without affecting accuracy or being damaged by the expanding shot.
2. Sound reduction
However, some shotgun silencers are on the market and do a decent job of muffling the explosive sound. But keep in mind that even the best shotgun silencer on our list, the Salvo 12, can only bring down the noise of a given shotgun to about 137 dB. This isn't completely safe for human hearing.
If you wanted to use your shotgun without hearing protection, a silencer would theoretically need to bring the noise level down to 85 dB. So while modern shotgun silencers can help mitigate damage to your ears, they won't eliminate the need for earplugs or other protection.
3. Intended use
Still, shotgun silencers offer a lot of value. Such a silencer will allow you to hunt more effectively since the sound of your shots won't echo quite as far. Furthermore, a shotgun silencer does make firing a shotgun easier on your ears to some extent, even if you still have to use ear protection.
We'd wholeheartedly recommend picking one of these up if you can afford it and if you use a shotgun pretty frequently.
Is a Shotgun Suppressor the Same Thing?
Yes. Like regular silencers and suppressors, a shotgun suppressor is the same thing as a shotgun silencer. Both terms are interchangeable, even though the preferred term varies from product to product.
The Salvo 12 ultimately gets our vote for the best shotgun silencer on the market today. But the good news is that these three silencers herald the beginning of a new market of shotgun attachments.
Now that manufacturers know how to build these effective accessories, we'll likely see even more shotgun silencers come to market in the near future. Good hunting!