The Best SKS Scope Mounts in 2023
Written By
Michael Crites
Licensed Concealed Carry Holder
Reviewed by
Editorial Team
Learn About The Editorial Team
Share:
Products are selected by our editors. We may earn a commission on purchases from a link. How we select gear.

After more than 70 years in service, SKS rifles have been around the block. After replacing the Mosin Nagant the world over (and given the amount of time this rifle has been in the hands of recreational shooters) there's an incredible number of aftermarket components available to help bring these rifles into the 21st century.
That said, if there's one thing Russian battle rifles don't cotton to, it's easy optics. Every model from the AK to the SKS shares this characteristic – so when you're looking to improve the target acquisition capabilities of your SKS, chances are you'll need to purchase and mount your preferred scope separate from the rifle itself.
Luckily we're here to make the process a little easier by testing, reviewing, and providing these guides to SKS scope mounts. You'll find our recommendations below.
SKS Scope Mount Comparison
| Name | Selection | Price |
| --- | --- | --- |
| | Best Overall | $60 |
| | Also Great | $119 |
| | Budget Pick | $38 |
| | Most Rail Space | $75 |
1. Best Overall: Weaver
Pros
Very small and light
One-piece construction
Price
Cons
Requires some smithing
Shorter scopes may not fit
The Weaver Multi-Slot SKS Base System is one of the smallest models we tested, so it's a great option if you want something that's lightweight and allows for top-loading.
Its pared-down design lacks the flexibility and features of our other picks—such as an extended rail and multiple configurations—but it still allows you to get a scope in place solidly (if with some effort) and also offers a see through design so you can use iron sights as well.
Since it doesn't offer the flexibility of our main pick, we think the Ultimate Arms Gear mount is best for users who have a single scope in mind and aren't looking for a lot of options.
What this mount does offer is a really nice field of view and is very budget-friendly.
2. Also Great: Crazy Ivan
Pros
Solid fit
Holds zero nicely
Lots of configuration options
Cons
Requires smithing to get fit right
Price
With a 4 different configuration options the Crazy Ivan SKS Scope Mount offers some serious flexibility. It gives you many more options than most mounting systems in this category – the two models: a longer rail that gives you more mounting area but covers the ejection port, and a shorter-rail option that accommodates top-loading stripper clips. There are even optional plates that allow you to mount in holes from other scope mounts (as well as one with taps and a drill bit for fitment work).
Our only knock on this Crazy Ivan is the price – it's more expensive than our top pick and requires a bit more smithing to get the fit right – but it's just as solid a performer. If you like the options this mount provides it's another great choice.
3. Best Budget SKS Scope Mount: See-Thru
Pros
Solid fit
Holds zero nicely
Durable
Price
Cons
Requires smithing to get fit right
The SKS was manufactured in a variety of locations over the years, so there's a lot of variety in variances and tolerances from model to model.
The SKS See-Thru Scope Mount seems designed to accommodate these natural variances – the instructions note that the front tabs are cast long so the unit can be fitted to your specific rifle. As with any smithing, we took it slow (file only – no Dremel!) and had it fitting tightly after 15 minutes or so.
Working a little rattle out was easy as bending the tabs slightly – and we mounted both red dot and longer range scopes to this unit without incident. For the record, we accidentally knocked our SKS with the See-Thru mounted to it over at our home range (right onto the rings!), brushed it off and found it worked just fine.
4. Most Rail Space: Magwedge
Pros
Sturdy platform
Pivot feature prevents realigning scope post cleaning
High-quality steel
Cons
Requires smithing to get fit right
Price
Stability-wise, the Magwedge Scope Mount is exceptionally solid. This mount offers rugged construction and was among the lightest scope mounts we tested, at about 5 ounces. Magwedge has been making high-quality SKS products up in Canada for some time, and this mount is no exception.
The mount makes it easy to clean the rifles action with an upward pivot – and best of all – when you return it back to closed position, your scope will hold zero because all of the movement is within the mount. No need to recalibrate after cleaning.
Why add a scope mount to your SKS?

While a classic performer for everyone from the Chinese to the Russians, the factory SKS won't be hitting anything beyond a 100 yards without some glass.
While incredibly popular in both the U.S. and Canada thanks to their famous use across the globe, no two SKSs are the same – and they certainly aren't engineered for long-range shooting (the iron sights are historic, but not particularly useful).
Apparently, the engineers didn't plan on making it easy to mount a scope on one.
If you want to increase your SKS usability and long-range performance – not to mention add accessories that give it an entirely new range of capabilities – you'll need to create a stable platform for a scope. This can be achieved by using a scope mount designed to work with the variability of the SKS.
With the SKS comes variability.
Unfortunately, the variances in these rifles mean every SKS scope mount we've tested exists on a continuum of "needs a little filing to get right" to "going to need a gunsmith," and none of the models we tested had the goldilocks moment of being "just right" out of the box. That said, given that the SKS is a solid shooter – and relatively popular for a rifle that has been around since the 40s – it makes sense that updating this affordable weapon would require a little more work than your cousin's $2,500 Sig.
Getting the recommendations right
In our review, we focused on scope mounts that existed in that middle ground of the continuum—those that gave us the best mix of performance, cost, fit, and limited smithing.
We wanted to make sure our recommendations were going to work for most SKS owners and allow them to handle installation (and any slight alterations required) at home.
While it can be interesting to see how much alteration and investment some people are willing to put into their rifle, we were uninterested in mounts that would require serious investment or drastic alterations to the rifle itself.
With the right scope mount on your SKS, you can turn it into a solid hunting rifle or everyday shooter that's fun to own and operate. They also look pretty boss with a scope and updated stock.
Adding an optic isn't super straightforward – but it's a tremendous improvement to the rifle. Just make sure you have a solid mounting system for your scope of choice.
Why is every SKS different?
The SKS platform has been around for 70+ years. Over that time, the locations, materials, and production specifications for the SKS have changed, and with those changes come variances.
Couple that with Father Time – and the weapon you have in your hands may be very different from its original specifications. Exposure to humidity, heat, and cold impacts organic materials (such as wood), as does the torque & force of firing these weapons.
What to Look for in a Quality SKS Scope Mount
With a little sweat equity, you too can build a tactical SKS.
Every SKS owner will approach their specific scope mounting needs with a different list of requirements—but getting a frustration-free, high-quality product means looking for a common set of qualities in your new scope mount.
1. Secure Fit:
No matter what type of SKS mount you choose, the final product should form a solid foundation for not just your optic – but any other accessories you're looking to incorporate into the build.
Prioritize products that are designed to be slightly customized for the natural variability of the SKS but don't require too much engineering or smithing time to get the fit right.
You want a scope mount that can be made to fit with as little possible alteration.
2. Weight & Size:
The SKS is a capable platform – and is often upgraded with the goal of becoming a hunting rifle.
Look for scope mounts that are the right size for your goal. This means, for example, if you're planning on long-range hunting you're going to need the room to mount a high-powered (e.g. larger circumference) scope – and the scope mount you choose will need to work for those larger scopes.
Also – if you want to maintain the top-loading capabilities or use charger/stripper clips you'll need a shorter mount that won't block the bolt.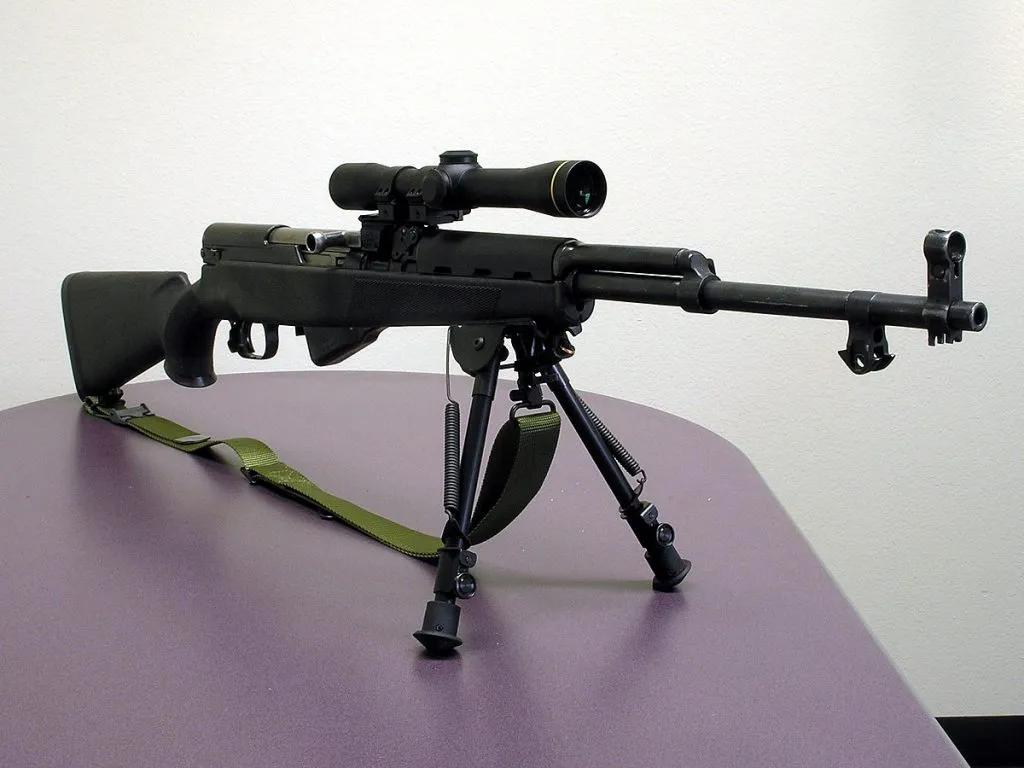 This smaller mount enabled a Leopold scope setup
3. Durability:
The SKS isn't a 22LR – those 7.62 rounds pack a punch – both for your target and the rifle itself.
You want a scope mount that will hold zero over time and won't rattle itself out of alignment with use.
The body of the SKS absorbs the force of the round, which means that force is distributed to accessories and other components – so make sure your scope mount is high-quality steel and can withstand the recoil of your firearm.
4. Design Features
If you're using Picatinny or weaver mounts, stick with those for your scope mount. No reason to mix and match if you can avoid it. If you want to maintain the use of your iron sights make sure the scope mount has a see-thru channel.
5. Lack of Obvious Flaws
We'd love to physically install and assess every scope mount to make sure we're picking the most reliable and easy-to-use products, but we don't have a crystal ball that can tell us how they'll hold up in three years, five years, or 10 years.
What we can do, though, is to look for consistent complaints provided by owners about problems they encounter with these units. These generally revolve around difficulty with smithing/fit, not holding zero, flimsy materials, and the quality of hardware like screws and bolts
Each of these scope mounts offers a different set of benefits, but our top pick is the Weaver Multi-Slot SKS System. It's one of the best SKS scope mounts on the market – we loved the ease of installation, shell deflector, and the room it provided a variety of scopes and accessories. It also touched on all the important criteria for an SKS scope mount:
Minimal smithing
Quality steel
Held zero over time
Made in the USA
There are quite a few options out in this category, but we hope this article steers you in the right direction. If you have any questions or feedback please drop us a line. If you're in the market for optics check out our scope reviews, guide to the best rifle scopes, tips for selecting the best pistol red dot sight, selection of recommended rimfire scopes, and best budget AR-15 scopes.

July 16, 2023 — After reviewing more new models, our top recommendation remains the Weaver Multi-Slot SKS System and the other recommendations on our list remain unchanged.
Sign up for our newsletter
Get discounts from top brands and our latest reviews!