The Best Concealed Carry Belts
Written By
Michael Crites
Licensed Concealed Carry Holder
Reviewed by
Editorial Team
Learn About The Editorial Team
Share:
Products are selected by our editors. We may earn a commission on purchases from a link. How we select gear.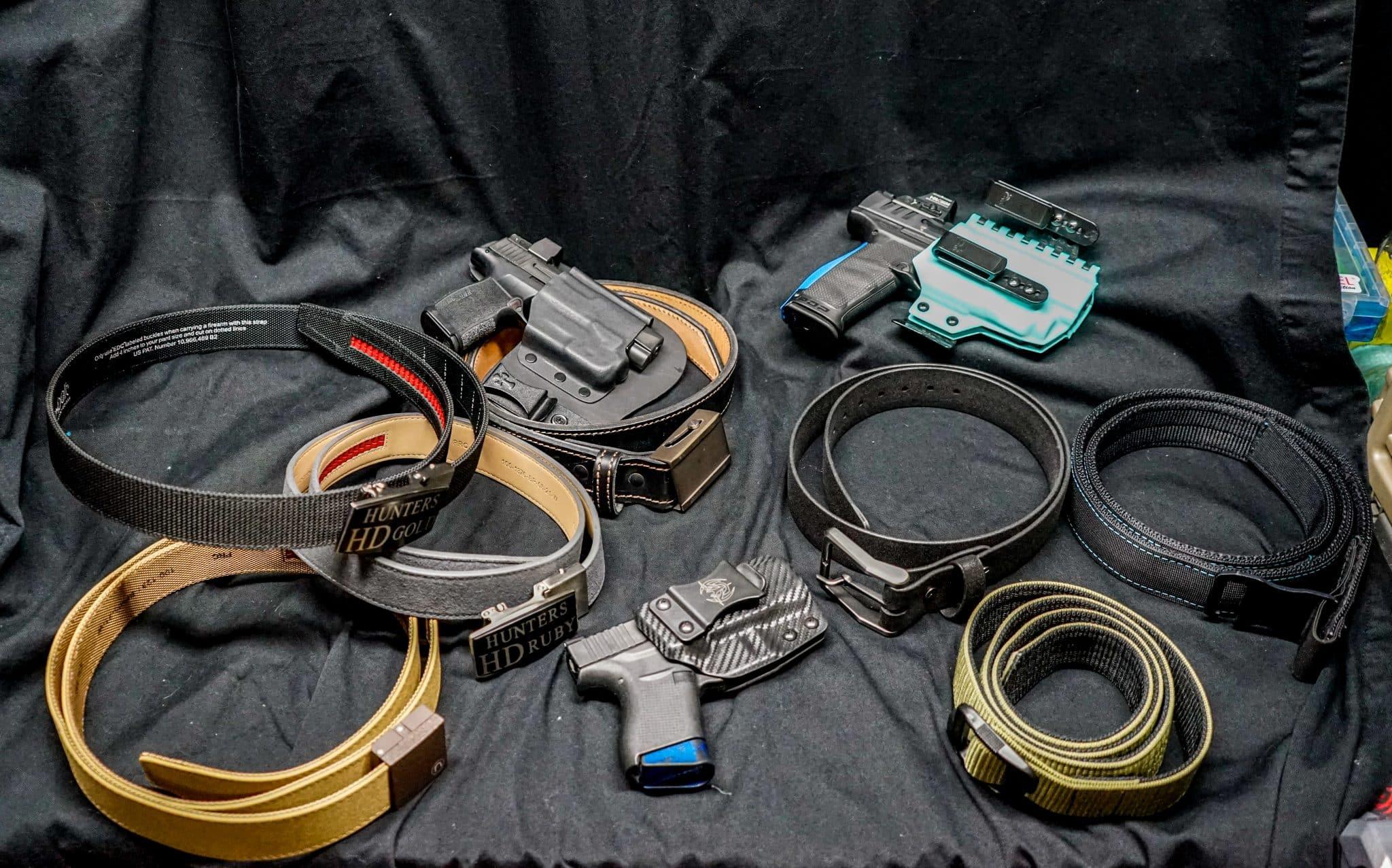 No shame – everyone has at one point used a regular belt to carry their firearm. Eventually, you realize they don't offer the support you need – and they just don't feel right. However, if you've ever tried a true concealed carry belt, you'll notice a significant difference between a regular belt and a purpose-built CCW belt.
After trying 12 different EDC belts in everyday situations – with sub-compacts, compacts, and full-sized pistols – we've selected the below list as some of the best on the market. These belts made the cut due to their affordability, durability, and comfort supporting a wide variety of firearms in different carry situations & holster configurations.
Concealed Carry Belt Comparison
| Belt | Selection | Price |
| --- | --- | --- |
| | Best Track System Belt | $69.99 |
| | Best Leather Gun Belt | $61.59 |
| | Budget Leather Pick | $59.99 |
| | Best Quick Release | $84.00 |
| | Best Low Profile Carry Belt | $59.79 |
Concealed Carry Belt Reviews
1. Best Track System Belt: Nexbelt Supreme
Specs:
Belt Buckle size: 1 ½ x 1 11/16″
Nylon strap fits up to 50" waist
Strap thickness near 3/16″
Strap width is 1 1/2"
The Supreme Appendix has become my EDC belt of choice for daily wear. It's got a tiny buckle that can give you as much room as possible for various carry positions, and their take on the ratchet belt design is heads and shoulders above others I have tested.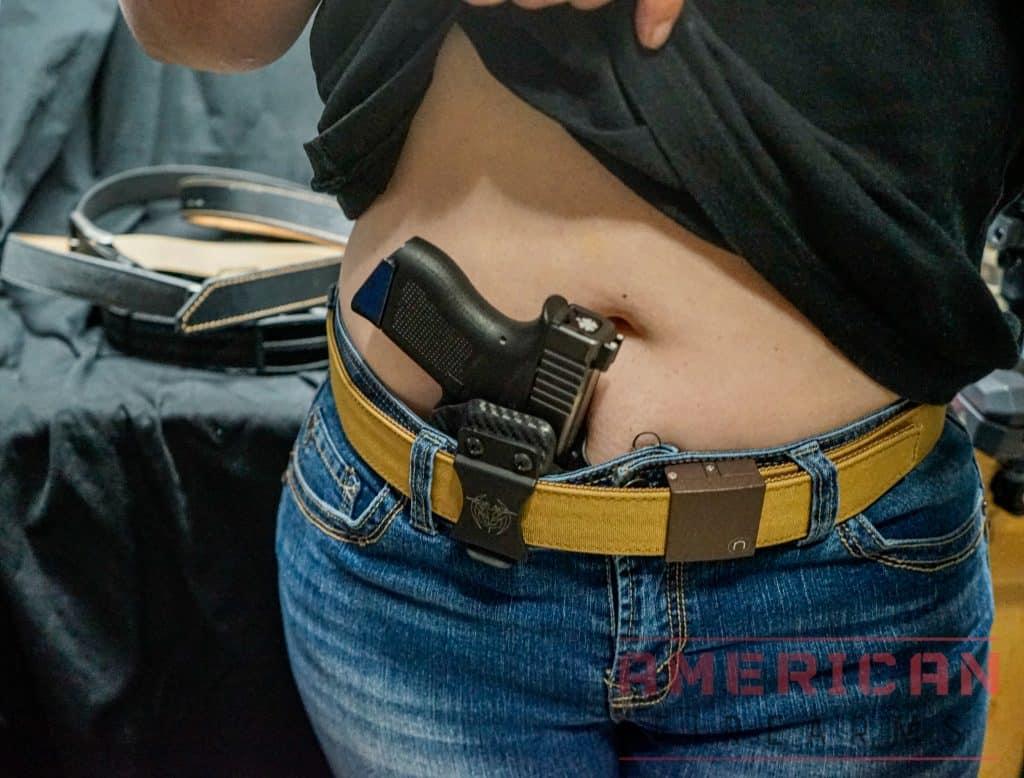 The Nexbelt Supreme in action. The 1.5" width fits most standard holster clips.
In addition to the the flexibility the smaller buckle gives you, it also uses a three screw attachment, so the lock-up the buckle as with the belt is fantastic.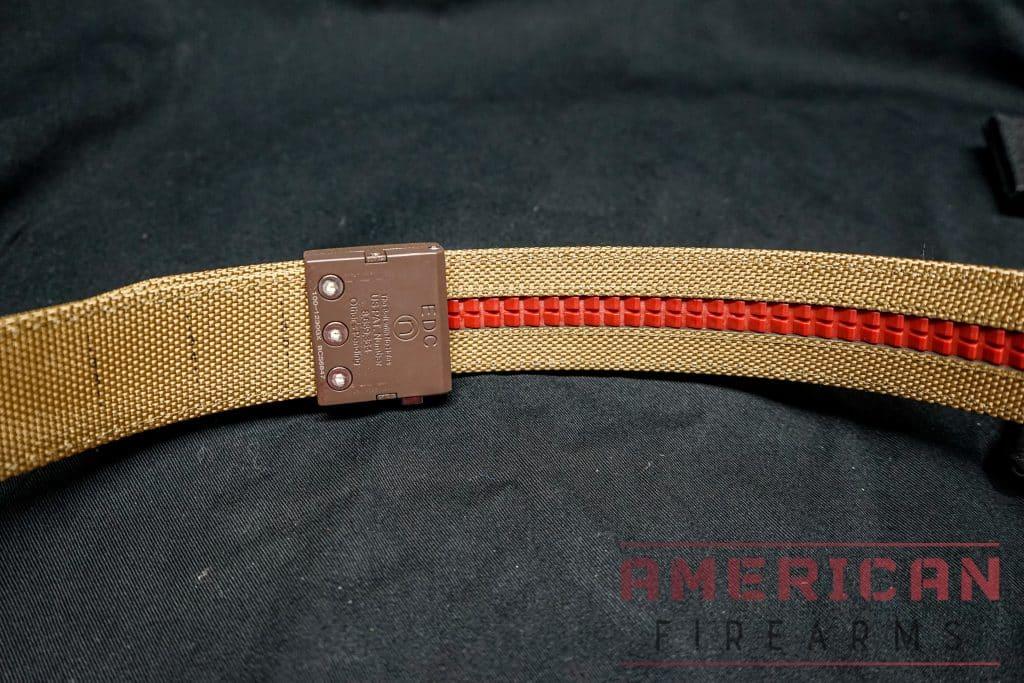 The Supreme pairs its really small buckle with a three screw mounting design which provides fantastic lock-up & flexibility
The buckle also uses my favorite of Nexbelt's release buttons — the bottom-mounted version. This makes quick adjustments a breeze, and it stands out from the buckle far enough that it's easy to find, even when seated.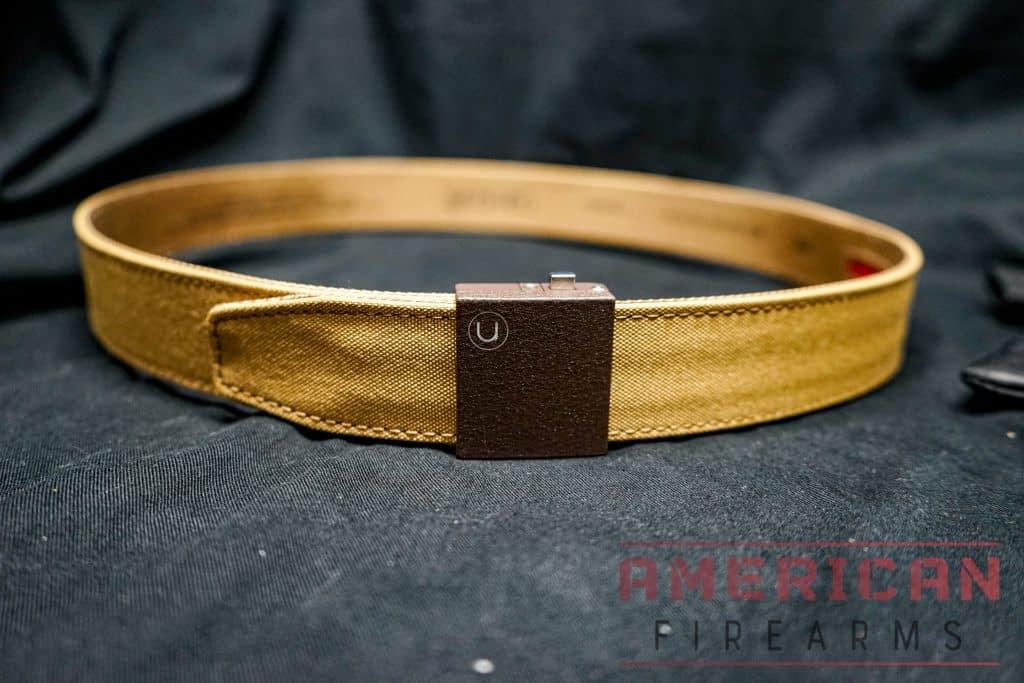 The Supreme in Coyote color has become my new fav -- it's my go-to EDC belt these days thanks to the tiny buckle, upgraded feel, and easy to reach release button (top -- yes the belt is upside down...)
If you want to see our take on the best of the Nexbelt lineup, we've got a full review.
2. Best Leather Gun Belt: Hanks Gunner
Features
Highly Durable
Free Exchange
100-year warranty
Genuine Leather
Hanks Gunner belt is an excellent example of an heirloom-quality, American-made, thick and durable gun belt.
The Hank belt is incredibly well-crafted, offers a No Break Guarantee, and holds your holster in position comfortably & consistently – giving you a stable platform to access your firearm.
The belt features full-grain leather and one-piece construction, so basically, the Gunner can withstand almost anything and still come out still looking & working like new.
The best feature? The 100-year warranty. This thing will outlast you! If it breaks or fails, you can exchange your product for a new one – even if you've handed it down to your kids.
3. Budget Leather Pick: Nohma Leather
Features
Made of pure leather
Fashionable look
Comfortable for everyday use
Lifetime return & replacement policy
Tough enough for accessories too
Made out of sturdy premium leather and single-piece construction, the Nohma gun belt offers a fantastic platform for your holster & firearm. This CCW belt is designed to support not just your gun but accessories such as a flashlight or mag pouches as well.
It's comfortable on the waist and an excellent option for everyday carry. Our testers really liked that it offers an upscale look – meaning you don't have to swap your belt according to your attire – it works in all situations – even as a dress belt.
4. Best Quick Release: Klik Belts
Features
High Quality
Comfortable in any carry situation
Super strong double-ply nylon
Quick buck release
Variety of colors and sizes
The Klik Belts Tactical Belt is designed to be the last belt you ever buy. In what they claim to be the patented world's strongest belt – the nylon webbing used to build this is 1.5″ double-ply  – so this thing is stable and strong. The belt is suitable for any heavy-duty work or serious adventuring.
The belt has a quick release and an adjustable design that makes it perfect for concealed carry or military/first responder applications.
The Kliks belt's 100% nylon construction makes it incredibly durable and gives it a tactical look, making it a favorite with our testers. It's also available in 5 colors and a huge array of size options, so you can get one that'll work for any season or look.
5. Best Low Profile Belt: Applied Gear COBRA
Features
Small and slim design
Bulletproof buckle design
Extremely comfortable
Multiple color options
A favorite of CCW enthusiasts looking for a low-profile CCW belt option, the Applied Gear 1.5″ COBRA belt is a solid choice. Its double-layered nylon construction makes it thinner and more comfortable than the super heavy-duty leather options above.
It also features a COBRA quick-release buckle, an Austrian brand that is so fail-proof it's used in everything from fall protection to police forces.
It was the most comfortable CCW belt we tested and easy to use while going about daily tasks. Even with the nylon construction, this CCW belt also comes with a lifetime warranty and is made in the USA.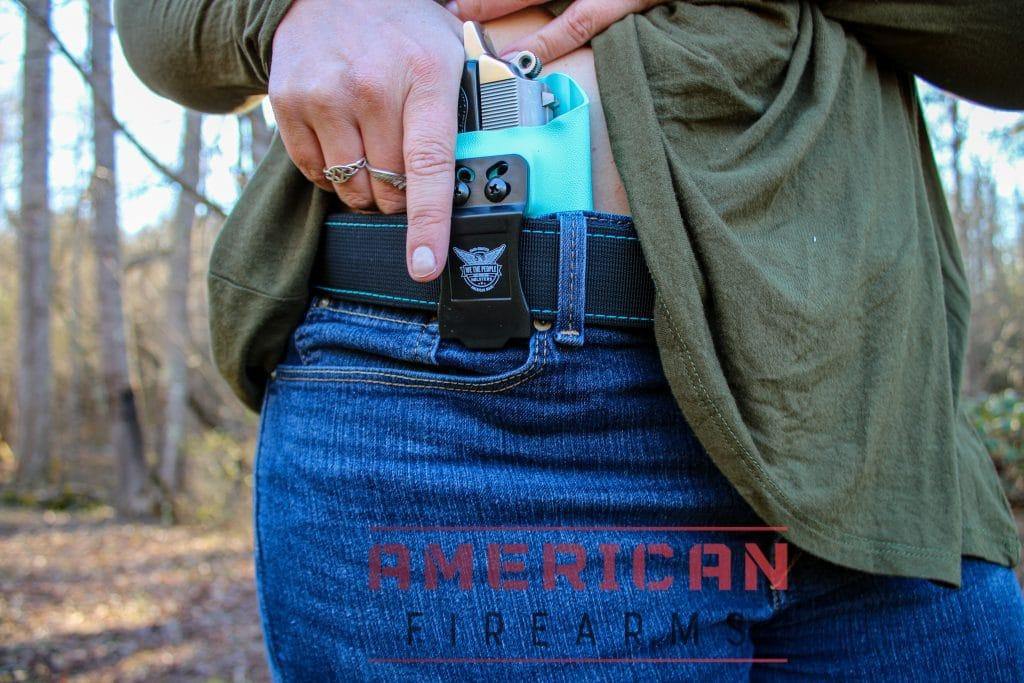 An effective gun belt is a critical tool for carrying comfortably and safely.
As a gun owner, you know how uncomfortable carrying one can be. When you use a typical fashion belt, your pants can sag under the weight of the firearm, and your holster can shift without the correct support.
CCW enthusiasts don't want to be without a firearm – but carrying one means having the right tool for the job. Here are the critical considerations for selecting an EDC belt.
Sufficient Support
Good gun belts are designed to solve one problem – supporting your holster and firearm. A gun belt supports the weapon and keeps it in one position.
The stiffness of a CCW belt makes it easier to keep the weight of your firearm closer to your body – and more stable. These belts help prevent the gun from moving out of place and exposing your carry to others when using a concealed carry holster.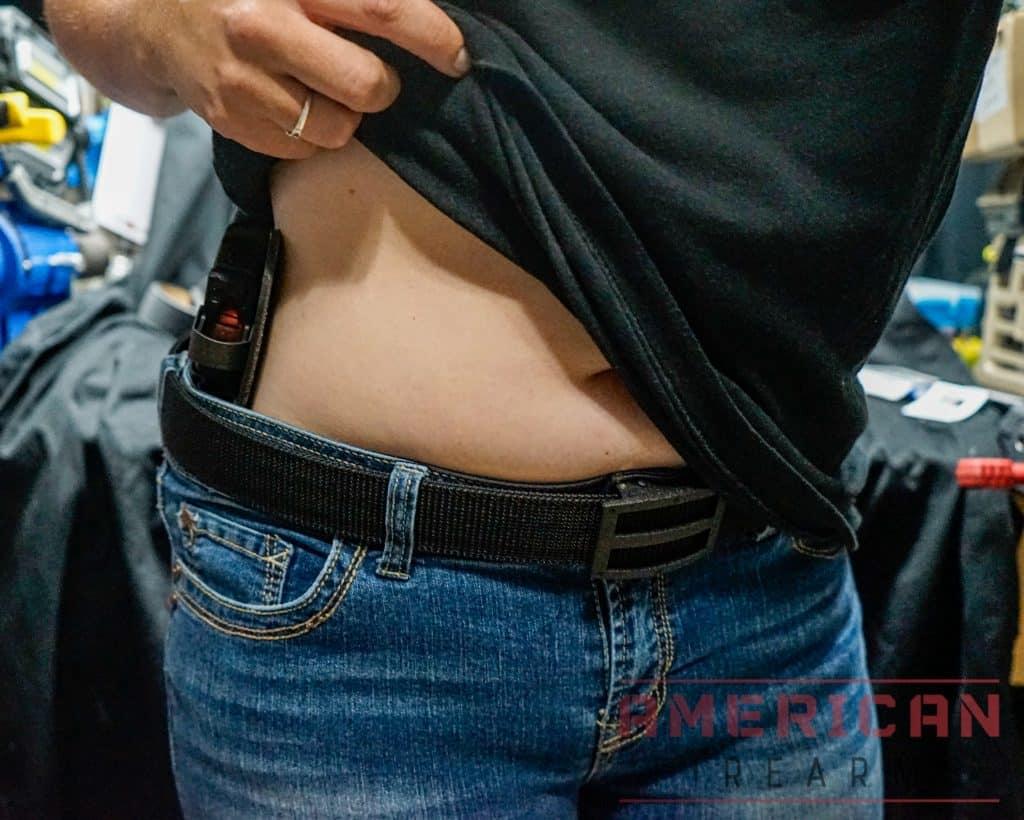 An EDC belt has to offer the right aount of support, or it will create more problems than not.
A Comfortable Fit
The most popular concealed carry method is IWB (inside the waistband), and to carry in that style you'll need a gun belt that fits your body correctly, is comfortable to wear all day and works well for your particular carry position.
New leather CCW belts tend to be pretty stiff – owing to their thickness – so before you carry your firearm for too long in a single stretch, start by breaking your new belt in by wearing it for short stints. As it becomes more comfortable, you can start to use it for longer and longer windows of time, eventually making for a comfortable all-day carry. Any belt that causes you problems or discomfort while driving or doing any other regular activity will make it difficult to carry your firearm.
This is one of the reasons I love the newer track-style carry belts. They're instantly and almost infinitely adjustable — you can size up or down with the push of a button. Sitting down for a long drive? Size out. Getting up and moving around? Size in for a more snug fit. Just finished half a chicken at Grandpa's birthday bash? Size out again. Easy.
Durable Materials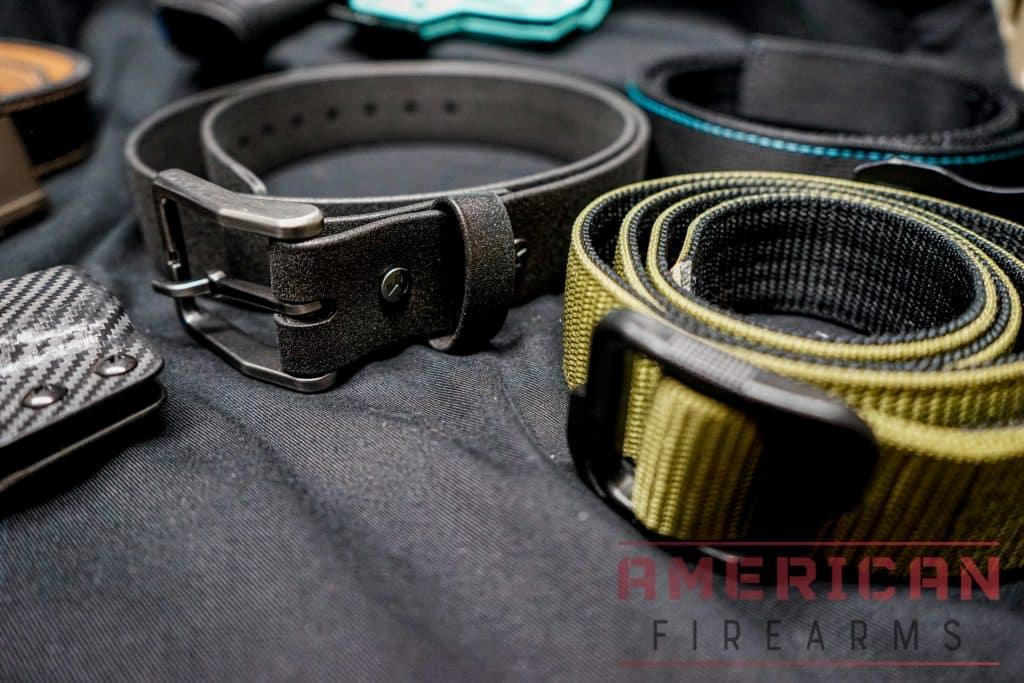 EDC belts come in loads of materials, so try a number of them until you find the one that you prefer.
Generally, CCW belts come in 2 flavors – leather and nylon. They're both tough as nails, but some people prefer one material to the other. Try them both and see what works best for you.
By getting the wrong belt for yourself, not only are you putting yourself in discomfort but even in danger. Leather gun belts are thick, made to support accessories, and last a lifetime, but they can be heavy and rigid. Nylon is also tough – but it has the advantages of being lighter and easier to wear.
There are plenty of examples of people showing up for range shooting practice, and when they draw their firearm, the holster comes out along with it. Now, if this happens in a real-life situation you're not going to like the outcome.
Each of these CCW belts offers EDC enthusiasts a variety of different features, and our top picks fulfill all the criteria we look for when considering.
The above selections are all well made, support your firearm, have a solid warranty, and will serve you for years to come.
There are quite a few options out in this category, and if you're in the market for concealed carry products, you can check out our guide to concealed carry pants, concealed carry vests, and our holster reviews. We hope this article steers you in the right direction. If you have any questions or feedback, please drop us a line.

May 25, 2023 — We re-checked this guide and updated our low profile belt selection to the Applied Gear 1.5″ belt thanks to it's fantastic COBRA buckle. We stand by our other recommended products. Images and links have been reviewed and updated.
Sign up for our newsletter
Get discounts from top brands and our latest reviews!