The Best Holographic Sights
Written By
Kenzie Fitzpatrick
Competitive Shooter
Edited By
Michael Crites
Licensed Concealed Carry Holder
Share:
Products are selected by our editors. We may earn a commission on purchases from a link. How we select gear.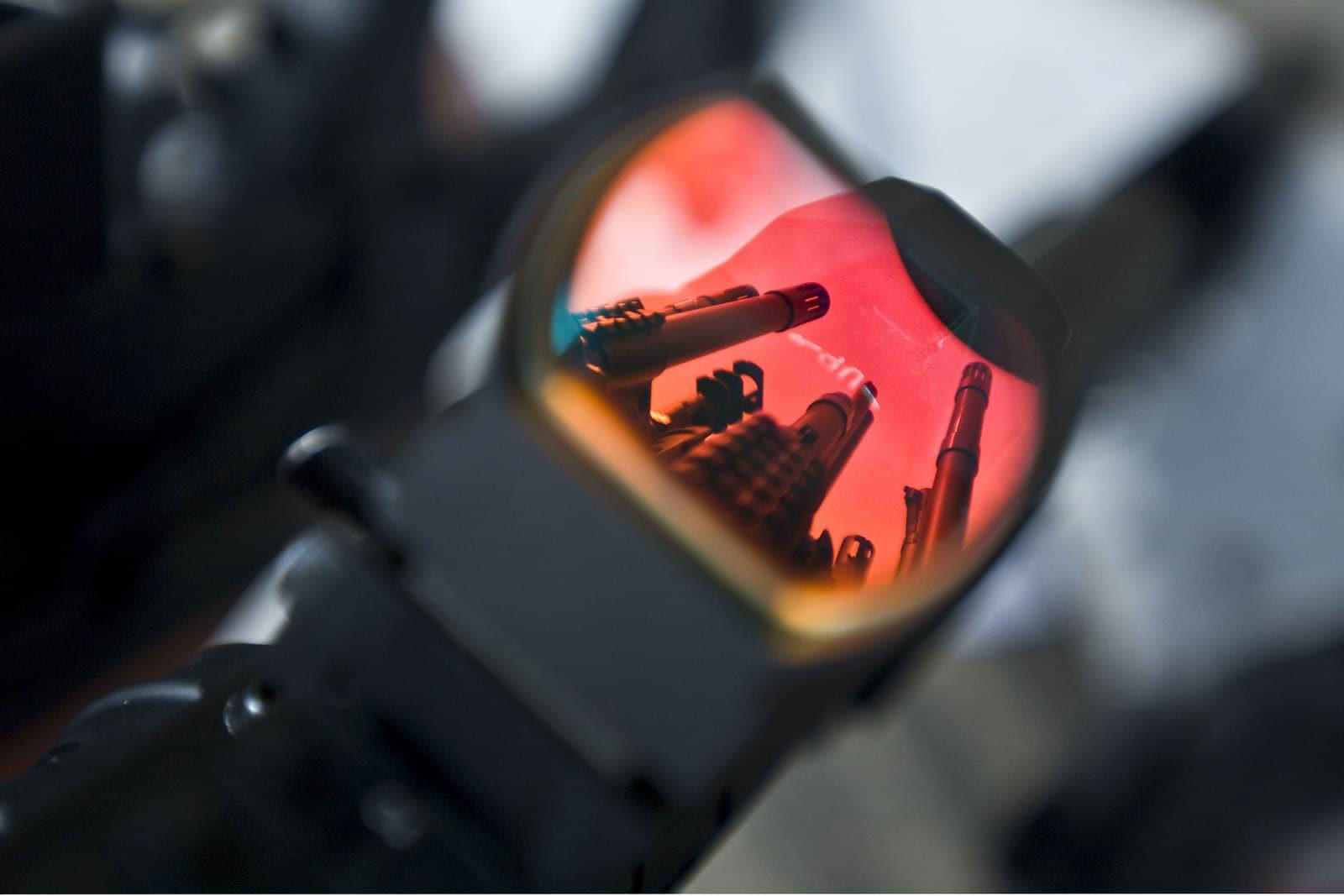 If you want to get on-target faster, a holographic sight can be an excellent asset. They increase accuracy and reduce the amount of time it takes to aim and fire your weapon.
They also provide more reticle options than a red dot sight – like a variety of crosshairs or dot configurations – so if you have a strong preference for a specific reticle a holographic sight will probably be your best choice.
While quality holographic sights can help you track targets within a range of around 300 yards, they tend to be used for close-quarter situations. They provide a single focal plane by superimposing the reticule over the target – eliminating the need to decipher the reticle from the target – drastically improving target acquisition speed.
To find the best holographic sight we had a combat shooting expert spend over 10 hours reviewing more than 25 holographic sight options – both through online reviews and via his experience with different models and manufacturers. Our recommendations are listed below.
Holographic Sight Comparison
Below is my list of the best holographic sights. I list the best choices in terms of value, performance, reliability, and cost.
Click on the name to head to the product page, read reviews and check prices or skip ahead to the list of sights.
| Product | Selection | Price |
| --- | --- | --- |
| | Best Overall | $555 |
| | Runner-Up | $415 |
| | Budget Pick | $309 |
| | Best for Night Vision Use | $607 |
| | Best for Pistols | $488 |
Holographic Sight Reviews
1. Best Overall: EOTECH EXPS2
EOTECH is hands-down the most dominant force in the holographic market game.
Why?
They engineer high-quality products that are both durable and highly performant. The 1 MOA Dot Rectangle sight on the XPS2 is made to help users lock-in on targets from both close range and long distances.
A history of innovation is important when considering optical products, and EOTECH has demonstrated innovation for years. They recently slimmed down the XPS2 to use just a single CR123A battery instead of two AA batteries – improving weight without sacrificing performance.
The EOTECH XPS2 offers 20 different brightness settings that are manually adjustable. Our expert loved the adjustable eye relief on the XPS2, which allows for a variety of user preferences and ultimately translated into more precise field vision.
Since battery life is a common issue with holographic sights, EOTECH includes a user-controlled auto-shutdown feature, set to 4 or 8 hours. EOTECH makes monitoring battery levels even easier with a blinking low battery indicator that lets you know when it's time to swap out the battery.
Recognized as one of the original holographic sight manufacturers, EOTECH continues to innovate with models such as the XPS2. It has a smaller profile than other competing sights, which makes this model from EOTECH a perfect combat rifle sight for your AR-15, AR-10, shotgun or other combat-centric firearms.
Pros
Adjustable brightness
Battery conscious design
Lightweight
The high field of vision
More rail space for magnifiers
Cons
Not as functional with higher caliber weapons
2. Runner-Up: EOTECH 512
The EOTECH 512 speaks for itself – and has been a best-seller for more than a decade. The 512 is a remarkably rugged optic – with the kinds of durability features required for military and combat situations. The 512 requires two AA batteries instead of one CR123S battery, so it's a little heavier than the EXPS2, but AA batteries are super common and easy to change out.
Using premium lithium AA batteries, you'll receive up to 1,000 hours of battery life—generally the highest number of service hours you can expect from holographic sights before requiring a battery swap. Standard alkaline AA batteries will only give you around 600 hours of battery life.
The 512 offers all the top-tier features of the XPS2, however, our expert placed the 512 in the runner-up position due to its larger overall size, bigger footprint, and additional weight. You'll save some coin with the 512 though, so even though it's a bit heftier than the XPS2, it still makes for a very capable holographic sight at a more affordable price point.
The 512 is water-resistant at levels up to ten feet, so if you live around water or find yourself crossing rivers with your rifle the 512 is a good investment.
EOTECH 512's are the company's most popular model because offers the best mix of features and affordability.
Pros
Adjustable brightness
Eye relief
Auto shutdown
Cons
3. Budget Pick: HOLOSUN HS510C
While the 512 is great for the price, it's important to clarify that the Holosun HS510C is our best budget pick because its price is much lower than the 512. We have a full review of the HS510C if you're interested.
Holosun 510c Review - Cover
The Holosun HS510C is not technically a true holographic sight. Still, it builds off the holograph design to produce an open emitter sight at a much lower price point than other brands, while pairing red dot technology with the durability of a holographic sight.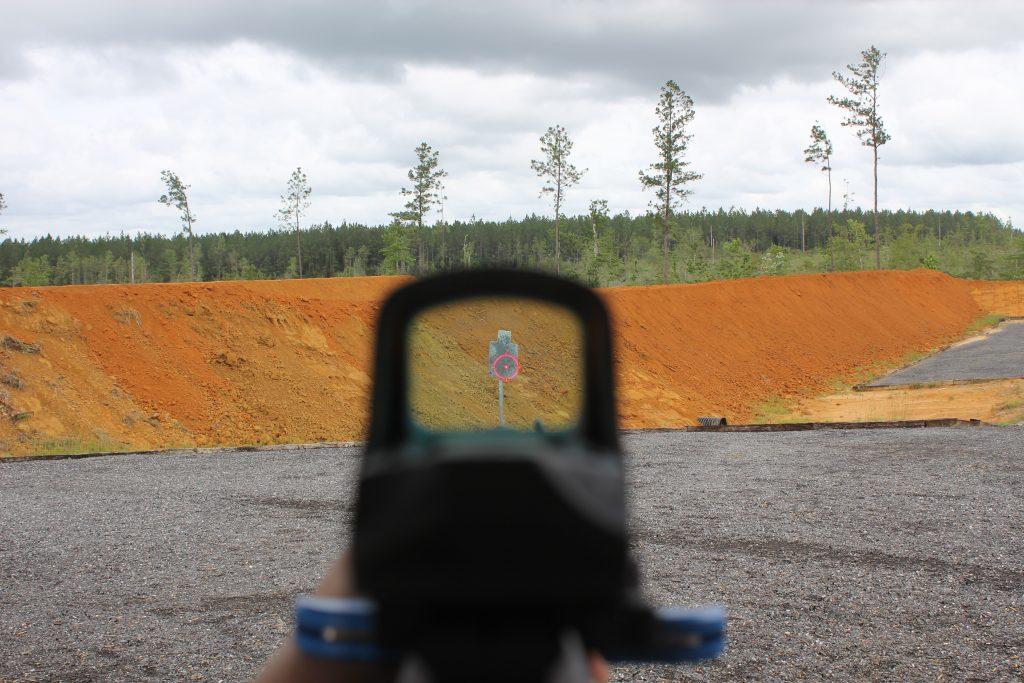 Holosun 510c reticle at 50 yards
The reticle's clarity paired with the device's light weight makes it easy to lock onto a target with the Holsun.
The Holosun HS510C can hold its own against big-time competitors like EOTECH due to the build quality, similar reticle features, and impressive battery life of up to 50,000 hours with a lithium battery. It's a surprisingly good product at a fair price.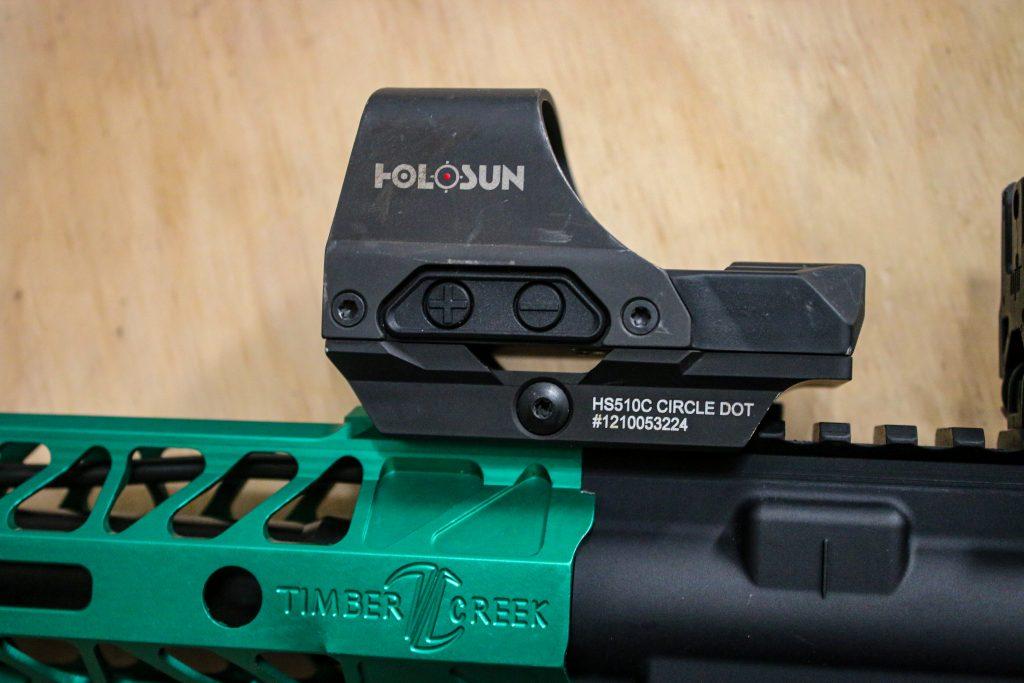 AR15Optics- Holosun 510C
One potential issue with the Holosun is fewer daylight brightness settings. While not a massive flaw, if you often find yourself shooting in bright, direct sunlight (desert shooting in Arizona comes to mind) you may get a more washed-out reticle than you'd like.
Similar to market-dominating models such as the EOTECH 512, the HS510C provides lots of eye relief to and good field of view. When looking for top-notch reflex sights, consider the Holosun HS510C.
Pros
High performance at a low cost
Long battery life
Night vision
Eye relief
Small footprint
Cons
Fewer daylight brightness settings
4. Best for Night Vision Use: EOTECH XPS3
EOTech, hands down, makes some of the best quality holographic sights on the market today. They are known for their durable, accurate, and reliable sights that are built for use by the military, law enforcement, and civilians.
The XPS3 offers multiple brightness settings for regular use in daylight but also has night vision modes to accommodate low-light or no-light environments. While I prefer the circle 1-dot reticle for easy use at 7, 50, and 200 yards, the circle 2-dot reticle gives you an extra aiming dot for use at 500 yards.
While this optic is built for close-quarter engagement, it can give you an aiming point out to 200 or 500 yards, depending on the reticle you choose.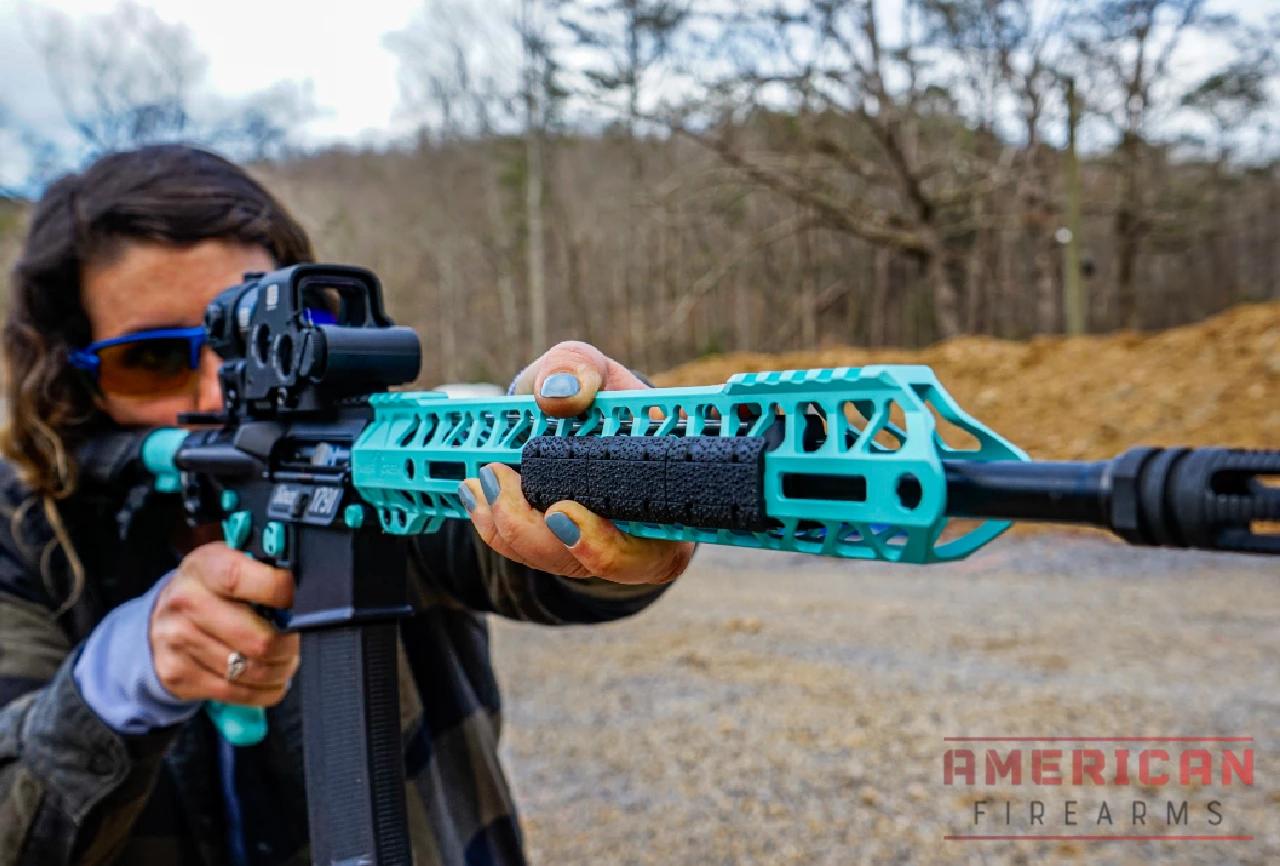 While this optic is built for close-quarter engagement, it can give you an aiming point out to 200 or 500 yards, depending on the reticle you choose.
The total weight of the XPS3 is nine ounces, which is not much additional weight on a carbine. It attaches directly to a 1-inch Weaver or Standard 1913 Picatinny rail. I use this sight specifically for my home defense rifle combined with the EOTech G43 magnifier.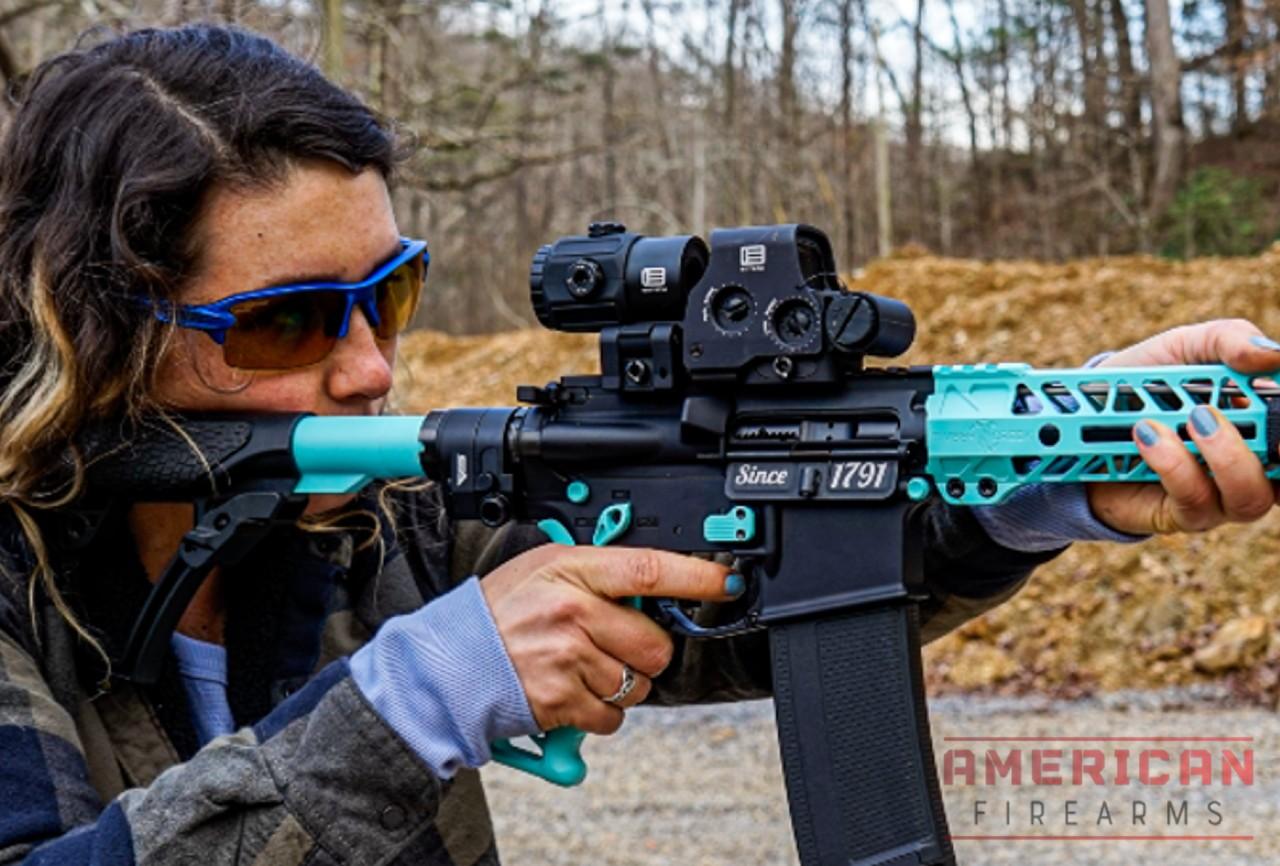 I use this sight specifically for my home defense rifle combined with the EOTech G43 magnifier.
I'll usually take this gun with me on road trips as well as it has the Sylvan Arms folder and is easily concealable in my vehicle. Once the XPS3 is zeroed, it's sub-MOA accurate, and with brightness adjustability, it has a reticle that is easy to pick up. I'm in love with the large window size of this holographic sight and love its durability.
I'll usually take this gun with me on road trips as well as it has the Sylvan Arms folder.
Pros
High water resistance rating
Impressive night vision capability
20 daylight settings
Compatible with any 1-3 gen night vision scope
Compact design
Cons
Higher price than the XPS2
5. Best for Pistols: Trijicon RMR
Many gun owners will want to mount a holo on their handgun,wo I couldn't omit an option that works well for pistols.
Like the Holosun HS510C, the RMR draws on holographic sight design to provide an option that allows users to quickly acquire targets while improving field of view.
With the lightweight design, the Trijicon RMR gives you speedy target acquisition, close-quarters performance, and battle-proven durability.
This pistol sight has multiple reticle size options, but the 3.25 MOA dot reticle is the more popular and offers a wide array of uses. With a CR2032 battery, you'll receive a four-year battery life when the sight is set at a 4/8 brightness level. Weighing a little over one ounce and sitting at just two inches long, the RMR is super light and easy to use.
There are multiple mounting options for the Trijicon RMR, proving you can't go wrong with this sight for your handgun.
Pros
Lightweight design
Quick target acquisition
Excellent field view
Long battery life
Cons
Need to remove sight from the base for battery change
How to select the best holographic sight for you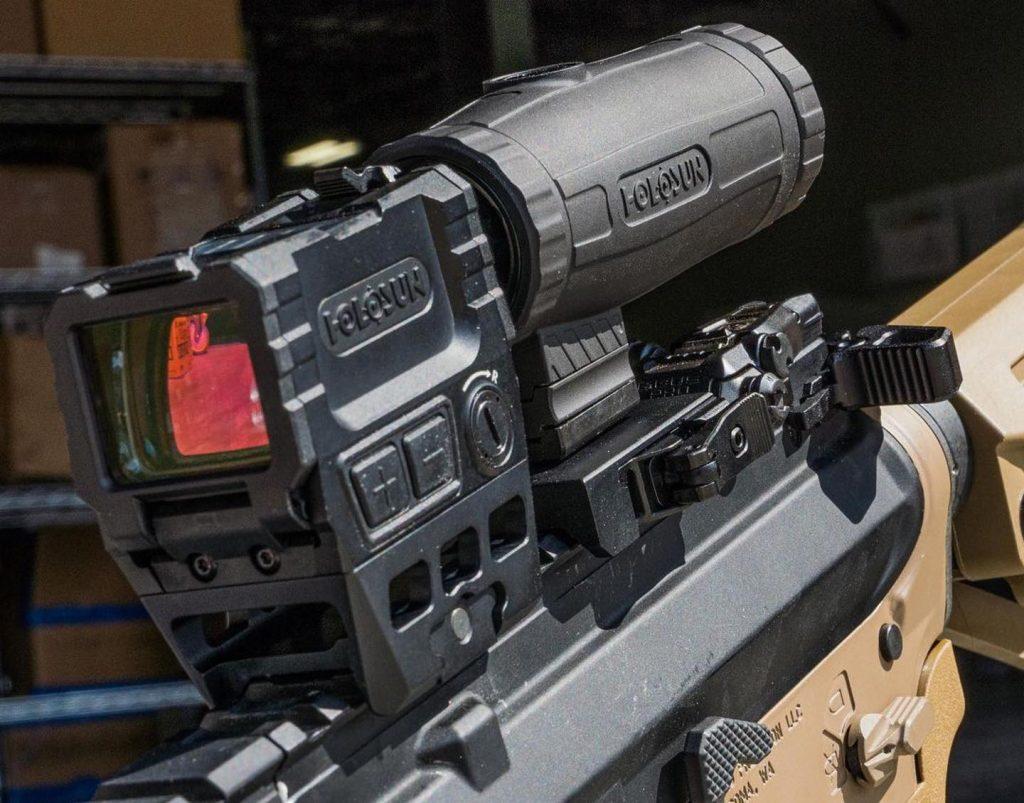 Holosun HM3x on AR
How will you use it?
Holographc sights for pistols are incredibly popular 0 but they're also fantastic for mid-range hunting turkey and deer. Specific types of weapons that work well with holographic sights include, but are not limited to, AR-15's AK-47's, and shotguns.
Even though holographic sights aren't particularly cheap, it's worth investing in a quality model as lower-cost options tend to be less durable – especially with higher caliber weapons.
Gun competitors can significantly benefit from adding a holographic sight to their arsenal of accessories. Small details are incredibly important in the world of gun competitions. If holographic gun sights can help you level up your game, why not consider picking one up?
Invest in durability
Durability is critical when looking for a top-notch holographic sight.
If you end up investing in one of the top holographic sights we mention, you can be sure that the sight can endure high levels of use. As we expand further on durability with holographic sights, it's worth noting that if your lens ends up broken or even shattered, the sight will continue to work.
Consider the advantages you'll want from a holographic sight
Many gun owners prefer holographic sights over red dot sights, as users tend to have an easier time locking into the reticle.
The reason?
Holographic sights project the reticle pattern in front of the optic rather than directly into shooter's eye.
Red dot sight users can face the problem of focusing back and forth between the dot and the target, which can introduce delay – not something you want when it comes to hunting or close quarters combat.
Both sights allow you to keep both eyes open and drastically improve field of view.
Questions to Ask Yourself When Browsing Holographic Sights
Asking yourself what weapon you plan to purchase a holographic sight is a great way to point yourself in the right direction. Smaller holographic sights are great for weapons with lower amounts of recoil.
If you're looking to purchase a holographic sight on weapons with higher recoil energy like shotguns, look for more shock resistance products.
Next, it's essential to identify the context in which you'll be using a holographic sight. Tactical shooters can benefit from holographic sights that present a full field of view in the objective lens. At the same time, hunters should look for sights that can endure outdoor elements and offer water and fog proof features in addition to working well in a variety of light conditions.
A lightweight holo sight can be beneficial if you're looking to maximize your ability to maneuver your environment.
Are the potential disadvantages dealbreakers?
Up until now, we've been praising all of the unique capabilities that holographic sights possess. The one main downside that holographic sights present is their limited battery life of up to 1,000 hours.
Red dot sights don't deal with battery limits as they can provide up to 50,000 hours of battery life. Lasers in holographic sights require an immense amount of battery power during their display. If you're utilizing a holographic sight for home protection, the ability to quickly turn a sight on can be beneficial if an incident occurs.
Holographic vs Red Dot Sights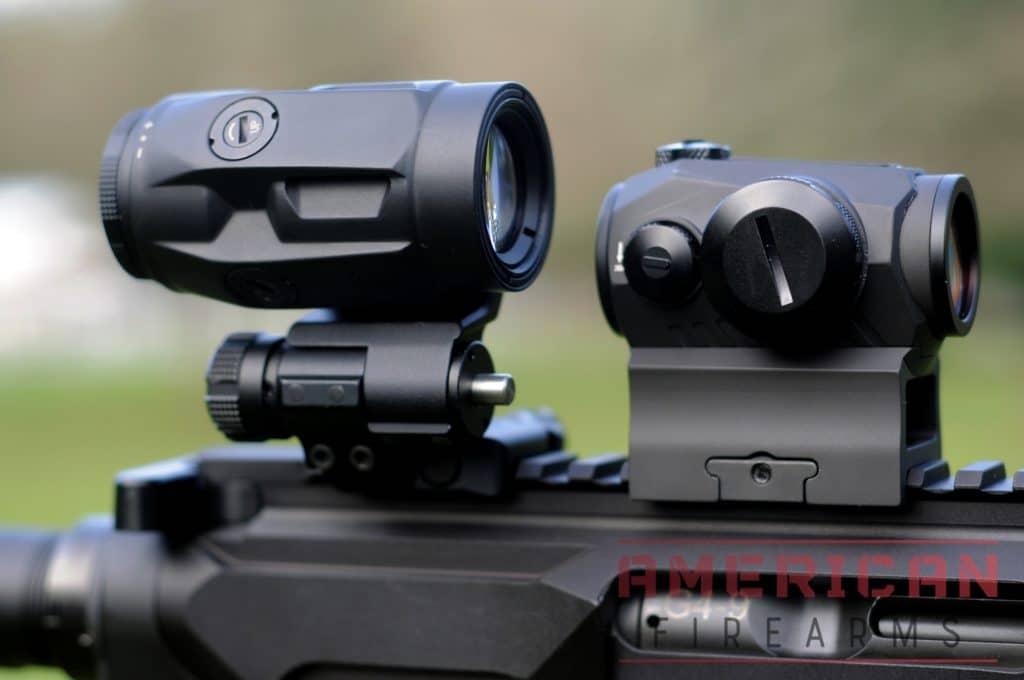 Red Dot Magnifiers - Sig Juliet (1)
More Reticle Options: Holographic
Holographic sights use a series of mirrors to create an image that's crisp and easy to read – but they're also much more complicated than red dots, which means they're more expensive and can be more delicate.
Red dot sights bounce an LED beam off a single pane of glass via a coated finish on the front lens. They're pretty simple devices.
Light Weight & Small Size: Red dots are better
Holographic sights also tend to be larger than red dots, owing to their more complicated technology.
Durability: Holographic sights take the cake
Major military operators use holographic sights due to their legendary ability to withstand even catastrophic abuse (some have even survived house fires.) Red dots, on the other hand, are much less capable of enduring abuse.
Magnification: Holographic sights are better with magnification
Many holographic sites can be paired with magnification, and the beauty of that the MOA will stay the same. Red dot sights reticule will grow with magnification, obscuring more and more of your view with increased magnification.
The EOTECH XPS2 Holographic weapon sight is the best holographic sight for most people. EOTECH is the pioneer and, by far, the most reliable market option for holographic sights. With a compact design, the XPS2 creates a small footprint for users. The XPS2 comes with a ten-year warranty to ensure you'll get plenty of future use out of this sight.
Our experts note that the EOTECH XPS2 cuts right through the noise with so many holographic sights on the market.

March 15, 2023 — We have thoroughly re-analyzed this guide and stand by our current holo sight recommendations. We've updated images and links where appropriate.
Sign up for our newsletter
Get discounts from top brands and our latest reviews!