Firearm Faceoff: M-LOK vs. KeyMod
Written By
Michael Crites
Licensed Concealed Carry Holder
Reviewed by
Editorial Team
Learn About The Editorial Team
Share:
Products are selected by our editors. We may earn a commission on purchases from a link. How we select gear.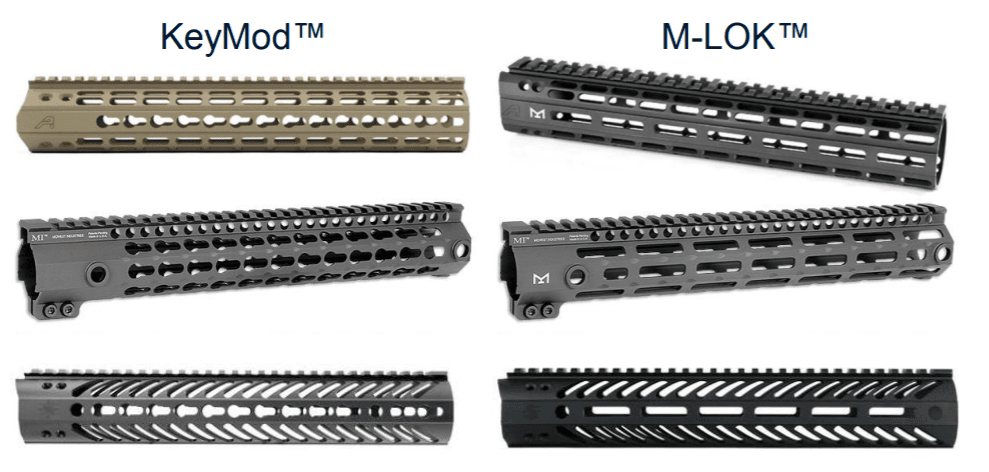 How do M-Lok and KeyMod stack up? One of the most exciting ways for gun owners to enhance and extend the functionality of their rifle is with attachments. Optics, bipods, and grips all make for a more entertaining and useful firearm, but you need the real estate on your upper receiver to mount them.  There's …
How do M-Lok and KeyMod stack up?
One of the most exciting ways for gun owners to enhance and extend the functionality of their rifle is with attachments. Optics, bipods, and grips all make for a more entertaining and useful firearm, but you need the real estate on your upper receiver to mount them. 
There's something akin to "The Tape Wars" of VHS vs. Betamax (for those of us old enough to remember it) in the rifle rail world these days – that of KeyMod vs M-LOK mounting systems.
While the good ol' Picatinny has been a go-to standard since its introduction in the 80s, nobody has ever accused a Picatinny of refusing a meal. 
As with any market that pays more for less, both KeyMod and M-LOK systems were engineered to avoid bulk and supplementary rails while still allowing for direct attachment of handguard accessories via negative space mounting points. They mount into the handguard rather than atop it.
It is on this ground that KeyMod and M-LOK enter the Thunderdome to determine who will ultimately be Bartertown's accessory attachment system of choice.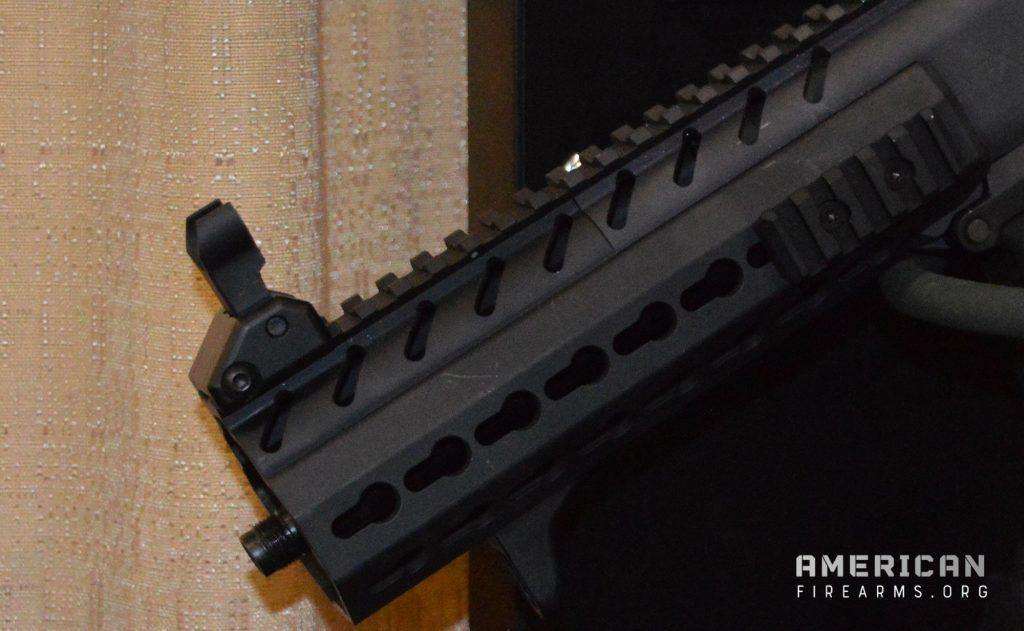 A KeyMod handguard mounted on an AR pistol.
KeyMod is an accessory rail system that uses rows of uni-directional keyhole shapes within a rifle's handguard to affix accessory attachments while keeping overall weight an profile to a minimum. 
It was developed to replace older, heavier, Picatinny rail systems with a more modular alternative designed to take advantage of lightweight, modern polymer handguards and create a universal mounting system regardless of manufacturer.
To help with uptake and establish a true industry-wide standard, KeyMod's creator – Tucson's VLTOR Weapon Systems worked with Noveske Rifleworks of Grants Pass, Oregon to open-source the project in 2012: anyone can access the relevant engineering drawings in the public domain and create their own KeyMod-compatible products. 
You'll find KeyMod products widely available for the AR series of firearms, but you will sometimes run into Keymod accessory rails for AK platforms as well.
How to Mount KeyMod Accessories
KeyMod is fairly easy to use. You'll need a KeyMod rail attached to your weapon, an accessory to attach, and the appropriate screwdriver (usually this is indicated in the packaging or product listing for the accessory).
Loosen the lugs on the accessory and place them through the larger keyhole – ensuring you can move your accessory back and forth smoothly.
Slide the accessory fully forward into the smaller end of the rail slot. This should feel fairly solid and rest in the very end of the keyhole slot.
Tighten the screws while the accessory is in the forward position to lock your accessory in place.  
The only disadvantage of KeyMod is that these keyhole's are uni-directional – meaning the accessory can only lock into place by sliding forward into the smaller section of the KeyMod slot, creating fixed mounting positions. 
This is a shortcoming M-LOK was designed, in part, to overcome.
Conceptually, M-Lok, short for Modular Lock, is the same neighborhood as KeyMod – it's a negative space mounting system that allows you to attach accessories to your firearm.
Rather than the keyhole format, M-LOK uses a slot-like design which originated on the Masada Concept Rifle way back in 2007.
The Masada's polymer handguard used three horizontal mounting slots, which served as negative space accessory mounts. The Masada designed proved successful enough that it eventually became the Adaptive Combat Rifle (ACR) and was licenced to Bushmaster – becoming the semi-auto Bushmaster ACR.
Never content to rest on its laurels, Magpul release MOE handguards in 2009, making the slot-based system available to the Joe Beercans of the world. 
In 2014, Magpul built on the success of the MOE handguard, debuting M-LOK, which took the MOE format and added larger, more durable, squared-sided slots. This system uses t-shaped accessory attachment that are bi-directional – allowing users to mount their accessory to the front or rear of the slot, giving the user a more customizable placement over KeyMod.
While not open-sourced like the KeyMod format, Magpul offers free licensing, which helps retain the performance and quality consumers expect from Magpul-engineering without creating barriers to other manufacturers building on the M-LOK rail format.
How to Mount M-LOK Accessories
Mounting with M-Lok is similar to Keymod, but does require a little more finesse. Again, you'll need the rail attached to the gun, the relevant accessory, and the screwdriver indicated on the packaging or listing for the accessory.
The first thing you'll want to do is loosen the screw on the lugs so they rotate freely. Here's the trick: M-LOK accessories use t-shaped locking lugs which need to align with the rail slot to pass through it.
Take a careful look at the rail to make sure that the lugs will go into the holes in the rail, then insert the lugs and give them a quarter turn so they're oriented perpendicular to the rail, under the rail.
Now, slide the accessory forward or backwards so one of the lugs makes contact with the end of the rail slot.
Then pull up with just a little tension and torque the bolts enough to lock the lugs in place. 
Again, hand tight will do – there's no need use screwdriver or drill to ensure a secure fit with either of these systems. 
So, which is better KeyMod or M-LOK?
Despite KeyMod's earlier release, Magpul's M-LOK system has been popular enough to outpace KeyMod in terms of sales. In 2016 a number of distributors reported M-LOK outselling KeyMod products by a factor of 3 to 1 or more, cementing its place not just as an alternative to KeyMod, but the mounting system of choice.
Building on the popularity with the general public, the U.S. Special Operations Command gave M-LOK the nod as the more durable system after the Naval Surface Warfare Center tested several M-LOK & KeyMod products in a series of performance tests.
Testing KeyMod and M-LOK handguards by Aero Precision, Midwest Industries and Seekins, KeyMod offered similar endurance and rough handling performance to M-LOK but couldn't keep up with M-LOK when it came to drop testing or reinstallation alignment (although the M-LOK accuracy is more sensitive to installation error).
Here we see the reinstallation POA shift of KeyMod products averaged amost 5 inches, while the M-LOK products shifted just over 1 inch with reinstallation. The NAVSEA conclusion was "M-LOK™ achieved a 73% improvement in average POA shift over KeyMod"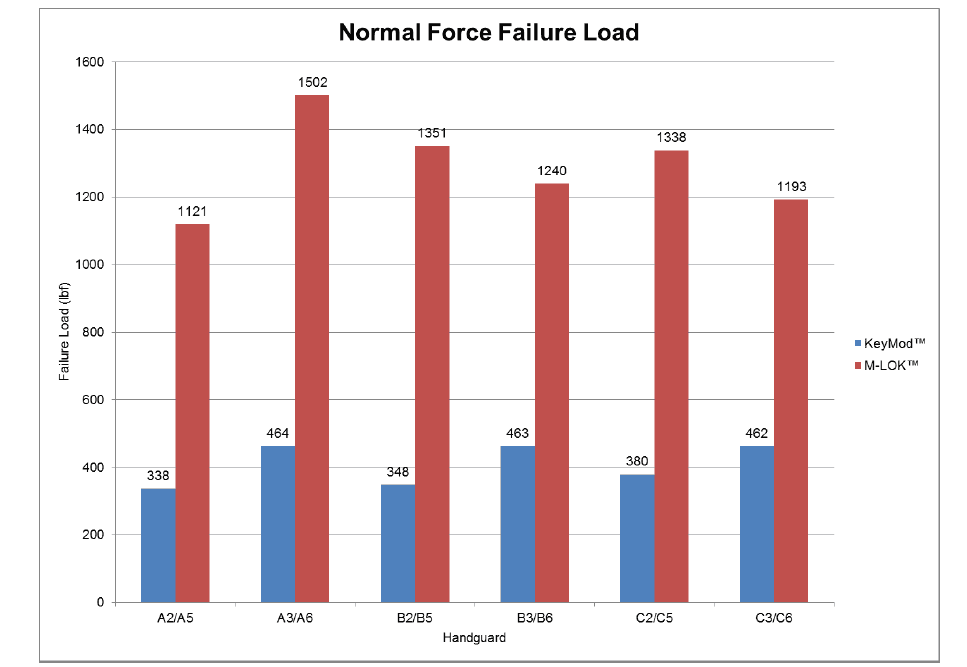 The M-LOK products had much higher test failure loads than KeyMod products. The NAVSEA test conclusion was that the "Average M-LOK test failure load over 3 times greater than average KeyMod system failure load."
In short, KeyMod is little easier to install while M-Lok offers a more durable connection between your firearm and accessory.
Are M-LOK & KeyMod Interchangeable?
The short answer is: no. They use different lug styles to secure accessories to a handguard and thus are not directly interchangeable.
What about Picatinny and Quad Rail?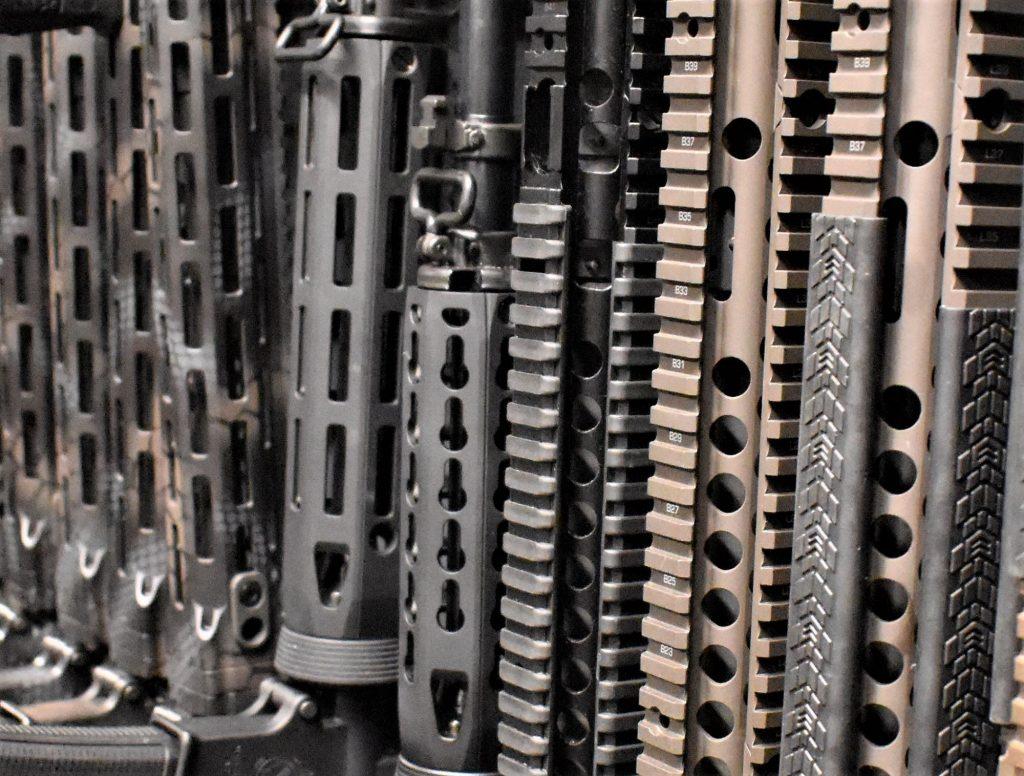 A rack full of KeyMod, M-LOK, and Quad Rail mounted ARs.
Both Picatinny and QuadRail systems certainly have their place, and, for many years, were industry standards. This means there are mountains of accessories available for these older systems and if those systems work for you, there's no shame or harm in using them.
The Picatinny rail installation leaves more room for error than we like, and we've heard more than one story of someone shooting at a quarry only to watch a Picatinny-mounted red dot fly into a ditch full of water.
Aside from attachment issues, the main concern with older systems is their weight. Picatinny and Quad Rails tend to be made of solid aluminum, which adds weight and can impact accuracy by throwing off balance when mounted near the barrel tip. 
Both Keymod and M-Lock were developed to improve on these older rail systems and if their popularity and performance are any indication, are delivering on that promise in spades.