News: Nighthawk's Double stack Boardroom, a competition-ready Holosun 507, & Anderson's Legit Budget Dissipator
This week in gun news: Nighthawk introduces the new Boardroom Double Stack 9mm,or BDS9, Holosun upgrades the 507 to a large window competition sight, & Anderson has a "true" Dissipator,
Written By
Michael Crites
Licensed Concealed Carry Holder
Reviewed by
Editorial Team
Learn About The Editorial Team
Share:
Products are selected by our editors. We may earn a commission on purchases from a link. How we select gear.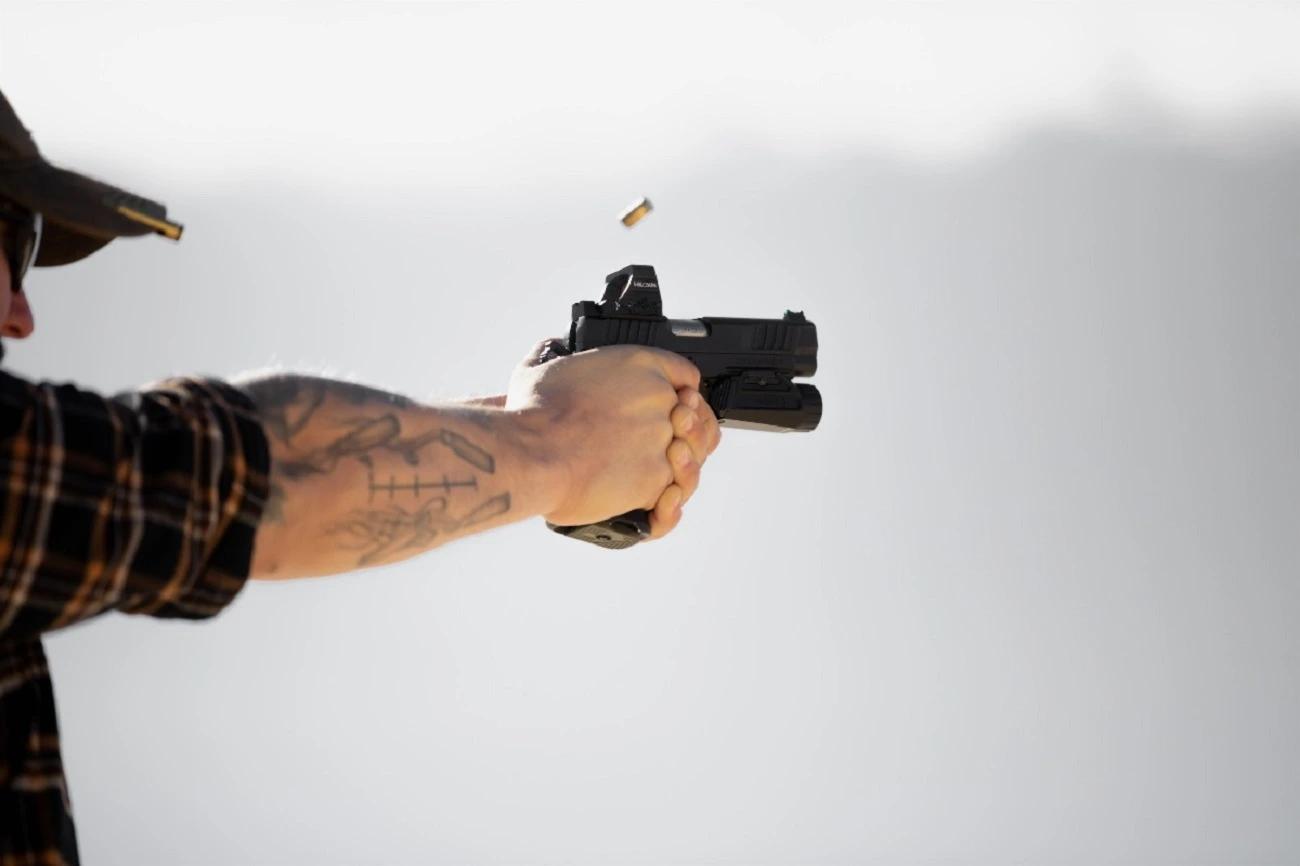 Nighthawk Goes Boardroom Double stack
Nighthawk Custom makes some of the nicest 1911s around and their Boardroom series is among their top-shelf offerings. Now, with everyone making a double-stack 2011 these days, Nighthawk has pulled a "hold my small batch IPA" and introduced the new Boardroom Double Stack 9mm, or BDS9.
With such Gucci features as an allover silver DLC finish, a hand-fit slide with a heavy tri-cut angle top and lightening ports, a monolithic recon frame with a full-length dust cover, and a 5-inch bull barrel with a seriously deep target crown, it looks great.
Optics ready (direct mount, milled by Nighthawk) and with a 17+1 round flush-fit capacity, of course, everything is hand-fit and match or super match-grade.
Cost? $5,999, which makes a Staccato look like a budget gun. However, it is still a full G cheaper than something like an Atlas Gunworks Erebus.
Holosun 507, now Competition ready
Holosun has been betting the bank on the 407 and 507 series micro red dots for years and they have become almost the default standard for open emitter MRDs on handguns in recent months. Now, the company has upgraded the 507 to a new large window competition-oriented sight, akin to the Trijicon SRO. Besides a bigger window, it also includes a new 507 Comp features their Competition Reticle System, available with a red or green LED.
The CRS is an enhanced Multi-Reticle System with four components: a 2 MOA dot, an 8 MOA circle, a 20 MOA circle, and a 32 MOA circle with multiple combination settings at the press of a button. It uses an RMR footprint, has a 50K hour battery life, runs a 1632 side load battery, and has eight brightness settings including two that are NV compatible for guys who run nods.
MSRP on the Holosun 507 Comp is $435, which is decent for what it does, especially when you consider the ask on the SRO is almost twice that.
Nosler's New Shorty .30 Caliber Can
Oregon-based Nosler has been a respected ammo and rifle maker for a long time and only recently branched out into suppressors. They have a decent .30 caliber can– the SR-30– which runs about 8 inches long and has a good resonance to it. Now, for those just looking to take the edge off the pop while saving some length and weight, such as hunters in heavy brush or mountains, Nosler has the new SR-30K, with the "K" meaning "Kurz," German for "short."
The new Nosler K-Can is two inches shorter and two ounces lighter than the company's SR-30 while employing a proprietary baffle stack design "for maximum performance in a minimalist package" and the same mounting hardware. In the end, it is less than six inches in overall length and 7.2 ounces in weight. MSRP is $729, which is not that bad compared to competitors' designs.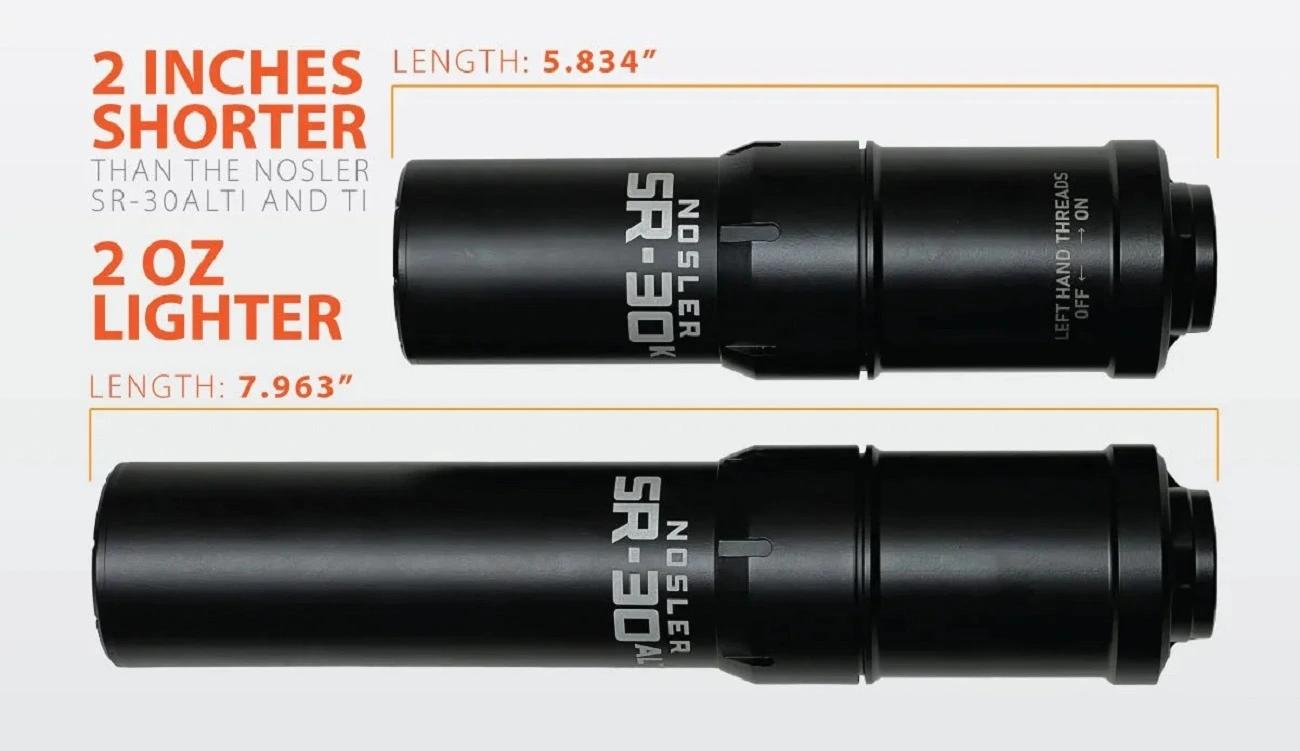 The SR-30K Can
Anderson Brings a Legit Budget Dissipator
Anderson Manufacturing brought a pretty sweet rifle-length gas system Dissipator carbine to NRA Show a couple of months ago and, after much teasing, they are finally going to deliver them to the market this week. A "true" Dissipator, it runs a short 16-inch government profile barrel with a full-length rifle buffer/gas system and a soft-recoiling action that will eat steel case. This is mucho different from guys like PSA who have sold "mock" Dissipators off and on which use a carbine or mid-length gas system under the hand guards and only have the look without the performance.
Kinda retro, Dissapators date back to Vietnam when some SF types wanted a shorter M16 and simply chopped down 20-inch barrels to a more manageable 16, or so the story goes anyway.
Sure, the Anderson isn't correct Vietnam retro, as it runs a 1:8 twist barrel rather than the bad old 1:12, has A2 style handguards and a flattop receiver, but it is still pretty cool. Especially with a $599 cost. For reference, the next closest Dissapator, made by Windham Armory, is over $1K.