Best Rangefinder Binoculars: Budget, Hunting, & More
Written By
Michael Crites
Licensed Concealed Carry Holder
Reviewed by
Editorial Team
Learn About The Editorial Team
Share:
Products are selected by our editors. We may earn a commission on purchases from a link. How we select gear.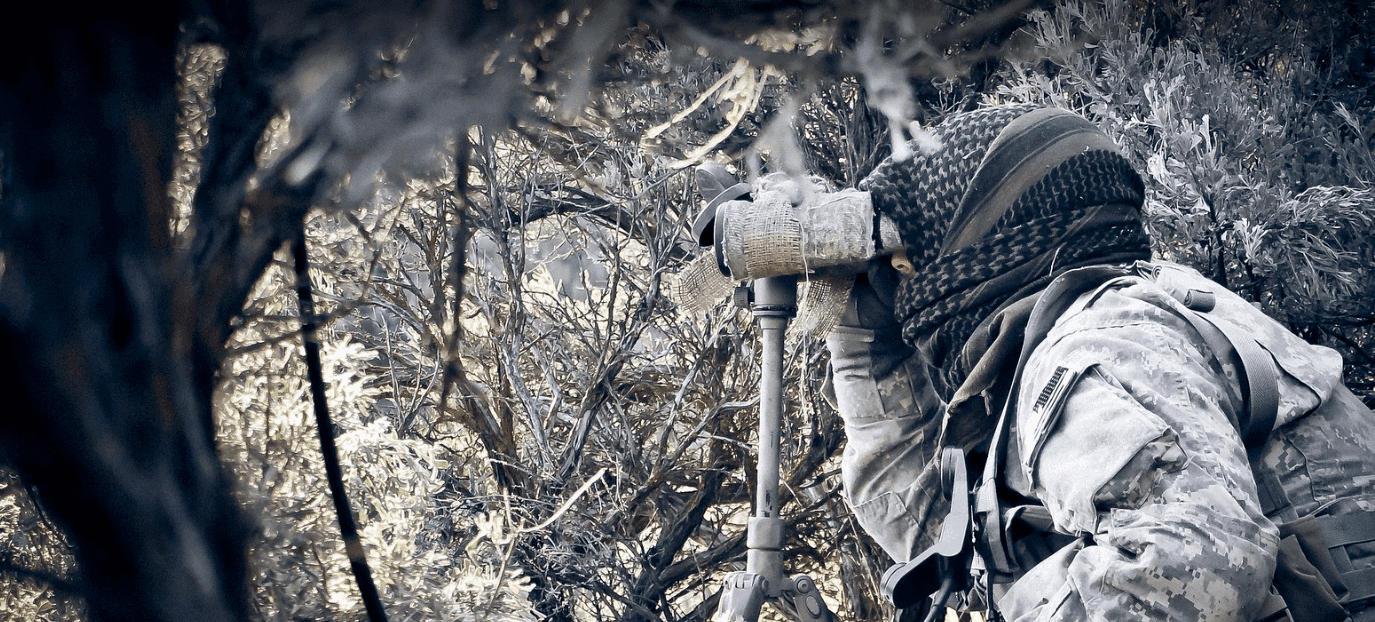 To find the best rangefinder binoculars, we had a professional hunting guide spend over 20 hours field-testing 12 pairs against his own $2,600 Leica Geovids.
After using our collection of test pairs in the mountains and forests of Eastern Oregon, then on a hunting trip in the heat of southern Mexico, he found that the Nikon Laserforce Rangerfinder Binoculars offered the best mix of laser performance, range, and price – plus the widest field of view of the binoculars within its price range.
This means you'll be able to range better, further, and you can get this performance for less than half of premium units.
Rangefinder Binocular Comparison
Below is my list of the best rangefinder binoculars. I list the best choices in terms of value, performance, reliability, and cost.
Click on the name to head to the product page, read reviews and check prices or skip ahead to the list of binoculars.
Rangefinder Binocular Reviews
1. Nikon Laserforce
Specs:
Magnification: 42x
Objective Lens Diameter: 42mm
Maximum Laser Range: 1,900 yards
1,000 Yard Field of View: 320 ft
Close Focus Range: 10 Yards
Weight: 1.93 lbs
The laser rangefinding binoculars our expert uses day to day as a professional hunting guide are the Leica Geovid 10×42 HD-B 3000s, which he purchased 5 years ago for just over $2,600. Yet when looking through the Nikon Laserforce Rangefinders, he could not tell much difference between them and the most expensive option in our test group, some of which cost 2x as much.
Bright visuals paired with an accurate laser
What makes the Laserforce  great? For starters, the accuracy of the laser coupled with their brightness & visibility.
A lot of rangefinding involves looking out over long distances at targets that are often concealed by brush or obscured in some way. Just as your phone's camera struggles to get a good picture when the subject is in a dark room, often the biggest challenge with rangefinding binoculars is collecting enough light to brighten the object at distance and successfully measure the range of the desired target.
Also tough is the opposite situation – such as bird hunting or looking up through trees into the sky – in which you need the binoculars to clearly distinguish an object & its range when backlit by a bright sky.
Aced our performance tests
In our tests the Laserforce performed well in both situations. For example, several other models tested struggled to effectively measure the distance our test targets when placed behind a tree or large bush.
With the Laserforce phase correction it was almost as if the oversized object blocking the target wasn't there —the range was measured effectively and we could clearly see the desired object even when deep in shadow or overly backlit.
Pros
Amazing image quality
Accurate laser
Longest range in $1,000 price point
Fog proof, waterproof & shock proof
Glass multi coatings
Cons
Other (higher priced) options offer more range
2. ATN BinoX-HD
Specs:
Magnification: 4-16x
Objective Lens Diameter: 65mm
Maximum Laser Range: 200 yards
1,000 Yard Field of View: NA
Close Focus Range: 10 Yards
Weight: 3 lbs
The ATN BinoX-HD are among the cheapest rangefinder binoculars we tested. They're more than just rangefinders – they're "smart binoculars" which offer a number of digital features that even higher-priced traditional rangefinder products don't – such as day & night vision, digital HD video recording, wi-fi connectivity, and electronic zoom.
Gather's light well for a digital binocular
They offer good light-gathering abilities, which is critical for visualizing detail on distant or obscured targets.
They are also comfortable and easy-to-hold. Smart binoculars often don't have range capability of dedicated rangefinder binoculars – the BinoX-HD is useful for up to 200 yards (vs 1,900 yards with our top pick).
It also overlays a number of datapoints you don't get in other models, which can clutter the viewport – so for very distant subjects or the clearest viewing experience you'll still be better off with traditional rangefinder binoculars.
The gadgetry adds functionality & weight
They're also about 20-30% heavier than non-smart rangefinders, and require batteries & cords to transfer data – so if you require minimum weight, aren't comfortable with technology, or hate the idea of relying on batteries for your product to work, you might want to consider a different set.
But, in exchange for the above, they offer an impressive array of features, functionality, and convenience that may supplement or eliminate the need to take other products with you on your hunts.
Pros
Lots of features
Easy to use
Price
Lots of eye relief
Rubber coating adds durability
Cons
Heavy
Less durable than other options
Uses expensive batteries
3. Lecia Geovid HD-B
Specs:
Magnification: 10-42x
Objective Lens Diameter: 42mm
Maximum Laser Range: 3,000 yards
1,000 Yard Field of View: 374 ft
Close Focus Range: 10 Yards
Weight: 2 lbs
Like the Nikon Laserforce pair, the Leica Geovid 10×42 HD-B 3000 rangefinder binoculars are optically sharp and offer an incredibly accurate range-finding laser, best-in-class construction, and easy to focus quickly at up to 10x magnification.
Huge range (at a price)
The primary difference in these two sets of rangefinding binoculars is that the Geovid offers an incredibly long range of up to 3,000 yards maximum range – more than 1,000 yards beyond what the Laserforce can hit.
The other difference is the price – with the Geovid's costing about 2x the Laserforce's ~$1,100 price point.
Legendary visual clarity
In its optics, the Geovids offer legendary clarity. They're the benchmark other rangefinding binoculars are measured against.
Both set of binoculars have crystal-clear optics that stay sharp right up to the edges of the field of vision, with the Geovids offering substantially more range. The Geovids can focus down to 10 yards, so they're ideal for situations that require maximum flexibility.
Pros
Incredibly well-engineered
Massive 3,000-yard range
Super precise
Light
Fast measurements (0.3 sec)
Cons
4. Steiner LRF 1700
Specs:
Magnification: 8x
Objective Lens Diameter: 30mm
Maximum Laser Range: 1,859 yards
1,000 Yard Field of View: 374 ft
Close Focus Range: 10 Yards
Weight: 1 lb
Most of the rangefinder binoculars we tested (and the majority on the market these days) use roof prisms, rather than Porro prisms.
Porro vs Roof Prisms
Roof prisms draw light directly through the binoculars from the objective lens to the eyepiece in a straight line, which can lend itself to smaller binoculars (they tend to have an "H" shape.) Porro prism binoculars are wider on the objective lens side than the eyepiece side and have an "A" shape.
Porro prisms bounce light at an angle from the lenses to the eyepieces and tend to be slightly larger than binoculars using a roof prism.
Military-grade toughness & performance
That said, either design can produce a great pair of binoculars and the Steiner 2315 models are the best Porro prism rangefinding binoculars we tested.
They have incredible three-dimensional depth perception and military-grade tough. They performed flawlessly in our tests and offered the same effective range as our top pick at 1,900 yards, but with significantly more field of view at 374 ft to the Laserforce's 320 ft FOV. They were also much lighter at just 1lb.
Not cheap but worth the investment
That level of performance will cost you though – as these Steiners are 2x the price of our top pick. But if you're looking for a high performing Porro prism rangefinder binocular, the Steiners are hard to beat.
Pros
Very clear
Good light gathering
Well designed
Lightest of our test group
Cons
Not as compact as other options
2nd most expensive unit we tested
5. Bushness Fusion
Specs:
Magnification: 10x
Objective Lens Diameter: 42mm
Maximum Laser Range: 1,760 yards
1,000 Yard Field of View: 305 ft
Close Focus Range: 3 Yards
Weight: 2 lb
The Bushnell Fusion 1-Mile ARC binocular was one of the most versatile rangefinding binoculars we tested.
Dedicated rifle & bow-hunting modes
In addition to a solidly accurate laser rangefinder, and competitive overall range of 1,760 yards, it also offers dedicated modes for bowhunters and rifle users.
The Bow Mode provides line-of-sight, angle, and true horizontal distance from 10-99 yards, which is a nice addition for all you bowhunters out there and would probably make this a must-have rangefinder for those kinds of hunts.
Rifle Mode provides line-of-sight, angle, and bullet drop/holdover recommendations, which in our tests proved to be surprisingly accurate.
Flaws worth noting
What prevented us from selecting the 1-Mile higher in our guide is the true effective range for live targets, such as deer. While the Nikon is effective for deer up to 1,100 yards, the 1-Mile is limited to about 500 yards, so if you find yourself needing more than 1,500 feet of capability on your hunts the 1-Mile might not be the best fit.
Despite the lesser range, if you're looking for the kinds of out of the box features the 1-Mile provides, it's a compelling product that offers excellent build quality, quality optics, and a precision laser.
Pros
Dedicated rifle & bow modes
Clear optics
Cons
Limited range on non-reflective targets
6. Vortex Optics Fury
Specs:
Magnification: 10x
Objective Lens Diameter: 42mm
Maximum Laser Range: 1,760 yards
1,000 Yard Field of View: 314 ft
Close Focus Range: 6 Yards
Weight: 2 lb
The Vortex Optics Fury HD rangefinder binoculars are a good alternative if the Nikons are out of stock. They're in the same price range, offer a similar range of about 1,000 yards for non-reflective targets, and are very high-quality build quality.
HCD Calculations Included
We're a fan of Vortex products and their Fury HD is a solid addition to their lineup. In addition to the glass clarity and quality laser, the Fury HDs offer HCD (Horizontal Component Distance) Mode, which corrects for shot angle and displays the yardage for the critical horizontal component distance.
This feature isn't particularly useful if you're shooting under 200 yards, but once you get beyond that – or if you're often in very vertical terrain and shooting at angles of 45 degrees or more – this HCD measurement takes all the guesswork out of calculating the correct distance to target – where a simple ranged value might lead to an improper hold.
A solid alternative
We preferred the light-transmission of the Nikon's to the Vortex, but they could be a fantastic choice if the features match up with your needs.
Pros
HCD Mode
Quality Optics
Competitive range distance
Cons
Not as bright as other options
Rangefinder Binocular Considerations
Magnification & Field of View
Everyone likes the idea of maximal magnification – bigger is often better – that maxim may not hold true for rangefinder binoculars.
The goal when hunting or ranging is to both understand the distance to a target and be able to actually locate those targets at a distance. Overly-magnified binoculars will reduce your field of view, increase the amount of light needed to get a clear image, and make it difficult to spot potential targets.
We tried to keep our recommendations to 10x or less – anything much over that gives you a really compressed FOV and increases shakiness.
Angle Compensation
There are times when a target 500 yards out isn't actually 500 yards away – at least when it comes to your shot.
Shooting angle can impact the final trajectory of your shot – and failing to account for it will lead to inaccurate holds when over 200 yards out or shooting at an angle above 45 degrees.
If you are hunting from the ground on flatlands, then you won't need angle compensation. But if you find yourself hunting from a tree stand or mountainous terrain, angle compensation can assist with getting on target more consistently.
Each of these products offers advantages for a variety of rangefinding needs, but our top pick is the Nikon Laserforce Rangefinder Binoculars. They offer fantastic distance, an accurate laser, and build quality that will keep them in your bag for years to come. Plus they also have all the features that we look for:
Wide field of view
Great light transmission
Accurate laser at distance
There are quite a few options out in this category, but we hope this article steers you in the right direction. If you have any questions or feedback please drop us a line. If you're in the market for optics check out our scope reviews, guide to the best rifle scopes, tips for selecting the best pistol red dot sight, selection of recommended rimfire scopes, and best budget AR-15 scopes.