The Best Budget AR-15 Scopes
Written By
Michael Crites
Licensed Concealed Carry Holder
Reviewed by
Editorial Team
Learn About The Editorial Team
Share:
Products are selected by our editors. We may earn a commission on purchases from a link. How we select gear.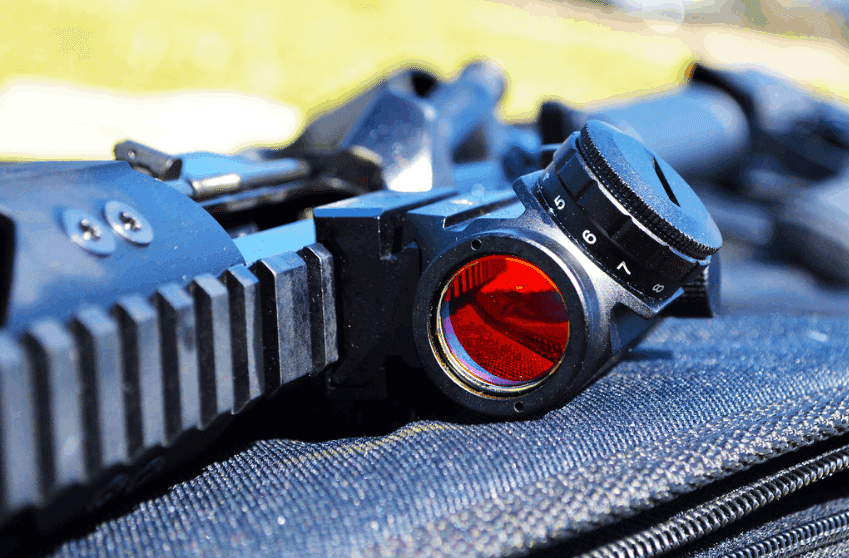 Technology often has a fantastic trickle-down effect. Anti-lock brakes used to be fully optional – now they're standard safety features.
The same kinds of dynamics are at play in the world of AR-15 optics. You'd be surprised what you can get in an AR-15 scope under $100 – while these aren't going to be as feature-packed as more expensive options, the truth of the matter is for a recreational shooter or someone who's not interested in dropping half their paycheck on a new scope, rest assured – there are lots of options to consider.
That said – these scopes aren't going to be all things to all people.
In fact, you have to be realistic about what a budget scope for an AR-15 can do – and you won't find premium brands on this list – but if you're going to drop your hard-earned money on a new AR-15 scope rest assured we've done thorough testing with experts to help ensure we can steer you in the right direction.
To find the best budget scope, we had a professional shooting instructor spend over 20 hours field-testing 18 pairs against his own $2,500 high-end rifle scope.
After using our test budget scopes in the mountains and hills of Eastern Idaho, then on a mountain trip through Montana, he found that the UTG BugBuster Scope was the best of the test group, offering performance comparable to his premium scope on a few fronts for a fraction of the price.
This means you'll see hit more targets and spend less on gear than any of your shooting buddies. This article is part of our ongoing Guide to Everything AR.
Budget AR-15 Scope Comparison
Below is my list of the best budget AR-15 scopes. I list the best choices in terms of value, performance, design, and cost.
Click on the name to head to the product page, read reviews and check prices or skip ahead to the list of AR scopes.
| Name | Price | Magification | Dimensions | Weight |
| --- | --- | --- | --- | --- |
| | $94.97 | 3-9x32 | 9.84" x 3.35" x 3.94" | 13.9 Oz |
| | $46.99 | 6-24x50 | 12.75" x 2.75" x 3" | 22 Oz |
| | $36.99 | 3-9x40 | 9.3" x 3" x 3" | 23 Oz |
| | $89.95 | 3-9x32 | 16.5" x 4.7" x 3.4" | 14 Oz |
| | $55.98 | 2.5-10x40 | 7.2" x 3.1" x 2" | 20.5 Oz |
| | $89.99 | 3-9x40 | 16" x 3" x 2.5" | 12.9 Oz |
1. UTG 3-9×32 1″ BugBuster AR-15 Scope
What we liked:
Price
Range mil-dot reticle
Dual reticle illumination
Much shorter than many budget scopes
Adjustable objective
Lockable/resettable turrets
Shock, fog, and rain proof
What we didn't:
Potential for misaligned reticule
Large reticule can obscure aim
The UTG 3-9X32 1″ BugBuster Scope—along with nearly all of the other budget AR 15 scopes we tested—have benefited from incredible advancements in optical quality driven by the falling costs of precision manufacturing and optical technology.
For under $100 you can get an AR 15 rifle scope that damn near matches products that cost hundreds, but probably not thousands, more.
The BugBuster's optics aren't its only strength: This is an exceptionally durable scope that easily withstood the humid, rainy, and hostile environment of the Eastern Idaho Sawtooth Range and harsh sun while range shooting in the Beartooth Mountains in Montana.
The focus dials adjust consistently and across a wide range of depths, making it easy to find the focal sweet spots, no matter the distance. Light transmission was solid thanks to what they term as an "Emerald Coating" on the tube, and it offered dual illumination with both red or green dot options which were easy to see.
With more than 2,600 reviews at the time of writing this high-quality budget scope maintains an incredible 4.3-star rating. While it doesn't offer a lifetime warranty as you'd get with a premium scope, the BugBuster does offer a 2-year warranty which you can read here.
2. CVLife Optics Hunting Rifle Scope 6-24×50
What we liked:
Solid build quality
Turrets have solid audible clicks and return to zero
What we didn't:
Size can make it cumbersome
Some buyers had trouble zeroing the scope
Can fog up
CVLIFE Hunting Rifle Scopealmost half the price of the BugBuster.
Yes, this scope is almost 50% less than our top recommendation. It has a comparably wide field of view, however, it's a much bigger unit and some customers have struggled to zero it in. That said, it's a very popular budget AR scope and one that has a lot of the features that we're looking for such as decent long-range capabilities, an objective lens, and easy adjustments for windage & elevation.
3. Pinty 3-9×40 AR-15 Scope
What we liked:
Rangefinder reticle makes distancing easy
Fits standard 20mm picatinny rail
Very clear right out of the box
No parallax within 100 yard
What we didn't:
Quality control and final fit and finish are hit and miss
Outside of 100 yards you might need to estimate the bullet drop
If you're on an even tighter budget and are willing to see what kind of mileage you can get from a device with a 12% 1-star rating, you take a look at the Pinty 3-9X40 Red Green Rangefinder Scope, which is about 30% of the price of the BugBuster.
The units that have positive reviews get almost all the performance, with only a slight compromise in terms of maintenance (how often you have the adjust the turrets etc. to maintain accuracy).
4. Monstrum Tactical 3-9×32 AO AR Rifle Scope
What we liked:
Lightweight
Very clear glass
Includes both parallax & range finder reticle
What we didn't:
Can be fragile when mounted on bigger calibers
Reports of faulty adjustment knobs
Long overall size
Another contender, the Monstrum Tactical 3-9×32 AO Rifle Scope, has relatively solid construction and were among the lighter scopes we tested, at 1.4 lb (the BugBuster weighs an ounce or two more).
Monstrum Tactical makes a wide array of tactical & rifle products include a number of higher-end scopes (at least 10 models with some well into multiple hundreds of dollars) as well as a huge line of accessories like scope mounts, picatinny rails, and hardware – almost all of which is rated 4 stars or more.
This scope is the budget option in their range, and benefits from the trickle-down of technology found in high-end scopes.
Optically, the Monstrum Tactical sight picture is crystal clear and magnifies nicely, all of which feature their glass prism optical system. Mounted on our test AR it worked great, had shot some consistent groupings out of the box. We could see all the down-range targets very clearly and it stayed on target after zeroing. We found that it also had good scope rings with enough room for a 45 degree mount on top.
5. Pinty 2.5-10×40 Tactical AR-15 Rifle Scope
What we liked:
Lightweight
Very clear optics
Dual illumination
Laser for zeroing in
Responsive customer service
What we didn't:
Quality control seems to be hit or miss
Geared towards smaller calibers
Challenging to get tight shot groups
This Pinty was among the smallest budget scopes we tested – coming in at just under 1.3 lbs.
Their 2.5-10×40 Scope & Laser Combo offered excellent clarity – and we thought this would make an excellent first scope for transitioning from iron sights and for close-range use due to the 2.5 low-end magnification.
It was the closest to a red dot sight of all our test scopes.
The first unit had an issue after about 30 rounds (the front lens was loose) but the manufacturer sent us a replacement straight away – so they proved to have responsive customer service. The new unit was fine and easy to mount on our 22LR and 556 AR. This scope has a nice laser which makes zeroing in a snap up to 100 yards. It worked well in our tests and held over more than 100 rounds.
Naturally, these budget scopes don't have the build quality of higher-end models, but in exchange, this Pinty offers a solid value and a lot of the features you'd find in much more expensive models – just make sure you pick up some Loctite.
6. Bushnell Banner 3 9×40 Illuminated AR-15 Scope
What we liked:
6 inches of eye relief
Very clear optics
Excels in low light conditions
Fog & waterproof
What we didn't:
Fickle to zero in
Requires re-zeroing every 1,500 rounds
Light crosshair is hard to see
Long at 16"
While the list of premium brands available under the $100 price point is very limited – these lower-end products can struggle to be durable enough to survive hard knocks and higher caliber firearms without alignment issues.
We found the Bushnell Banner model to have a nice mix of features and positive ratings, plus it was the lightest scope we tested (less than a pound) and has the premium brand name that many people value.
This is a hunting scope, so it's designed to excel in the low light conditions of early morning & dusk. It's slightly more than the much for just a bit more (at just under $100) but it's very functional if you don't mind long eye relief, offers excellent optics, rugged waterproof and fog proof construction, and improves visibility in low light conditions markedly.
Who should consider these recommendations?
People setting up a new AR 15. iron sights or BIUS
Young shooters. If you've got a son or daughter who wants to start shooting it's best not to drop several hundred dollars on top-end kit. It's the same reason you don't buy your kids a $1,500 laptop – they're tough on stuff. A $50 scope will give them the basics without risking too much. Once they've got a handle on how to treat & maintain a scope you'll feel much better about upgrading their optics beyond a budget scope
Gifters.gifts for gun lovers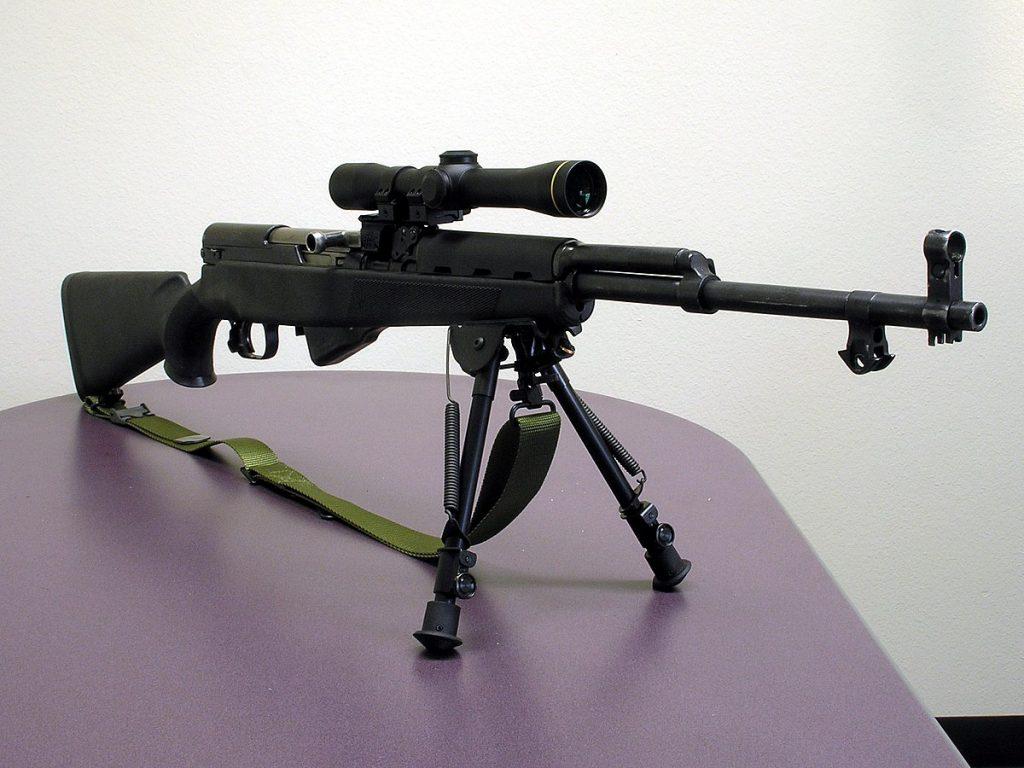 If you're working with an older, budget rifle -- like an SKS -- you might just want to drop some budget glass on it for fun.
One of the primary reasons people go for a budget AR scope is that building or buying an AR is already a stretch on the budget, so shelling out several hundred more dollars for an optic isn't reasonable or even possible. With that said, we're big supporters of the second amendment for any folks who want to participate, so you won't be getting any budget shaming from us.
Get the optic you can afford to make the rifle perform more to your liking, and going cheaper on the optic allows you to save for more ammo.
Second, and some price snobs will very much disagree with us on this one, there are decent optics to be had at the $100 mark, or sometimes even below. In the past five years or so, the optics market has seen some real competition with brands that have cracked the code on making quality optics that are also budget-friendly.
Nowadays, getting a genuinely good optic for a reasonable price is more than possible. We're delighted to see optics prices come down for gear that you can expect to perform well, and we'd put a lot of these on our rifles happily.
Tactical Sights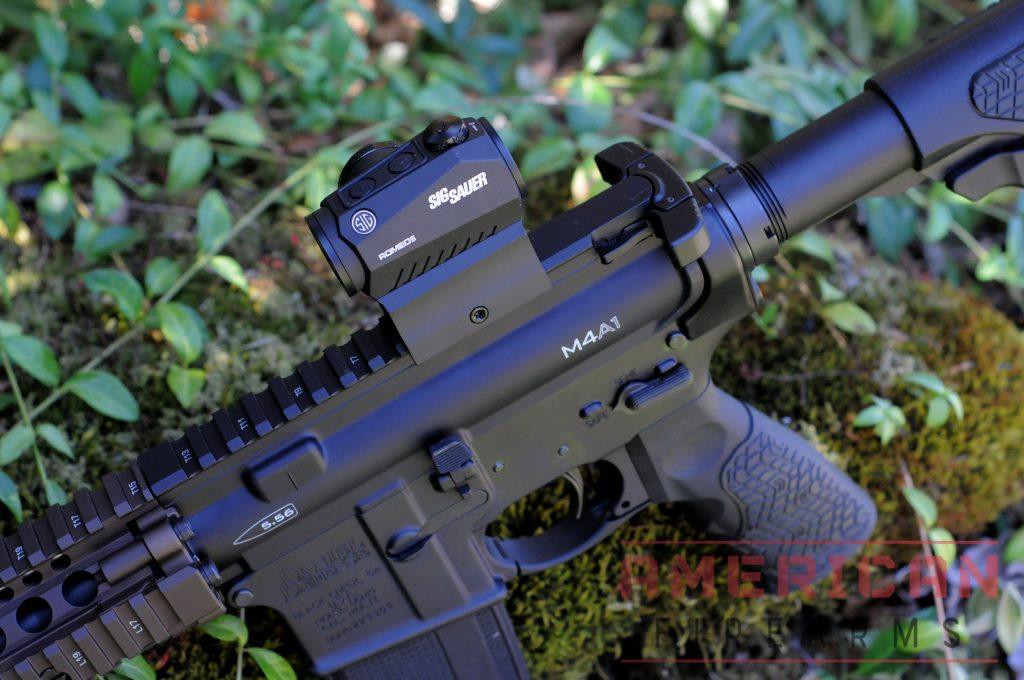 The Sig Sauer Romeo5 is a popular tactical sight -- although it doesn't quite cut it from our sub-$100 price point goal.
Optics designed to hit human or large animal-sized targets such as a whitetail at 1,000 yards are impractical for home defense purposes, where your shooting requirements will be measured in feet rather than yards. These are typically more scopes than sights, so you'll find red dots, holographic sights, and reflex sights will generally be your best tactical options, but are the topic of another article.
Some of the scopes at this price range are aimed at a more tactical style of rifle, and they're often focused on folks who are building a defensive rifle. In terms of features, they're similar to the scopes that we've talked about so far, but often have some tactical design cues or a section of Picatinny rail should you want to mount a red dot onto your optic, which is certainly an option worth considering if you're looking to build a rifle that can be used flexibly at different ranges.
A riflescope gives you much more range than a tactical sight, but it's larger, heavier, and not at all CQB-friendly.
Riflescopes
Riflescopes that allow for you to reach out and touch targets at 300, 500, and 1,000 yards require some technical advancements not available on other types of optics.
State-of-the-art lens coatings, waterproofing and fogproofing through nitrogen purged housings, advanced metallurgy and aircraft grade aluminums, parallax adjustments, various brightness settings, and specialized reticles including fiber optics, illuminated, mil-dot, and bullet drop compensation options with detailed hash marks, along with elevation adjustability — these days there's an entire range of scopes for any shooting pursuit.
Fixed Magnifcation
At this price range, some of the most commonly seen scopes will be those that have fixed magnification. While these don't have all of the tactical bells and whistles of some of the more expensive scopes out there, getting in some training time with a fixed-magnification optic can still yield a massive improvement in your distance shooting. Although these scopes are simple, they should not be underestimated and they can be an excellent tool if you're willing to put some practice in at the range from time to time.
Variable Magnifcation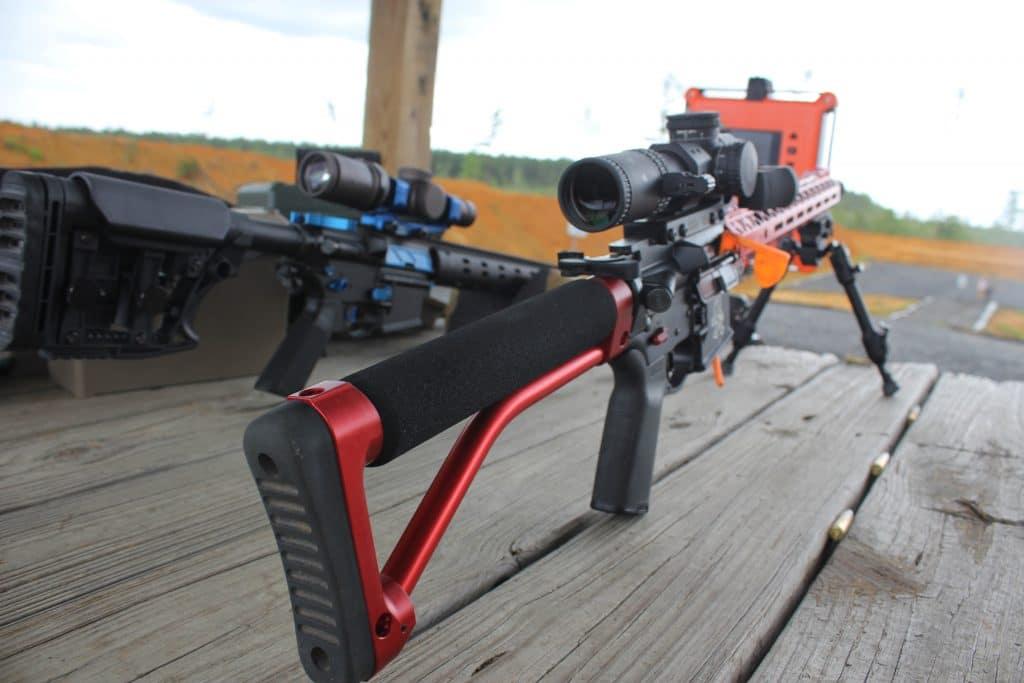 LPVO scopes offer 1x up to around 10x in a single package but give you a lot of flexibility.
It is also possible to get scopes that are adjustable in terms of their magnification at this price range, both LPVO and first focal plane or FFP scopes that keep the reticle nice and crisp as you zoom in and out.
At this price range, though, your adjustable scope is not likely to have the best glass in the world, nor will it likely be the most durable piece of kit. If you're willing to be careful with it, though, there are good scopes at this price range as well, and we'd be willing to try them out at the very least.
Lastly, some of these scopes, namely the more simple ones, are aimed at people who just want a cheap scope for plinking or hunting. I think that these scopes and be an excellent value proposition, especially for rifle builds that won't be banged around much. You don't necessarily need the most durable scope in the world if it's going to spend a lot of its outdoor time in a deer blind, so saving some money on a scope for a rifle used in that capacity makes sense. I'm surprised at how much variety there is in cheaper optics these days, and I like to see that prices on optics are remaining relatively reasonable.
Important Budget AR Scope Considerations
Weight. When considering a scope at any budget, one thing that I think about first is the overall weight. While the difference in weight between scopes might not seem like a big deal when you're shopping for them, it can turn into a hassle down the line. Consider that every once you put on the gun is an ounce you'll have to carry with you when you're walking to your hunting spot, and you, too, might start to be a bit weight conscious when it comes to the choice of scope.
Optic Support. The footprint of the optic also matters a fair bit. Some optics are rather short and mount via Picatinny rail, which makes them relatively compact in terms of the overall size of the rifle. Others are a little bit longer and sometimes require mounts that are often included. To make the mounts work, you'll need to make sure that your rifle has enough overall rail length and in the right spots to make sure that they will fit on the rifle. Longer optics tend to have higher magnification, but also take up more space on the gun.
Reticle Type. Third, think about the reticle type fairly when making a scope buying decision. On a lot of these more budget scopes, you can expect to find a simple cross reticle, which is one of our preferred reticles. With a little bit of looking around, it's also possible to find these scopes with different reticle optics that have bullet drop compensators and range estimators for various caliHowever, keep in mind that these may not be entirely accurate under different magnifications. In contrast, a simple cross should be consistent even with adjustable magnification levels.
Adjustable Magnification. Finally, think about whether or not the magnification on the scope is adjustable. If I want to use the scope for a specific range that's more or less predictable, I might well go with a fixed power scope to keep things affordable and simple. If, on the other hand, I and a rifle that's a little more flexible, then a variable power optic is something that might make more sense, even if the optical clarity won't be the best in the business.
These days, it's more than possible to find a set of features that works well for you in a budget optic.
By the nature of this piece, we're only looking at optics at or under $100, but even under that mark, there are some gradations.
For around $40, you can find decent optics through sales, although these will be pretty basic in terms of features. Basic isn't bad, though, and if you're a person who isn't fussy about a massive list of features, these can be great.
At the $70 mark, many of these optics can be had at regular price, and they'll perform reasonably well. We recommend going with a brand that has at least some sort of warranty, though, if something goes wrong.
At the top of the price range we're considering here, possible to get an adjustable scope with a decent warranty that matches the aesthetics of your gun. We'd also highly recommend keeping an eye on slightly more expensive optics sales: these often happen after things like SHOT Shot when new models get released.
A year-old model will likely work well for you, even if it doesn't have the most packed set of features from the brand new models, and the discount can bring optics into your price range.
How we selected these products
As much as I would love the put all these AR scopes to the test there are times when certain products or categories are a real challenge — be it availability, cost, or simply a lack of resources — we can get stymied going hands-on with all the potential candidates. Rather than present a never-ending list of all the budget AR scopes on the planet, we selected those which we felt best represent the price points you're likely to encounter when shopping — giving you a solid representational list to serve as a jumping-off point for your own research (you are going to do you own research, right?)
To avoid disappointment or steering you in the wrong direction, we bolster our own experience with conversations with experts, comb through reviews on retailer sites & sales data, review industry publications, other blogs, and otherwise surface the best information available.
We aim for all thriller, no filler, as they say.
Here are all of our recommendations one last time. Be sure to check them out over on Amazon and read through the review and Q&A sections get a good sense of what they'll offer you before adding your scope or any other accessory (like a grip or bipod).
If you're in the market for optics check out our scope reviews, guide to the best rifle scopes, tips for selecting the best pistol red dot sight, selection of recommended rimfire scopes, and long-range scope guide.

March 19, 2023 — After reassessing the information in this guide, we continue to stand by our budget AR scope picks. We've updated images and links where appropriate.
Sign up for our newsletter
Get discounts from top brands and our latest reviews!