The Best LPVO Scopes: From Rimfire to Long Range
Written By
Kenzie Fitzpatrick
Competitive Shooter
Edited By
Michael Crites
Licensed Concealed Carry Holder
Share:
Products are selected by our editors. We may earn a commission on purchases from a link. How we select gear.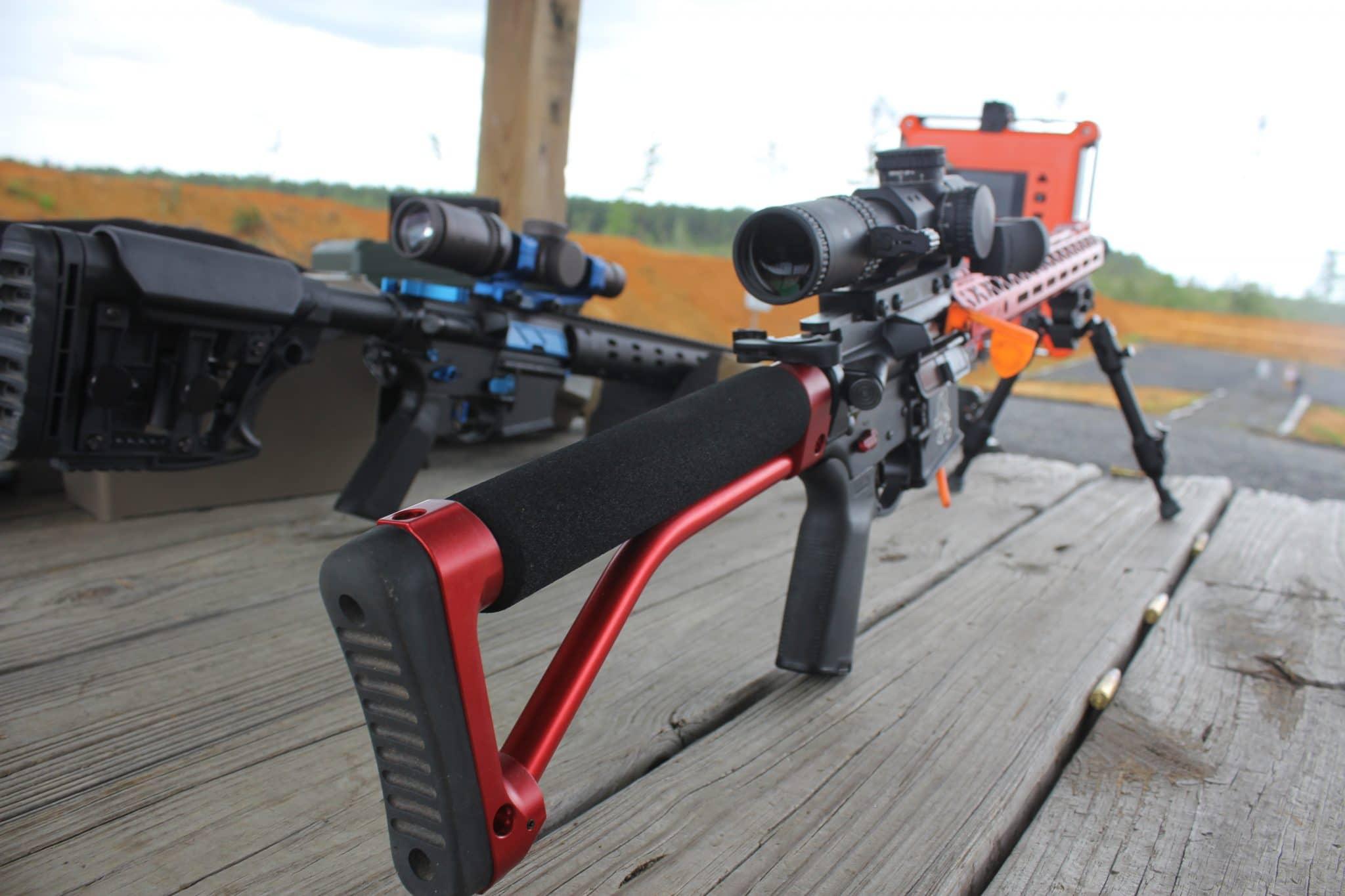 To add flexibility to your rifle or hunting set-up, you may want to consider a Low Power Variable Optic (LPVO).
These versatile scopes are perfect entry-level optics, with magnification ranges from 1-4x, 1-6x, or 1-8x. Most LPVO scopes will start at a true 1x range and increase magnification from there, with intended use for targets under 200-yards.
The best uses for low power variable optics are hunting, 2 gun, 3 gun competitions, or just for target plinking. A low-powered variable optic scope can be a second focal plane or first focal plane reticle, have an illuminated reticle, and be either MOA or MRAD.
Choosing an LPVO scope you actually understand how to use is crucial to consistently impacting targets at long ranges and wringing as much joy as possible out of your range time.
Below is my list of the best LPVO scopes. I list the best choices in terms of value, performance, design, and cost.
Click on the name to head to the product page, read reviews and check prices or skip ahead to the list of scopes.
| Name | Selection | Price |
| --- | --- | --- |
| | Best Overall | $999 |
| | Best Precision | $1,499 |
| | Best Tactical | $399 |
| | Best Value | $399 |
| | Best Under $100 | $99.95 |
| | Competition Pick | $1,279 |
| | Best for Hunting | $2,049 |
| | SFP Runner-Up | $1,085 |
Why You Should Listen to Us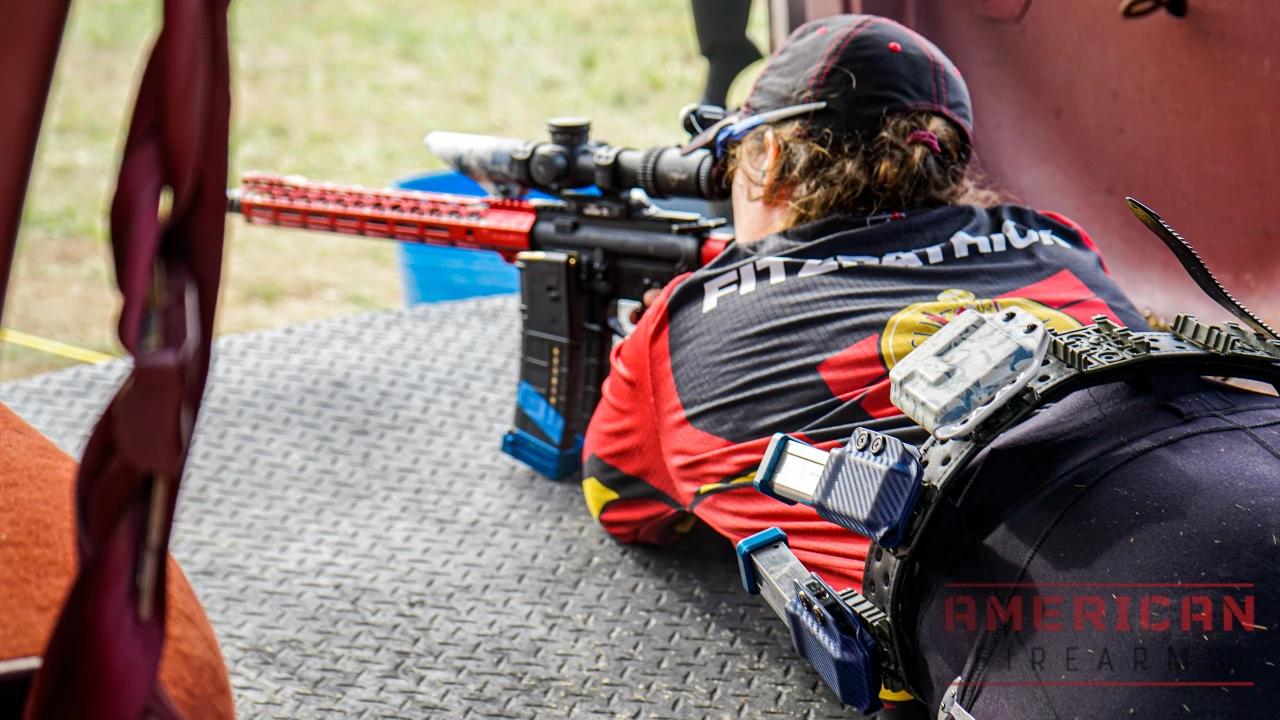 This past August, I impacted a 630-yard target on a stage at a 3 gun competition with a 1x8 LPVO.
When I started competition shooting, I knew nothing about LPVO scopes. I was unsure what to buy, how to mount them, and especially how to zero one.
In my first 3 gun match, I used iron sights on my rifle because I didn't know how to choose a scope. It can be overwhelming when there are many options on the market to choose from. I eventually did some research and had a ton of help from a friend who taught me everything I now know about scopes, mounts, zeroing, and rifles in general.
My first scope was the Vortex Razor HD Gen II 1-6X24 JM-1 BDC reticle, a second focal plane reticle. I shot competitions with that scope for two years before making a complete switch to a first focal plane, more magnification, and an MRAD reticle.
The Vortex Razor 1-6 is competitive up to about 500 yards, but at one of my 3 gun competitions, I did not have a hold for 625 yards and could not impact a target. I now use the Trijicon Credo 1-8×28 MRAD segmented circle reticle, a first focal plane reticle.
This past August, I impacted a 630-yard target on a stage at a 3 gun competition using this scope.
I have hands-on experience with scopes made by Primary Arms, Athlon Optics, Khales, and Bushnell, plus my NRL22 rifle is set up with a high magnification Burris scope. My experience with firearms is extensive, from competing in 3 gun and NRL22, attending SHOT Show range days, going to demo events, and checking out friends' firearms.
Each scope is a little different, and only you can choose what is best for your needs. My recommendations of scopes are from first-hand experience with them and feedback from fellow competitive shooters in the industry.
1. Best Overall: Athlon Cronus BTR GEN2 1-6x24mm UHD
Athlon is a US sports optics product company that produces some of the best LPVO scopes available anywhere — at very competitive prices compared to others with similar features.
Athlon manufactures products for duty use, competition needs, and hunting and scouting. They have several lines of rifle scopes, red dot optics, spotting scopes, binoculars, range finders, and accessories.
Cronus BTR GEN2 1-6
Fit & Finish
What is unique about this scope is the ATSR2 reticle is intended for and best used with 68 and 69-grain BTHP 223 Rem/5.56mm NATO rounds.
Reticle & Adjustments
The Cronus 1-6x SFP optic features the ATSR2 SFP IR MOA reticle explicitly designed for tactical or competition applications.
The reticle is simple with a center red dot and hold-over points for bullet drop and wind compensation. What is also unique about this scope is the 1.4 moa red dot optic in the center is perfect for zeroing your rifle scope at 200 yards, and the open centers below the center red dot are for targets at 300, 400, 500, and 600 yards.
The openings along the horizontal lines, or wind holds, are designed for 5mph and 10mph wind.
The reticle is simple with a center red dot and hold-over points for bullet drop and wind compensation.
Glass Clarity & Magnification
This scope is one of the best LPVO scopes for use in poor weather and low light conditions. The UHD extra-low dispersion lenses bring in more light transmission in these darker situations.
Weight
The total weight of the Athlon Cronus BTR 1-6x24mm is 18.8 oz, making it one of the lighter LPVO scopes on the market.
2. Best Precision: Leupold VX-6HD 1-6x24mm CDS-ZL2
Leupold was founded in 1907 and was originally in the surveying equipment business. The business expanded into different industries until 1940 when Marcus Leupold set out to solve his problem of a fogged-up riflescope.
In 1947, their first riflescope, the Plainsman, was introduced. Leupold supplied optics to the US military, began making binoculars, spotting scopes, range finders, mounts, and different lines of scopes, among other things.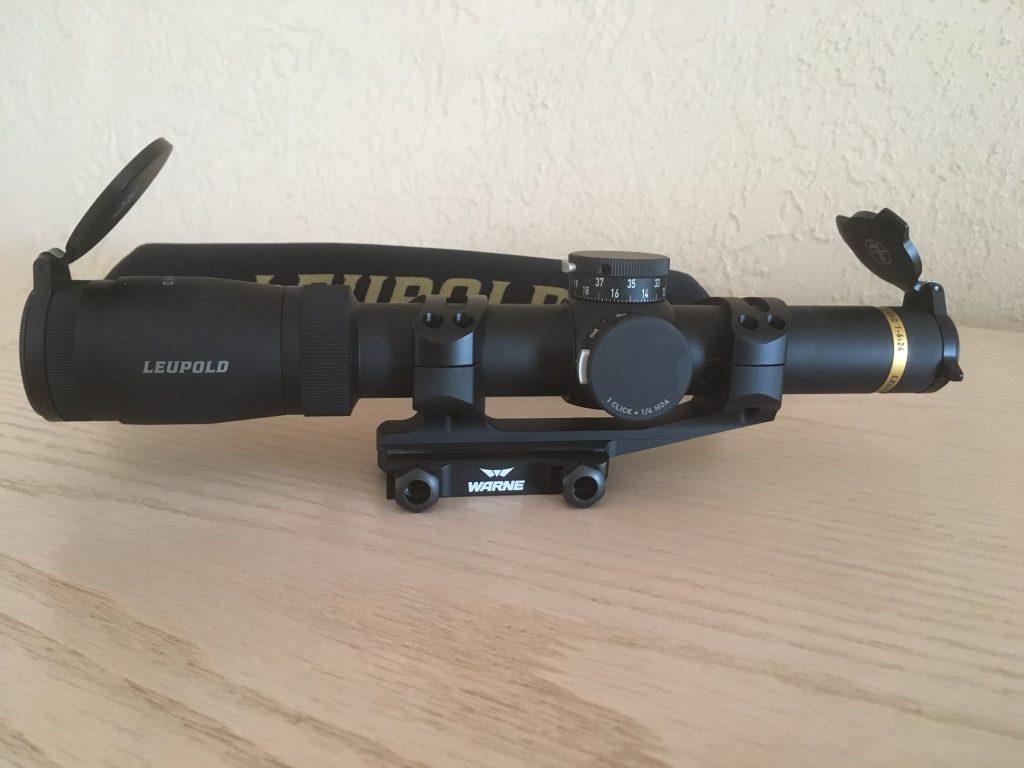 Fit and finish on the VX-6HD is top notch.
Reticle & Windage Adjustments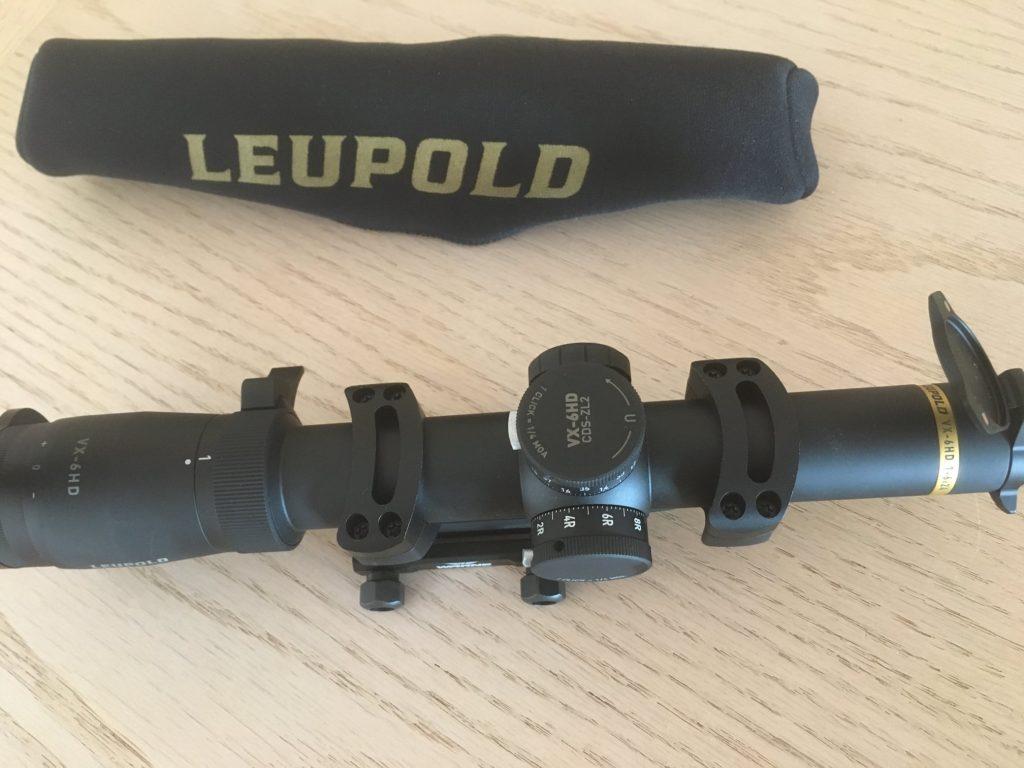 Here you can see the push-button ZeroLock system on the turrets.
The Leupold VX-6HD features high-definition lenses for sharpened glass clarity and comes with an illuminated reticle.
The CDS-ZL2 (ZeroLock 2) that comes standard with the 1-6x24mm provides two revolutions of elevation adjustment while eliminating accidental dial movement with the push-button ZeroLock system.
The Leupold VX-6HD 1-6x24mm CDS-ZL2 reticle.
Nice to Haves
Leupold built several innovative features into this one scope. It has Motion Sensor Technology (MST) that deactivates the illuminated reticle after five minutes of inactivity and automatically turns back on when there's movement. The reticle will flash when the scope isn't level, which significantly helps the mounting process.
The Leupold VX 6HD 1-6x is compatible with Leupold's Custom Dial System (CDS), which allows you to customize your turret (adjustment dial) to your ballistics and environmental conditions. Simply install the custom dial, range your target, turn the dial to that number, aim dead on.
3. Best Tactical: Vortex Strike Eagle 1-8x24mm
If you're a little squeamish at dropping more cash on your glass than your rifle, the Vortex Strike Eagle is the best LPVO scope for beginners. T
Fit & Finish
The scope is a second focal plane: waterproof, fog proof, and shockproof.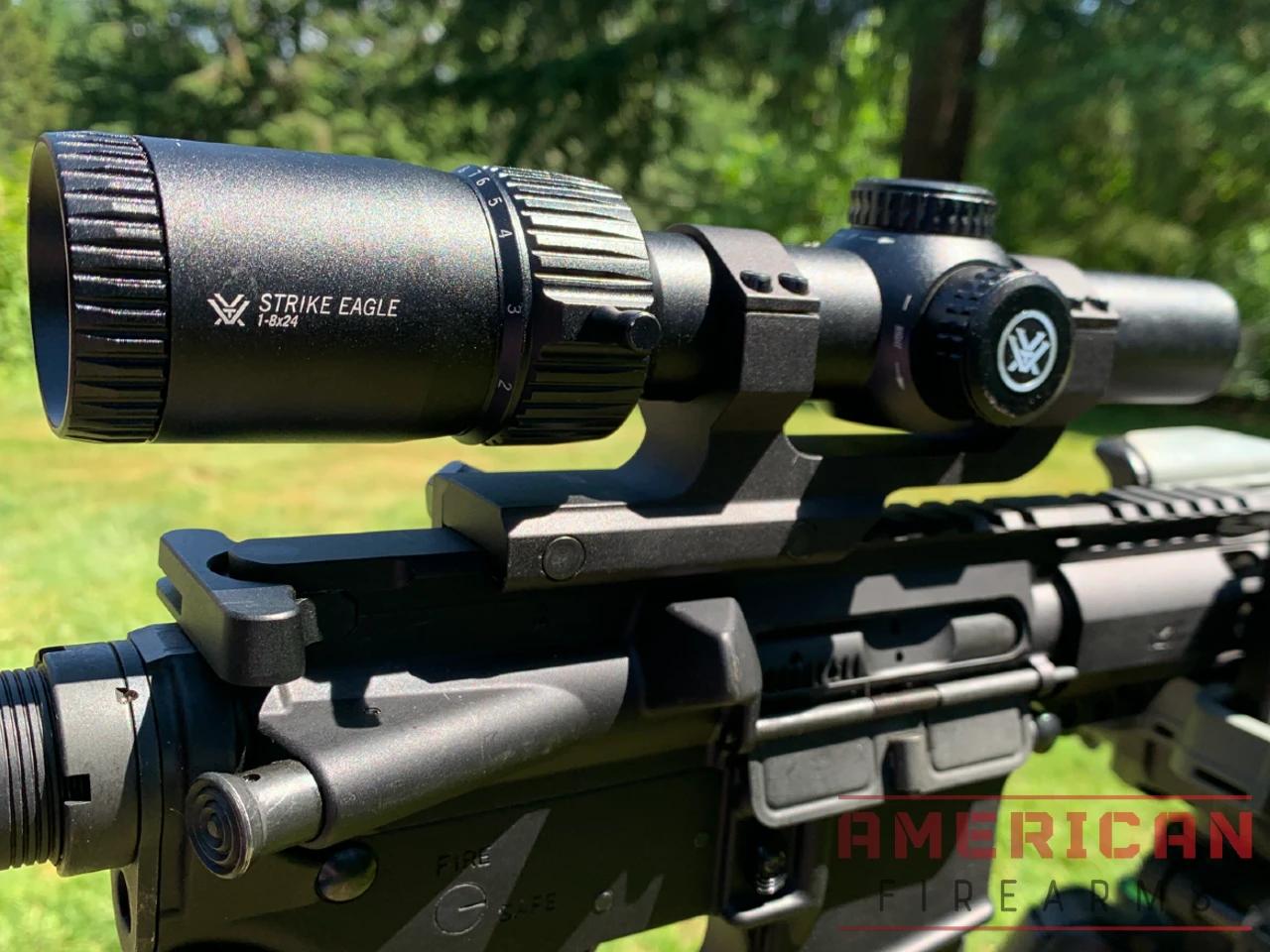 Vortex Strike Eagle on my PSA PA-15. I've used this for all kinds of range fun.
Reticle & Magnification
The Vortex Optics Strike Eagle has an illuminated AR-BDC3 glass-etched reticle that features holdovers for ranges out to 650 yards and a broken circle and dot for close-range targets.
The reticle is glass etched, and the glass is fully multi-coated. Vortex also offers a Strike Eagle 1-6x24mm option for a slightly lower price.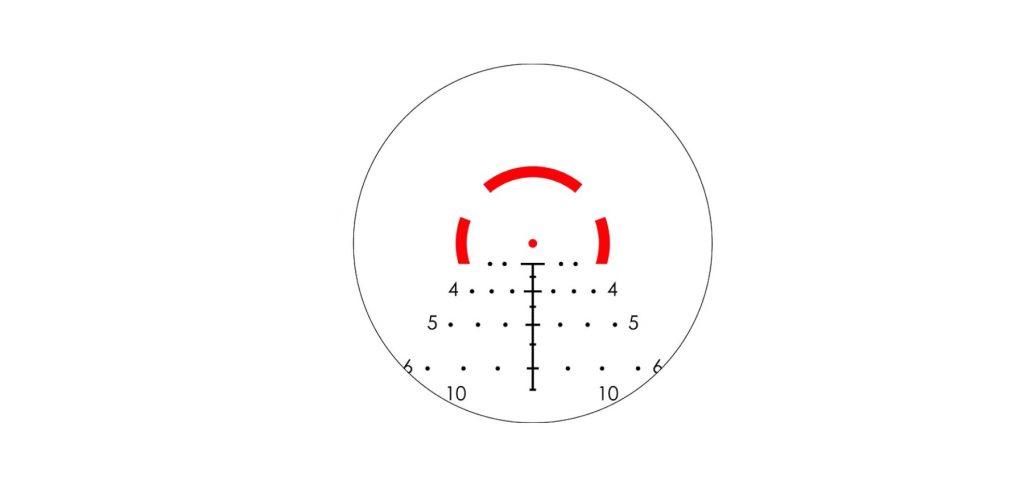 The BDC3 reticle features holdovers for ranges out to 650 yards and a broken circle and dot for close-range targets.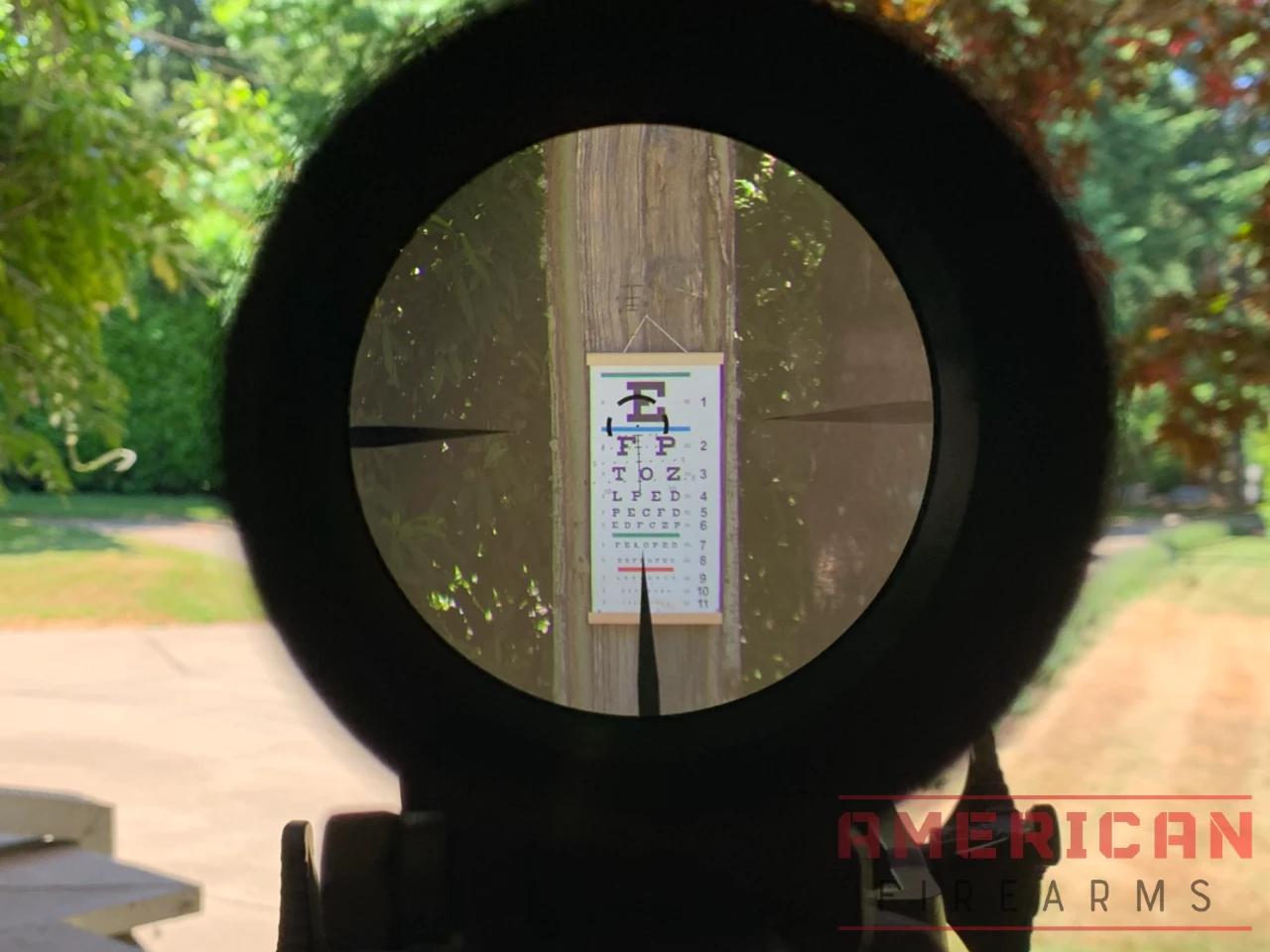 Looking at a standard eye chart from 35 yards at 8x magnification. You can basically read the entire thing.
It may sound silly, but I really like the ergonomic thread-in throw lever Vortex uses with the Strike Eagle. You can change magnification settings quickly and your finger naturally finds center, which seems to make magnification adjustments feel smoother. At least to me.
The throw lever is such a little detail, but Vortex gets it right.
The total weight of the scope is 17.6 oz which is on the lighter side for 1-8x variable scopes. It feels lighter in hand than my PA and Monstrom products.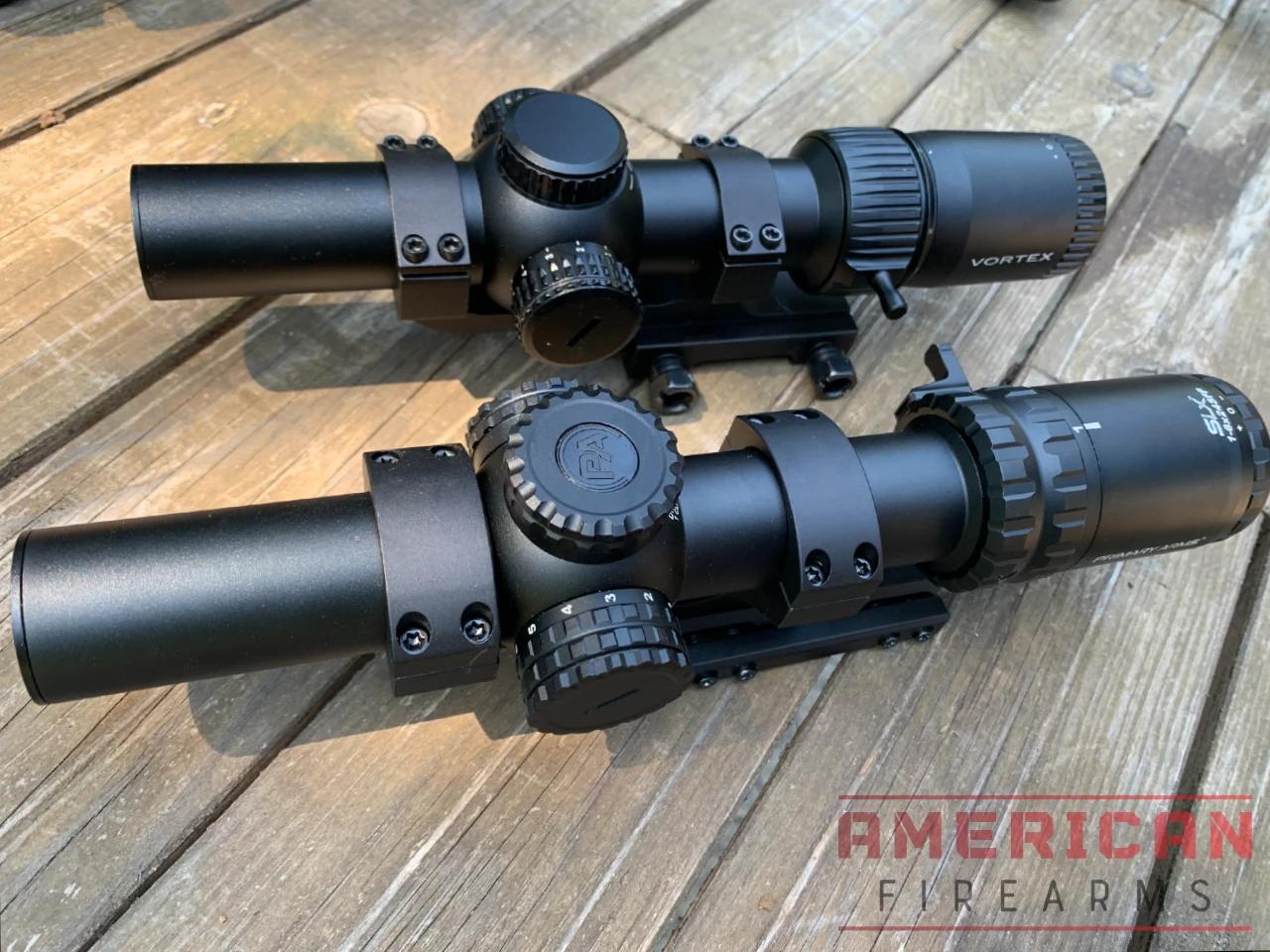 Vortex Strike Eagle compared to the PA SLx 1x6. At 17.6 oz the Strike Eagle is on the lighter side for 1-8x variable scopes.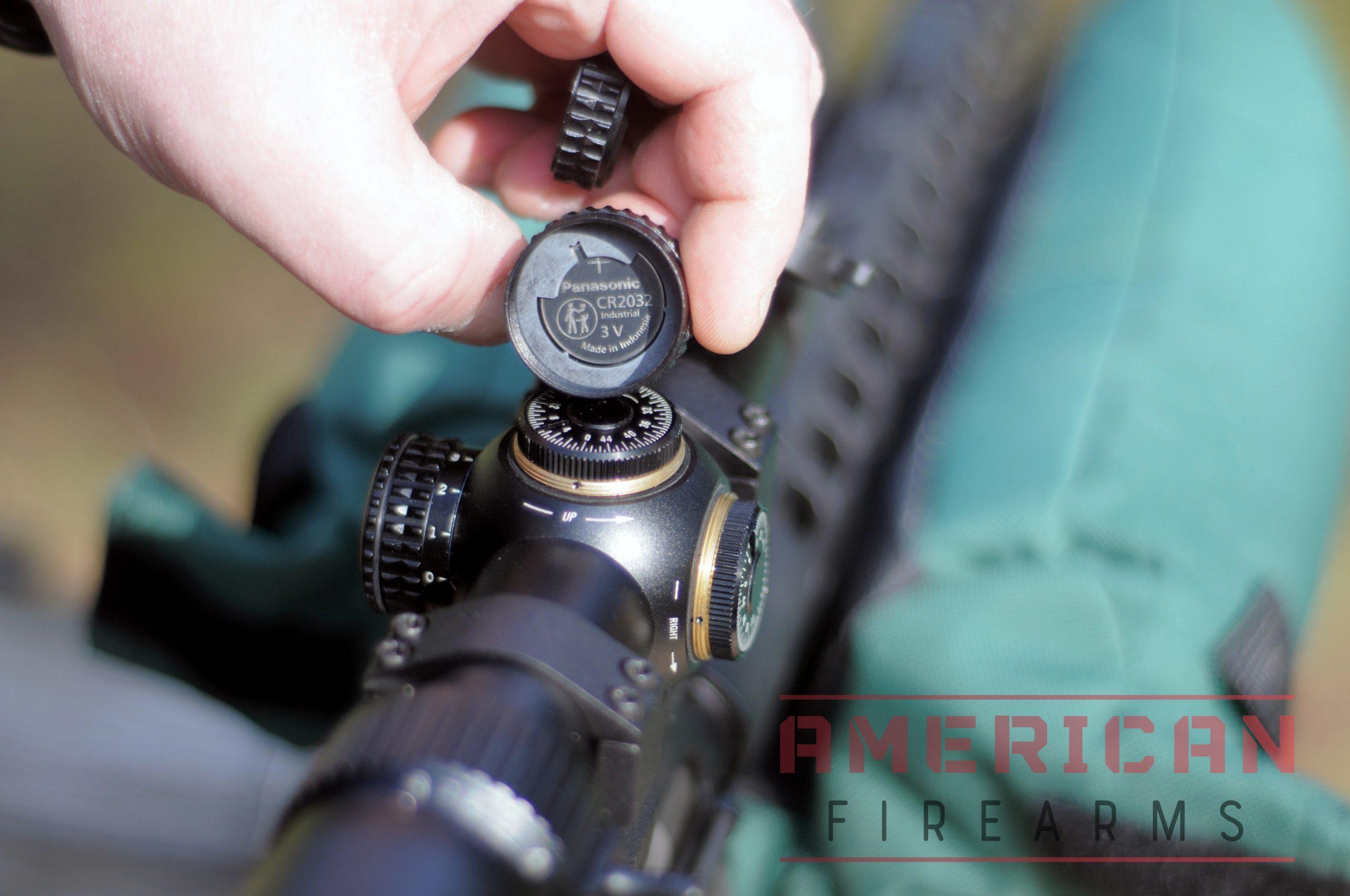 The Strike Eagle's turret cap hides a bonus battery!
4. Best Value LPVO: Primary Arms SLx 1-6x24mm
Primary Arms is one of the most well-known AR-15 and AK-47 parts and accessories retailers. Most people don't know that they also manufacture their own line of scopes, red dots, magnifiers, mounts, and rings — plus they're one of the most budget-friendly brand of scope manufacturers
Fit and Finish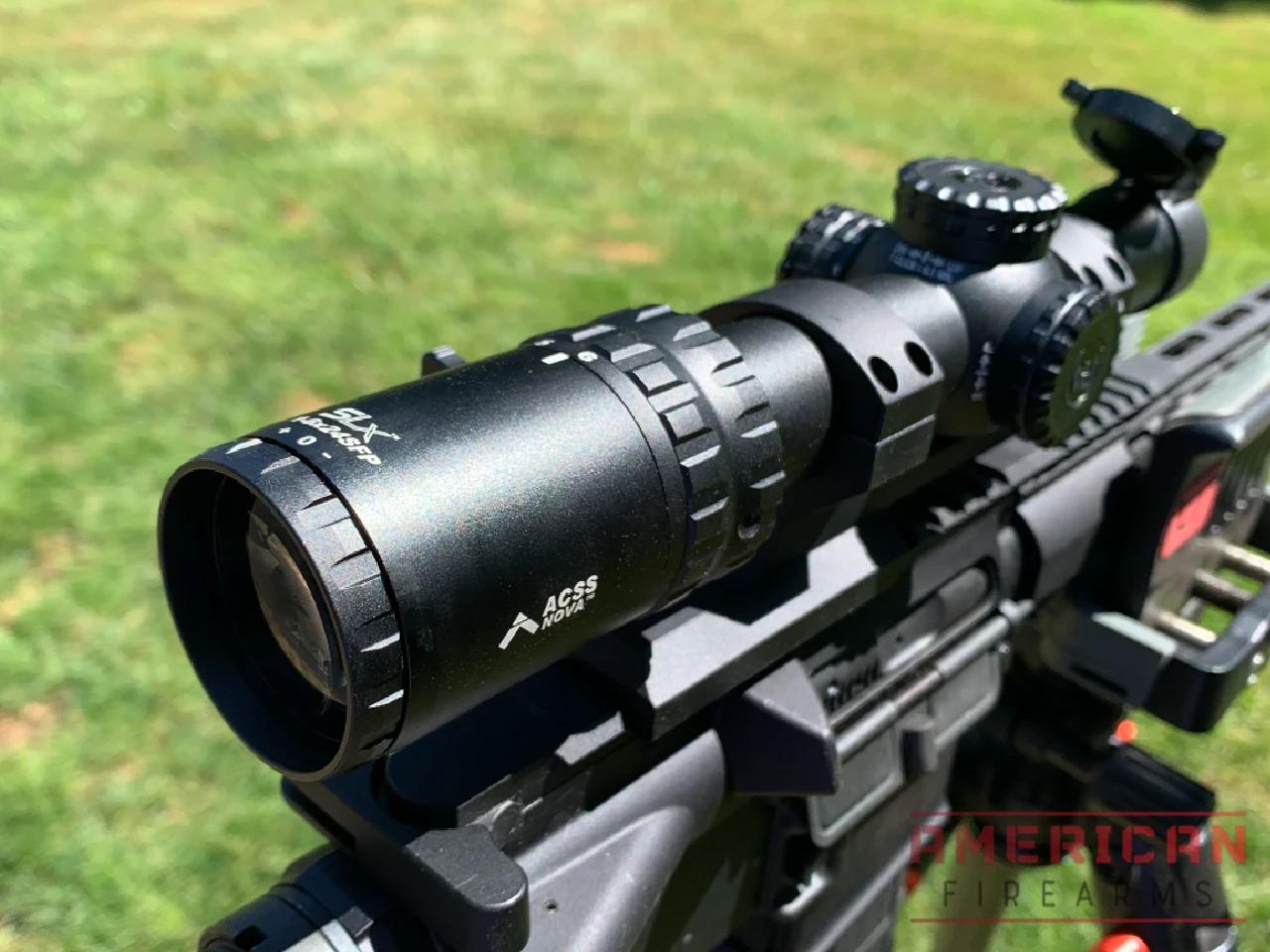 While budget-friendly, Primary Arms SLx LPVO is no slouch -- it's always in the running for the best budget LPVO.
When it comes to general purpose LPVO scopes, the Primary Arms SLx 1-6x with their Nova is my favourite from Primary Arms. Lots of folks love the SLx line with the ACSS reticle, but I personally love a more straightforward crosshair with vertical holds, which the Nova delivers.
Reticle & Magnification
The SLx is an SFP reticle with partial red illumination, 11 brightness settings powered by the common CR2032 battery. I really like the simple dot illumination on the Nova reticle — the other ACSS reticle illuminates everywhere *but* the center portion. I'm a simple person when it comes to reticles, as I find they help me transition from close distance targets to further out without having to put much though into bullet drop. The glass is fantastically clear from 1 power to 6x, at which I could read an eye chart from 35 yards or so.
Also, with other scopes, the illumination is helpful in shadow and brush, but in the open under bright sun, the illumination basically disappears.  Not so with the Nova — the fiber optic illumination is sharp as can be even when aiming directly into sunny, dry grass or bright objects.
You get MIL subtensions for 300-600 yards and 3, 6, and 9 MPH moving target leads, all of which is packed into a really simple reticle that I find easy to use for everything from taking down predators to pushing my limits at range.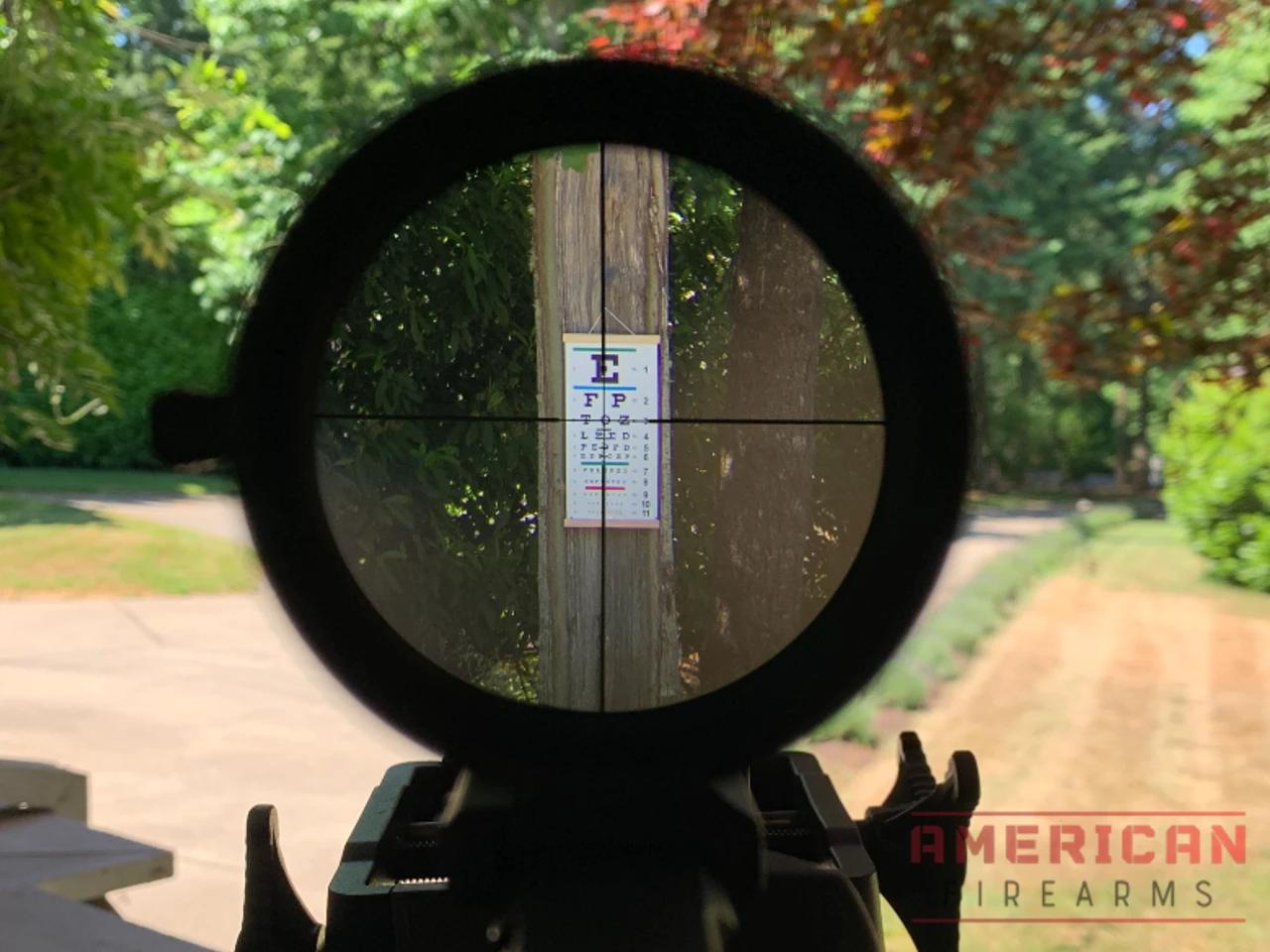 PA SLx 1-6 reading an eye chart at 35 yards 6x magnification
In terms of size, it's a tad longer than the Vortex Strike Eagle but offers the same collection of illumination, elevation, windage, and focus adjustments. If you didn't know better, it would be tough to determine which was which.
The SLx (bottom) it a touch longer than the Strike Eagle.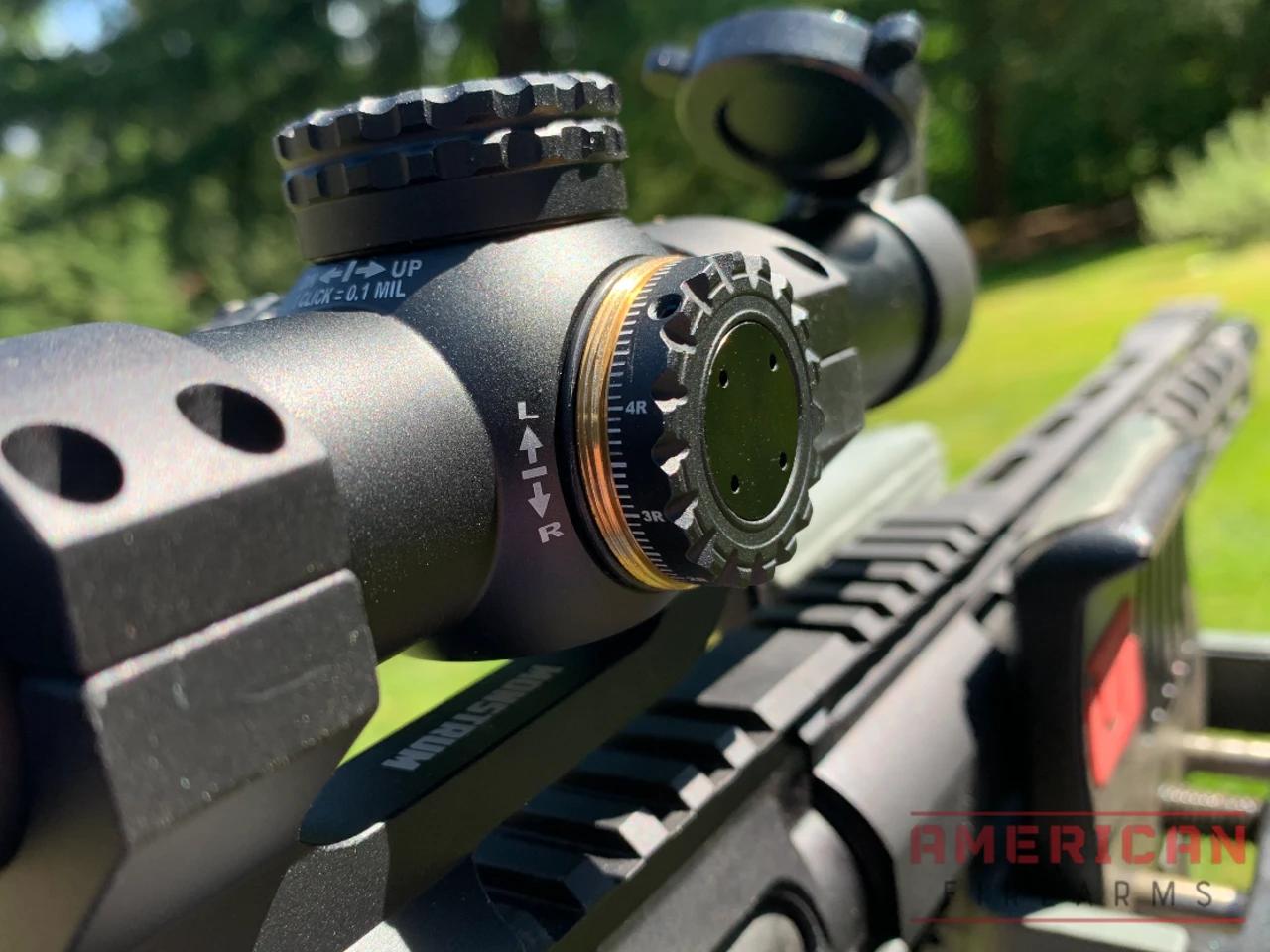 The turret caps are on par with scopes in this price range, and both Windage and Elevation adjustments are positive and offer an audible click.
My only real grip with the SLx is the throw lever. It's strangely sharp, and paired with the torque required to spin the magnification power ring makes for an uncomfortable adjustment process without gloves.
Other than that, Primary Arms has really pulled together a fantastic LPVO with their SLx line.
The SLx throw lever wasn't my favorite.
5. Best Under $100: Monstrum 1-4×20 SFP Rifle Scope
Monstrum is a manufacturer of rifle optics and accessories. They have been in business for over 15 years, and their goal is to provide quality optics at an affordable price.
The Monstrum 1-4 SFP rifle scope is the lowest cost optic with entry-level magnification. The scope weighs 11 ounces with 1-4x magnification. The glass has a built-in rangefinder reticle for on-the-fly range estimation and long-distance targeting. The illumination is red and green with multiple brightness intensities for low-light and bright daylight light.
This scope comes ready with a set of 1-inch medium profile scope rings. The tube is also nitrogen-charged and sealed for resistance to water and fog.
6. Competition Pick: Trijicon Credo 1-8x28mm MRAD FFP Rifle Scope
Trijicon is a well-known brand in the optics industry. Their advanced combat optical gunsight (ACOG) is the official medium-distance engagement optic of the U.S. Marine Corps and Special Forces, and their Credo 1-8 has been my go-to 3 Gun shooting competition glass for the last five years of shooting. In fact, I had the AccuPower 1-8 before it was discontinued, which I replaced with the Credo when it was released.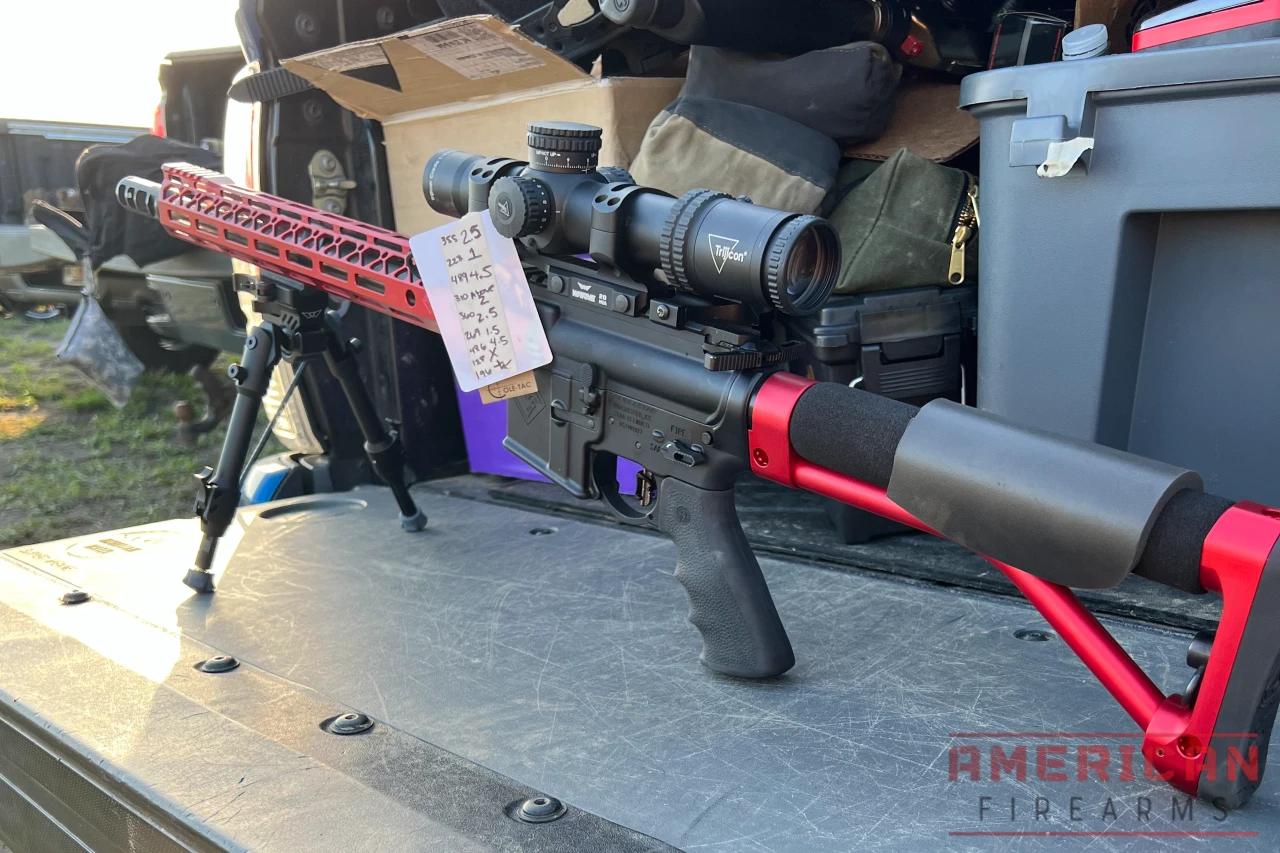 The Credo on my DoubleStar Go Fast Red AR
This scope is jam-packed with features, and the price point for the value makes it worth every penny. The Credo 1-8 is a first focal plane, has a red and green illuminated MRAD segmented circle, and is a 34mm tube with exposed locking adjusters. The magnification knob is repositionable and makes for easy adjustment. The 34mm tube and 28mm objective lens allows for improved exit pupil and makes seeing your reticle in low lighting conditions easy.
The CR2032 battery life is 39 hours on the red setting and 94 hours using green. The LED brightness settings are adjustable, and each adjustment has an "off" setting in between.
Reticle & Magnification
The scope features a 34mm tube, 28mm objective lens, a dual red/green illuminated MRAD segmented circle reticle. The windage and elevation adjustments can be made without any tools required.
Simply pull outward on the turret, make your adjustment, and push back in.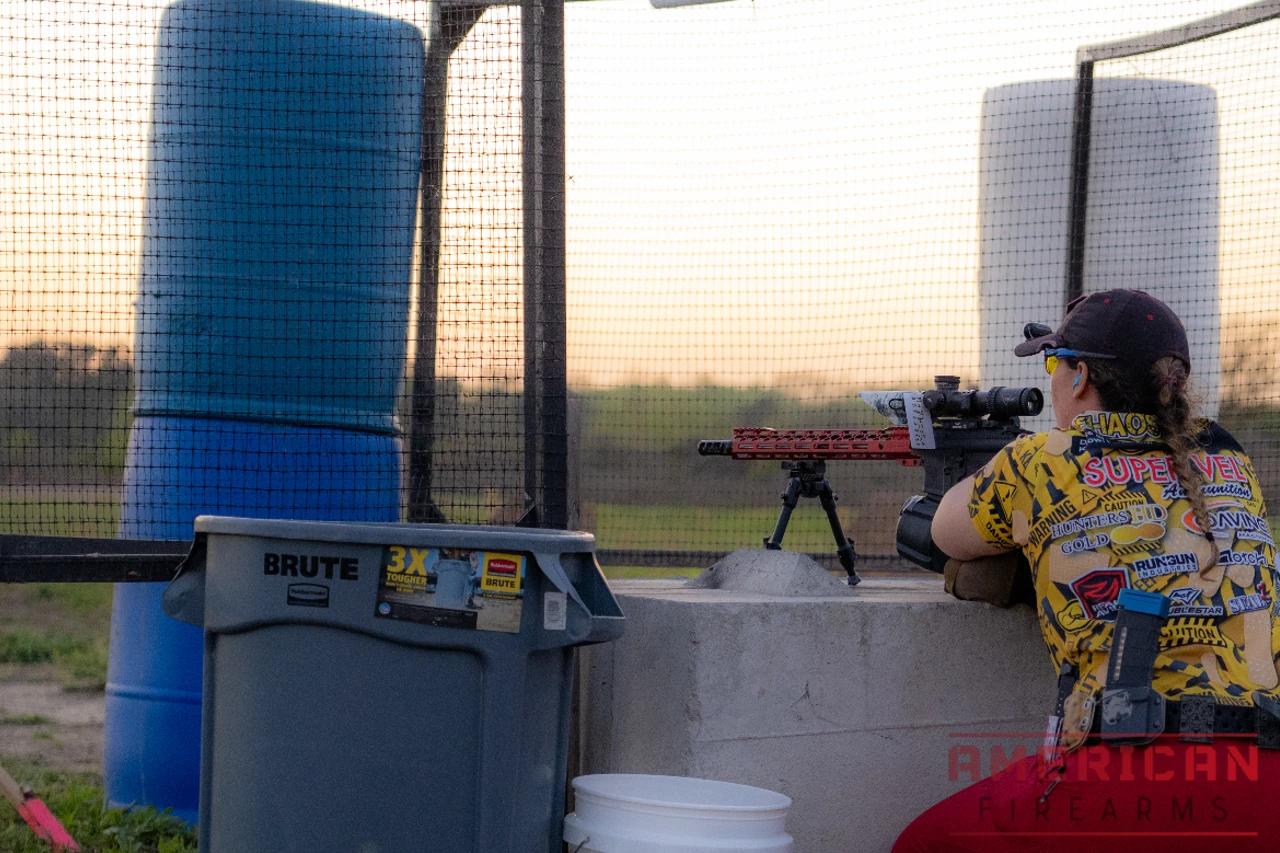 I recently competed in the Zoo City Armory Battle for the South 3 Gun match and hit targets from 150 to 600 yards with the Trijicon Credo 1-8 riflescope.
The glass is extremely clear with no distortion whatsoever. With the right scope mount and cheek weld, once the Trijicon Credo 1-8 is set up to your eye relief, you will have zero issues picking up your reticle quickly and correctly.
I recently competed in the Zoo City Armory Battle for the South 3 Gun match and hit targets from 150 to 600 yards with a .224 caliber bullet using the Trijicon Credo 1-8 riflescope. My holds ranged from dead on to about seven mils of holdover. I am not a long-range shooter, so confidently knowing I can impact under pressure, on the clock, and in competition is a great feeling that wouldn't be possible without Trijicon.
The Credo 1-8 is a first focal plane, has a red and green illuminated MRAD segmented circle, and is a 34mm tube with exposed locking adjusters
Nice to Haves
What is unique about this optic is it has a repositionable magnification lever to accommodate different shooting positions and rifle configurations. The diopter is adjustable to be set up to the shooter's individual prescription. This scope is on the heavier side of LPVO scopes at 25.6 oz.
7. Best for Hunting: KAHLES K16I 1-6X24mm Rifle Scope
Fit & Finish
Kahles is a premium optic manufacturer that first introduced its scopes in 1900. Kahles designed their 30mm tube 1-6x24mm riflescope with three different reticle options. One option is the 3GR reticle explicitly designed for IPSC and 3 Gun competitive shooters, so it's really top-notch by any standard.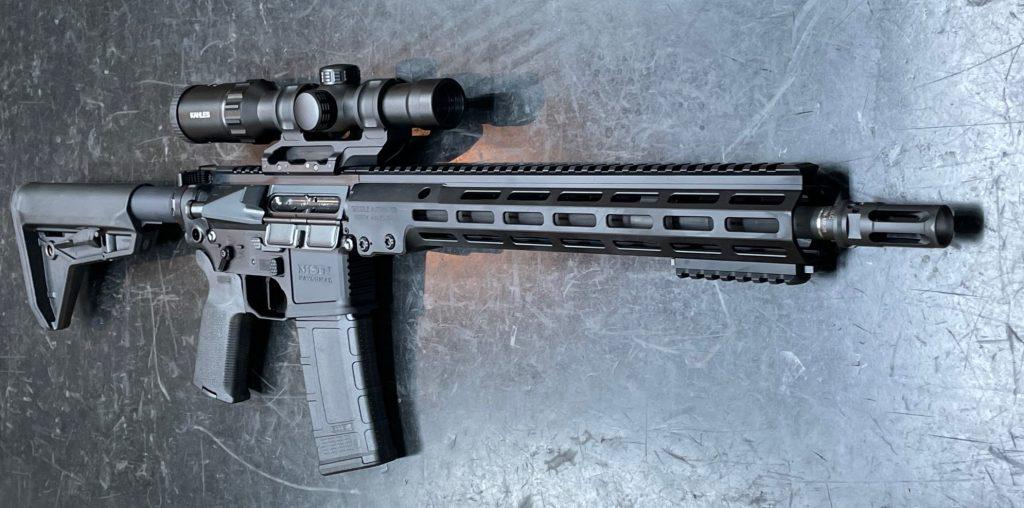 The K16I is both incredibly well built and light at under 17 oz.
Reticle & Magnification
Kahles's glass is very clear with a larger field of view than most scopes, even at the highest magnification level. Each lens of Kahles's scopes is treated with an oleophobic coating that prevents any external obscuring of the target.
This second focal plane illuminated reticle has extra bright day settings to see the reticle better. The Kahles K16I features a large adjustment lever on the magnification ring for easy magnification changes.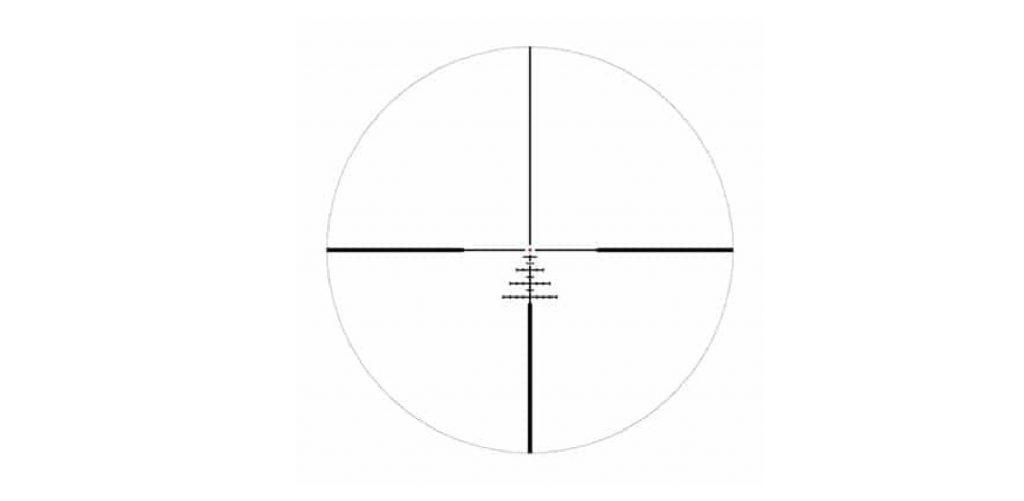 The K16I reticle.
Weight
The total weight of the scope is just 16.9 oz, one of the lighter LVPO options on the market.
8. SFP Runner-Up: EOTech Vudu 1-8x24mm SFP
If you're in the market for a second focal plane low-power variable optic, the EOTech is high quality with great value. EOTech's scopes have incredibly clear glass, especially compared head to head against other brands.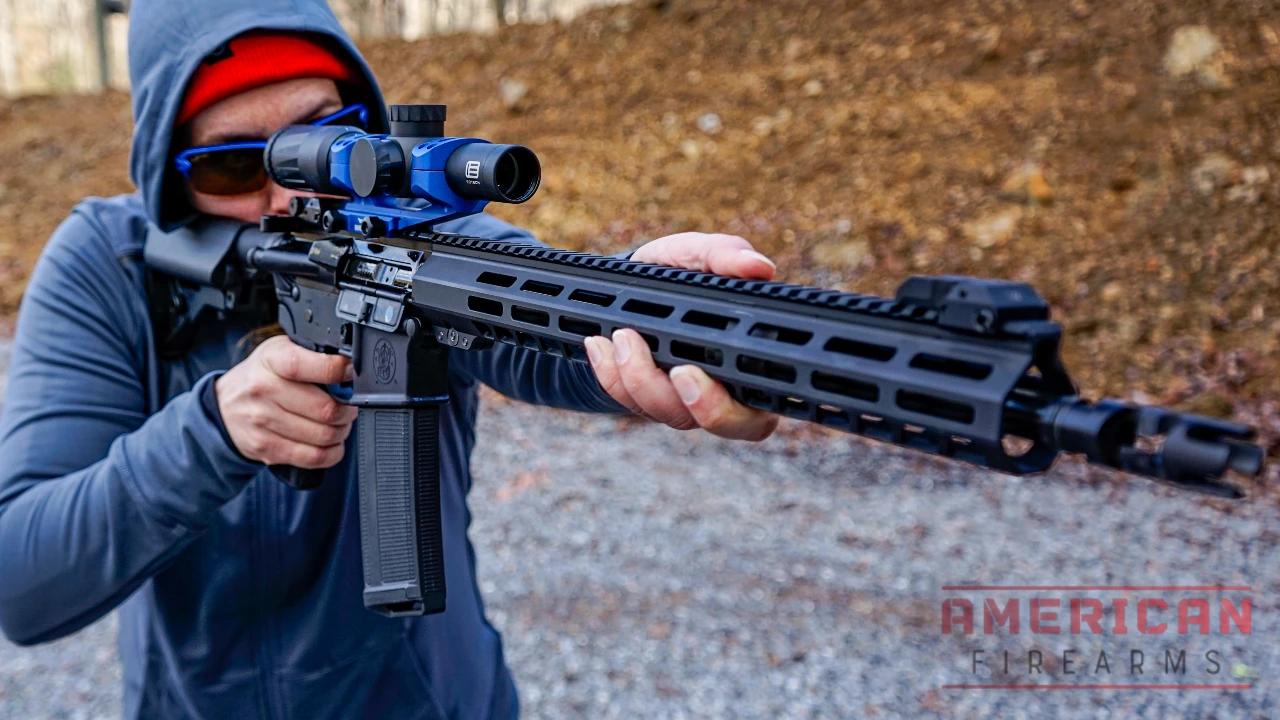 As we tested the Vudu it became clear that the eight power is just as clear as running it on one power.
The XC High-Density, low-dispersion glass is anti-reflective coated, allowing for more light transmission with edge-to-edge clarity. Running this optic on eight power is just as clear as running it on one power. Nitrogen gas purging prevents internal fogging. If you're like me and often go from hot to cold environments, this essential feature can improve your ability to see targets clearly.
The tube diameter is 30mm with a 24mm objective lens and has an overall weight of 20.8 ounces. The HC3 reticle is an MOA-based hashmark reticle. If you are new to shooting rifles or not used to using mils, this reticle will serve you well and is a great starter reticle.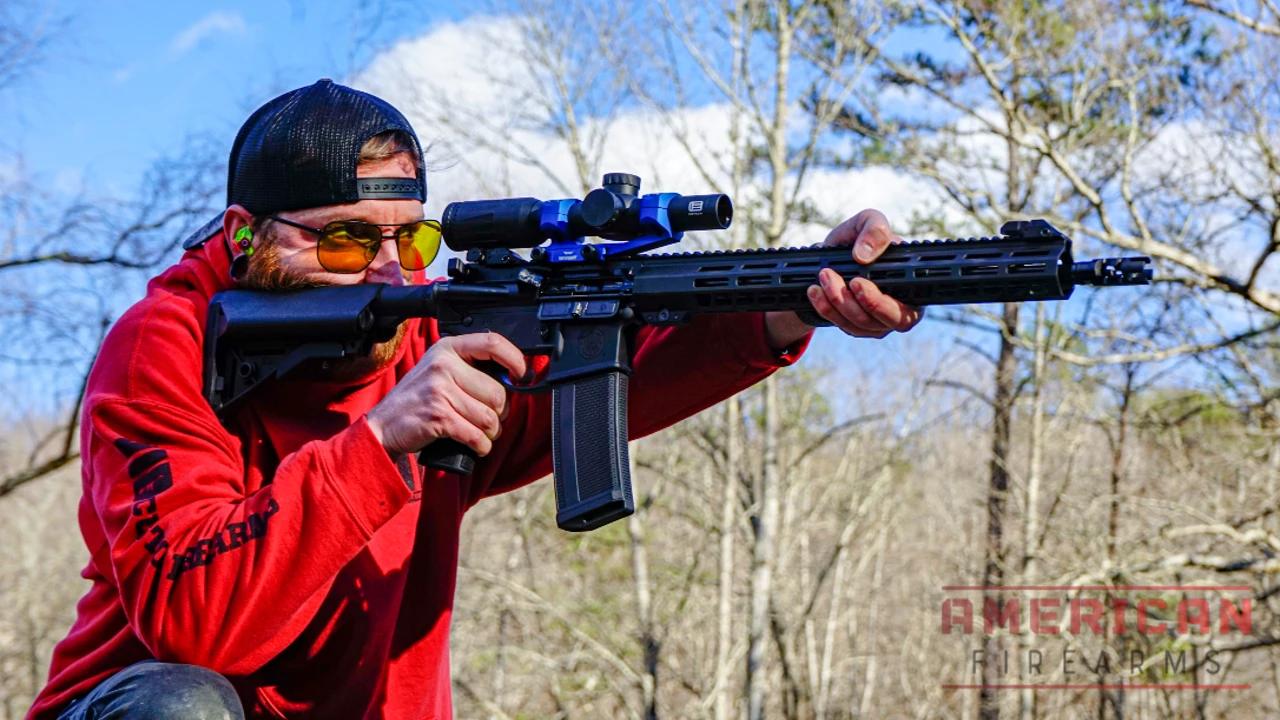 If you are new to shooting rifles or not used to using mils, this reticle will serve you well and is a great starter reticle.
The BDC reticle has long-range holdover shots, so you can still shoot at a distance once you know your bullet's velocity out of whatever rifle you plan to use this scope on. I started out using a second focal plane scope in 3 Gun competitions, and they make for great hunting rifle scopes. The center dot illuminates and uses a CR2023 battery.
LPVO stands for Low Power Variable Optic. An LPVO rifle scope starts with a true 1x magnification and increases to 4x, 6x, 8x, and some as high as 10x.
The 1x magnification level is an easy starting point for most shooters who are new to scopes. Most rifle owners also don't need to shoot anything past 200-300 yards, so an LPVO scope is all they need. LPVO scopes can be used on .30 cal hunting rifles, modern sporting rifles chambered in 5.56 or .223, and even on plinking .22 LR rifles.
Depending on what reticle and focal plane you choose, an LPVO reticle can make it easy for you to impact targets at basic distances. LPVO scopes can make long-range shots out to 600 yards and potentially beyond. Just remember, a good scope is just one piece of the puzzle regarding accuracy and precision. Other factors affect accuracies, such as barrel length, bullet grain weight, and the scope mount or rings.
Subjective Aspects of LPVO Scopes
Magnification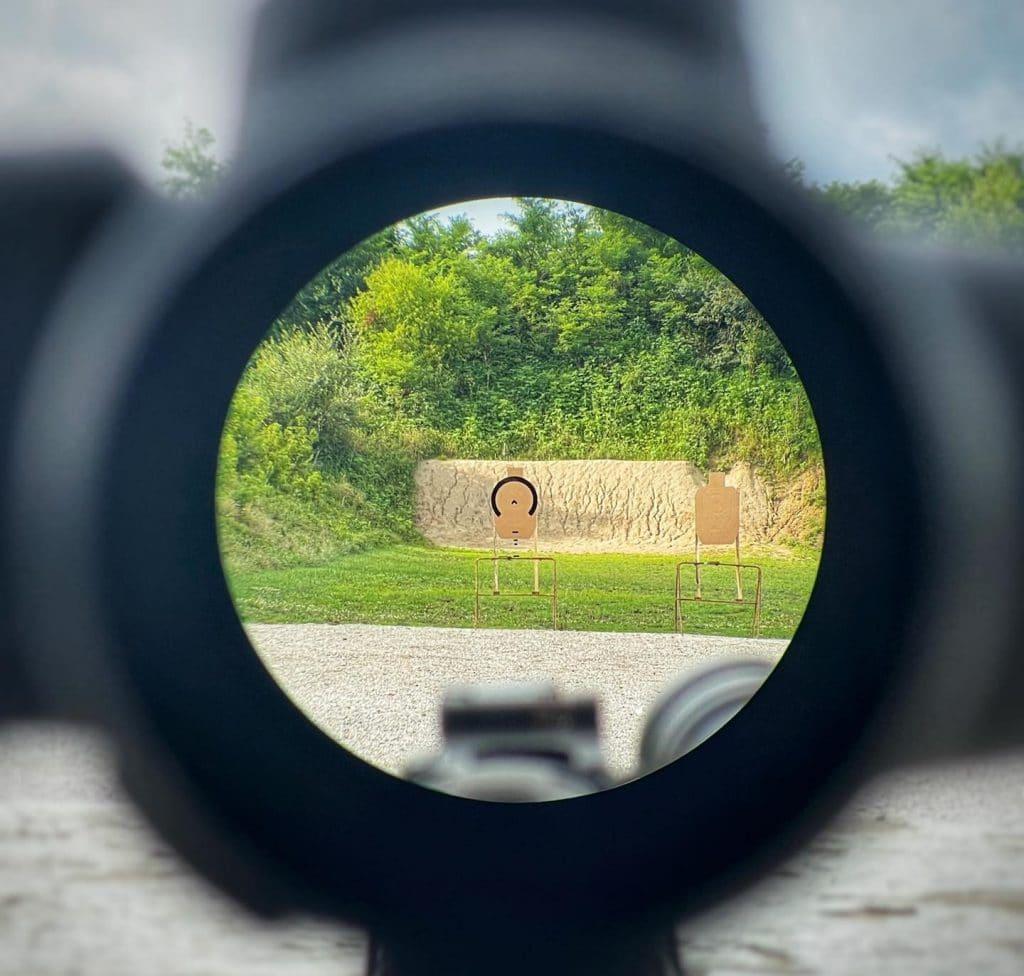 The maximum magnification you need in a scope might be completely different than what your buddy needs, it all depends on your use case and preferences.
The maximum magnification you need in a scope might be completely different than what your buddy needs. For close-range targets out to 100 yards, 4x magnification is the perfect amount needed. A 1-4x magnified optic can also teach new scope owners the fundamentals of marksmanship. As magnification increases, the reticle can become complex to understand.
You have to understand bullet drop compensation and get used to decreasing field of view as you stretch out to longer-range targets.
The perfect mid-range LPVO riflescope has a 1-6x magnification range. You can easily acquire and impact paper or steel targets at one or two times the magnification level. These scopes also have minimal side distortion at 1x or 2x power. The majority of these scopes have clear glass that makes long-range targets appear closer than they are.
The higher magnification settings of 8x and 10x still fall under the low power variable optic category but can shoot targets at 800-1,000 yards. A good rule of thumb is to choose magnification at 2x over what you think you'll need.
The optic is only as powerful as its parallax, glass quality, and field of view at max power. While I have used my scope at 8x power a few times, targets are not as clear, and my field of view is limited. My general use is between 4x and 6x for longer shots in competitions. By purchasing higher magnification than you need, the reticle will be more clear at the magnification levels you generally use but still able to stretch out further if it calls for it.
It's better to have the extra magnification and not need it than need it and not have it.
FFP or SPF
The difference between first and second focal planes is how the variable magnification levels work in both optics.
An FFP optics reticle will change as the scope's magnification level changes. A second focal plane reticle will appear the same size no matter what magnification setting it is on. The difference between the two is where the reticle is located. The reticle is in front of the magnifying lens within the scope erector tube on a first focal plane scope. The reticle is behind the magnifying lens but in front of the eyepiece on a second focal plane scope. There are advantages and disadvantages to both focal plane optics.
The advantage to a first focal plane is seeing holdover points at higher magnification ranges with accurate holdovers at any magnification setting. A second focal plane optic has a reticle that doesn't change size and provides better crosshair visibility for shooting in low magnification. Most second focal plane scopes are more affordable than first focal planes and are more commonly used for beginners and general gun enthusiasts.
Reticle
The reticle is an entirely subjective choice. The reticle that allows you to have fast target acquisition is the one for you.
You also need to understand the holdover points, so the reticle you know well enough to make accurate shots is also essential, some reticle systems you'll encounter could be BDC reticles, crosshairs, circle dots, rangefinding, and mil-dots.
Light Transmission
You need to see what you're shooting at using either FFP or SFP optics. The objective lens is the light-gathering lens at the front of the scope. The larger the objective lens diameter, the more light will be admitted into the scope.
If you know you'll be shooting at a longer range, make sure the optic you choose has a large objective lens for better light transmission.
Glass Clarity
The quality of glass is, in my opinion, the most critical aspect of an LPVO scope. The high-quality glass should give you razor-sharp image clarity at any target distance. Low contrast and high contrast images should be visible when looking through the scope in daylight and low light. If you can look through a scope before purchasing one, don't just look through it on the first magnification level.
If it goes to an 8 power, find a target to look through the scope on the highest magnification level. Do you have very minimal side distortion? Do you get the same crystal clear sight picture you had at the 1 power setting? If so, you have a good quality scope.
Durability
An LPVO scope is not cheap, and you're most likely going to use it more than a few times, so durability should be important when choosing a scope. Externally, the scope should withstand scratches, dents, and movement without losing zero or damaging the magnification or illumination functionality.
Internally, the illumination should work as intended, the crosshairs should remain vertical and horizontal, and the magnification should be adjustable.
LPVOs give you options, which means -- especially if you're competing -- it needs to be able to take some knocks and stay on zero.
Field of View
The field of view in a scope should be wide but clear. When you set up a scope to your eyesight, you must first understand your head position. It's essential to have a solid cheek weld on the stock and sight the reticle into your natural head and eye placement, rather than moving your head to hunt for the reticle. The next step is to determine your eye relief.
Eye relief is the distance you must hold your shooting eye from the rear lens of a scope to see the entire image produced by the scope. Only you can determine if your eye relief is set up on your rifle correctly. Some optics have a more generous eye relief, so you might consider a scope with a better field of view and eye relief if you have vision problems. Never set the optic close to your forehead because when the rifle recoils, it will hit you in the head and cause bleeding and bruising.
The eye box is the area around the line of sight in which you can see the entire field of view. When you zoom in to your max setting on a scope, your eye box will get smaller. The lower magnification level enables fast target acquisition, while the higher settings may create a small eye box where you have to hunt to find your target. On a level 1 setting, you will have unlimited eye relief to see through the optic.
When selecting an LPVO scope, always start with your budget. That will either eliminate options or open you up to various possibilities. Determine what activity you will mainly be using the scope for so you know what level of magnification you need. Only you can decide what subjective aspects of LPVO scopes are vital to you. Lastly, ensure the scope you choose is durable, won't lose zero, has clear glass, and has excellent light transmission.
An alternative to an LPVO is a red dot optic with a 3x magnifier. A red dot optic is made for fast target acquisition and co-witness iron sights. When you add a magnifier, you lose those abilities, plus you are fixed at one level magnification, in this case 3x or 1x. There is no in-between. Red dots with magnifiers were not made for long-distance shooting. There aren't elevation holdovers or wind holds on red dots. You are extremely limited on how far you can shoot and how accurately.
Price Ranges vs. Features
Under $600. LPVO scopes priced under $600 are going to be your "budget-friendly" low-quality optic scopes. They are made for entry-level target shooting inside 100 yards. They simply cannot pack in features or have a high-quality glass with the cost of the scope.
$600-$1,200. A decent LPVO scope will start at around $700. If you are someone who hunts once or twice a year, goes to the range a few times, and is using the scope for more recreational activities, most scopes under $1200 will serve your needs.
$1,200 and Above. Scopes in the $1200-$2000 range are priced for the value they add. These scopes generally have high-quality glass, incredible light transmission, dual-color illumination, higher magnification levels, and excellent customer service and warranties.
If you shoot or hunt often, and especially if you're a competitive shooter demanding precise shots at longer ranges, you'll need to invest in a scope to do the job. At this price point, you will have a high-quality scope that will perform.
How We Selected Our Recommendations
I have firsthand experience with most of these scopes, but not all of the reticle variations of the scopes.
For years, I have been using LPVO scopes in 3 gun and 2 gun competitions. For the scopes I have yet to use myself, I leaned on my personal experience with many of the features of LPVO scopes, looked at online reviews, and talked to some of my shooting buddies that do have experience with them.
An LPVO is an excellent optic for modern sporting rifles, bolt action rifles, and even on .22 LR rifles. These scopes are easy to use, are powerful enough to impact 500-yard targets and beyond, and are budget-friendly.
What LPVO does the military use?

April 19, 2023 — After testing the EOTech Vudu on our recent SW Volunteer AR-15 test day, we liked it enough to replace the Burriss RT-6 as our runner-up SFP scope. All other recommendations remain unchanged.
Sign up for our newsletter
Get discounts from top brands and our latest reviews!