A Look at Trijicon's Updated RMR & New RCR Closed Emitter MRD
So as you may have heard, Trijicon Has an Updated RMR and Enclosed Pistol Dot. We take a look at these new MRDs.
Written By
Michael Crites
Licensed Concealed Carry Holder
Reviewed by
Editorial Team
Learn About The Editorial Team
Share:
Products are selected by our editors. We may earn a commission on purchases from a link. How we select gear.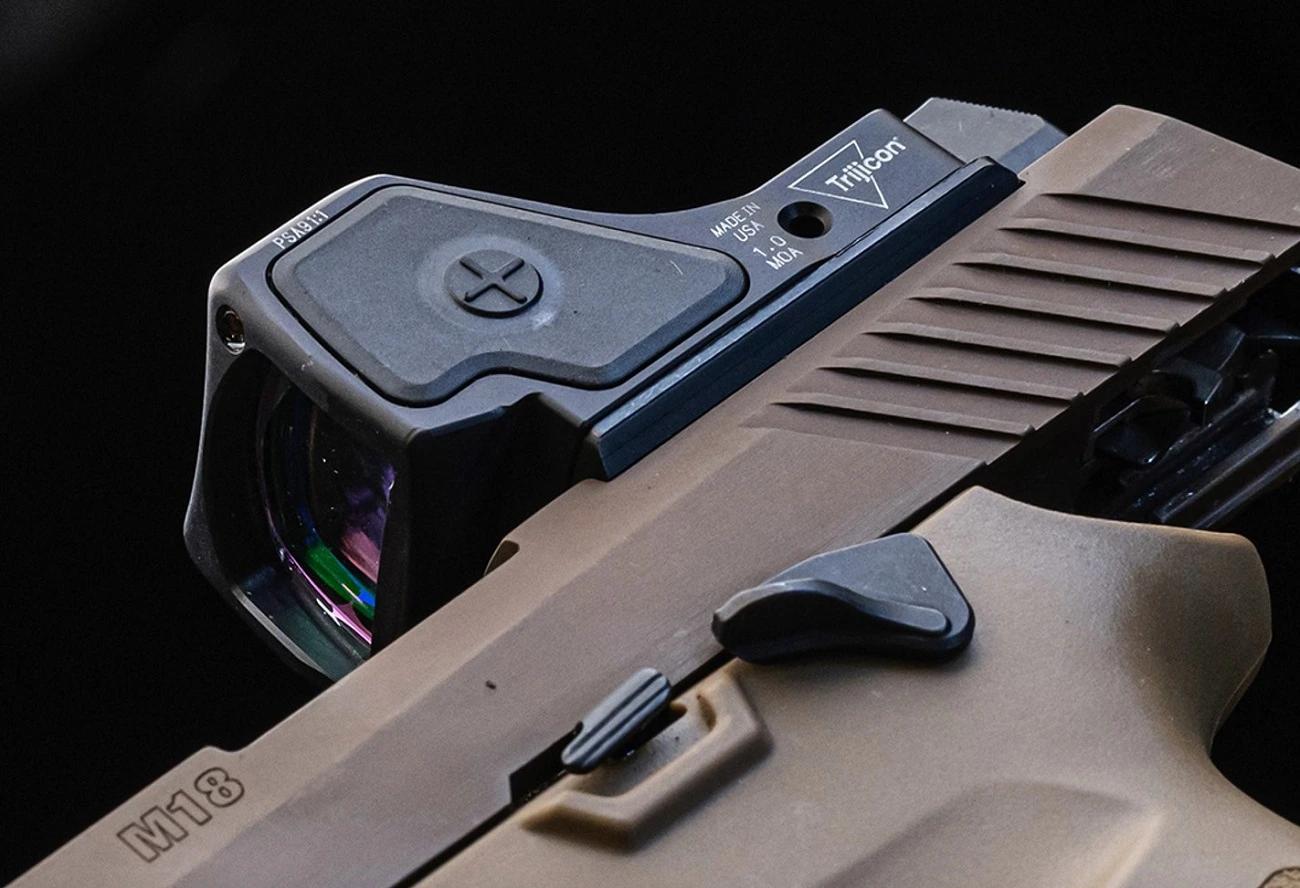 So as you may have heard, Trijicon Has an Updated RMR and Enclosed Pistol Dot
The Trijicon RMR is one of the most seen pistol (or auxiliary rifle) red dots in hard use service today and it is not surprising that the company has updated the dot in the form of the new RMR HD.
What may be bigger news to fans of the closed emitter or "lunchbox" style MRDs is that Trijicon finally has one, dubbed the RCR (Ruggedized Closed Reflex). Let us take a look at these. 
Trijicon RMR HD
The 1,000-foot view of the new Trijicon RMR HD is that it has bigger buttons which are good for those using gloves, a window that is about 30 percent larger than the old RMR and closer in size to the SRO, and a forward-looking light sensor that reads the lighting conditions at the target, rather than just at the user.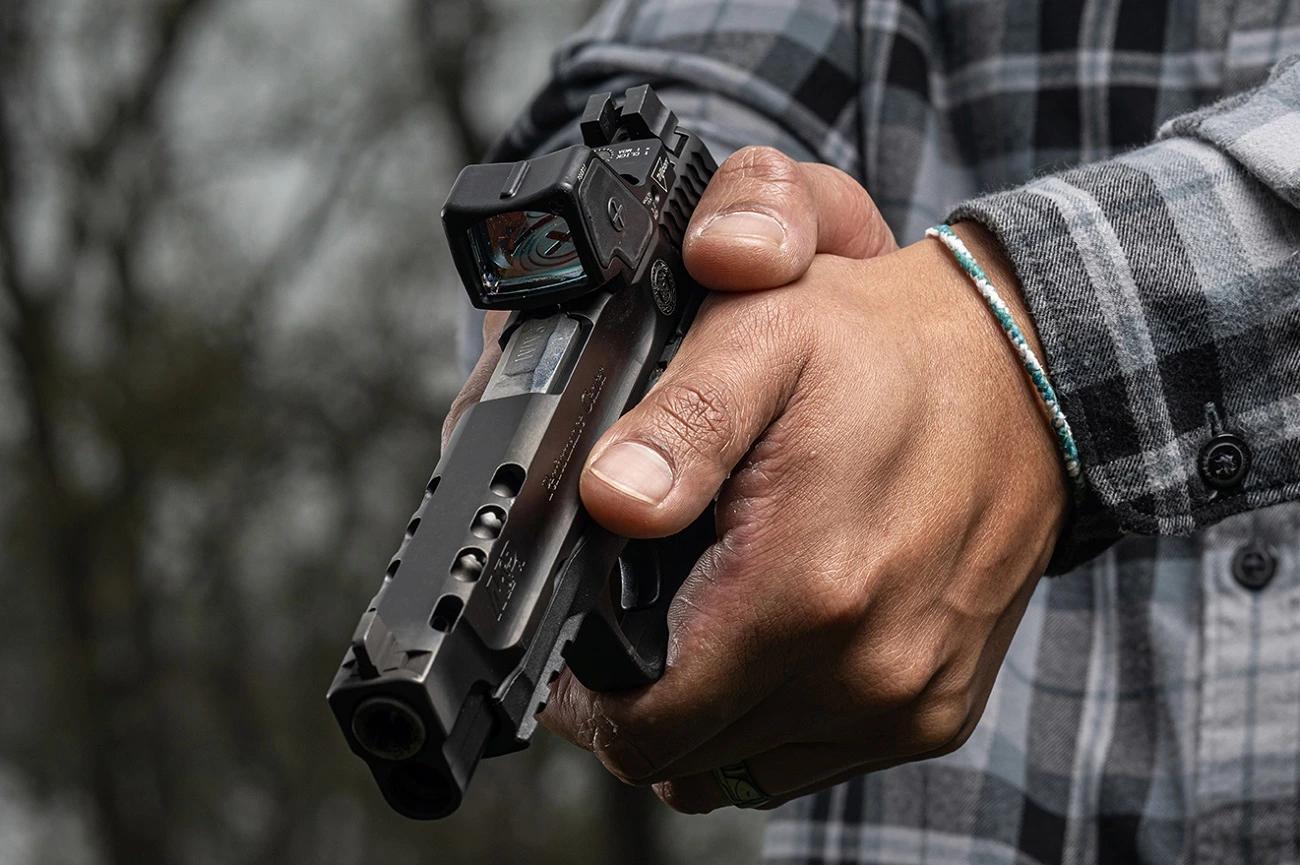 Trijicon RMR HD
It still has the same blue tint to the Mangin-style lens that the standard RMR has. Models are available with either a 1.0 MOA or 3.25 MOA center dot and both have a 55 MOA segmented circle reticle (bullseye) that can be turned off and on. Plus, it has a top-mounted battery compartment akin to the SRO.
Trijicon's propaganda video on the RMR HD:
One of the best reviews we have come across on it is from Guns & Tactics, which acknowledges it has a lot of upgrades from the old RMR but also some tradeoffs.
Trijicon RCR
When it comes to closed emitter MRDs– like the Aimpoint ACRO, Holosun 509T, and Steiner MPS– they are the current hotness in pistol red dots these days because they allow a better performance envelope in terms of low deck height and durability.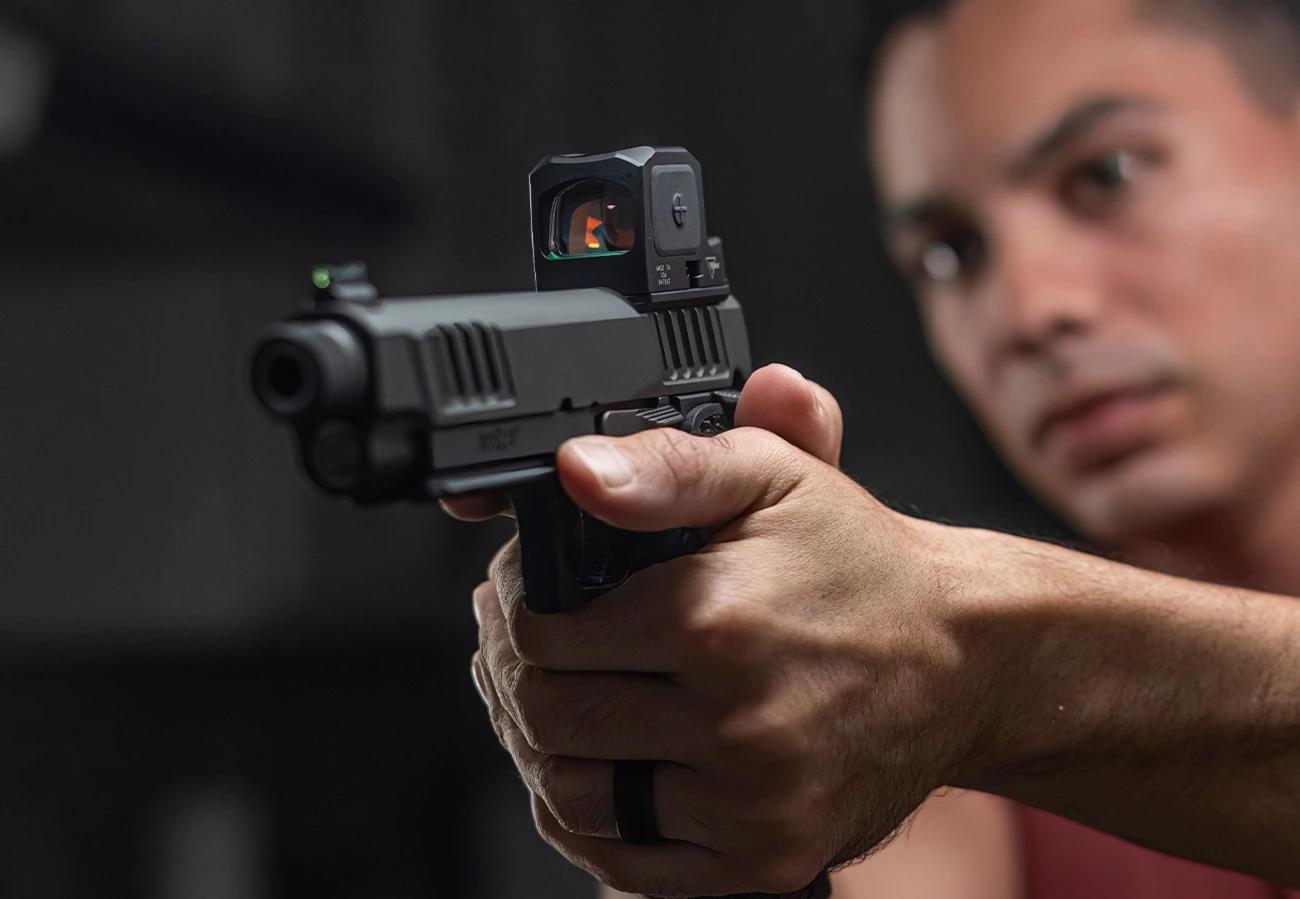 Trijicon RCR
The big deal with the Trijicon RCR is that it aims to match or beat Aimpoint and Steiner at the closed emitter game while still using the exceedingly popular RMR footprint.
It has a top-mounted battery with a five-year expected lifespan and a fairly standard windage and elevation adjustments.
Trijicon's sizzle reel on it:
It uses a 3.25 MOA red dot and has a window size that is sort of a squashed-down SRO.
One of the cool things about this dot is that it uses a unique capstan screw system that tightens from the side which allows for recessing the screwhead into the lunchbox. That's much more interesting than the hook and claw style mounting needed for the ACRO and MPS and allows the standard RMR footprint.
Chris over at the Honest Outlaw did a deep dive on the new closed emitter Trijicon and made sure to slap it around a bit for good measure.
How do they hold up? Guns America took great relish in beating the crap out of both of them in a series of torture tests that included repeated pogoing and hammering, water dunks, and just generally abusing them. 
When it comes to market penetration, at least on more full-sized guns, it would appear that Trijicon is the clear favorite at least from the results of an online poll done by HK, which found the company running away with almost a 15-point lead over the next most popular, being Holosun.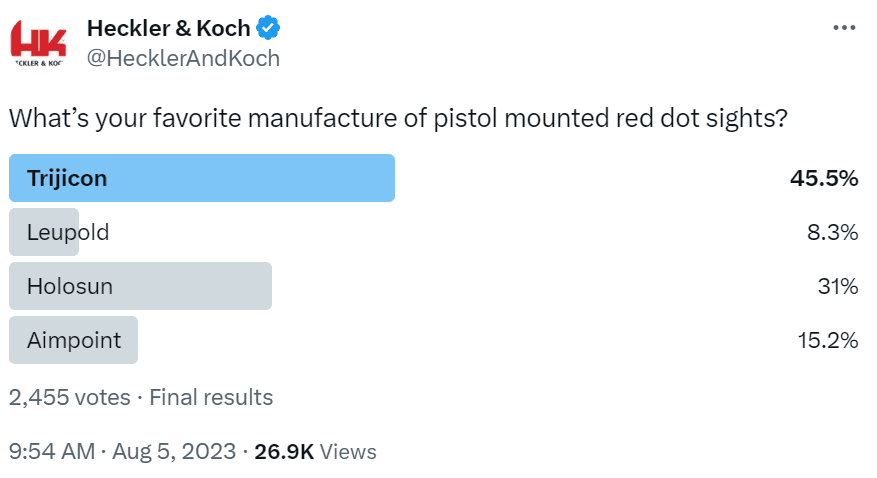 Trijicon is the clear favorite at least from the results of an online poll done by HK
Finally, Dave Blanton, aka The Humble Marksman, who is a great shooter and has run dots on all his pistols for years while fighting astigmatism, just did a deep dive into what pistol red dots look the best.
Not to hit you with too much of a spoiler alert as the video is a good watch and he gets into the science of the spectral luminosity curve and everything, but he ranks 15 dots across worst to best, and the Trijicons fall sort of north of midway.