Admiral: A New Name Enters the 1911 Game
Cue the hype guy and ring the bells as a new line of 1911s was just announced last week from (wait for it) budget gunmaker Palmetto State Armory.
Written By
Michael Crites
Licensed Concealed Carry Holder
Reviewed by
Editorial Team
Learn About The Editorial Team
Share:
Products are selected by our editors. We may earn a commission on purchases from a link. How we select gear.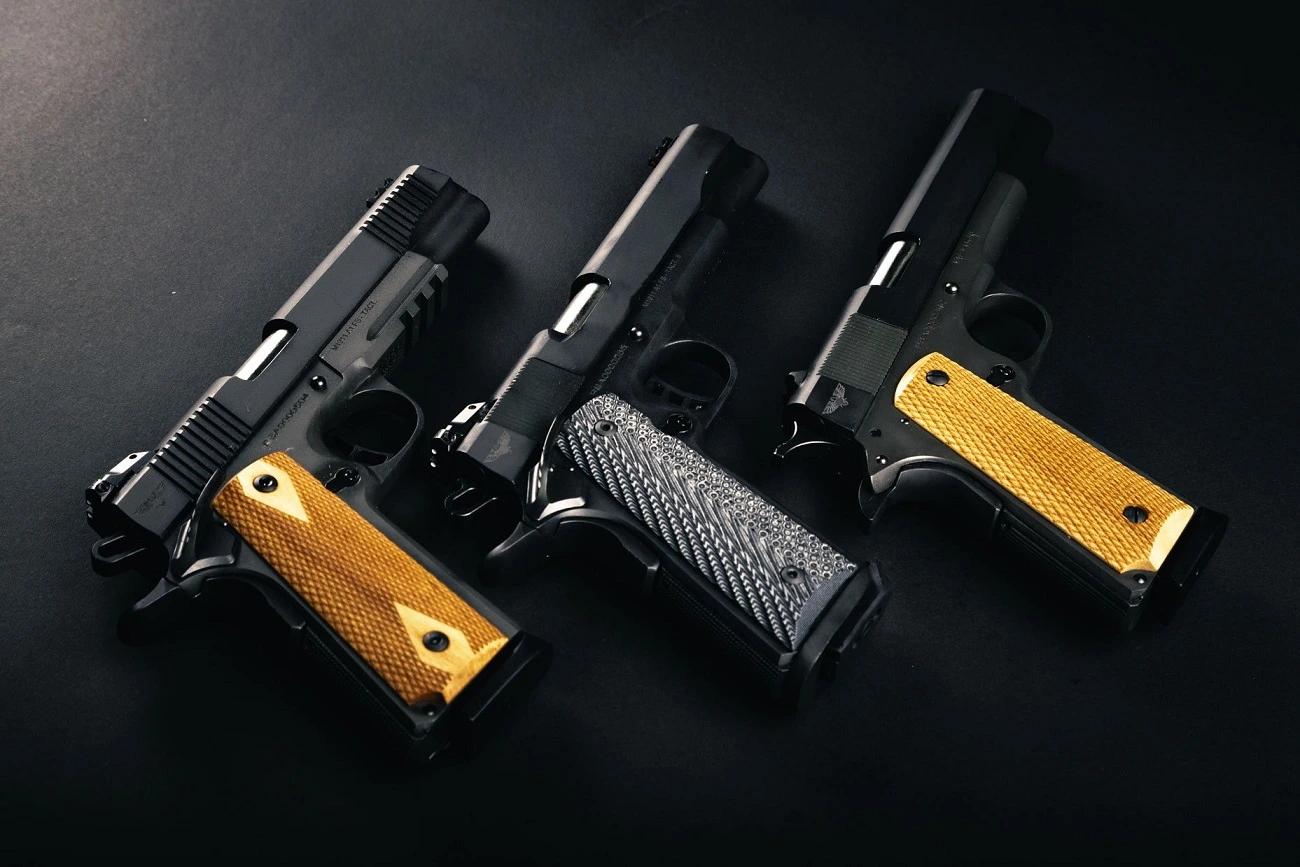 In 1911, Colt began production of their now-iconic Government Issue Model pistol, which was of course adopted by the U.S. Army that year as the Model of 1911. Other than licensed production by a few companies– North American Arms and Remington Arms – UMC– as well as production by the Army-owned Springfield Armory during the Great War, the company maintained all the patents and remained the home of the "M1911."
Post-war came some more licensed production overseas in Norway (by Kongsberg) and Argentina (Esteban de Luca Arsenal) for limited military contracts, but Colt remained caretaker of the model, which was upgraded to the M1911A1 after 1924, for another decade and a half.
Then came World War II, where Colt once more was forced to allow competitors (Ithaca and H&R) and other manufacturers new to the gun market (typewriter maker Remington Rand, railway signal maker US&S, and the Singer Sewing Machine company) as well as the Army's arsenals to produce their vaunted .45 ACP hardballer for Uncle Sam.
Colt reverted to the status as prime 1911 maker after 1945 and remained on top until the late 1970s when a few small companies (AMT, Essex, Auto-Ordnance, etc.) started horning in on the action, which led to Colt securing new patents for "80 Series" guns in an attempt to retain market share.
By the late 1980s, though, all bets were off, and more companies started making custom 1911s (Caspian, Clark, Wilson Combat) while overseas guys like Llama and Star in Spain made a ton of budget near-clones.
And so on until today when it seems most of the largest pistol makers– such as Browning, Dan Wesson, Kimber, Ruger, Savage, Smith & Wesson, Springfield Armory, SIG Sauer, and Walther– are all in the game.
Meanwhile, even though Llama and Star faded away, they have been replaced by a very eager (and particularly good for the money) Rock Island/Armscor from the Philippines, EAA/SDS/Tisas in Turkey, Taurus in Brazil, and Cimmaron in Italy.
Meanwhile, several top-shelf 1911 makers have opened shops in the past 25 years– guys like Nighthawk Custom, Ed Brown, Les Baer, and Cabot– who specialize in the bespoke and truly eye-catching.
It is a wonder that Colt still makes 1911s at all with all the competition.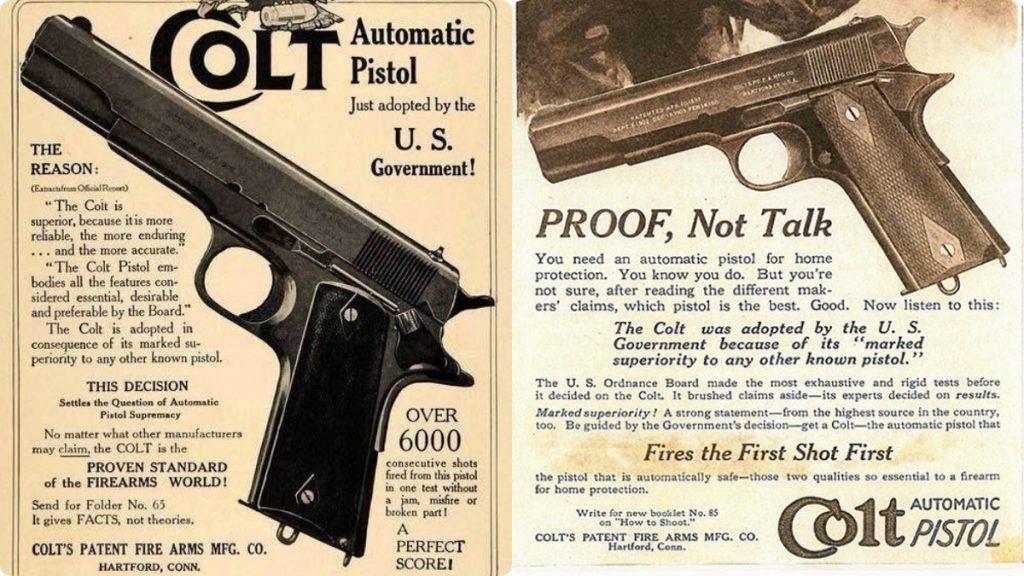 Colt 1911 Ads
Well, cue the hype guy and ring the bells as a new line of 1911s was just announced last week from (wait for it) budget gunmaker Palmetto State Armory.
Priced between $399 (on sale) and $649, PSA's new Admiral line is available in a Standard (.45 ACP, GI sights, trigger, and hammer), Tactical (.45 ACP, railed frame, extended beavertail, combat trigger and hammer) and Ultra (10mm, fiber optic sights, G10 grips) models.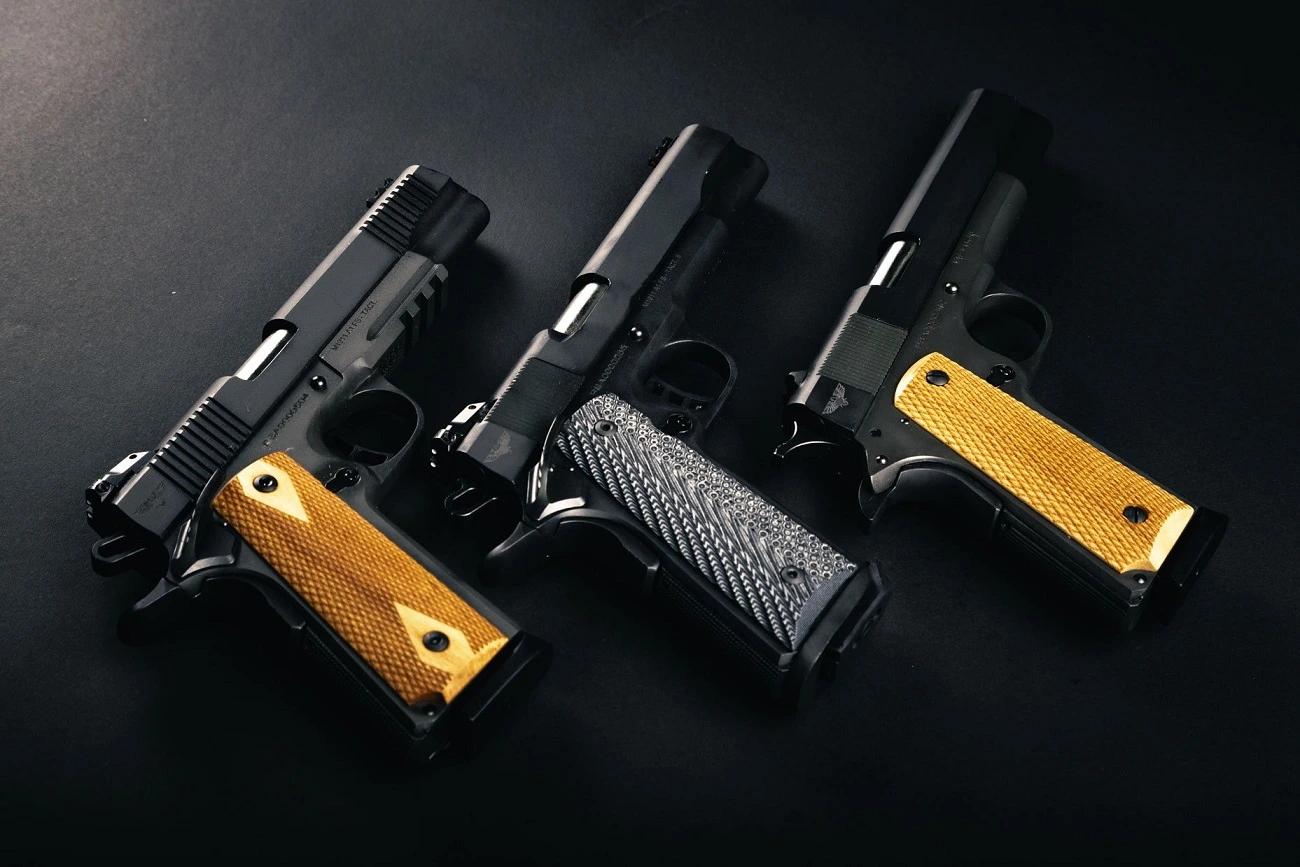 PSA 1911 Admiral in Standard, Tactical, and Ultra
The problem is, that the models are rebranded Rock Islands, as noted by the folks over at ARFcom, meaning the pricing is about the same as offered on the PI-made guns.
PSA also notes in the description that the "Admiral Series is a line of 1911 Handguns exclusively made for PSA by Rock Island Armory. This handgun blends timeless aesthetics with contemporary functionality, catering to both firearm enthusiasts and collectors seeking a reliable and versatile sidearm."
So why did they go with the "Admiral" name for the series? Maybe because they came over here on a ship from Asia? Maybe because boomers love Yacht Rock and 1911s? Who knows?
The main thing is that America's love for the 1911 has another suitor.
Well now, Springfield has introduced two new variants that share every feature and only change with the barrel length and type.
The new models include an 18-inch and a 20-inch, the latter with a ribbed forward section for enhanced cooling as well as an integrated bayonet lug (with the company promising compatible bayonets on the way). Springfield points out that the 20-inch model sports a similar configuration to that of the Croatian Army's VHS-D2, a super accurate designated marksman version of the VHS-2.
| Spec | Hellion 16 | Hellion 18 | Hellion 20 |
| --- | --- | --- | --- |
| Barrel Length: | 16 inches | 18 inches | 20 inches (includes bayonet lug) |
| Overall Length: | 28.25 - 29.75 inches | 30.25 — 31.75 inches | 32.25 — 33.75 inches |
| Weight: | 8 pounds | 8 pounds 3 oz | 8 pounds 6 oz |
| MSRP: | $1999 | $2016 | $2031 |
The neat thing is that the price point is practically the same, and, while some other Springfield platforms (looking at you, Prodigy) have gotten some downright mixed to bad reviews, it seems like everyone kind of likes the Hellion. 
Time will tell.