The Best Ankle Holsters
Written By
Michael Crites
Licensed Concealed Carry Holder
Reviewed by
Editorial Team
Learn About The Editorial Team
Share:
Products are selected by our editors. We may earn a commission on purchases from a link. How we select gear.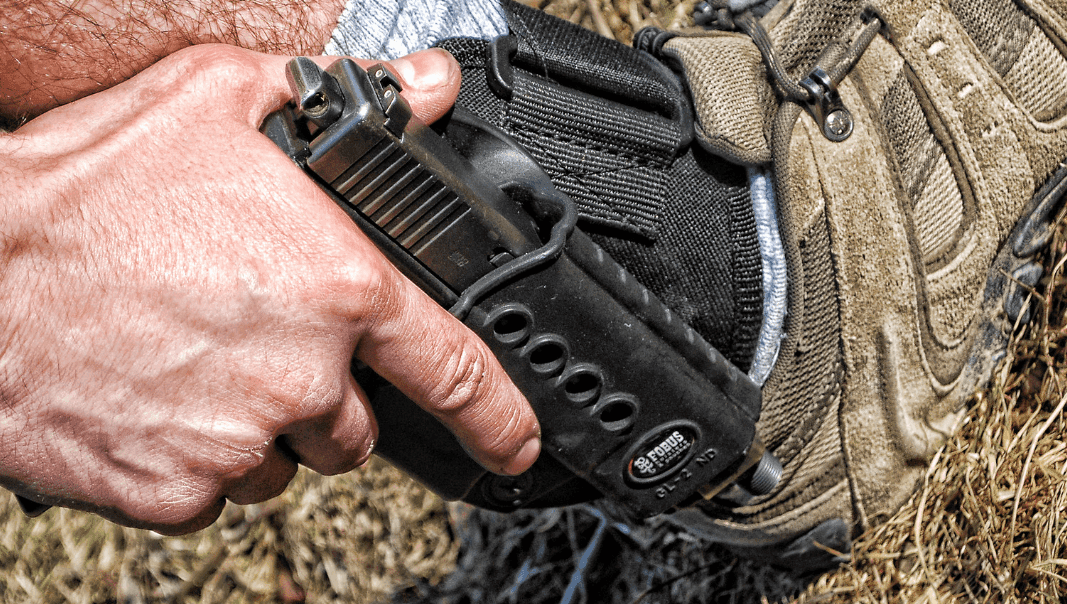 An ankle carry holster lets you carry a gun or backup weapon on your lower leg while keeping your upper torso unencumbered from larger, bulkier holsters. These holsters are designed to make it nearly impossible for people to detect (or print) your firearm, are small, stable, and do their job without jostling or discomfort.
We tested 15 ankle rigs to find ones you (and others) will notice the least while carrying either a primary or backup pistol. We recommend the Alien Gear ShapeShift Ankle Holster for daily carry. 
If you are new to the world of ankle holsters, think you need more capacity than our top, want other features, or are looking for a budget option we included those recommendations for you, too.
Below is my list of the best ankle holsters for 2022. I list the best choices in terms of value, performance, design, and cost.
Click on the name to head to the product page, read reviews and check prices or skip ahead to the list of holsters.
1. Alien Gear Shapeshift
What we liked:
Double sleeve system is effective & comfortable
Thick but light neoprene
Effective trigger guard
More than 60 molded shells means you'll find one that fits
What we didn't:
There's quite a bit of material
2 sleeves means more to set up
In our tests, the Alien Gear ShapeShift Ankle Holster fits comfortably, is straightforward and intuitive to use, felt very comfortable on our leg regardless of how long we wore it, and barely budged during walking and running tests.
It's easy to get your pistol into and draw from the holster, and once your handgun is synched under the neoprene strap it doesn't jostle around distractingly.
We really liked how it was comfortable to wear and the unit has an "inner wrap" that prevents the holster from sagging and sliding down and an "outer wrap" that holds the firearm snug to your calf and prevents painting.
Simple & Secure
The neoprene-and-Velcro strap is simple to secure, made from soft knit fabric, and the holster accommodates toolless adjustment – passive retention, cant angle and ride height can all be adjusted by hand.
The ShapeShift shell is molded to the make and model of your pistol and the shell can be used with other holsters in the ShapeShift system – from open carry to concealed to shoulder.
The holster is simple to set up, and once you've got your pant leg over the top of it, you might even forget you're wearing an ankle holster altogether (except for when you go to draw your gun.)
Over 60 model-specific sizes
The Alien Gear ShapeShift Ankle Holster comes in more than 60 different sizes for different handgun models in both left and right-hand orientation.
We found the Glock 17 model (what we used throughout this guide) worked great for our test unit in both orientations and throughout the different adjustment ranges, but you're probably going to find the best fit with boots 6" or less in height, as we found it was most comfortable the closer it was to your actual ankle.
2. Topmeet Upgraded Ankle Pistol Holster
What we liked:
Easy to wear
Secures handguns well
Fits any size handgun
What we didn't:
Large overall size
Elastic is thinner than other options
The Topmeet ankle holsteruses a lower nylon belt paired with an upper leg band to give you stability that feels great on the leg, doesn't pinch or bind, and stays put. It's exceedingly simple to use, pistols slide into the holster easily, and they don't move at all during walks or runs.
The neoprene bands also stayed rock-solid on our testers' legs.
We found the Topmee holster lived up to their claim of accepting basically any sized handgun We tested .22LR pistols all the way up to a full-sized .357 magnum – and while the fit absolutely suffers the bigger the pistol (which makes sense) you can get a huge variety of pistols into it safely.
We do have a few some concerns about the Topmee leg bands' durability as well as it's overall size. But if you're in the market for a true budget option, the Topmee is a solid and usable choice.
3. Holstermart Leather Holsters
What we liked:
Firm, tight fit
Quality leather
Variety of options
What we didn't:
Leather not as breathable as neoprene
While not exactly in the premium leather price range, the Holstermart leather holsters tend to be a little more expensive than other options and aren't for everyone.
But if you want a versatile and quality leather ankle holster that's priced well below other leather options but has many desirable features —like thumb breaks and soft padding on the skin side– Holstermart Leather Holsters are the best mix of high-quality and price point we've found.
Holstermart holsters are very comfortable and only get more so over time as the leather molds and fits to your ankle.
Versatile Leather Ankle Holsters
The holsters have enough elasticity in the leather to fit a number different handguns – from revolvers to LCP 380s – and the fit on those only gets better over time as well.
While saddle leather offers less breathability than neoprene, but it's secure, reliable, is the kind used by law enforcement, and only gets better with age.
4. Holstermart USA TAGUA Premium
What we liked:
Quality thumb break.
Soft Backside improves comfort and sweat-wicking
Big enough to fit most ankles
What we didn't:
Will require some break in to get the fit right
Warmer on the skin than neoprene
Holstermart, as you might imagine, makes a lot of holsters. Our leather holster pick is the standard-size, HOLSTERMART USA TAGUA Premium, which is made quality leather and comes in a single size designed for small 38 specials with 1-7/8″ to 2-1/8″ barrels.
We successfully got a Taurus 856 Ultralite to fit  – albeit slightly tighter than other revolvers due to it's larger cylinder but it seems like any smaller revolver would fit nicely after the holster breaks in. 
Breaks in like a good leather shoe
Although the leather felt a bit stiff at first, we found that – much like a quality leather shoe or new wallet – after just a couple of walks and test runs it started to feel nicely worn in.
The strap loosened up in the right way as we tested, which required us to re-cinch once or twice, but this all felt very much like the process of getting the fit right.
Once we made a few adjustments our test units didn't shift or jostle at all during our tests, and the leather strap itself also stayed rock-solid on our testers legs.
5. Concealed Carrier (TM Ankle Holster)
For Glock owners, we really liked the quality feel of the Concealed Carrier Ankle Holster.
Thin, comfortable & stable
Instead of a bulky strap paired with a plastic shell, the Concealed Carrier (TM Ankle Holster) model uses a pair of super thin and breathable neoprene straps that wrap your leg above the calf and at the ankle.
Accommodates basically any Glock
It was designed to accommodate any size firearm from a sub-compact Glock 27 all the way up to a full-size G17, so there's really no Glack hat won't feel at home in this holster.
It wears cooler than most ankle holsters and feels much lighter thanks to the thinness of the neoprene; many of our testers enjoyed wearing it.
We do have concerns that the material may stretch over time.
That said, the thumb break makes it really easy to unseat the retention strap and draw the firearm quickly and effectively. 
6. Bear Armz Ankle Holster
What we liked:
Firm, tight fit
Fits all sizes of handguns
Price
What we didn't:
Can run small
Not as durable as other options
We felt very little movement from the Bear Armz Ankle Holster when running, jogging, and walking around town with our Shield locked in.
Because it's designed with the Shield in mind and uses dual retention straps (one over the calf, one at the ankle) it fully encircles both portions of the leg. 
Can wear hotter but is very stable
This means it can feel hotter to wear than the simple single-strap ankle holster but the addition of the over calf strap adds a lot of stability.
The mag pocket adds room for a second magazine, or for things like cash or a wallet if you're inclined.
The holster and magazine pocket are secured with two dedicated velcro straps, which has the advantage of being totally adjustable.
You'll find the right fit for just about any handgun and ankle combination.
7. Pro-Tech Outdoors Ankle Holster
What we liked:
Firm, tight fit
Fits the LCP perfectly
Price
What we didn't:
Can paint with anything tighter than loose jeans or slacks
If carrying a Ruger LCP is at the top of your list, the straightforward Pro-Tech Outdoors Ankle Holster may be just the ticket.
Keeps your Ruger in place
We were amazed at how securely the gun holster stayed in place when we loaded it up with our test LCP pistol and made a test run, ¼ mile jog, and ½ mile walk.
The mix of neoprene & Cordura ballistic nylon creates a great balance of comfort and stability. Additional useful features include a nylon velcro retention strap for the firearm and bonded nylon stitches which are double stitched at pressure points.
Will fit most ankles with ease
Like other ankle holsters, it's adjustable and accommodates a number of ankle sizes. We recommend looser pants – jeans or slacks – as the way the Pro-Tech positions the grip of the pistol it tends to paint with anything tighter.
Each of these ankle holsters offers conceal carry enthusiasts variety of different features but our top pick is the Alien Gear ShapeShift Ankle Holster. We really like how it's part of a modular system that can extend the carry capabilities beyond the ankle.
It also met the criteria for any ankle holster we'd recommend:
Stable fit
Comfortable, non-chafing material
Will not slip or jostle on the move
Easy to conceal
There are quite a few options out in this category, but we hope this article steers you in the right direction. If you have any questions or feedback please drop us a line.