AR-15 Laser Sight Reviews: Top Picks for 2023
From green to red lasers, explore the top AR-15 laser sights for 2023. In-hand reviews, feature deep dives, and top recommendations from our team.
Written By
Michael Crites
Licensed Concealed Carry Holder
Reviewed by
Editorial Team
Learn About The Editorial Team
Share:
Products are selected by our editors. We may earn a commission on purchases from a link. How we select gear.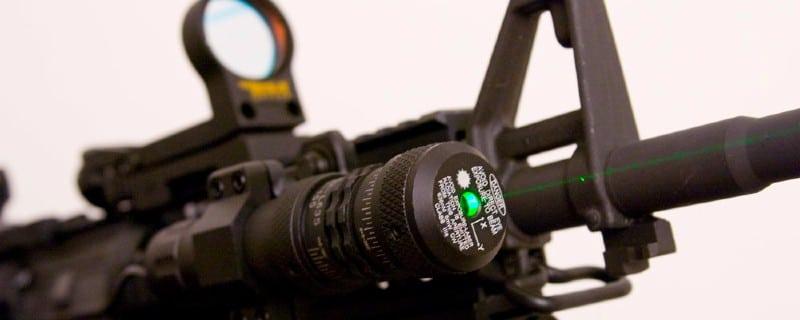 Ah, the laser sight. Conjuring up images of Stallone's iconic "Cobra" or the jungle hunts of "Predator," laser sights have made a lasting impression on our imaginations.
Chasing the fantasy alongside our childhood heroes, we dove deep into the realm of AR lasers, leaving behind the Hollywood nonsense and highlighting their unique practicality.
| Name | Selection | Price |
| --- | --- | --- |
| | Best Remote Laser | $449 |
| | Best Laser/Flashlight Combo | $206 |
| | Best Hand Stop | $129 |
| | Best Standalone Pistol Laser | $114 |
Brightness
We assess the intensity and visibility of the laser beam in various lighting conditions, indoor and out.
Zero Hold
We mount, fire, and review the ability of the laser to maintain zero.
Ergonomics
We review the size, weight, battery door or charging port, and overall design of the laser.
Compatibility
We evaluate the compatibility of the laser with different AR-15 platforms and accessory rails.
1. Best Remote Laser: Viridian X5L-RS Gen 3
Viridian's X5L is what most people likely conjure up when they think about "AR lasers" — a full-size laser unit with a remote activation switch. These tend to be on the higher end of things — often offering up a variety of settings, very strong lasers, night vision support and rechargeable batteries — many of which the X5L brings to the table.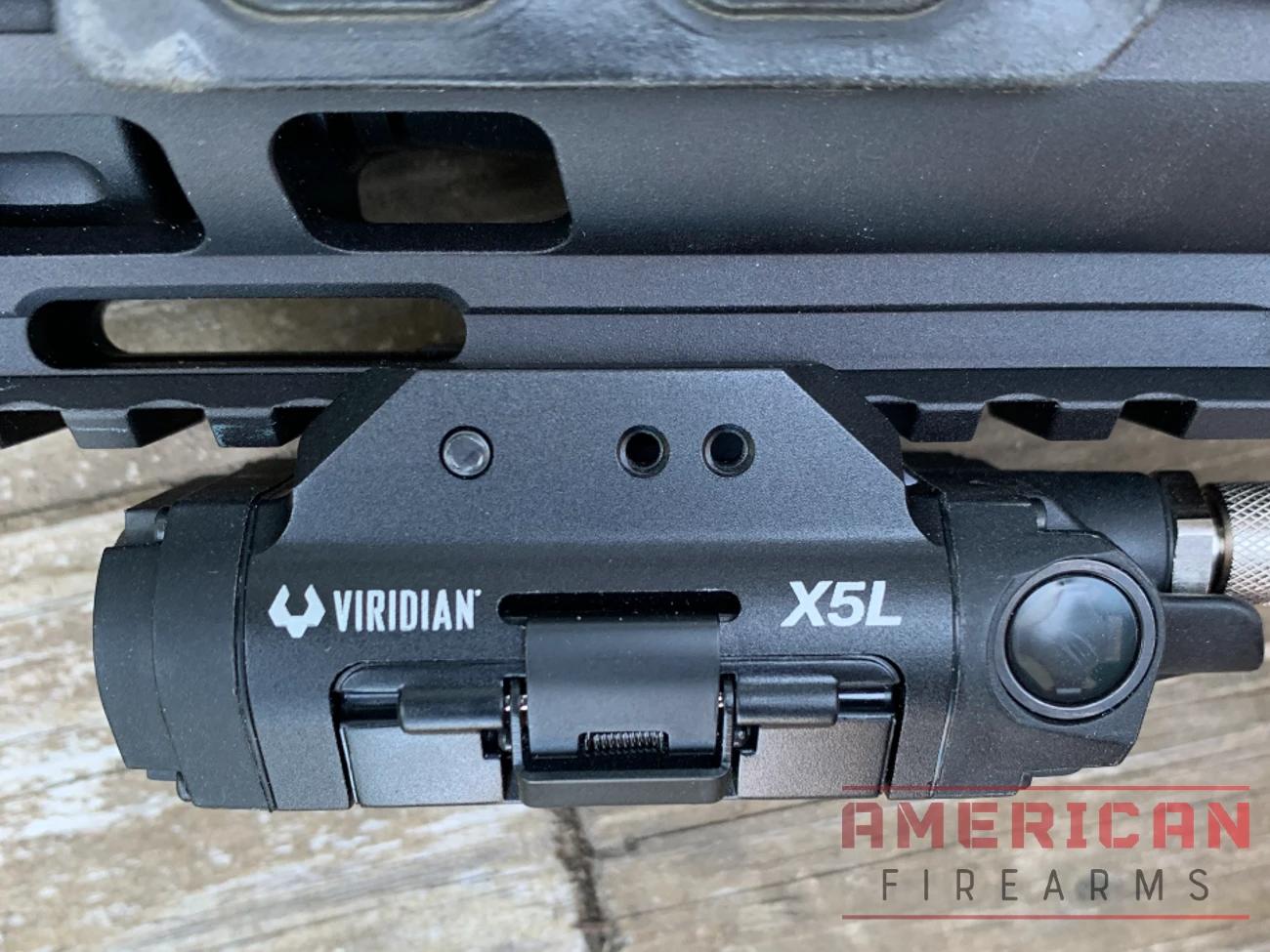 The X5L uses a Pic rail attachment clamp, which is secured with a screw. While not as convenient a throw lever, it's also more secure.
Brightness
The laser on the X5L is impressively bright — I could see it easily in broad daylight and when testing in a dark room in combination with the light. Viridian claims 100 yards in daylight and 2 miles in the dark.
It was noticeably brighter than some of the dedicated pistol lights I tested it against, and I could easily see the dot at 300 yards at dusk, so I believe the hype.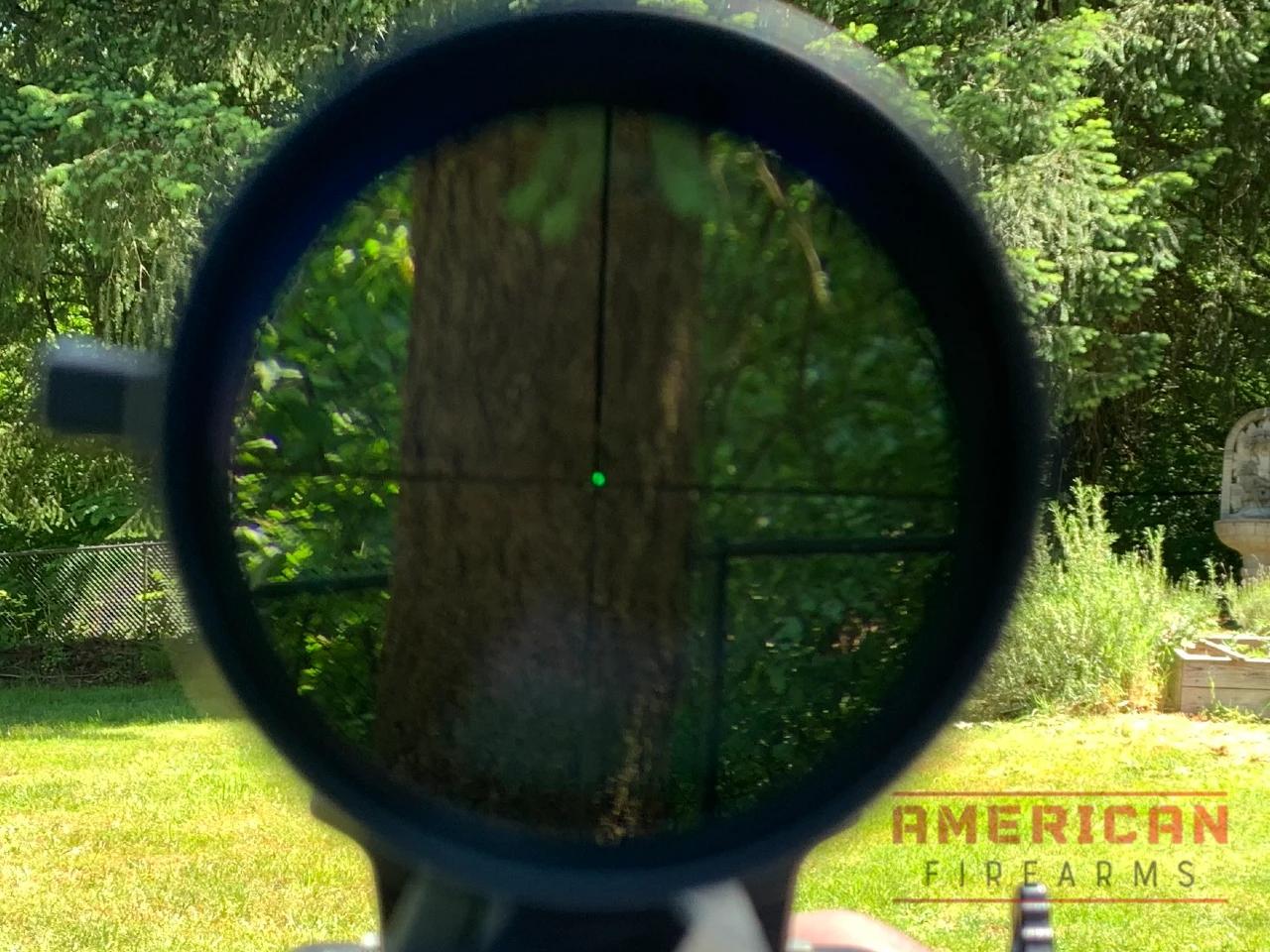 I could see the dot very well in broad daylight and at a variety of magnifications.
Ergonomics
While not small, it's definitely larger than a dedicated pistol light; the unit feels light in hand and is roughly the size of an earbud case. The main body houses two round activation switches that can either be pressed in isolation to activate the light or laser or pressed in tandem to cycle through the six available modes.
This is surprisingly easy to do in the dark, although if you miss the setting you want you have to cycle through five settings, which is probably too many.
The remote itself uses two identical, rubberized buttons, which are easy to activate and silent — there's no audible click with activation. I do have a few issues with the remote — the first being the means of attachment or lack thereof. Relying on a zip tie to secure the remote feels a little odd for a $400 laser. The second is that the buttons look and feel the same but do different things.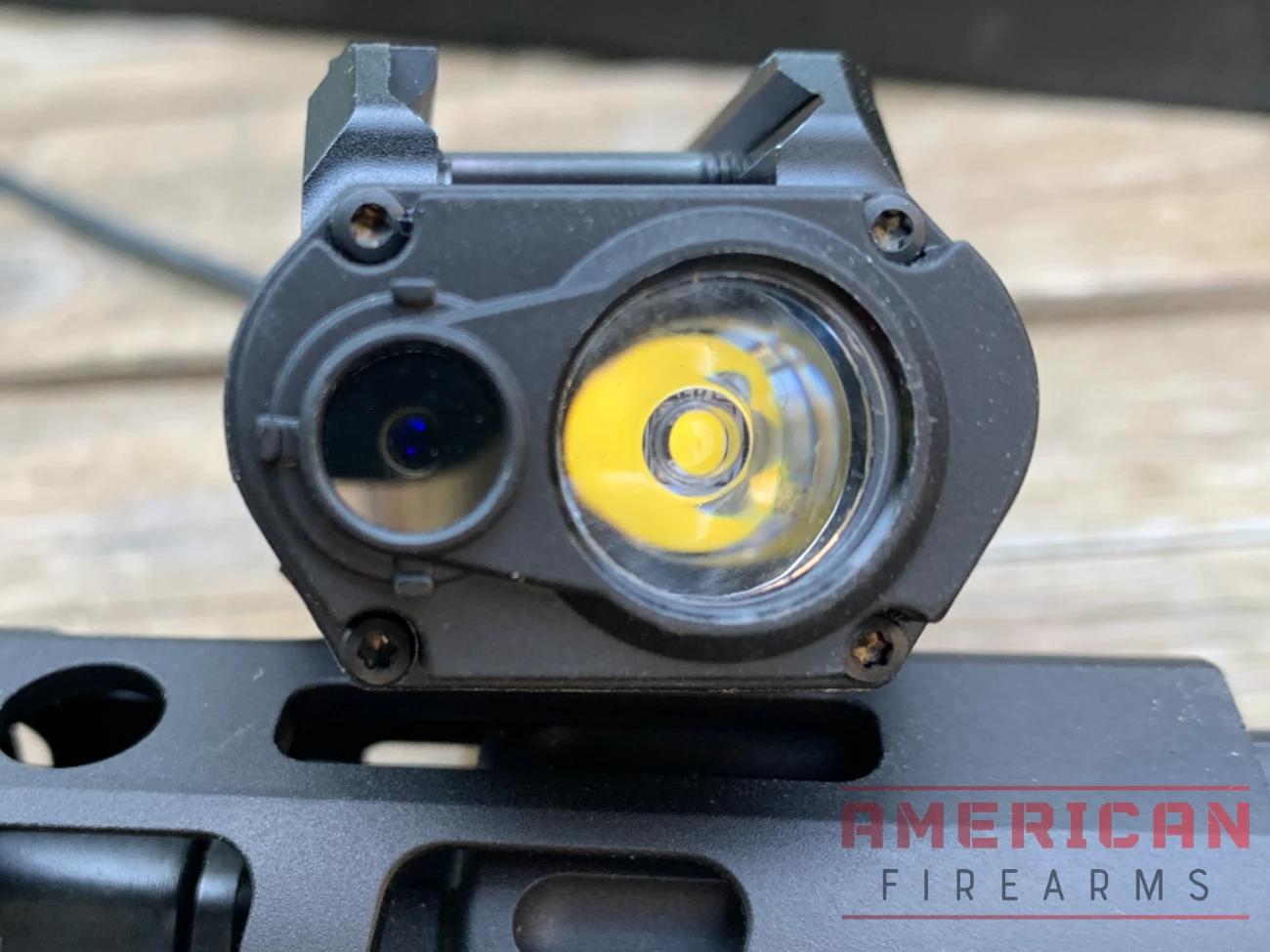 The front of the unit.
The rear remote button (closest to the user) is a momentary on (press to activate, release to stop) and the front button (nearest the muzzle) is a constant on (press to activate, press again to stop).
Often when buttons do different things, manufacturers will differentiate that by size or placement (big button constant on, little button momentary) to make it easy to get it right in the heat of the moment. Viridian chose not to for some reason, but the inclusion of these integrated controls means you can use it with or without the remote.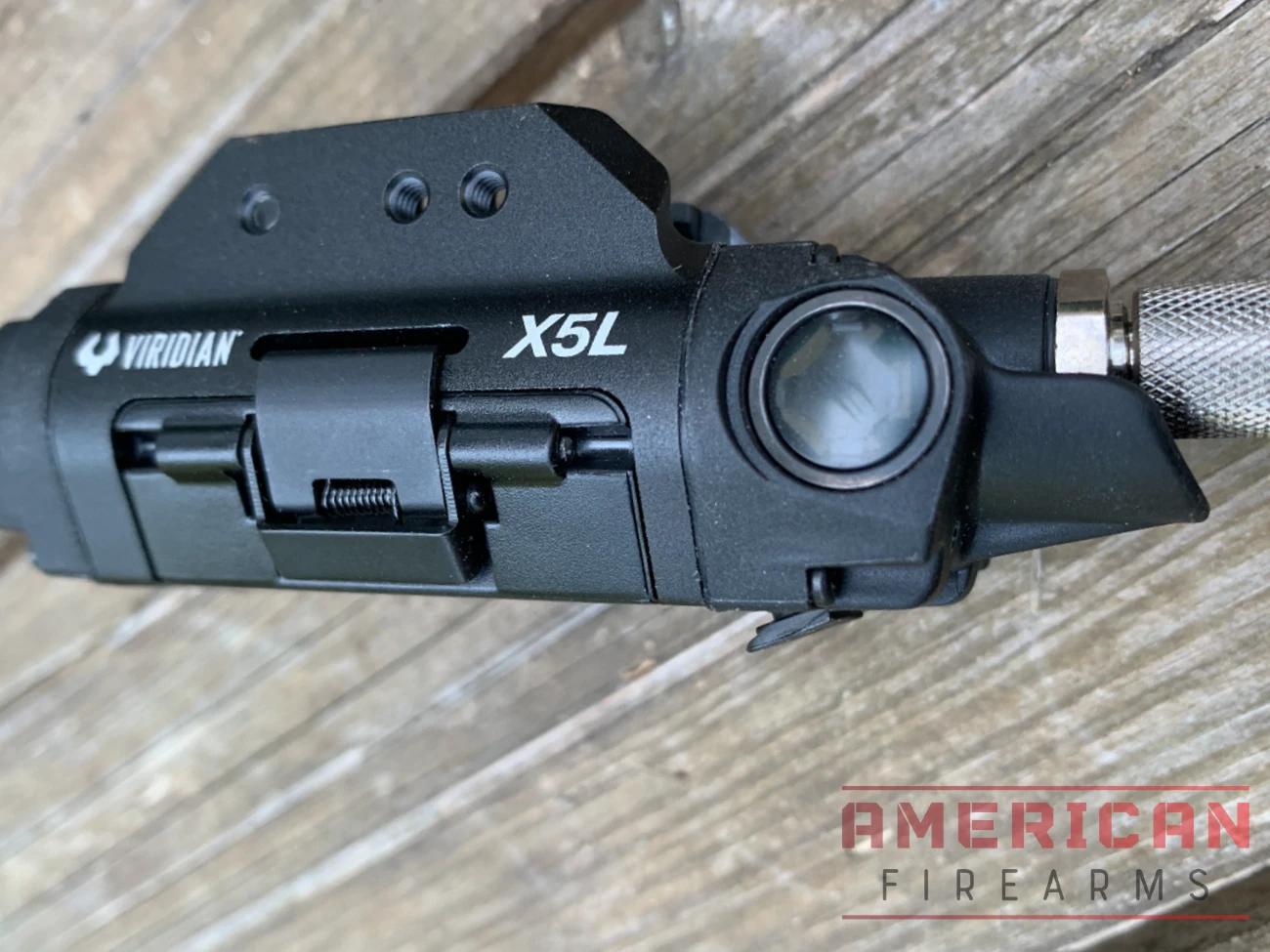 See that round button near the rear? Press it to activate the unit, or press it in tandem with one on the other side of the unit to cycle through the modes.
I really like the rechargeable battery, which uses a standard USB port to charge, and can be removed by unlatching it from the unit. This means you can have a few floating around to swap on the go without knocking your laser out of zero.
Sure, they're $80 each, but who said convenience was cheap?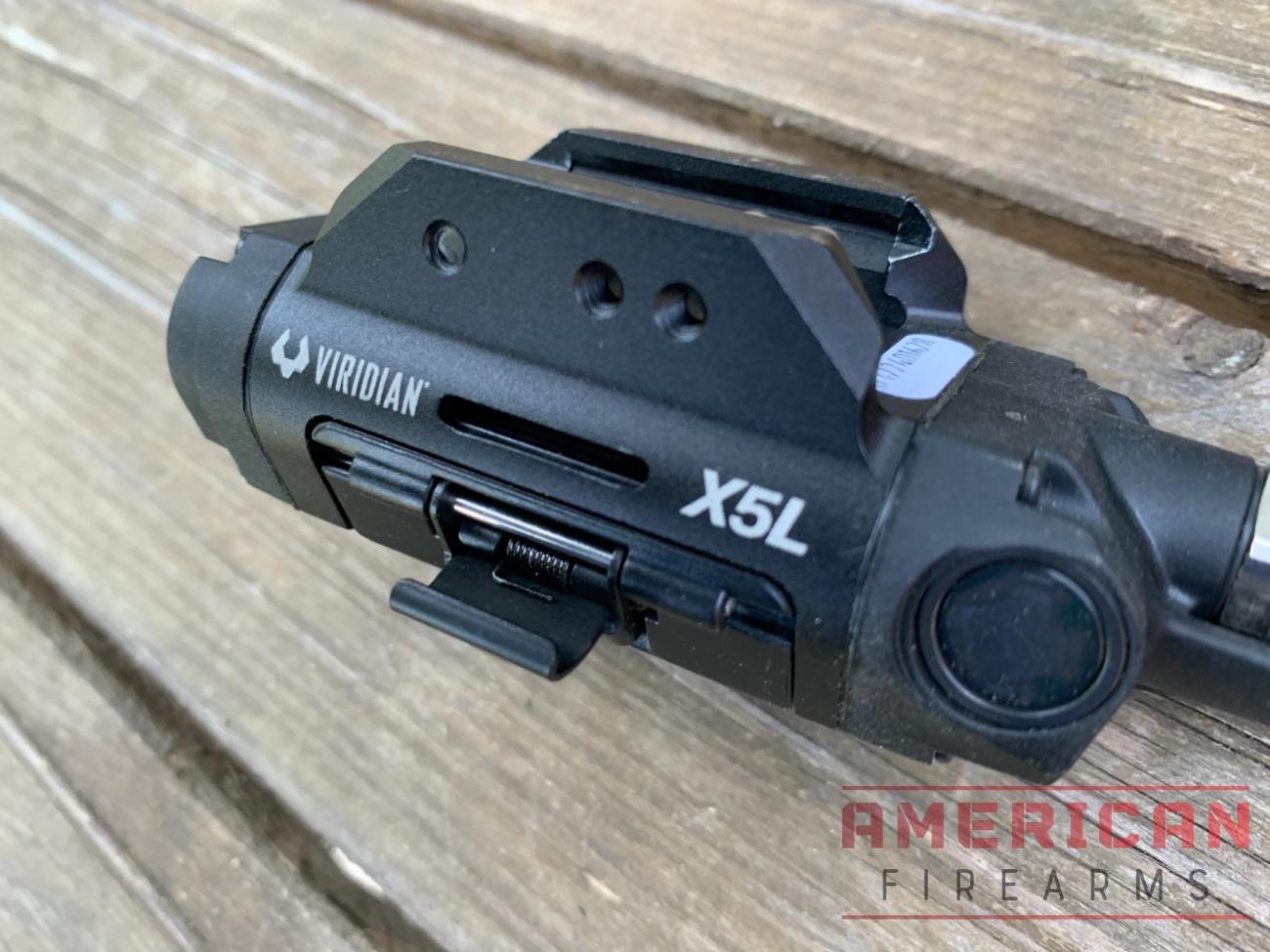 Throw the battery latches...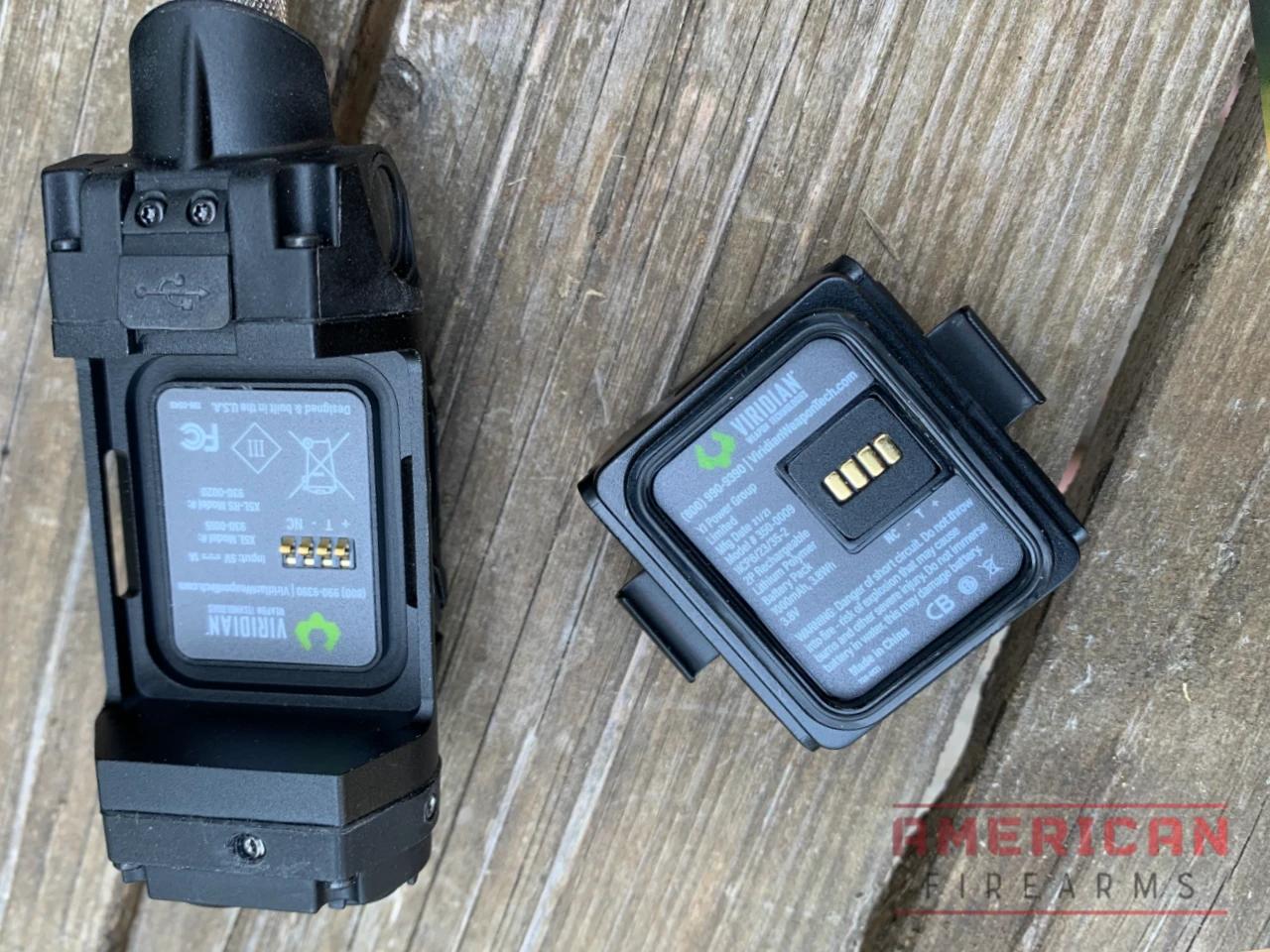 ...and pop out the rechargeable battery. The battery has a nice rubberized seal to help with weatherproofing.
Compatibility
Many modern AR-style rifles use a full M-LOK rail to save weight and give the user as much control over accessory placements as possible. Viridian's decision to use a Pic rail clamp will work for lots of people, but it isn't my favorite.
I have vanishingly few ARs with full Pic rails at the side or bottom of the handguard, so I'd prefer an M-Lok option.
Zero Hold
Adjustments are done via basic Allen screws, which have no audible click and feel pretty imprecise, so finding zero can take some trial and error. After mounting the X5L to my 9mm PCC, zeroing, and fiddling with it here and there, I took it out to my range and put about 40 rounds through it, noting no zero shift.
It was clear and on target after my quick range trip, but I will update when I feel like testing with something spicier.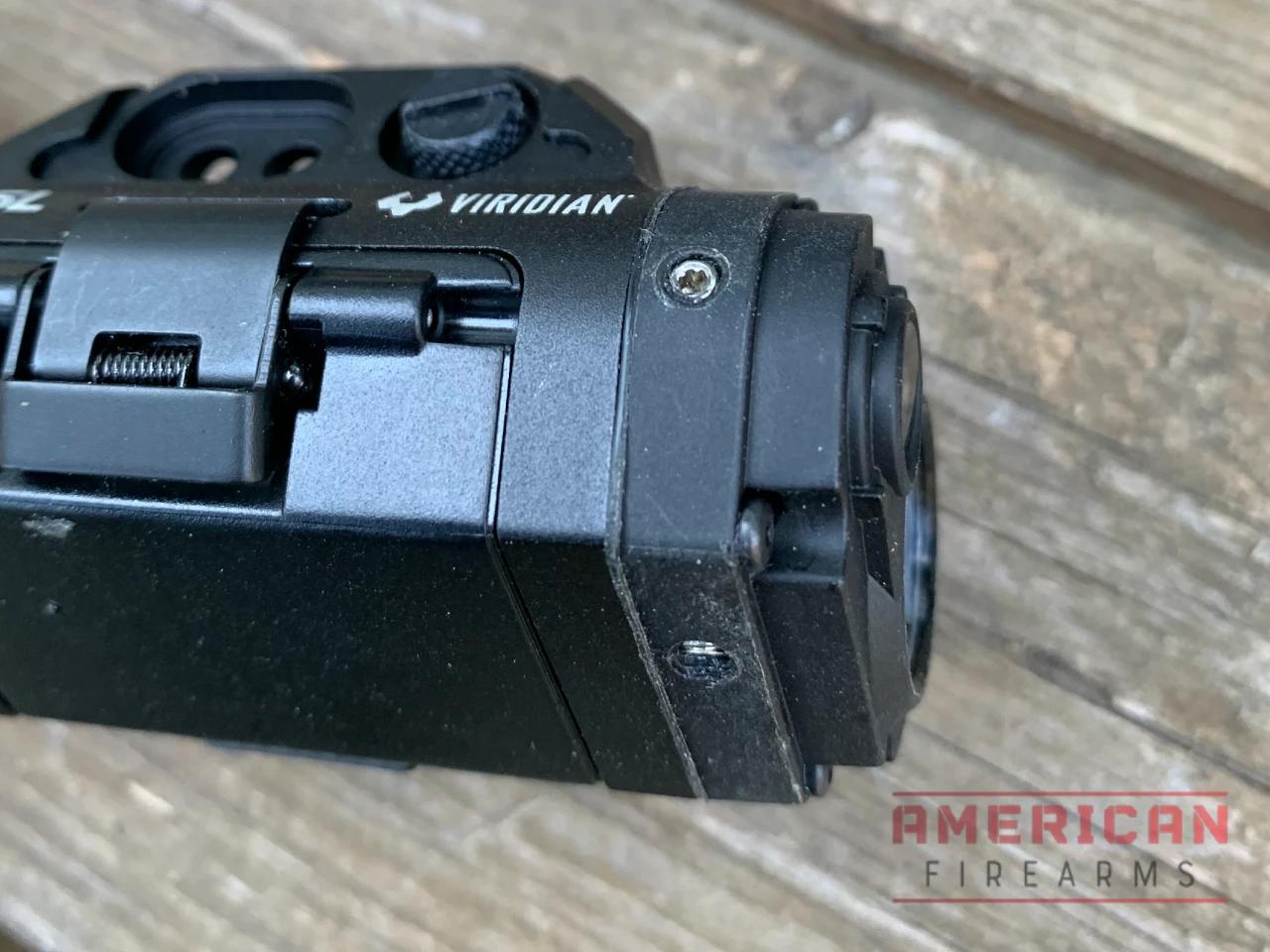 The Allen screw adjusters do as intended, just take your time with it.
I like the X5L — Virdian is doing some cool stuff with their X-Series products, and the X5L, despite some of its shortcomings, is my favorite remote-based AR laser.
2. Best Laser/Flashlight Combo: Olight Odin GL M
Olight has been making waves on the AR front for some time, and their remote-operated Odin GL M is a solid choice if spending $400 on the Viridian is out of your budget range. It's both a laser and light, with the unit designed to be quickly removable and used as a hand-held flashlight.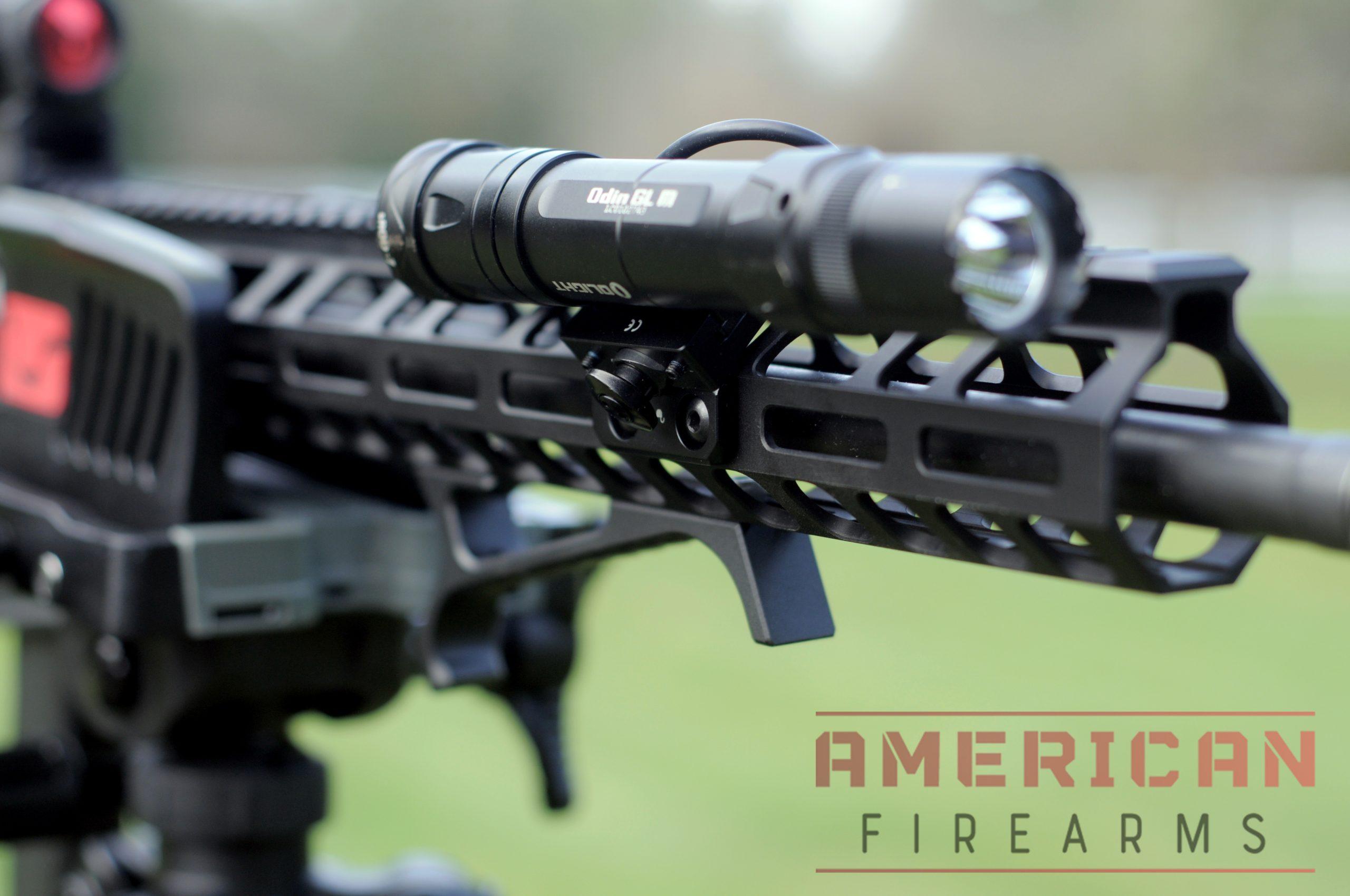 The Odin GL M pairs a laser/flashlight with an M-Lok mount.
Brightness
One of the cooler features of the Odin is the dual-intensity brightness offered by the dual-button remote. The larger button is the high setting, popping out 1,000 lumens with the smaller remote button delivering 300 lumens when activated.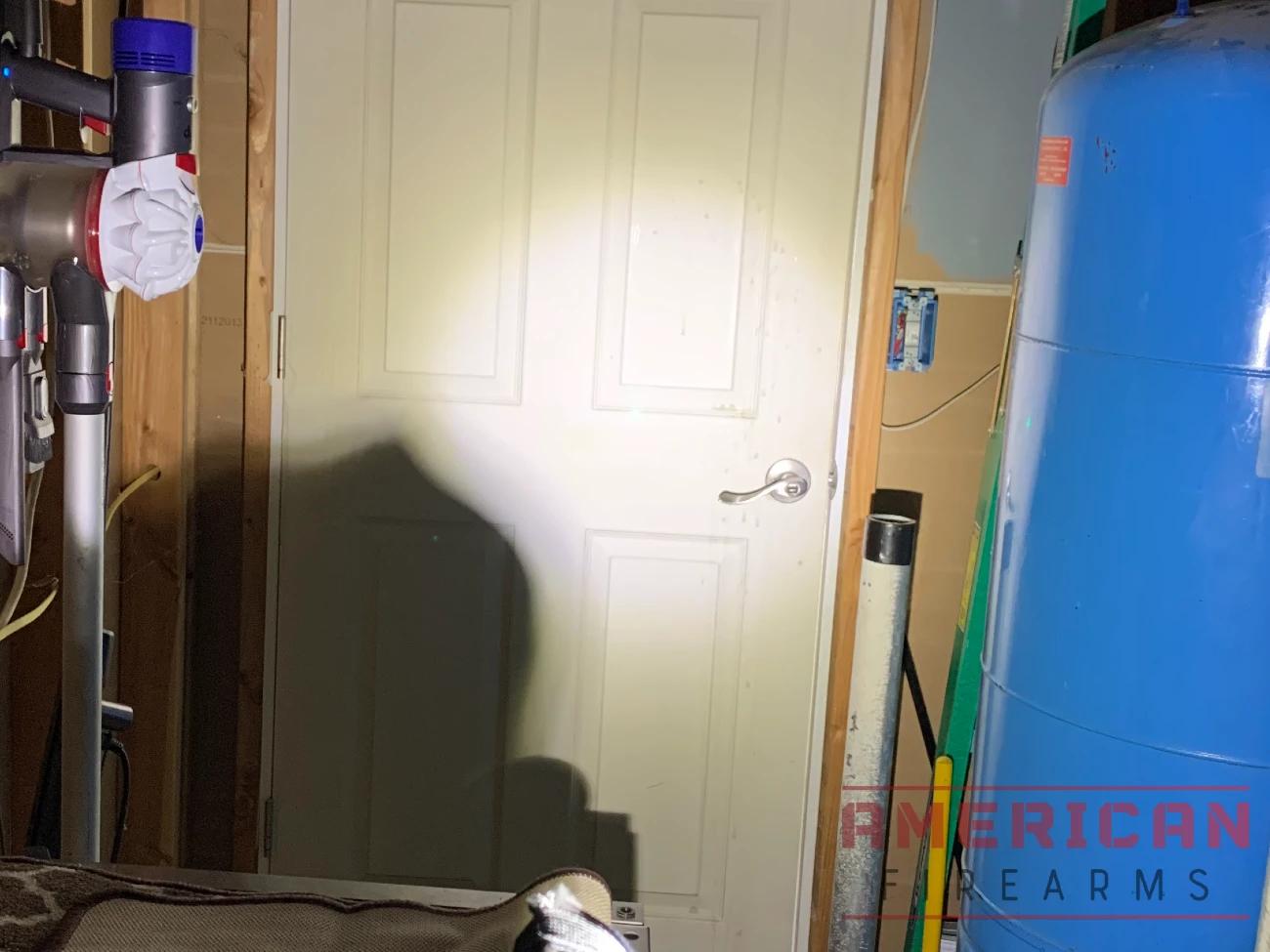 The brightness of the light was impressive, but the 1,000 Lumen high setting washed out the green laser -- especially on brighter surfaces.
The laser itself is bright and visible when running either settings, but much more visible with the lower brightness setting.
The laser was nice and bright at 50 yards in broad daylight.
The Odin looks a bit like a flashlight and uses a rear activation button under a magnetic connector to integrate the remote with the light unit.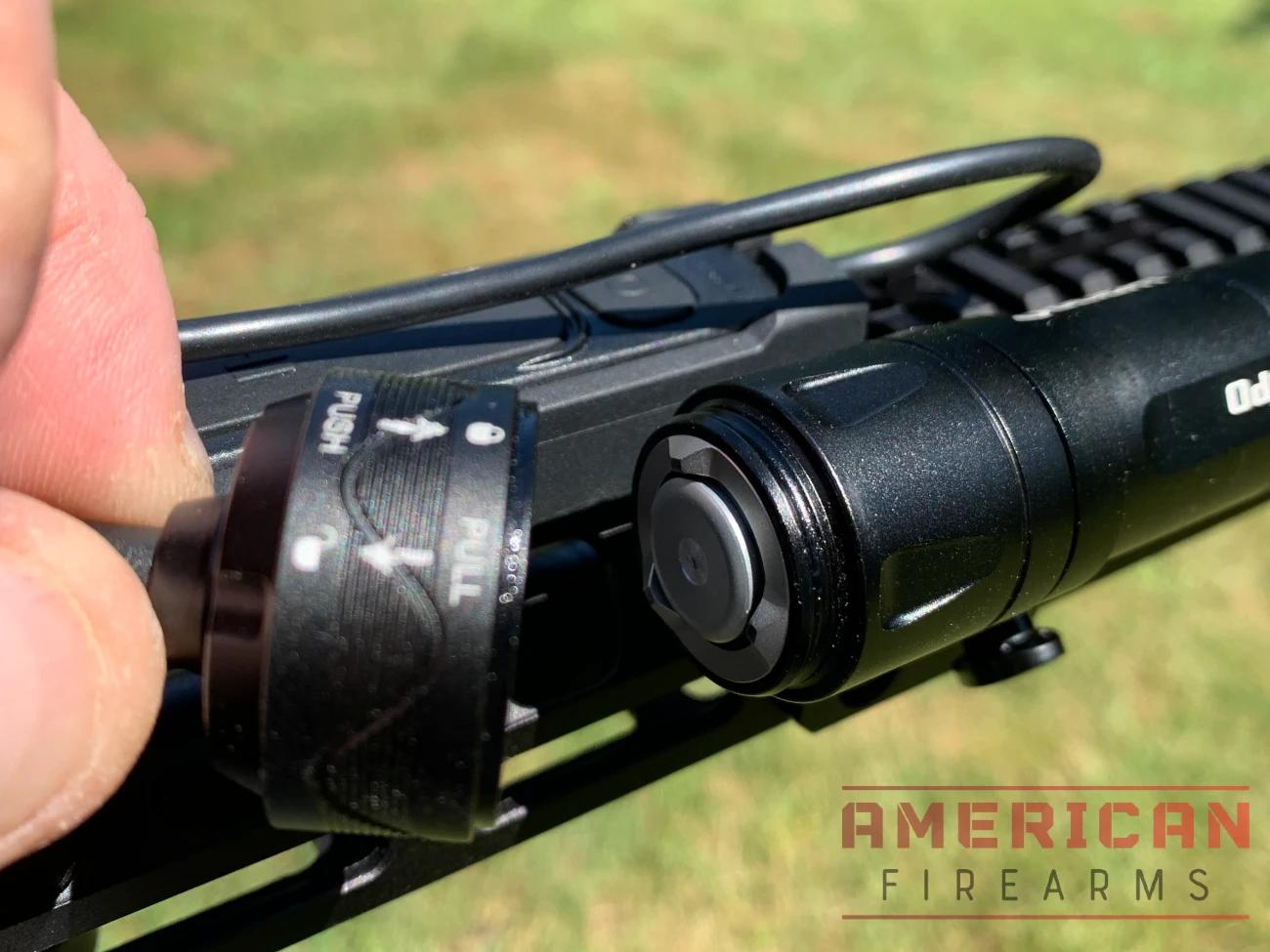 The remote connects to the unit with a magnetic cap, which you push onto the unit to lock it in place.
Ergonomics
The remote connector has a neat push-locking mechanism that locks the connector and remote to the light, which keeps it from popping off but still keeps the disconnection process quick, as opposed to the Viridian X5L remote which needs to be unscrewed from the unit.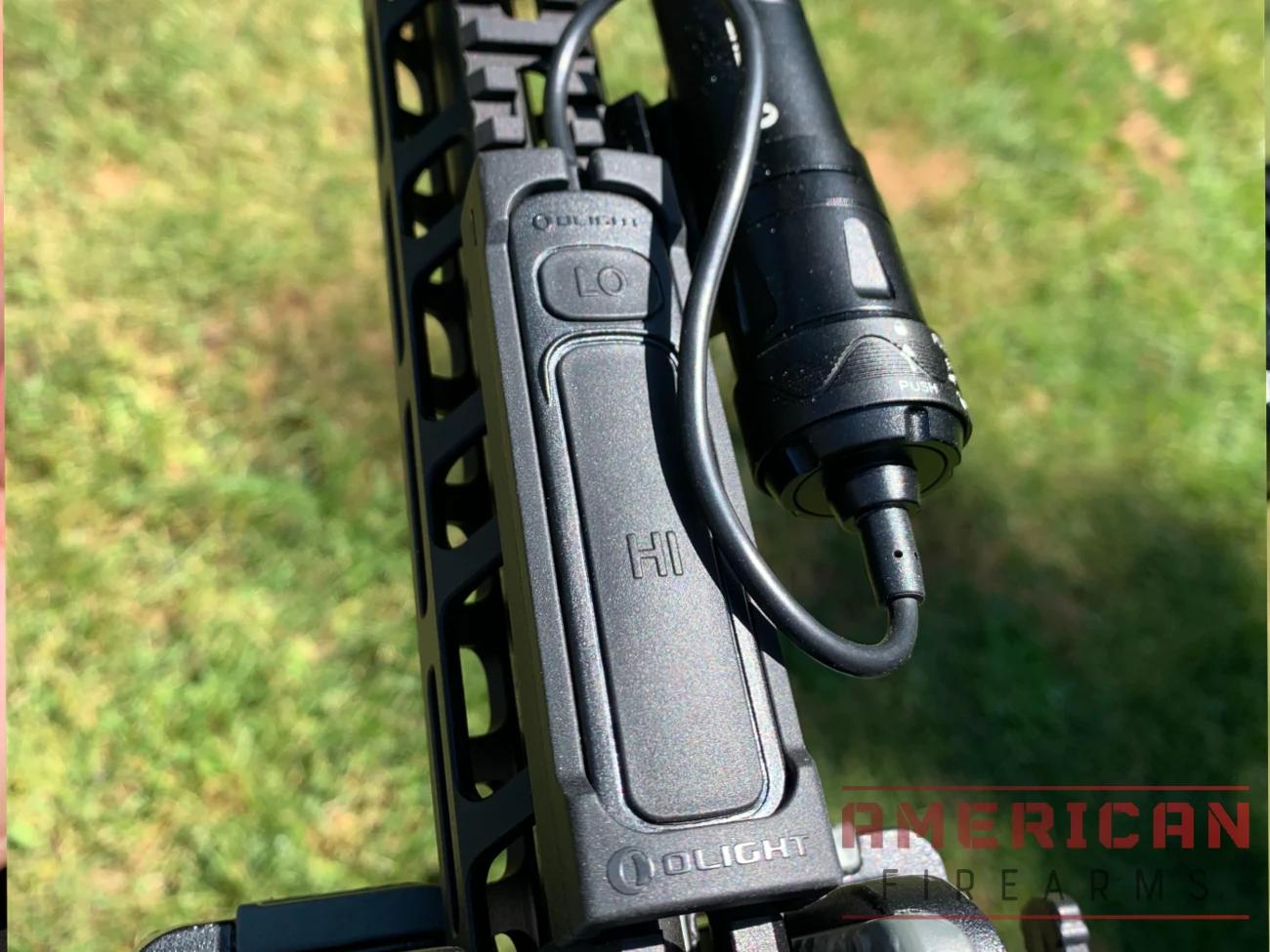 The simple remote has two buttons -- HI and LO.
The remote I also really like. It was smartly designed with the larger button turning on the bright setting, making it easy to get the brighter of the two beams without thinking about it. It also uses a Pic rail attachment, which means it's easy to run on a top rail (Look ma! No zip ties!)
The only way to change the mode — there are three: light, laser, and light+laser — is with a selector ring at the front of the light, which I found nearly impossible to locate in the dark. This is one area where the X5L has the Olight beat.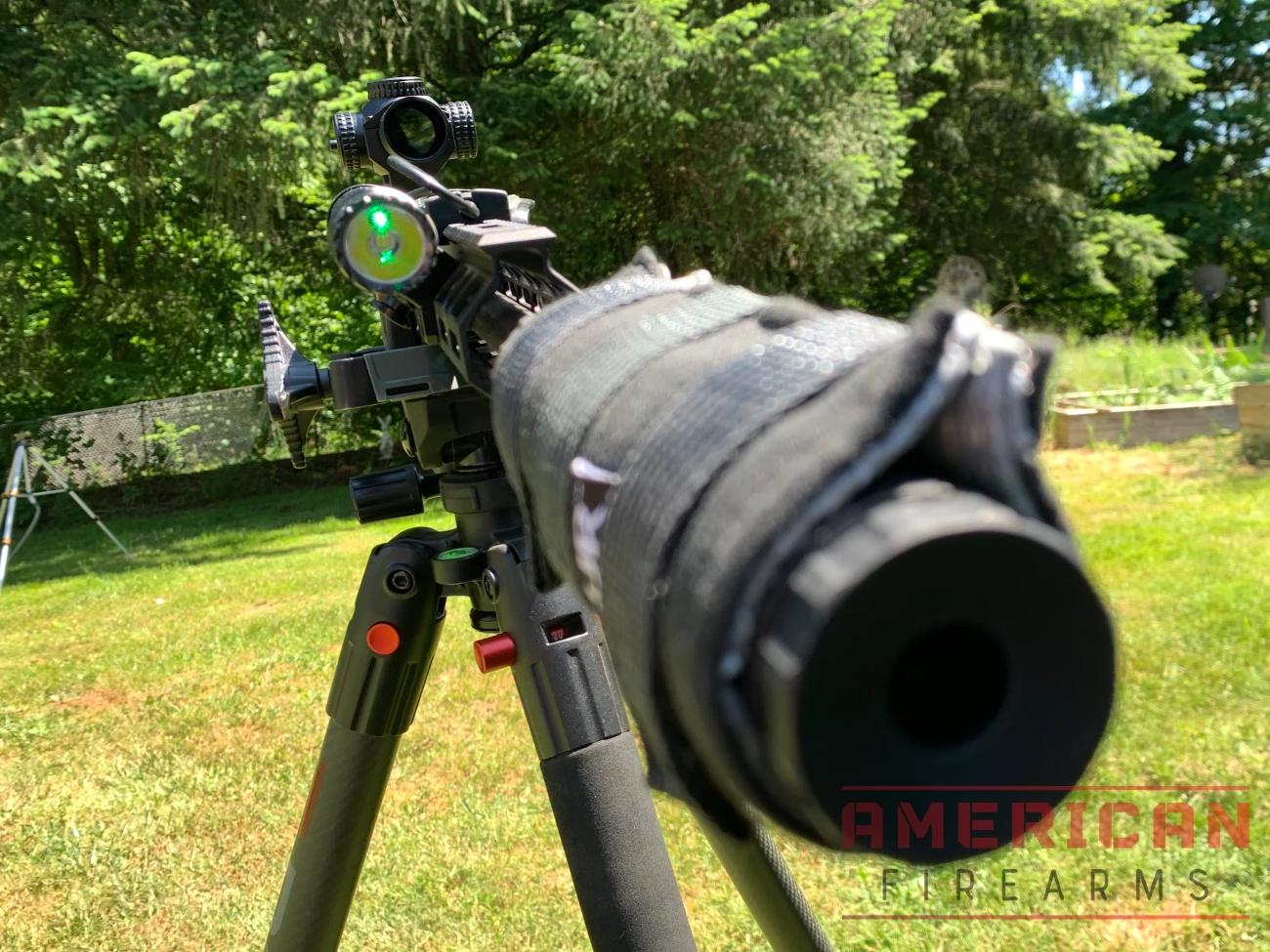 Bring on the cans!
One area the Olight takes the cake? Running with a suppressor. It sits high enough off the rail that I could run my fattest cans without incident.
Compatibility
Rather than integrating a full-size rail with the light/laser itself, the unit slides into a separate M-Lok mount which is secured to the rail. The mount uses a twist locking mechanism that, when in the "Locked" position, prevents the laser light from sliding out of the mount.
This feels secure when in place, and there are two small Allen set screws you can tighten down to further lock everything in place. The whole setup has nice tolerances and feels solid.
The magnetic USB charger is also really cool. You don't have to plug the Odin into anything, but rather move the rear of it towards the round charging dongle and they snap together to begin the charging process (provided the dongle is plugged into a power source.)
Zero Hold
After getting the mount and laser light in place and setting up my zero, I took it out to my range and put 50 rounds through it.
I noticed a slight upward drift that was easily remedied, but I do get the sense that the long flashlight design and use of a non-integrated mount will probably mean the Olight will see more drift than a compact laser light with an integrated rail.
3. Viridian HS1
I like a lot of what the Viridian HS1 (Hand Stop) Laser brings to the table, but I was curious how well it would pull off the dual task of hand stop and laser.
These kinds of M-Lok attachment accessories can be good on paper but fail when put to the test.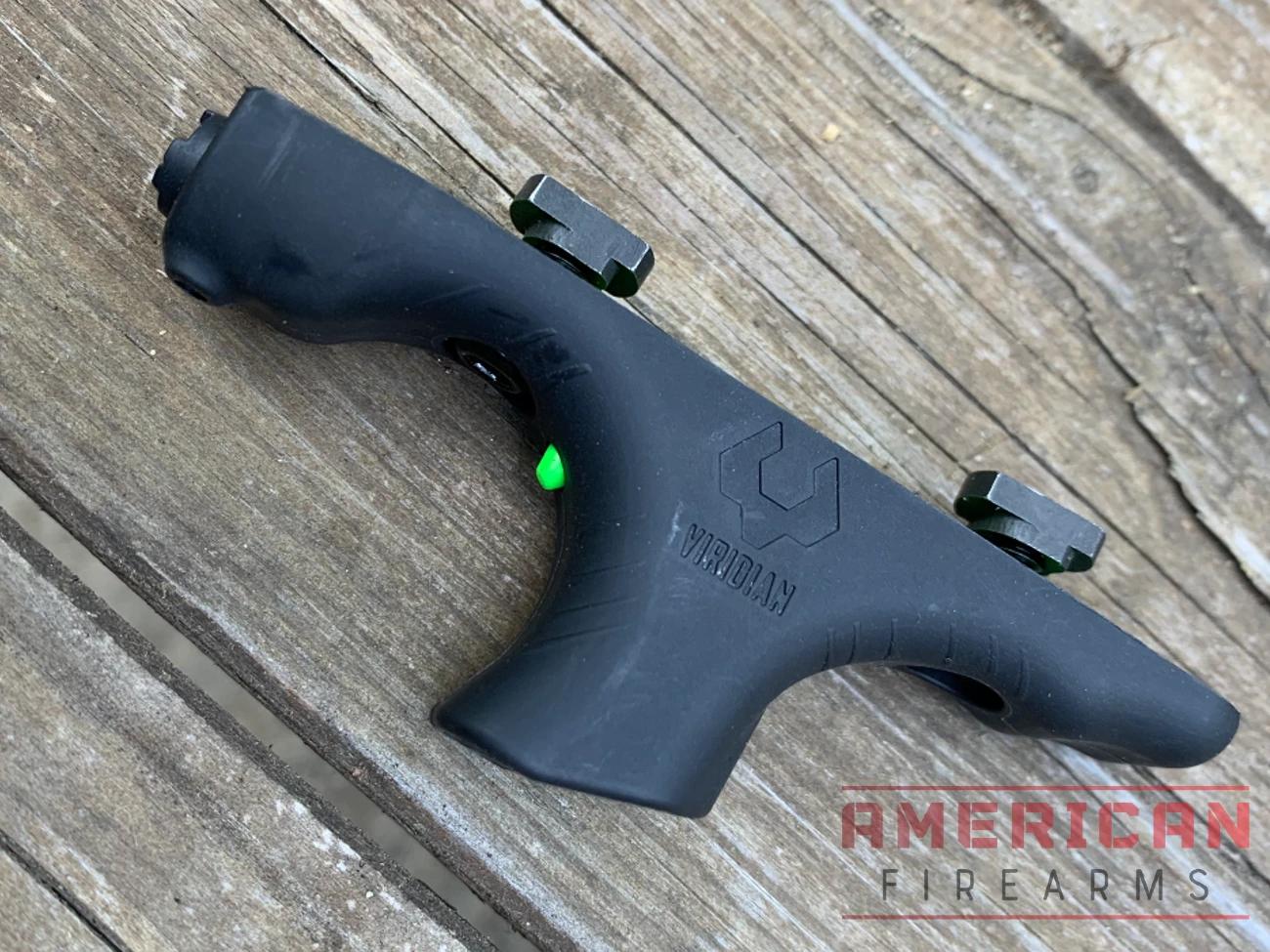 The HS1 is simple and surprisingly ergonomic.
Ergonomics
The laser activates when pressure is applied to the hand stop and works with any grip style — thumb-over-bore, C Clamp grip, or a traditional off-hand rifle grip.
It's an ideal home defense laser and incredibly straightforward to use — which is a must-have for stressful situations.
I've run this on a full-size AR, AR pistol, and PCC, and whenever my hand hits the little activation button the HS1 pops on. I've never failed to activate it when grabbing the stop.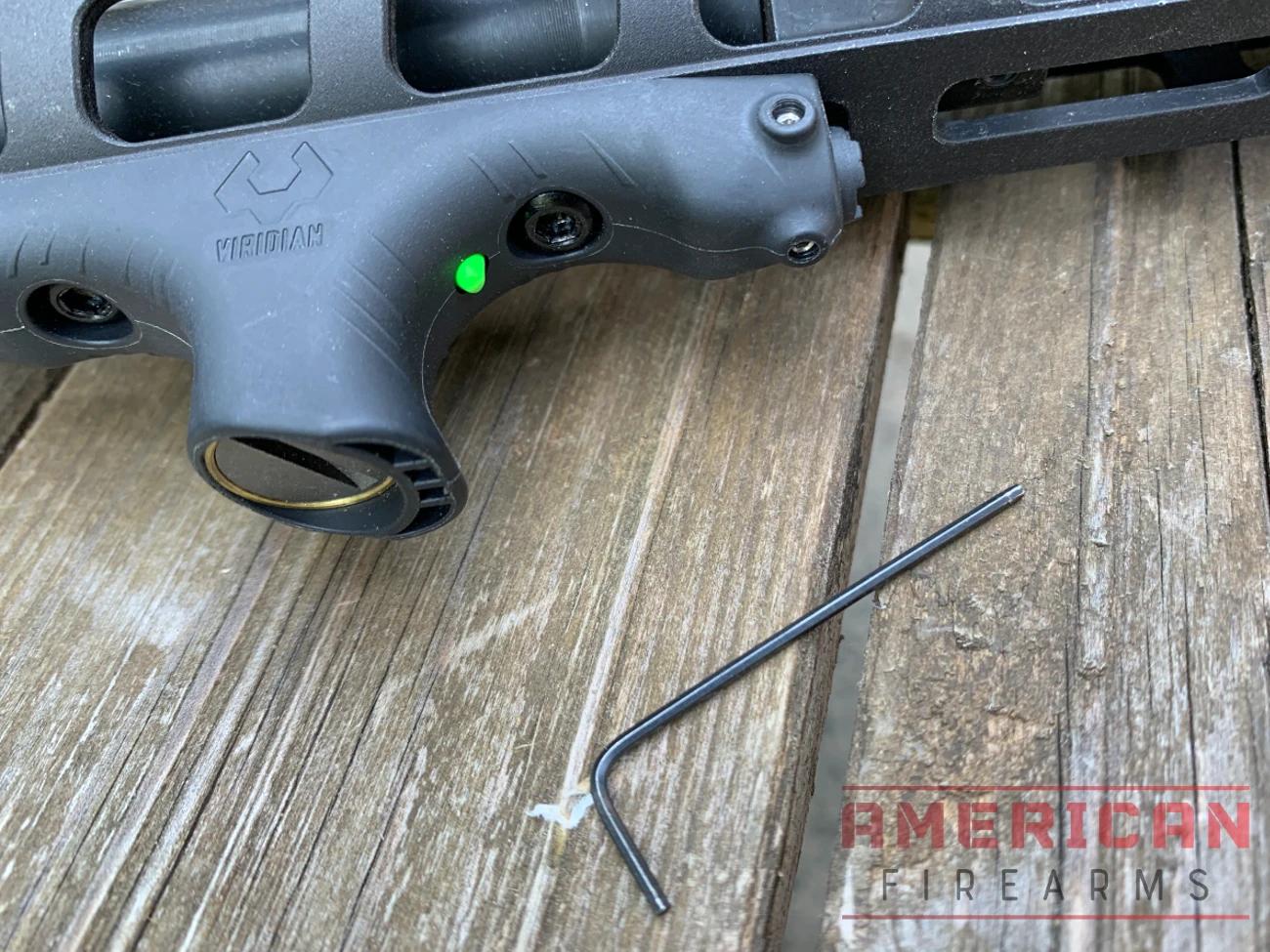 See that little green knob? That's a pressure switch, which activates with the natural placement of your pointer finger around the stop.
The battery door unscrews to let you pop in a fresh set of 1/3 n batteries, but I have yet to need them!
Compatibility
Mounting the little hand stop isn't hard, but it takes some patience as the M-Lok screws need to be placed *just so* to grab a section of rail and tighten. Given it's M-Lok and most modern ARs run an M-Lok rail, you shouldn't suffer from a lack of placement options.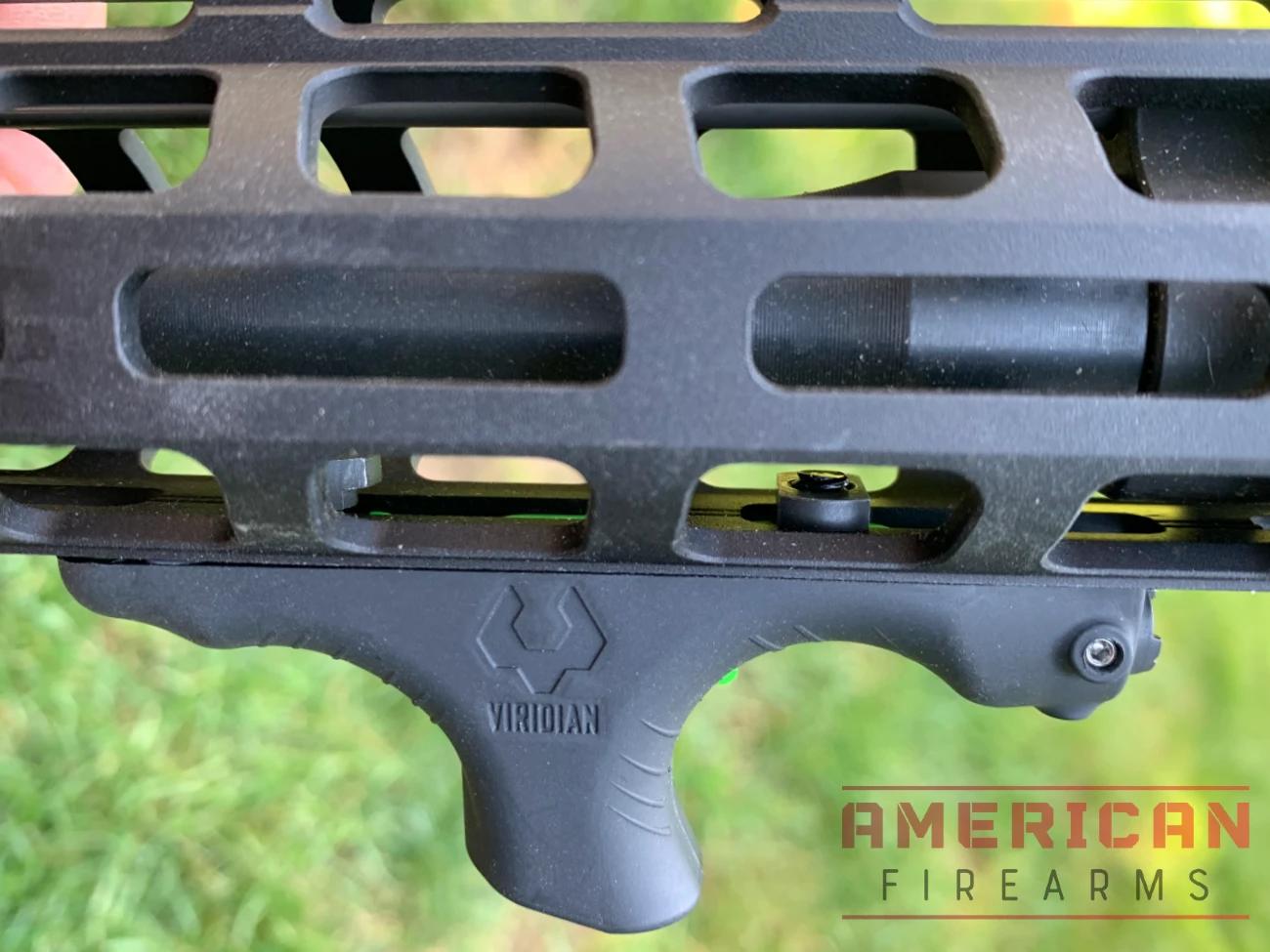 If you back out the screws all the way and press the M-Lok screws up into the rail it'll allow them to spin freely and tighten onto the rail.
The main downsides are the HS1 won't work with suppressors — it sits too tight to the rail and the laser hits the back of the can — and the adjustment screws are teeny, tiny Allen screws.
The HS1 is a slick little hand stop -- just don't use it with a suppressor.
You really have to have Allen wrench lined up with the screw to get a bite that'll turn the screw and make your adjustments. Once you get a handle on it co-witnessing the laser with your sight is straightforward enough.
Zero Hold
Once dialed in, I took the HS1 out to my range and fired a good 50 rounds through it to assess how much zero shift I got out of it. As you can see below — it held zero without incident. It feels like a solid little hand stop, and if you can get the M-Lok tightened just right it almost disappears into the rail.
Co-witnessing the HS1 with my crosshairs took some trial and error as the hand stop uses very small Allen screws. After more than 50 rounds I notice no zero shift.
Brightness
The Viridian laser is available in green, red, and IR, with the body available in black, FDE, and a charming Wolf Grey.
You get 90 minutes of continuous run-time, but I tell you what — I've had mine for almost 2 years and never changed the battery, so it's not drawing much off the little 1/3 n batteries. It was plenty bright in the daylight of my backyard, and apparently visible for 3 miles at night. Once I turned to the dark garage it was more than enough.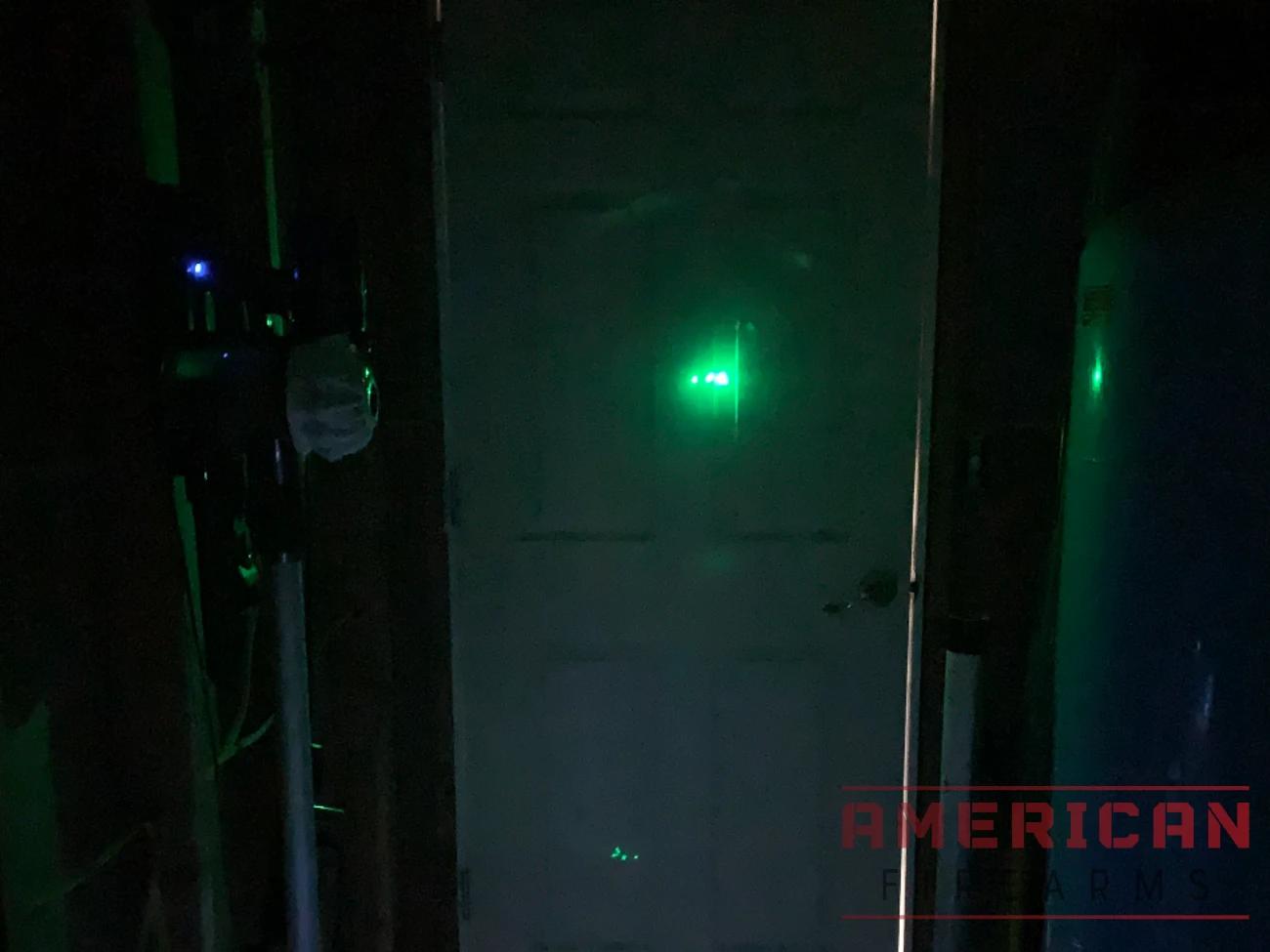 The HS1 is very bright -- in fact it's apparently visible for 2 miles in the dark. That's a seriously long hallway!
I really like the HS1 for a combo hand stop/laser. It's not terribly expensive and feels like a natural extension of your AR.
4. TruGlo Micro-Tac Green Laser
This TruGlo laser has an incredibly small profile and takes up almost no room on a handguard. The laser automatically shuts down after 5 minutes to preserve battery life and easily mounts to any Picatinny or Weaver-style rails.
A key feature is the ambidextrous push-button for both left and right-handed shooters is mounted in a way that's easy to activate but recessed to avoid accidental activation.
Important AR-15 Laser Features
The first step in choosing a high-quality AR-15 laser is to determine the purpose for which you need one. Is it for home defense? Is it for a faster sight picture? Is it for hog hunting at night? Do you need a light and laser combination?
One sighting system, for those who appreciate a visual indication literally beamed onto their target, is the laser.
Many combat operators will use a laser to speed target acquisition. While the perception of lasers may be that of an urban combat tool, a quality laser paints a target out to 300 yards or more — even in broad daylight.
Higher-end lasers may also include a pulse option which makes it easier to lock onto a target at longer distances.
The old adage that "one is none, two is one" applies as much to tactical professionals as long-range enthusiasts, so we dove deep into the world of AR lasers to separate the wheat from the chaff on these tools of the trade.
1. Intended Purpose
Determining how you'll use the product will help you choose the right laser or laser/light combination. It will also help you determine if battery life should be considered, the correct mounting option, the location on the rifle, and more.
2. Rail Fit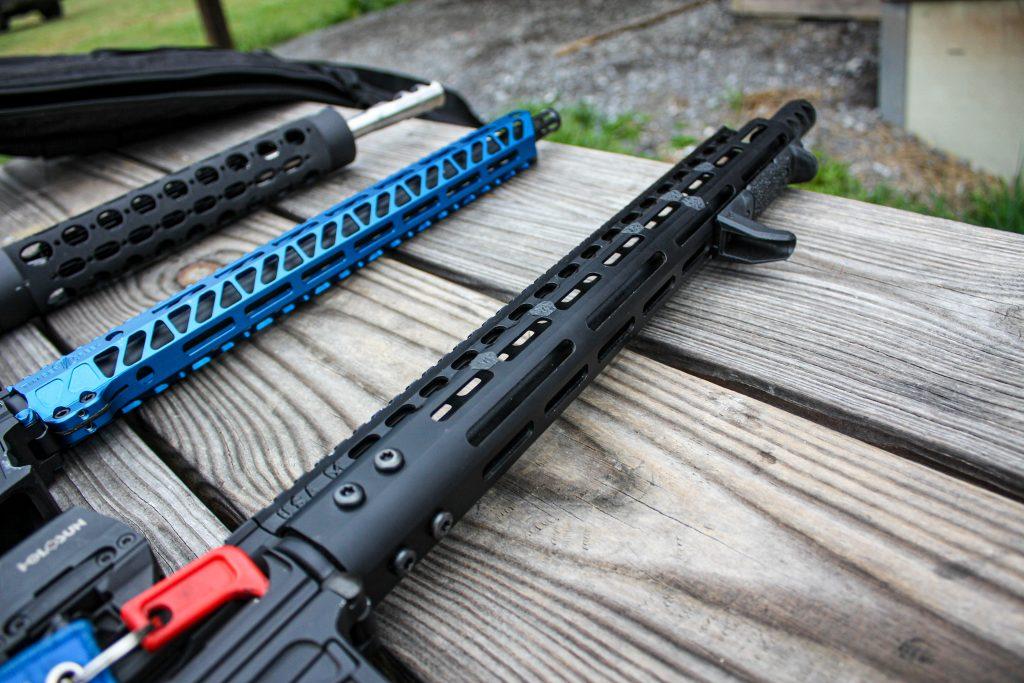 Naturally, your preferred AR laser should use the same mounting system as your handguard.
The right laser will integrate into your AR-15 setup without disrupting its configuration or requiring unwieldy attachments. Most rifles come with a Picatinny rail, but not always. Is your rifle set up on M-Lok or KeyMod?
Will you need an additional adapter plate to mount your laser?
3. Mounting Location
There are several considerations for laser-mounting options on an AR-15 — key amongst them is identifying the location where you should mount it.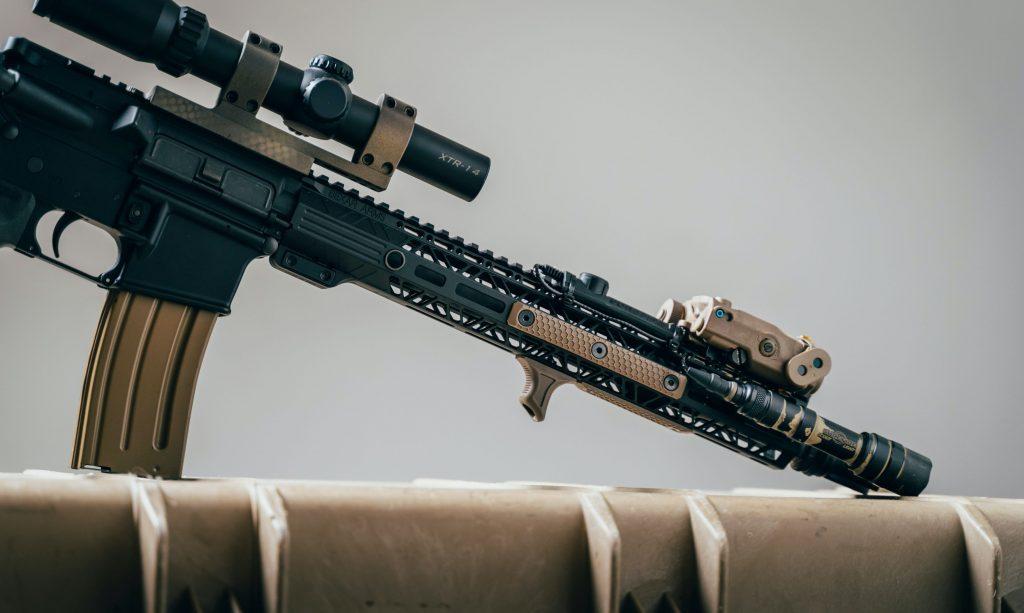 A top mount orientation can work well depending on your hand placement. A riser on the optic can help keep the sight plane clear.
Examine how you naturally grip your rifle. Do you have a hand stop? Do you reach out to the end of your handguard close to your front sight? Are you right or left-handed?
Assessing how you naturally use your rifle will help tremendously for determining the right location of your future laser and the best product option for you. The last thing you want is to throw off the balance and usability of your rifle by selecting the wrong laser.
4. Easy-to-Reach Controls
Some lasers are paired with lights, which opens the door to an array of functions & uses. Depressing a pressure pad or activation switch will often cycle through the functions from light only, laser only, a combination of both, or even strobe functionality.
If you're planning for a combination laser/light, consider the location of the controls to ensure you can easily reach and activate the switches on the device.
Ambidextrous controls are a very useful feature as they can prevent confusion in a stressful situation or if a family member needs to borrow the rifle it's easy for all parties to use.
5. Multi-Rifle Needs
The most common mounting systems are a basic Picatinny rail, Weaver-style rail, or a quick detach lever. Other designs integrate the laser into the grip or hand stop. Determine which of these you'll need and if the addition of a new grip or hand stop is a feature you want on your rifle.
Will you be using this laser across multiple rifles? If so, a quick detach mount will make it easier to toolessly swap lasers from one rifle to the next.
6. Sight & Laser Combos
If you are running red dot sights on your rifles, consider a side-mount or under-mount orientation (to the side or beneath the handguard).
This will prevent your laser placement from disrupting the sighting plain and keeps it out of the way.
If red dots are the most common sights on your current rifles, a red laser may be the right choice because the colors will match — making it easy to pick up visually.
7. Laser Colors & Intensities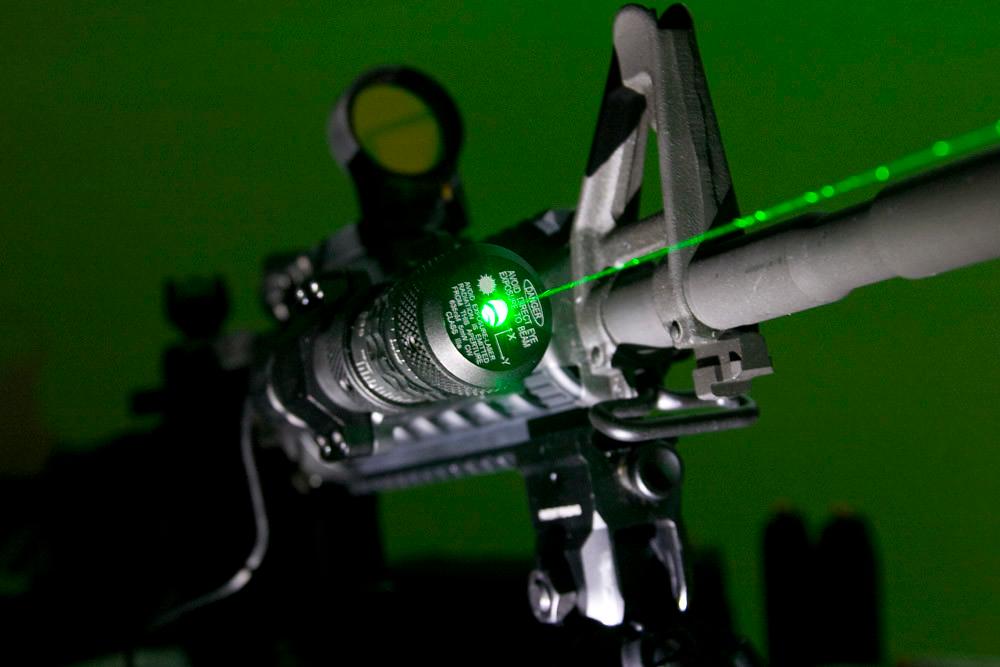 A side-mounted green laser is easy to see and can make the controls easy to reach.
Laser color and lumen count are two other considerations. Red lasers and green lasers will have varying degrees of visibility in different light settings. Their effectivenetss can also vary drastically from one person to the next.
Before making a purchase, ask a gun shop to demo a laser for you or try a friend's laser to see which color works best for you.
Red or Green?
A red laser sight is generally the less expensive option, is more commonly available, and is considered old school — meaning it's the color most shooters are familiar with. They're also slightly more difficult to see than green lasers, which can work to your advantage if stealth is your goal.
Green lasers are visibly brighter which can make them a better option for situations that make it harder to see the laser, such as daylight or long-distance shooting.
Human eyes are much better at detecting green light than red, and understanding why requires a little detour into biology. The three types of photoreceptor cells in the human eye (called "cones") contain photo-pigments that are designed to sense color wavelengths.
Together, the cones communicate the colors we're seeing to our brain. Our eyes pick up green light most easily due to the receptivity of these cones to the wavelength of green light. Simple, really.
8. Lumens
Adding a weapon-mounted light to a home defense weapon is a good idea for low-light situations, increasing situational awareness, and as a defensive tool for blinding or disorienting an assailant.
When hunting at night, a flashlight is necessary to see your target and — just as importantly — what's beyond it. This is when lumens come into play.
It bears repeating: defining the purpose of your laser/light combination will help determine the lumens and the distance required. A compact, 300-lumen flashlight will not illuminate a field like a 1,000-lumen rifle light will.
A light that provides a strobe option is great for disorienting an intruder by decreasing their direct and peripheral vision. Blinding flashes also blow out their night vision, which induces fear and can reduce both their desire and ability to use force. A blind assailant is much less likely to assault anyone, especially if they know there's a rifle on the other end of the light.
9. Battery considerations
Another consideration when choosing a light and laser combination is the duration of use. Do you plan on using this for hours at the range? Do you plan to use it on overnight hunts?
The intensity of the light and the duration of activation will impact battery life. Many of the lasers on the market are powered by CR123A batteries, which are readily available but not the most powerful. Look for battery saving features on a laser and light — some can last almost a full day or automatically shut off after a certain period of inactivity, saving your batteries for another day.
Laser Only: AR lasers with a laser only (no light) provide users with a small, mountable option with a single purpose — putting a dot on a target. These lasers can be incredibly lightweight and small thanks to the limited amount of tech — they're little more than an LED and a switch — so they're also straightforward and quick to use. Those who want to keep their loadout as small and purpose-driven as possible (or maybe already have alight) will appreciate these kinds of lasers.
Laser & Light: Laser/light pairs are the ideal solution for AR users with limited rail space or those who want to combine these similar purposes into a single unit. These units often include several unique features designed to provide users with different options for different preferences. You will often find toggle options for using these in specific modes: light-only, light & laser, and laser-only, sometimes with strobe or pulse options. This means there's more of a learning curve, and using them can be more complicated than a simple laser-only option. They can also be more expensive and more prominent, but the addition of the light means more utility, all things being equal.
Sight & Laser: Some AR sights will tack on an LED laser which can be activated with a button toggle on the sight unit itself. These often look similar to standard sights but project a beam, which can simplify the process of aligning the beam and sight reticle. You have fewer mounting options with these — the beam & controls are literally on the sight unit — but you're not adding any weight to the end of your rifle or using any rail space.
While it may seem obvious, there is a very good reason special forces units, soldiers, marines, and other operators run lasers on their rifles. A reliable laser communicates to the user and the target where their shot will land — which provides a level of certainty that no other style of optic or accessory can achieve.
AR lasers are bright, tough, and durable, capable of dealing with the kinds of punishment like tactical operators are likely to encounter, all while staying true and on zero. This additional reliability increases performance in high-stress situations and provides a clear, visible way to help you get the job done right.
When it comes to picking out a quality AR laser, you certainly get what you pay for, so consider splurging a little to get something you'll be happy with. As we like to say, AR lasers under $75 live in one of two categories: garbage or gimmicks.
You can spend two lifetimes digging through off-brand lights or Amazon specials without touching a hint of quality, although budget-friendly options are available from some known brands.
There are a few exceptions to this rule — Olight makes good quality light/laser combos that are both durable and perform and are often on the lower end of the price spectrum.
That said, most people will eventually drop somewhere between $100 and $350 for a proven, durable, well-engineered AR laser. These lasers offer high-lumen outputs, bright lasers, bullet-proof build quality, and a number of other added features.
How we chose these products
When reviewing guns or gear, we get our hands on as many products as possible, but there are times when certain products or categories are a real challenge — be it availability, cost, or simply a lack of resources — we can get stymied going hands-on with all the potential candidates. Plus, the AR laser category is massive, so rather than present a never-ending list of all the lasers on the planet we selected those which we felt best represent the price points laid out above — giving you a solid representational list to serve as a jumping-off point for your own research (you are going to do you own research, right?)
To avoid disappointment or steering you in the wrong direction, we bolster our own experience with conversations with experts, comb through reviews on retailer sites & sales data, review industry publications, other blogs, and otherwise surface the best information available.
We aim for all thriller, no filler, as they say.

June 13, 2023 — After testing the Olight Odin GL M, we've added it as our new favorite laser/flashlight pick, as it's bright, has great hardware, and works with suppressors.
Sign up for our newsletter
Get discounts from top brands and our latest reviews!