The Best Shot Timers
Written By
Kenzie Fitzpatrick
Certified Armorer & Instructor
Edited By
Michael Crites
Licensed Concealed Carry Holder
Share:
Products are selected by our editors. We may earn a commission on purchases from a link. How we select gear.
If you're anything like me, you are pro-gun control. No, we don't mean taking away people's constitutional rights; that's absurd. I'm talking about making every shot count. Where rounds travel when fired is our responsibility, and it's in everyone's best interest for us to have as much control over them as humanly possible.
One important element that goes hand-in-hand with control is, of course, speed. If you've wondered how Keanu nails his precise shots in the John Wick movies, or have ventured into many shooting competitions, you know that — with some practice — it's possible to maintain impressive control over even the biggest, baddest firearms: it just takes some polished shooting skills.
He IS John Wick
A piece of kit we think is critical to leveling up your speed and firearm control is a shot timer. There's a lot of these on the market so we've pulled together this shot timer comparison to help you make an informed decision.
Time spent at the range with one of these little tools will help get a lot more out of your sessions, and before you know it you'll be giving Keanu a run for his money.
Below is my list of the best shot timers for 2022. I list the best choices in terms of value, performance, design, and cost.
Click on the name to head to the product page, read reviews and check prices or skip ahead to the list of shot timers.
1. Pact Club Shot Timer
The PACT Club shot timer is one of the most popular shot timers with beginning competition shooters because it has all the features you need with very little that you don't.
This handheld shot timer comes with easy-to-use buttons, a super loud buzzer that you can hear even when other folks around you are firing, and an integral belt clip. 
We would have liked additional software features for more data, but the Pact Club Timer III Shot Timer is an industry standard for a reason, so if you plan on taking classes to improve your shooting skills this might well be the one your instructors are using.
What We Liked
The loud buzzer is easy to hear through ear protection
Has an overall shot time clock to track large shot numbers
Has an integral belt clip
What We Didn't Like
For the price, could have done with some more features.
Can be a little hard to adjust.
2. Competition Electronics Pocket Pro Shot Timer
The Pocket Pro II is a small shot timer that has a lot of features packed into it's pocket-sized dimensions, including random starts, split times, and has the capability of large number shot tracking to get your rounds per minute dialed in at a consistent pace.
Plus, the Competition Electronics Pocket Pro II automatically shuts off after 10 minutes to save battery life.
We do wish the plastic pocket clip was all metal, though, as we worry about it breaking if we bump into something in a competition stage.
What We Liked
Can store split times for up to 99 shots
It's bright blue – so it's easy to see
Automatically turns off after 10 minutes without hearing a shot
Adjustable shot sensitivity, par time settings, & beep volume
What We Didn't Like
The plastic on the belt clip might be a little bit flimsy for hard use.
We wish the display was both bigger and brighter
3. Shotmaxx-2 Shot Timer
If you're looking for a little bit different form factor that's less likely to snag on obstacles, check out the Shotmaxx II. It's a shot timing watch that can keep track of over  100 shots in strings of 99, so you can work on your shooting speed in an extended range session without the need to restart over and over.
The battery on this shot timer is only good for a few range days, though, so you'll need to keep a few in your bag.
What We Liked
The watch form factor is super convenient
The display is clear and easy to read at a glance
You can change the beep frequency, great for those of us with a little too much range time on our ears
What We Didn't Like
Difficult to share since it's a watch
The battery life is a little lackluster
4. Mantis Shooting Performance System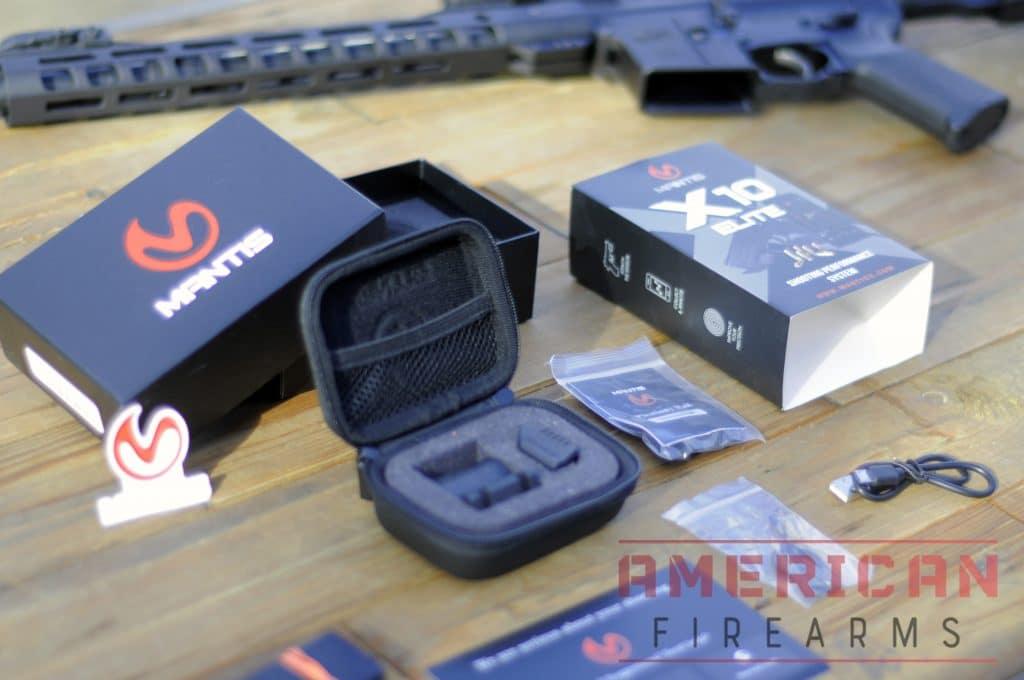 MantisX Dry Fire Training System
All of us wish we could get to the range more. But that's hard even under ideal circumstances. With ammo prices high, we still need to practice our dry fire training. The Mantis X3 comes in two parts: a rail-mounted sensor and a free shot timer app with training exercises and feedback to train from home without needing to go to the range for a live shooting session.
It's not technically a shot timer, and unlike other shot timers in this list it has no belt clip, but it will help you improve your consistency at the range and is one of our top dry fire training systems for a reason — it works.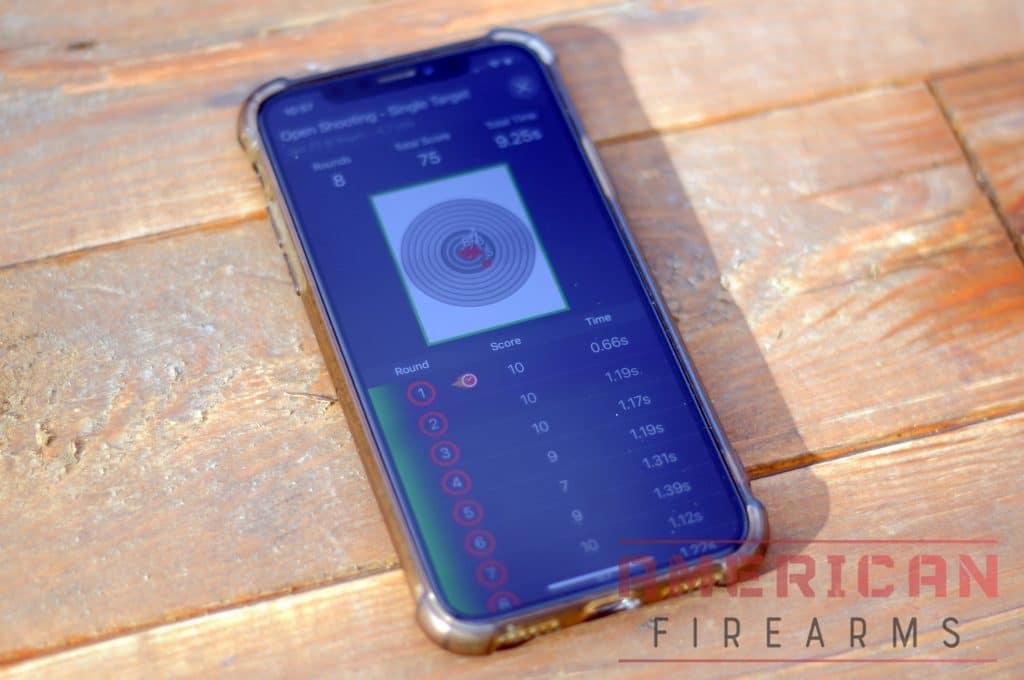 Easy as electronic pie.
What We Liked
Provides a ton of data through the included app
Doesn't add much bulk to your firearm when installed
This is a dry fire training tool, saving you money
What We Didn't Like
Requires a smartphone and an app
Needs to be attached to a 1913 rail section
5. CED7000 Shot Timer
The CED 7000 is one of the top choices for professional speed competition shooters and it's easy to see why. It's compact, easy to use, and despite its understated appearance provides an impressive variety of data for competitive shooters. 
We do wish it came with a belt clip and the case looks a little like an old fashioned TV "clicker" your grandmother owned in the 80s, but looks aside the CED offers solid performance and a nice software package that any competitive shooter would benefit from investing in.
What We Liked
The display is really clear and easy to read
Has an integrated par timer for dry fire practice
This one comes with rechargeable batteries
What We Didn't Like
Doesn't come with a belt clip
Case is outdated and in need of refinement
Why bother with a shot timer?
Shot timers are helpful devices for all kinds of shooters. In particular, I can think of a few great reasons to think about getting one.
Data
The last time you were at the range, did you make time to practice your speed in your shooting session? If you did, how fast, exactly, were your shots? The thing about attempting to track your performance with speed shooting simple – without a timer you have no data.
Without that data, it's impossible to know why your shot groups were lagging or if follow-up shots were inconsistent. Maybe the muzzle was climbing because you weren't paying attention to your grip. You just can't be sure. With all the data from your shooting sessions, you'll get better answers that lead to better shooting skills. Shooting timers can help piece the puzzle together.
Improved Reaction Times
That data can help you cut down your reaction and split times when you're thinking about getting into competition shooting, trying to take your shooting to the next level, or simply working on improving your baseline shooting skills. For those who care about winning competitions, a shot timer is an essential piece of kit that I think is just as important as a well-tuned pistol, rifle, or shotgun. Practice makes perfect, only if you have the right tools.
Better Self Defense Performance
In self-defense, the other situation in which shooting fast makes a big difference, even more so than in competition.
If you do ever need to defend yourself with a firearm, it's unlikely that you'll have a lot of time to react to a bad situation. Thus, training of all kinds is vital, and there's more to shooting well than being accurate.
For self-defense-focused shooters, then, I think it's a great idea to invest in a shot timer so that you can identify what slows your shots down so that you can maximize shooting speed in a high-stress situation.
Benefits of Using a Shot Timer
Once you have an idea of how fast you're currently shooting, you can focus on how to get individual shots off faster. You'll also be able to tell the difference in your groups at certain speeds, so you can practice getting better groupings while increasing speed – which is just as useful in tactical situations as competitions. 
The information you'll get from a good shot timer will be critical in helping you dial in your shooting both in terms of precision and speed. Precision and speed, together, mean a more performant, controlled shooter.
Gun-Mounted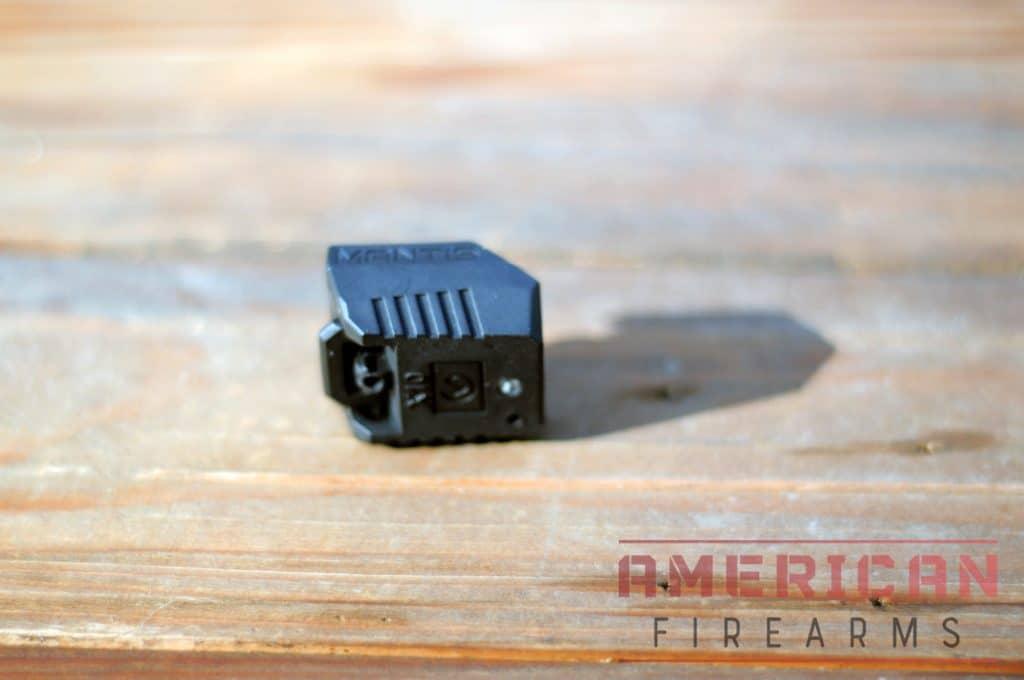 The MantisX system uses a rail-mounted laser to time shots against their targets.
Perhaps the easiest to use shot timers these days have some kind of device that attaches directly to a rail section on your firearm and then connects to an application on your phone. To be fair, these can be a little finicky to set up, but once you do, they're often both convenient and feature-rich. These kinds of shot-timers are great for folks who are just getting into the competition scene and are willing to do a little fiddling to get things set up the way they like it.
The downside to these is they are dependent on the type of firearm, which makes them a limited option for people who want to compete with multiple guns, especially those without handy rail sections.
Wrist-Mounted
Second, wrist-mounted shot timers look like a watch. These are excellent for people who want to look at their data instantly and plan on doing a lot of moving while they shoot. These timers are incredibly stable and sturdy because they are mounted to your wrist. A potential downside here is that when compared to most modern watches, even smartwatches, these tend to be a little bit bulky and awkward, which can slow down your ability to manipulate a firearm.
With that said, I think most people will get used to the form factor reasonably quickly and thus will not have a hard time adjusting to watch-style shot timers. I like these for especially active training sessions and more physical competitions, especially waterproof models.
Belt-Mounted
Finally, there are the more standard, belt-type of shot timers. These are the most common type, and if you plan on doing a lot of training, especially with varying kinds of firearms, these are likely the right choice for you. Many classes, for example, will mandate that you bring one of a few specific shot timers, many of which will be belt-mounted. In general terms, these are the standard within the shooting competition world.
I don't love these because they can be more than a little bit bulky and can, in some cases, come off when you're doing things like running, going over obstacles, or quickly going to the prone position. With that said, it's not often that one of these does go flying off of a belt.
Essential Shot Timer Features
Ease of Access. To get practical, the first thing you want is the ease of access – so look for a belt clip or some other means of attaching the timer to your body. Sure, some shooting ranges have handy tables, but it's impractical to have someone follow you around with a timer when you're practicing your competition runs.
Battery Life. Second, make sure that the battery life is decent. There are few things as frustrating as ruining a practice session by being out of juice as soon as you get to the range.
Random Start. For competition shooting timers – a random start timer will help you train your reaction times and draws. Also, make sure that the timer can track split times for the sake of consistency. This helps work down par times on tricky competition stages. A nice loud beep paired with a shot sensor and buzzer are good features as well – you'll need to hear your timer clearly while wearing ear protection, and you don't want to second guess yourself when trying to perform.
Data. Most of them will report, at a minimum, your reaction time for your first shot, the split times between shots, and the total time for a series of shots. Some of the more fully-featured app-based models will also use some exciting laser technology to give you information about shot placement and trigger squeeze as well. While there is undoubtedly such a thing as too much data, it's essential to have the information you need to improve your shooting over time.
Display. Again, all of the data in the world is nice, but if you can't read the display, all of that data is more frustrating than it is functional. Look for a model with a bright display that you can easily read. Keep in mind that you'll likely be reading the display through shooting glasses, which can make reading up close a little difficult for some folks. A larger than average font is often our preferred choice in a shot timer.
Ease of Use. Having a shot timer that is simple to use is also deeply important. Over-complication leads to time wasted messing around with the device rather than training, which, in my mind, distracts from the overall mission of becoming a better shooter through the use of data.I recommend going with a shot timer that has the features you need, very few that you don't, and that has a user-friendly interface to help you access the data you need and get back to shooting and improving.
Portability. portability and form factor of a particular shot timer is one of the more essential things when making a purchase. Depending on the kind of training we're doing, I might want something that's super rugged and portable. In a case like that, going with a watch-mounted version is ideal. On the other hand, if I've signed up for a training class that wants me to use a belt timer, that's what I'll do. There is no point trying out something that the instructor isn't familiar with while everyone is just trying to learn instead of waiting for me to stop messing with a new device.
High Shot Count Tracking. Finally, we like range timers that track up to 100 shots in total, so you can gather as much information as possible with each round: the more data, the better. Excelling at competitive shooting means blending a little art with a healthy dose of science.
Under $200. For under $200, you can generally get your hands on an entry-level shot timer, usually a belt-mounted model that will report reaction time, splits, and overall string time. These won't be the fanciest models in the world, and the battery life might not last as long as you'd like, but the data you get from these make them valuable training tools. At this price range, I think there are excellent options for people who want to get into competition shooting in a serious way.
Over $200. You can start to get more features, such as a memory module that keeps track of data over time. Additionally, most watch and app-based models are in this price range. The more you spend, generally speaking, the more features I get. For instance, some of the nicer app-based shot timers can track shot placement and interpolate what kind of issues you might be having with the trigger.
For a pretty straightforward device in operation, shot timers can be expensive. With that said, I think that they're more than worth their cost in terms of improving your shooting over time.
When it comes to shot timers, any of the above options are going to give you good performance and bang for the buck. 
With that said, the most important consideration is that your shot timer supports the kind of training you want to do and your shooting style. 
We think that the Pact Club model meets a nice balance of features, cost, and comes ready to go out of the box, but the rest of the list is more than worth considering as well. Good luck!