Best Thermal Scopes for Coyote Hunting
Written By
Michael Crites
Licensed Concealed Carry Holder
Reviewed by
Editorial Team
Learn About The Editorial Team
Share:
Products are selected by our editors. We may earn a commission on purchases from a link. How we select gear.
If you want to put down a lot of coyotes, chances are you'll have to do it at night. To do that, you need the best thermal scope you can get. It is not uncommon to put shots on coyotes at over 100 yards, so a good thermal scope is a must if you want to make consistent shots.
In this article, we will go over everything you need to know about thermal scopes and show you a few of our favorite products.
Thermal Coyote Scope Comparision
| Name | Selection | Magnification | Price |
| --- | --- | --- | --- |
| | Most Affordable | 3-6x | $900+ |
| | Most Advanced Features | 2-8x | $5,000+ |
| | Best Value | 2.5-25x | $3,600+ |
| | Highest Quality Image | 1.75x-8x | $7,999 |
| | Most Compact | 2.5x-8x | $3,250+ |
| | Most Versatile | 1.5x-8x | $1,750+ |
| | Longest Detection Range | 5.5-22x | $3,750+ |
| | Also Great | 3.3-13.2x | $3,000+ |
| | Also Great | 2x | $5,000+ |
Why should you listen to me, though? Well, I have done plenty of coyote hunting and hours of research into the technical aspects of these scopes. I know how confusing it can be to put two scopes against each other and not really understand the difference between them before purchasing.
Based on my own experience and research, I will do my best to ensure that is not the case for you.
Thermal Coyote Scope Reviews
1. Most Affordable: ATN Thor LT
| | |
| --- | --- |
| Name | ATN Thor 4 640 |
| Price | $900 - $1100 |
| Sensor Resolution | 160 x 120 p |
| Refresh Rate | 17 Microns / 60 Hz |
| Magnification | digital zoom / 3 - 6x |
| Weight | 1.4 lbs |
| Battery Life | 10+ Hours |
ATN is known for making great thermal scopes that are comparatively affordable after looking at the competition. The ATN Thor LT 160 is great for hunters who want an affordable thermal scope that is still high-quality.
This is one of the most affordable thermal scopes and costs around $1000 and weighs just 1.4 pounds.
It has a low sensor resolution of 160 x 120 with a 17-micron pixel pitch, but this scope can still put its image into a 1280 x 720 HD display. Even with its crisp 60 Hz refresh rate, this scope still gets 10+ hours of battery life, which is higher than most thermal scopes on the market. That is especially impressive for a cheap thermal scope.
You can get this scope in 320 x 240 resolution as well, and with higher magnification power. Either way, an ATN scope is an affordable way to get the job done.
2. Most Advanced Features: Pulsar Trail 2 LRF XP50
| | |
| --- | --- |
| Name | Pulsar Trail 2 |
| Price | $5000 - $6000 |
| Sensor Resolution | 640 x 480 |
| Refresh Rate | 17 micron / 50 Hz |
| Magnification | digital zoom / 2x & 8x |
| Weight | 1.76 lbs |
| Battery Life | 8+ Hours |
The Pulsar Trail 2 LRF is a serious thermal riflescope for a serious hunter. This high-quality scope also has a comfortable eyepiece to keep light from shining on your face. You will also get a high-quality image out of this thermal scope. It has a 640 x 480 thermal image with a 17-micron pixel pitch and a 50 Hz refresh rate.
The base-level magnification of this scope is 2x, and it is not adjustable. Although you can also use the adjustable 8x digital zoom, which works well with the high-resolution image. This scope is slightly larger than most on this list and weighs 1.76 pounds. Although with that added weight, it also has a longer battery life of 8+ hours from one battery. The batteries also quick connect, so you can switch them in and out if needed.
This scope also has the ability to save three different zeroing profiles. That means you can sight your weapon in at 100 yards, 200 yards, and 500 yards, and with the press of a button, you can switch between zeros.
3. Best Value: ATN Thor 4 2.5-25x
The ATN Thor 4 is likely the best bang for your buck. ATN is a big name in thermal and night vision optics, and this scope uses ATN's 4th gen 640 x 480 thermal sensors and has a refresh rate of 60 Hz, paired with a 2.5-25X magnification range. The 1280×720 HD display packs a ton of data into a really nice screen — plus you can record 60fps videos at 1280×960.
One of the concerns with any thermal scope is battery life. However, the ThOR 4 impressed me with its battery performance. I've taken the THoR 4 up into the Rocky Mountains a number of times and it's lasted well beyond my need for any trips. In fact, after putting the unit away for several months, I powered it up and it was reading over 80% battery life.
Additionally, an auxiliary power pack can be attached to provide extra power if needed.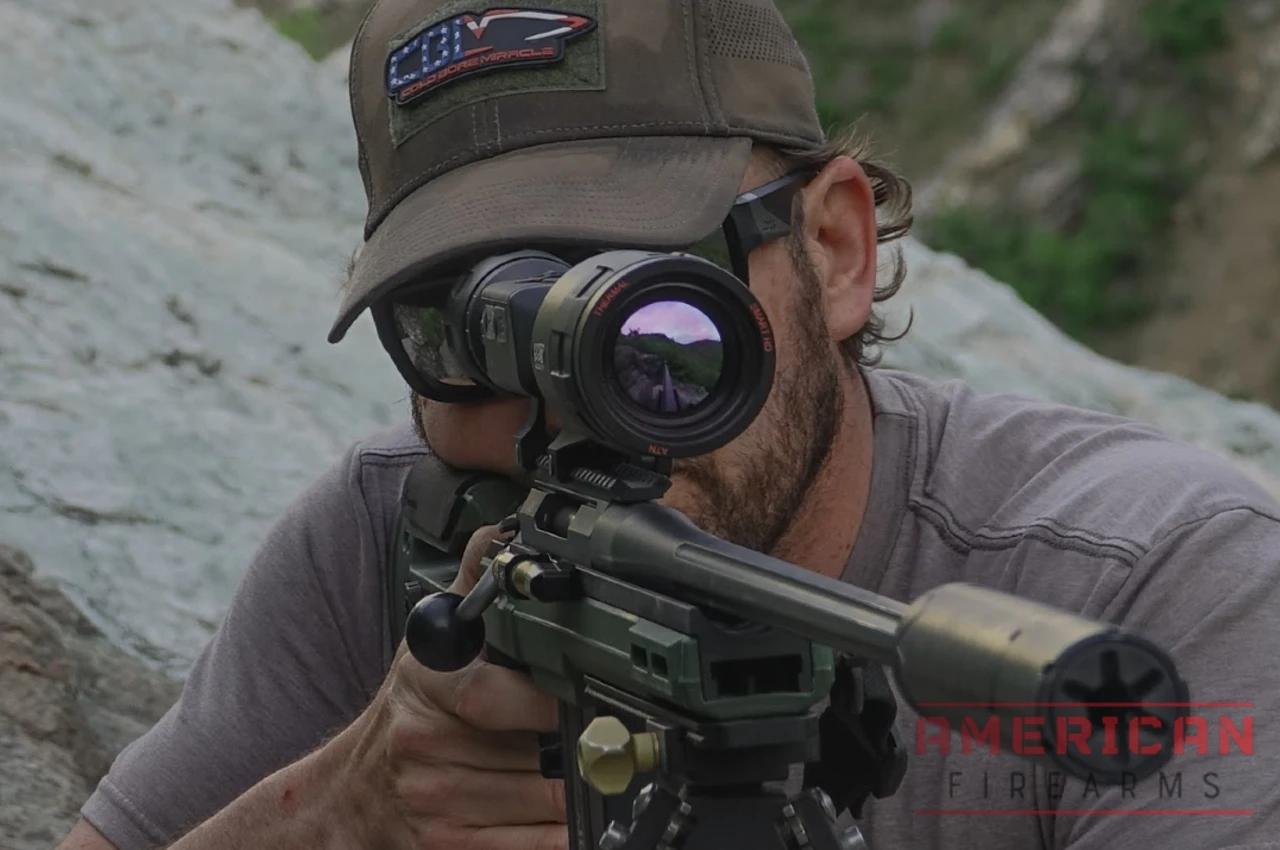 Testing the ATN ThoR 4 up in the Rocky Mountains
The ThOR 4 definitely doesn't look like a standard optic — it uses a unique design, resembling a tubular heat-sensing camera with a rectangular LCD screen as the display.
You get a standard 30mm tube connecting the assembly, but rather than an erector housing, the central control is a box-shaped housing that contains the sealed lithium battery, push-button controls, the magnification selector knob, charging, and data ports.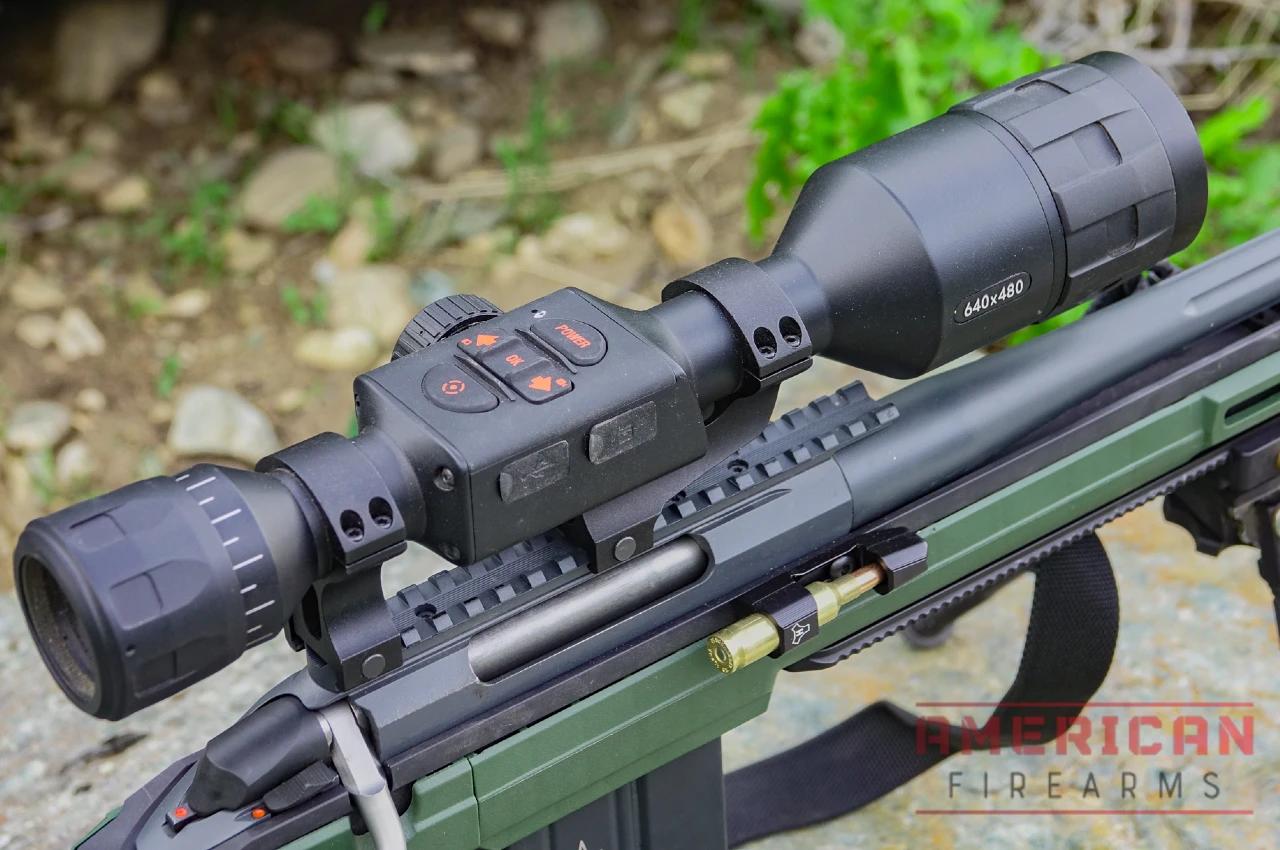 Rather than an erector housing the boxy central control housing has all your buttons, dials, and ports.
Thermal scopes often require some playing around with to get dialed in, and finding a filter that is pleasing to your eye makes a huge difference in usability. There are many different filter settings using black on white or white on black, and others with varying spectrums of colors to differentiate between warm and cold.
This is likely a subjective preference depending on what contrast best fits your eyes, and after some fiddling in my neighborhood I found the sweet spot with the THoR.
Checking myself out while working through settings.
ATN's ThOR 4 riflescope is a durable, versatile option for hunters and outdoor enthusiasts who want to step up their night hunting without getting too deep into four figures.
It offers impressive performance in a variety of and has more settings than most will bother using. In fact, there's way more to it than I can provide here, but we have a deep dive review of the ThoR 4 if you want all the details.
| | |
| --- | --- |
| Name | ATN Thor 4 640 |
| Price | $3000 - $3250 |
| Sensor Resolution | 640 x 480 |
| Refresh Rate | 60 Hz |
| Magnification | digital zoom / 1 -10x |
| Weight | 1.93 lbs |
| Battery Life | 16+ Hours |
4. Highest Image Quality: Trijicon REAP-IR 35mm
| | |
| --- | --- |
| Name | Trijicon REAP-IR 35mm |
| Price | $7,999 |
| Sensor Resolution | 640 x 480 |
| Refresh Rate | 12 micron / 60 Hz |
| Magnification | digital zoom / 1.75x & 8x |
| Weight | 1.65 lbs |
| Battery Life | 4+ Hours |
Trijicon has been known for making excellent optics for a very long time. Their thermal optics are no different. Their REAP-IR is a top-of-the-line thermal scope.
It features a large 640 x 480 thermal sensor pattern with a 12-micron pixel pitch. Paired with a 60 Hz refresh rate, this will be a very high-quality picture.
Considering the picture's high quality, the battery life is still respectable. It gets a 4-hour battery life and supports an external battery pack. This makes it one of the best thermal scopes for coyote hunting. You get a 1.75x fixed optical magnification with this thermal scope, but you can also take advantage of the 8x digital zoom.
5. Most Compact: AGM Global Vision Varmint LRF
| | |
| --- | --- |
| Name | AGM Global Vision Varmint LRF |
| Price | $3250 - $3500 |
| Sensor Resolution | 384 x 288 |
| Refresh Rate | 12 microns / 50 Hz |
| Magnification | digital zoom / 2.5x & 8x |
| Weight | 1.43 lbs |
| Battery Life | 4.5+ Hours |
Based in Springerville, Arizona, USA, AGM Global Vision designs, develops, and distributes a wide range of professional-grade night vision and thermal rifle scopes. Their Varmint LRF scope is no exception to that professional-grade standard.
This is a lightweight thermal scope that has a base magnification of 2.5x and an 8x digital zoom. The Varmint LRF has a 384 x 288 thermal image resolution with a 12-micron pixel pitch. This compact thermal imaging scope also has a 50 Hz refresh rate.
The Varmint LRF has a 4.5-hour battery life and can easily plug into an external power bank. It also has a built-in laser range finder, 16Gb internal storage for HD video recording, and is capable of live wifi streaming.
6. Most Versatile: AGM Global Vision Rattler
Name

AGM Global Vision Rattler TS25-384

Price

$1750 - $2000

Sensor Resolution

384 x 288

Refresh Rate

17 microns

50 Hz

Magnification

digital zoom

1.5x

8x

Weight

1 lbs

Battery Life

4.5+ Hours
AGM Global Vision is a great company that produces the Rattler TS25 thermal scope. This is a good scope for a user that wants a versatile scope that they can take on and off of multiple rifles and possibly a helmet.
This scope attaches to a Picatinny rail with a simple lever system. It is also a lightweight scope, weighing only one pound.
The Rattler TS25 costs under $2000, so it is not super expensive as far as thermal optics go. It has a 384 x 288 thermal image resolution, a 17-micron pixel pitch, and a 50 Hz refresh rate. While this scope does have a pretty good image, the battery is a little short at 4.5 hours which is a product of its small size.
Of course, this is plenty of time for a quick coyote session, but if you want to stay out for a while, bring an external battery pack.
7. Longest Detection Range: Pulsar Thermion 2 XQ50
| | |
| --- | --- |
| Name | Pulsar Thermion QX50 |
| Price | $3750 - $4000 |
| Sensor Resolution | 384 x 288 |
| Refresh Rate | 12 microns / 50 Hz |
| Magnification | digital zoom / 3.5 - 14x & 8x |
| Weight | 1.98 lbs |
| Battery Life | 5+ Hours |
The Pulsar Thermion QX50 is a great scope for hunters who want high performance and plenty of magnification. This scope has a variable magnification of 3.5 to 14x, making it a long-range thermal scope. That magnification gives this scope a detection range of 1800 yards!
That added magnification is expected to increase the weight. The thermion thermal scope weighs nearly 2 pounds, which is not overly heavy but still noticeable. You will get an average internal battery life out of this scope with around 7 hours of continuous operation.
The pulsar thermion thermal scope is capable of video recording and wifi streaming, and it is IPX7 waterproof. It features a 384 x 288 thermal sensor pattern with a 12-micron pixel pitch. You will get a clear picture out of this scope, and it is perfect for hunters looking for long-range targets.
8. Also Great: Burris BTS 50
| | |
| --- | --- |
| Name | Burris BTS 50 3.3-13.2x50mm |
| Price | $3000 - $4000 |
| Sensor Resolution | 400 x 300 |
| Refresh Rate | 17 micron / 50 Hz |
| Magnification | digital zoom 3.3 - 13.2x / 2x - 4x |
| Weight | 1.58 lbs |
| Battery Life | 4+ Hours |
If you want an excellent heat-tracking thermal scope for coyote hunting, the Burris BTS 50 is a great option. It has plenty of magnification with the ability to get up to 13.2x and a maximum of 4x digital zoom. You will also get a crisp picture with the 400 x 300 thermal imaging pattern, 17-micron pixel pitch, and 50 Hz refresh rate.
Burris is a respected brand, and I have used a regular Burris scope on my deer rifle for years. They are made to last, and you get what you pay for. This scope is perfect for the user who wants a high-quality product that will last but doesn't cost over $5000 like many scopes in its class.
9. Also Great: Steiner eOptics Nighthunter S35
| | |
| --- | --- |
| Name | Steiner eOptics Nighthunter S35 |
| Price | $5000 - $6000 |
| Sensor Resolution | 640 x 480 |
| Refresh Rate | 12 micron / 50 Hz |
| Magnification | digital zoom 2x & 8x |
| Weight | 2.25 |
| Battery Life | 4.5+ Hours |
The Steiner eOptics Nighthunter S35 is a top-of-the-line scope for the hunter that wants the highest level of performance available. It has a 640 x 480 thermal image with a 12-micron pixel pitch and a 50 Hz refresh rate, making this scope suitable for coyote hunting and much more. You will get what you pay for with this scope. The Nighthunter S35 costs just over $5000.
This scope has a 2x magnification and 8x digital zoom. The Nighthunter S35 does weigh over two pounds, but you still get 5.5 hours of battery life, which is pretty impressive with this level of performance.
You can easily detect targets past 2,000 yards and identify them within 500 yards, taking predator and invasive species control to the next level.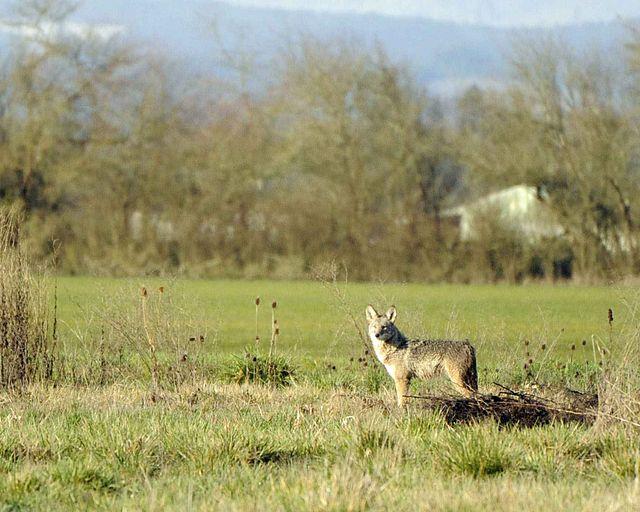 Not all coyotes are going to stand around in a field during the day. Sometimes you'll need another way...
A thermal scope goes by many names. Technically they are thermographic sights but are also called thermal imagery scopes, thermal sights, or simply thermal scopes. A complete thermal scope is a combination of a heat detection mechanism called a thermographic camera and an aiming reticle.
This means a thermal scope is fully digital instead of optical like a normal hunting scope with glass lenses.
Thermal scopes work by detecting infrared light and displaying the difference in this light between surfaces. Infrared light is also known as radiated heat or heat energy. Humans can not see infrared light, but you can feel it as heat. Human and animal bodies produce heat and, therefore, radiate infrared light. 
Since the ground does not produce heat, thermal scopes are able to detect heat energy and display the difference in levels of radiation between a body and the ground. Another way of saying this is that thermal scopes detect heat signatures.
Animals, on the other hand, have heat signatures — and the ground is cold — which means you can easily spot them with a thermal scope's heat detection.
Taking aim on a hog with a thermal scope. The bright colors are the heat signature, which makes it incredibly easy to verify your target at range.
This is why thermal scopes can be used during the day and the night. They do not require ambient light to work, and visible light does not make them unusable. However, the ground is warmer during the day than at night, so you will get a better image when the contrast is greatest during the night.
The exception is if there is snow on the ground. Snow is an excellent insulator and keeps the ground cold, therefore, thermal scopes show a much better (higher contrast) image between the snow and bodies of heat during the day or night.
Why Use a Thermal Scope for Coyote Hunting?
If you plan on hunting coyotes at night, you will need either a thermal scope or a night vision scope to see them. The differences between the two can be confusing for a beginner, so let's break down both types of scopes and see which one is better.
Night Vision vs. Thermal Scopes
Coyote viewed through a thermal scope at 4.5 magnification and a litttle over 150 yards..
For starters, thermal and night vision scopes are not the same thing. As I said before, a thermal scope works by detecting infrared light, AKA heat, and displaying the contrast between a target and the surrounding area.
A night vision scope works by using optoelectronic image enhancement on infrared light. Those fancy words just mean that night vision scopes take in what little light is available and amplify it into an image you can see.
There is more usable light in the darkness than you may think. After all, if the coyotes can see well enough to run around, some light must be available. Our eyes are just not equipped to see it. That's why we need a thermal vision scope for nighttime coyote hunting.
This means that if the moon is not full or you are in complete darkness, your night vision scope will need an IR Illuminator. Night vision also detects infrared light, and it is common to have an IR light or two attached to your rifle to help your night vision scope out.
We have the basics down, but what are the major differences between the two types of sights?
Thermal scopes do not need any additional light sources
Thermal scopes can be used during the day or night, whereas daylight can potentially damage a night vision scope
Night vision scopes have better image clarity and allow you to see the details of your target farther away.
Thermal scopes significantly contrast the target and the rest of the picture, making it easier to see, and night vision does not.
Thermal scopes only look at heat and, therefore, can cut through camouflage or dense fog.
Targets standing still are harder to recognize with night vision
As you can see, night vision does not have a lot going for it. The best part about night vision is that you get a more detailed picture, which does deserve merit.
It is vital to be able to identify game at a long distance. The last thing you want to do is shoot the wrong type of animal at night; that would come with a hefty fine.
As far as target detection goes, thermal scopes are your best bet. They make it easy to pick up targets and do not require additional light.
This means you can have a standalone system instead of a large scope with multiple IR lights.
Subjective Features of Thermal Scopes
Now that you have a good idea of what a thermal scope is and how it works, you need to know what to look for before you purchase one. There are a lot of features that are very important in the best thermal rifle scope, but there are also extra things to consider.
We will start with those extra or subjective aspects and then dive into the must-have elements of a thermal scope.
Magnification
Thermal scopes come in a variety of magnification levels. Your scope can have around 1x to 4.5x or higher magnification, depending on the lens size. This comes from the glass optics, but there is no optical zoom in thermal scopes like you would have in a traditional rifle scope.
Your magnification level is what it is, and there is no dial to increase or decrease the optical zoom. So make sure you are okay with that magnification level before purchasing. Some thermal scopes get around this by having an adjustable lens.
If you see a magnification, say something like 1 – 10x, then it has an adjustable lens.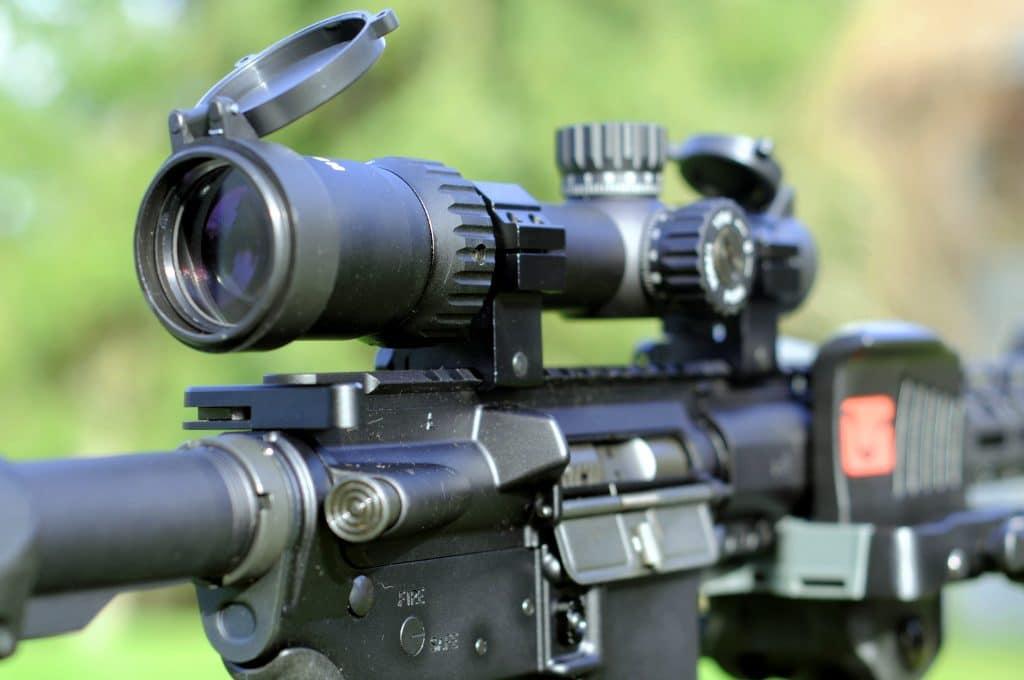 Adjustable magnification scopes give you a lot of flexibility, and aggressive knurling helps with in-field adjustments.
However, there is a digital continuous zoom. It is fairly common to see digital zoom capabilities go as high as 8x.
If you have ever played around with cameras, you probably know that digital zoom is not nearly as good as optical zoom. All digital zoom does is make the picture that your optics acquire bigger. You do not get any added resolution, so this can also make the picture more blurry.
I still think digital zoom does more good than bad, though. Zooming in will not allow you to count the hairs on a yote's snout, but it will let you get a better idea of the overall body shape of a target and could help you distinguish a coyote from a hog or deer at a distance.
Color Mode Options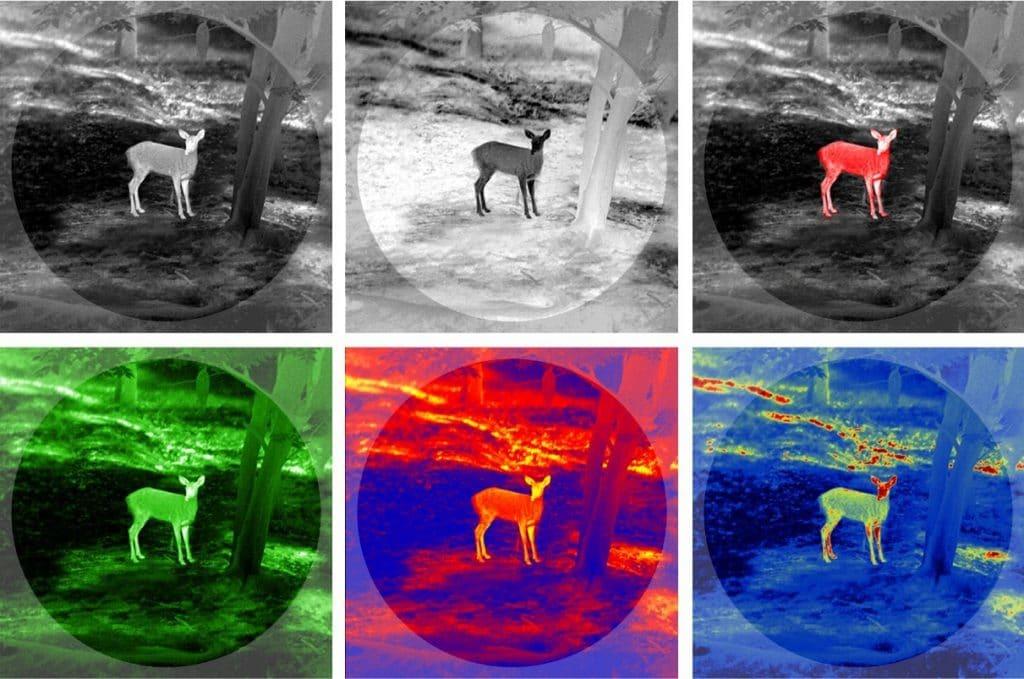 Common thermal color modes.
As you increase the scope price, you will get more features and options. You will likely get a white-hot and black-hot color option for a basic thermal scope. The above image is white-hot, where the background (cold) is black, and the target (hot) is white.
These are just two options, and some scopes have as many as six options. If there is a particular color scheme you prefer, check if a scope has it before buying. Although the standard white hot or black hot usually works just fine.
Reticle Options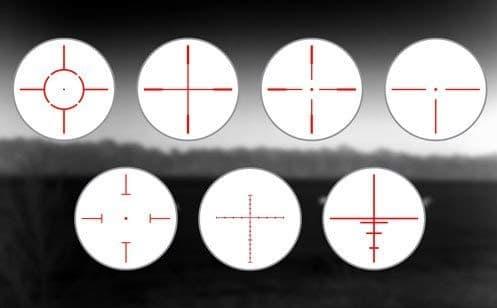 Reticle options vary by manufacturer and model
The next thing to consider is the reticle. This is not as crucially important as other features, but a good reticle could improve your experience.
Many thermal scopes have multiple reticles that you can select from through their menus. I would try to find documentation on that before you buy just so you know what your reticle is going to look like and what your options are. A smart mil-dot reticle is pretty standard.
Multiple Zeros
More expensive scopes can have dozens of extra features. One of those is a multiple zero setting. This is something you will have to set up at the shooting range before a hunt.
In essence, you can sight in your scope and set your zero like you normally would with any scope, save the settings on a preset, and then re-zero your scope for a different range and save that to another preset setting.

Multiple zeroing profiles enable you to swap to preset zeros with the push of a button..
This allows you to change your zero with the press of a button while in the field. If you see a group of coyotes out at 250 yards, you can hit your 250-yard zero preset button and take a shot.
If they happen to come closer before you shoot and get to 100 yards, simply hit your 100-yard zero preset, and you will be dead-on. This is a really nice feature that makes the scope a much better tool, in my opinion.
Range Finder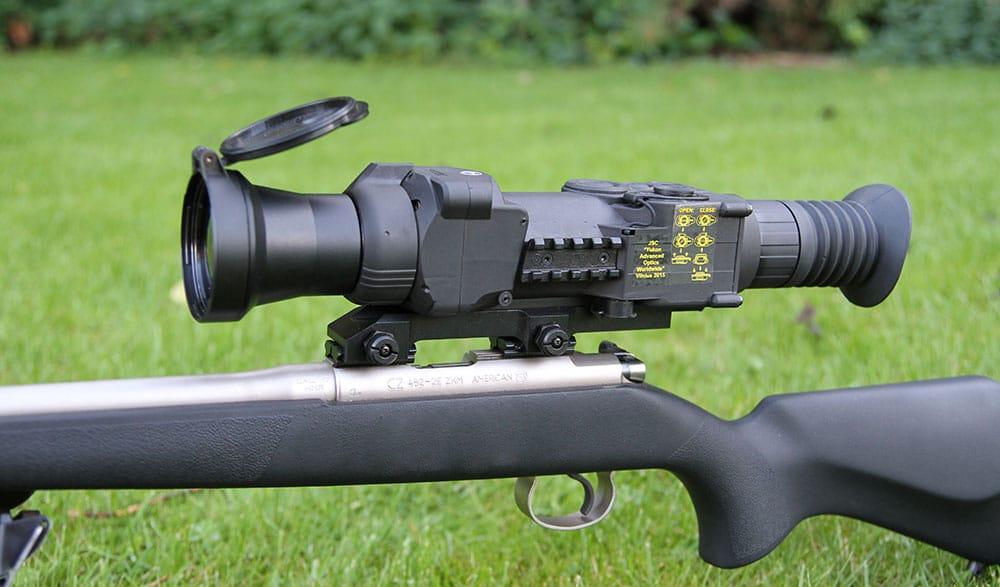 Thermal scope with a built-in rangefinder.
One neat feature that some thermal scopes have is a built-in smart rangefinder. This is pretty nice to have if you take further shots, but it is not absolutely necessary. With a respectable rifle within 300 yards, there will be minimal bullet drop.
Unless you are shooting much further than that, I would not say a range finder is not required, but they are nice to have. Plus, shooting that far at night is not a great idea in the first place.
Must-Have Aspects of Thermal Scopes
These are the fundamental aspects of a thermal scope. These qualities will vary depending on how much you are willing to spend on a scope. In this section, we will cover all of those aspects and see which ones are non-negotiable for you.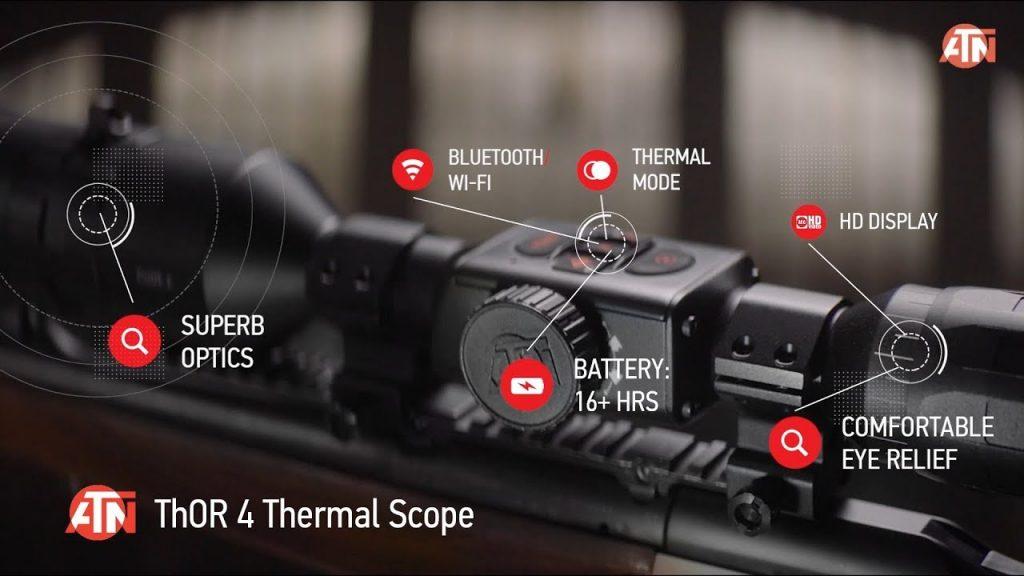 Important thermal scope features.
Image Quality
Image quality is easily the most important aspect of a thermal scope. Your image has to look good for you to have a good experience. A bad picture can ruin a good scope even if the rest of it is seemingly perfect.
The two most common resolutions in thermal scopes are 320×240 and 640×480. A higher resolution always means a higher quality image. A 320×240 scope would have 76,800 pixels, while a 640×480 scope would have 307,200 pixels, a 4x increase.
An argument could be made that the increased quality requires more pixels to be populated and requires more power, which would decrease battery life. I do not think this would have a significant effect, but it is noteworthy. Where this is having a significant impact is in the refresh rate.
Pixel Pitch
Pixel pitch is the distance between two pixel-sized thermal sensors. These are measured in microns or micrometers(0.000001 of a meter).
Typical measurements are 12, 17, and up to 35 microns. The smaller the number, the better. A 12-micron scope could fit the same amount of pixels as a 17-micron scope but in a smaller space. Usually, the smaller the number, the higher the image quality of the scope.
Thermal scope pixel pitch.
Refresh Rate
The next thing to look at is the refresh rate. The refresh rate is simply how many times a second your picture is refreshed.
The three standard refresh rates are 30, 50, and 60 Hz. A higher refresh rate will give you a crisp picture that looks good, and 30 Hz will give you a standard view but will save battery life comparatively.
Field of View
If you want to be able to scan a large field for coyotes, you will want a scope with a wide field of view. On the other hand, if you want a clearer picture and want to focus better on a single target, you will want a smaller field of view.
A solid strategy with a thermal scope is to get a wider field of view and then use your digital zoom to narrow your view down on your target. You just have to make sure that you are not using a crazy amount of digital zoom, or your picture will get blurry.
Usually, you will see a field of view number around 13 degrees for thermal scopes. The lower the number, the more narrow your view will be. The larger the number, the more area you will be able to see through your scope.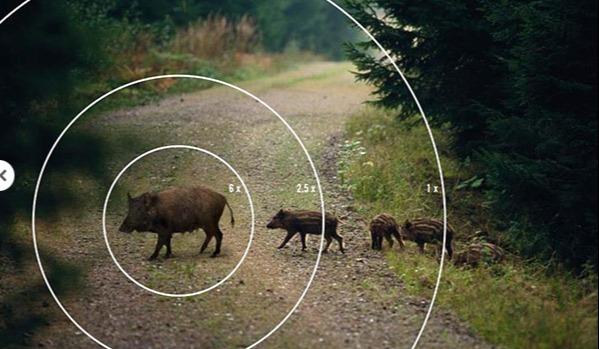 The higher the magification the smaller the FOV
Glass Clarity
Glass clarity comes from the type of glass used and the coatings a given company puts on it. Of course, you want a scope that is crisp and clear. This has a lot to do with the overall image resolution, but you still have to have quality glass in an optic.
You usually get what you pay for in this department. Cheaper scopes will not be as good as more expensive scopes, but they get the job done.
Every company will say that their scope has great glass clarity, but there is no way for a customer to know before you get the scope. There is no standardized statistic you can look at for glass clarity. I recommend looking at online reviews for the specific scope you want before you purchase and making sure they mention glass clarity.
Durability
Durability is important with any piece of gear you want to take into the field. You have got to be able to knock your scope around a little without it breaking. Of course, you do not want to use your scope as a hammer, but a bump or three should not put it out of commission.
Many high-quality scopes are very durable and include claims regarding being shockproof, and waterproof. These scopes are built to last a long time, and they are also capable of withstanding the recoil of many high-caliber rifles.
Every scope comes with a remark from the manufacturer about its recoil capabilities, which often includes the calibers they do and don't recommend using with a particular scope.
Battery Life
One of the most essential features of a thermal scope is its battery life. You can get the highest quality picture-producing scope on the market with a 60 Hz refresh rate, but if the battery only lasts an hour, it will be a short night.
Some scopes allow you to select either 60 or 30 Hz for your refresh rate, which will enable you to pick image quality or battery life. Many scopes try to find a delicate balance between the two, but if your scope is getting around 4 to 6 hours of battery life, that is relatively standard.
Many scopes allow you to plug in an external power source, like a battery pack. A good-sized battery pack can add hours of use to even the highest-performing scope.
Get a scope that supports an external power supply if you want the best image quality available but does not want to sacrifice battery life. You can get a high-quality power bank on Amazon that is made for powering a thermal scope and goes on your rifle stock.
Price Ranges vs. Features
Depending on how much you want to spend, there are a few thermal scope features you might be giving up. In this section, we will help you recognize what you can get at a range of price points so you can decide how much you want to spend on the right thermal scope.
$1000
Low Resolution at Low Refresh Rate – A cheaper scope is expected to have a lower quality image, and with a lower refresh rate, that image will not be as crisp. Typical resolution values in this price range are 320 x 240 or lower, with a 30 Hz refresh rate.
Higher Pixel Pitch and Bulkier Build – The thermal sensors are farther apart with a higher pixel pitch, which means you need more space for the sensors. This will make the scope a little larger.
Lower Magnification Options – These scopes may depend more on digital magnification than optical zoom, giving a poorer quality image at a distance.
Limited Reticle Options – You may get a couple of reticle options or just one at this price range.
Limited Color Schemes – Color modes at this price range will likely be limited to white hot or black hot, but some scopes will have additional modes.
$2500
Many Reticle Options – some scopes have as many as 9 reticle options.
Multiple Color Schemes – some scopes have as many as 6 color modes.
Rigorous Waterproofing & Shockproof Certifications – Many scopes are IPX7 certified waterproof and shockproof.
12 or 17 Micron Pixel Pitch – the lower the pixel pitch, the better, but some scopes in this price range may still have a 17-micron pixel pitch.
Higher Thermal Resolution – you can expect at least 320 x 240 resolution, with many scopes reaching 640 x 480.
Quality Construction – Most of these scopes are built from aircraft-grade aluminum and can certainly take a hit or two.
Higher Magnification – with the addition of an adjustable lens from the factory, some scopes in this range can get up to 40x magnification.
Built-in Laser Range Finder – some scopes in this price range may offer a built-in rangefinder, but not all.
Ballistic Calculator – a high-quality thermal scope is able to make ballistic calculations with a little user input. This means if you are shooting at a distance, your reticle will move to where you should shoot instead of zero. This is not usually needed under a couple hundred yards but is useful at long ranges.
$5000+
The Above Qualities
A Highly Trusted & Respected Name
Extremely High-Quality Materials – these scopes will be even more rugged and stronger than the former category.
12 Micron Pixel Pitch – this is the best pixel pitch available, which is expected at this price.
Higher Thermal Resolution – 640 x 480 thermal imaging at a 50 to 60 Hz refresh rate.
Multiple Zero Settings – some scopes at this price range allow you to save various zero settings to change your rifle's zero with the press of a button while in the field. Here is a list of links to manufacturer sources for each scope. Check them out if you want to learn more about a particular scope or available variants.
How We Selected Our Recommendations
We have certainly used a lot of thermal imaging scopes in our day, but not every single one on the market. We try to do as many hands-on reviews as possible, but sometimes we have to rely on other expert online reviews or customer reviews. Nonetheless, we have handled most products listed here or talked to an expert who has. You can be confident that anything you see here will be worth your while and effective in the field.

March 14, 2023 — We re-checked this guide and continue to stand by our recommended thermal coyote scopes. We've updated images and links where appropriate.
Sign up for our newsletter
Get discounts from top brands and our latest reviews!