Canik METE MC9 Review: A Turkish Micro-9 For The Masses
Canik has won fast favor on the budget competition pistol front, but does their METE MC9 subcompact offer the same bang for the buck?
Written By
Coldboremiracle
Precision Rifle Expert
Edited By
Michael Crites
Licensed Concealed Carry Holder
Share:
Products are selected by our editors. We may earn a commission on purchases from a link. How we select gear.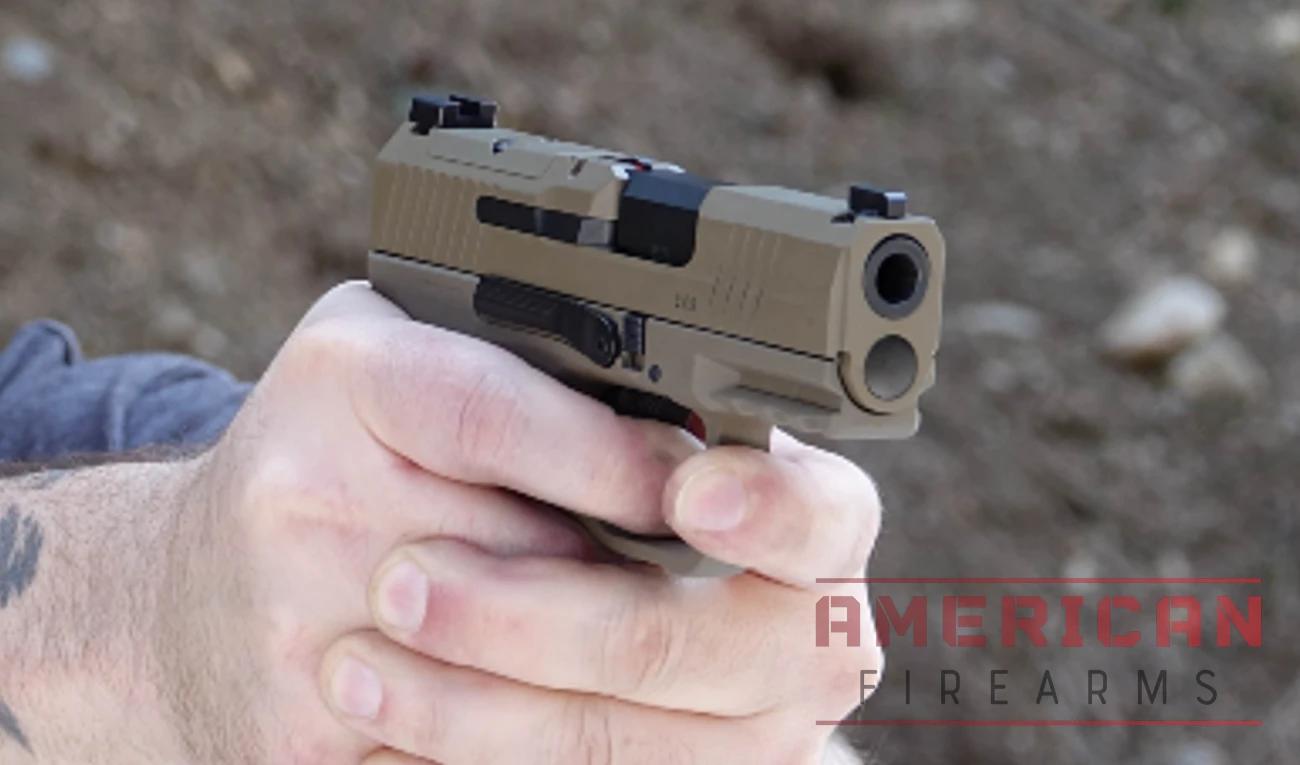 Polymer-framed pistols have been taking the handgun market by storm these past few decades, it's a phenomenon I can get behind as I've been quite pleased with the results. One of the big names that have become quite popular is the Canik brand, a Turkish-made brand imported by Century Arms that has found its stride these last few years.
We took their little METE MC9 pistol out to the Rocky Mountains to see if it could impress.
Best For
Excellent value
Optics ready
Smooth shooting
Reliable performance
Interchangeable backstraps
Included magazines with options
Accessory rail
Included holster
Ambidextrous controls
Included cleaning kit and maintenance tools
Extra mag base plate options
Considerations
Holster won't win any awards
They missed part of the paint dot on the front sight (I'm digging here)
Our Verdict
I expect that all but the most elitist among us would find the Canik METE MC9 to be a great little pistol. Even if you find the Canik brand to be beneath your sainted SIGs or celebrated CZs, I think you could see the value of adding the MC9 to your collection
It would make a good CCW for those wanting more features than those offered by less expensive pistols, and it looks good while doing it. The reliability and accuracy of performance are more than adequate for consumers, and they won't have to make those awkward explanations to their spouses about four-figure credit card charges.
So… how does the Canik METE MC9 stack up on our 60-point scale?
Accuracy: 8/10
I found the Canik METE MC9 to be solidly accurate at typical self-defense distances, with 3-4 inch groupings at 10 yards.
Ergonomics: 9/10
The MC9 fits perfectly in my hands, and I appreciate the customizable backstrap options for the grip. The controls are easily accessible, and it points well, requiring little adjustment when firing.
Features: 9/10
The feature-rich MC9 packs a lot into the box — from adjustable backstraps, an optics-ready slide, an ambidextrous configuration, an accessory rail that allows for the addition of a weapon light, and a loaded chamber indicator which is helpful in low-light situations, there's not much else to want for.
Fit and Finish: 8/10
Canik's METE MC9 is a handsome pistol with a tough Cerakote finish. Although the front sight's white paint was slightly imperfect, it didn't affect performance.
Reliability: 9/10
During testing the MC9 gave me no malfunctions or funny stories when running cheapo bulk 9mm or higher-end defensive rounds. I would like to conduct further tests with my preferred carry ammo for further confirmation, but no head-scratchers just yet.
Value: 9/10
I'm impressed with the value of the Canik MC9. It offers loads of features for a very reasonable price, making it hard to beat in its class. You don't get a marquee brand, but you do get a premium experience.
| | |
| --- | --- |
| Caliber: | .9mm |
| Weight: | 21.27 oz. |
| Overall Length: | 6.10 In. |
| Barrel Length: | 3.18 In. |
| Width: | 1.12 In. |
| Capacity: | 12 & 15 |
| Frame: | Polymer |
| MSRP: | $439 |
Canik pistols have capitalized on the polymer frame craze and have even recently evolved past it making metal-framed models as well. With a focus on affordability and features, the American shooting public has embraced the brand which has helped additional Canik models thrive and grow.
Today we are going to take a closer look at one of those models, the METE MC9 compact 9mm pistol.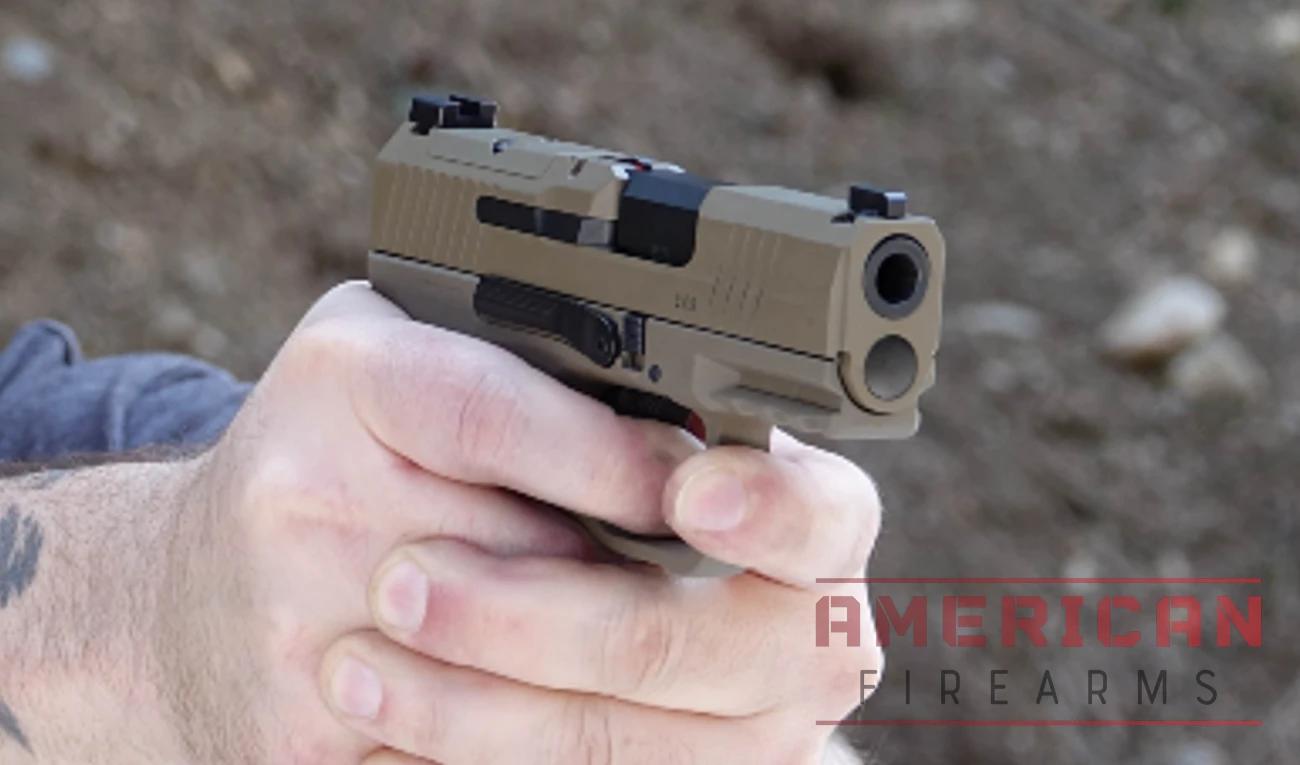 The Canik METE MC9 pistol.
I've had the opportunity to shoot several Canik pistols over the past few years, and I must say I have been impressed with what you get for the cost of these products.
I am more of a rifle guy than a pistol person, but I do enjoy shooting them. And if my past experiences with Canik pistols are any indicator, I expect I'm going to enjoy this MC9 quite a bit.
The Canik METE MC9 is a micro-compact pistol that is part of the METE line, aimed squarely at the concealed carry market. It comes with an impressive host of features as soon as you open the box.
Magazines
The compact box of the METE MC9 houses the two magazines included with the pistol. Both a 12-round, and 15-round magazine are included, the 12-round has a very short baseplate with a finger shelf on the front.
The included extended magazine offers up to 15 rounds and an extended baseplate, which also allows more grip area as well as impressive capacity.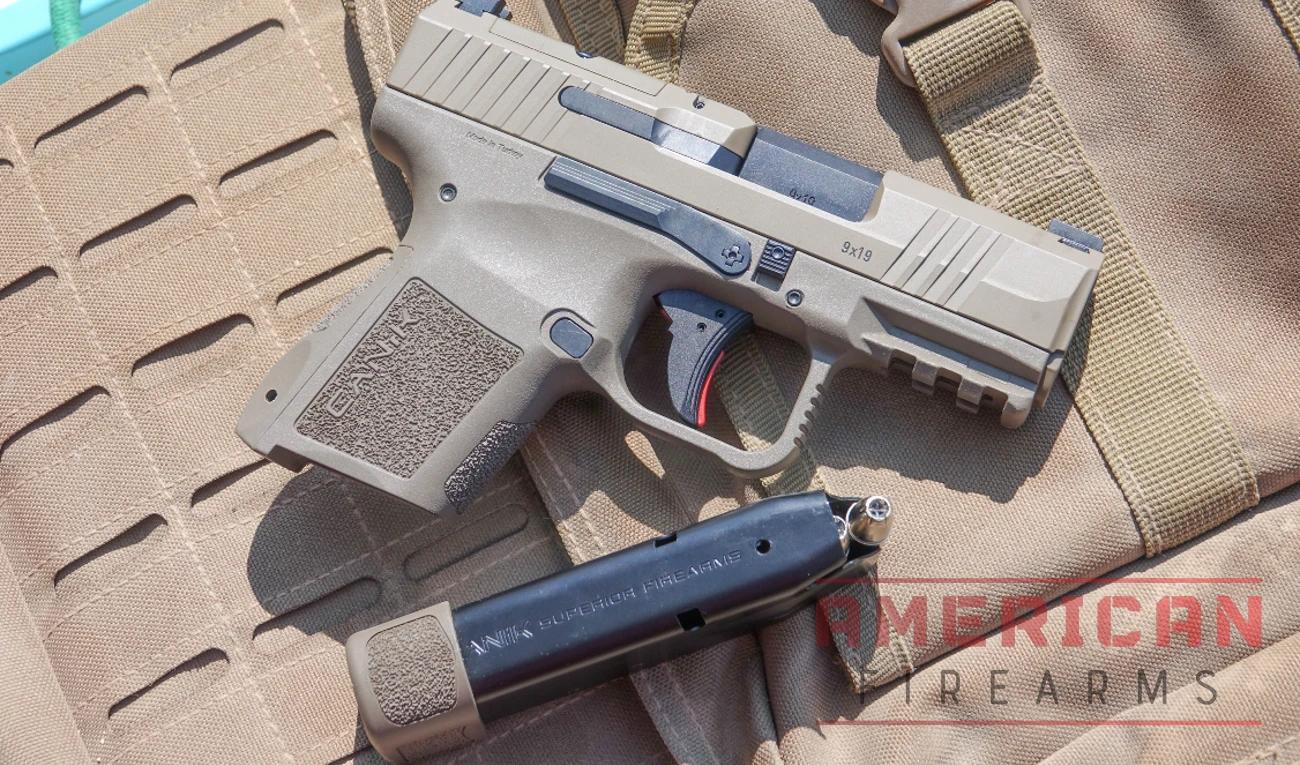 The included extended magazine offers up to 15 rounds and an extended baseplate, which I preferred over the stubby 12 rounder.
Grip & Feel
In addition to the different magazine options to customize the gripping of the pistol, the MC9 also comes with three different interchangeable backstraps for the grip.
These allow you to customize the feel in your hand depending on the size of your desired grip. The magazine release button can be reversed for left-handed shooting (a practice I cannot endorse).
Trigger
The trigger of this compact Canik is different than the others I've used, it has a rounded shoe that is textured for positive engagement. It uses a red blade safety in the middle of the trigger shoe that is easily depressed as the trigger is acquired with your finger.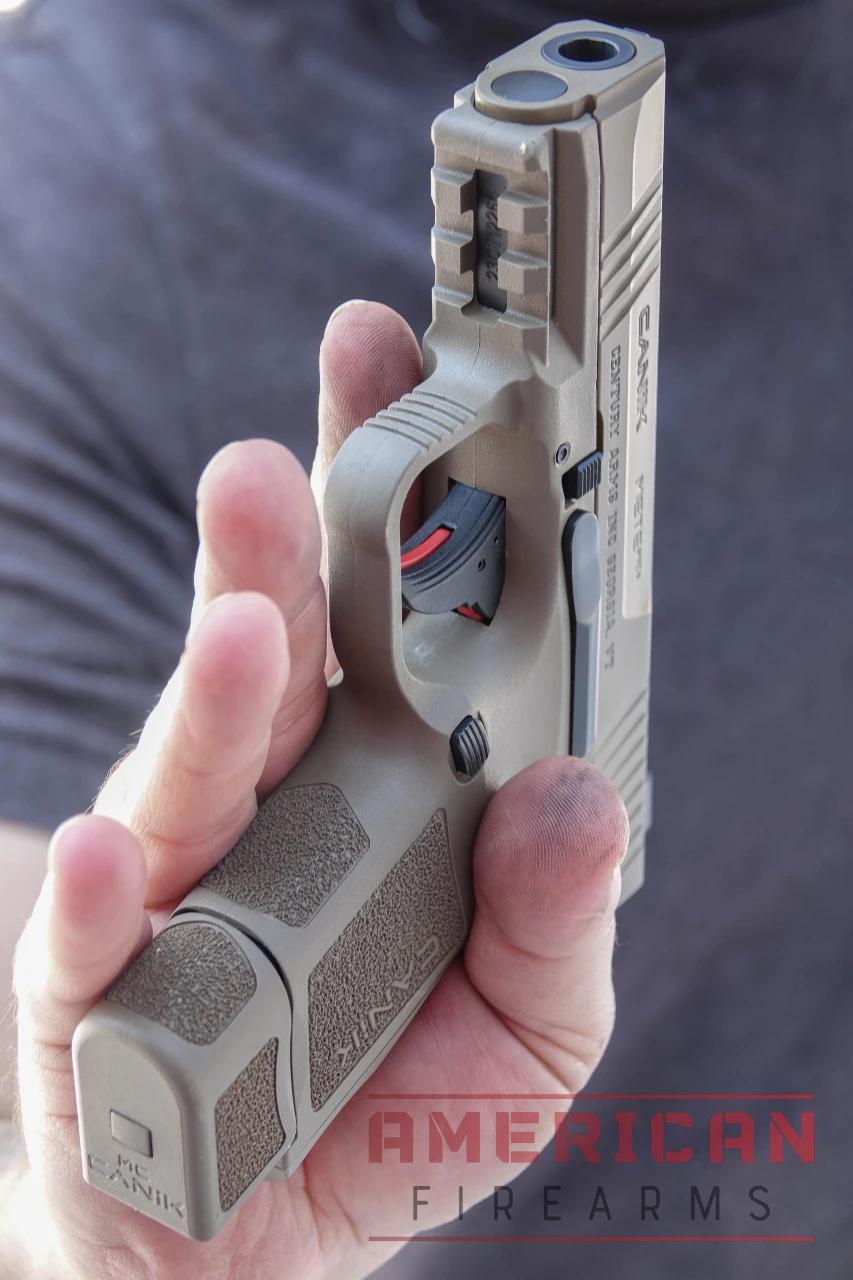 The METE MC9 trigger is unique, with a textured, rounded shoe and red blade safety.
Controls
Moving up the frame we also find the ambidextrous slide release, they are pretty traditionally Canik with their size and placement which I found serviceable. In front and slung under the muzzle there is a Picatinny accessory rail for mounting weapon lights or other aiming aids.
Slide
The slide of the Canik METE MC9 comes optics-ready, with a removable plate that exposes a mounting surface that makes it red dot ready. It also features serrated iron sights dovetailed into the slide, the optics cut however is cut a little deeper into the slide which allows the use of the iron sights thru the optic when mounted.
This came in handy and was a perfect fit when I installed a Holosun 407K on the pistol.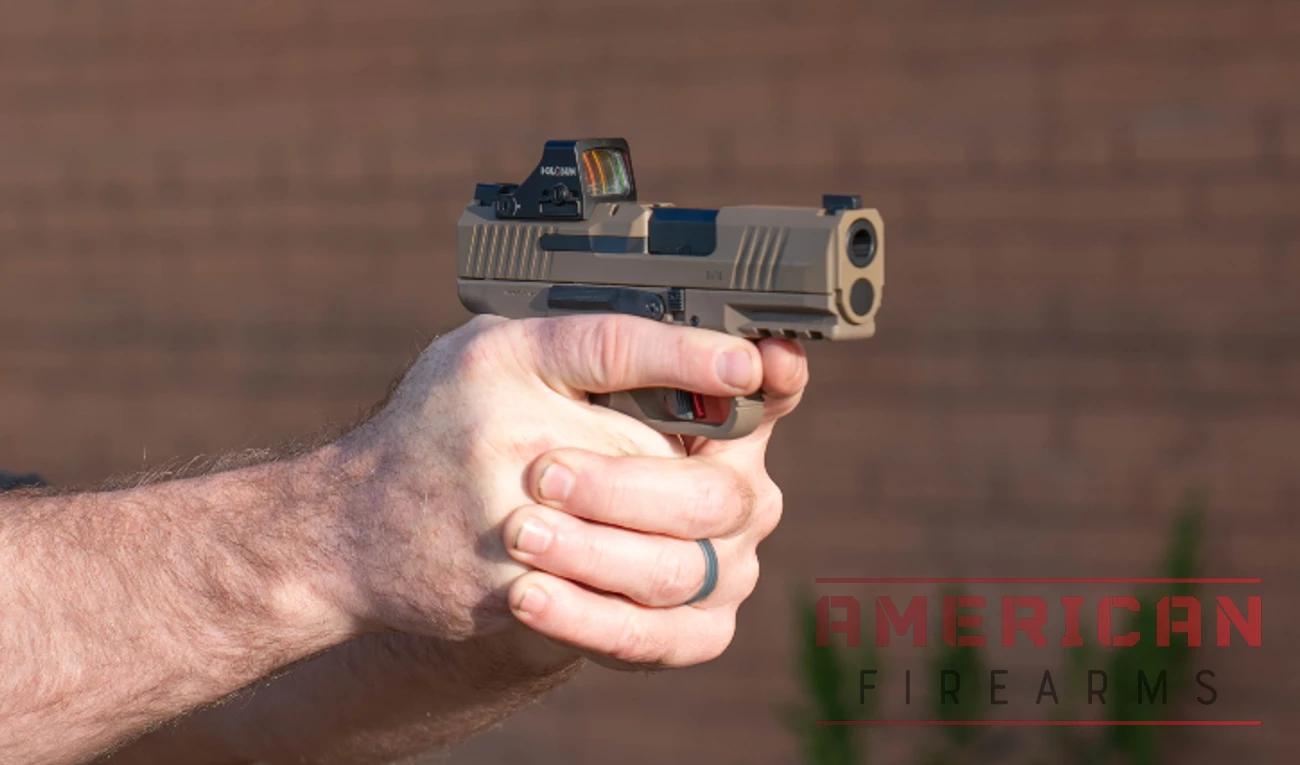 The optics cut is deep into the slide which allowed me to the use of the iron sights thru the optic when mounted.
There is also a loaded chamber indicator on the top of the slide, it gives both a visual and tactile indication of chambered rounds. And like most Caniks, there is a striker indicator in the backplate of the slide to let you know if the striker is cocked or not.
With a couple of friends in tow, I took the Canik METE MC9 to our shooting spot to give it a workout. We'd brought along a few boxes of S&B 124 grain ball ammo, as well as some Magtech 124 grain ammunition.
I cracked open the Canik case that the MC9 came in, and accounted for everything inside. Apart from the pistol and its magazines, there were also quite a few additional accessories included from the factory. The most obvious was a Kydex-style IWB holster, which was a nice touch for this CCW pistol.
Also included were several cleaning and servicing tools that would come in handy later.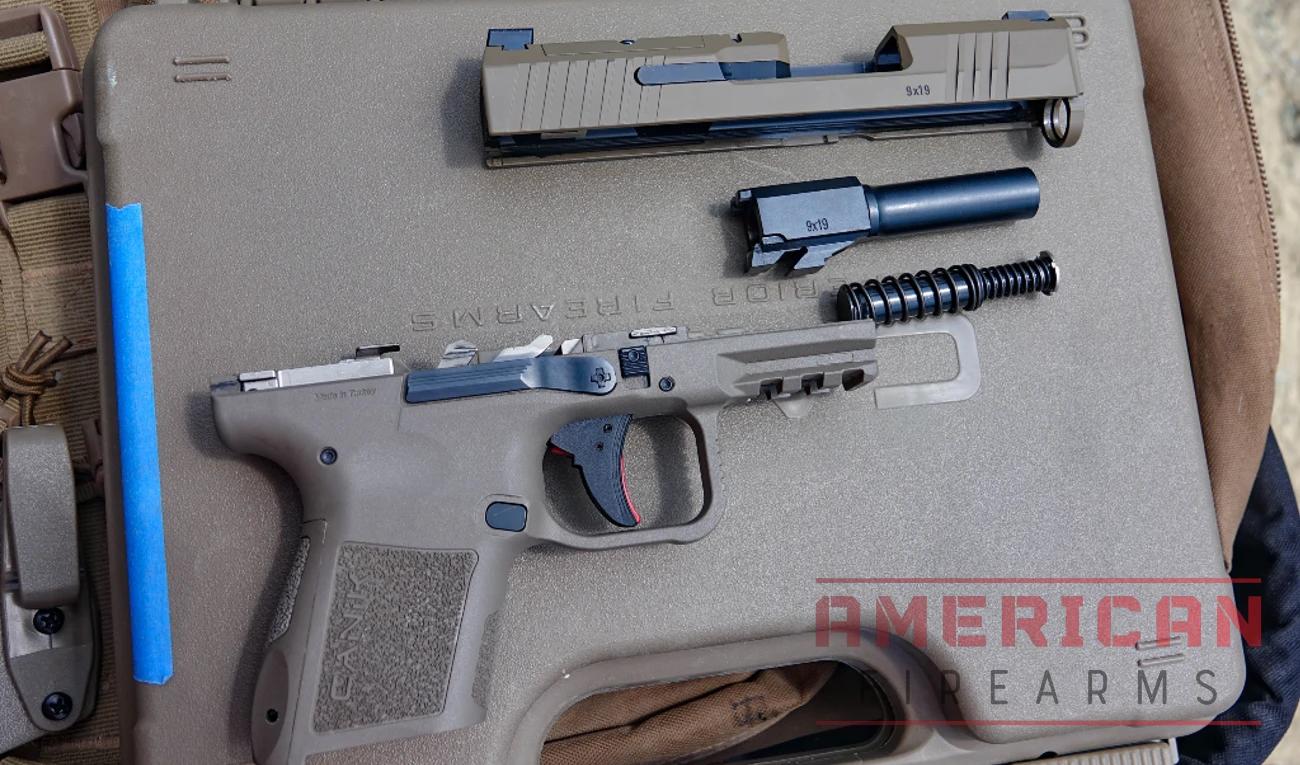 Stripped, cleaned, and ready for range time.
A mag speed loader was also included, though I'm not one to use them its a nice touch for those that do. I also appreciated that Canik included a flat-based magazine floorplate, I won't use it because of my hand size, but for those with smaller hands, it would come in handy when aiming for maximum concealment.
The tiny plastic pistol included in these kits is a tool for tightening and loosening fasteners, and the case itself, while nothing extraordinary, is certainly good enough for safely transporting your pistol, and is precut for an optic that many of us will likely add later.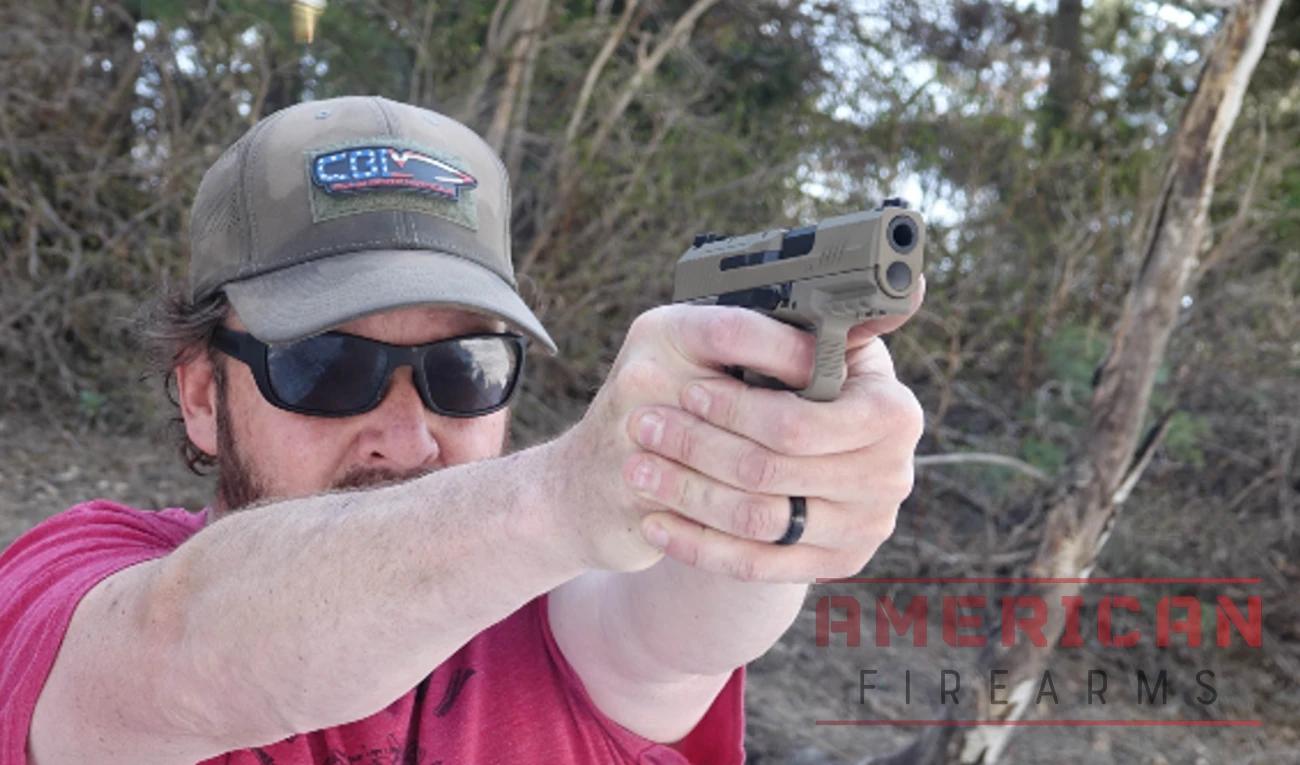 Taking down paper bad guys.
It was time to start stuffing magazines, both the 12 and 15-round magazines were easy enough to load. I believe most if not all Canik mags are made by Mec-gar, which in my experience have been fantastic. These smaller magazines were no exception, they were smooth and functioned without any issues during our testing.
Shooting the METE MC9 was very pleasant, compact pistols often are a bit snappier than larger 9mm pistols, but the MC9 seemed to be tame enough to shoot very well. At first, we shot it using the provided iron sights, which worked very well and allowed for more than adequate accuracy at typical pistol ranges.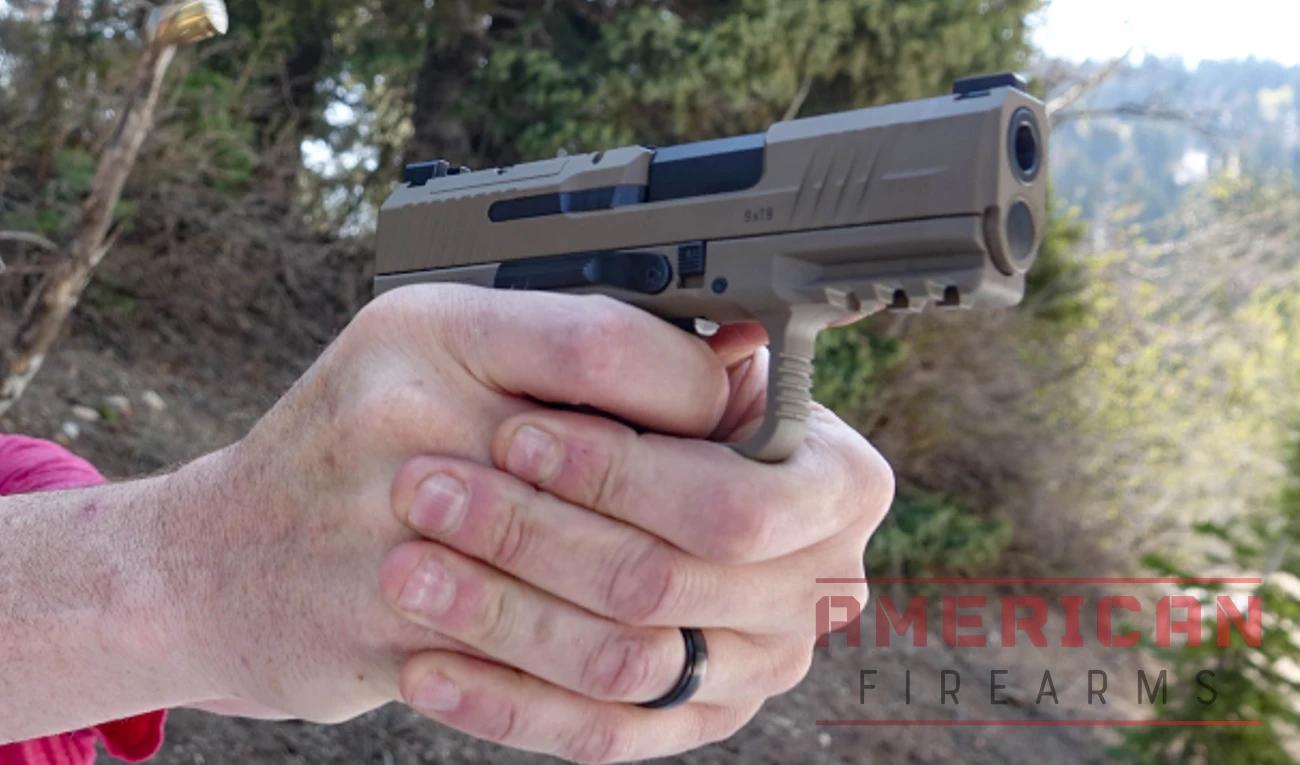 Subcompacts can be downright snappy, but the MC9 was tame enough to shoot very well.
We shot several paper targets at 10 to 15 yards, as well as shooting other things like clay targets, it didn't take long to get a good feel for the MC9 and make good hits with it.
I am often disappointed in holsters that are supplied with pistols from the factory, mainly because manufacturers want to provide something, but without adding significant cost to the overall product. This tends to result in less-than-perfect holsters, but I can't blame the manufacturer for this as many people are likely to purchase a different holster anyways that better fits their taste.
The holster that came with the METE MC9 is not bad though, tucked into the waistband and hooked over the belt made it easy to carry the gun and was easily drawn from the appendix position.
The holster that came with the METE MC9, while not remarkable, works as advertised.
After some time shooting the pistol as it came from the box, I installed my Holosun 407K. This took a little more effort than I had anticipated doing in the field. The optics plate has a pretty tight fit to the slide, I almost had to pry it loose after removing the screws.
But once I got it off the 407 dropped into place as though they had been machined for each other.
I tightened the screws down and looked through the optic, which was nearly perfectly aligned with the iron sights. This turned out to be very convenient as I didn't even bother adjusting the emitter of the Holosun since it was close enough to make accurate shots as it was.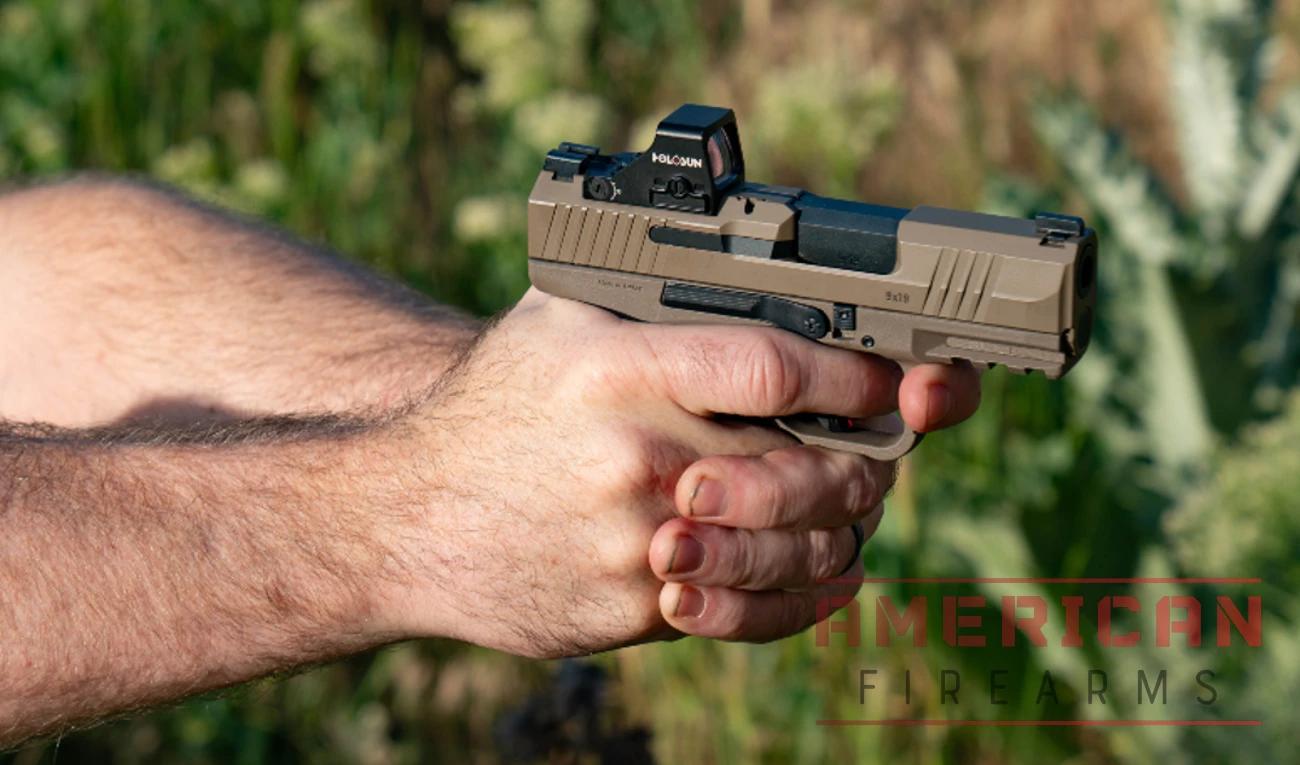 Once I got the Holosun 407 dropped into place it was like the optic and pistol were machined for each other.
With the red dot installed, we shot some more, seeing how the red dot aided in rapid target acquisition without breaking focus from the target. I have quickly become enamored with red dots on pistols for just that reason, and shooting the METE MC9 with the 407 was fantastic.
I enjoyed the fine aiming point and the ability to rapidly shoot from one target to the next.
Accuracy
Pistol accuracy can be a bit subjective depending on your purposes and tactics. For me, pistol shooting is mostly recreational, but it remains an important skill for defensive purposes as well, so I try and do as best I can.
Shooting the METE MC9 at typical defensive distances proved to be more than adequate. Grouping shot patterns at 10 yards would easily keep within 3-4 inches unless you fired up the shot timer where they would open up rapidly.
But even under pressure and from a drawing position it was still easy to score several sequential hits in a kill zone with reliability. Surely more practice would yield even better results.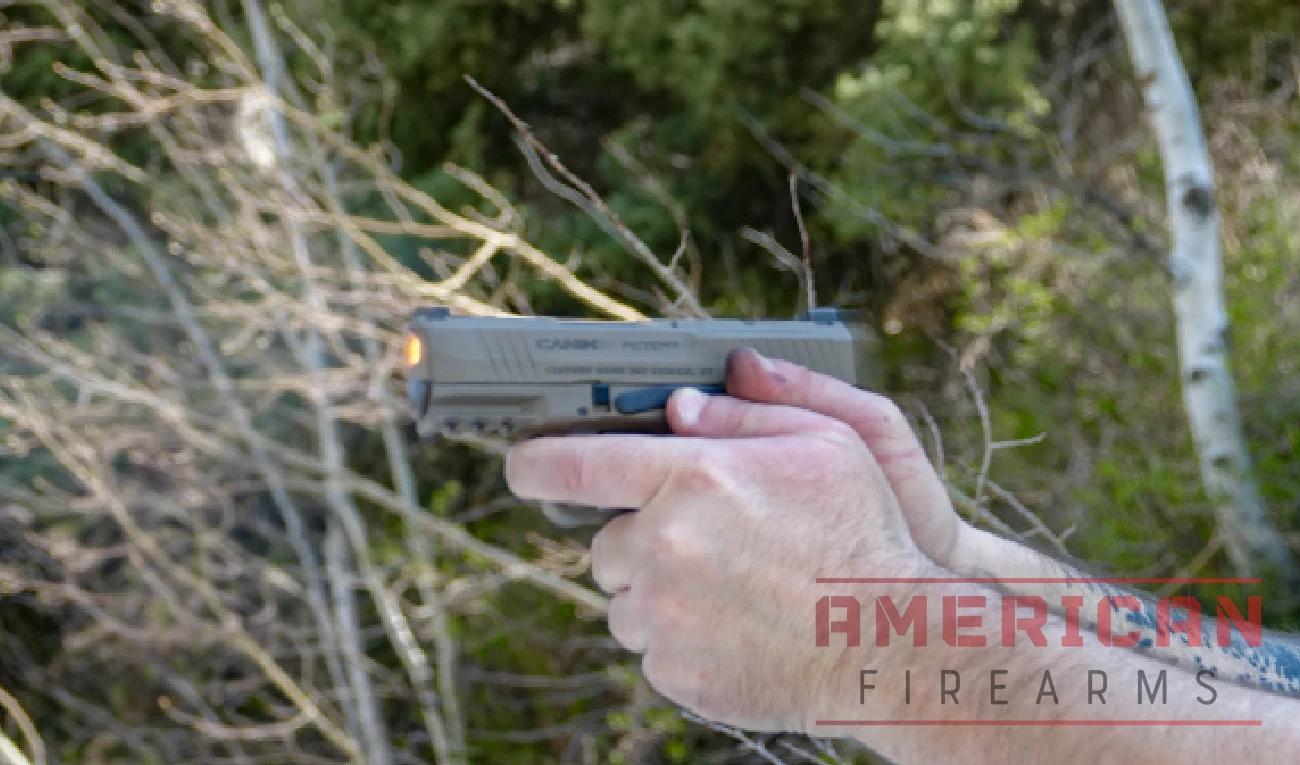 Firing the METE M9
Ergonomics
The MC9 fits well in my hands, and with the customizable options, I think it can fit well in most hands. I found the 12-round magazine easier to conceal, but not as comfortable to shoot with due to the smaller grip area.
The larger 15-round magazine gave better purchase but could also cause printing issues when carrying the pistol if you are a smaller person. The beauty is that you can choose which way works better for you.
The controls were great, slide release and mag-button are easily accessed from the firing position. And the pistol points very well, requiring little adjustment when presenting it to fire. The texture of the grip allows good control of the gun and recoil management, and the slide detail allows positive command of loading operations.
Features
The feature-rich METE MC9 has a lot of positive attributes that most shooters can appreciate. I am a big fan of the adjustable backstraps, and magazine options if you can't tell already. But the optics-ready slide also gives you a great deal of adaptability, without giving up co-witnessing your iron sights.
The ambidextrous configuration will agree with those of you born in the wrong handedness, and it's easily done using the provided tools. As a CCW pistol the MC9 has almost everything you need, the accessory rail allows the addition of a compact weapon light. And the chamber indicator can be felt in the darkness of night should you need to use it.
The accessory package that comes with the MC9 also adds a bit of value, while the holster is a bit ho-hum, it is certainly usable and better than nothing. And with a street price of $439.99, there is a strong value proposition for the little Canik.
Fit & Finish
Like most Canik pistols, the METE MC9 is a handsome little piece. The Cerakote finish on the slide is well done and tough as nails, the molding of the polymer frame is equally matched with a clean and quality look.
Little elements like engraving and paint detail look great, the only issue I found was that the white paint circle on the front sight appeared to have missed filling the whole circle, a very slight but apparent fault. It's certainly not going to affect the performance.
The tight-fitting optics plate might have been a one-off problem, perhaps the painter got a bit overzealous with the FDE Cerakote.
All the critical bits fit together nicely, my red dot was mated perfectly, and the pic-rail was ideal for mounting a good weapon light. Magazines fit just right every time and dropped clear without insistence.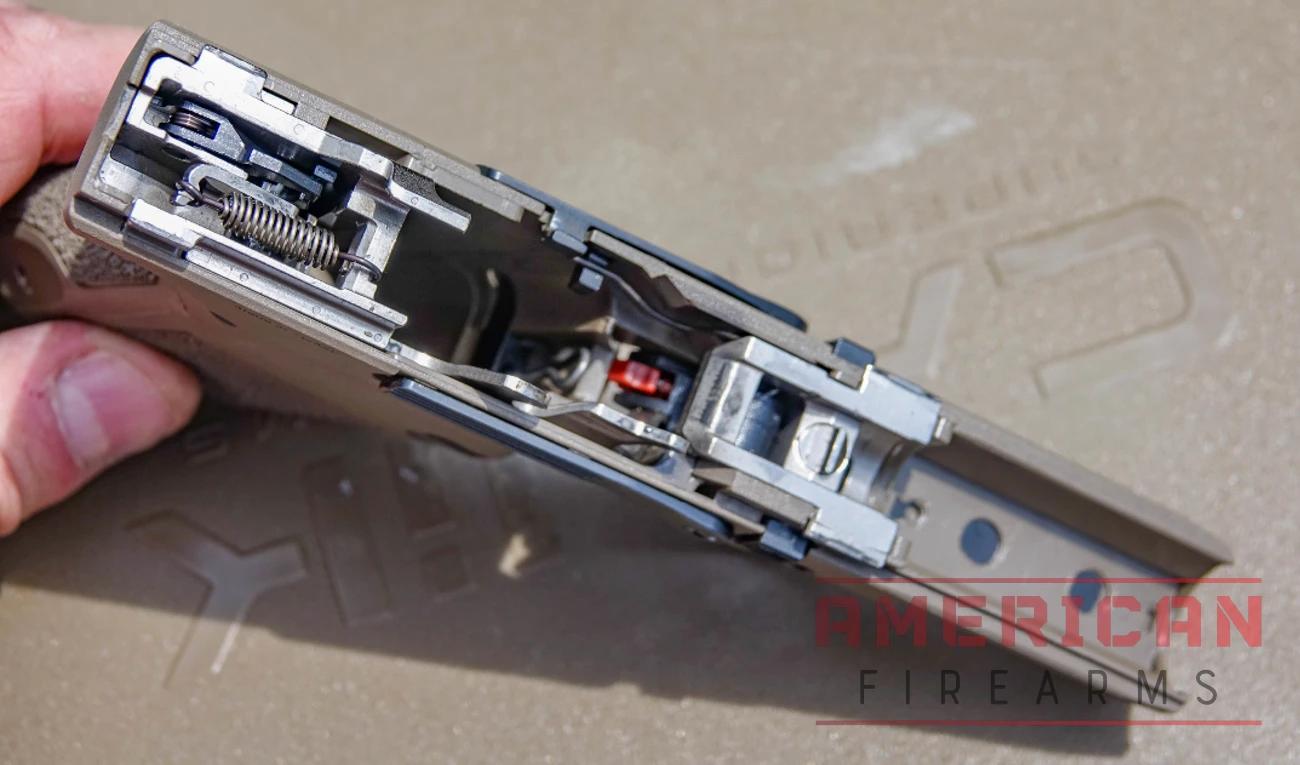 The polymer frame is light and well engineered.
Value
As I expected, the Canik MC9 is an outstanding value. It's hard to believe what you can get nowadays for so little.
For as little as $399.99 you can get this feature-rich little pistol, I remember paying more than that for a pistol that had as many features as a baseball bat. And if you like the styling of Canik pistols it is simply hard to beat this little MC9.
The compact polymer-framed pistol market is getting pretty populous, which is good for you and me. But it does make selection a bit more tricky.
Higher-End Option: Kimber R7 Mako
If you want to spend more money, you could get something like the optics-ready Kimber R7 Mako, one of our favorite subcompacts. It too will fit into your belt as a proper concealed carry pistol with an optics-ready slide.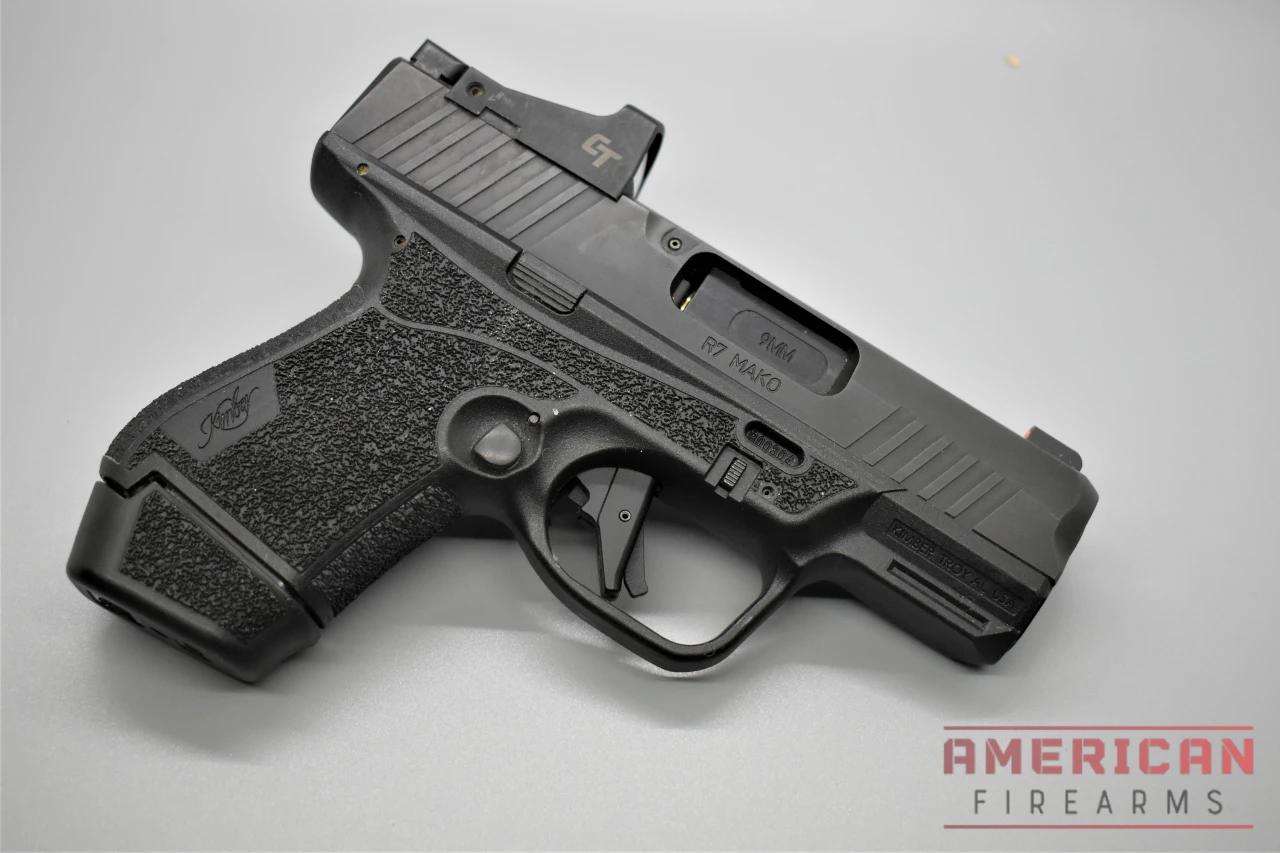 The Kimber R7 Mako is a lovely little pistol.
Budget Alternative: PSA Dagger
On the other hand, if that belt of yours needs to be tightened up a bit, you might consider one of the PSA Dagger pistols. The Dagger offers a lightweight polymer frame, and Glock compatibility and they too are optics-ready.
You can read our review here.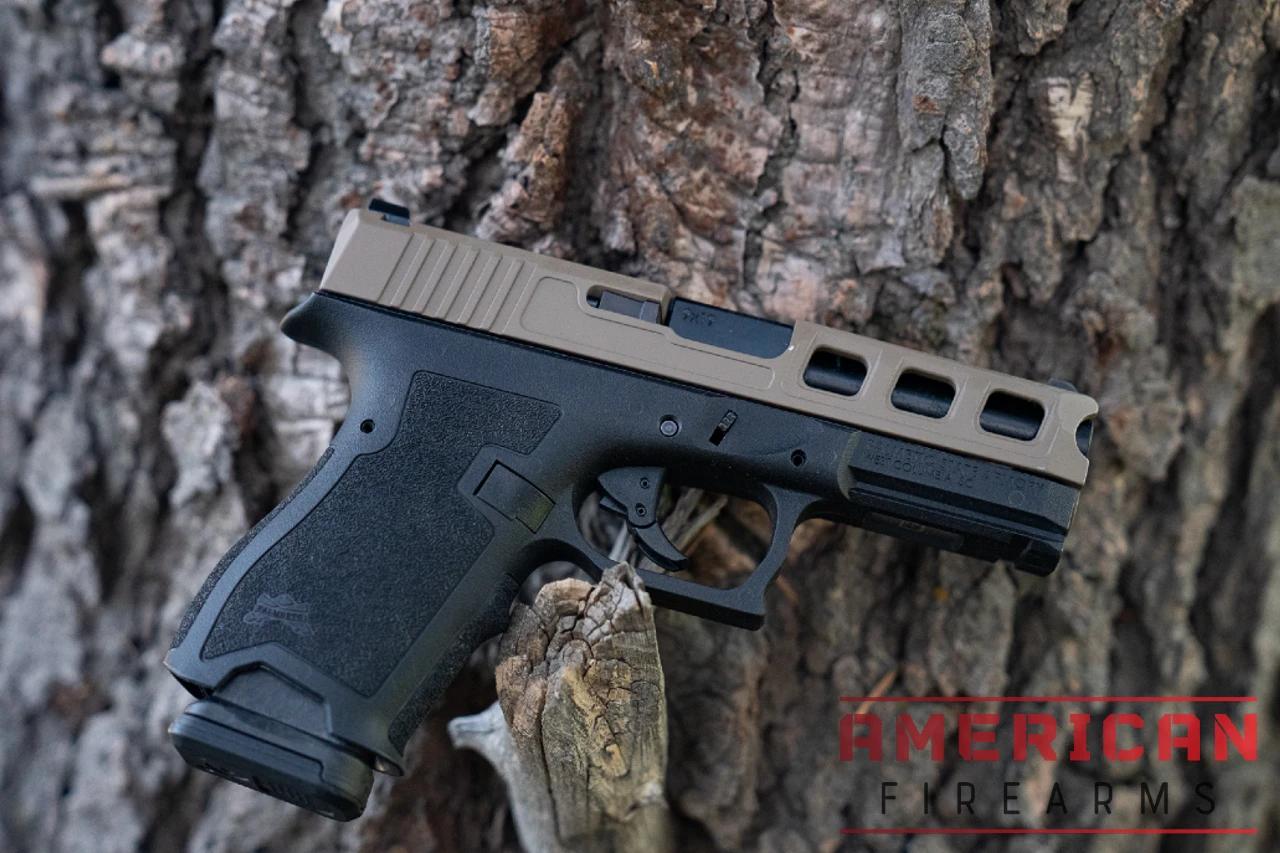 PSA's Dagger is quickly becoming one of our favorite Glock clones.
Another option if you are trying to stay under your spouse's radar would be the Taurus GX4, while not optics ready, and only 11 round magazines, it'll shave a hundo off the price.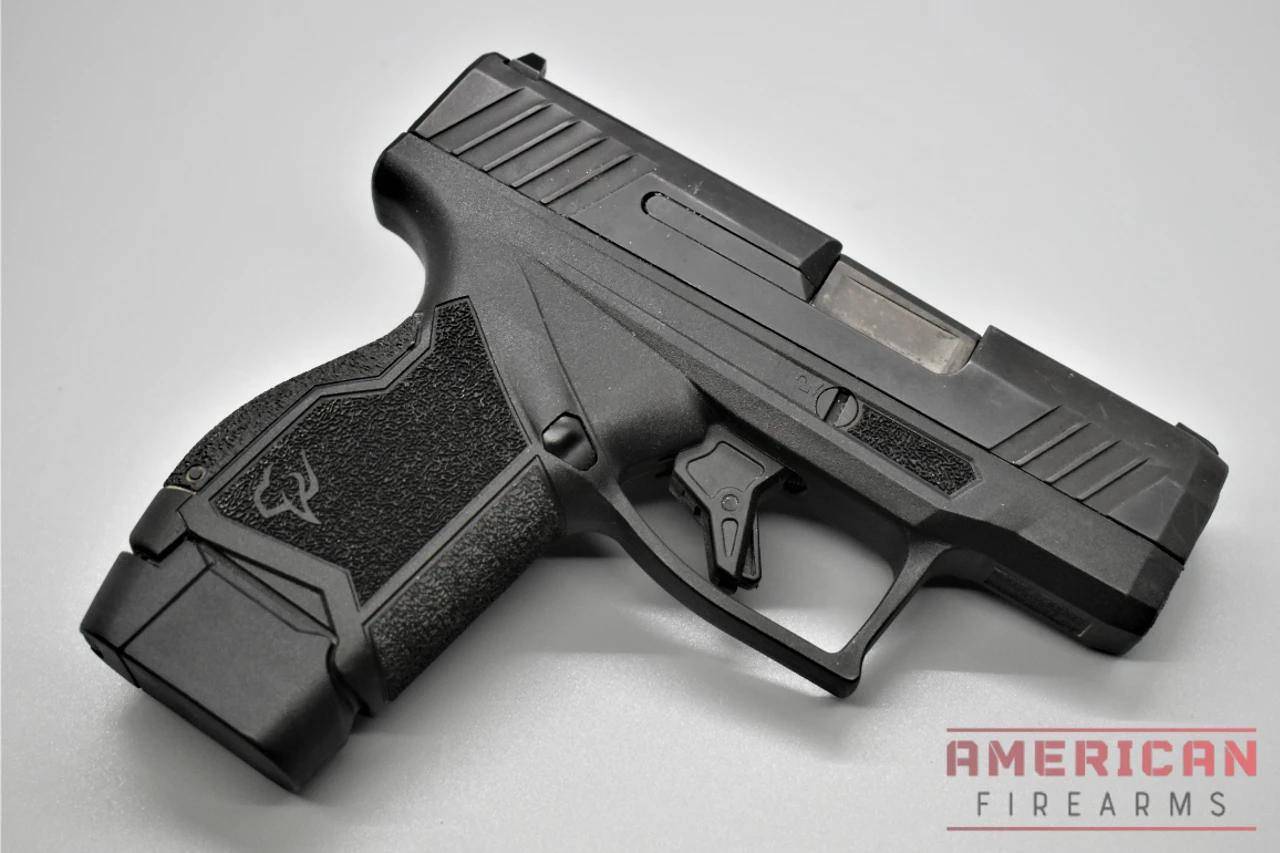 Wanna micro-9 on a budget? Check out the GX4.
Is Canik as good as Glock?
How reliable are Canik pistols?
Are Caniks used by any mlitary forces?
What is the capacity of Canik METE MC9?