The Best Concealed Carry Vests
Written By
Michael Crites
Licensed Concealed Carry Holder
Reviewed by
Editorial Team
Learn About The Editorial Team
Share:
Products are selected by our editors. We may earn a commission on purchases from a link. How we select gear.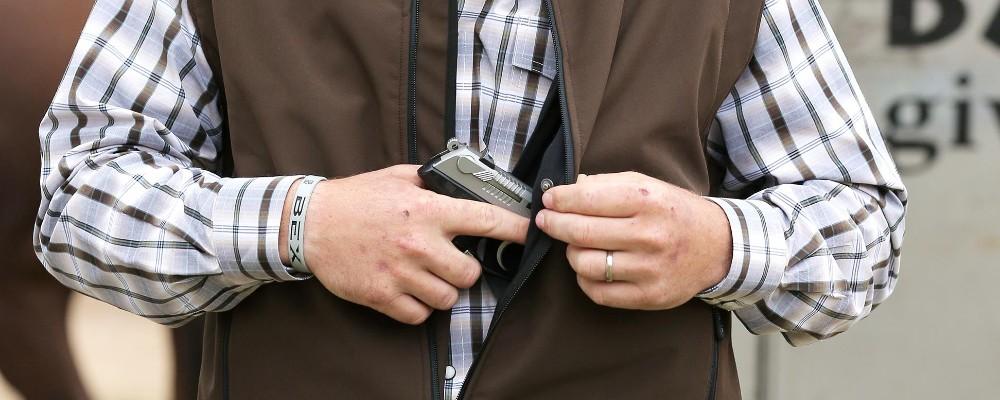 Over 2 months, we sent 15 concealed carry vests out with 6 EDC enthusiasts and law enforcement professionals across 3 states to tackle the kinds of tasks you'll do every day with a vest like these – shopping, hitting a sports bar, going out to dinner, sitting, standing, and general running around – to find the best CCW vest for keeping your handgun concealed while out and about.
Cinch Men's Concealed Carry Vest is the perfect Goldilocks vest for any EDC fan—we even used it while tackling some barn chores to ensure it'll work for more active users.
Its higher carry position makes it easy to carry on either side while its practical style means it can work for various situations, translating well between performance/active scenarios and everyday commuter or around-town use.
Concealed Carry Vest Comparison
| Vest | Selection | Price |
| --- | --- | --- |
| | Best Overall | $99.99 |
| | Cold Weather Pick | $139 |
| | Lightweight Pick | $99.99 |
| | Warm Weather Pick | $79.99 |
| | Western Style Pick | $63.99 |
| | Best Softshell | $129 |
Concealed Carry Vest Reviews
1. Best Overall: Cinch Concealed Carry Vest
What we liked:
Ambidextrous carry position
Thick but light cotton exterior
High carry position
Multiple interior and exterior pockets
What we didn't:
Larger guns can print slightly
Pistol pocket will not conceal when unzipped
We wanted more trigger protection
If you know you want a more neutral look with slightly more water resistance, the Cinch Men's Concealed Carry Bonded Vest is our recommendation.
I didn't often overheat in the Cinch Bonded Vest, and its style worked well with many jackets and undershirts.
Generous pockets & better wet performance
The large chest pocket offers some of the most generous gun pockets of any of the vests we tested, and the fleece backing adds comfort without adding much weight.
It's less expensive than other options and offers better weather resistance – both in terms of exterior fabric and the higher collar, which did a great job of keeping wind and rain off our necks. We found it worked best with smaller handguns as the lighter fabric tended to print more readily with larger pieces.
Benefits from the addition of a velcro holster
The large pockets have no securing strap, so adding a velcro holster would benefit this vest. But this vest felt warm, cozier, and higher quality than many of the other options we tried.
The design makes it a little harder to layer over, so the Cinch Bonded Vest is a good option for an exterior layer over a long-sleeve shirt.
2. Cold Weather Pick: Venado Quilted Carry Vest
What we liked:
Easy to wear
Good weather protection
Comfortable and warm
What we didn't:
Best with smaller handguns
Holster pockets are better with a velcro holster
After weeks of running around town, hiking through a few trails, and tackling farm chores in all sorts of weather, we think the Venado Concealed Carry Vest is a good cold weather carry vest.
Strikes a great balance
This high-quality concealment vest strikes a great balance, keeping you warm but not overly hot so as to overheat.
When it's raining, the heavy cotton fabric does a good job of repelling wind and droplets, but even when the vest gets wet, the quilted lining insulation still keeps you warm and relatively dry.
Since it isn't too heavy, it works well in all kinds of climates and as a top layer over long sleeve shirts (or even under a larger jacket). It adapts nicely whether you're driving around town, running errands, or out on the trail.
A lot like a Carhart but with a bonus
I personally really liked the look, which reminds me a lot of a heavy-duty Carhart vest but with soft-washed cotton canvas and better pocket positioning – as well as the fit, which didn't ride up or bunch when on the move. It left plenty of room around the chest and midsection without binding.
In our tests, the higher conceal holsters made it easy to carry without printing, and the ambidextrous carry position was easy for me to carry and draw from. The right and left chest pocket quilt was nice and thick, helping the vest keep its shape even with a pistol on board.
Larger pistols did print slightly, but compacts were easily concealed. I did find that I wanted more trigger protection, though.
Useful holster position
The vest features 4 interior pockets, with the upper gun pockets (one on the left, one on the right for twin concealed carry compartments) built for concealed carry, but given most people carry with a single pistol, you have room for a phone or wallet in the opposing pocket.
These interior magazine pockets also have an elastic holster that offers secure storage for your weapon and snap closure to ensure everything stays put.
These interior pockets are 7″ x 4.5″ which, along with the strap, should accommodate most handguns with ease. Below these, you'll find 2 6″ x 2.5″ lower interior magazine pouches with snap closures so that you can carry with a pair of extra magazines.
Exterior pockets are nice, too.
On the outside, there are two front exterior pockets positioned right over the interior carry pockets, which helps to prevent printing.
Below these, you'll find 2 well-positioned pockets that sit right where your hands naturally fall, so you can use them to warm chilly hands. Of course, those big hand warming pockets allow you to stash all your everyday stuff, too.
3. Lightweight Pick: Wrangler Men's Carry Vest
What we liked:
Firm, comfortable material
Quality fit
Recognizable Wrangler brand
What we didn't:
Better for larger handguns
Longer fit
The Wrangler Men's Concealed Carry Stretch Trail Vest is a stylish concealed carry classic for people who like the Wrangler brand and want a versatile, fleece carry vest.
Easy concealment & fleece comfort
If you're looking for something that will really obscure the fact you're carrying (very few people know Wrangler has a concealed carry line – most folks just think Wrangler means denim vests) and need a lightweight concealment vest that is designed for full-sized handguns – this might be the vest for you.
Great for full-sized handguns
In our carry tests, we found that since the carry pockets are not adjustable, have no retention straps, and are very large, small handguns will jostle around more than we'd like.
It's really designed for full-size handguns, which sit naturally in the pockets without tumbling around like smaller pieces. The chest pockets offered a vertical zipper closure, which was a nice design decision that adds additional storage for carrying other accessories.
Strong stitching & nice color choices
It had some of the strongest stitching we saw in any vest, plus a warm fleece lining for extra warmth that minimized heat loss, and it comes in a broader variety of colors than many other options.
Its front pockets are positioned a little further out than where your hands naturally fall but aren't uncomfortable to use.
They also do a great job of keeping your hands warm.
Unlike our pick, it's too roomy to easily wear under a jacket as a mid-layer, so it's a good option if you're looking for an outer layer CCW vest.
4. Warm Weather Pick: Rothco Plainclothes Carry Vest
What we liked:
Absurd number of pockets
Conceals a firearm well
Lightweight
Perfect for Spring/Summer carry
What we didn't:
Style not for everyone
Can get heavy with all those pockets full of stuff
Not an all-season vest
Can run large
When you need a CCW vest for that works as well in everyday life as when you're fishing or trekking through the backwoods, the Rothco Plainclothes Concealed Carry Vest will get the job done while offering twice as many pockets as other vests for roughly the same price.
Additional functionality for the outdoors
We don't recommend it for hardcore outdoor adventures – and it's a bit of a style outlier – but it is a high-quality option that's easy to use and offers additional functionality that makes sense when outdoors. It's a light, functional vest available in a number of colors, which means it's a great choice for summer adventuring.
But you'll need to like the look (it has a Walter from The Big Lebowski quality to it) and have a plan for those 20 different compartments.
Light & compact
The Rothco Plainclothes Concealed Carry Vest was one of the lightest and most compact vests we tried.
The cotton/poly fabric is super light – so this option is less of an all-weather product and more for those spring/summer times when you're outside in the heat, as it offers both a vertical rear vent and an interior mesh liner. No fleece here.
Aced our carry tests
In our carry tests, it worked well, and we really liked that it had 4(!) interior mag pockets and a load of exterior snap closure pockets. One feature we really liked was the inside rear zippered pocket. It's a big pocket on the interior back of the vest, which can only be accessed with the vest off your body.
It's basically pick pocket-proof and a really interesting feature that only the Rothco offered. Seems like the perfect place for things like a passport or traveler's checks.
Can get heavy if you fill all 20 compartments
The downside of having 20 snap closure pocket slots available for your stuff is knowing where things are. It was easy to get almost too much stuff into the pockets, which, when combined with a firearm, can make the vest heavy and much hotter than intended.
5. Western Style Pick: Wyoming Traders Texas Carry Vest
What we liked:
Looks great
Very well designed holster system
Dual chest pockets
Roomy
Works as outer layer & mid-layer
What we didn't:
Runs large
Western style not for everyone
If you like the Western look and want a vest that will work for your everyday carry needs, Wyoming Traders Men's Texas Concealed Carry Vestdid the best job of helping us balance looking sharp and keeping our pistol concealed.
The right amount of comfort
Unlike many of our test vests, which either limited their use to specific seasons or were too big to use as a mid-layer, Wyoming Traders' Texas Concealed Carry Vest was comfortable on everything from dog walks to shopping trips and hitting the town.
The Texas Vest also blocked the wind nicely and was light enough to pull a jacket over during colder stretches, which couldn't be said for some of the competing vests.
A very effective concealed carry vest
During our carry tests, the Texas Vest was among the most effective at concealing our test firearm (a Shadow Systems MR920) due to the retainer straps which hold the grip into the holster snugly and a neoprene holster backing which helps further conceal the shape of the pistol.
These felt much more like holsters than oversize pockets like some other vests tended to offer. That said, there are dual interior zipper pockets as well, so this vest has lots of room for all your goods.
Almost feels like an OWB holster
The Texas Vest's hosters are slightly above hip level and to the rear of the vest, so this feels more like an OWB carry than shoulder carry like some of the other vests we tested.
Added bonus – it looks great and I personally thought the western yolks added style that was fun to wear.
6. Best Softshell: Cinch Softshell CCW Vest
What we liked:
Good weather resistance
Roomy with lots of pocket space
What we didn't:
Holsters could be improved with a velcro holster
With the Cinch Men's Bonded Softshell Vest we appreciated the mix of spandex with polyester, which gives a generous amount of flex in the vest.
Cinch is known for its variety of concealed carry jackets, and their vest covers a lot of the same ground (without the sleeves of course.)  It's not unlike products you'd find from an outdoor brand like Columbia or The North Face: soft water-resistant exterior, YKK zippers, multiple zippered pockets inside and out.
Big, warm pockets
The handwarmer pockets are large enough to fit a phone, camera, sunglasses, checkbook-sized wallet, keys, and a couple of granola bars if you're inclined. Only the Rothco vest had more pocket space.
Holsters are more like big pockets
The holster pockets are less holsters than oversized pockets, so while it was easy enough to draw and use the vest as designed, this is one CCW vest we thought would benefit from a velcro holster addition, such as the 511 Holster Pouch.
The exterior pockets were angled well enough that everything stayed put even after we loaded our truck with 4 50lb bags of feed, and unloaded them back at home, then moved 3 bales of straw into 3 different barn stalls. After which all of our phones, keys, and pistols were still in place.
What to Look for in a Quality Carry Vest
To determine which vest brands and models to test, we talked to certified concealed carry instructors, consulted floor salespeople at popular outdoor & firearms retailers, and considered customer reviews.
We identified 25 different potential test vests. From there, we narrowed the field down to 15 contenders to test based on criteria our CCW experts helped define.
1. Affordable price point
Much like our concealed carry jacket guide, we wanted to prioritize vests available for approximately $150 or less. None of the vests that made the final cut retail for more than our target range, and with sale hunting, you can often find them for considerably less.
2. Fabric weight
While other features more directly address the carry portion of a vest's design, fabric weight matters. When it's cold out, a vest isn't your best option for concealing a firearm – as you can use any regular IBW/OWB holster over a heavier jacket (plus, if it's cold enough that you're reaching for a heavy vest, you'll be better served with a jacket.)
Light fabric can drape around your gun, increasing its visibility but may be decently water repellent and get to that broken-in feel vest much faster than heavier options. The best CCW vests use fabric that is heavy enough to keep your firearm concealed but isn't so hot that you'll want to remove them once you belly up to the bar.
These tend to be middleweight fabrics, which work best across the widest array of seasons and gun sizes. This is one of the reasons we avoided leather vests.
3. Comfortable, roomy fit
The best vest is designed for concealing your pistol without making it difficult to use or sacrificing other personal needs. You'll often be wearing a size larger than normal.
It should fit loose enough from the body to avoid printing the firearm and allow the user to draw their weapon if the situation arises. You'll also want room for a base layer (like a long sleeve shirt) or maybe a hoodie or sweatshirt.
An optimal vest will fit closely in the neck and shoulders without restricting movement, range of motion, or pinching around the arms. When in doubt, consult the manufacturer's size chart or online reviews, which detail s a vest runs small or large.
4. Functional versatility
Performance is the name of the game – but if that were all that mattered, we'd all walk around wearing full riot gear.
We have to be able to blend in and conceal when carrying without sacrificing quick access or full range of motion. This means in addition to effectively housing your firearm and avoiding printing, the vest should look like any other article of clothing, repel water and wind, keep you warm or cool, and translate to daily use, too.
These vests need to work well but be not so full of compromises or over-engineering that they feel fussy when you wear them at the bar. They should work for you in any reasonable situation, and simple things like a snap closure pocket slot, chest pockets, pull tab, or zipper closures will go a long way.
5. Good closures & retention systems
Just like a quality concealed carry jacket, a CCW vest's closures (snaps, zippers, velcro) are the thing you will touch and use more than anything else.
They should be easy to open and close (even with big, meaty man hands) and hold your firearm securely within the designated holster or pocket. Closures for carry and chest pockets should also include some fabric over the top to prevent your hands or hairy arms from catching or scratching.
Each of these CCW vests offers EDC enthusiasts variety of different features but our top pick is the Cinch Men's Concealed Carry Bonded Vest. We really like how it's designed and looks like a regular heavy cotton vest.
It also met the criteria for any ankle holster we'd recommend:
Affordable
Light but quality material
Good retention system
Versatile
There are quite a few options out in this category, but we hope this article steers you in the right direction. If you have any questions or feedback please drop us a line.
More on dressing for concealed carry