CZ P-10 S Review: More Than Just Another Subcompact?
How does CZ's micro-9 P-10 S compare when it comes to carry, home defense, or range time? Come find out.
Written By
Elizabeth Bienas
Licensed Concealed Carry Holder
Edited By
Michael Crites
Licensed Concealed Carry Holder
Share:
Products are selected by our editors. We may earn a commission on purchases from a link. How we select gear.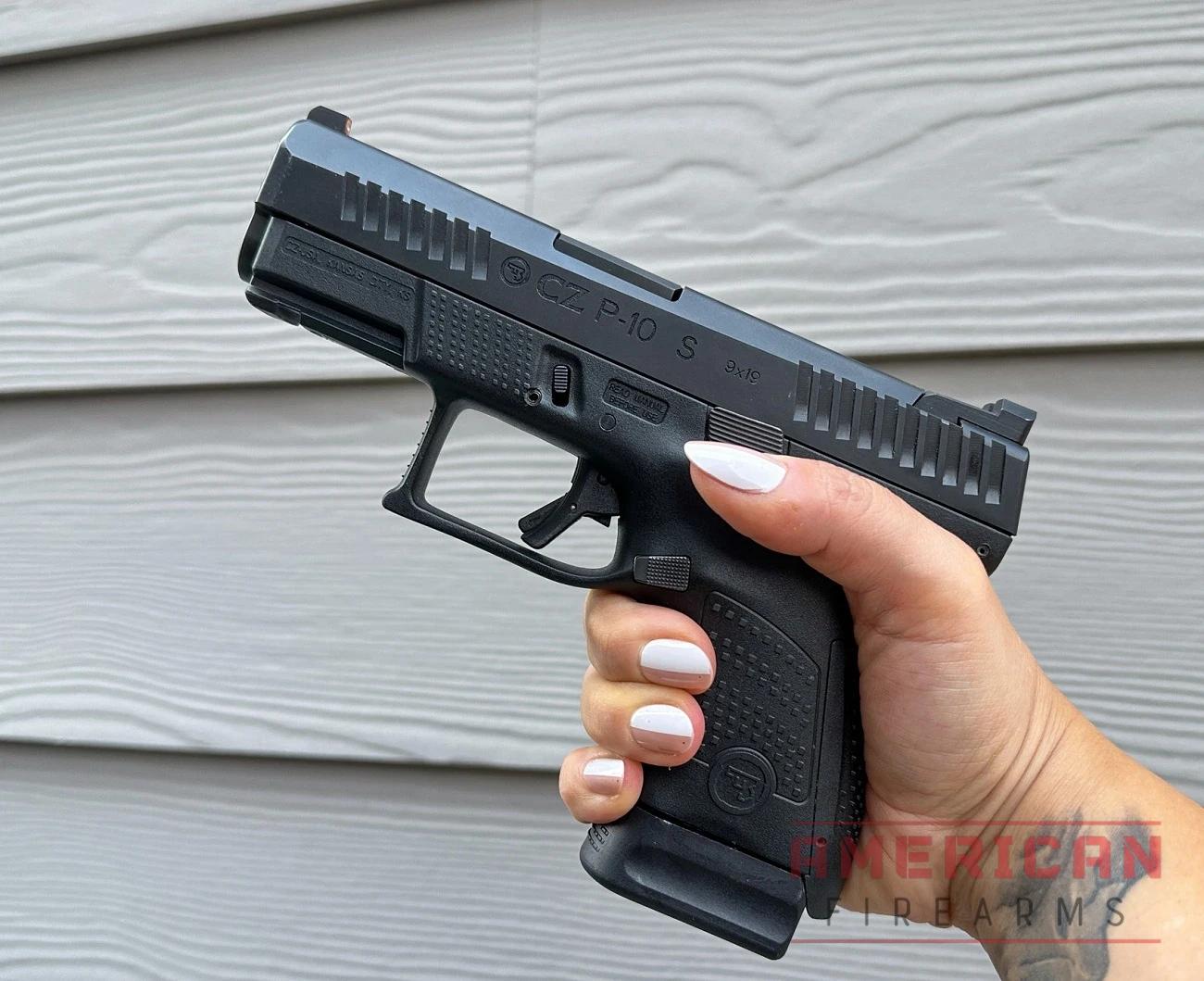 The CZ P-10 S is the 9mm subcompact offering in the popular P-10 lineup. It's a scaled-down version of the P-10 C that's similar in size to the Glock 26 but carries two more rounds.
You may be wondering if it's just another striker-fired polymer-framed subcompact gun. And the answer is yes, but with CZ flair. Concealed carry is the fastest-growing category of handguns, so although the striker-fired market seems flooded, demand is high.
Let's look at how the CZ P-10 S stacks up.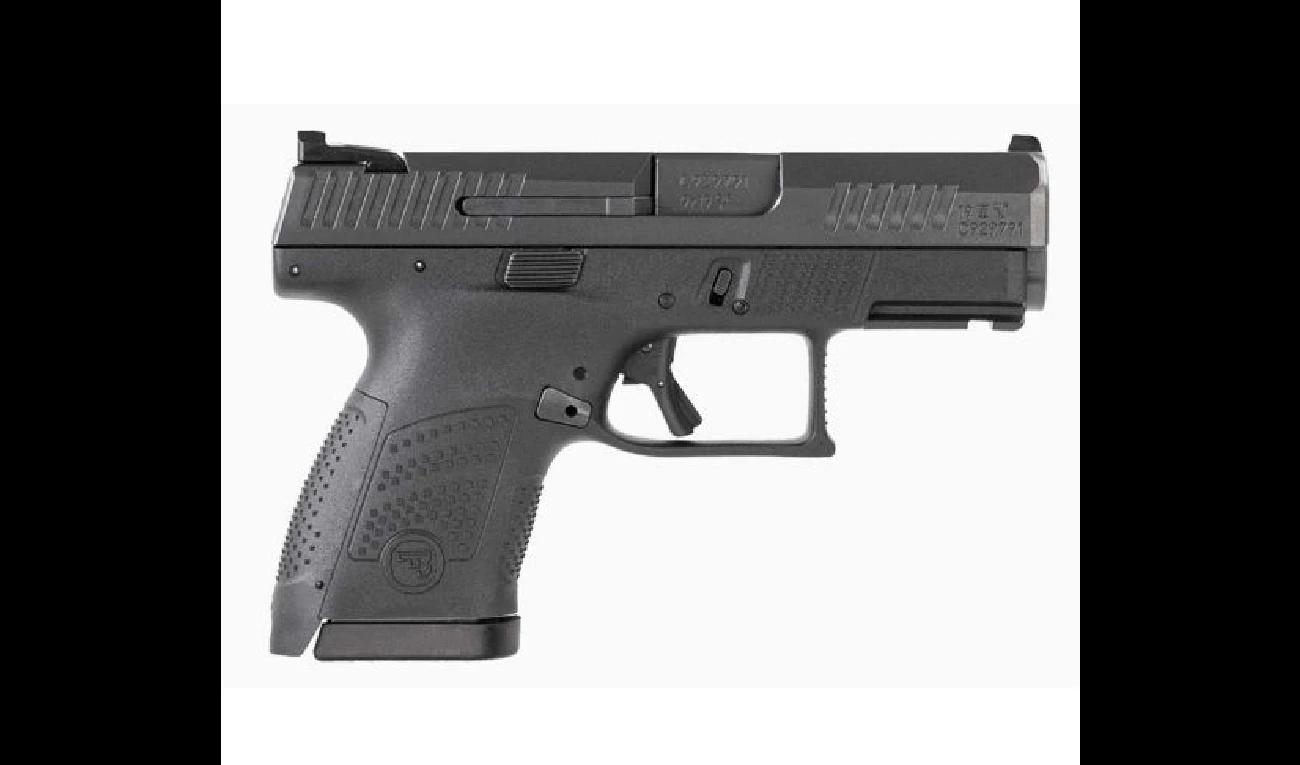 Best For
Better recoil management than other subcompacts
Replaceable backstraps
Good stock trigger and sights
Small enough for concealed carry
Easy takedown
Ambidextrous controls
Picatinny rail for accessories
Considerations
Recoil is diminished but not absent
Thick for concealed carry
Aggressive texture
Overly stiff controls
Grip may be too short for large hands
Our Verdict
Overall, the P-10 S is a solid pistol for the price. It's small enough for concealed carry and hefty enough to provide a good shooting experience. In general, you can't go wrong with a CZ.
If you're in the market for something small, Czech this one out.
How did the CZ P-10 S stack up on our 60-point scale?
Accuracy: 6/10
Shoots well for its size; closer feel to a G19 than a G26, but the magazine and grip issues can create challenges maintaining precision over extended range trips.
Ergonomics: 5/10
The P 10-S gives you a comfortable grip with customizable backstraps, that's well above Glock blockiness. The aggressive texture might be too much for some, especially if you plan to shoot a lot.
Features: 6/10
It's ready-to-carry with solid factory features. The limited aftermarket support is growing.
Fit and Finish: 8/10
CZ tends to offer stylish designs that give their products an edge over competitors in the looks department, but it's beefy for a subcompact.
Reliability: 8/10
I've got early 700 rounds through it without issues. Dependable with regular cleaning.
Value: 9/10
Like most CZs, it's priced affordably with great factory features. It's no Gucci gat, but it'll outperform (and out value) many competitors.
Caliber:

9mm

Capacity:

10+1 & 12+1

Action:

Semi-automatic

Weight:

24.4 oz

Overall Length:

6.6 Inches

Width:

1.26 Inches

Trigger Pull Weight:

5.5 lbs

Sights:

Fixed / front dot / rear square notch

Safeties:

Trigger safety / firing pin block safety

MSRP:

$399

Real World Price: $350
Czech-ing Back: A (Shallow) Historical Dive
CZ is most well-known for its beloved CZ 75 line of handguns. With steel frames, these full-size and compact-size hammer-fired pistols are gorgeous and dependable.
But these days, people seek smaller, lighter-weight guns designed for concealed carry. Unless you're someone like my husband, who carries a P-01 Omega daily.
CZ recognized the trend was changing and, in 2017, jumped into the polymer-framed striker-fired handgun market. The P-10 family of pistols started in the Czech Republic, with the P-10 C, which quickly gained popularity.
In late 2018, the company announced it would debut two new models in the P-10 line at SHOT Show 2019, along with an optics-ready version of the P-10 C, with these variations being produced in the CZ-USA Kansas City facility.
In 2019, the P-10 F and the P-10 S joined the P-10 C on the market. If you haven't figured it out yet, F stands for full-size, C stands for compact, and S stands for subcompact. Optics-ready variations are available for all three now, and along with the change in production location, the new P-10 models included improved grip texture, a better trigger, and some more part consistency between the models.
Since then, CZ has added the P-10 M, the micro compact, and the P-10 F Competition. This year, they came out with the P-10 SC, an exclusive model sold at Sportsman's Warehouse that combines a compact grip and a full-length slide and barrel.
CZ makes stylish and beautiful steel-framed firearms like the CZ75 series. But as demand transitions to more polymer-framed, striker guns, all these plastic pistols — especially subcompact guns — can start to look the same.
And while I don't think the P-10 S looks drastically different, it looks better. CZ managed to hang onto some of the hipster style they are famous for with this one.
Frame and Grip
The CZ P-10 S has a fiber-reinforced polymer frame with aggressive raised square texturing panels. It's nothing revolutionary but looks less utilitarian than, say, a Glock.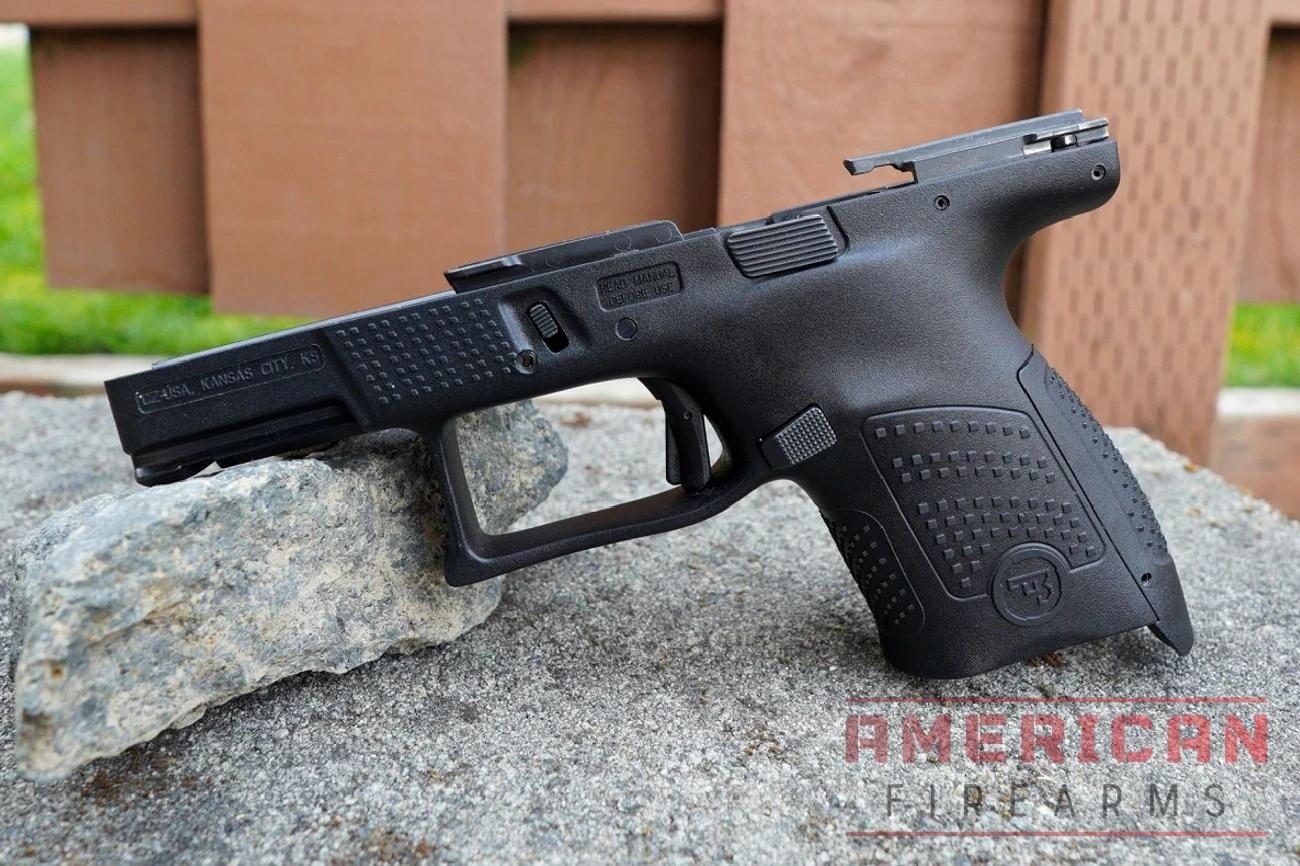 The grip is decidedly less utilitarian than a Glock (without being revolutionary.)
It comes with three replaceable back straps in small, medium, and large sizes. The variety will accommodate a wide variety of preferences and hand sizes.
Note that the backstrap sits only on the lower portion of the grip, so changing the size won't affect the trigger reach difference or the grip angle.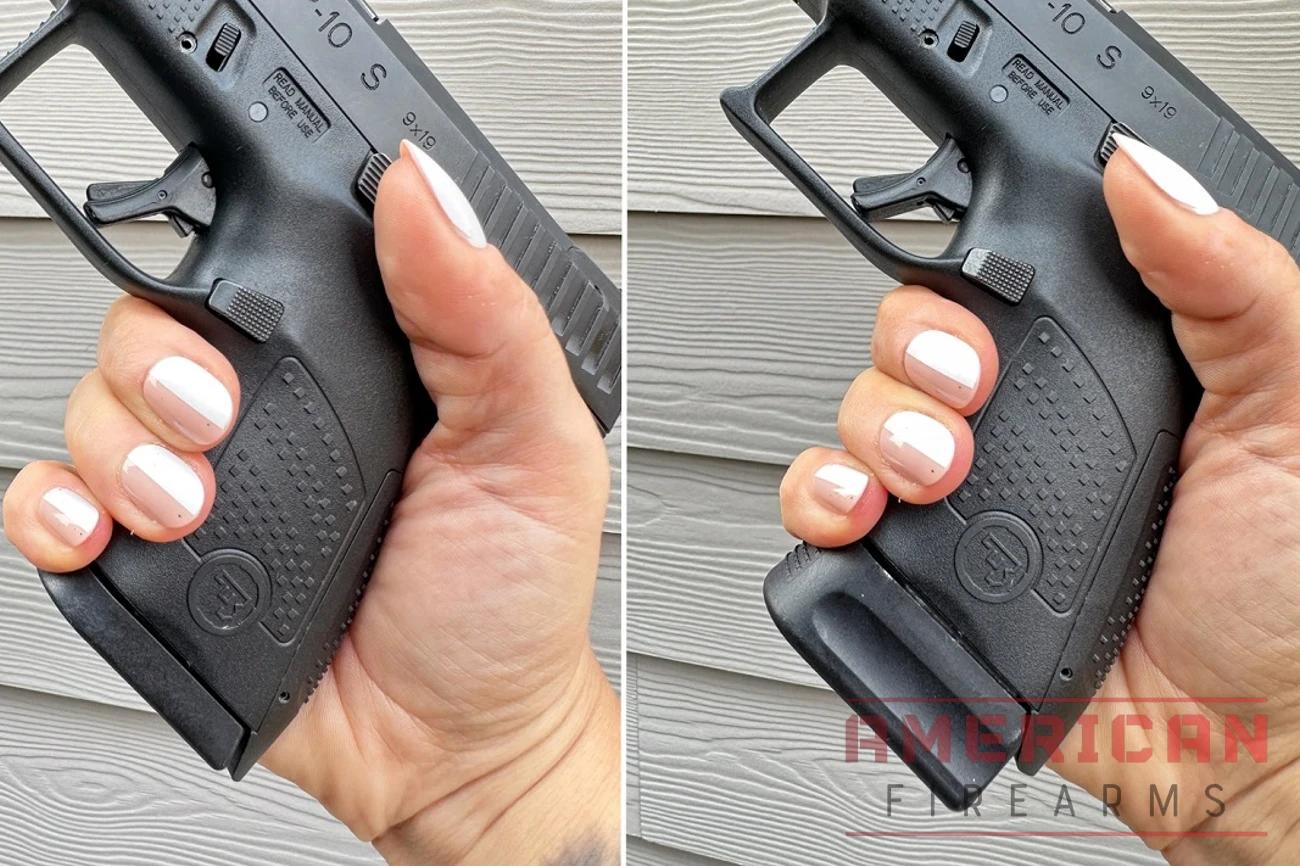 I have small hands and can get a full grip with the flush-fit magazine. The +2 mag is a better fit for my husband (and anyone with large hands.)
The grip is noticeably short, and that's by design since CZ built the P-10 S for concealed carry. I have small hands and can get a full grip with the flush-fit magazine. My husband needs the +2 magazine extension for a full grip.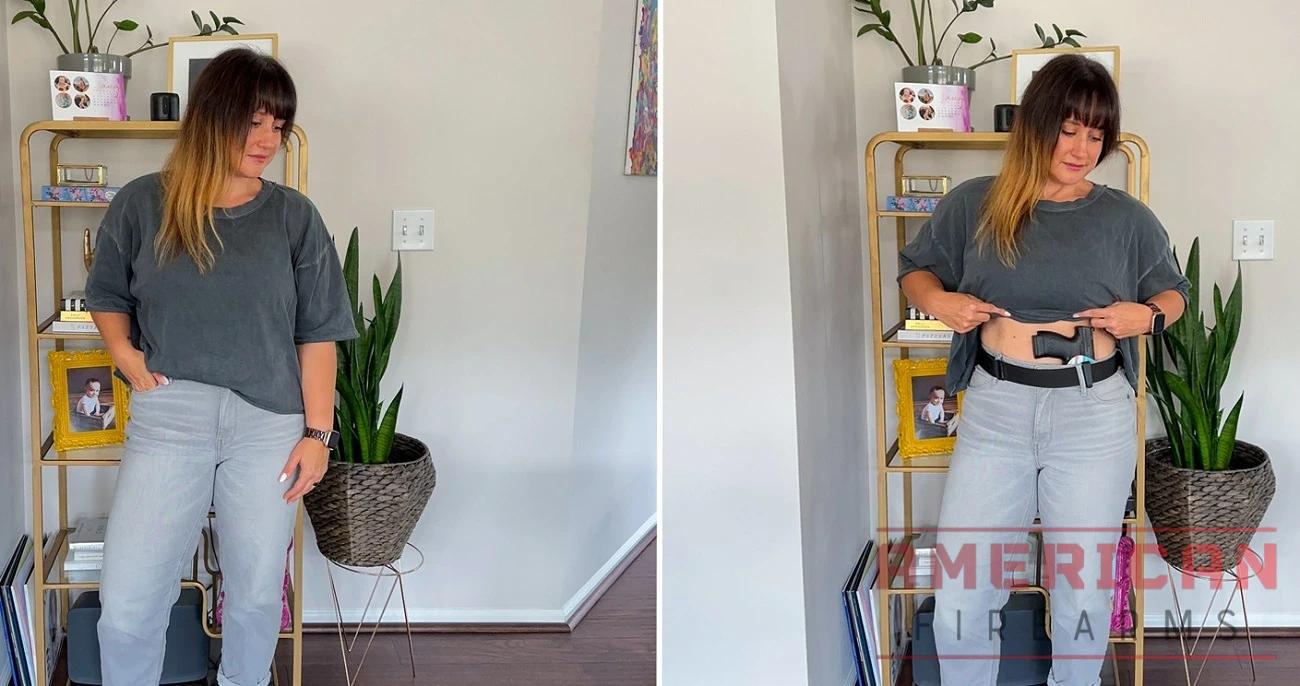 The P-10 S is built for carry, and it's not hard to conceal, if a little wider than other subcompacts.
The undercut trigger guard isn't the deepest, but it helps you get a higher grip and the curvature is more comfortable than most.
Trigger
The trigger on the P-10 S is surprisingly nice for a stock option. When I first saw it, I wasn't sure what to expect because it looked different than other striker-fired triggers on the market.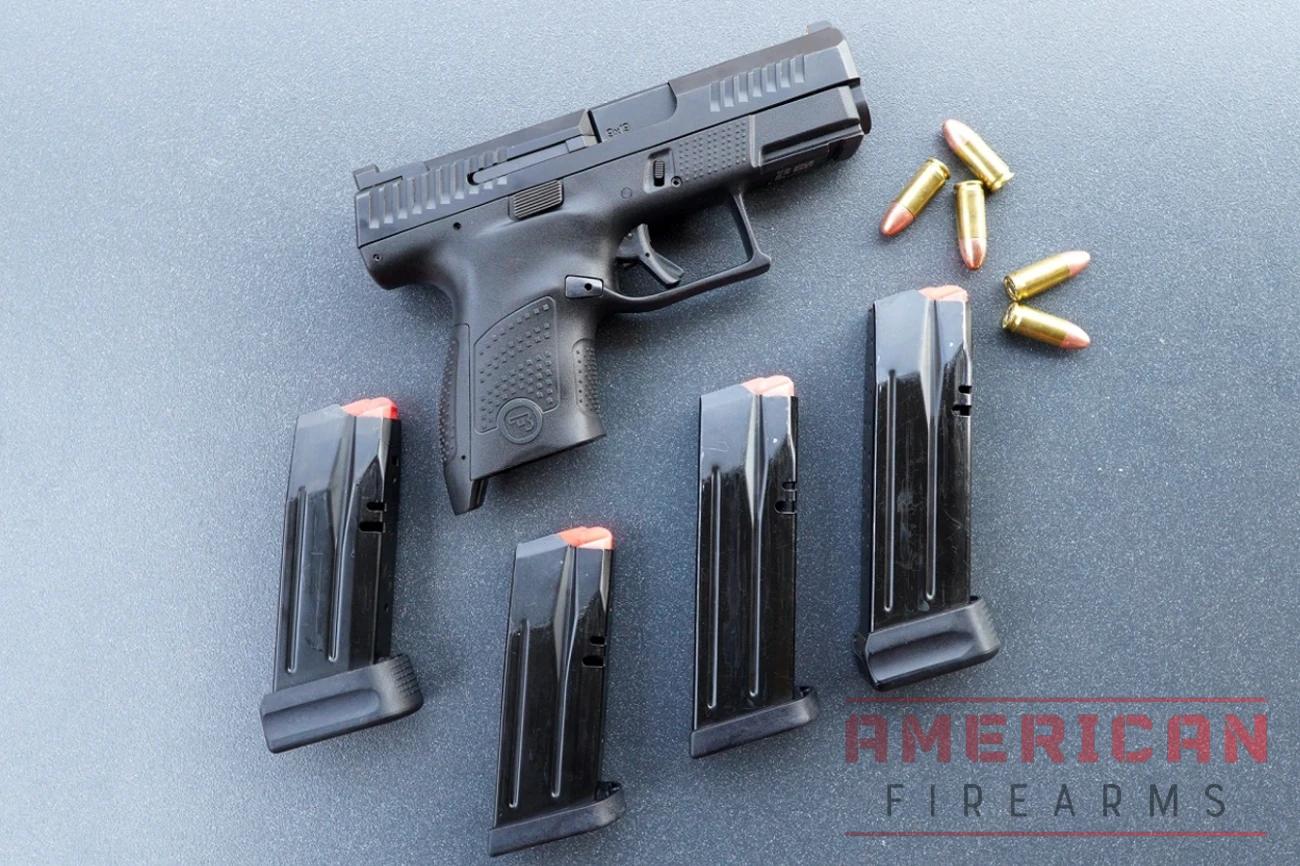 The P10-S trigger is like a cross between a bow and a flat trigger, and is very comfortable.
It looks like a cross between a bow and a flat trigger. And while it's not a flat trigger, it's flatter than others I own. The edges are smooth and rounded, too, so it's very comfortable on one's trigger finger.
The P-10 S trigger is both smooth and crisp. I have not tested it, with a scale but it feels like it's around 5 pounds. There's a light takeup before hitting the wall. From the wall, there is a slight creep before the trigger breaks. The reset is short and very positive.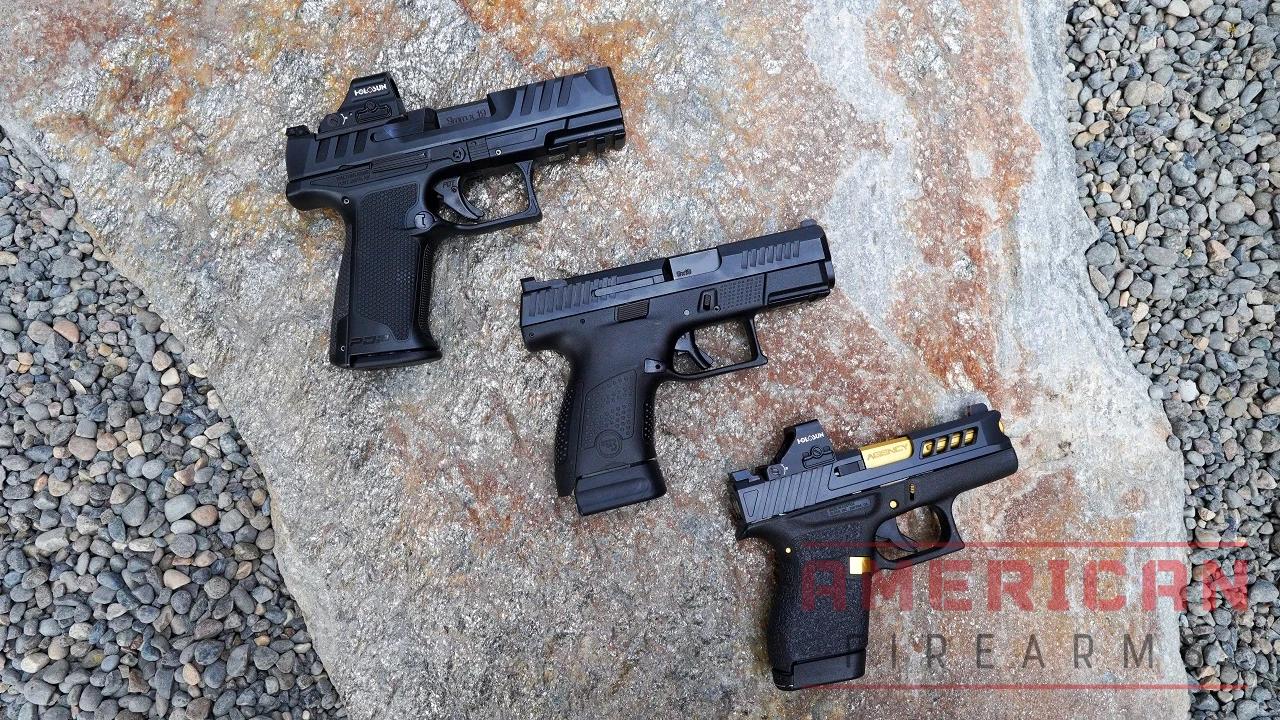 The P-10 S (center) has a trigger that's almost as nice as the Walther PDP F (top). I spend a lot of time shooting Glocks, like the G43 (bottom) and the CZ's trigger is much better.
Overall, I put the P-10 S trigger on the nicer end compared to others in the same class.
Bear in mind I spend most of my time shooting Glocks, so my bar may be low, but this is a great trigger for the money. Much better than any Glock I own, but not quite as good as my Walther PDP-F.
Slide and Barrel
The CZ P-10 S comes with a 3.5-inch cold hammer-forged barrel. In true CZ fashion, the barrel sits closer to the bore axis to reduce muzzle flip.
They've also added a dual recoil spring assembly to mitigate the recoil impulse, which is much appreciated on a small pistol.
The dual recoil spring assembly creates staged compression to help mitigate the recoil impulse
The CZ P-10 S slide has deep serrations on the front and rear. They look great but could be deeper to make manipulations easier. Everything is stiff about this gun, including racking the slide. I chalk this up to a stiff recoil spring.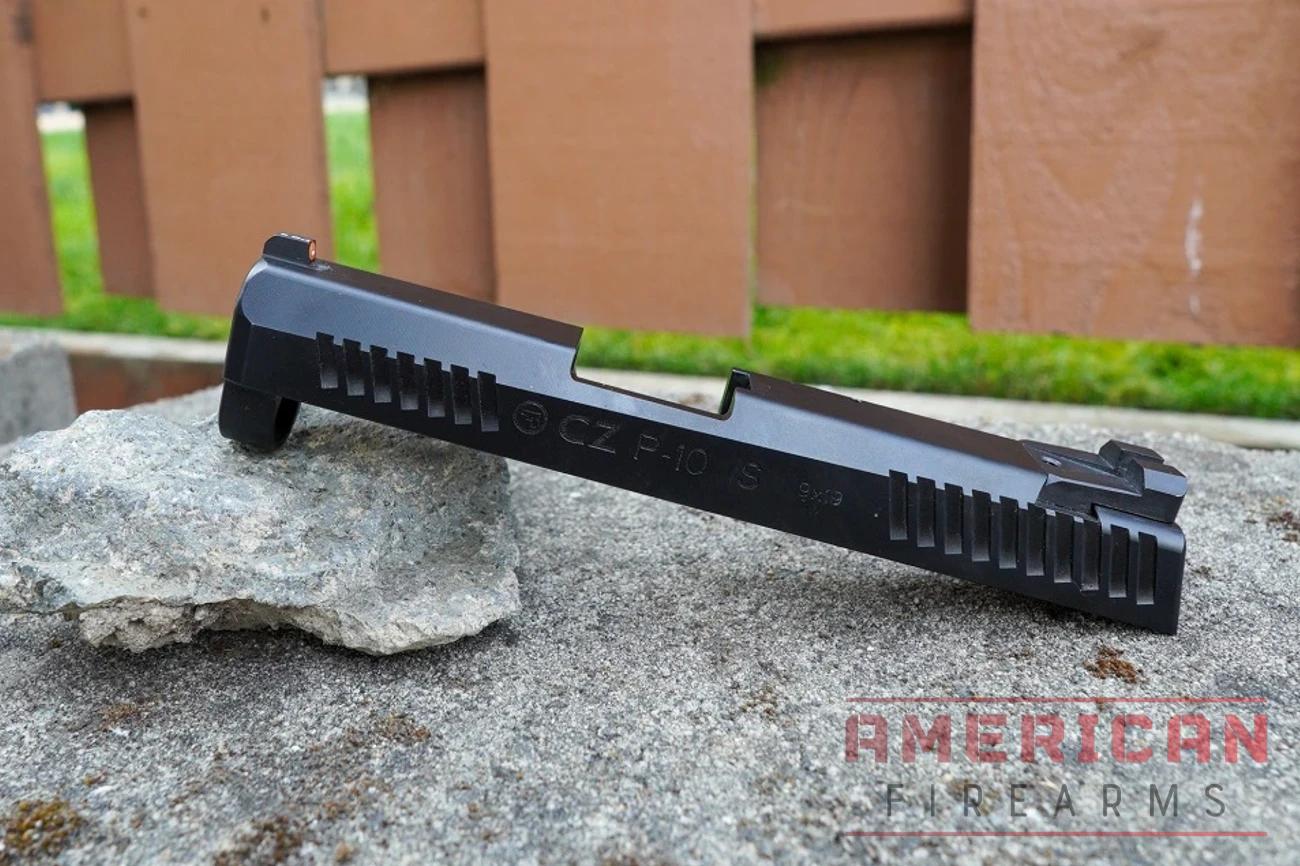 Yes, the slide serrations look great, but IMO they could have been deeper.
Speaking of stiff, the slide lock takes a few hundred rounds to loosen up.
That said, the slide release is ambidextrous, and oversized relative to the Glocks and other polymer sub-pistols of the world, making it much easier to actuate once you've broken it in.
Sights
The P-10 S comes with fixed factory iron sights. The tritium front sight has a high-vis orange ring, and the serrated rear sight is a blacked-out square notch.
These sights are better than many stock options, such as Glock factory sights.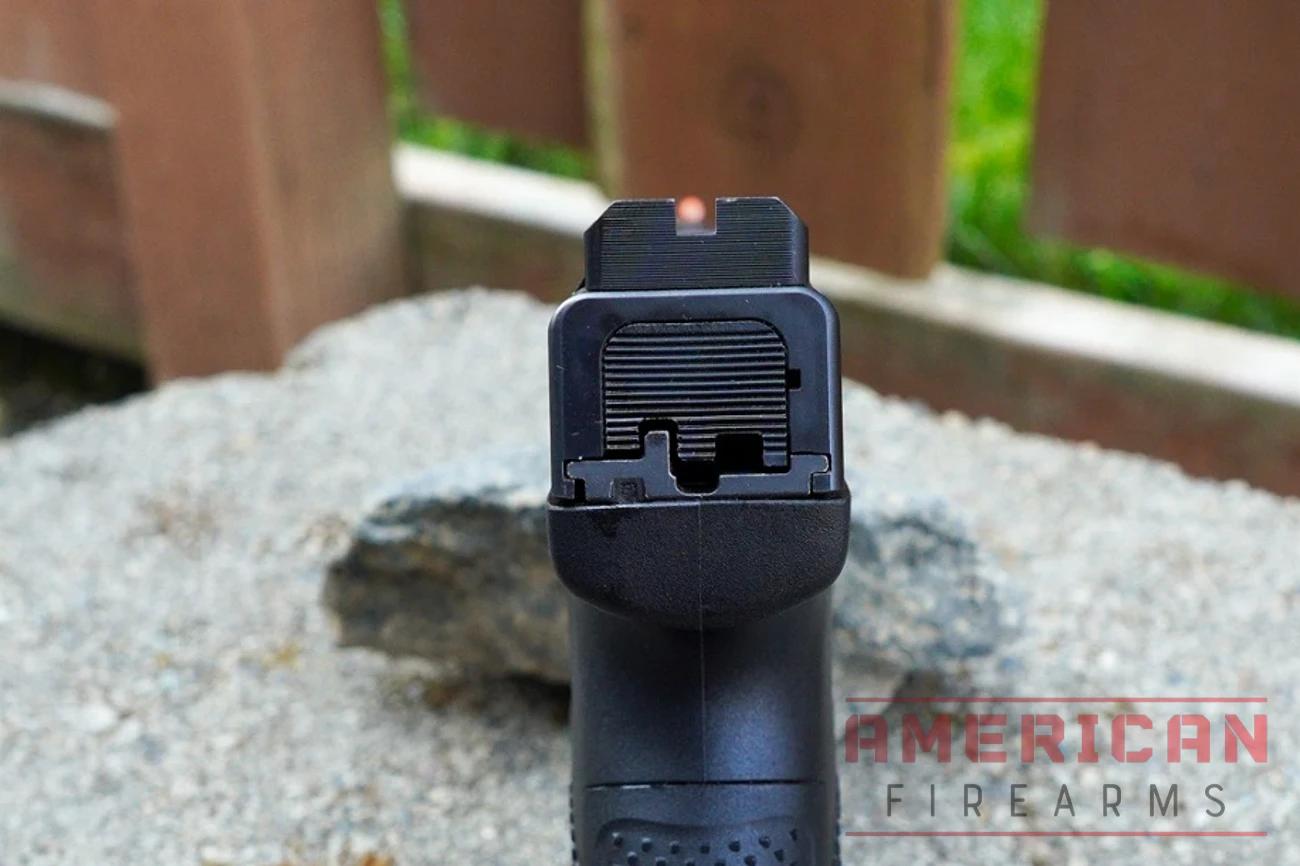 A tritium front sight with an high-vis orange ring and a blacked-out serrated rear sight? This is a notch above Glock plastics, for sure.
The front sight fills the rear notch almost completely when lined up, so I wish it was thinner to let more light through.
It's not a deal-breaker, but it takes some getting used to, especially for follow-up shots. And although the choices are not abundant, you can find aftermarket sights if you wish to upgrade.
Precision and Performance
Accuracy
I've heard people describe the P-10 S as a small gun that shoots like a big one; for the most part, I agree. It has a decent amount of recoil and doesn't shoot as flat as bigger guns, but it's good for the size.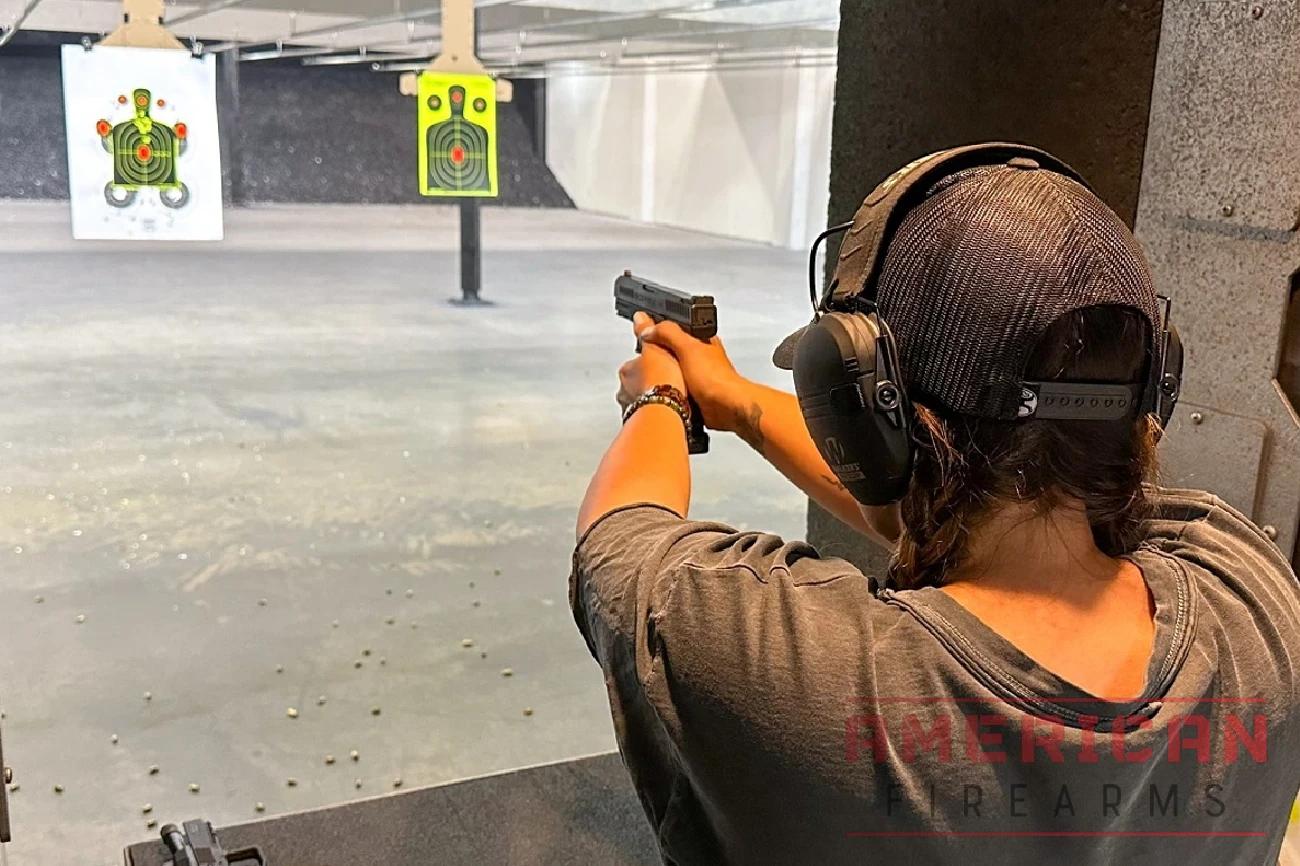 Range time!
For example, the shooting experience feels closer to a G19 than a G26, despite the general rule that smaller guns should, in general, produce more felt recoil.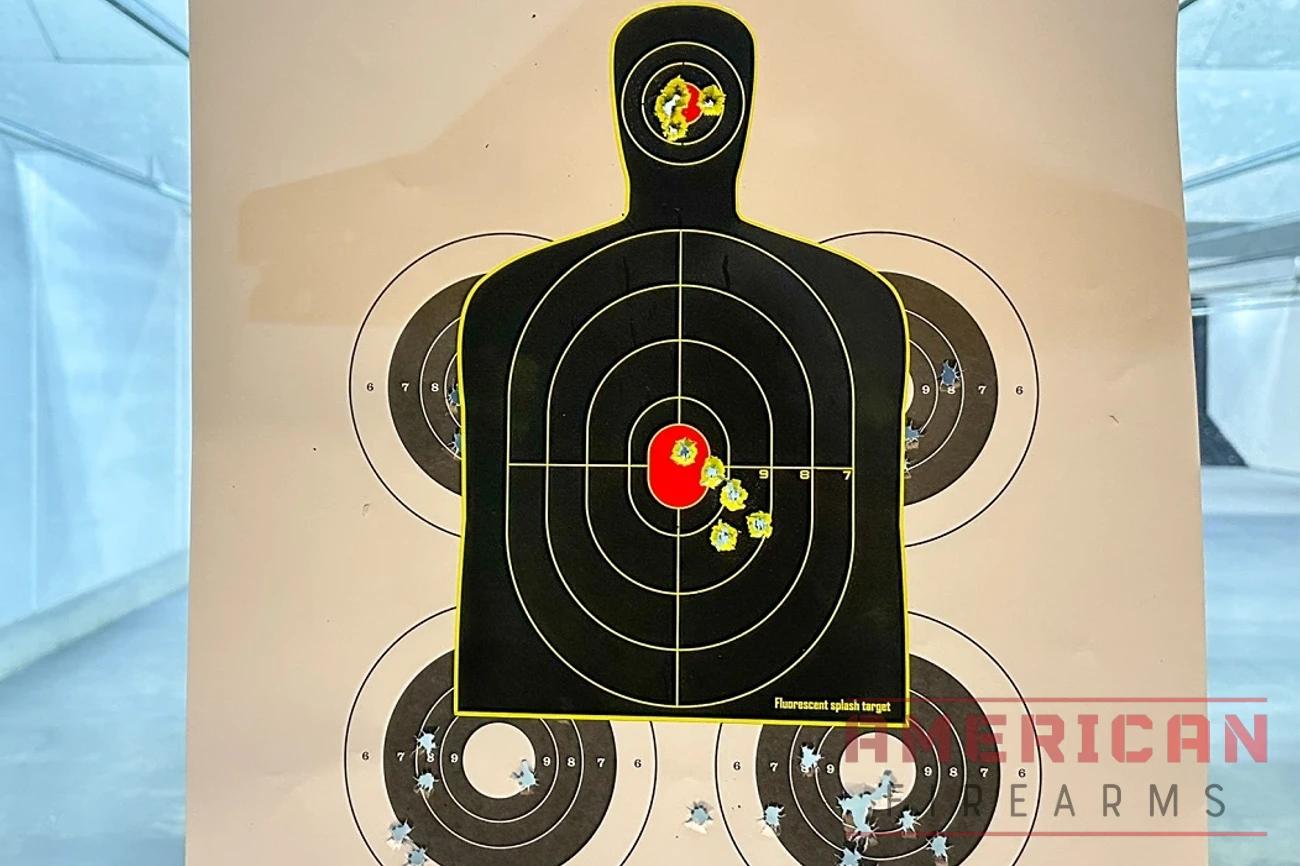 Groups at 5 yards were nice and tight.
I warmed up at 5 yards and could shoot pretty tight groups. I pulled shots to the right slightly because my pinky was pinching between the grip and the magazine. I really like this pistol, but that small gap does a number on my finger.
Luckily, my husband was carrying his CZ P01, so I used his magazines. The longer magazine allowed me to shoot pain-free and clean up my shot placement. This wouldn't be ideal for concealed carry, but it worked for target practice even though it left me with a big blood blister after 300 rounds.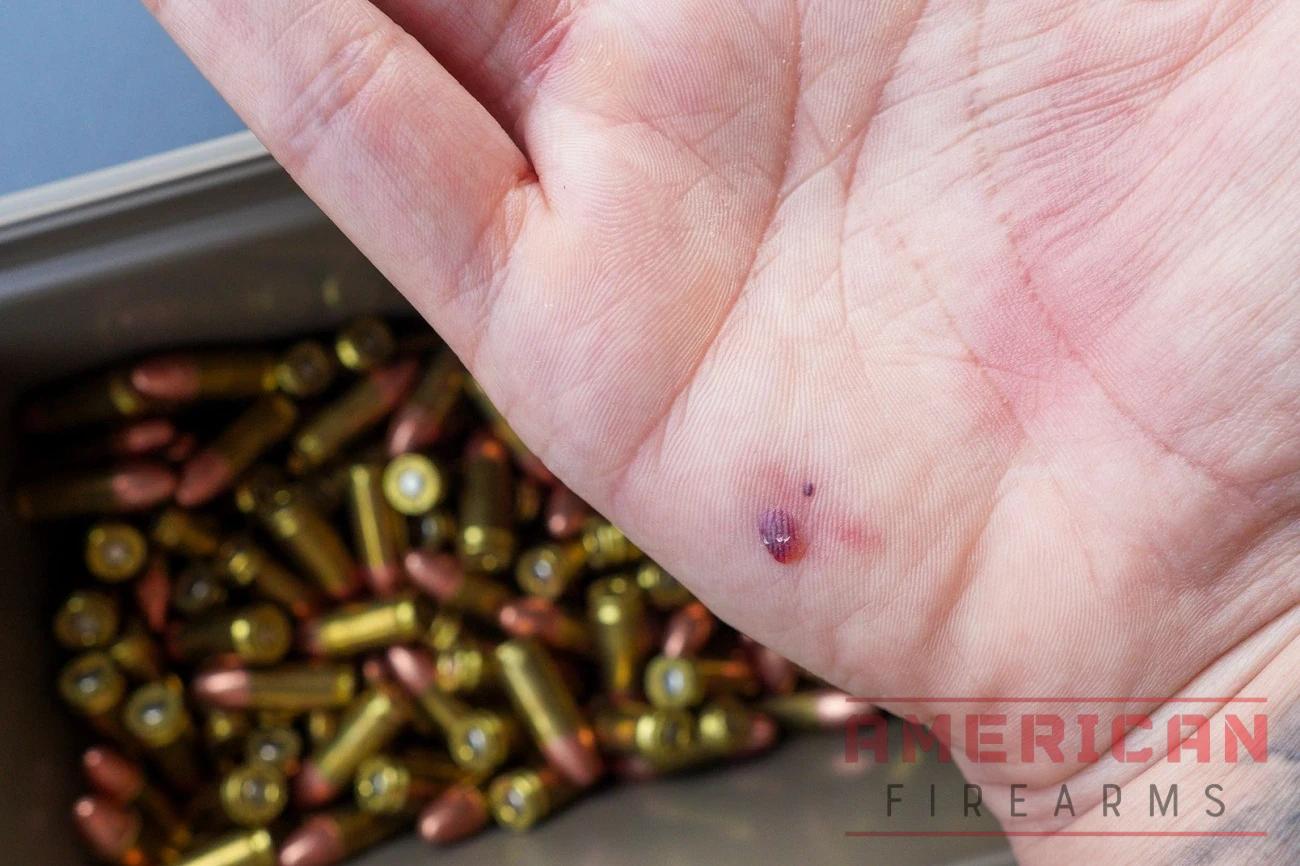 Swapping my P-10 S mags for longer CZ P01 sticks helped with shot placement, but 300 rounds later had worn a blood blister into my hand.
Next, I pushed out to 7 yards and had a consistent group on the upper chest area.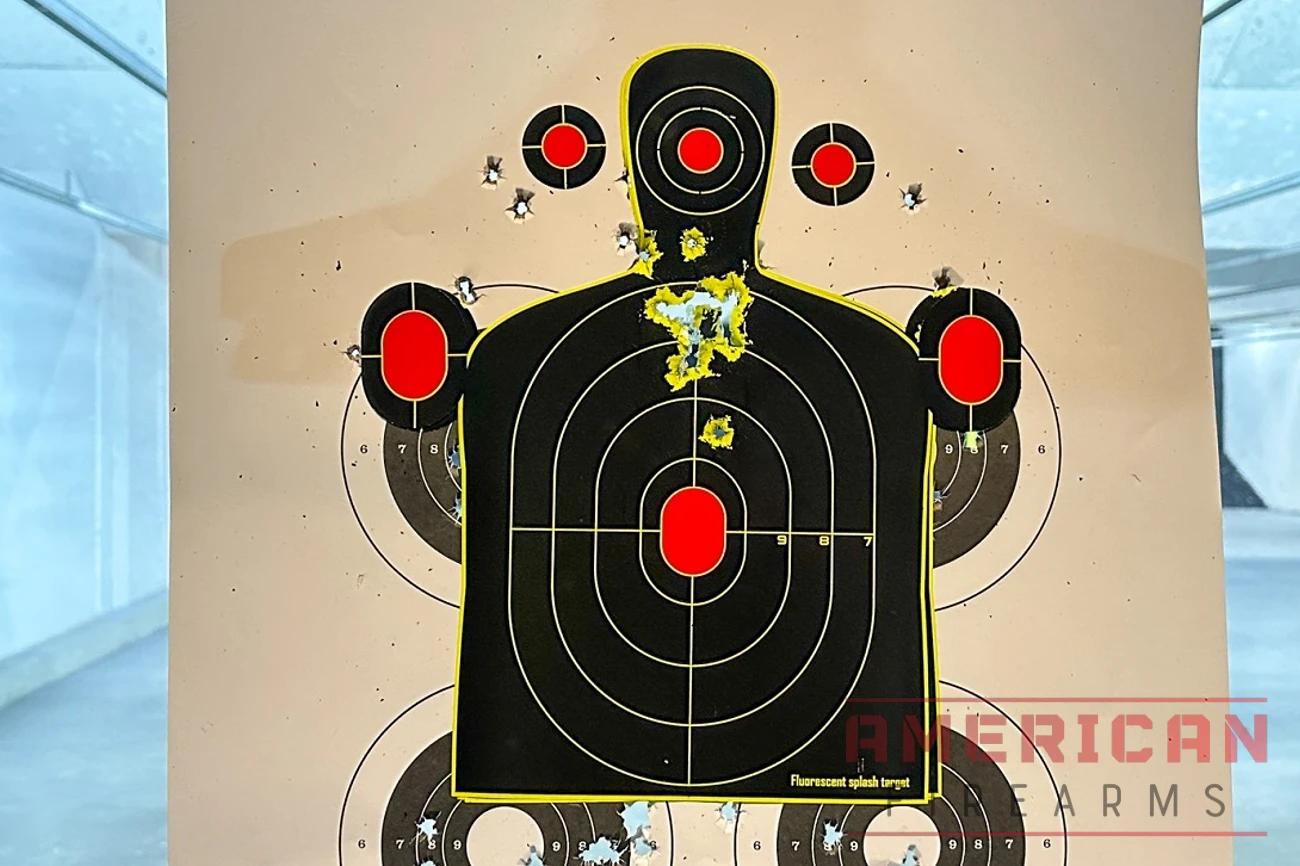 7 yards had a nice consistent group on the upper chest area.
And at 10 yards, I had a slight issue up and down, but I could place most of my shots as intended.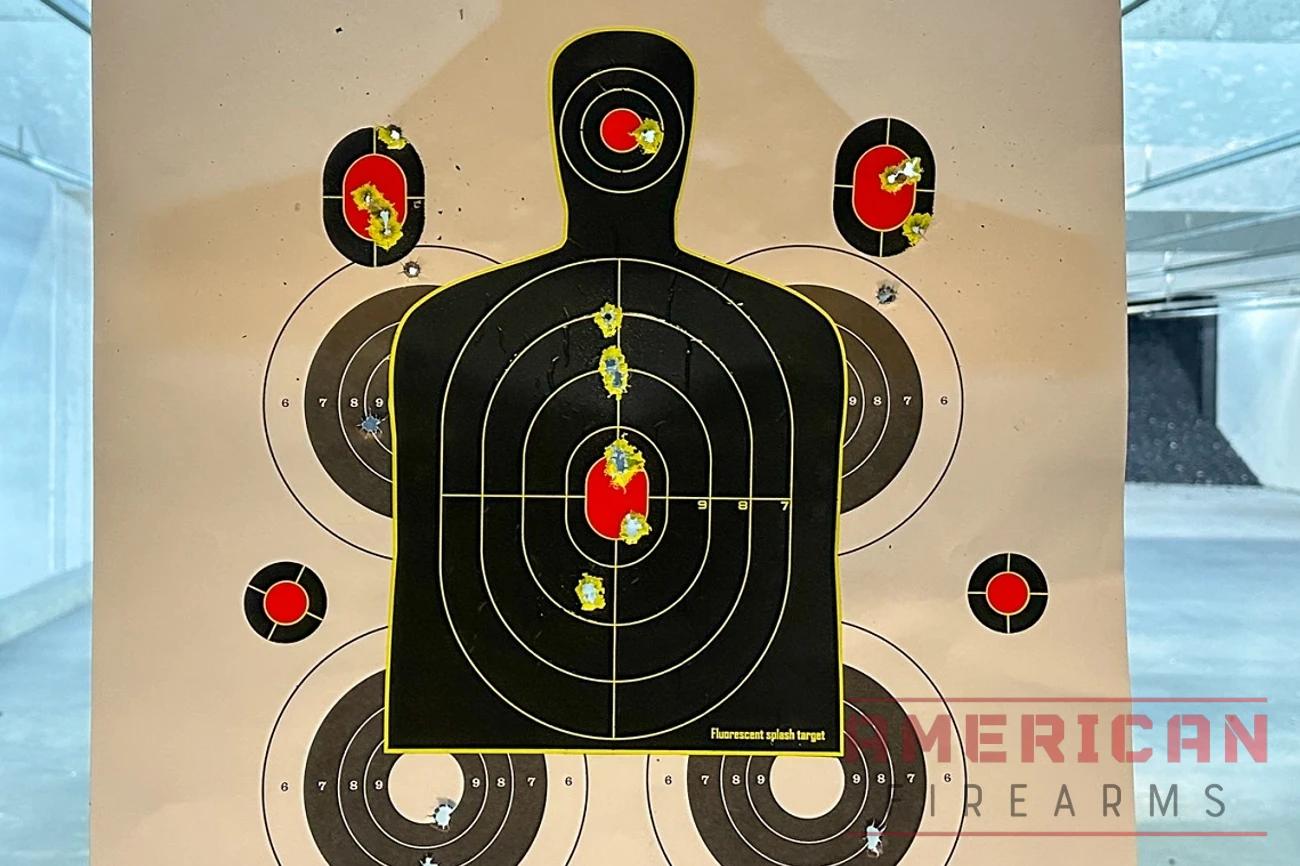 At 10 yards I was getting some vertical ranging, but could still put my shots where I wanted.
Ergonomics
The grip feels really good on the P-10 S . It's short, but adding extended magazines helps. It's easy to get a high, solid grip, which increases the shootability.
The P-10 S grip gives you lots of traction even with sweaty hands, but after 100 rounds, it starts to rub my palms enough to leave a mark.
I like it equally as much as my large-handed husband does. It comes with a small, medium, and large replaceable backstrap to customize the fit.
That's such a welcomed option for us small-handed folks but even with the larger backstrap in place, it can be tricky for those with larger hands to get a full two-handed grip.
The P-10 S texturing is made up of raised squares. It's placed strategically on the back strap and front strap, as well as the sides of the grip. The raised squares are small, sharp, and pointy on the back and front straps. And on the sides, the squares are slightly bigger and blunter.
This texture is very aggressive; depending on your preference, you'll either love or hate it. I appreciate the traction it gives because even with sweaty hands, there's no slipping.
But after 100 rounds, it starts to rub my palms enough to leave a mark.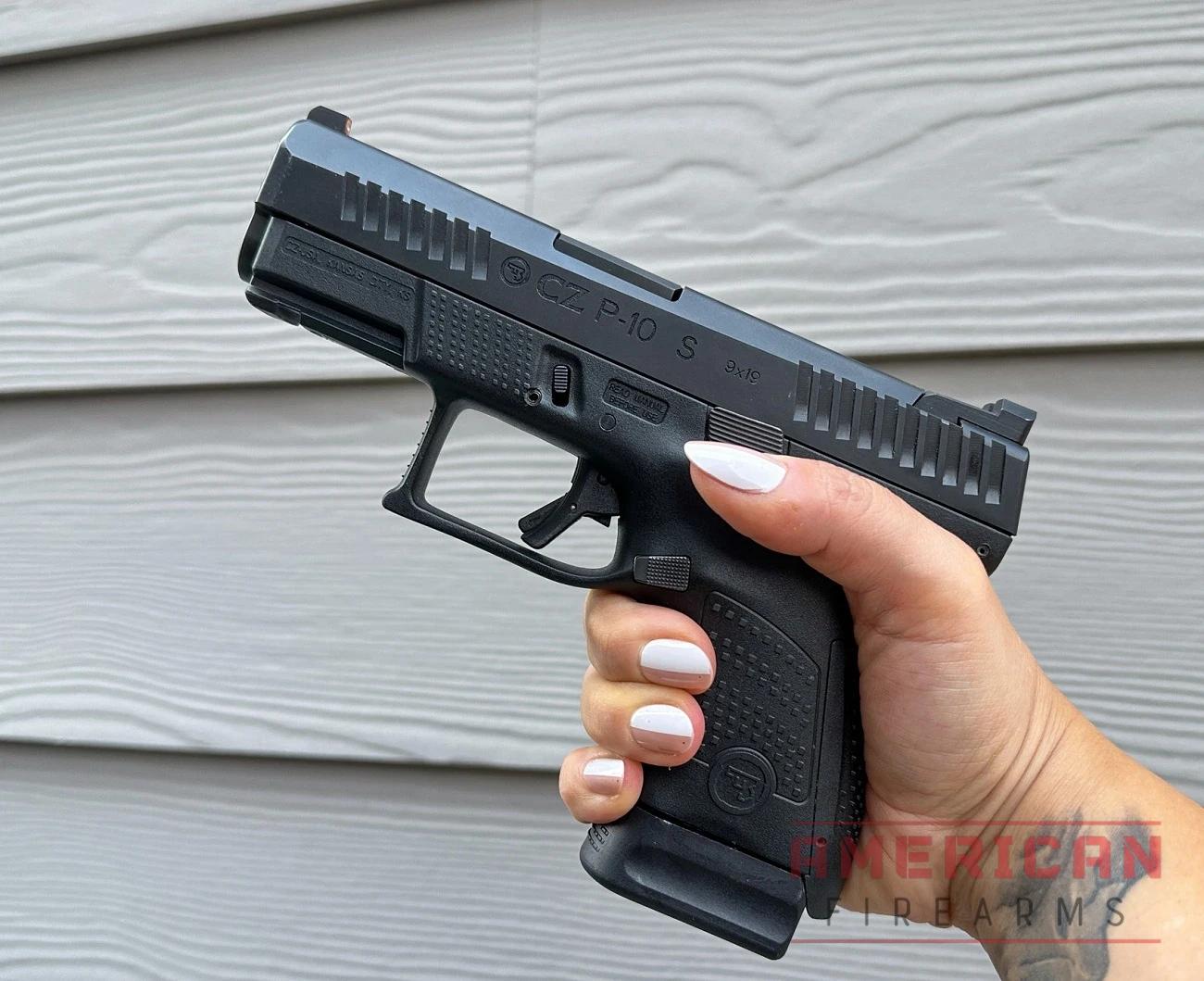 No matter the magazine, my pinky falls into the gap between the mag and the grip, which gets painful after about 50 rounds.
My biggest beef is the small gap between the bottom of the grip and the top of the magazine baseplate. Whether I use the standard 12+1 flush fit mags or the +2 extended magazine, my pinky sits right in that small gap, which causes noticeable pain after about 50 rounds.
Of course, you won't have this issue unless your hands are the exact same size as mine, but it's something to keep in mind.
Features
The P-10 S is ready to carry out of the box and comes with better-than-average, near full sized features from the factory. For the price point, it's got a great set of sights, a nice trigger, an ambi slide release, reversible magazine release and functioning controls.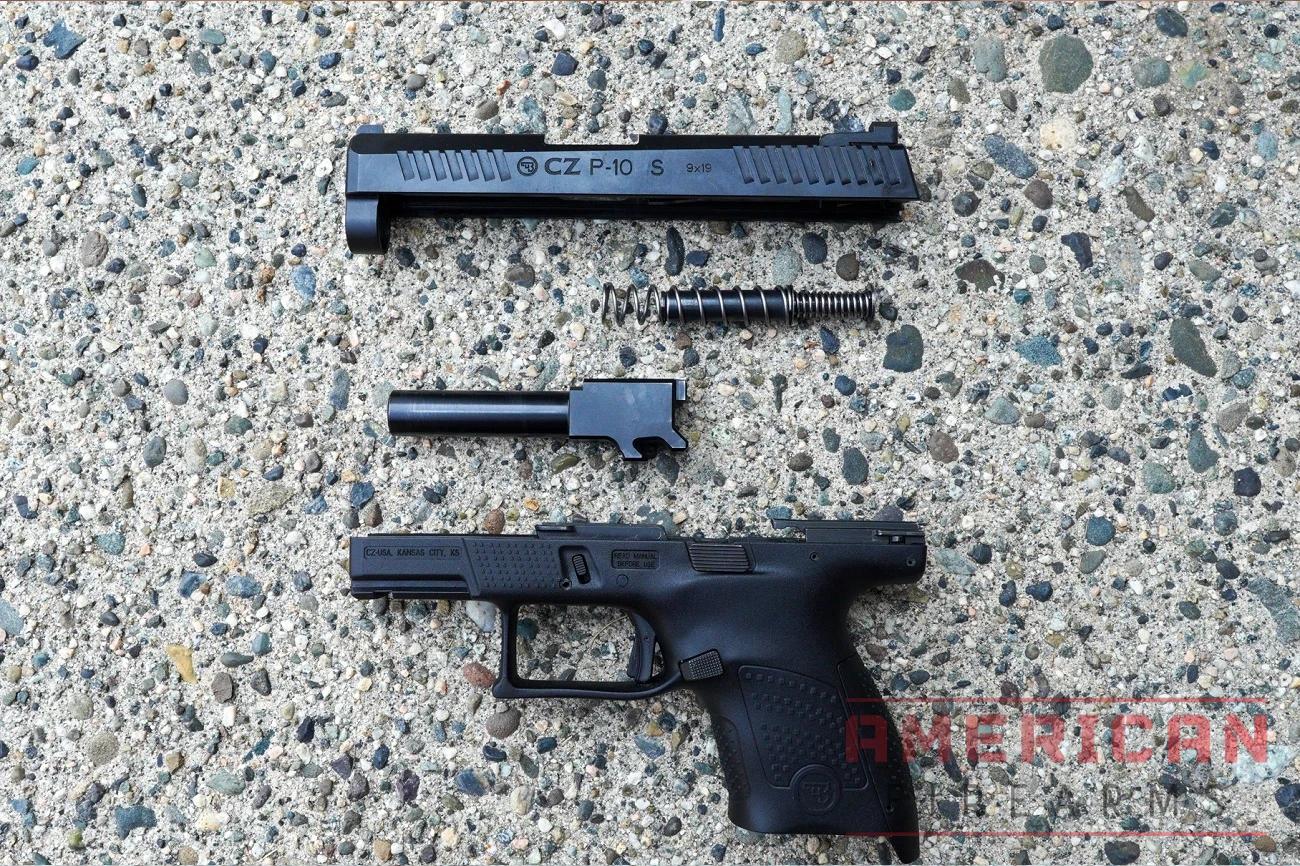 The P 10-S taken down
Three backstraps allow you to customize your grip, and they've even included a Picatinny accessory rail molded into the front of the frame, which some competitors lack, making it a breeze to run standard-sized weapon lights.
One downside is that you won't find much aftermarket support for any pistol in the P-10 lineup. The market seems to be growing, though, and for now, you can find a limited number of basic modifications like magazine base pads, sights, and mag releases.
Fit and Finish
The CZ P-10 S is a good-looking pistol. No, it's not drastically different looking than other competitors, but it's a bit cooler.
It's beefier than many other subcompacts. Compared to something like the Sig Sauer P365, the P-10 S wins hands down regarding aesthetics. The deep slide serrations, curvy grip, and texturing pattern add some style.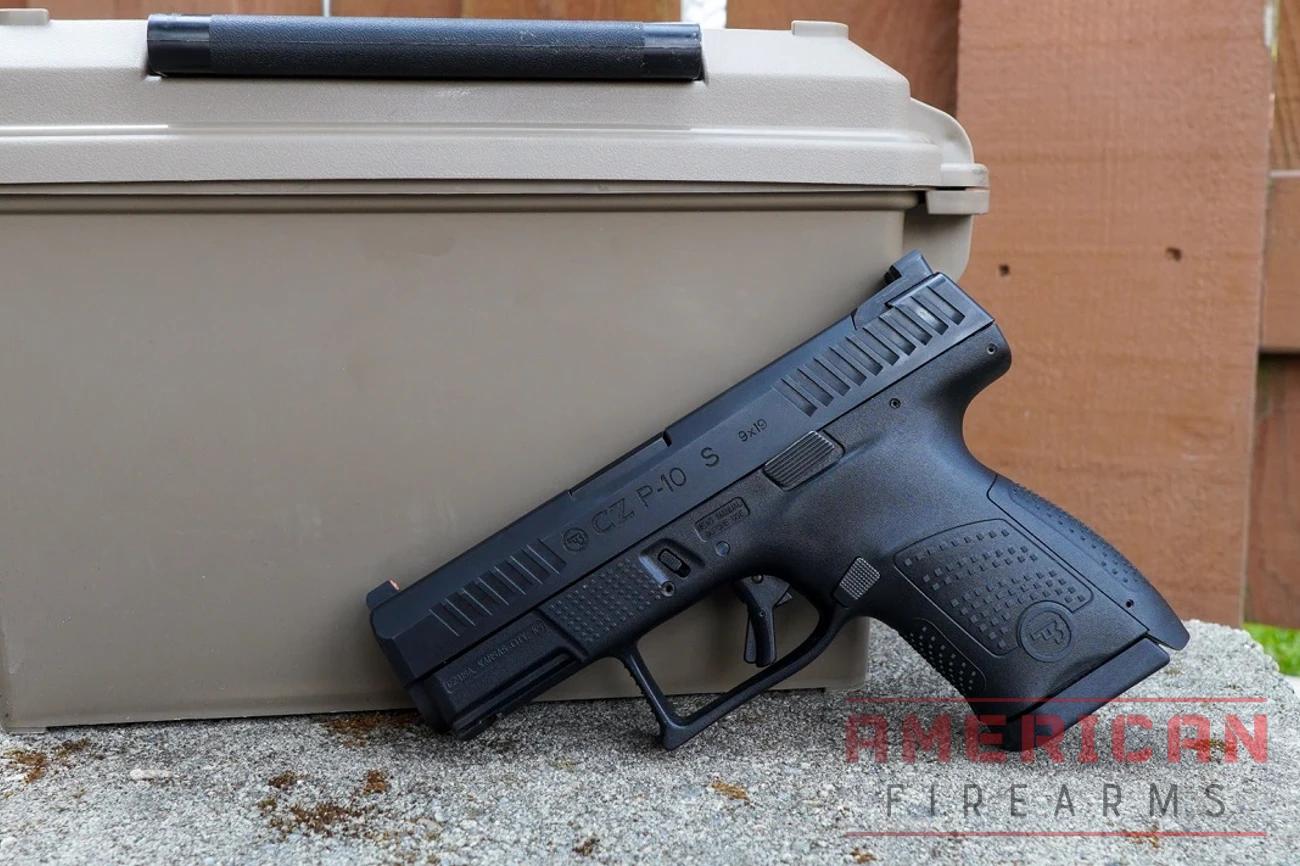 It's just a good-looking pistol.
Reliability
I'm nearing roughly 700 rounds on my P-10 S and haven't encountered any issues. I've run it with multiple magazines and several different types of ammo. I haven't changed any parts, and it gets cleaned every time I shoot it.
That said, it's probably my least-shot pistol, so your mileage may vary.
Value
Priced at only $399 MSRP ($449 for the OR), the CZ P-10 S is a good bang for your buck. You can usually find it for around $350 or less; given the factory features, that's a steal.
Make no mistake, this isn't a Gucci gun, but it's better than many of its competitors. You can certainly make a few upgrades, although the choices are limited. I carry a Glock 48 MOS daily and freely admit the P-10 S is just a more enjoyable shooting experience. It may have replaced the G48 as my EDC if it were slightly thinner.
Glock-Alternative: Glock 19
The Glock 19 is an icon at this point, and for good reason. I learned to shoot on my G19 and have used it to instruct many friends. Still, I enjoy shooting my P-10 S better. The stock trigger is smoother, and the sights are nicer. Even with thousands of rounds through my G19, the P-10 S is a better experience.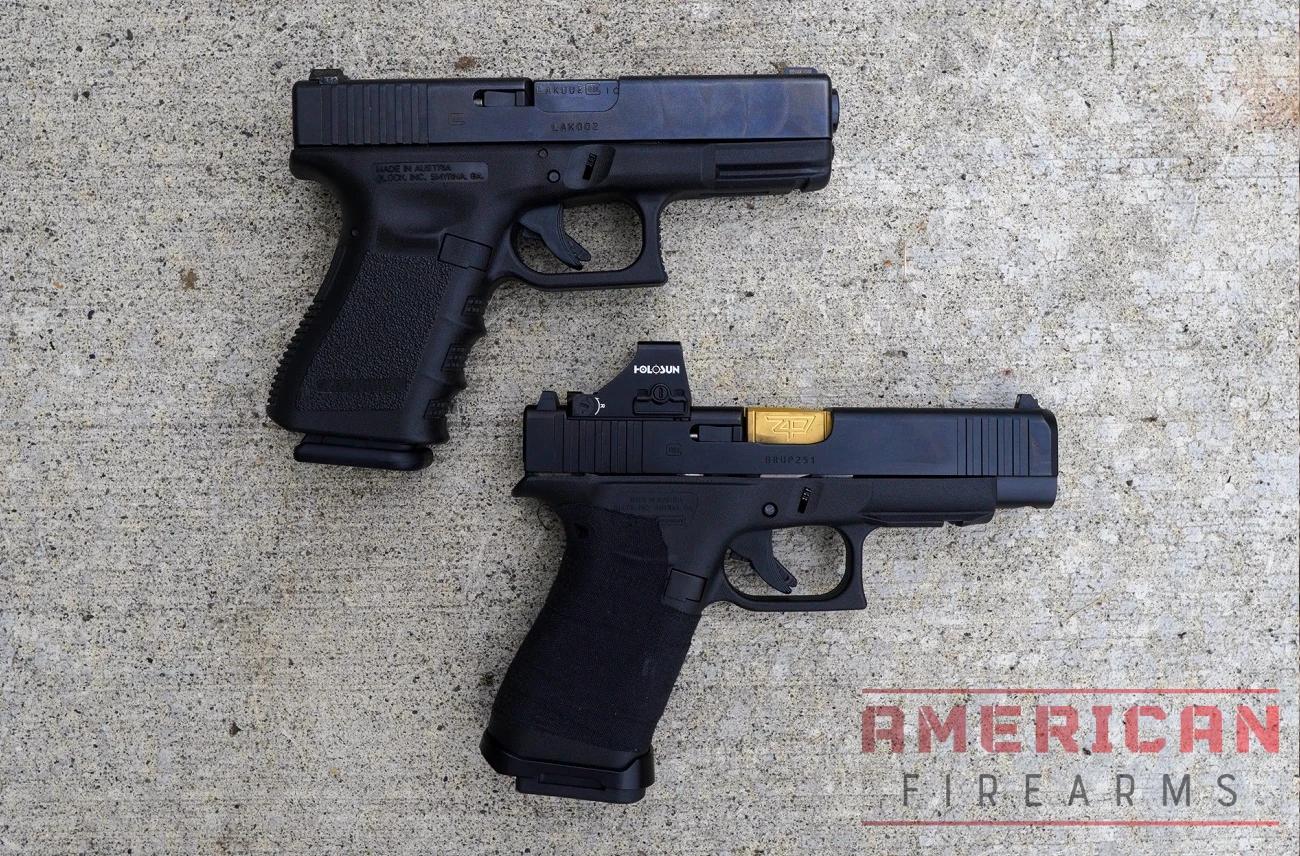 The Glock 19 (top) and it's slimmer cousin, the G48 (bottom)
The P-10 S is smaller than the Glock 19 in both length and height. The width is the same, but for small-stature folks, the P-10 S will conceal more easily. The G19 carries more rounds than the P-10 S, which is a plus, and has much better aftermarket support.
If you want more check out our Glock 19 review.
Even More Concealable: SIG P365
The SIG P365 is one of the most popular concealed carry guns because it's tiny and carries up to 15+1 rounds. That's three more than the P-10 S when you add a +2 baseplate extender.
The P365 is one of those guns that even the most petite person can conceal easily, and that's a big plus.
The P365 has a good stock trigger, but the grip is tiny. Even with small hands, I struggle to get a proper grip. The P-10 S, although short, has better ergonomics and feels good.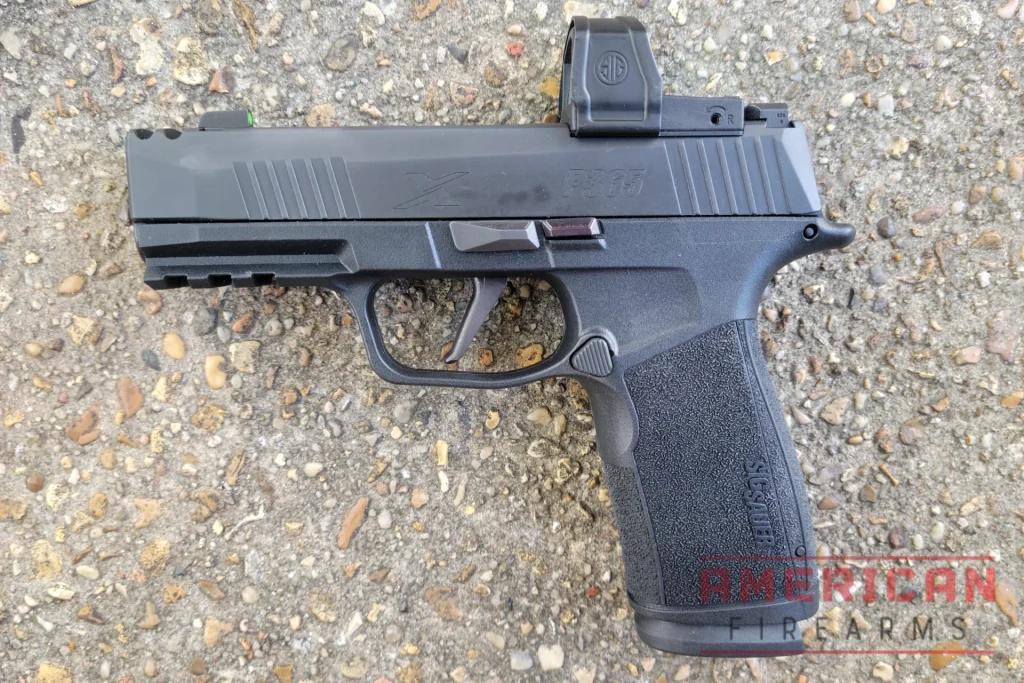 The Sig's P365 XMacro, while not as small as the standard P365, offers 18+1 capacity, and its larger format helps mitigate recoil better.
The P365 is also very snappy to shoot compared to the P-10 S. The P365 X-Macro, which we reviewed, offers a larger grip and more capacity (18+1 to be exact).
Is the CZ P-10 C better than the Glock 19?
Is the CZ P-10 S discontinued?
What is the difference between SIG P365 and CZ P-10 S?
When did the CZ P-10 S come out?