FN 509 LS Edge Review: A Fantastic Modern Defensive Pistol
Written By
Travis Pike
Certified Firearms Instructor
Edited By
Michael Crites
Licensed Concealed Carry Holder
Share:
Products are selected by our editors. We may earn a commission on purchases from a link. How we select gear.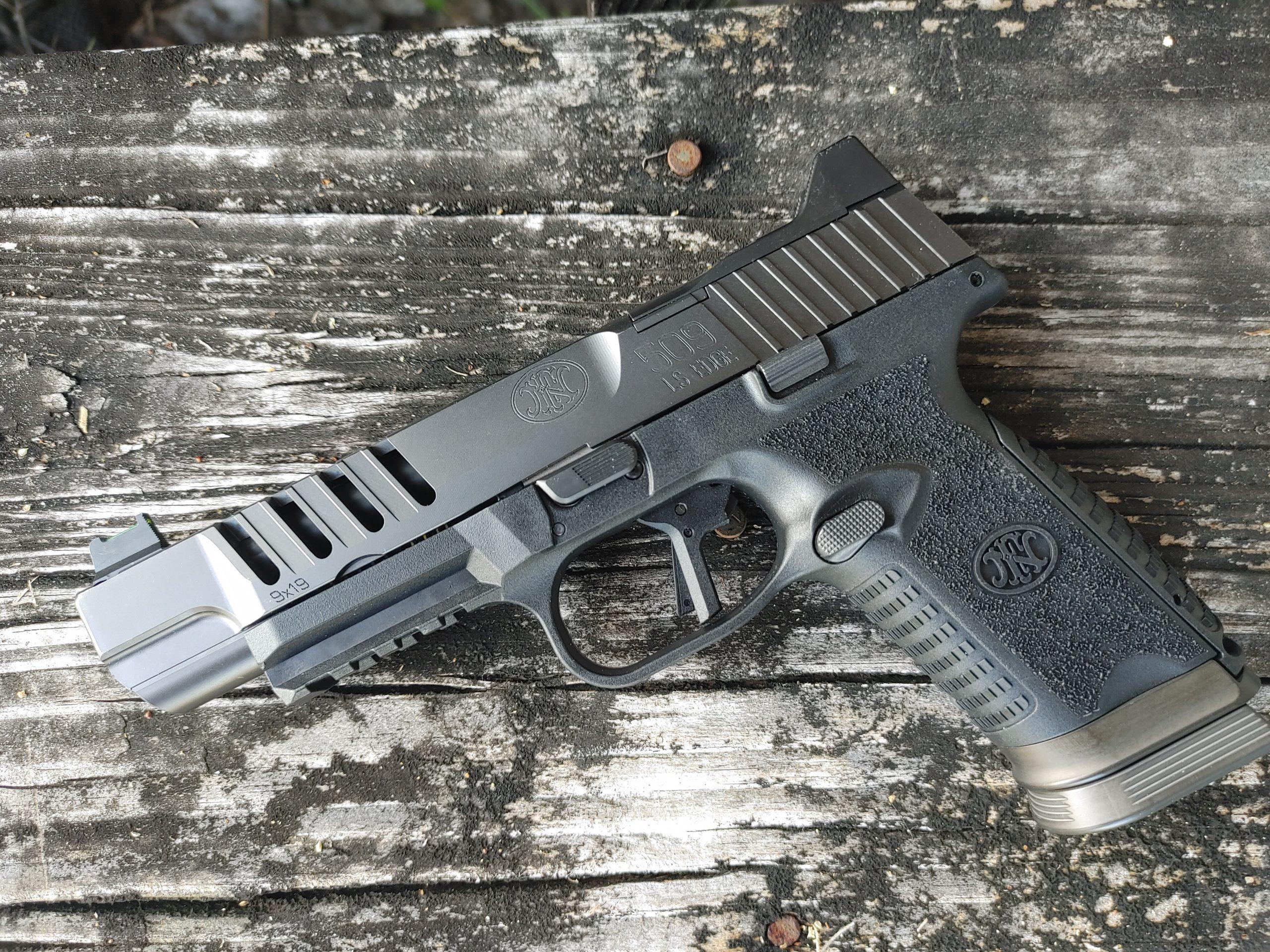 The market for polymer frame, striker-fired pistols has never been larger. That's not a bad thing because it means we have options, options that allow us to choose the gun that's just right for us. Today we are looking at a rather new option, the FN 509 LS Edge. The FN 509 LS Edge is one of the more fascinating variants of the FN 509 and likely the one that's drawn the most attention. Is the LS Edge worth your hard-earned money?
Well, let's dig in and find out.
Beyond being a Marine infantry veteran, firearms enthusiast, and NRA-certified instructor, I'm a lifelong shooter who just happened to be mediocre enough with a gun and a keyboard to combine the two and write. I teach concealed carry courses and enjoy spending time in Florida's Nature Coast. I also happen to own a number of firearms, including the FN 509 LS Edge in this review.
While all of the content is presented from personal experience, it's certainly valuable for you to get some range time with any pistol — especially one as expensive as the 509 LS Edge — to ensure it'll fit your specific needs.
The FN 509 descends from the FN FNS handgun. It was designed specifically for the United States Army's XM17 Modular Handgun System competition. FN teamed up with famed Delta Force Operator Larry Vickers to develop the FN 509. The competition was quite arduous, and the SIG P320 eventually took home the prize. Not wanting to waste those R&D dollars, FN then released this modified variant of the FNS as the FN 509 to a very happy market.
One of our favorite 9mm and home defense pistols the FN 509 series has expanded into an entire family of firearms which is quite popular in the United States and abroad. The LAPD moved to the 509 series in 2021, and the pistol has grown to a family of handguns. That is where the LS Edge came to be. FN released standard, compact, and midsize variants as well as tactical and single-stack designs. The FN LS Edge was released as a "beyond full-sized" variant designed with the competitive shooter in mind, taking the design well beyond the traditional production gun.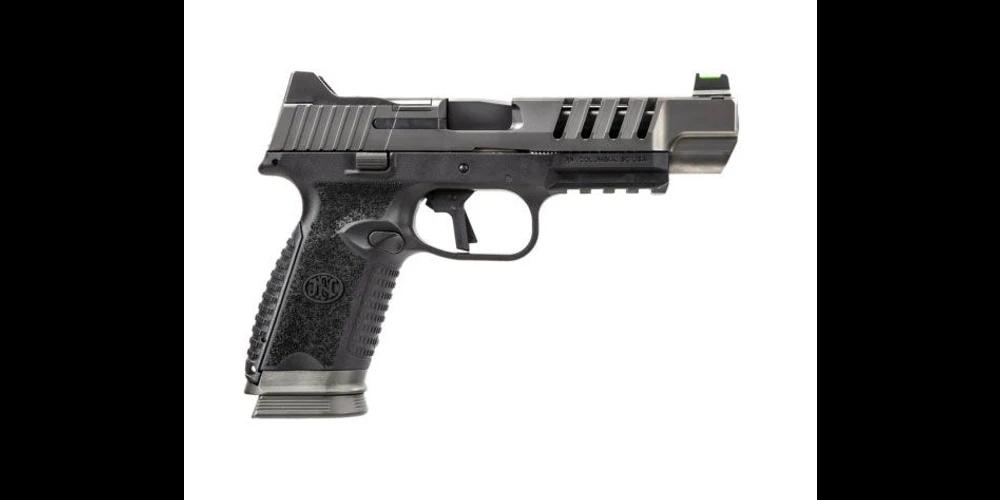 | | |
| --- | --- |
| Caliber: | 9mm |
| Capacity: | 17 |
| Action: | Striker-Fired |
| Length: | 8.2" |
| Barrel Length: | 5" |
| Weight: | 31 oz. |
| Sight Radius: | 6.7" |
| Width: | 1.35" |
| Height: | 5.9" |
| MSRP: | $1,629 |
| Real-World Price: | $1,400 - $1,500 |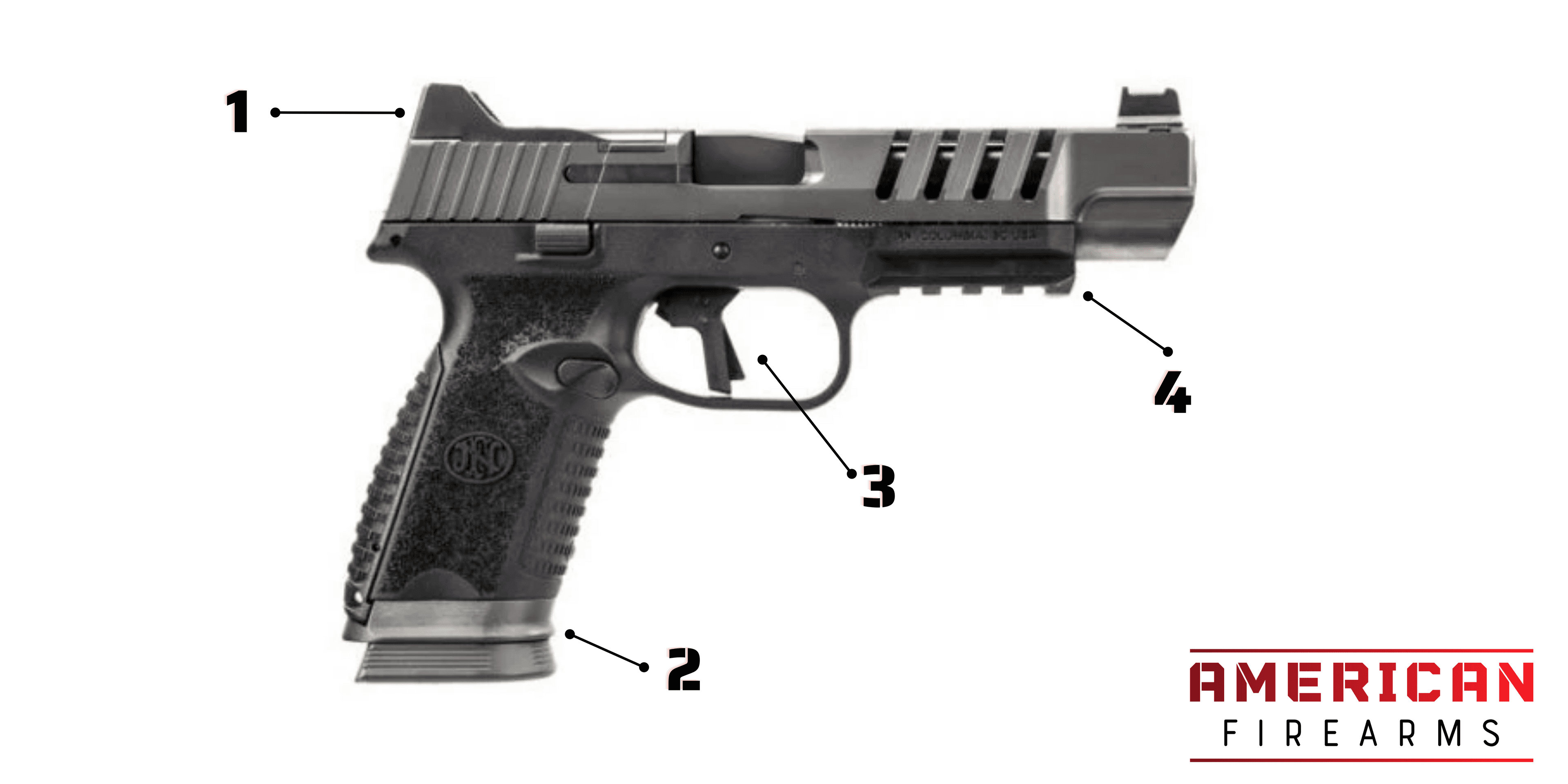 FN 509 LS Edge Review Feature Call-Outs
Optic Ready Plate System
Accommodates a huge diversity of optic options.
Flared Magwell
Speeds reloads for competitive shooters
Flat-Faced Trigger
Gives you more consistent pulls and shortens reach to the trigger.
Low Mass Slide
Really helps soften recoil and deep serrations ease racking.
The LS Edge takes aim at the competition market but would also be appropriate for home defense and duty use. The big gun comes feature-filled and is best described as the premium variant of the FN 509 series. The LS Edge embraced modernity with full force.
The gun comes optics-ready and uses a system of interchangeable mounting plates to accommodate a wide variety of red dots from just about everyone. This includes Trijicon, Vortex, Holosun, Leupold, and more.
Shooters also get a set of suppressor height sights designed to sight co-witnesses with the red dot and provide a backup sight system in case the red dot fails. The front sight is a high visibility design, and the rear sights are open and encourage fast sight acquisition.
FN utilized lightening cuts to reduce the weight and reciprocating mass of the longer and heavier slide. This not only gives the gun good looks but the weight reduction means less slide mass traveling rearward, and a lighter slide translates into less recoil and muzzle flip.
It's a smart move and goes beyond just looking cool.
The flat-faced trigger has a few nice benefits — it's easier to reach for those with small hands, typically provides more trigger control and a more predictable trigger pull, and it also features and adjustable pull weight, for additional customization.
To speed up reloads, a flared graphite anodized aluminum magwell funnels mags into your gun quickly and intuitively, and to finish everything off — we get a Picatinny rail and ambidextrous slide stops. This rounds out a very feature-filled pistol.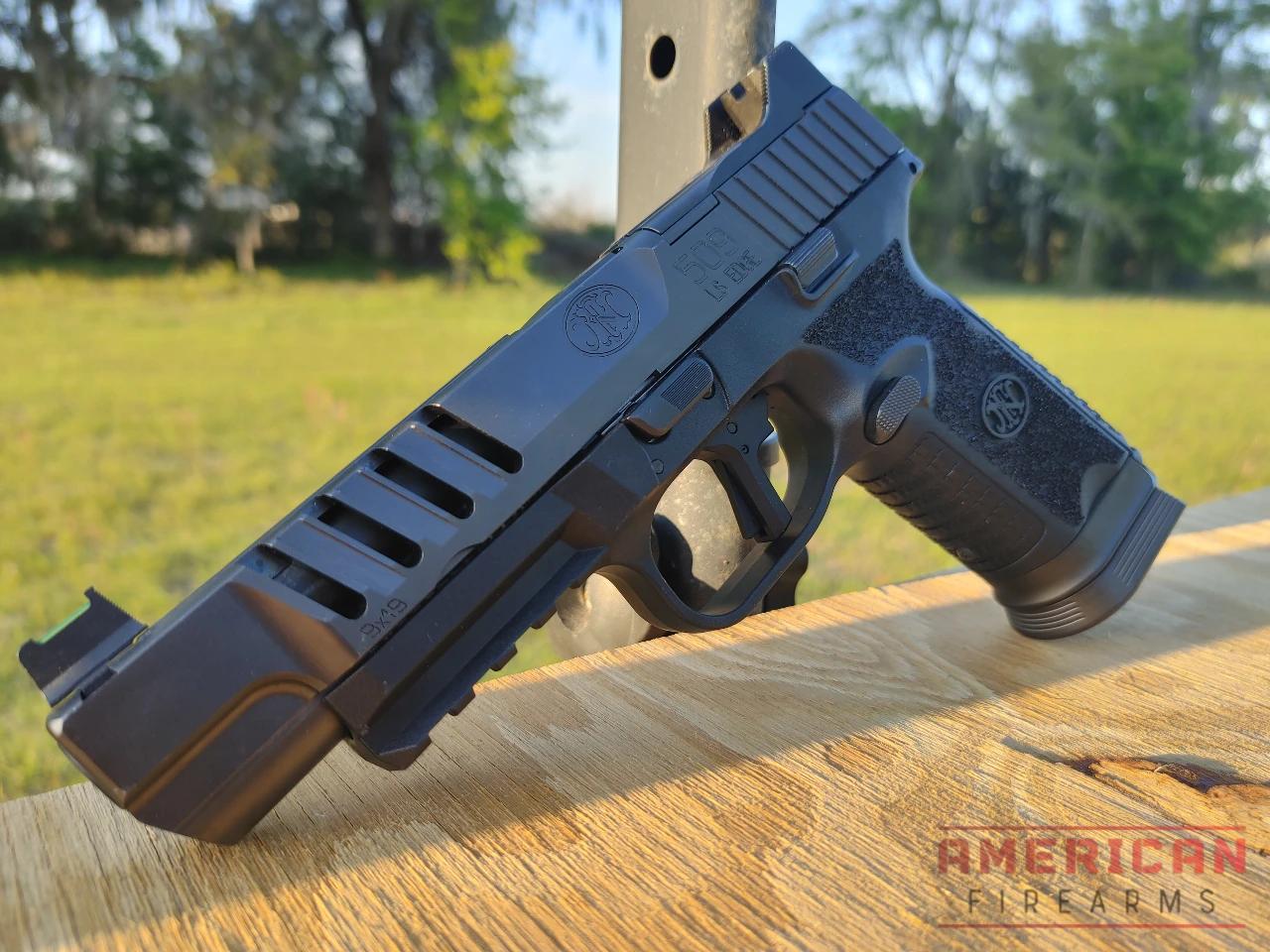 The LS Edge is a fantastic pistol for competition shooters or home defense, but probably too large for carry use.
I'll get this out of the up front — the FN 509 LS Edge is clearly not a logical choice for concealed carry. While plenty of hardcore guys will carry it, most of us mere mortals will feel a bit unnecessarily weighed down by such a big gun. This pistol is aimed at providing an out-of-the-production competition gun for shooters looking to get into practical shooting competitions.
With that said, it has a home outside of pure competitive shooting. If you wanted a handgun for home defense or duty, it would work perfectly well. It's still built on the ultra-reliable FN 509 design just upsized with modern features to make it well-suited for modern defensive use. The addition of a red dot and light gives you a very capable pistol design for defensive, duty, and competitive use.
That big 5-inch barrel helps with accuracy.
Competition and race guns have to be mechanically accurate and easy to shoot quickly, and the FN 509 provides that in spades. The LS Edge's longer barrel increases its sight radius and helps keep the gun shooting flat for some serious tack driving performance.
If you are rocking iron sights, that longer sight radius makes it easier to shoot straight, especially when stretching thing out to longer-than-standard ranges. If you step into the modern age and use a red dot sight, then sight radius is no longer an issue. In addition to eliminating sight radius considerations, a red dot makes shooting quickly with accuracy and at longer ranges easier. They also enable the user to keep both eyes open when aiming, helping increase situational awareness — a key consideration for home defense applications.
While the LS Edge sights are great, aligning any pair of sights takes time — even if it's fractions of a second. The addition of a red dot eliminates the need to align sights altogether — you just put the dot on the target and shoot.
The dot of an MRD is also smaller than the front post of an iron sight, which allows you to see your target at longer ranges, especially if that target is small. Red dots rule, and on your LS Edge, you'll start to feel quite confident at longer ranges quickly.
The awesome trigger also helps. It's light, smooth, and grit free with a slight takeup. The trigger breaks at 90 degrees consistently, making it predictable and consistent, and the positive reset speeds follow-up shots.
Finally, the hammer-forged barrel is also target crowned — a high-performance feature that provides the best possible accuracy and includes a polished ramp and chamber for consistent, reliable feeding across all ammunition types.
Grip angle is often much ado about nothing, and in my experience, it all comes down to user preference. If you prefer a more 1911-ish grip angle, then the FN 509 is for you. The grip is highly textured and aggressively so — what FN calls a "perimeter frame texture". It provides a ton of surface material for holding on while shooting rapidly.
The 509's ergos also encourage a nice high grip on the gun and provide shooters with an undercut trigger guard to keep things comfy and stable.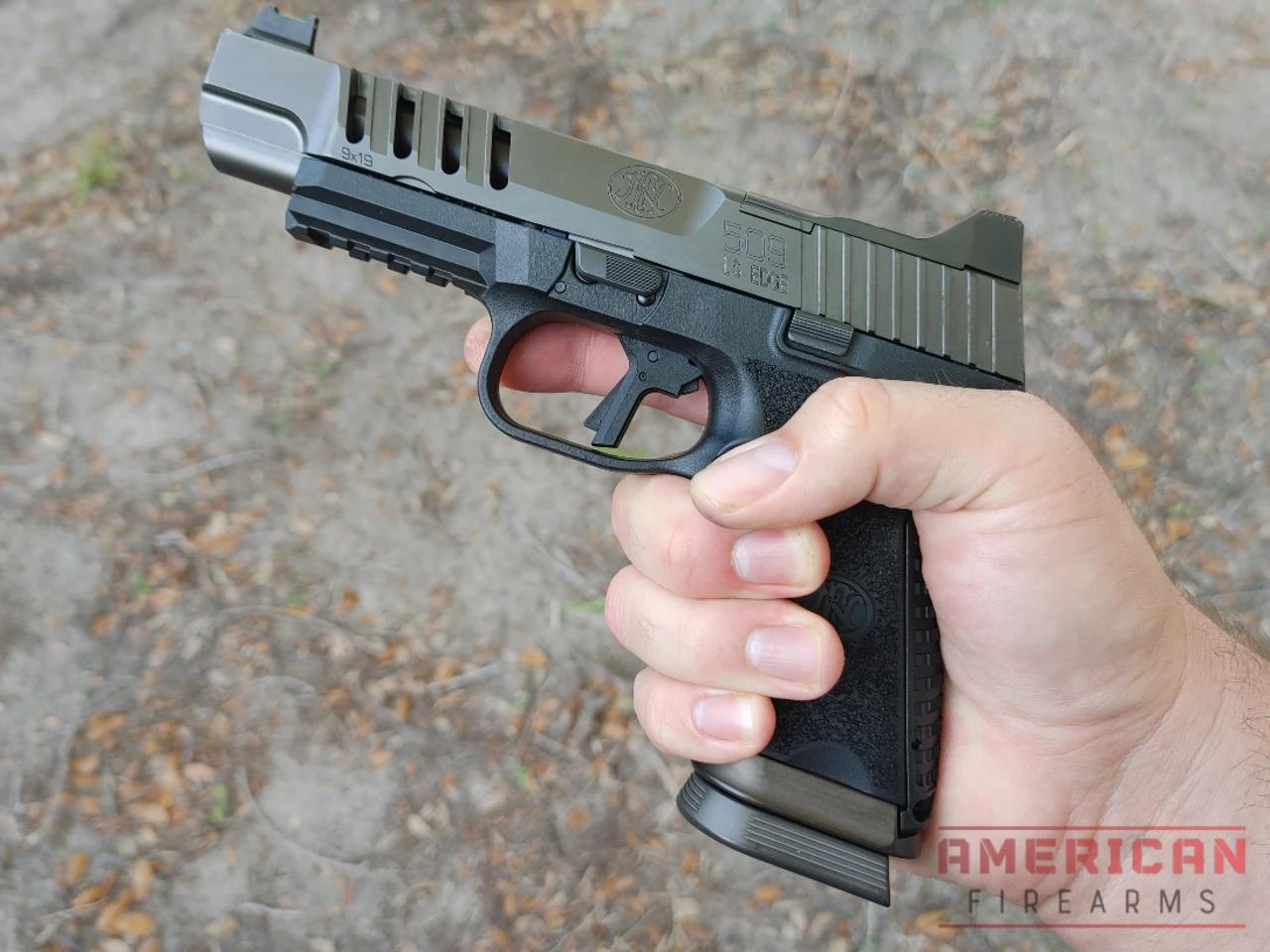 The 509's grip is in the Goldilocks zone for me -- sized just right.
The fat grip is in the Goldilocks zone for me — sized just right — and proves comfortable even with extended range sessions. The removable back straps make it easy to alter the grip size if you so choose, but the factory sizing worked well enough I haven't felt compelled to swap them out. The standard backstrap presented no problems with hitting the flared aluminum magazine release or activating the slide release.
Like most modern guns, the slide release and big thumbs won't get along. In a thumbs-forward grip, I've seen users occasionally pressing the slide release downward. It's not a big deal until the gun fires its last shot. With the slide release pressed downward, the slide will not lock to the rear.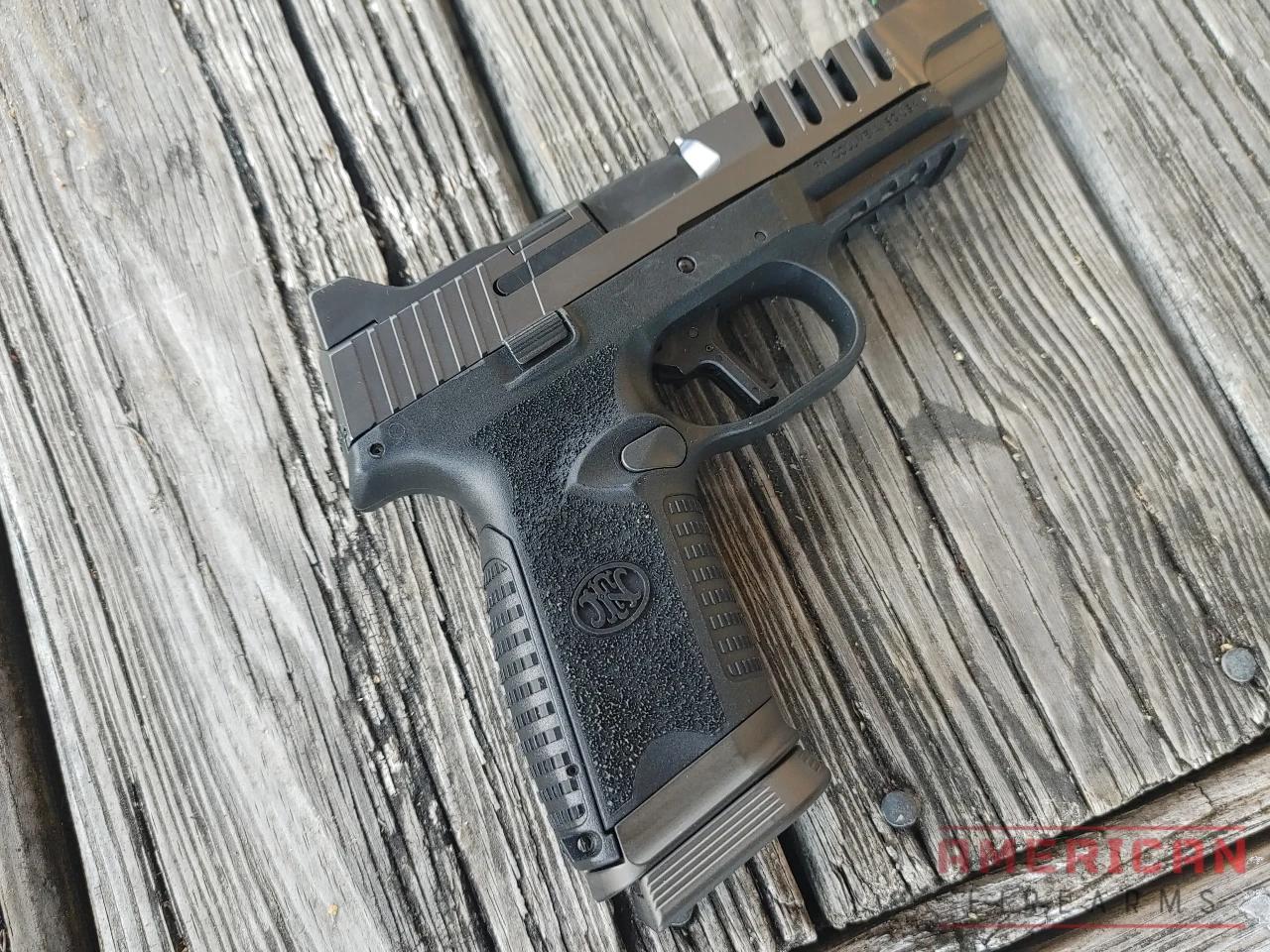 Swappable palmswells help you customize the 509 grip to your preferred size -- but mine felt right straight out of the box.
When firing and shooting, the ergonomics come together well. The big gun has soft recoil and is easy to grip. You notice the smart grip design when you practice shooting with a single hand. You'll have less control, but the gun stays in your hand.
FN added a wider integrated mag well, and it works wonderfully with the easier-to-reach and activate knurled magazine release. The magazines are like Marines with a liberty pass in the fact that as soon as you hit the release, they spring free.
While the ergonomics aren't perfect, they are pretty dang close.
Durability and Reliability
One of the benefits of buying a gun engineered for a military contract is that the design had to meet certain specifications for durability. The military doesn't baby their firearms, and the FN 509 series was built to be rugged and durable with a rather high service life. Hell, FN spent more than a million rounds developing the 509 platform. That's likely an order of magnitude more than I'll ever put through mine.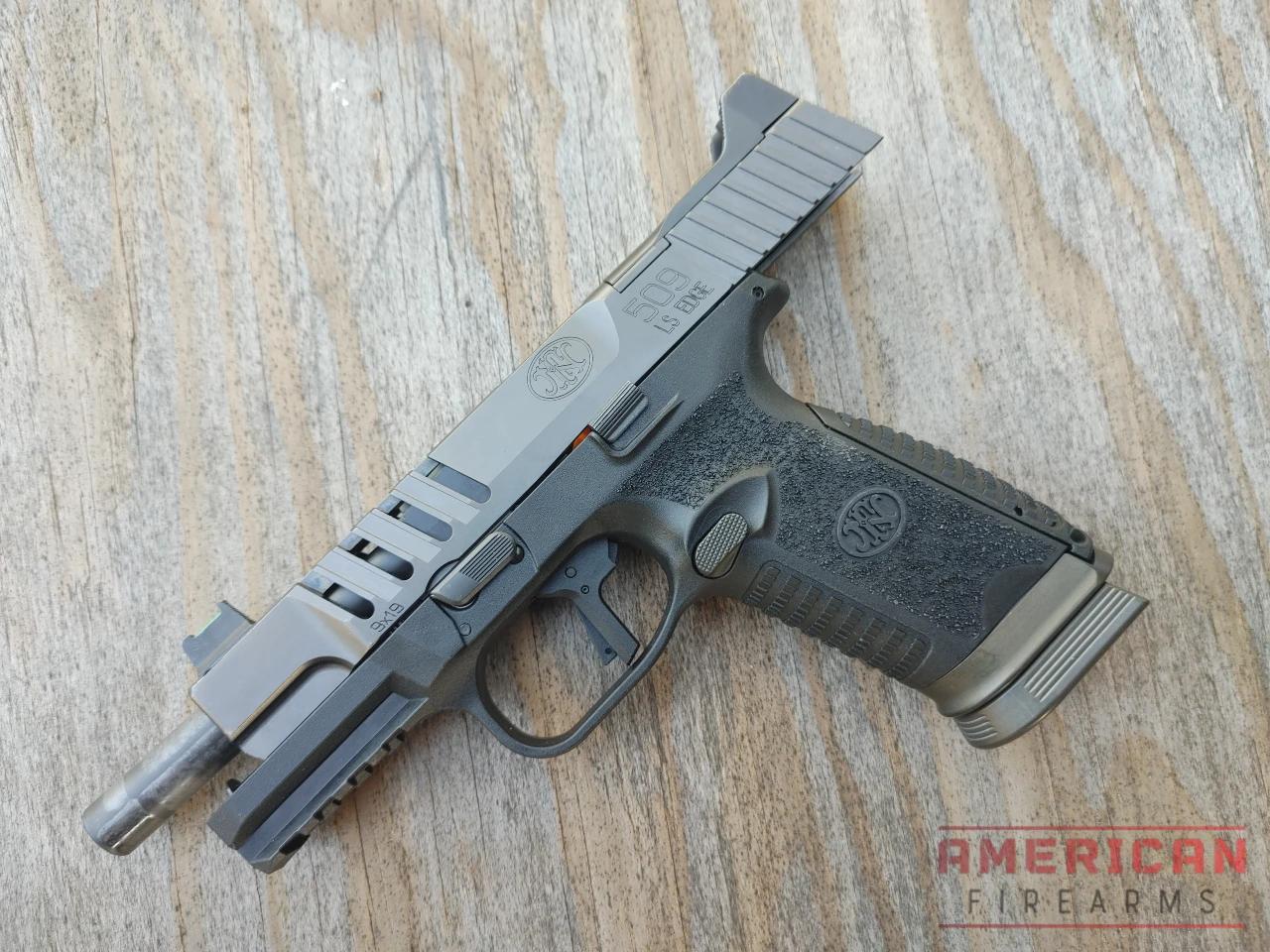 FN put more than a million rounds into the 509's development. It'll handle more than you could ever throw at it.
It can take thousands and thousands of rounds, dry fire reps, and draws a competition shooter will toss at it without complaint. FN even uses a good-looking but durable graphite PVD finish to resist rust.
In terms of reliability, you'll have no complaints. The gun just works and works and works. It eats through the best and worst ammo without complaint. Stuff like Winchester Steel and SIG JHPs both cycle with the same amount of reliability and accuracy. The magazines have tons of reloads under their belts. They've been dropped on dirt, concrete, and hard ground, and they've never given up the ghost.
The FN 509 LS Edge is easily one of the most reliable guns on the market and doesn't seem to have complaints about whatever you feed it. It doesn't need a special meal to perform its job.
Cleaning a gun during a review process should be outlawed. Shooters need to know what a gun can do while it's filthy and dirty, which I tested at length with the LS Edge. At the end of my testing process, the gun was cracked open and cleaned. Disassembly is easy, and the gun separates into a frame, barrel, slide, and recoil spring. A little oil, an AP brush, and a rag clean it right up.
Luckily the magazines come apart easily as well. The LS Edge magazines are no Glock mags — which are notoriously difficult customers. The FN sticks pop apart to allow for easy cleaning and maintenance. Even after so many drops and reloads, they were surprisingly clean inside.
FN 509 LS Edge Disassembled
Despite the lack of a threaded barrel option on the LS Edge, it uses suppressor height sights, meaning they are taller than average. This allows for a lower 1/3rd co-witness with most red dots making these tall sights quite nice for those looking to use optics.
The rear sight is protected by a set of tall wings that act as guards and safeguard the sights from impact or getting hooked on your clothes or something in your environment. The wings are part of the optics cover plate and are removable.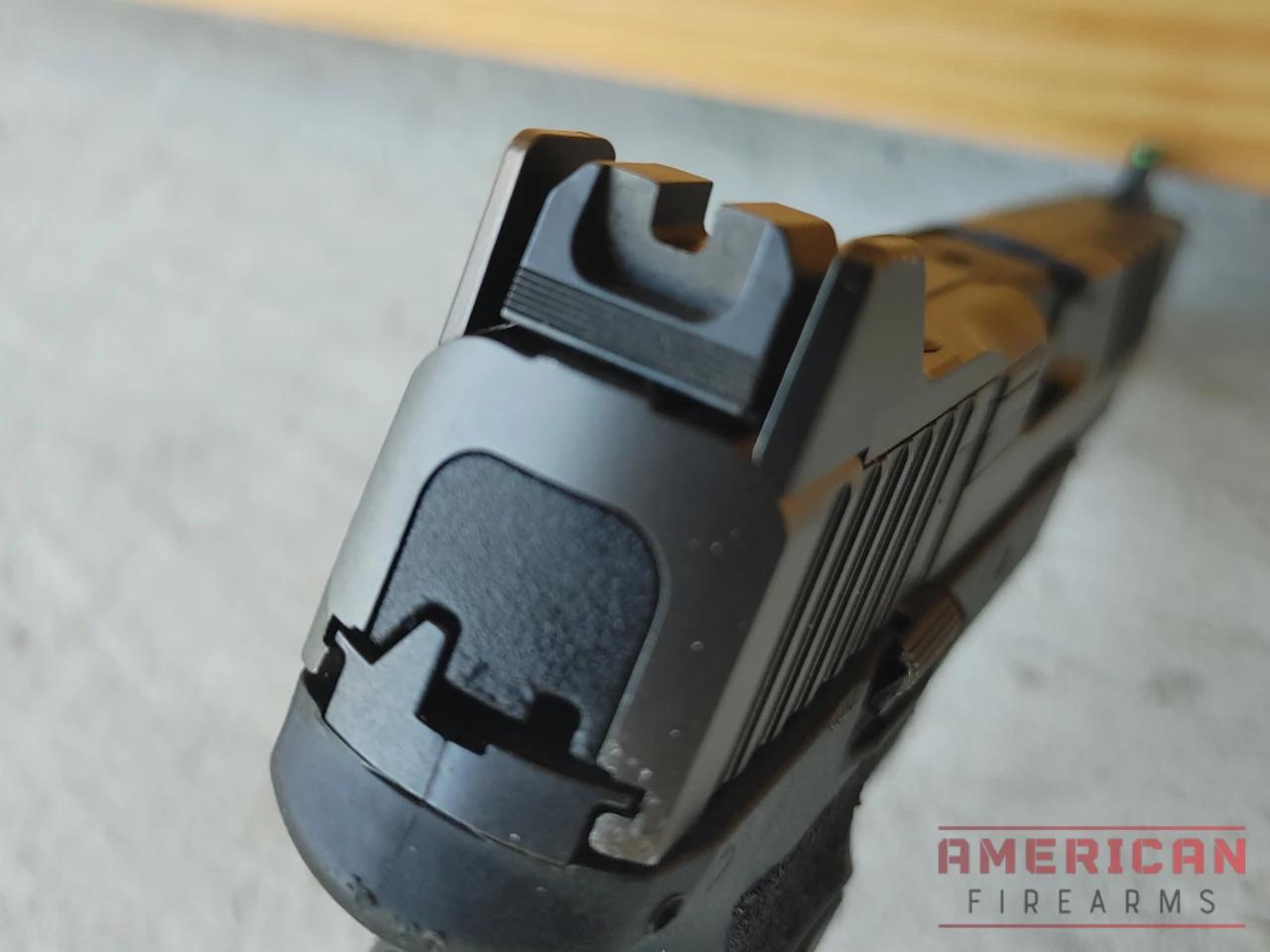 The removable "wings" that protect the rear sight help to keep it from bumps and snagging.
Your included iron sights consist of a rear sight with a U notch that's easy to drop the front sight into. FN textured the sight to prevent reflections, and it's a nice feature that's often overlooked until the sun is above or behind you.
FN delivers a high visibility front sight made from green fiber optic. The precision fiber optic sight post is relatively small at .40 inches wide, but its bright green color still helps it remain eye-catching regardless of its size. This precision fiber optic sight package helps make it easier to engage smaller targets or targets at range. It's tough to shoot a target when your entire front sight covers it, so the smaller front sight remains very usable.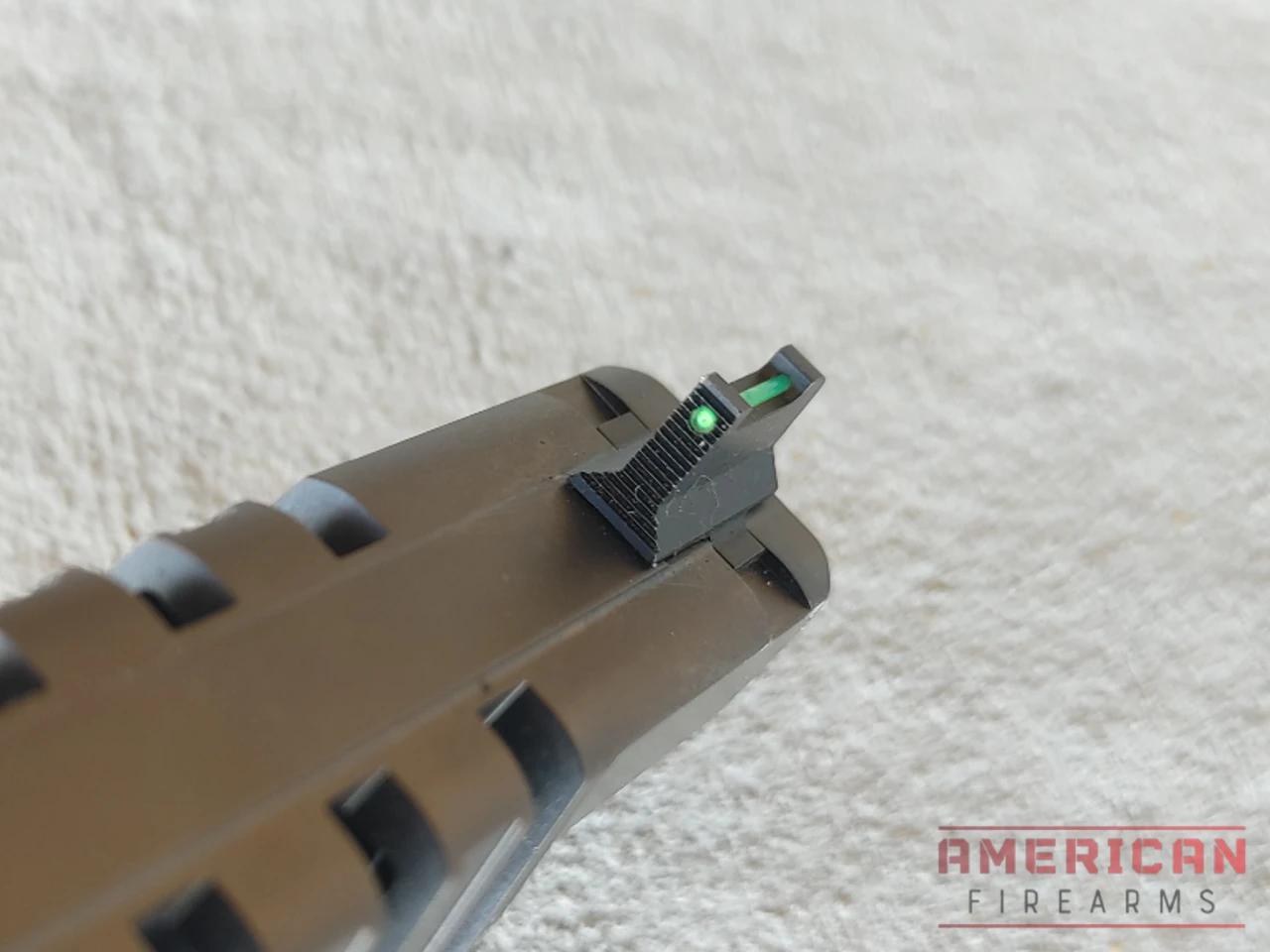 The front fiber optic sight is tiny, but effective. It's small size also helps with distance shooting as it won't cover your target. Note the texture on the post itelf -- a nice touch to prevent glare on bright or sunny days.
The red dot mounting platform allows shooters to ignore iron sights altogether and focus on the target with an MRD in place. The multi-mount system opens up your options but has the same problem all plate systems have — they're another layer of complication and something that can jiggle loose at the wrong time.
A direct optic mount would avoid these complications and limit shooters to one optic footprint. At the end of the day, make sure you follow the directions and apply the right amount of torque, and Loc Tite keeps things in place for the long haul.
The LS Edge lacks a manual safety and instead relies on internal safeties and shooter discipline to ensure safe use. The weapon cannot fire unless the trigger is pulled, drop safeties prevent discharge when the weapon is falling. An additional center trigger safety dongle ensures the trigger cannot break without a finger on the trigger.
It's superbly safe as a handgun and meets all modern requirements.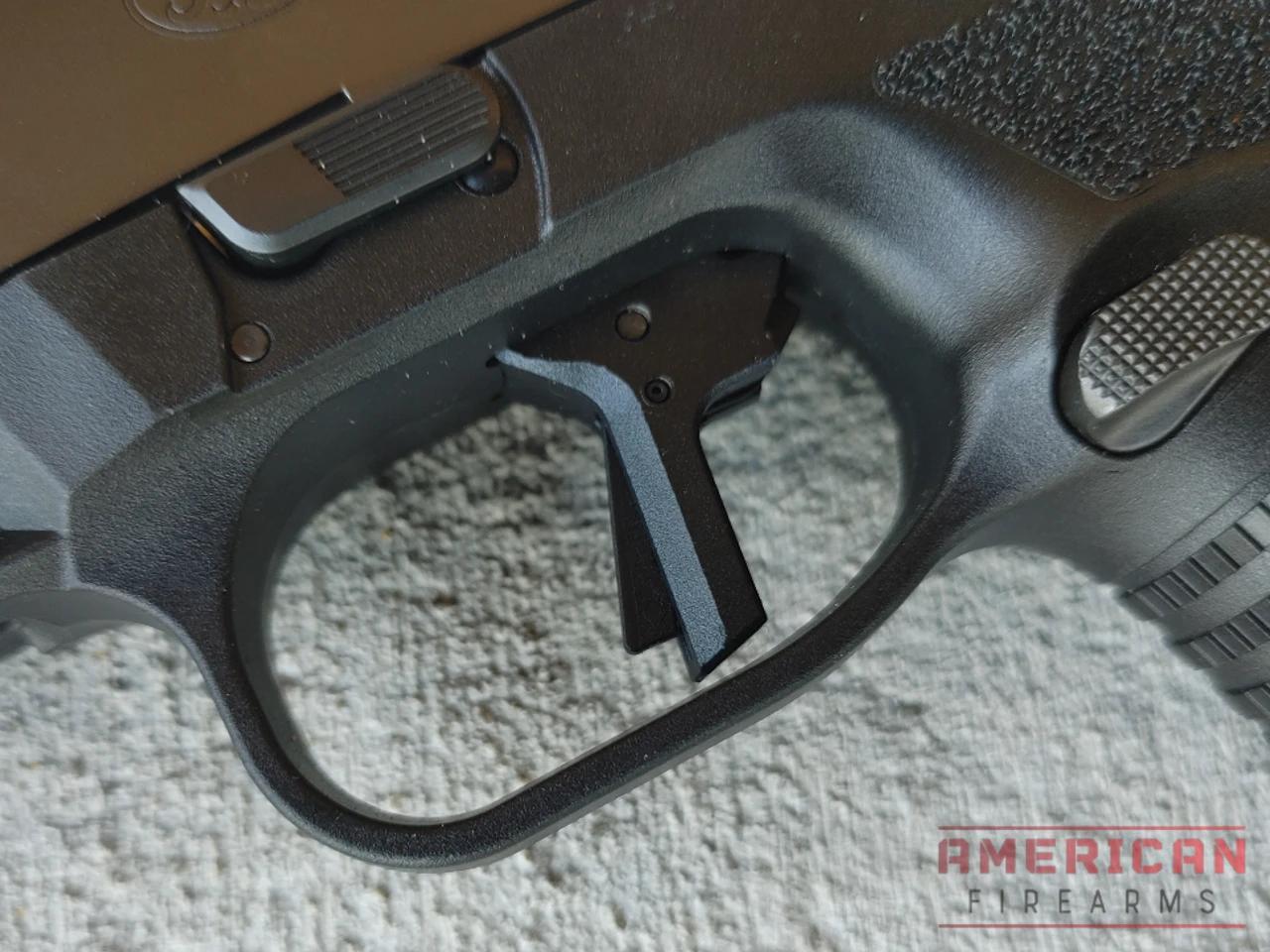 The flat-faced trigger uses a safety blade common on most pistols these days.
On the modularity front, the LS Edge has just about every modern convenience. The optic cut and plate system allows you to wield all manner of different optics. The 1913 Picatinny rail system is begging for a light, and it will accommodate common weapon lights with ease. The grip can be altered through interchangeable backstraps to make it just right for your hand.
Modularity and Customization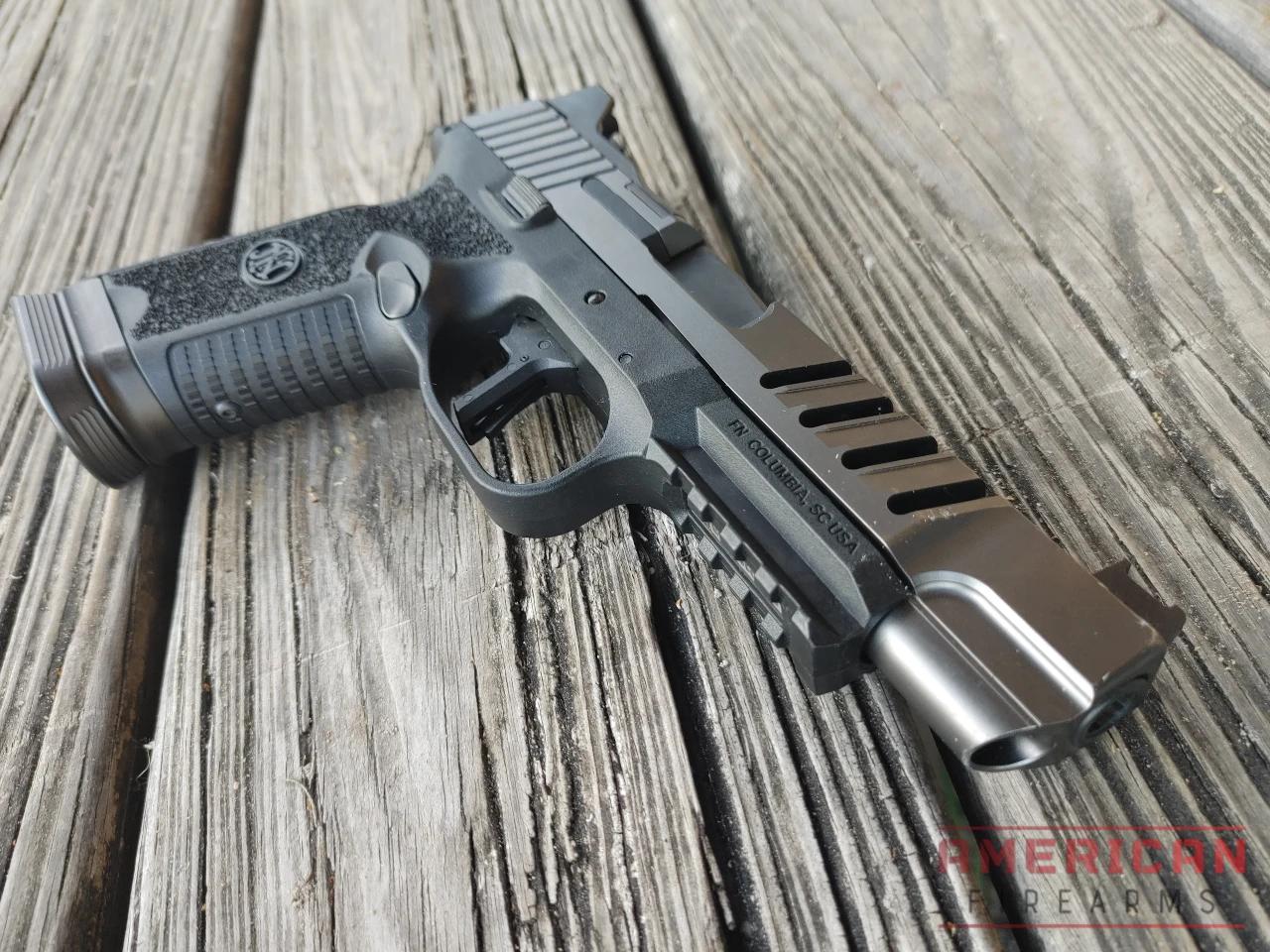 The full size Picatinny rail system is begging for a light, and it will accommodate common weapon lights with ease.
In terms of aftermarket customization, the FN 509 series gained a lot of steam recently. There are new triggers, sights, and controls out there, allowing for a greater degree of customization. It hasn't reached Glock levels of selection, but it gained a dedicated following. This also holds true for holsters.
The slide release is the biggest ergonomic disadvantage — especially for people with big hands, as they may press the slide release downward and prevent the slide from locking to the rear. This can be an annoying issue, and slow down reloads in situations where seconds count.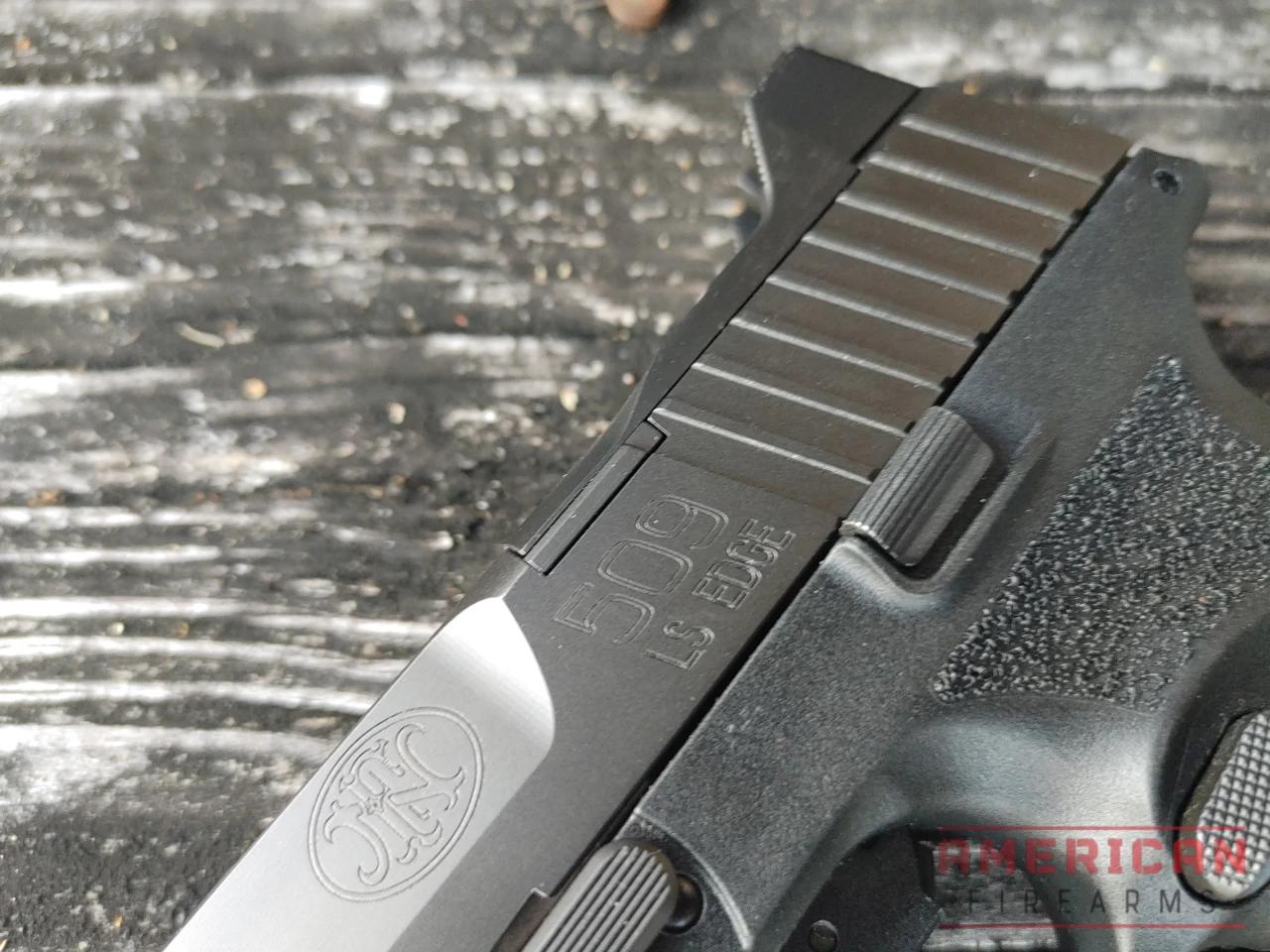 That chunky slide release can get inadvertently pressed by your thumb -- preventing the slide from locking to the rear.
The optics plates aren't necessarily a gun problem but more a user problem. It opens up the floor for more issues than necessary when mounting red dots. The lack of a threaded barrel option could be a bit of a bummer for some folks as well.
The biggest turn-off for most will likely be the price, which often tips closer to $1,500 dollars, potentially pushing it out of reach for many gun owners.
Glock 34
The Glock 34 is Glock long slide 9mm handgun. It's been a favorite of the competition world for decades. The current Gen 5 MOS model offers optic compatibility and a match-grade barrel to boot. Glock reliability is absolutely legendary, and the Glock 34 will get it done. It matches most of the overt features of the LS Edge, including an ambidextrous slide release, optics and rail options, and barrel length.
It does lack some of the refinement of the LS Edge but also comes in at half the price. The Glock series is renowned for its modularity — you can turn a Glock into exactly the type of gun you want quite easily.
SIG P320 X5
The P320 has its own long slide model in the form of the X5. As the name implies, the barrel is five inches long. The X5 series gives users tons of fancy features at a price well below the LS Edge. This includes Dawson Precision sights, optic capability, integrated flared magwell, and the P320's chassis system for the most modularity possible.
The X5 series features a tungsten-infused grip module to reduce recoil and improve handgun performance. The weapon barely moves between shots and is an impressive specimen. The P320 did beat the FN 509 with the Army and might beat it out for your holster.
Streamlight TLR-1 HL
The Streamlight TLR-1 HL is a full-sized duty light that packs 1,000 lumens of power backed by 20,000 candela. It's a bright white light that's perfect for positive target identification. It's one of the more affordable professional-grade lights and sees service with countless police forces. It's a handy tool to have if your LS Edge is designed for duty or home defense.
Holosun 507C
Optics rule, and one of the more innovative red dot companies is Holosun. The Holosun 507C is a pistol-sized red dot aimed that uses the Trijicon RMR footprint. It mounts to your LS Edge without issue. The 507C packs three reticles, including a 2 MOA dot, a 32 MOA circle, and a combination of the dot and circle. A solar panel acts as a backup power source to the 2032 battery. A shake-awake system will shut the optic down when not in use and allow it to spring to life when it detects motion. It does all that with a very competitive price tag.
Blackhawk Omnivore
The Blackhawk Omnivore offers you a fairly affordable holster design that will fit the LS Edge and about 150 other firearms with ease. The Omnivore will index either on a block attached to your rail or your weapon-mounted light. The holster uses an active retention system with a thumb release to free the gun from the holster's coils. It's an affordable and modular option that's surprisingly robust for its low price point.
How does FN's big LS Edge stack up?
Accuracy: 9/10
The low recoil, high visibility sights, and stable ergonomics means the LS Edge is very accurate, as a competition-focused pistol should be.
Ergonomics: 8/10
Overall, the grip and ergonomic design and great, but the slide release may be a pain for those with larger hands.
Fit and Finish: 9/10
The LS Edge brings a rugged, durable build and looks fantastic. It's put together like a 9mm swiss watch.
Features: 8/10
The gun boasts a host of solid features — from high visibility sights to interchangeable backstraps, and optics mounting — but the lack of a threaded barrel option ding it here.
Reliability: 10/10
The gun runs and runs and runs. Eats cheapo range ammo for breakfast, lunch, and dinner.
Value: 7/10
The FN 509 LS Edge offers a lot but — like any FN — is on the high end of the price scale. It's not an impulse buy by any means.
The Good
Exceptional Accuracy
Diverse Optic Ready Plate System
Low Slide Mass Makes for Low Recoil
Great Ergonomics
The Bad
Slide Release Easy to Pin Down Inadvertently
Optics Plates Require Close Attention
The FN 509 LS Edge offers shooters an outstanding option for an out-of-the-box competition gun. Beyond adding your preferred red here there isn't much the user needs to do. It provides a soft shooting, ultra-accurate, low-recoiling platform that eats whatever ammo you toss into it.
The LS Edge is the premium 91-octane variant of the FN 509, but you have to pay to play.