Glock G47 To Hit The Consumer Market, New Glock Trigger Pack
Written By
Michael Crites
Licensed Concealed Carry Holder
Reviewed by
Editorial Team
Learn About The Editorial Team
Share:
Products are selected by our editors. We may earn a commission on purchases from a link. How we select gear.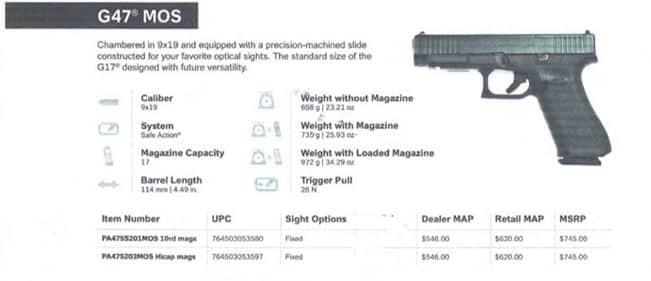 Besides seeming confirmation about the rumors of a Gen 5 Glock 21 in .45 ACP and a similar Gen 5 G22 in .40S&W hitting the shelves in 2023, the Austrian plastic fantastic gunmaker is set to release the G47 to the consumer market as well as deliver their own branded performance trigger pack.
Dealer sheets for all the above have been circulating everywhere across assorted Glock forums for the past week and, proving that at least one big piece of the story isn't faked, TFB TV has even released a video of the G47 in action.
For those unaware, the Glock 47 is a crossover design that incorporates a full-sized G17 MOS-style slide with a G45 frame and other features. In short, it gives you what could be termed a G19L. Developed by the company specifically for Customs and Border Protection back in 2019, it has been a sought-after item for Glock fans ever since. We'll let you know the rest of the details from SHOT Show in a couple of weeks.