Holosun 510c Red Dot Sight Review
Written By
Michael Crites
Licensed Concealed Carry Holder
Reviewed by
Editorial Team
Learn About The Editorial Team
Share:
Products are selected by our editors. We may earn a commission on purchases from a link. How we select gear.
Is Holosun's 510c the best red dot sight on the market today? We put the sight to the test to determine if this budget-friendly red dot sight can perform with the best of them.
Who is Holosun & what do they do?
The Holosun 510c is easily one of the best red dots available today. Still, Holosun as a company is a relatively new entity — having been around the sun less than a dozen times. Holosun started making optics in 2013 for shooting and hunting, law enforcement, and active-duty military. 
Holosun takes innovation seriously and packs a surprising amount of technology into each of its optics. They are first and foremost known for the Solar Failsafe™ feature that allows the optic to remain powered when the battery fails and can power the optic without a battery in a pinch (and loads of direct sunlight.)
Buying anything today takes much more time and research than before because of the sheer number of optics and optic makers out there. Holosun has positioned itself as a superior quality product and a surprisingly affordable optic — one that can prompt double-takes for the uninitiated. 
Many optics on the market do one thing well — be it having a wide window and clear glass, a large MOA reticle, the ability to flip between red and green colors, or just extreme durability. 
Holosun, as determined as they were, decided that one aspect wasn't good enough, and so they packed as many quality features into their optics as they could.
Take, for example, their Shake Awake™ feature. Many optics require a manual shut-off, and when you forget, you'll be burning through batteries left and right. Holosun developed its Shake Awake™ technology to shut off the LED with extended periods of motionlessness — and snap right back on when it detects motion. The time it takes for the LED to shut off is programmable, which is a huge benefit to law enforcement and military personnel whose first goal is safety vs. a competitive shooter who simply may not want the battery running for long periods of non-use.
Holosun 510C Red Dot Sight Reviewed
Specifications & Controls
OPTICS
Reticle: 2 MOA Dot & 65 MOA Circle
Light Wavelength: 650nm
Reticle Color: Red
Parallax Free
Unlimited Eye Relief
Magnification: 1x
ELECTRONICS
Power Source: Battery
Battery Type: CR2032
Battery Life (Hours): 50,000
Brightness Settings: 10 DL&2 NV
PHYSICAL DETAILS
Window Size: 0.91×1.26
Dimension (in): 3.3×1.68×1.78
Weight (oz): 4.94
MECHANICAL BITS
Housing Material: Aluminum & Titanium Hood
Surface Finish: MAO
Adjustment per Click: 0.5 MOA
W&E Travel Range: ±50 MOA
ENVIRONMENT DATA
Storage Temperature: -40℃~70℃
Working Temperature: -30℃~60℃
Submersion: IP67
Vibration: 1000G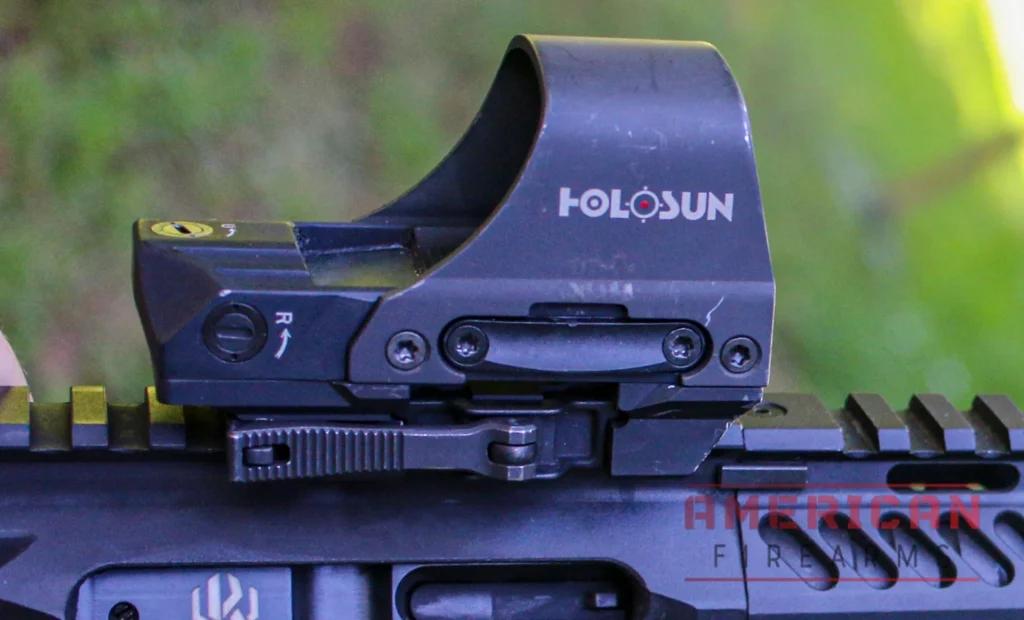 Holosun 510C Quick Release & Battery Tray
The HS510c is the most popular red dot sight Holosun produces, and for good reason. It weighs a little less than 5 ounces, and the 0.91 x 1.26 window size makes it a really open reflex sight comparable to the EOTech Model XPS2 holographic sight in size.
Of course, you can get your hands on the 510c for about $150 less than the XPS2. 
EOTECH XPS2
The HS510c features a quick detach mount to any Picatinny rail. The weight of this optic is hardly noticeable as it is built with aluminum and has a titanium hood. The Holosun was constructed to endure submersion to 1-meter for 30 minutes and can take up to 1,000 Gs of vibration, making it viable for both small and larger caliber use.
This optic uses the CR2032 battery, which is easy to find, widely available, and has a battery life of 50,000 hours. The internal battery tray design is also really well thought-out, located on the side of the optic, and is held in place with two screws, preventing it from coming out while also making it convenient to access and swap batteries.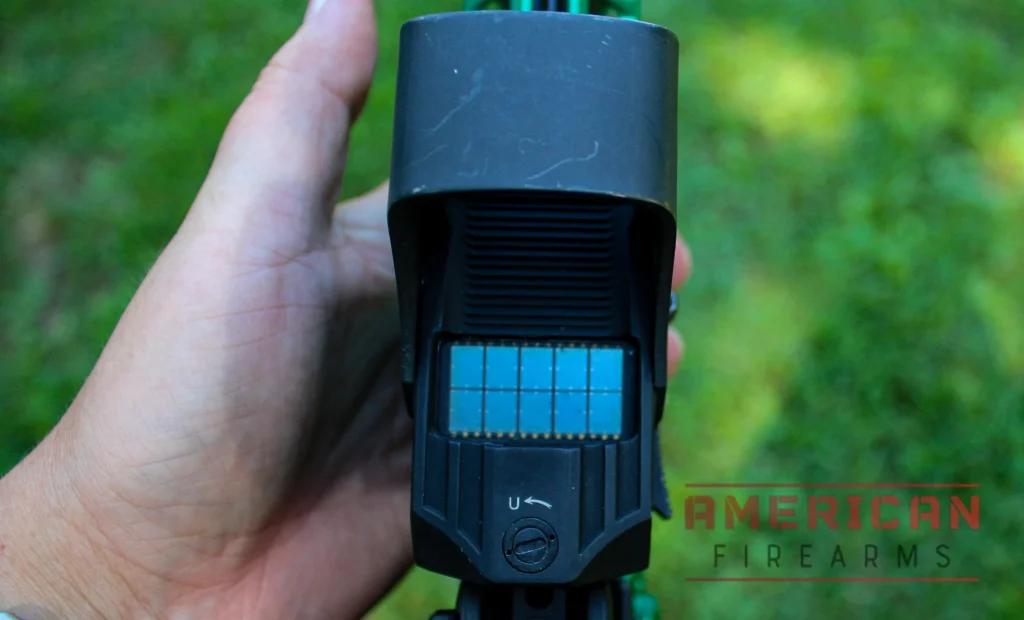 The Solar FailSafe panel and elevation adjusetment screw atop the 510c.
The Holosun 510c has its famous Solar Failsafe™ power technology built-in as well. The Shake Awake™ technology is a game-changer for shooters everywhere as losing battery life or having battery failure when you need it most is the most significant risk with red dot sights.
With the 510c model, you have ten daylight brightness settings and two night vision settings. The brightness settings are easily managed on the side of the optic with a + and – buttons.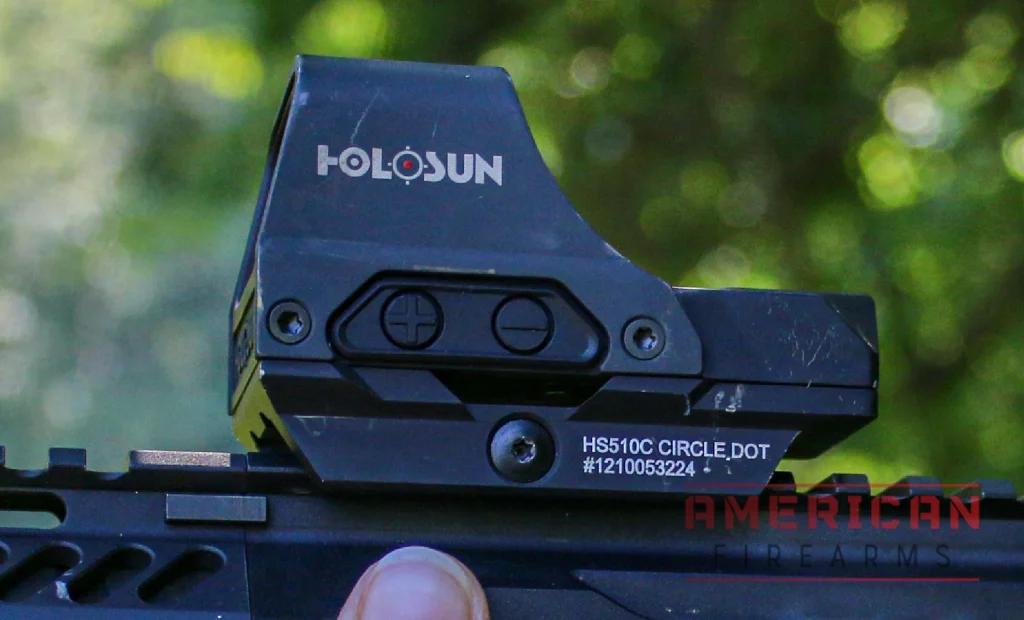 The 510c mounted on an AR. Note the brightness control button placement on a single side.
To turn on the reticle, you press either one of these buttons. Brightness is controlled through either manual adjustment or what's called "auto mode".
Auto mode automatically optimizes the reticle's brightness based on the amount of available light and chooses which power source to draw from, solar or battery. To turn the reticle and motion sensor off completely, you just press the + and – buttons simultaneously.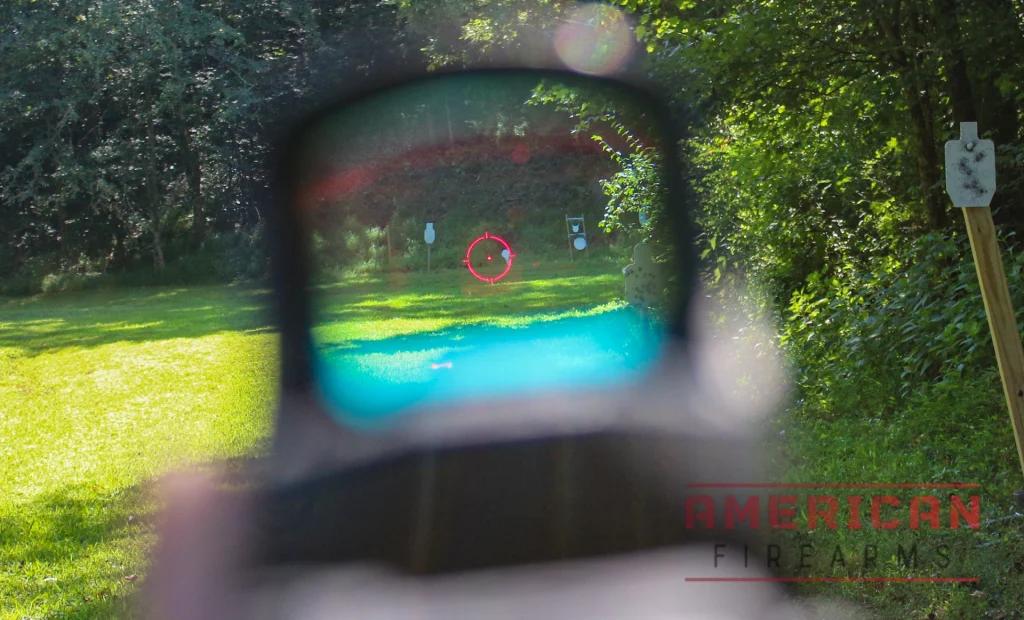 The Holosun 510c at 100 yards. A typical human body will fill the ring at this distance. Here you can see the 2 MOA dot, 65 MOA ring and 4 lines for hold adjustment.
Holosun 510C at 20 yards
The reticle options are what truly sets this reflex red dot sight apart from other popular brands — it's a marvelously useful bit of engineering.
Holosun created a multi-reticle system with a circle dot reticle, 2 MOA dot, and 65 MOA circle. The best aspect of the multiple-reticle system is it is parallax-free and has unlimited eye relief, meaning it works for anyone at any mounting location on their firearm.
The 65 MOA ring is valuable for longer-range shooting. If you center the ring on a target at 100 yards, the ring is about the size of an average height human. A human at 200 yards would only fill up the space from the center dot to the bottom of the ring.
The 510c at 50 yards. Note the use of the "Southern" line for the CQB hold.
If you zero your rifle scopes at 100 yards and are shooting at a closer distance, you probably know to compensate for height over bore. This is the same for your Holosun reflex sight. With the 65 MOA circle, four lines are located in the north, east, south, and west positions. After zeroing your dot, for anything at close range, use the south line as your hold since your shots will be lower at the closer range.
Since the HS510c is only magnification 1x, you may want to include a red dot magnifier in front of your sight. This is where the 2 MOA dot reticle comes into play as magnification will render the circle less useful. You can make more precise shots with a dot at magnification than you can with a circle.
The optic comes in your choice of either a red or green reticle. Red dots are popular and used in almost all conditions, but a green dot shines (see what we did there) is in bright conditions. It is a lot easier to see and contrast in a bright environment.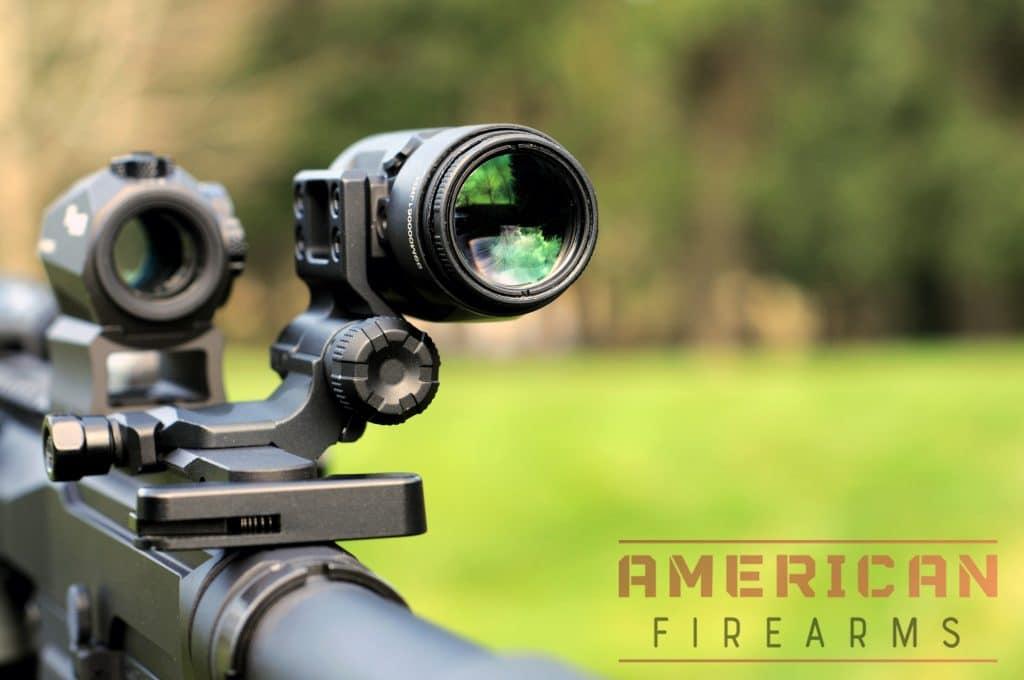 My Sig Juliet 3x magnifier -- many folks will add a magnifer to a x magnification red dot like the Holosun.
The 510c's locking bar & windage adjustment screw. Note the marks on the side of the titanuim hood -- proof that barrel dumps and running and gunning are no match for the 510c.
The HS510c is already ready to be installed with its quick-release mount, but the first installation can be a little tricky. The bottom of the mount has a locking lever that, when set too tight, prevents the QD bar from locking into place.
On the other side of the optic, there's a clamp bolt that you may need to adjust until the bar can lock down. Holosun includes the Torx wrench for the socket to adjust for this.
First, loosen the bolt to loosen the lever. Mount your sight onto your rail and close the lever. Lastly, tighten the bolt to torque specs: between 5-10 inches/pounds. The lever should still be loose enough to remove the sight without wrenching on it, but tight enough to prevent jostling loose fall off with rigorous movement.
The mounting location of any red dot is firstly determined by the location of the Picatinny rail, the firearm you're installing it on, and if it's a primary or offset dot. Just because one person mounts the red dot one way doesn't mean you have to as well. Sight installation and zeroing need to be customized to the shooter.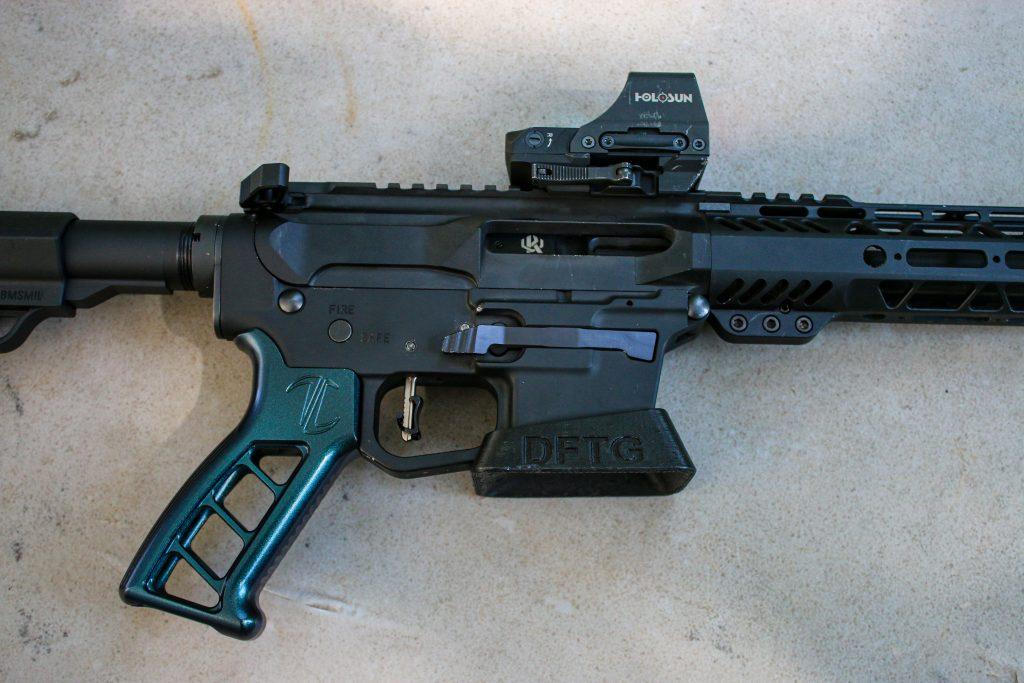 The Holosun 510c mounted on a PCC.
If you have a flat top Picatinny rail most commonly found on AR-15s, a common mount location is above the ejection port towards the receiver's front. If you have fixed sights on your rifle set high up, you may need to use a riser to install the Holosun.
Before loctiting anything or just running with the first place you mount your dot, try moving it more forward or closer to you. Whatever feels comfortable and natural to you is crucial but finding that sweet spot can take some trial and error. 
Always test fire your firearm with the dot in place to ensure that ejecting brass isn't hitting the optic or scratching the lens. The other important aspect of mount location is the ability to reach the brightness controls without picking your head up out of the optic or having to unshoulder the gun to contact them.
All Holosun sights come pre-zeroed, but always zero the gun to your eyes and your ammo. Most reflex sights easily adjust for windage and elevation and the 510c is no different. 
The elevation adjustment screw is on the top of the optic closest to you and is marked with an arrow so you know if you're adjusting up or down. The windage adjustment screw is on the side of the optic with the battery compartment. This is where people often get disoriented. To move the point of impact up or to the right, adjust counter-clockwise. To move impact down or left, twist clockwise. Each click of movement represents a 0.5 MOA adjustment.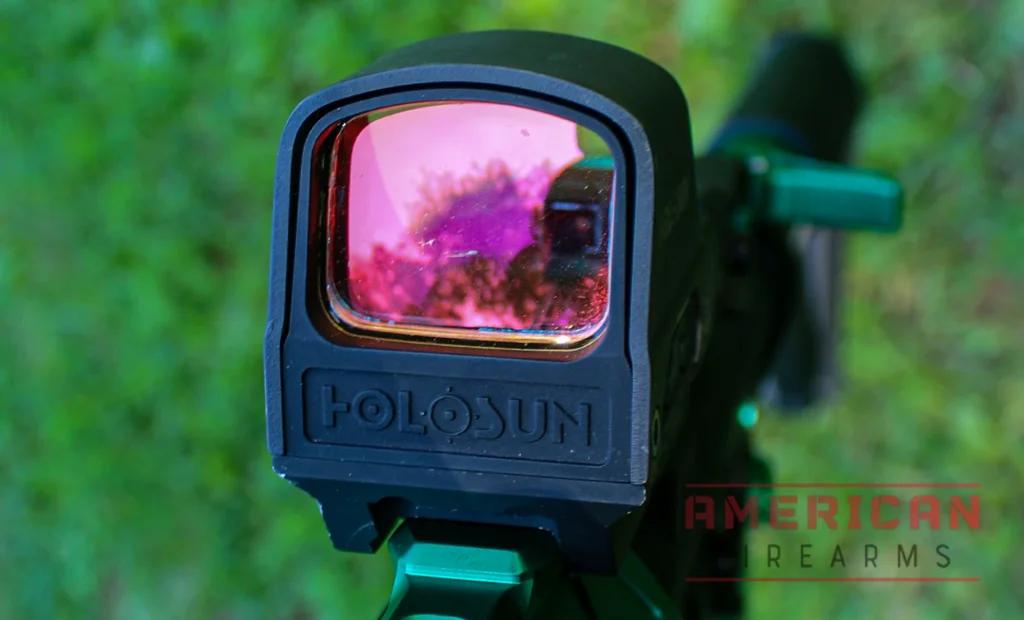 The anti-reflective coating has taken a beating but is still intact.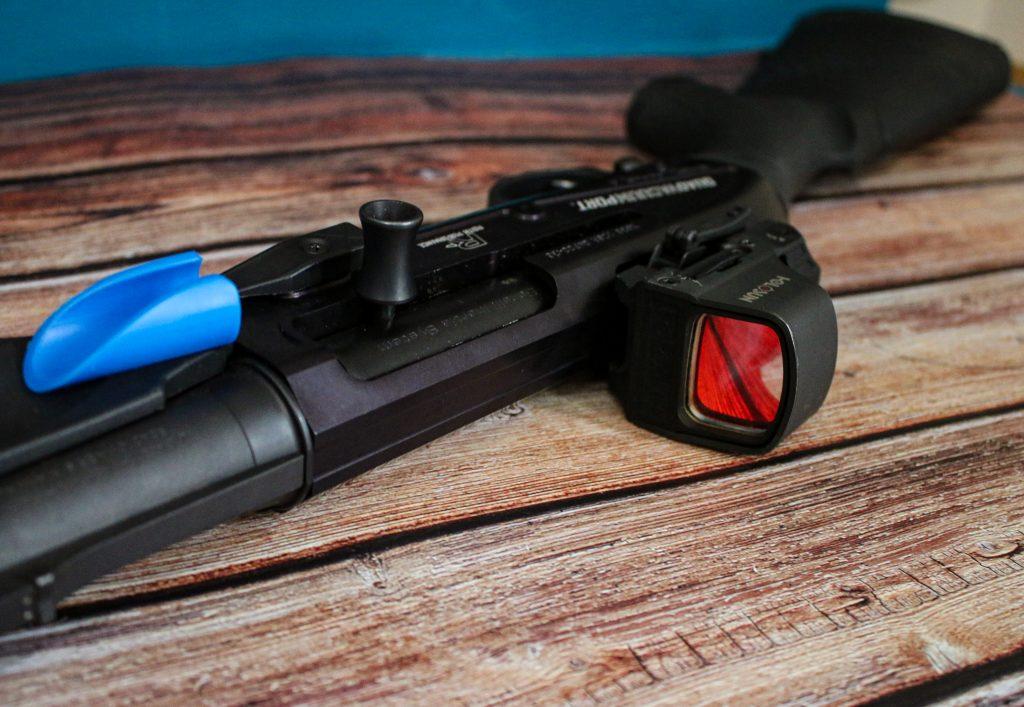 The 510c mounted on a shotgun.
You would think that the old rhetoric "you get what you pay for" would apply to the Holosun 510c because of its price point.
However, it's quite the opposite.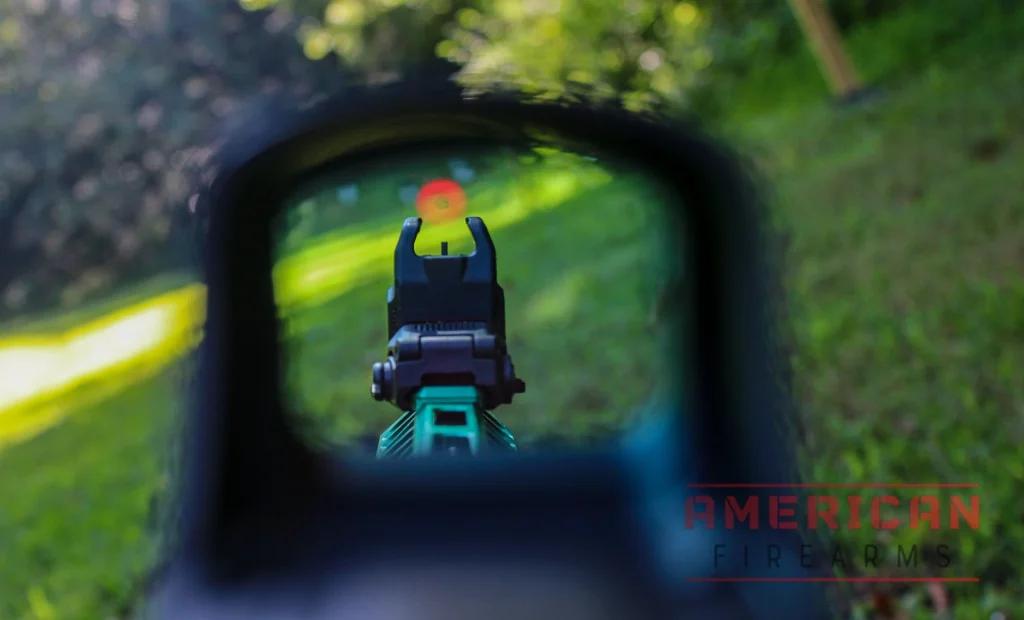 The glass on the Holosun is remarkably clear.
Holosun glass has multilayer coatings applied to facilitate maximum light transmission, reducing glare and making the glass more wear-resistant. Whether your sight picture is in low light or extreme sunlight, you won't have a glare coming off the lens or not be able to see the window of your optic.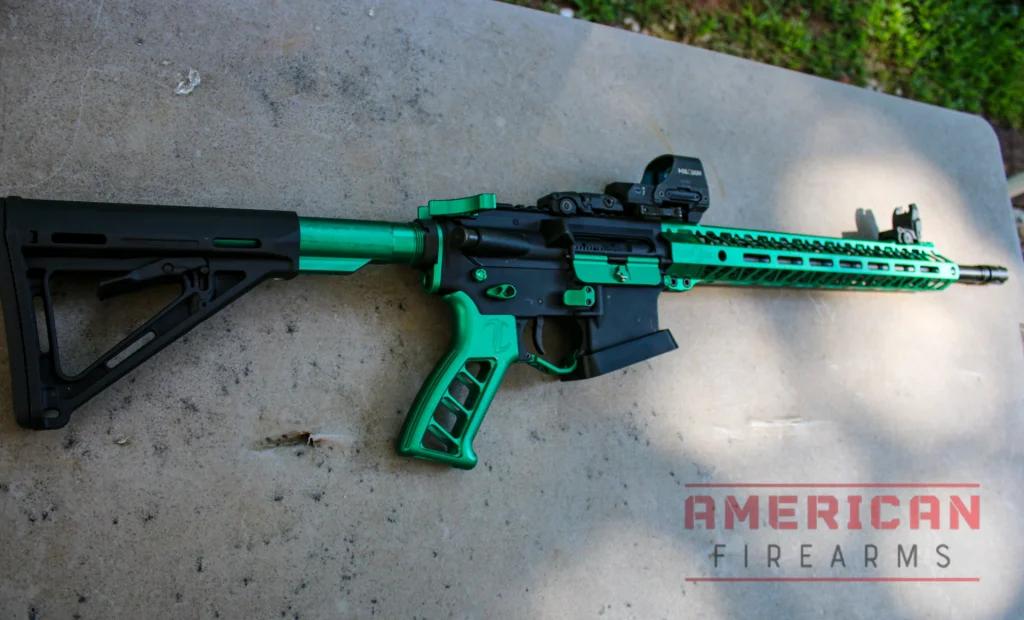 Putting the 510c through its paces.
The 510c was tested at the range with my pistol caliber carbine, CQB AR-15 rifle, and a magazine-fed shotgun.
One of the most challenging issues is moving an optic from one gun to the other. Moving and remounting usually means we have to spend some time zeroing the red dot.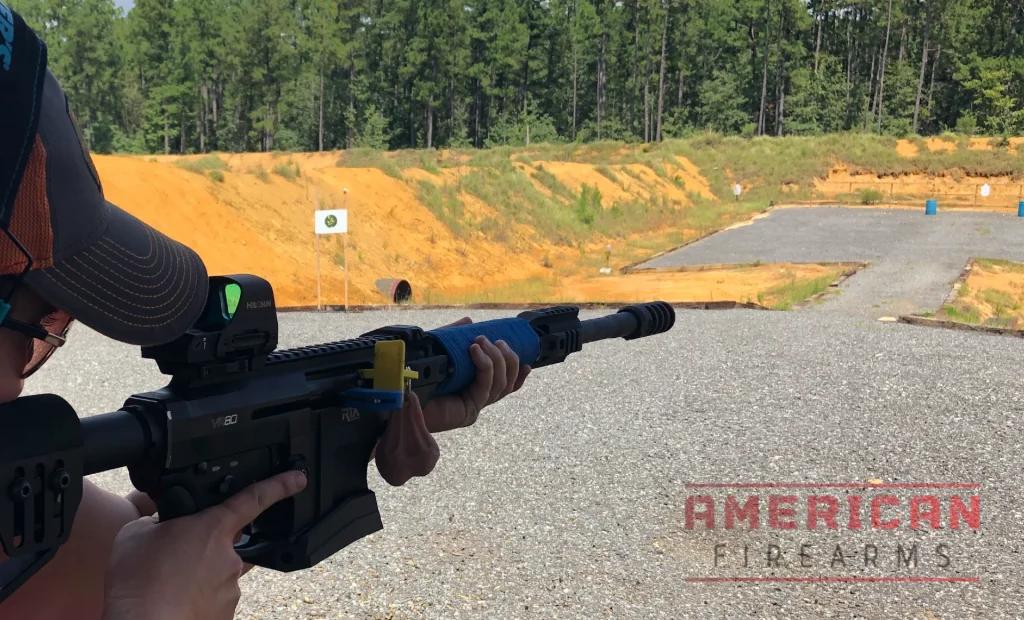 Putting the 510c through its paces.
What is neat about the 510c is it proved itself to maintain zero from one gun to the next. This is a considerable value for shooters, especially in competitions where they may only be allowed to run iron sights, and removing the red dot isn't a big deal given the zero will hold. 
Speaking of competition, the 510c has proven itself in my competition experience mounted on a box-fed shotgun shooting over 1300 FPS ammunition, including slugs and buckshot. This optic holds true in the most brutal conditions, including in 3 gun competitions when the gun must be slung or thrown into a dump barrel. 
The peace of mind knowing that your optic is durable enough to handle run and gun, truck gun use, or for a self-defense situation is more than worth the (already fair) price of admission.
Pistol caliber carbines are pretty tough on equipment like charging handles, ejectors, and even optics when they operate as a blowback gun rather than a gas gun. This optic is an excellent choice for PCC's and can hold its own with the blowback system.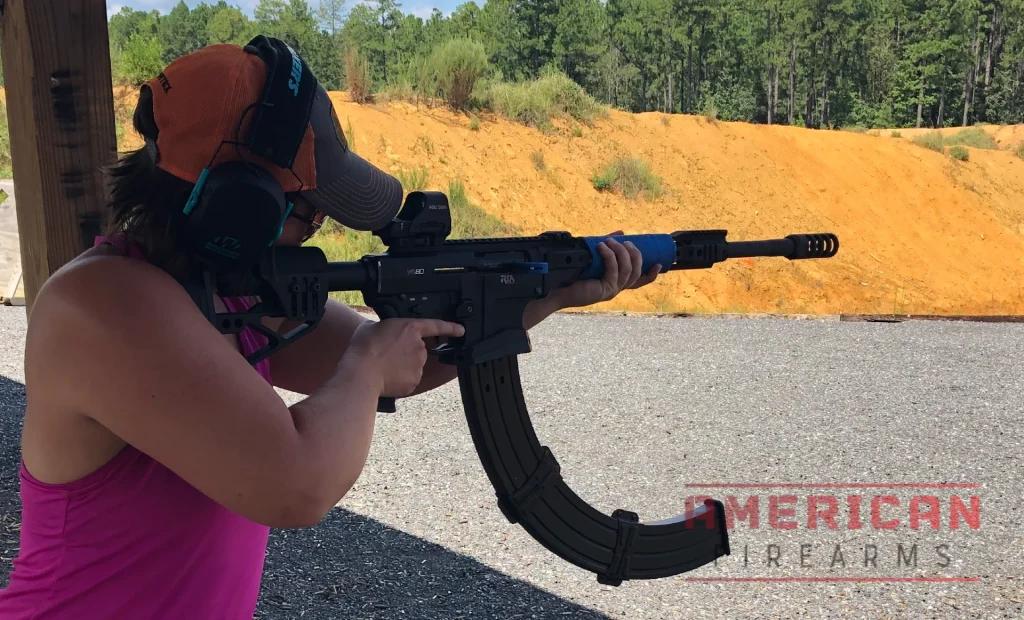 Need more mag.
With a range limitation of 100 yards, the dot can consistently hit steel targets even with anemic 9mm bullets. The sight picture at 100 yards gives you the full circle reticle enclosed on a full-size IPSC steel target with the red dot lined up to the center of the target.
My HS510c has been used in overly hot (talking heat indexes of 105), sunny conditions with no issues, and has held true in low light and rainy conditions. The compartment for the battery type CR2032 is protected even in submerged water, so a bit of rain won't corrode it or affect it.
On AR-15s, Holosuns make a great offset or close quarters red dot option. Shooters often forget to turn their offset dot on when using their primary scope and need to roll it over on the side for closer targets. With the Shake Awake™ technology, you'll always have a red dot on when you need it. 
An AR-15 set up expressly for CQB also had success with the 510c. While 200-yard shots are not close quarters, this dot can shoot distance; however, a magnifier will be essential beyond that. If you choose to run the red dot for CQB, consider zeroing at a closer range like 15 yards.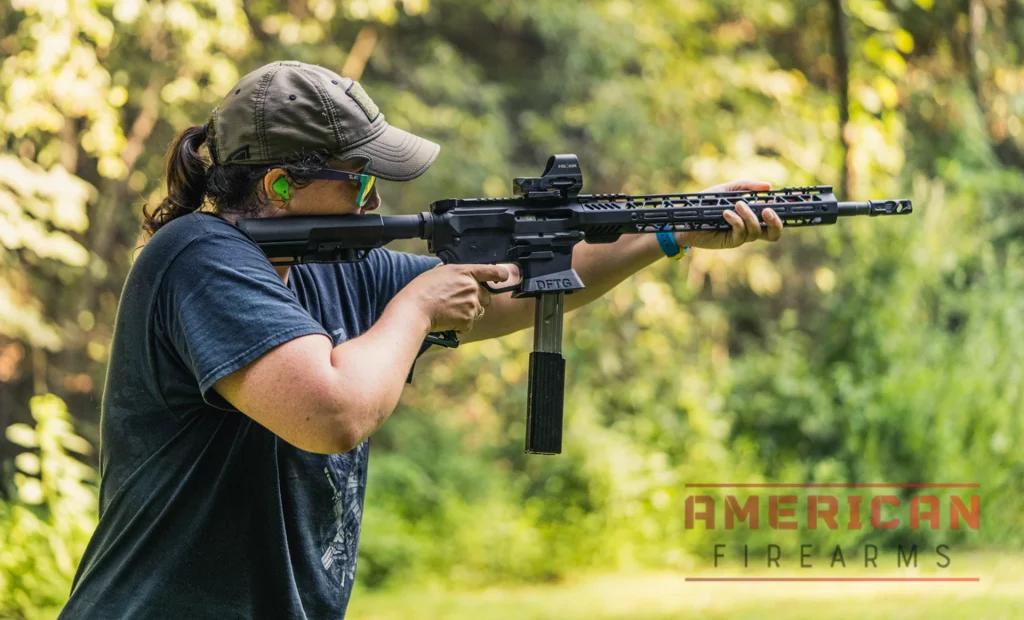 Second Holosun 510C Range Test with PCC
Shortcomings & Alternatives
Many shooters have astigmatism and which can cause them to struggle to see their sights clearly. 
Circle and dot reticles are often better for people with astigmatism than other optic options, but they're not as useful for these shooters as prism sights. The reflex sights from Holosun may not be the right choice for these shooters to use.
There's a reason the 510c has made our list of best shotgun sights and AR-15 optics — Holosun knocked it out of the park with their 510c and made it versatile to be used across multiple firearm types that feature a Picatinny rail.
Law enforcement and military personnel can trust this red dot optic to perform as well as competitive shooters looking for a solid red dot or defensive purposes.