The KelTec CP33: A Review
Written By
Michael Crites
Licensed Concealed Carry Holder
Reviewed by
Editorial Team
Learn About The Editorial Team
Share:
Products are selected by our editors. We may earn a commission on purchases from a link. How we select gear.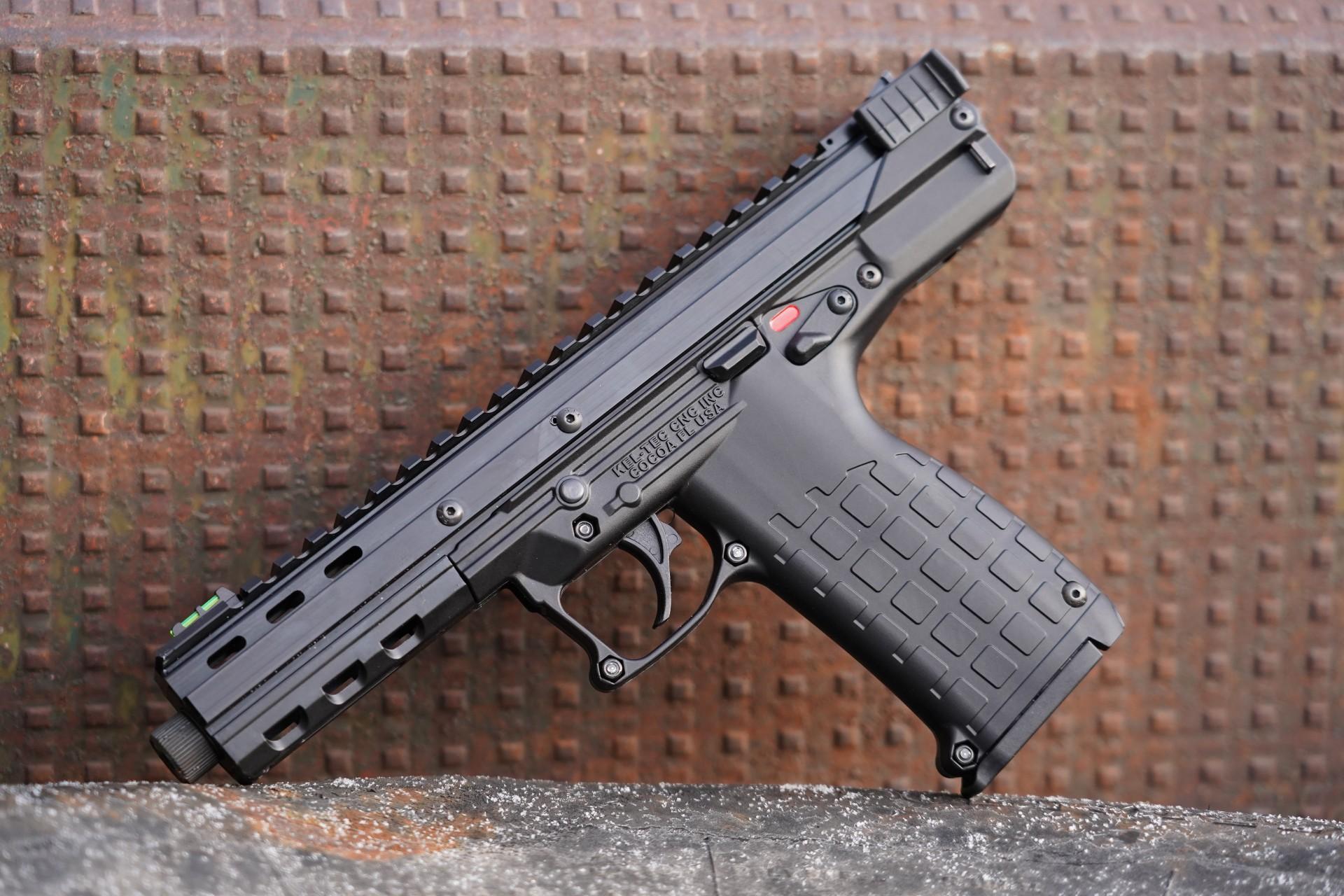 The KelTec CP33: A Review The .22 target pistol market is an exciting segment of the firearms world. Often costing thousands of dollars, many of the designs meant for competition are custom-fit .22LR pistols that look like something out of a science-fiction show set in the not-too-distant future. KelTec CP33 Pistol A .22LR competition pistol …
The KelTec CP33: A Review
The .22 target pistol market is an exciting segment of the firearms world. Often costing thousands of dollars, many of the designs meant for competition are custom-fit .22LR pistols that look like something out of a science-fiction show set in the not-too-distant future.
Given that it's a specialized segment of the market, it is no surprise that KelTec — one of the more risk-taking companies in the firearms world — has taken it on. If you're not familiar with them, that's okay: we'll detail them and some of their more exciting designs later in this article.
Strangely enough, the .22LR can be an overlooked cartridge for gun collectors. Typically (if you can find ammo), it's pretty cheap and can be great fun to shoot. How many of us learned how to shoot — and developed good marksmanship — on an old .22 rifle?
Taking that kind of thinking, Keltec has decided to help fill a hole in your collection with a fantastic pistol that will make short work of bullseyes and paper bad guys. This piece will give you an overview of the KelTec CP33 and provide a rich history of the trendsetting company.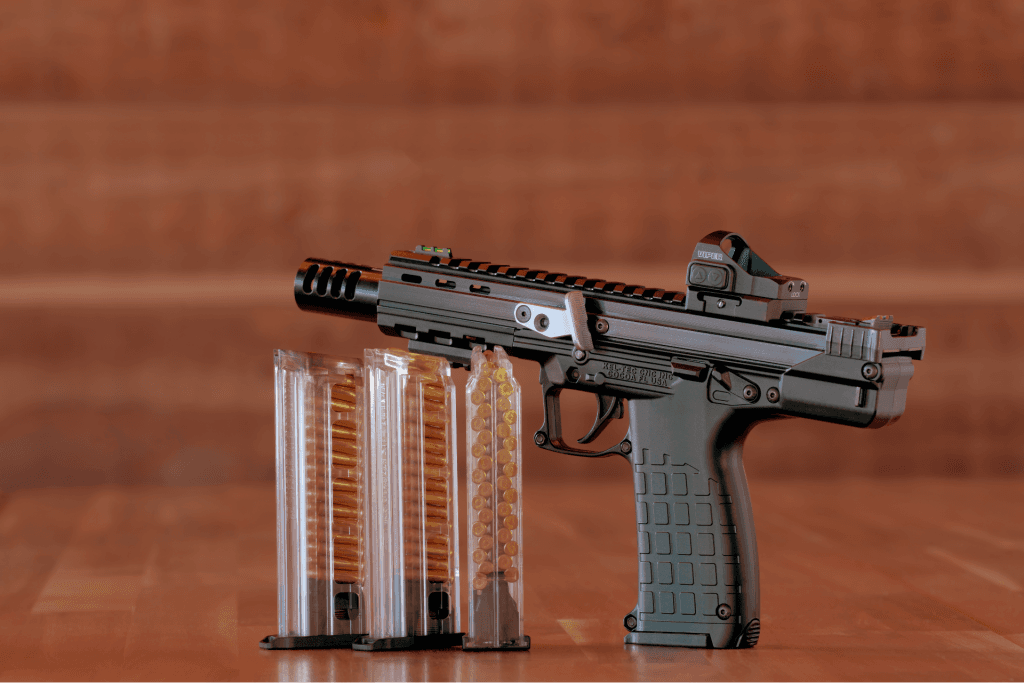 The CP33 and its unique -- dare we say "quad-stack? -- 33-round magazines.
The KelTec CP33 is a handgun chambered in .22 Long Rifle. It boasts a staggering 33 round magazine, a nine-inch sight radius, and a threaded barrel, as well as some other noteworthy features.
This makes it not only look but function differently than most firearms you've seen in this format.
Features like an AR
A few of those features will be familiar to those of us used to an AR platform. Namely, the unique charging handle located on the back of the gun. The safety lever is on the piece's right side. In both look and feel, it's a lot like the controls on an AR.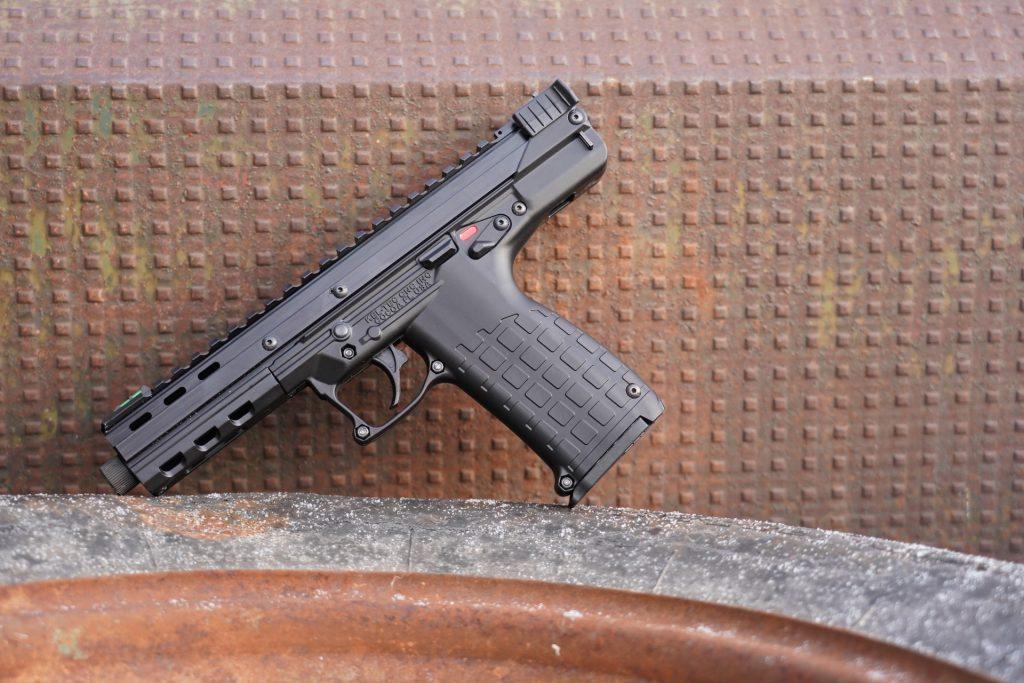 A bone-stock CP33
The other unique feature of the stock gun is the heel catch magazine release, which will be more familiar to people who like old European pistols.
While getting a grip on a heel catch on both sides of the grip might seem a little clumsy at first, it doesn't take long to master. And you might find that your reloads are just as fast with a heel release as with a button release.
KelTec to the core
Aesthetics-wise, it's KelTec to the core: the gun comes in any color you like (so long as it's black), is comprised of angled polymer pieces and a solid, steel receiver.
There's also a lot of top rail for any optics and accessories you may want to put on it. Speaking of accessories, some manufacturers are starting to make pistol braces for this firearm, which would make it an almost Personal Defense Weapon (PDW) format that would be great fun at the range and extend its utility even further.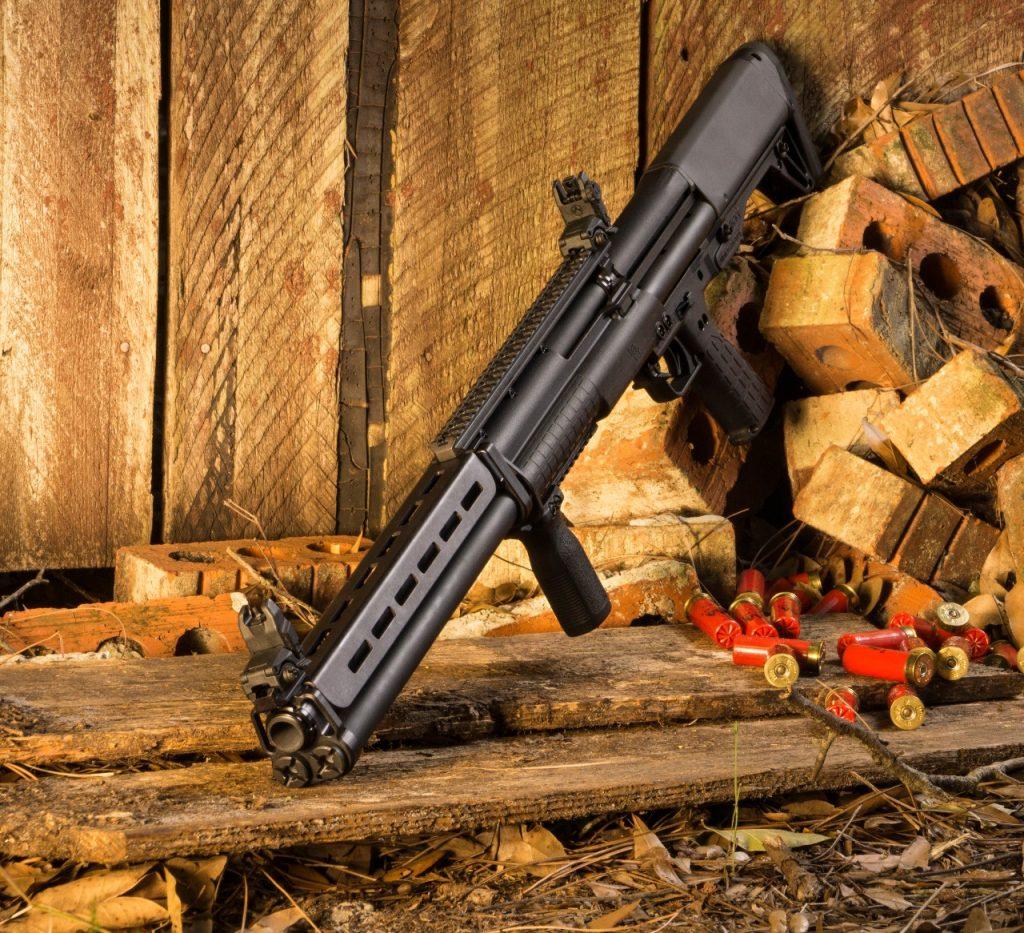 The KSG shotgun is one of the more innovative shotguns on the market today.
Florida-based KelTec has been making firearms in the US for thirty years. They focus on innovative designs — using polymers to keep their guns light and durable while maintaining an aesthetic for which the company has become well known.
The KSG Shotgun
For our tastes, a few of their more popular design of recent years are worth mentioning in addition to the CP33. The first is the KSG 12, which is a pump-action shotgun. It's interesting for two primary reasons. First is that it's a bullpup shotgun, which is relatively unusual in and of itself. 
Secondly, it feeds from two distinct magazine tubes that the user can switch on the fly, allowing you to make use of any combination of rounds you might want.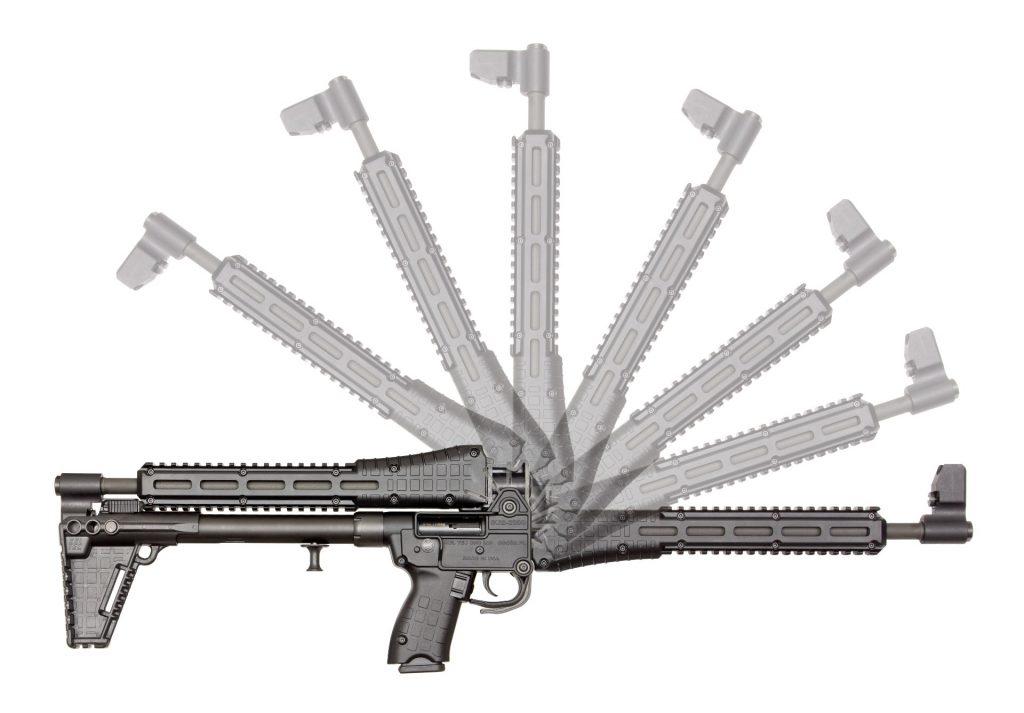 The Sub2000 is a fantastic folding PCC that makes for a remarkable backpacking rifle.
They also make the Sub 2000, a folding PCC (pistol caliber carbine) that is ideal for backpacking and comes in variations that take the most popular handgun magazines. 
A final one, the RDB, (Rifle Downward-ejecting Bullpup) looks like something you might find in several video game franchises. The 5.56mm bullpup ejects spent shell casings downward making it more ambidextrous than traditional bullpups. it's a great-looking rifle as well, and will likely get bullpups into the hands of a lot more people.
KelTec does what very few firearms companies have managed to do: they have found an aesthetic that works for them and have spent decades riffing on that aesthetic to create a line of firearms that take advantage of what the company does best.
The RDB (Rifle Downward-ejecting Bullpup) looks like it could be found on maps in a first-person shooter game.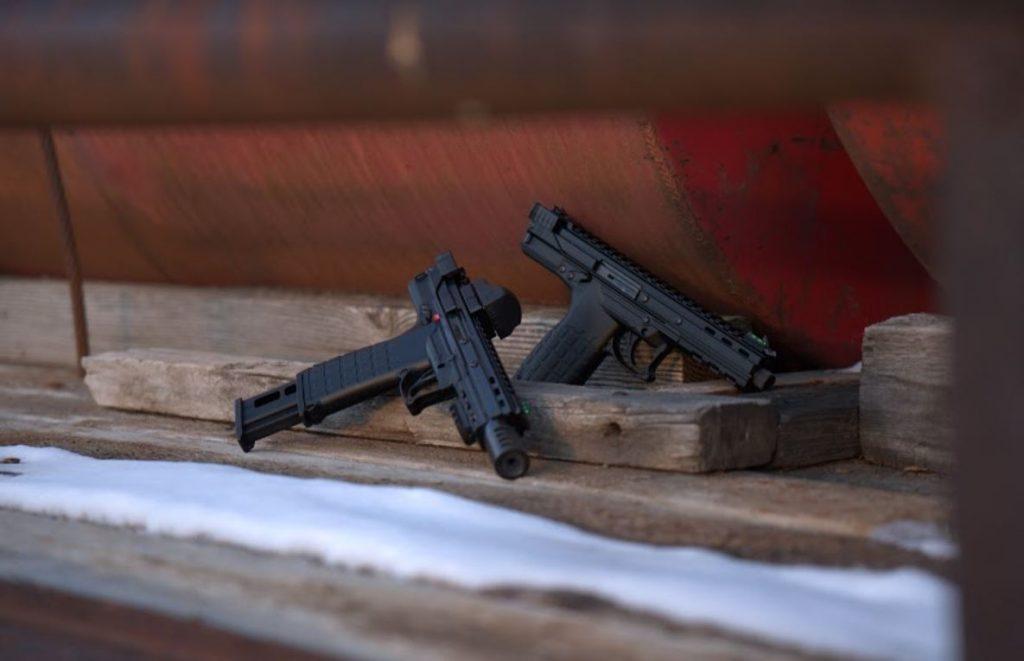 The CP is a competition pistol, which means it's designed to be customized for optimal performance.
The CP stands for competition, and the CP33 is a competition pistol. Like a lot of other competition pistols, it's in 22LR, making it easy to control. It has been steadily growing in popularity since its release, and we think there are a few reasons for this.
For those who want to build a performer
The CP33 — thanks to its rail system, ability to use a brace, and threaded barrel — is a platform for those who want to build an exciting gun can perform the way you need it to.
If you're going to shoot in competitions, such as those from the USPSA, even bone stock the CP33 will perform. On the other hand, you could mount a suppressor, brace, and red-dot sight for something more akin to a PDW or SMG.
That flexibility is a significant selling point.
Oh, and 33-round magazines
Additionally, the CP33 magazine holds 33 rounds, and plinking with a full 33 rounds at a time of ammunition is fun. Setting up a fire course with a ton of targets at various ranges, then being able to engage all of them without reloading sounds like a blast (pun intended).
This adaptability coupled with how fun it is to shoot, gives the CP33 real staying popular — and should win KelTec new fans and customers alike.
Ringing steel with the CP33, 33-rounds at a time.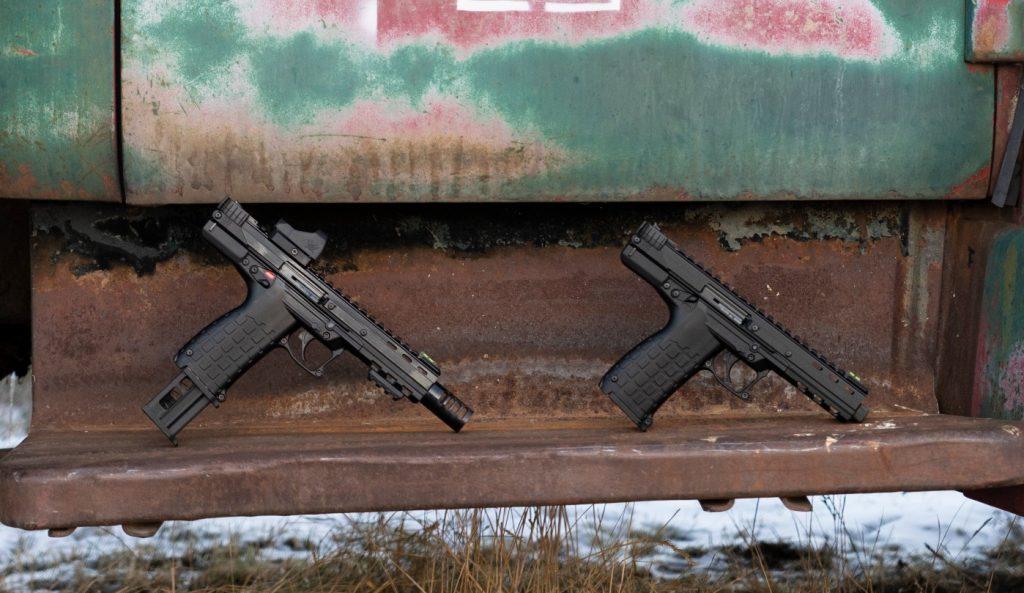 KelTec CP33 Review - Customized
One big draw to this firearm is its uniqueness. There are few guns quite like this on the market: it charges like an AR, shoots .22 LR with 30-round magazines, and can be set up to suit any number of preferences.
In some ways, it's a platform upon which you — the end-user — can craft any gun you'd like.
Cheap to shoot
Another important consideration is monetary: the .22LR is one of the most affordable rounds to shoot. Therefore, if you are training for competition or just love to get to the range, one of these can be an excellent choice to keep your hobby from putting an outsized dent in your wallet.
Make it your own without the paperwork
Finally, this is one of the most adaptable firearms in recent memory. Add a suppressor, pistol brace, and a mini red dot sight and use it to scratch the SMG itch without having to fill out a ton of ATF paperwork. It looks like it's from the future, and as attractive as it is, it might well be the future of firearms.
There's a lot to revere about the Keltec CP33: it's certainly an unusual pistol, but one that is both fascinating and truly functional. Pick one up if you want a competition pistol or a platform to build a PDW, and you won't look back.