Best M-Lok Bipods: Take Aim with Confidence
M-LOK bipods are the perfect addition for anyone looking to increase stability and accuracy. Whether you're a seasoned shooter or a bipod beginner, there's something for everyone -- here are some of our favorites.
Written By
Kenzie Fitzpatrick
Certified Armorer & Instructor
Edited By
Michael Crites
Licensed Concealed Carry Holder
Share:
Products are selected by our editors. We may earn a commission on purchases from a link. How we select gear.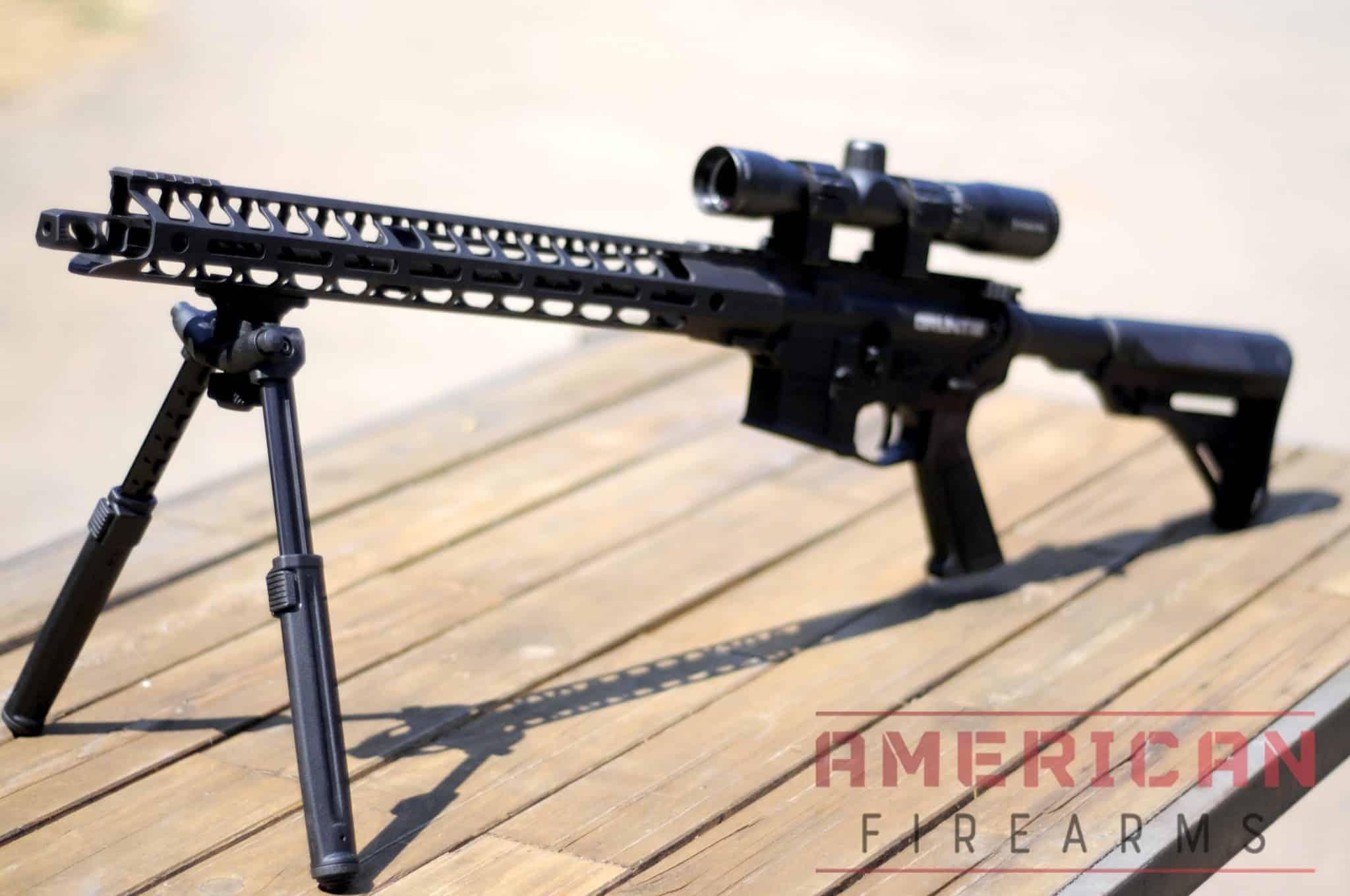 If you've ever contorted yourself into a pretzel to make a shot or struggled to keep your rifle stable when balancing the fore-end on a pointy rock, an extendable rifle bipod made to work with your M-Lok mounting system will make your life considerably easier.
The trouble is that M-Lok bipods vary in size, weight, adjustability, material, and a dozen other characteristics, plus the rifle bipod market is diluted with undifferentiated options. Furthermore, a bipod used solely for hunting may not check the same boxes as a bipod needed in precision rifle shooting competitions.
Define why you are looking for a bipod, your application, and the kind of rifle you plan to use it with before beginning your search.
Always read the details of how the bipod attaches before purchasing to make sure it will mount correctly to the rail of your gun. With so many different rail systems on the market today, from M-Lok to KeyMod, a Picatinny rail mount and swivel stud mount — it's all too easy to end up with an expensive paperweight.
A bipod can help improve your accuracy, provide more comfortable shooting positions, and align your gun on long-distance targets in practical shooting competitions or hunting, so we dove deep into the world of M-Lok bipods to separate the wheat from the chaff.
Below is my list of the best M-Lok bipods. I list the best choices in terms of value, performance, design, and cost.
Click on the name to head to the product page, read reviews and check prices or skip ahead to the list of bipods.
| Name | Selection | Price |
| --- | --- | --- |
| | Best Overall | $109 |
| | Runner-Up | $93.99 |
| | Also Great | $229 |
| | Also Great | $110 |
| | Best 2-Piece Bipod | $52.99 |
| | Budget Option | $20.99 |
| | Most Height Adjustment | $64.99 |
| | Most Durable | $299 |
| | Also Great | $65.99 |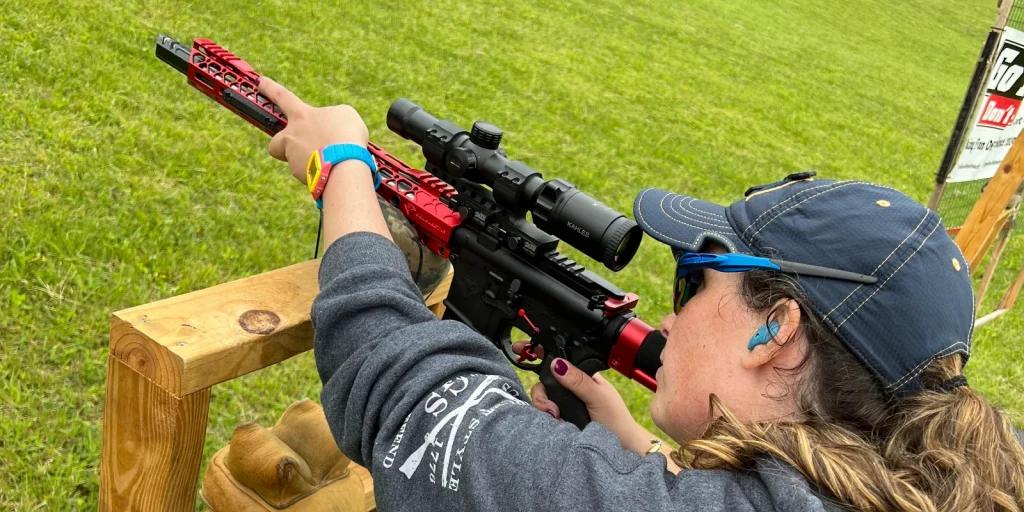 Kenzie Aiming
These days, the market is watered down with chintzy products that are knock-offs of well-designed bipods. Cheap bipods are made of sub-par material, wobbly, unreliable, and ultimately do the opposite of what a bipod is meant to do.
I have spent my life and career on a range shooting guns. I have been that hunter with a too-large shooting bag, learning the hard way that a bipod would have served me better. I have shot 3 gun and NRL22 shooting competitions and watched precision rifle series competitors perform at the highest levels. A bipod is one of the single most important pieces of gear a competitive shooter needs.
I have tested and demoed bipods introduced at Shot Show and played with just about every bipod on friends' rifles as well. The best M-Lok bipods all offer standard features. They were made with sturdy material, easy to adjust, and were just as easy to deploy as they were to collapse. These three aspects of a quality bipod give shooters the ability to quickly get in and out of a shooting position.
1. Best Overall: Magpul Bipod
Pros:
Steel where it counts
Robust adjustment knob is killer
Legs are easy to manipulate and lock up securely
Pan and tilt features work flawlessly
Great for shooting from uneven surfaces
Ability to change feet with most Atlas or Atlas-compatible feet
Cons:
Legs may not be as stable as desired
Play in the legs may not make it suitable for long-range shooting
Magpul Industries is a well-known brand in the world of firearms. They manufacture everything from slings to sights, grips to magazines and apparel, and if you asked 10 people which brand they thought would produce the best bipod I'd wager half of them would name Magpul.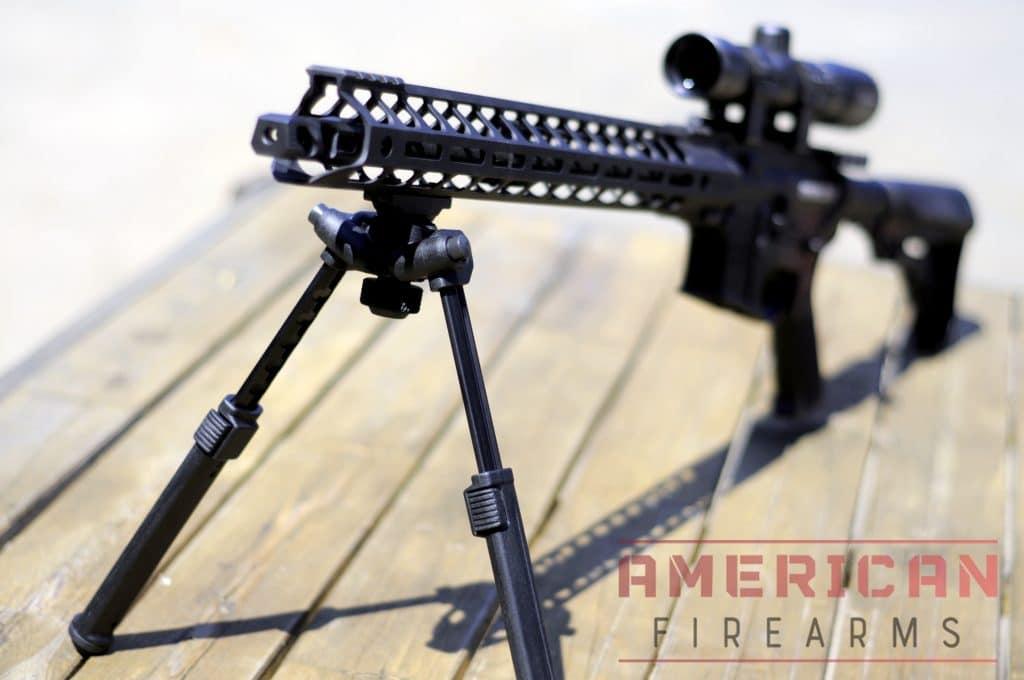 Magpul Bipod mounted on my Grunt
You can trust the Magpul name no matter what product they make — but in particular, when it comes to M-Lok bipods as they are the ones who invented the technology.
Construction
The Magpul bipod's stainless steel internals and tight, precision tolerances mitigate squeaks — and it pairs that steel with injection-molded reinforced polymer keeping the weight down to right around 11 oz, easy to pack mounted on the rifle or in a backpack for field application.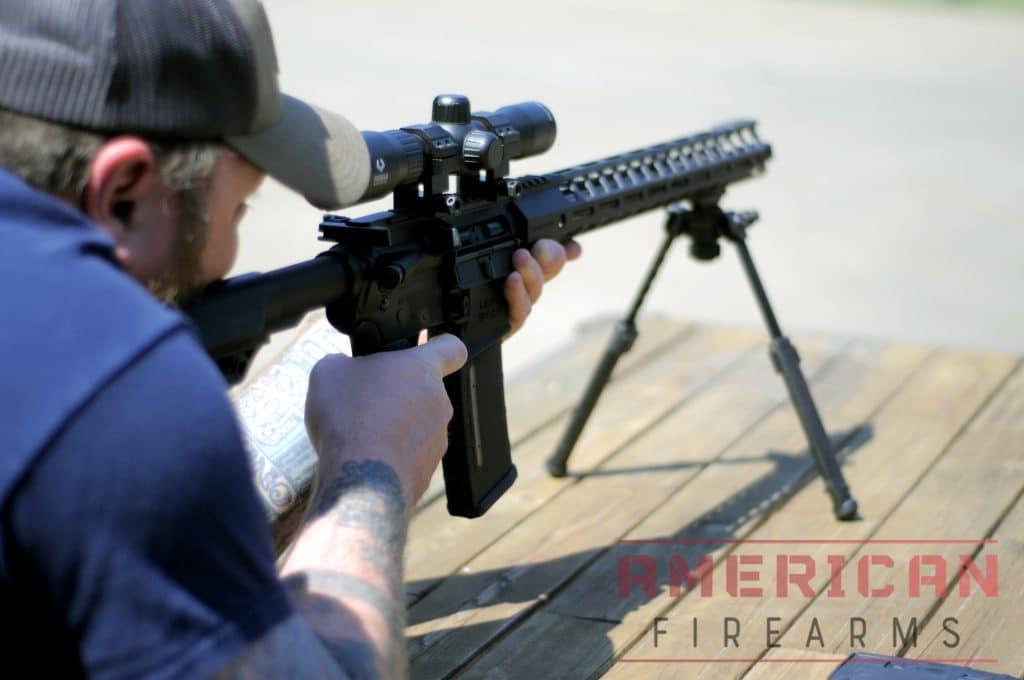 Shooting with the Magpul Bipod is a really nice experience. The legs are a touch thin though, and can splay when you lean into a shot.
Stability
The legs are spring-tensioned to extend forward and snap down using one-hand operation, plus the leg extensions slide and lock into place by pushing a button and land in one of the seven ½ inch-spaced locking detents with a satisfying snap. I really appreciated the simple precision of the leg adjustments. The buttons engage easily, and the legs slide down the supports smoothly. The seven adjustment detents are just enough to make finding your "Goldilocks zone" a cinch and adjusting for uneven surfaces is as easy as quickly moving a leg up or down the detents.
The bipod legs pop into position and create a non-marring forward rest for rifles of any caliber.
In addition, the Magpul bipod's legs accept Atlas-pattern feet, which can be swapped with a roll pin punch, a feature that will help extend the life of your bipod & provide a level of flexibility budget-oriented M-lok bipods can't match. It's staggered soft rubber feet will give you solid stability on a variety of shooting surfaces — from grass to rock and flat tables.
The leg hinges, however, do have some play, and unlike the Caldwell bipod, there's little tension on the hinge to minimize what feels like free-hanging legs (to some degree.) While plenty strong, the legs are also thin, which means they tend to splay more than round-legged bipods when a 230 lb dude like myself is leaning on them.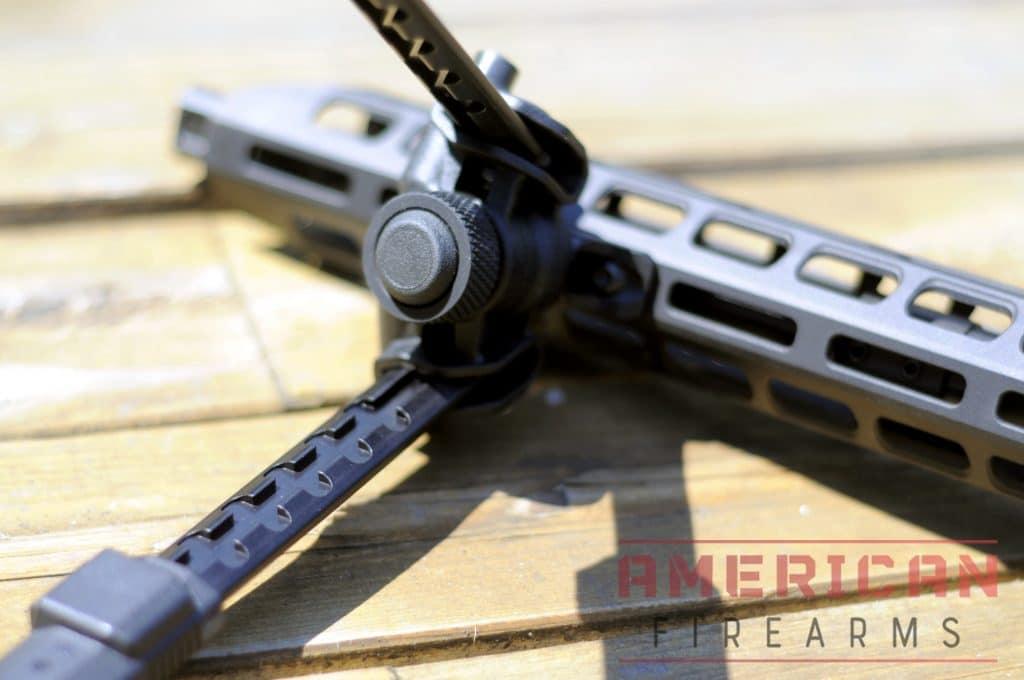 Here you can see the knurled tool-less bipod locking knob and half-inch spaced locking leg extension detents. These offer a ton of precision and make finding your personal sweet spot a cinch.
Adjustability
The Magpul bipod gives you control over a 50-degree cant and 40-degree pan so you can easily keep on target and make rapid one-handed adjustments in between shots with the locking knob.
I also really loved the adjustment knob. It's a standout feature that's easy to use and gives you gradations of control that make for really precise tension adjustments. I much preferred this to the Caldwell throw-lever, which has an "all-or-nothing" quality that makes adjustments more clumsy than they should be.
This bipod is like other Magpul products in that they pack a lot of quality into a sleek housing that makes for a great multi-purpose tool for any shooter. It's easy enough to use that even newer shooters who need an easy foray into bipod use will find a lot to like with the Magpul.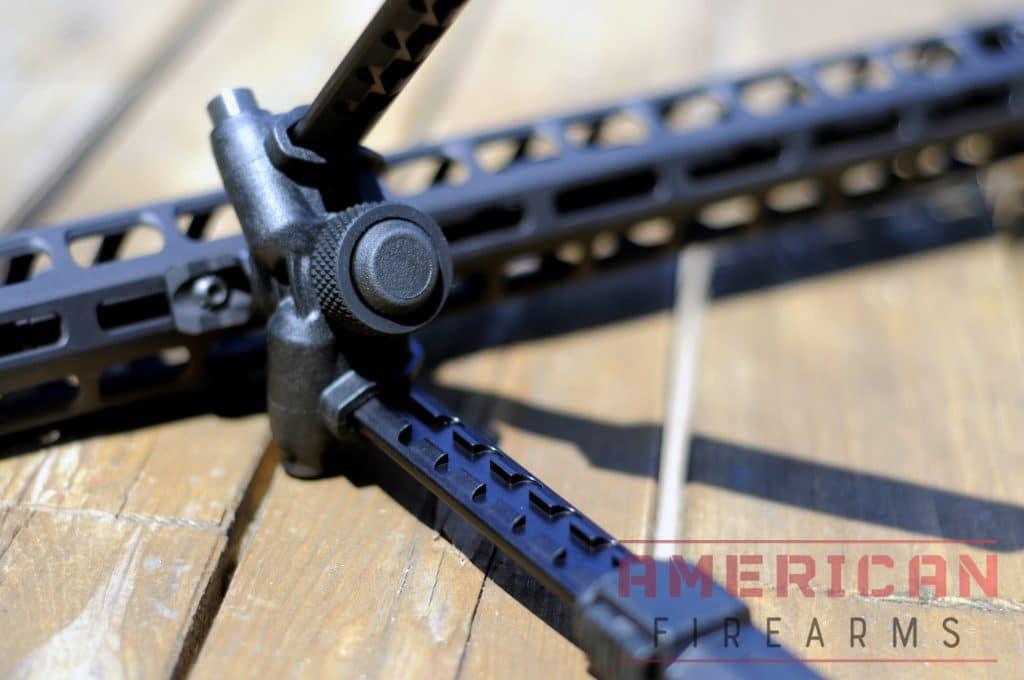 The bipod adjusts from 6.8" to 10.3" with seven locking detents.
2. Runner-Up: Caldwell Accumax M-Lok Bipod
Pros:
Lightweight and versatile
Allows for a lot of pan and tilt
Easy to use and adjust
Leg twist locks lock up very tight
The lever can be removed and reconfigured for your preferred orientation
Cons:
May not be suitable for larger calibers
Mini ball head requires a lot of torque
Construction
With their Accumax bipod, Caldwell created a solution for increasing accuracy on long-range shots without adding much weight at all to the rifle. The legs are made from carbon fiber and feature a 90-degree forward or backward locking detent, and the spring-loaded buttons make it easy to deploy. Coming in at just 9.3 ounces, it's one of the lightest bipods to make our list.
The hinges all have a nice tension on them, which adds to the stability of the Accumax, but the legs can be a touch stiff to move around.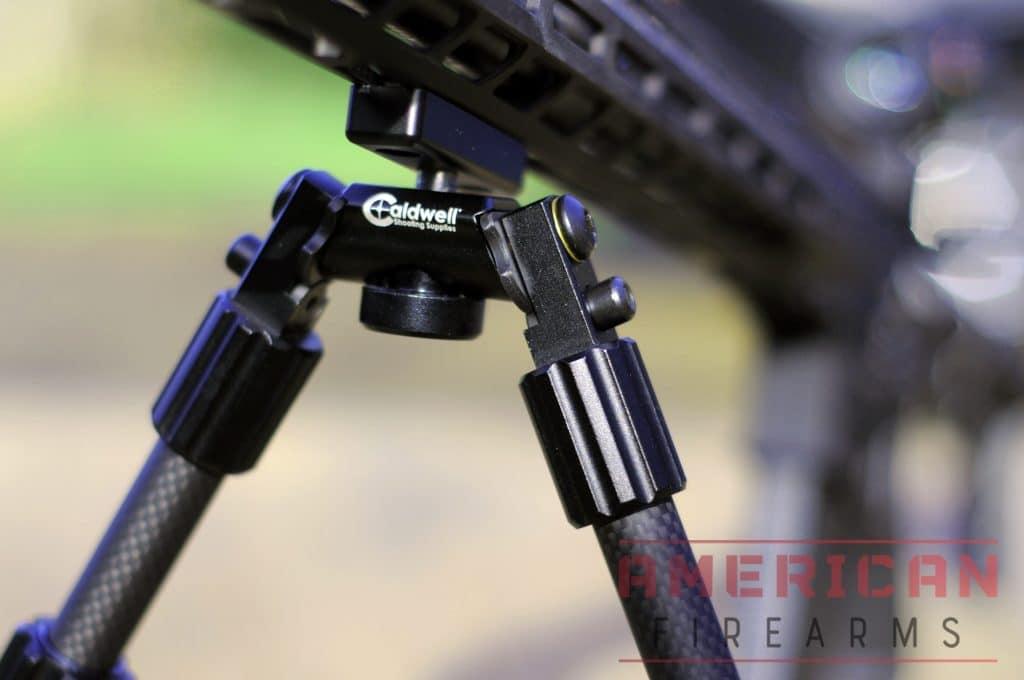 The Caldwell Accumax on my Lead Star Grunt. The round carbon fiber legs are really stable, but the knurled tension knobs give a vague sense of control over the leg extension.
Adjustability
The unique aspect of this bipod is its omnidirectional ball mount for 60 degrees of total pan, which gives the user a tremendously wide range to work with. You move the tension lever slightly off to the right to make small adjustments. It's a very flexible, if touchy, feature but allows for a lot of pan and tilt, which will be useful for those who tend to encounter moving targets. It does, however, require a load of torque to maximize the stability on offer.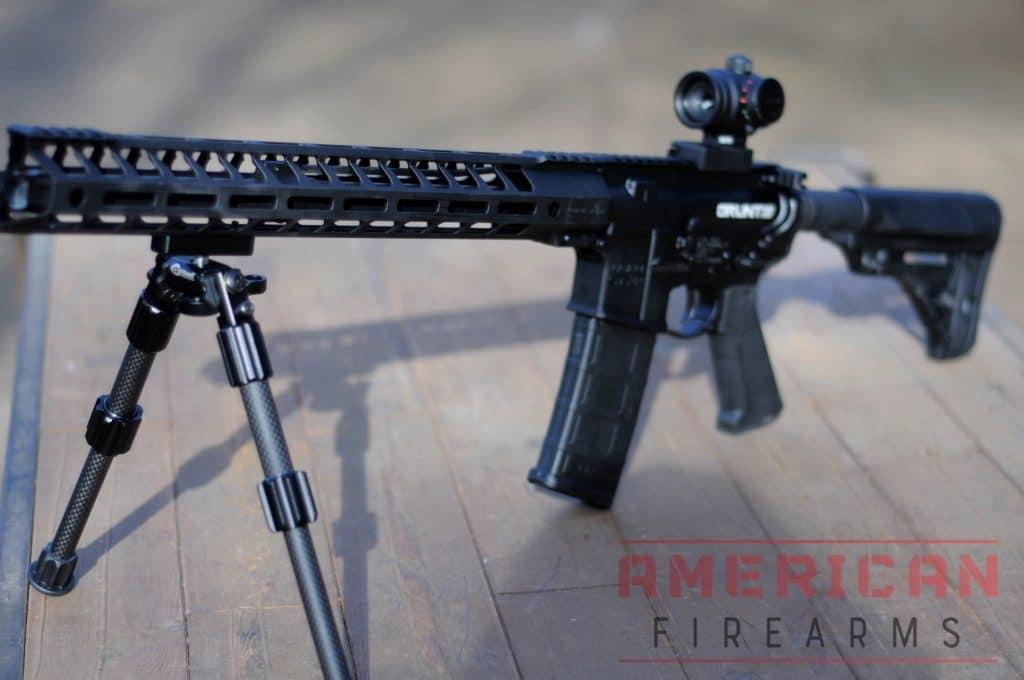 With fully extended legs you've got 13-inches of height to work with.
A few other features that can come in handy on the range are a lever lock handle for fast adjustments and the simple twist-lock leg adjustments — all while shaving weight with the carbon fiber legs.
One thing that stood out to me in my testing was the Accumax never locks into a single position — it provides more of a tension adjustment — so fiddling with the locking handle will cause your rifle to move slightly, and don't plan on any rapid one-handed adjustments. The ball head also never truly gets "locked" into position — what you'd refer to as "stiction" — so there's always some play in the connection to the rifle. I'd avoid larger calibers with this one.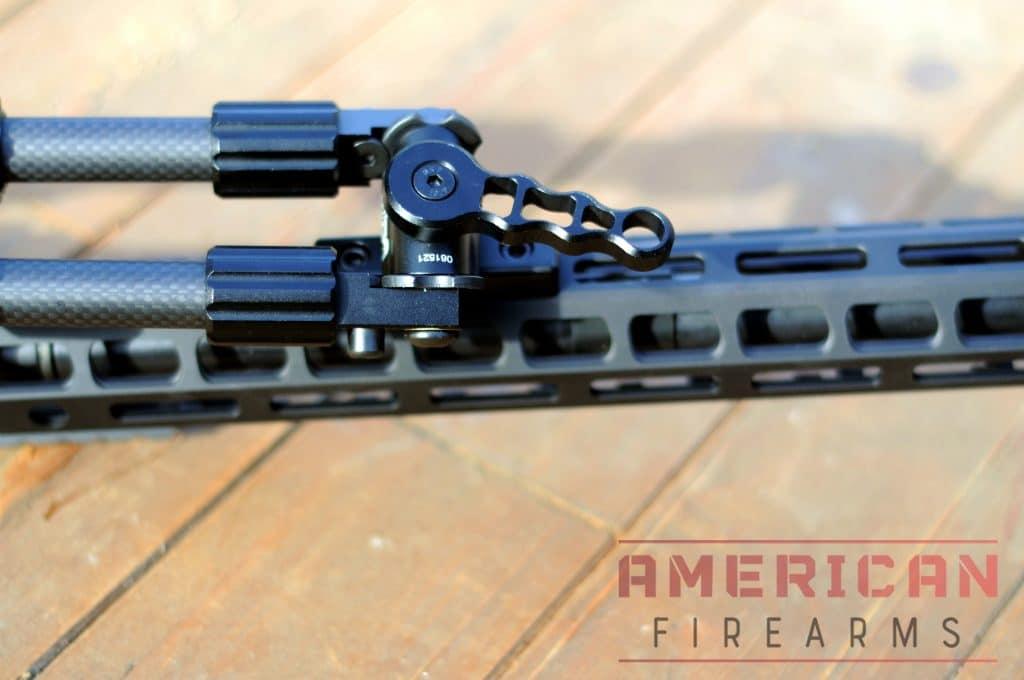 A chunky throw lever makes tension adjustment simple, but it never truely "locks" into position, so adjusting the tension can cause rifle movement and due to the fact the lever has a lot of lateral movement, can make adjustments feel clumsy -- especially when the legs are deployed.
Also, the twist-lock leg releases, I'm not a fan.  While nice and chunky, they need to be worked a few times to get the legs to fully and smoothly slide into place, and the fact the legs don't use detents or notches to determine the extension intervals gives extending the legs a kind of "infinite scroll" quality that makes it a challenge to ensure both legs are the same length if not fully extended or retracted.
I get it — fewer moving parts, less weight — but I feel like this design decision doesn't add to the utility of the product. Especially given deploying and adjusting the legs are a critical piece of the pie.
The three leg positions are straightforward enough -- forward, down, and back -- so you can throw them in front or behind the mount when not in use. Here you can see the release button and down position notch.
Ease of Use
This bipod provides only three leg positions, and the locking mechanism can be a little finicky, so it's really ideal for a bench or range bipod rather than hunting use.
The height is adjustable from 9 to 13 inches, which is just 4 inches of travel, again probably keeping this bipod in the realm of bench or range shooting.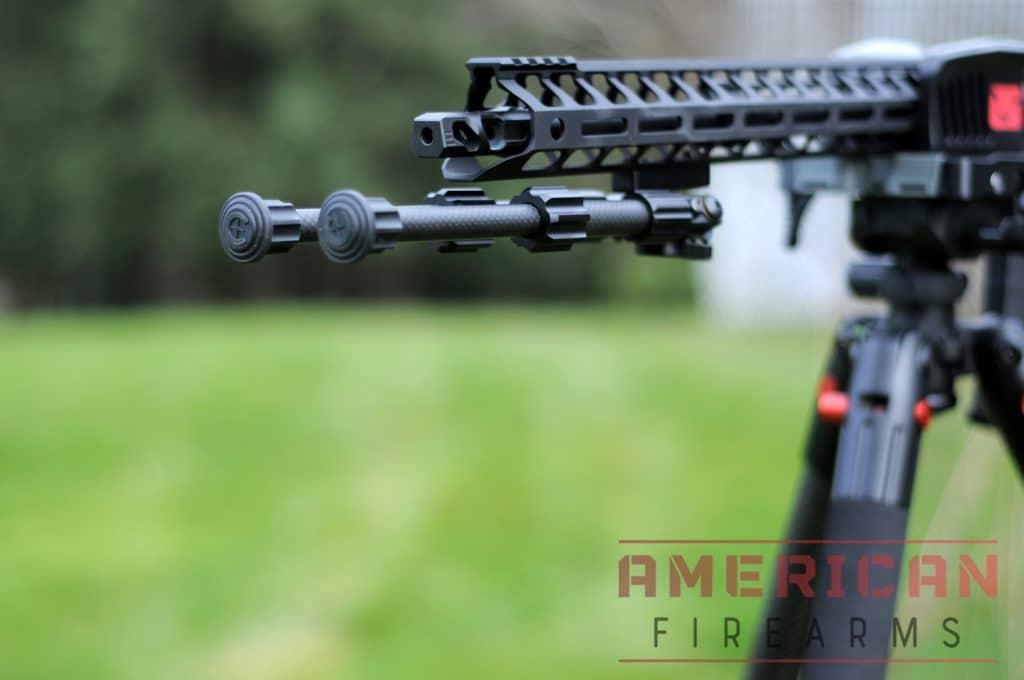 The leg extensions slide and lock securely with the push of a button, and while they're not spring powered the legs fit neatly up and away for streamlined storage. You can also see the staggered soft rubber feet.
3. Also Great: BT10-NC V8 Atlas Bipod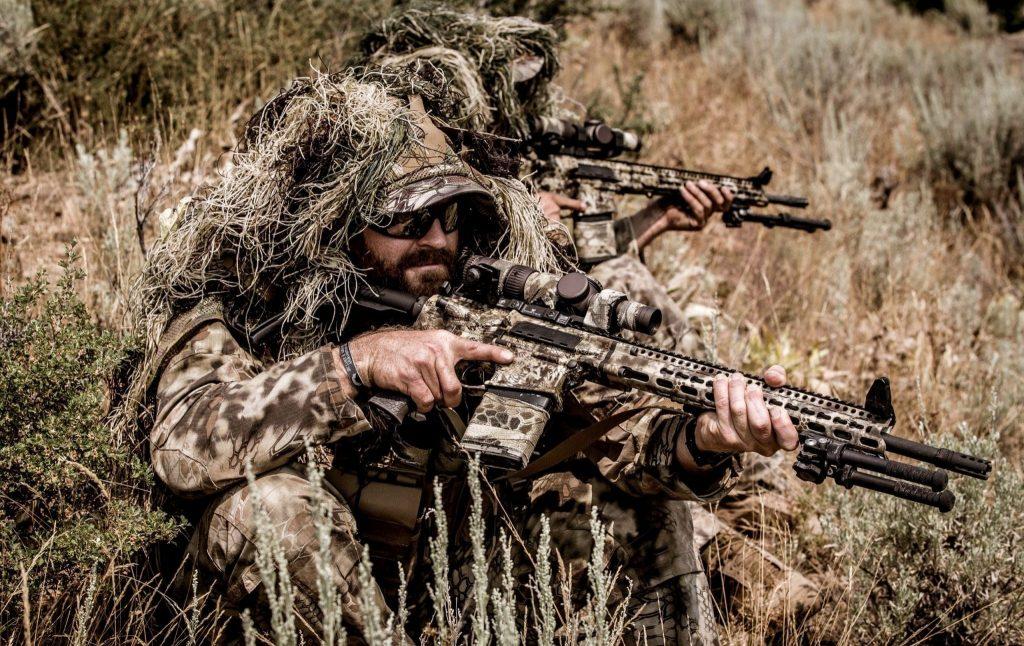 Atlas-bipod-Soccom-scaled
B&T Industries invented and patented the Atlas bipod traits of built-in pan, cant, and the novel 45-degree leg positions. Today, Atlas bipods are used in civilian, law enforcement, and military applications around the world.
The V8 bipod has 5 leg positions giving you complete control over your bipod. Pre-loaded with 30-degrees of total pan (left and right movement) and cant (left and right tilting movement), you can adjust the tension on the pan and cant so that you can customize the level of effort required to swivel on target, which adds a level of customization not found in other bipods and should appeal to competitive or bench shooters who need every advantage possible.
Lastly, the feet and leg extensions are interchangeable, fitting most Atlas pattern feet and making this an excellent option for shooters who need to optimize their setup for different environments or who have a strong preference for specific styles of feet.
This bipod would also be helpful in NRL22 shooting competitions when dependable performance, cant and pan capabilities come in handy.
Important: This bipod requires a BT70: Atlas M-Lok adapter, which requires the use of 2 standard-sized slots for mounting onto the handguard.
4. UTG Recon Flex M-LOK(R) Bipod
Leapers, Inc. designed the UTG Recon Flex bipod to give a rifle a broad, sturdy base and to be able to adjust for elevation. Leapers is a manufacturer that develops products for advanced hunters and uses in different shooting sports.
The Recon Flex M Lok R Bipod has two legs attached to the rifle's handguard at 3 and 9 o'clock. The bipod legs fit neatly beside the barrel, keeping the lower portion of the handguard free from obstruction. The legs are spring-loaded for quick bipod deployment, use stabilizing forward tension, and made with lightweight aircraft-grade aluminum.
What makes this product unique is the 5 Posi-lock positions options that can be used on different firearms, with varying height clearances and mounting space. While the direct mounting design prevents panning if that's not a requirement for you this bipod is excellent for a new rifle shooter learning how to use a bipod and wants a simply designed bipod that can mount to different rifles.
5. Also Great: Harris Engineering S-25 Bipod
Harris Engineering solely exists to sell bipods and adapters, so their focus is to continually improve their designs and build bipods for various uses.
The S-25 bipod is one of two bipods (along with the Atlas) that are widely used by competitive shooters. The extended legs reach from ​​12 inches to 25 inches, which is great for hunting large animals in terrain with elevation changes where you may shoot at an elevated target and need to position yourself behind or beneath the rifle.
The total weight of the Harris bipod comes in at 21 oz, so there are lighter options available if weight is a primary concern The swivels help compensate for varied terrain and a built-in sling swivel adds another sling attach point to your rifle, a nice bonus. The bipod features heat-treated steel and hard alloys, hard rubber leg caps, and a polymer knob so you get a lot of features that are found on many pricier bipods.
Important: This bipod requires the use of a Picatinny mount adapter — Harris' MLBA adapter — to mount to an M-Lok handguard.
6. Budget Option: CVLIFE 6-9 Inch Bipod
The CV Life bipod is a budget-oriented option made of hardened steel and aluminum with an anodized finish to prevent rust, which is great if you plan to take your rifle and bipod into the field.
The feet are made of high-quality rubber, absorbing recoil shock and preventing the rifle from skidding or slipping on a variety of surfaces. The legs adjust with 5 different settings with return springs as well, so you'll have more precision adjustments at your disposal than with other budget options. Plus you can lock pan at zero while keeping full tilt capability — an exclusive ability on the Magpul.
The total weight of the bipod is 10 oz, so it's light enough for most uses while making for a solid all-around bipod that has the basics covered without requiring you to dive into carbon fiber or more expensive materials.
The Picatinny adapter allows for the bipod to be quickly attached or detached using the swivel stud and the stowed position beneath the barrel keeps the streamlined housing up and out of the way when not in use.
Important: This model bipod mounts to any Picatinny Rail and will require your M-Lok handguard to have an adapter for compatibility.
7. Most Height Adjustment: CYBERDAX Carbon Fiber Swivel Bipod
This bipod for M-Lok handguards by Cyberdax uses a mil spec hard anodized exterior which is plenty heavy duty and enables countless user configurations with adjustments from 13 up to 27 inches, giving you 14-inches of travel.
The bipod includes an M-Lok rail mount adapter and a Picatinny QD adapter if you want to change it up later.
There are 5 adjustable leg settings, and the leg extensions slide and lock securely into place.They quickly snap up under the rifle under spring tension to slide and lock securely up under the barrel.
The bipod is made with aircraft-grade aluminum and the legs with carbon fiber, so you get a solid mix of light weight and strength in the bipod. The swivel moves 20 degrees giving a shooter the ability to move the rifle slightly as needed while shaving weight and smoothly brushing off anything you would encounter in the field. Other bipods offer more tilt but few will give you the 14-inches of height adjustment you find with the Cyberdax.
8. Most Durable: Javelin Spartan Pro Hunt Bipod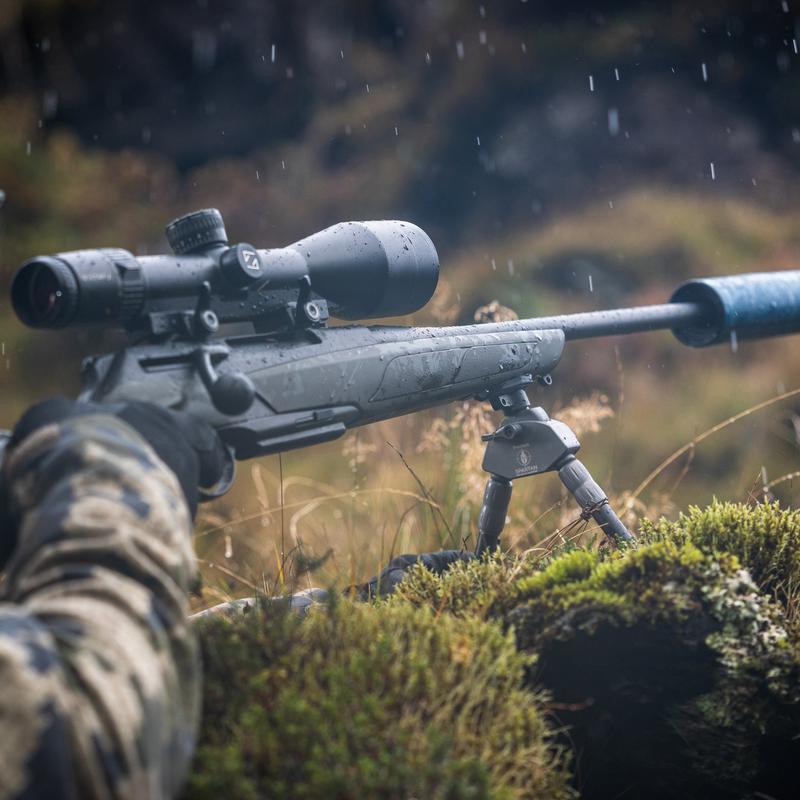 Accessories like a bipod -- like this Javelin Spartan Pro Hunt Bipod -- add utility to any rifle.
This particular model is definitely on the premium side, but for a good reason. It is compatible using Spartan Rifle Adapters with Picatinny rails, M-Lok, Keymod, and even embedding into wood or synthetic rifle stocks, so the durability and build quality is a level above your standard AR 15 bipod.
The Pro-Hunt Bipod uses carbon fiber adjustable legs and a CNC machined body to conceal its internal mechanisms, making it an ultra-lightweight, tactical bipod that's barely noticed until needed, when it quietly transitions from under barrel into fire-ready position with the push of a button.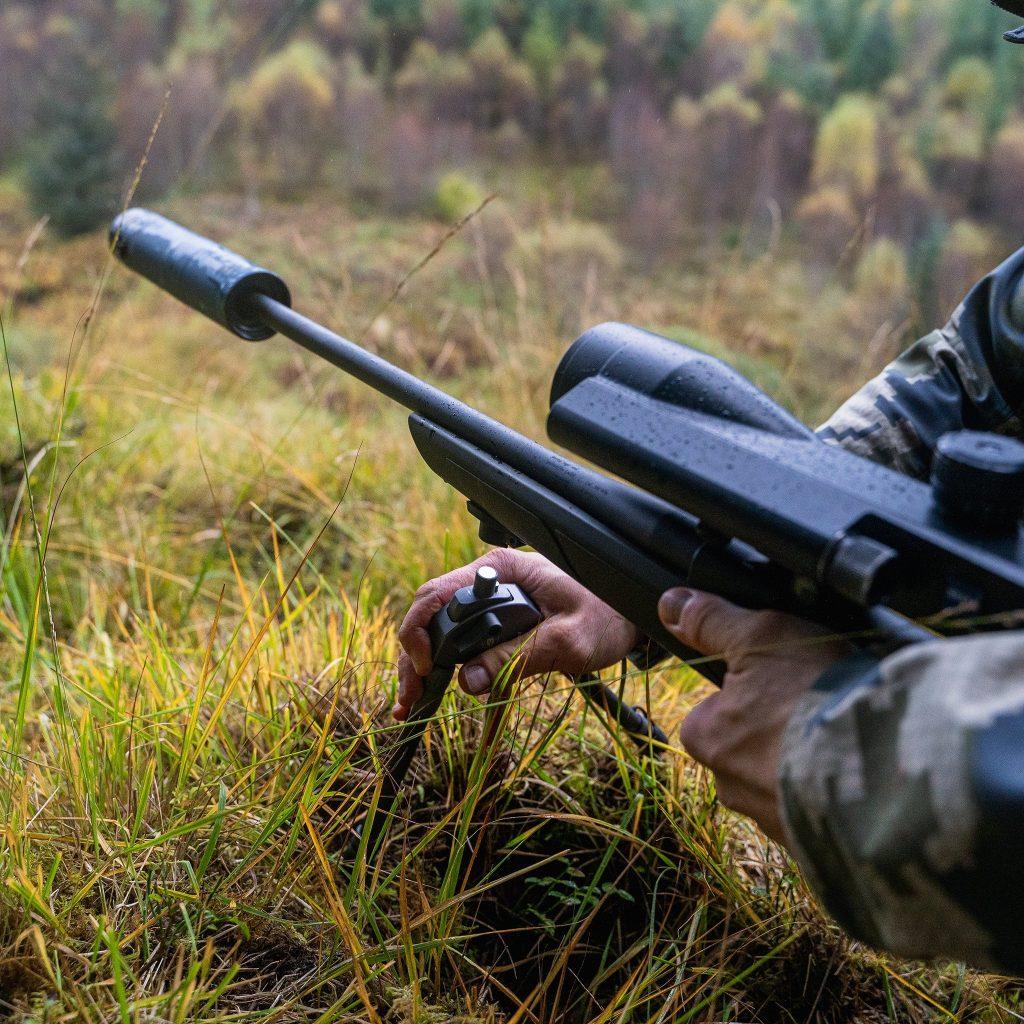 The Spartan Magnetic Attachment system is both unique and suprizingly usable.
The bipod is one of the most compact models, and it only expands from 6.9 inches out to 9 inches, so if you need a longer leg or more height there are other bipods which provide more leg extension length.
Spartan Precision Equipment produces this hunting rifle bipod for more hunt and outdoor-oriented users and focuses on building modern hunting products for the modern outdoorsman.
The unique aspect of their bipods is that they are made with the patented Spartan Magnetic Attachment system, which uses Neodymium rare earth magnets to easily mount to the rifle in seconds while fully supporting stabilizing forward tension, which is an innovative feature that makes swapping the bipod from one rifle to another quicker and easier than most traditional mounting systems.
It does require a separate adapter for each rifle you plan to mount it to, so be mindful of that when factoring in the total cost.
9. Also Great: UTG Recon M-Lok Bipod
Leapers, Inc also manufactures this UTG Tactical Bipod. This specific model adjusts from 8 inches to 12 inches in height, so it's more compact than other options but packs a lot of features into its small frame.
The bipod is made from mil-spec hard anodized 6061 aluminum finished with black anodization to help prevent rust while smoothly brushing off bramble in the field. The folding legs are easily loaded with forward tension and extend to 3 different positions, locking into place. The feet are made of nonslip rubber.
What makes this bipod unique is the ability to adjust the bipod for 360 degrees of panning, giving you a full radius of pan. In addition you can fine-tune this bipod's pan and tilt tension to the right mix for your preferences while also allowing for 15 degrees of total tilt.
When it comes to assessing the various M-Lok bipods available and choosing what is suitable for you, consider where your firearm's purpose falls into in the following types of bipods:
Heavy-Duty
Have you ever picked up a rifle explicitly built for shooting Precision Rifle Series or National Rifle League?
Without exaggeration, these heavier rifles can weigh anywhere between 18 and 22 pounds. They are designed to be heavy, which enables them to balance out heavy recoil, eliminate movement of the weapon, and provide the longest barrel possible — as longer the barrel, the more accurate the shot.
These guns require the absolute best rifle bipod — the kind that offers as many adjustments as possible to support various shots. In these types of competitions, competitors will shoot from the prone position, off barricades, and tank traps, but also in angled positions on uneven shooting surfaces that may require the bipod stand to be set at different heights.
Middle-Tier (AR-15-level)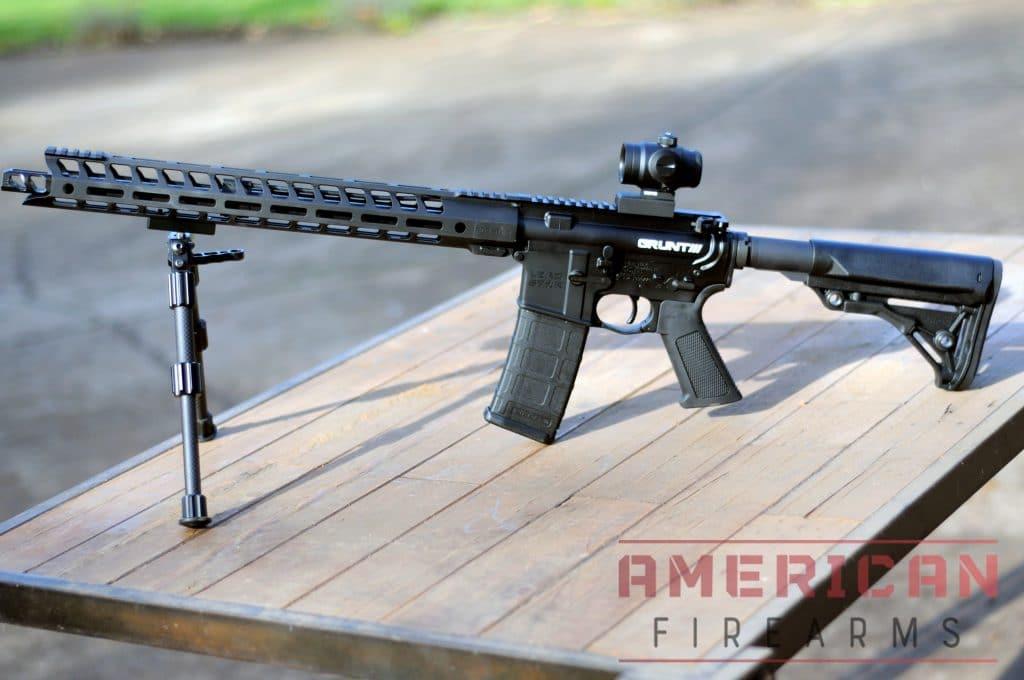 For an AR you'll want something more than a rimfire bipod, but you probably don't need a $300 bipod if you're just looking for a little more stability from your standard shooting position.
Your AR-15 and more commonly-chambered semi-auto rifles are best supported with your average, middle-tier bipods. AR-15s are nowhere near as heavy as PRS rifles so an AR bipod doesn't need quite as many adjustments, functions, or to offer the same level of support.
Simple can sometimes mean better.
Depending on your purpose for a bipod, an AR-15 bipod should offer 3-5 height adjustment settings, be durable enough to keep an AR rifle stable when firing, deploy quickly and collapse easily to move to the next position.
Lightweight (.22LR/Rimfire)
When it comes to shooting .22 LR rifles, you don't need a heavy-duty bipod made with precision tolerances. One of your first considerations for a .22 rifle bipod is the weight of the bipod you're considering. If the bipod adds too much weight to the front end of the gun, this can affect your ability to keep the muzzle elevated.
It should also be easy for you to move the weapon into a different position, so if there's too much frontward weight, the bipod may be too heavy to be helpful.It's also important that the legs fit neatly up and under the smaller frame of a rimfire rifle.
Important M-Lok Bipod Features
Now that you have a better picture of why you would use a bipod, let's break down the details that matter. Aesthetics and color choices aside, what matters here is functionality. Create a list of the features and functionality you'd like in your bipod to narrow down your options.
Consider these factors when making your purchase:
Travel & Height
It's essential to know the amount of travel available in your bipod and how high you can adjust its final position. Shooting from the prone position, for example, may need 4-10 inches of height adjustment depending on the elevation of your targets. You also want to look for a low-profile design that will keep your bipod from picking up grass and brush when not in use.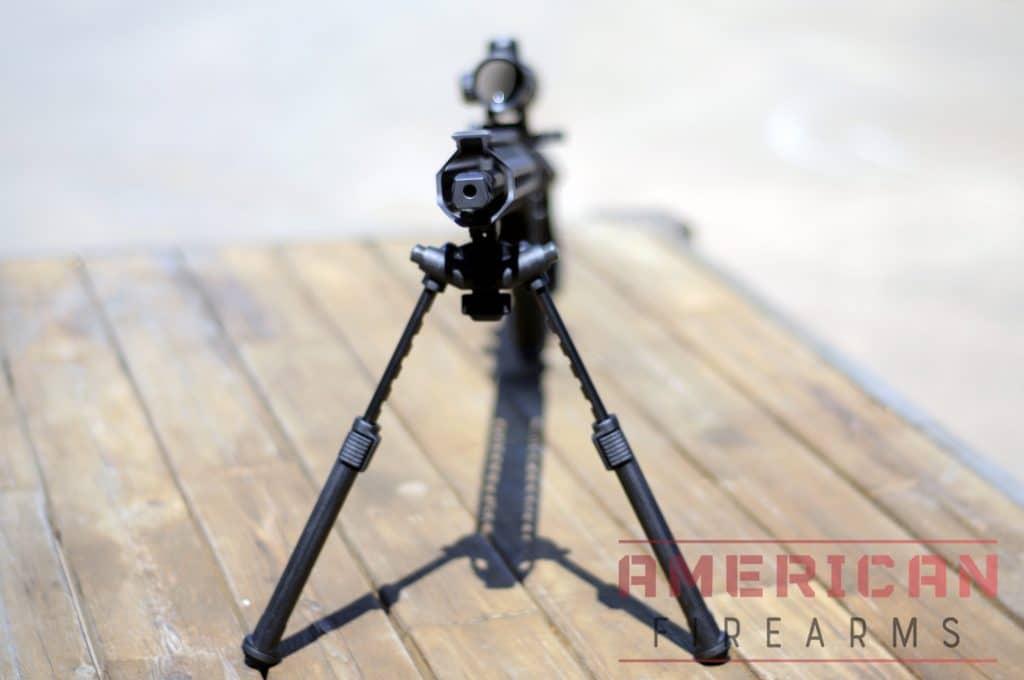 Magpul Bipod Max Height
Materials
The material used in the body and arms of a bipod has an outsized impact on it's lifespan, weight, and usability. Materials like carbon fiber and lightweight aluminum will be both durable and light, while hardened steel for things like mounting plates, Picatinny rail mounts, and a clamp mount help eliminate any play between the bipod and the rail.
Bipods made out of plastic are something to stay away from, as they often have too much flex to be truly stable and reliable. And while they may offer light weight, they lack the durability other materials can offer and will only frustrate when you take your budget hunting rifle bipod into the field.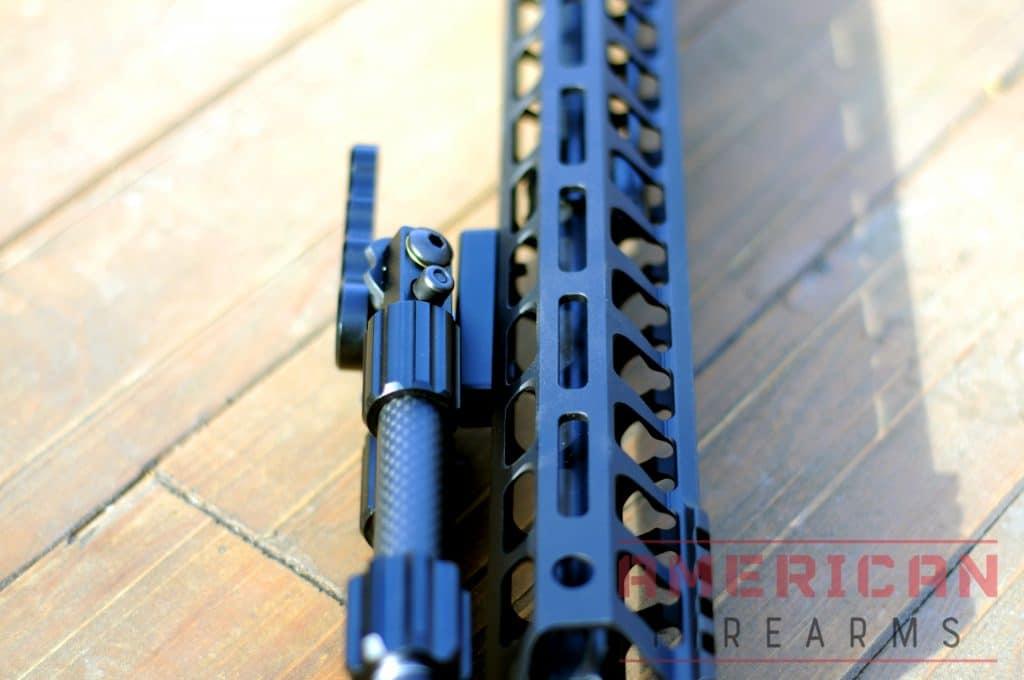 Carbon fiber and aluminim get you serious strength for comically little weight.
Adjustability
Adjustability is essential if you have to make perfect shots under duress in a timed sport or know you will be in awkward shooting positions requiring minor maneuver adjustments. Precision adjustments that lock securely can give your rifle a level of reliability that's hard to unlock without a reliable bipod, giving you support even when in tight spots that make for challenging shots.
Bipod Legs & Feet
The surfaces you plan to shoot from will help determine which bipod feet will work best for you. There are functional feet designed with hard plastic for situations where there is plenty of traction – like grass or dirt, you may also use staggered soft rubber feet for additional friction on slick surfaces, and even aggressive spike feet that can firmly plant your bipod in the ground and increase the stability as you push forward with the rifle to gain purchase.
When to change from rubberized feet another option is up to you, but having replaceable feet at your disposal option can turn a good bipod into an excellent bipod.
Knurling or control/friction material on surfaces like legs and adjustment knobs will help mitigate the loss of feel when wearing gloves or when the weather turns against you and you're deploying a wet bipod in the field. You also wan to look for legs that snap down and lock firmly into place, eliminating slop and wiggle from the unit.
Adjustment Intervals
Understanding the number of adjustment marks you prefer on the bipod's foldable arms is crucial when ½ inch could mean the difference between making a clean shot or not. When bipod legs extend, they rest in one of a number of lock heights nested in the bipod's notched legs. These adjustable length legs are crucial for ensuring you have an optimal, stable position.
You'll generally find no fewer than three lock heights but if you prefer more adjustment options, consider a bipod that has 5-7 length adjustment intervals. These will provide additional options for leg lengths and ensure dependable performance on uneven surfaces.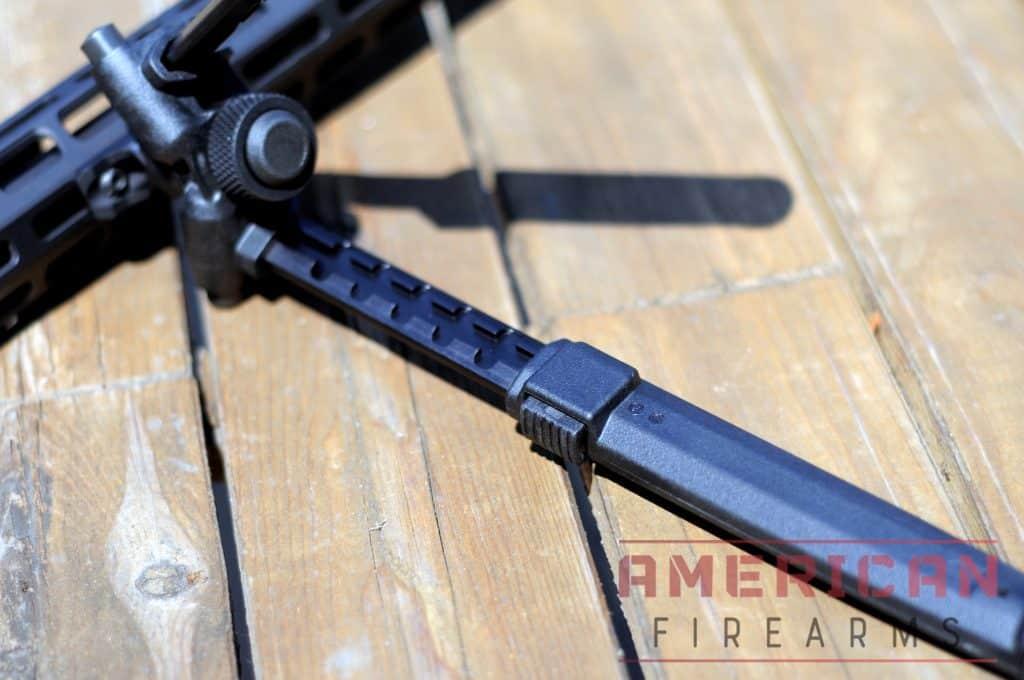 Magpul Bipod Adjustment Notches
Pan & Cant
The ability to adjust for pan and cant will play a significant role in precision rifle shooting sports and hunting in rocky terrain, at different elevations levels, and in tight positions.
Having full tilt functionality that allows for you to pan a gun is great if you are stalking big game and you'll know you'll have to take a shot while the animal is on the move or need the ability to adjust your shooting position based on the terrain.
Being able to cant your rifle when the legs are on uneven terrain can help you level out the gun and make an accurate shot.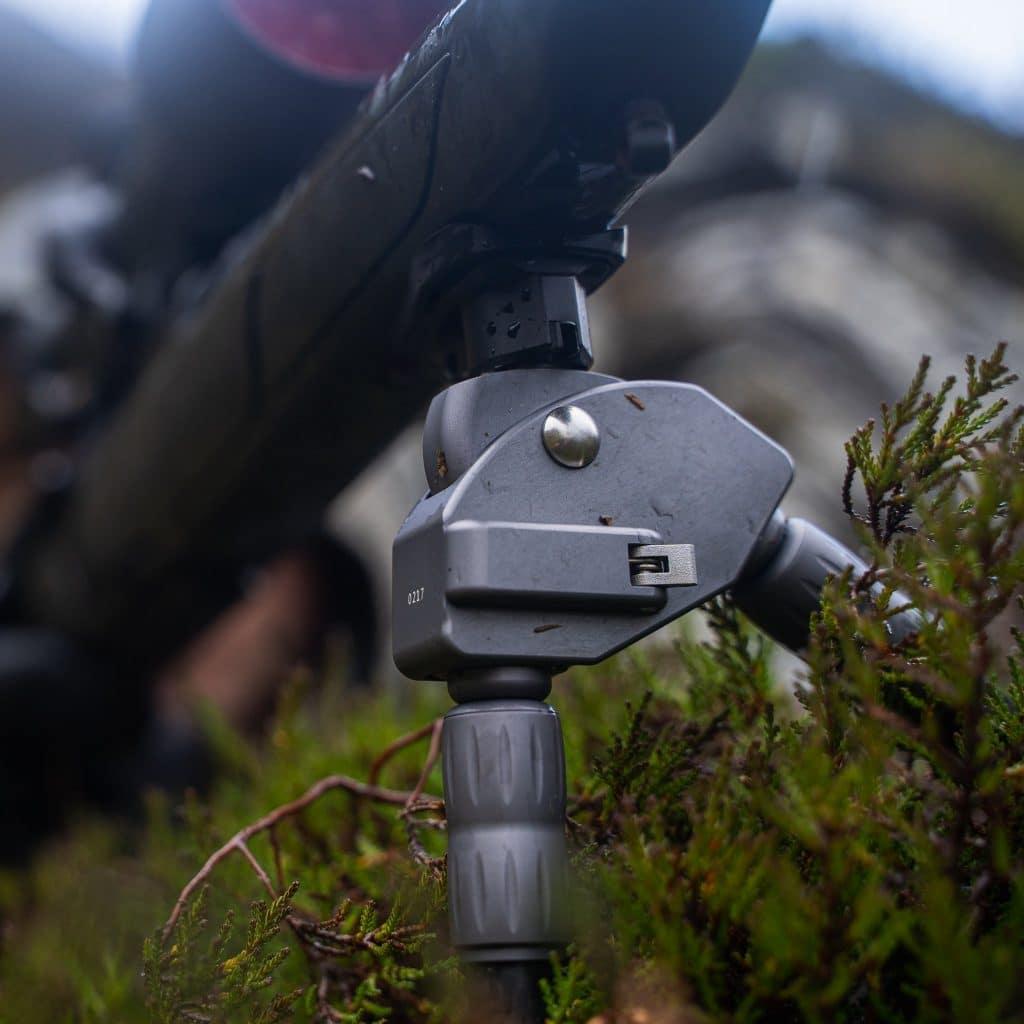 Sling Attachments
As mentioned earlier, sling attachments on a swivel stud can be a bonus bipod feature. A tactical rifle bipod should always have the ability to attach and use a sling, especially for law enforcement officers and military personnel.
While swivel stud mount isn't a requirement for most bipods as rifles often have at least one existing swivel stud, they're helpful for establishing additional sling points, which only adds functionality to a rifle, if you ask me.
Controls
Things like quick-release levers, spring-assisted buttons, and spring-loaded legs make the actual manipulation of height adjustments, bipod deployment, and mounting/removal of the bipod much faster and easier, especially when gloved. Tension adjustment can also be helpful for ensuring the amount of forward pressure you'll need to apply suits your shooting style.
In the long haul, rifle bipods are the kind of tactical gear that may not save you money but will save you frustration when hunting or long-range shooting.
Limit Unwanted Movement. Think about the time you learned how to ride a bike. You probably used training wheels to learn how to balance the bicycle and eliminate the wobbling that led to you falling off. Those training wheels supported the bike from tilting left or right and kept the bike pointing straight when pedaling. A rifle bipod functions in a similar way. In simple terms, the best rifle bipods act as a kind of training wheels, with the spring legs keeping the gun balanced while the rail attachment supports the muzzle — helping it stay lined up with the target. A bipod eliminates the wobble and movement of a rifle that shooting support bags cannot do.
Less Fatigue. Speaking of shooting bags, have you ever hauled one or two shooting bags around all day at a shooting competition or even just on your way to and from the blind? Many of these bags are heavy by design, and some don't even have carry loops — you're stuck carrying it on your shoulder. A bipod can eliminate the need for a shooting bag while staying attached to your gun, so there's nothing extra to carry around.
More Shooting Positions. You're likely going to want an easily deployable bipod that adjusts for height and collapses down quickly for easy movement transitions. The worst part about a shooting bag is if you buy one that's too big, there's no adjusting it back down to make it smaller. If the bag forces the rifle too high where the muzzle is shooting over the target, you're left with adjusting your body to angle it downward or shooting without the bag. Similarly, a small shooting bag may not give you enough height to align with your target, and there's only so low your body and rifle can go to adjust for the muzzle height. A fully adjustable bipod that gives you height adjustments can be the handiest device to get your gun into various shooting positions without having to change guns, bags, or positions just to hit a target. Bipods are a perfect complement to your rifle.
The alternatives to an M-Lok bipod are other means of stabilizing rifles — mainly shooting bags and bench rests, both of which are used in long-range shooting.
Shooting Bags. As mentioned previously, shooting bags are non-adjustable and tend to be heavy – which means they're not as flexible as a bipod. The height adjustments bipods offer  make them the equivalent of 3 different shooting bags, and they are much less bulky and heavy than bags — not to mention bags have to be carried in your free hand. Bags are simple — there is no spring system, tension knob, Allen wrench, rubberized feet, or much of a user manual, but their weight makes them a chore for much beyond the firing range when you're not on the move. For tactical scenarios or any other application, I'll take a bipod any day of the week.
Bench Rests.bench restBench rests often have solid build quality, but height and left and right adjustments are slow, usually using a knob to turn tiny adjustments at a time. Plus they simply don't offer all the features of a simple bipod.
Just like with any other product, bipods can have shortcomings as well. If you use the pan feature and take a shot that doesn't hit your intended target, it can be challenging to take a follow-up shot if you've maxed out how wide your pan ranges. Moving targets will always present a problem in bipods that do not allow you to pan left or right.
If you're not used to a bipod at the end of your gun, it can take some getting used to. The additional weight at the end of the muzzle may not feel like much, but it is noticeable with any bipod addition.
Price Ranges vs. Features
Under $50. Bipods priced around $50 will usually have your fundamental features of 3 leg settings, stable feet, and a collapsible design. These are typically considered the base model of a bipod, and prices go up from there. Anything under $50 is probably not worth looking at. The bipod may be made from injection-molded polymer or other hard plastic and offer easy adjustment features like knurled knobs or detents, possibly offering tilt functionality.
$50-$100. In bipods, around $100, they usually have more than 3 adjustable leg settings, the ability to pan or cant the rifle, replaceable feet, anodized surfaces, and can have both sleek housings and anodized surfaces for additional durability. The materials used to make these bipods can include aircraft-grade aluminum or stainless steel components.
Over $100. The premium bipods designed for big game hunting and precision rifle shooting can range from $200 to upwards of $300. These pricier bipods are typically made with carbon fiber or other extremely light weight material, have 7-10 adjustable points on the legs, lock pan, full tilt functionality, support any variety of shooting position by enabling you to change the tension on the cant and pan. They can also stabilize heavy-duty rifles with serious support.
How We Selected Our Recommendations
The best advice I give to anyone who shoots firearms is to try as many guns, pieces of gear, and anything someone is willing to let you test out. While we prefer hands-on reviews for every product, we also research products based on honest online reviews, listen to expert discussions, and watch them be put to the test on the range by us or by others in our shooting community.
M-Lok bipods are for any shooter wishing to create more balance and stability in shooting positions with their rifle. Even if you don't use them often, it's better to have one and not need it than need one and not have it.

March 13, 2023 — This bipod guide has been thoroughly evaluated, and we maintain our current M-LOK bipod recommendations without reservation. We've updated images and links where appropriate.
Sign up for our newsletter
Get discounts from top brands and our latest reviews!