Q Fix Review: The New Era of Chassis Guns?
We explore Q's 'The Fix' rifle with our in-depth review, covering accuracy, ergonomics, features, and more. Discover if it's worth the investment.
Written By
Coldboremiracle
Precision Rifle Expert
Edited By
Michael Crites
Licensed Concealed Carry Holder
Share:
Products are selected by our editors. We may earn a commission on purchases from a link. How we select gear.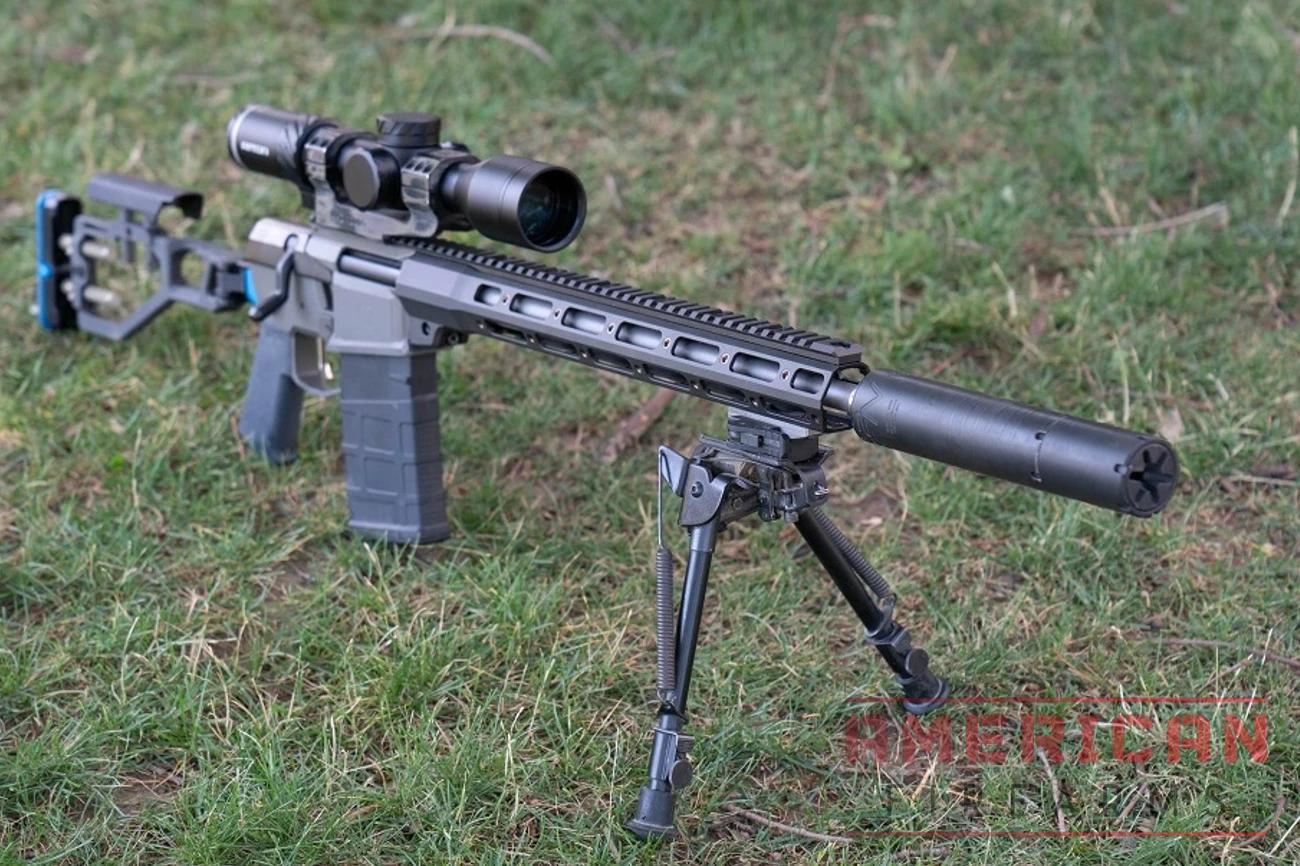 One of the fastest-growing categories of rifles today is the chassis gun, essentially a barreled bolt action rifle mated to an adjustable chassis.
The difference between a stock and a chassis is that chassis are typically made from aluminum and other materials that provide a more rigid and modular platform for the rifle action to operate with. Today we are taking a look at something that seems to be right square in the middle between a chassis & bolt gun, and something uniquely its own.
The rifle is The Fix manufactured by Q, which we're diving into today.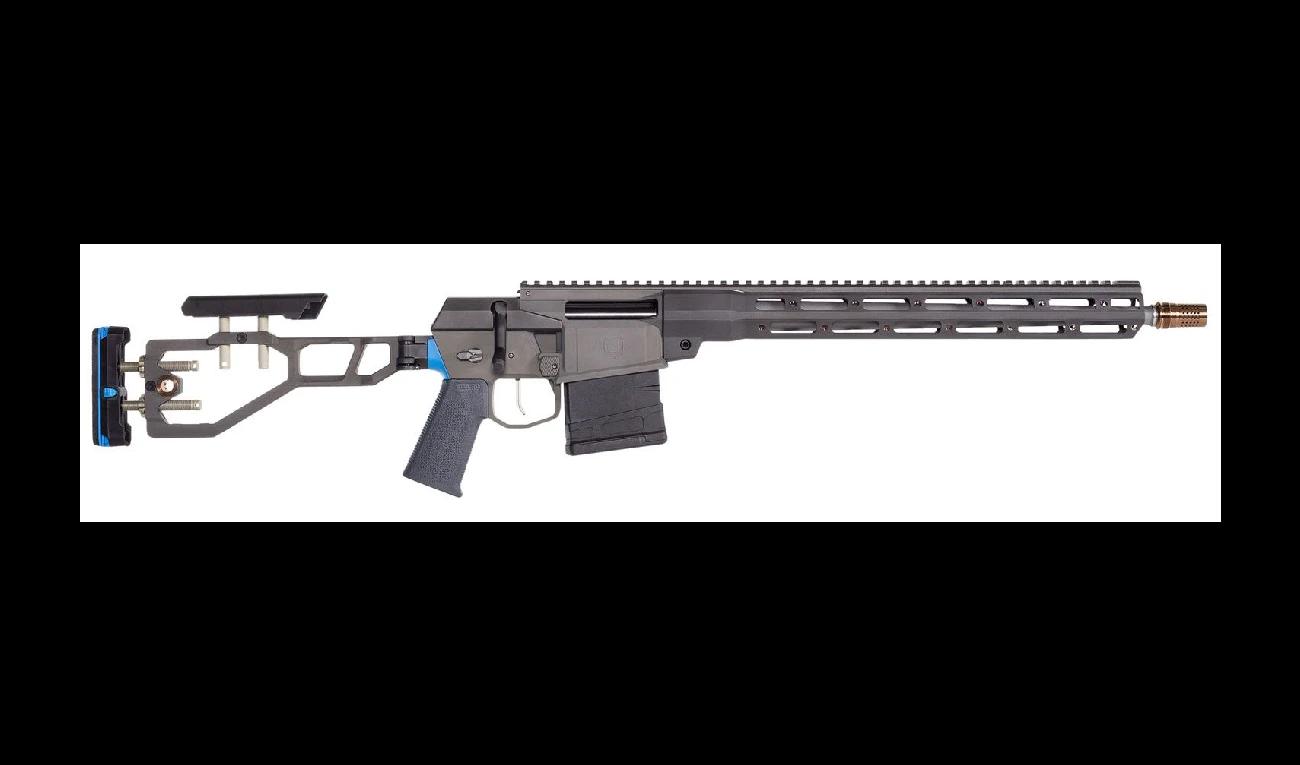 $3299.99
Best For
Cutting edge design
Very lightweight
Compact design
Quality finish
Accurate
Very fast to operate
Modular design
Considerations
Not inexpensive

Only compatible with Q-Sert
Our Verdict
Like many folks in the industry, I was a bit excited to see the rifle when it first came out. My initial thoughts when I first picked it up years ago were that it perhaps might be a little too much hype.
Now that I've seen the rifle in the wild for several years, I think it's safe to say that The Fix is here to stay.
It might be a niche rifle, but it seems to be carving itself a bigger niche every year. And if the results are allowed to speak for the rifle I expect it to become even more popular. I certainly wouldn't call it a beginner rifle, based mainly on its price, but a beginner could certainly start with it.
The rifle offers good accuracy, incredibly lightweight, compact mobility, range, and of course its game-changing design. It's as much a status symbol I think as it is a hunting rifle, if that is what you are looking for, set your sights on The Fix.
How where does Q Fix stand on our 60-point scale? Here are the scores:
Accuracy: 8/10
I found The Fix to be a sub-MOA rifle. Though opinions vary, my experience showcased its accuracy, even with inexpensive ammunition.
Ergonomics: 9/10
Although some may find its bolt throw different, I adapted quickly. It felt similar to an AR-style rifle with optimal safety, mag release, and bolt knob placement for quick all-around operation.
Features: 8/10
The Fix boasts impressive features, but I felt there could be more — although what exactly I'm not totally sure.
Fit & Finish: 9/10
The Fix exhibits exceptional craftsmanship with unique colors and finishes. Its design is both aesthetically pleasing and plenty reliable.
Reliability: 9/10
I encountered a few malfunctions but chalk those up to ammo issues. Otherwise, The Fix cycled and shot perfectly, both suppressed and unsuppressed.
Value: 6/10
The Fix is pricey at around $3,000, reflecting its innovative design. While there are cheaper alternatives, The Fix stands out for those seeking uniqueness and cutting-edge design.
Caliber:

.308 Winchester

Action:

Bolt Action

Length:

35.1"-36.6″ open / 25.9" Folded

Barrel Length:

16 Inches

Barrel Threads:

⅝-24TPI threads

Twist Rate:

1:10

Stock:

Fully Adjustable Folding

Weight:

6.3 lbs.

Capacity:

10+1
The Fix is neither a barreled action mounted to a chassis, nor does it have a stock in the traditional sense. The Fix could easily be mistaken at a glance for a semi-auto AR-10 type rifle, it uses SR-25 magazines, and its one-piece receiver slightly resembles an AR.
But the precision rifle is a single shot, operated by an extremely short throw bolt, and the barrel is mounted to the receiver similarly to AR rifles and features a free-float handguard as well.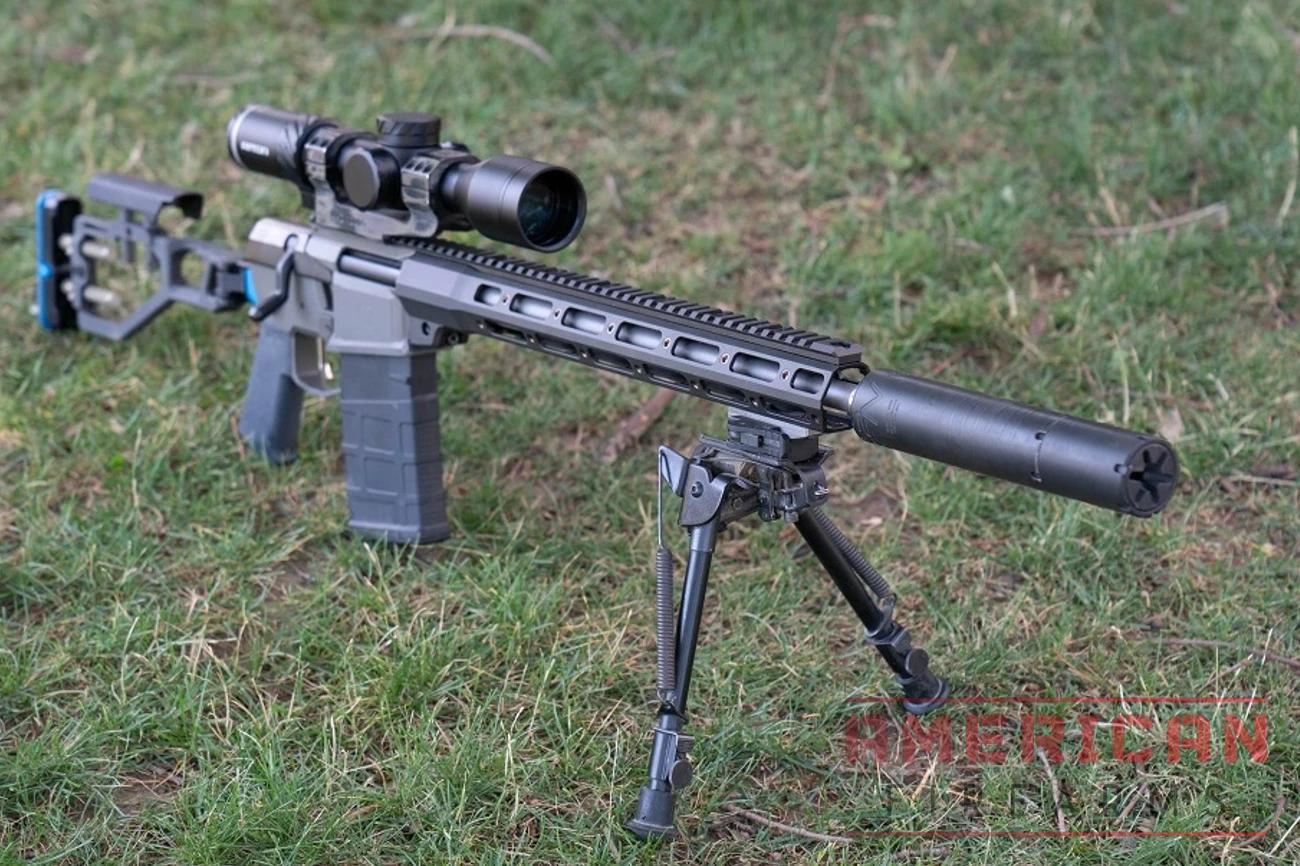 Q's "The Fix" rifle looks an awful lot like an AR, but it's a bolt gun.
The operation and design of The Fix make the rifle uniquely its own, much like the company that manufactures it.
Q has a creative touch, not just in its firearm design but also in its aggressive marketing tactics and irreverent methods.
"Live Q or die" is a great motto from the New Hampshire manufacturer, but I wanted to see how well The Fix would fit into my shooting activities.
Q isn't the only firearm manufacturer from New Hampshire, you can probably guess where the fellas got their experience in design and manufacturing — believe it or not two of the top five firearms manufacturers are in New Hampshire; Sturm, Ruger and Company (Newport, New Hampshire) & Sig Sauer (Newington, New Hampshire).
Kevin Brittingham — Q's founder — has a story of legend. After founding Advanced Armament Company (AAC) and growing it (and his popularity) through a mix of quality products, legendary mentors, and week-ruining Shot Show parties, his cred further ballooned after he sold AAC to Remington, was unceremoniously shown the door, then won a court decision over Big Green.
This foundation was further amplified after he led suppressor development at SIG (then hollowed out SIG's suppressor talent when he walked from the company).
Brittingham is not a "walk quietly and carry a big stick" kinda guy.
As one might imagine, in addition to the firearms experience, there is a great deal of suppressor development going on at Q. They have several great suppressor models designed to fit their different firearm models. 
Very popular would be one way to describe the firearms coming out of Q. They seem to have a near cult following, likely due to the niche fit, creative titles for their products, and the reputation of ol' "Big Balls Brittingham".
The Honey Badger rifle created a great deal of attention when it hit the scene, and with suppressors like the Trash Panda and Jumbo Shrimp, the firearm performance (and appeal) is further enhanced. 
The Fix rifle is similar to some of the other rifles Q manufactures in that it is full of innovative changes. Still, it stands alone in that there is nothing shared with most other firearm designs, other than magazine compatibility. 
Let us go over some of the key features of the rifle, to better understand what makes it tick. For the sake of keeping track of everything, I'll start at the back of the rifle and work towards the muzzle.
Buttstock
The buttstock of The Fix is a skeletonized aluminum design, that is mounted on a folding hinge to shorten the overall length of the rifle when transporting, creating the feel of a lightweight hunting rifle.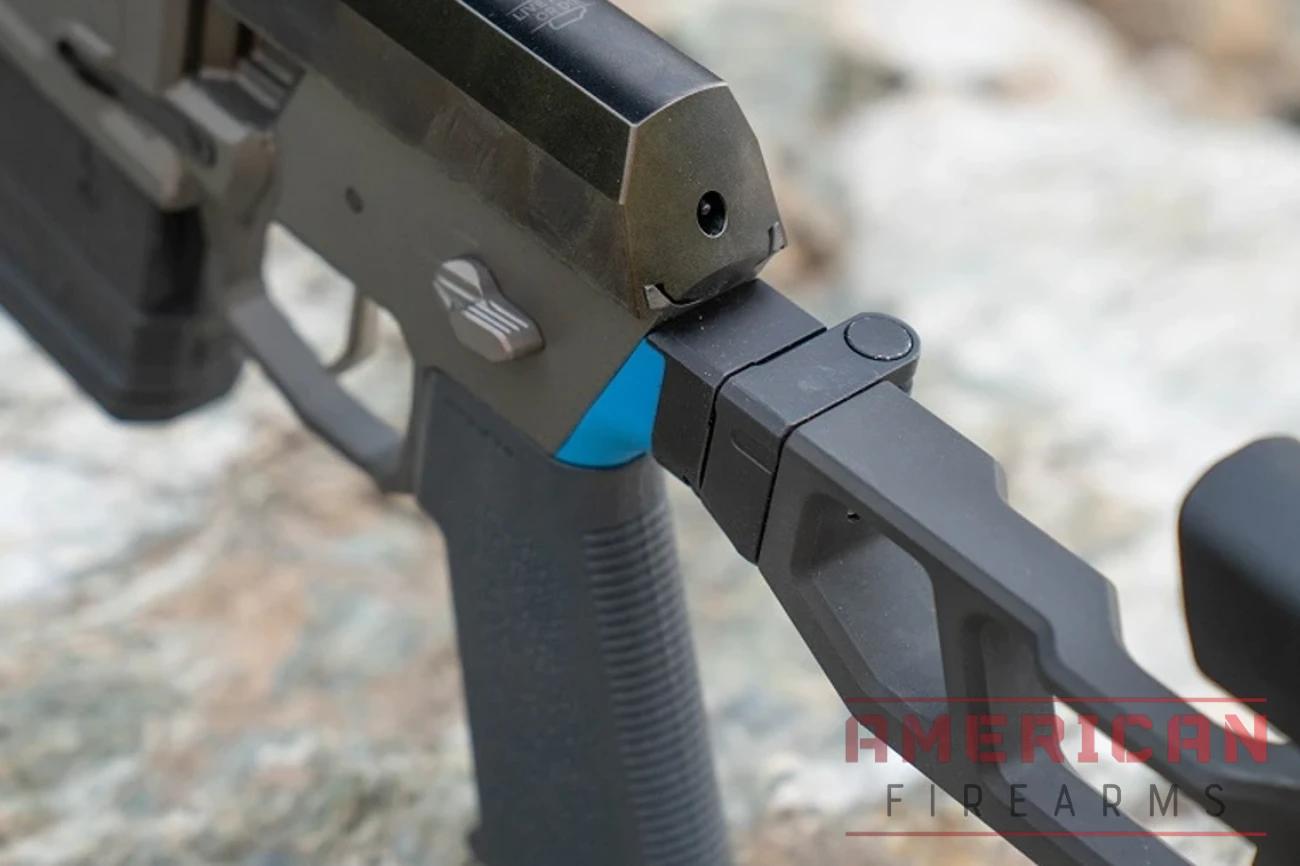 The Fix Folding Buttstock
The folding stock is adjustable in several axes, you can adjust the length of pull by turning the recoil pad screws to fit your needs.
There is also a similar set of adjustments to raise or lower the cheekpiece, both of these adjustments can be locked into place with a clamping screw in the stock that will squeeze the studs and prevent them from moving unintentionally.
The recoil pad is also adjustable on its vertical axis, so you can adjust how the pad rides on your shoulder while shooting.
The folding hinge of the stock is locked into position with spring pressure, it is a bit stiff but that's the way it should be to prevent unintentional movement of the stock. I found that a quick karate chop motion forcing the stock down, allowed for easy folding of the stock.
With the handle and stock folded over the bolt handle, snag points are reduced for transport, and the bolt handle is better protected. It's a fantastic and unique design that makes it easy to store and pack into the field when hunting.
Receiver
The aluminum receiver houses the trigger, bolt, and magazine. It utilizes a standard AR-style pistol grip which allows you to swap it out for whatever tickles your fancy. The safety is also an AR-style safety, and it's in the same spot. 
The magazine well is right where you'd expect it to be, and you guessed it, it also uses an AR-type mag button release to hold the SR-25 pattern magazines. The barrel and handguard are mounted to the front of the receiver familiarly. The barrel slides into the receiver indexing on a pin, and then a threaded barrel nut is installed to hold the barrel tight against the receiver.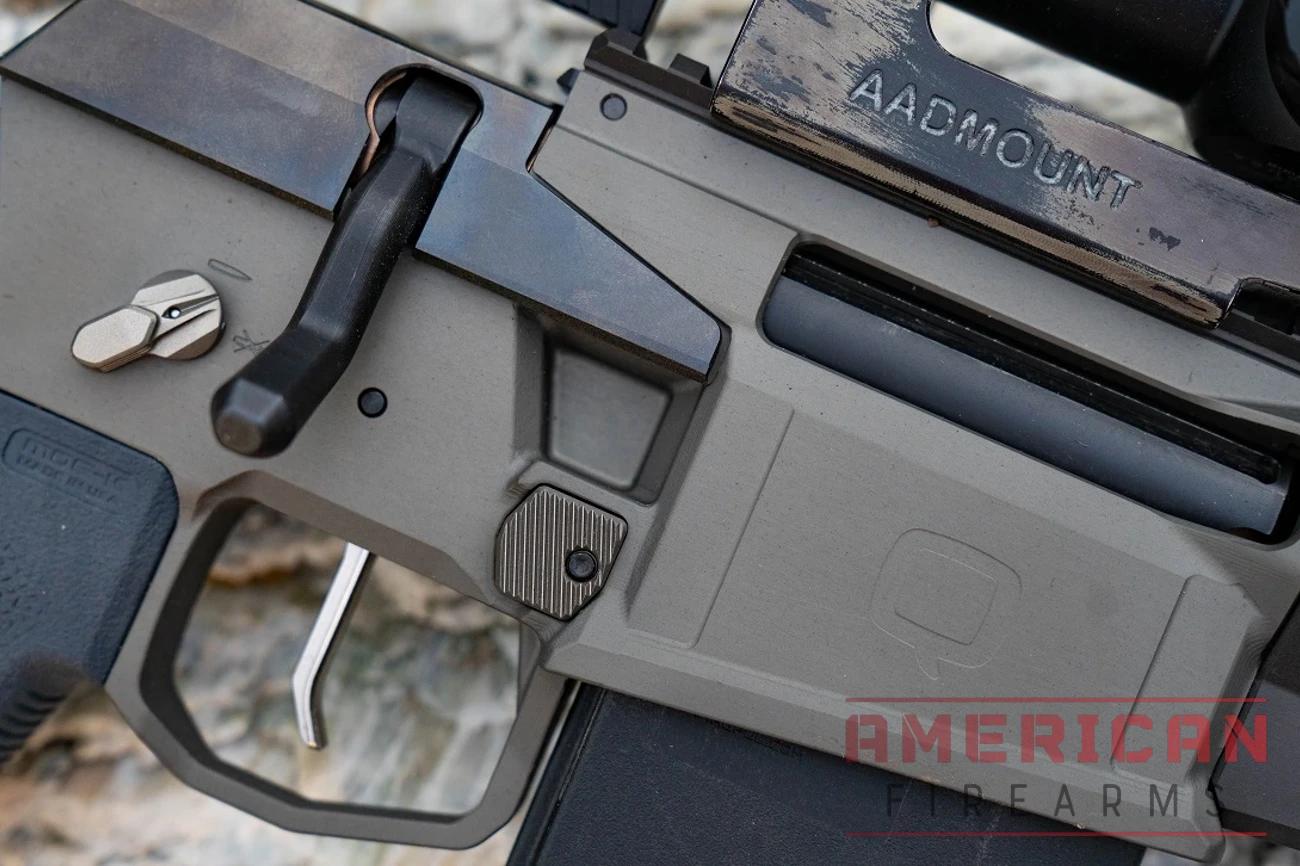 While The Fix looks like an AR, the receiver is a one-piece construction.
The handguard slides over the barrel mounting boss and is clamped to the receiver using a screw. It's a very lightweight and simple design, and a good one so there wasn't necessarily a reason to reinvent the wheel here.
The light and simple design also allows for a fairly easy barrel swap if you want to change out the caliber on The Fix.
Two things — the trigger and bolt — are perhaps the most cunning part of the design, the trigger shoe appears to be just a transfer bar. Most of the sear and firing parts are contained inside the bolt itself. 
The bolt head uses radiused bolt lugs to engage with the barrel extension, and the large number of locking lugs is responsible for The Fix's super short 45-degree bolt lift. 
The bolt shroud also acts as a guide, riding on machined rails on either side of the receiver. It also covers the entire back end of the action, sealing it from debris and other potential contamination. 
Handguard
The handguard is very lightweight, made from aluminum, and uses the Q-sert system to attach accessories. The Q-Sert design seems much more robust than the M-Lok design, it uses stainless steel threaded inserts in the handguard.
The Q-Sert Handguard
This gives a great deal more strength when attaching your accessories.
The one-piece optics rail that mounts to both the receiver and the handguard is screwed down, holding tight and tying both pieces together, helping maximize accuracy and eliminate scope movement.
Barrel
The 16-inch 308 Winchester barrel uses a popular 1-10 twist, which allows for a great variety of ammunition to be shot through the rifle.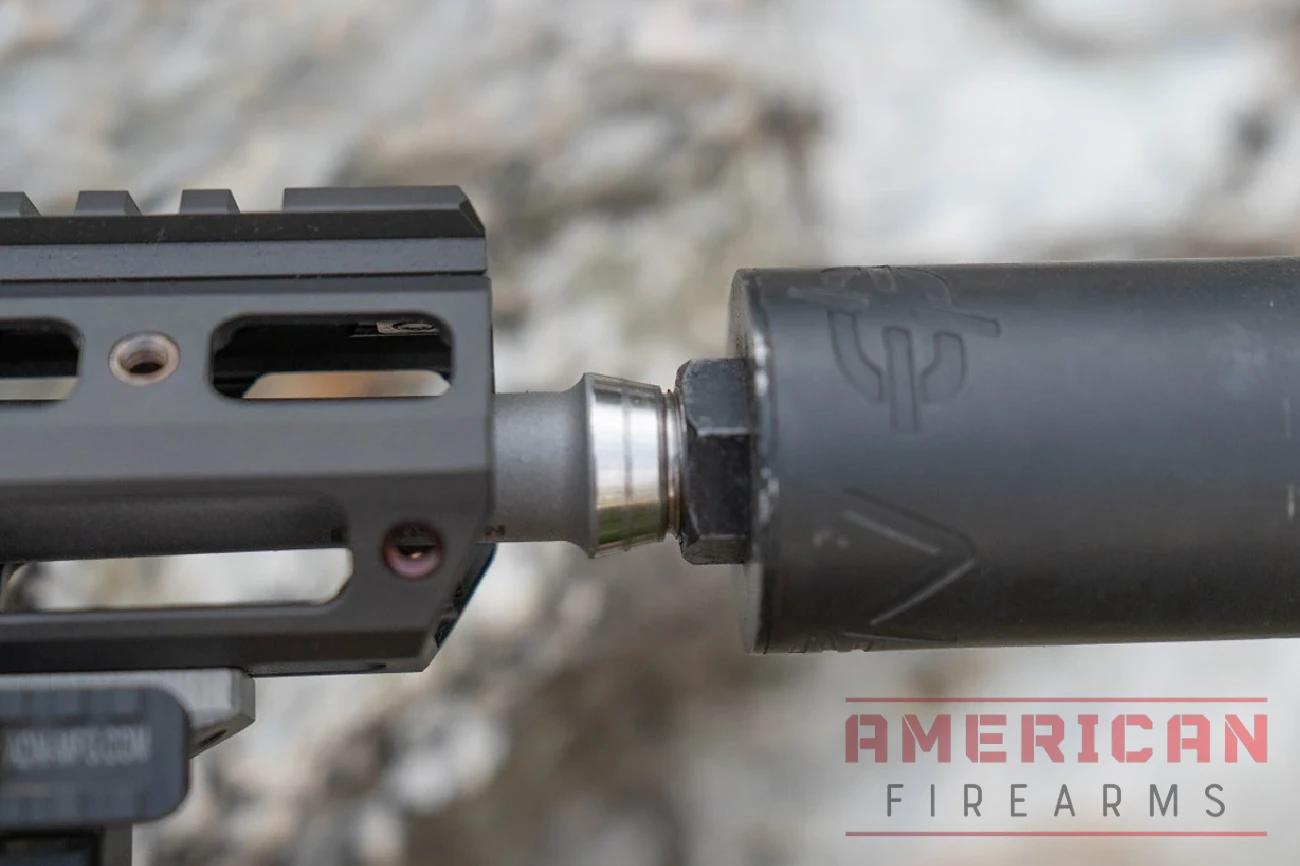 The Q Fix threaded barrel. I pulled the Cherry Bomb muzzle brake off to test the rifle suppressed, and it ran like a champ.
The muzzle is threaded ⅝-24TPI and uses Q's tapered muzzle and their own Cherry Bomb muzzle brake. Since I am currently without any Q suppressors, I would end up removing the Cherry Bomb to shoot the rifle with one of my suppressors.
Performance and Precision
Accuracy
The Fix was easily a sub-MOA rifle, I've heard from other shooters it can shoot well but I've also heard of a few that didn't. I suppose that can be the case with almost any rifle, it's also possible that somebody just didn't know what they were doing wrong.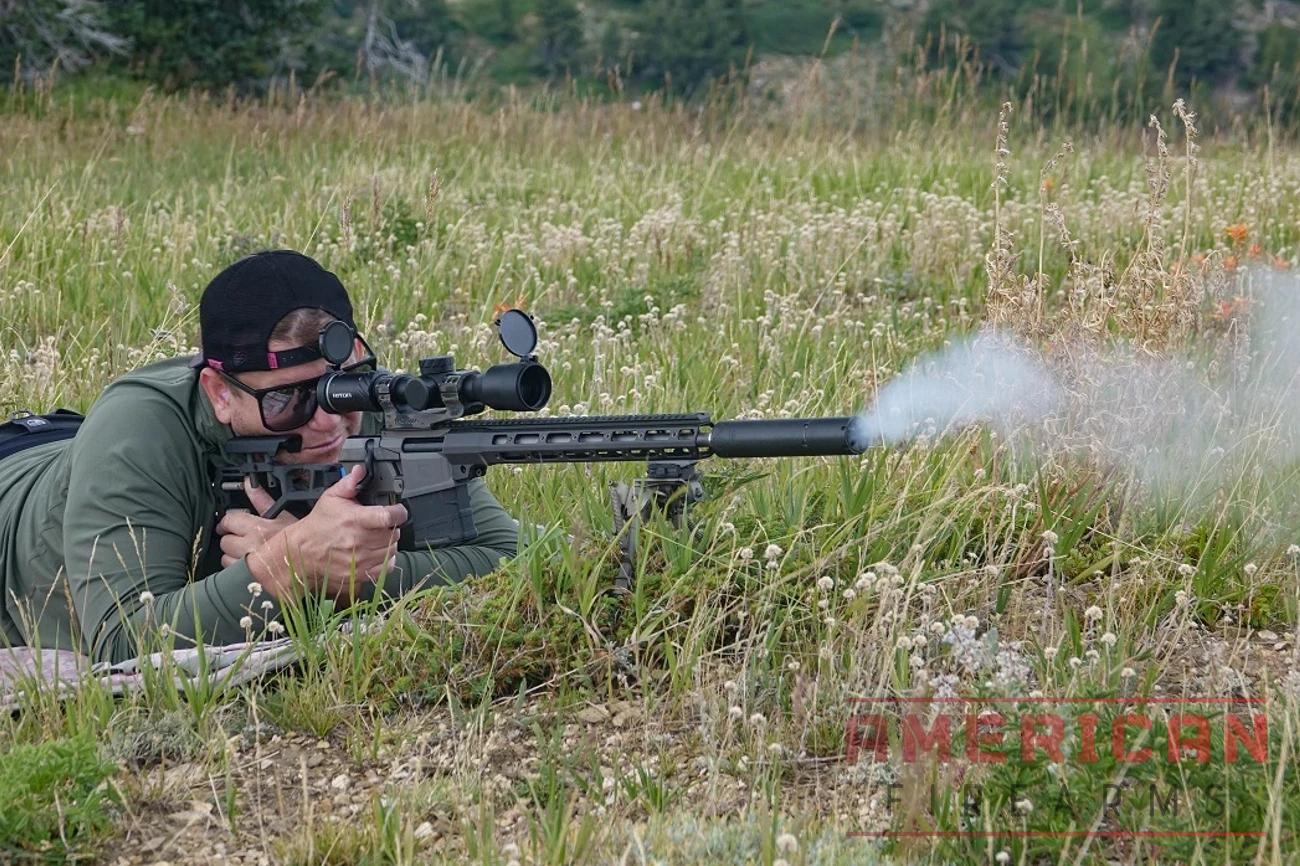 Testing the Fix in the field.
My experience shooting The Fix was pretty straightforward, I had sub-MOA results with some Desert Tech Match 175 grain ammunition. And even some inexpensive Magtech 150-grain ball ammunition shot sub-MOA. It's an extremely accurate rifle, no doubt about it.
Ergonomics
This one might be a little subjective because I could easily see some people not liking the bolt throw and operation.
But for me, it was simply getting used to it. The grip and stock are both going to feel very much like any comparably sized AR-style rifle, which is pretty easy to get along with.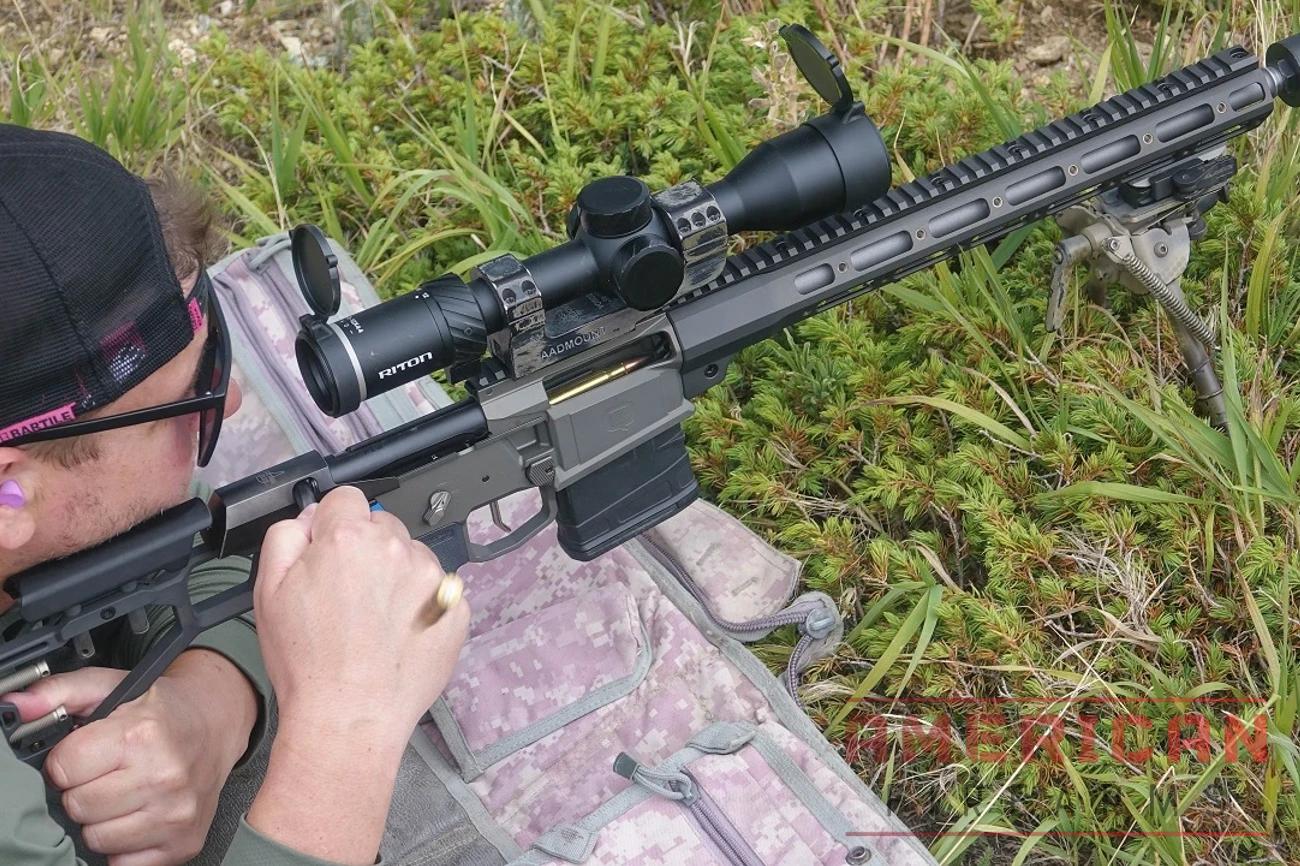 I could easily see some people not liking the bolt throw and operation.
 The safety and mag release placement is just right, and the bolt knob felt like a perfect perch for my thumb. This also allowed me to use my thumb to guide my other fingers to the bolt knob when it was time to reload. This coupled with the very short throw of the bolt made it extremely fast to reload and shoot The Fix. 
The smooth handguard was very comfortable to hold, and since the rifle is so light it made everything feel better. 
Features
The Fix's features are pretty impressive, giving the shooter a great deal of utility. That said, I think I felt like there should have been something more, but I'm not even sure what it would be.
Perhaps a more advanced model of the rifle, though it seems like they have gone the other direction by releasing the Mini Fix, a short-barreled version of the rifle.
Fit & Finish
The fit and finish of The Fix is outstanding, all the surfaces looked fantastic, and everything from uniform coatings to the simple blue accents on the rifle made it pop.
All the important parts are nitride-coated, making them durable and slippery. '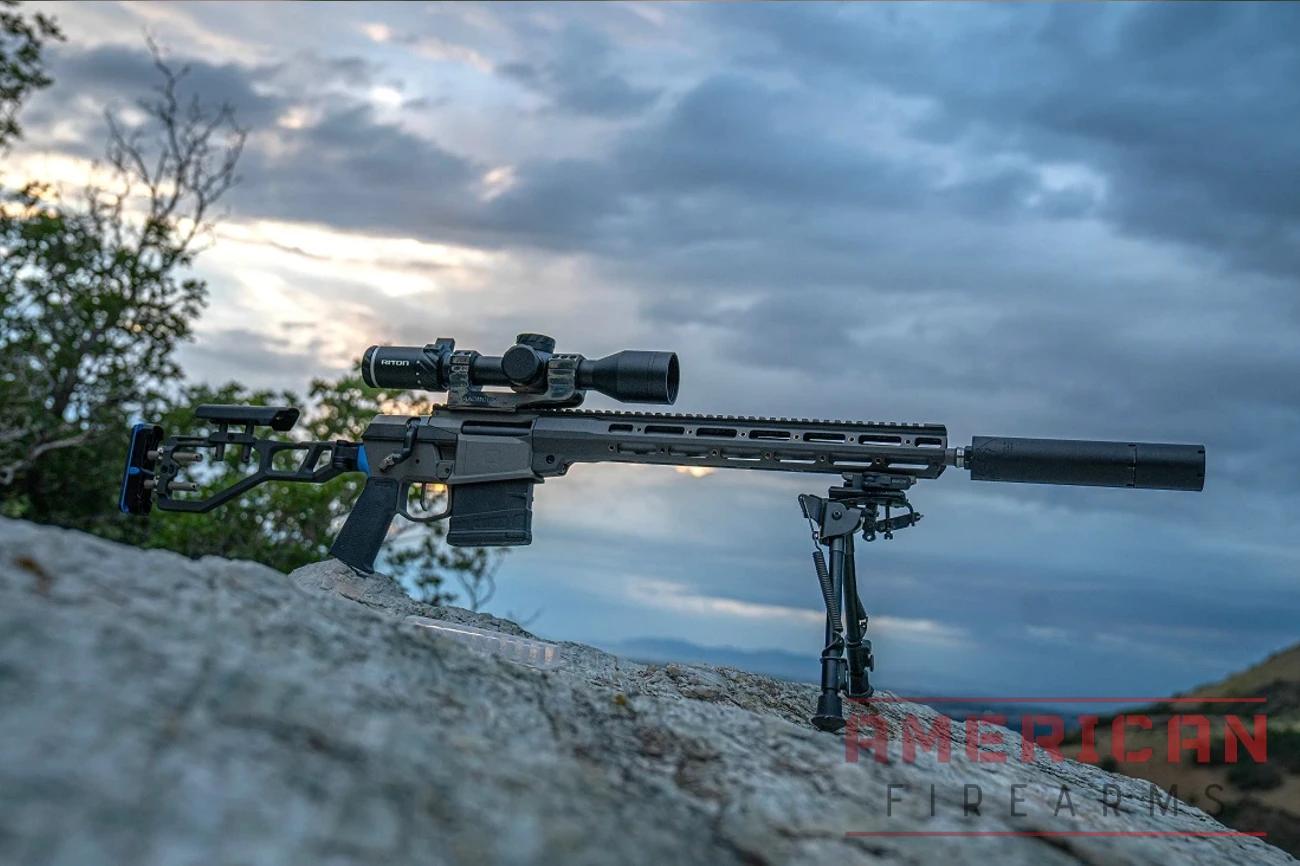 It's a hell of a beautiful rifle.
The unique colors and finishes of the various parts of the rifle make it very aesthetically pleasing. 
In addition to looking good, the rifle runs like a clock. It seems so simple a design, which results in reliable function. I do not doubt that The Fix will continue to function flawlessly for years. 
Reliability
We experienced only a few malfunctions while shooting The Fix, but I wouldn't 100% blame the fix for it. It seems like the problem was with one particular type of ammunition.
We had a couple of light strikes on primers, which could potentially be an issue with the rifle but also could have just been bad ammo. 
Cycling and shooting were flawless with The Fix other than those few rounds. We shot the rifle both suppressed and unsuppressed, with similar results both ways. 
Value
Cutting-edge design does not come cheap, and manufacturing a completely new and independent design comes with a hefty price.
So it comes as no surprise to me that the various Fix models all come in around $3000 or more depending on where you buy it. That is certainly not inexpensive compared to the rest of the rifle market, but The Fix doesn't compare to the rest of the market either. 
I'm a pretty simple guy, so I look at it like this; Are there other comparable lightweight compact 308 rifles available for less? Absolutely.
But if you want to be one of those on the cutting edge, if you want to have something different than everybody else, and if you like supporting the ruckus that is Q, then this is the gun for you. 
The Good:
Cutting edge design
Very lightweight
Compact design
Quality finish
Accurate
Very fast to operate
Modular design
The Bad:
Not inexpensive

Only compatible with Q-Sert
For Traditional Bolt Assembly: SIG Cross
I threw this one in as a joke for the guys at Q. The SIG Cross looks so similar to The Fix, you'd think that there was some sort of rivalry between the companies trying to poach each other's customers and sales. 
The Cross is also a lightweight rifle, with very similar features to the Fix. It does use a traditional style bolt, and some different design features as well. It also comes in significantly cheaper as well. 
Non-Chassis Option: Springfield 2020 Redline
While not exactly a chassis gun, the Redline offers very lightweight, and similar features. It feeds from AICS magazines and uses very high-quality components from companies like Trigger Tech, Grayboe, and MDT.
It is a little more affordable than The Fix, but will cost you more than the Cross.