Shadow Systems DR920 Review: The Ultimate Glock Clone?
Take a dive deep into the Shadow Systems DR920, a Glock 17 clone that has some serious legs, but are the additional features and performance worth the price?
Written By
Coldboremiracle
Precision Rifle Expert
Edited By
Michael Crites
Licensed Concealed Carry Holder
Share:
Products are selected by our editors. We may earn a commission on purchases from a link. How we select gear.
We live in an epoch where movies are constantly remade, conspiracies come true, and firearms patents have long expired. While the clone wars are still a few years off, the battle of clones is already upon us.
The Glock clones.
Glock has arguably designed some of the best pistols of the last century, many of Glock's designs are fielded worldwide by law enforcement and military groups. Since their exclusivity on manufacturing their polymer-framed pistols has passed, many others have stepped in to see what they can improve on them often spawning whole new lines of pistols.
Today's subject is a review of one of the more popular models that copies the famous Glock pattern, today we will be looking at the Shadow Systems DR920.
The DR920 is a polymer-framed striker pistol manufactured by Shadow Systems Corp. The DR920 is a full-size pistol that shares the popular Glock 17 pattern. Today we'll have a look at the DR920, see how it compares to other popular pistols, and see if it exceeds our expectations as one would hope.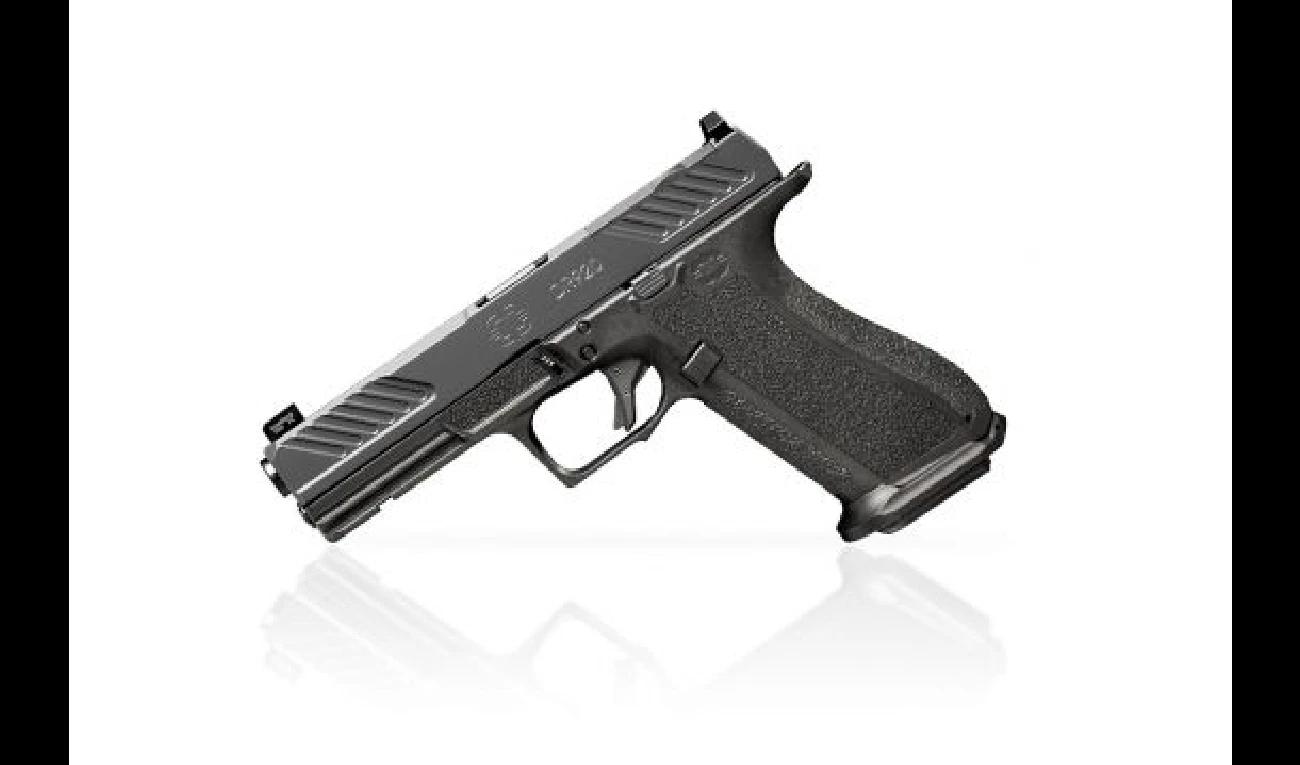 Best For
High-quality clone of the Glock 17
Good trigger
Optics ready
Universal optics base
Great textured frame
Quality sights
Adjustable back strap
Accessory rail
Match grade barrel
Aftermarket compatibility
Considerations
Blocky grip shape
Mag release feels budget
Undercut trigger guard is too shallow
Our Verdict
My experience with the Shadow Systems DR920 has been fantastic, despite my not being a big fan of Glock-style designs I still found myself quite enjoying this one. Before even putting my hands on this DR920, I had started shooting another Shadow Systems pistol, the MR920. My experience with that pistol was so good that I decided to get one myself, and for sure I haven't looked back since.
I've even been tempted to look at getting another Shadow Systems pistol, based on my experiences.
The DR920 has been a pure pleasure to shoot, reliable durability and flawless function have been my experience when shooting it. The pistol doesn't seem to be picky when it comes to ammunition, and its compatibility with so many great aftermarket parts makes it an easy choice. I've since bought a bunch of Magpul 17-round magazines to accompany my Shadow to the range.
The DR920 doesn't break the bank either, it is not cost-prohibitive for many shooters but still brings superior performance to any use case — be it a duty role or personal protection. Perhaps the best part is that all Shadow Systems pistols are manufactured right here in the United States by red-blooded American patriots and veterans. So should you ever have any issues with your pistol, you know the good folks in Plano Texas will stand behind their products.
Let us know what you think of the Shadow Systems DR920, or if you have a different pistol from them, let us know your experience with the products.
How did the Shadow Systems DR920 stack up on our 60-point scale?
Accuracy: 9/10
The DR920 is impressively accurate, with the addition of an MRD making it even easier to knock out tight groups. The pistol is far more accurate than I am.
Ergonomics: 7/10
The pistol's natural point, textured grip, and adjustable backstrap make it customizable and intuitive to handle, but the grip is more blocky than I'd like.
Features: 10/10
UI'm not sure what else you could want from a pistol — you get the optics-cut slide, threaded barrel options, adjustable backstrap, textured grip, accessory rail, and tritium sights AND Glock 17 aftermarket compatibility. Sheesh.
Fit and Finish: 9/10
The craftsmanship of the DR920 was evident in its design, with all parts fitting seamlessly. The pistol's aesthetics and functionality were both highly praised.
Reliability: 9/10
Over a six-month period, the reviewer experienced no malfunctions, attesting to the pistol's dependability.
Value: 8/10
Despite being a high-quality firearm, the DR920 is priced competitively, offering great value for its features and performance.
| | |
| --- | --- |
| Caliber: | 9mm |
| Capacity: | 17+1 |
| Action: | Semi-automatic |
| Weight: | 23 oz |
| Overall Length: | 7.75 Inches |
| Trigger Pull Weight: | 4.5-5 lbs. |
| Sights: | Suppressor-Height / Front Tritium / Rear Serrated |
| MSRP: | $889 |
The DR920 uses a full-size frame, fitting for a 9mm duty pistol. The large frame allows the pistol to use 17-round magazines if not more using the many aftermarket options.
It also shares dimensions and compatibility with most Glock 17 parts, so besides magazines you can interchange many of the popular accessories. But that's just the beginning of the good news.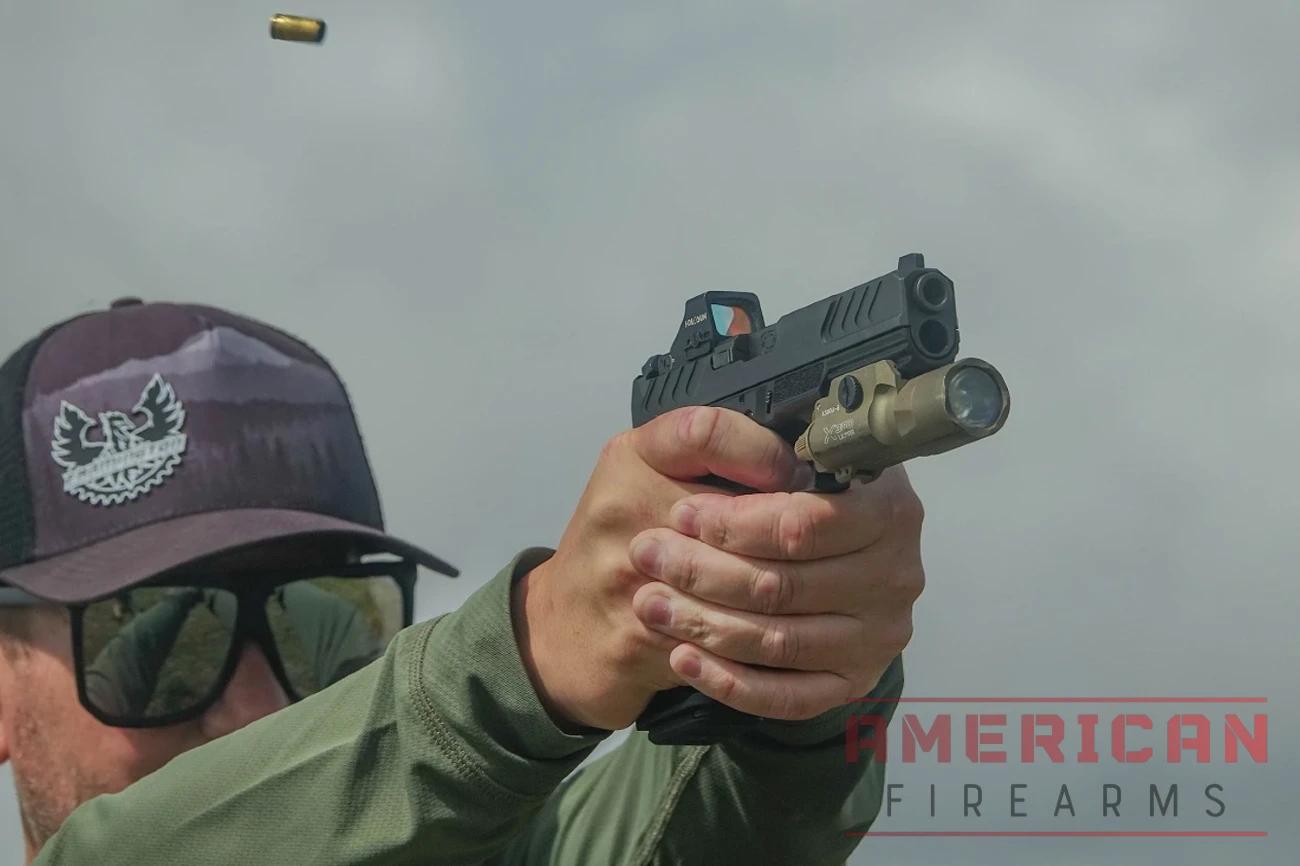 Yes, the DR920 is a Glock 17 clone, but it's also so much more.
The striker-fired Glock pattern gun uses a clean trigger set to break between 4.5 and 5 pounds, and it's remarkably consistent. I ran it through my trigger scale probably 30 times and each time got exactly 4.5 lbs. Plus, it weighs only 23 ounces makes it easily portable and comfortable to shoot.
It also comes with an incredible grip finish texture, as well as many slide windows to allow better traction and manipulation of the pistol in action.
The stainless steel slide comes pre-cut from the factory for optical sight options, most of which require little to no adaptation to fit with the provided spacers. So you can install your favorite red dot on this pistol, likely with nothing more than screws.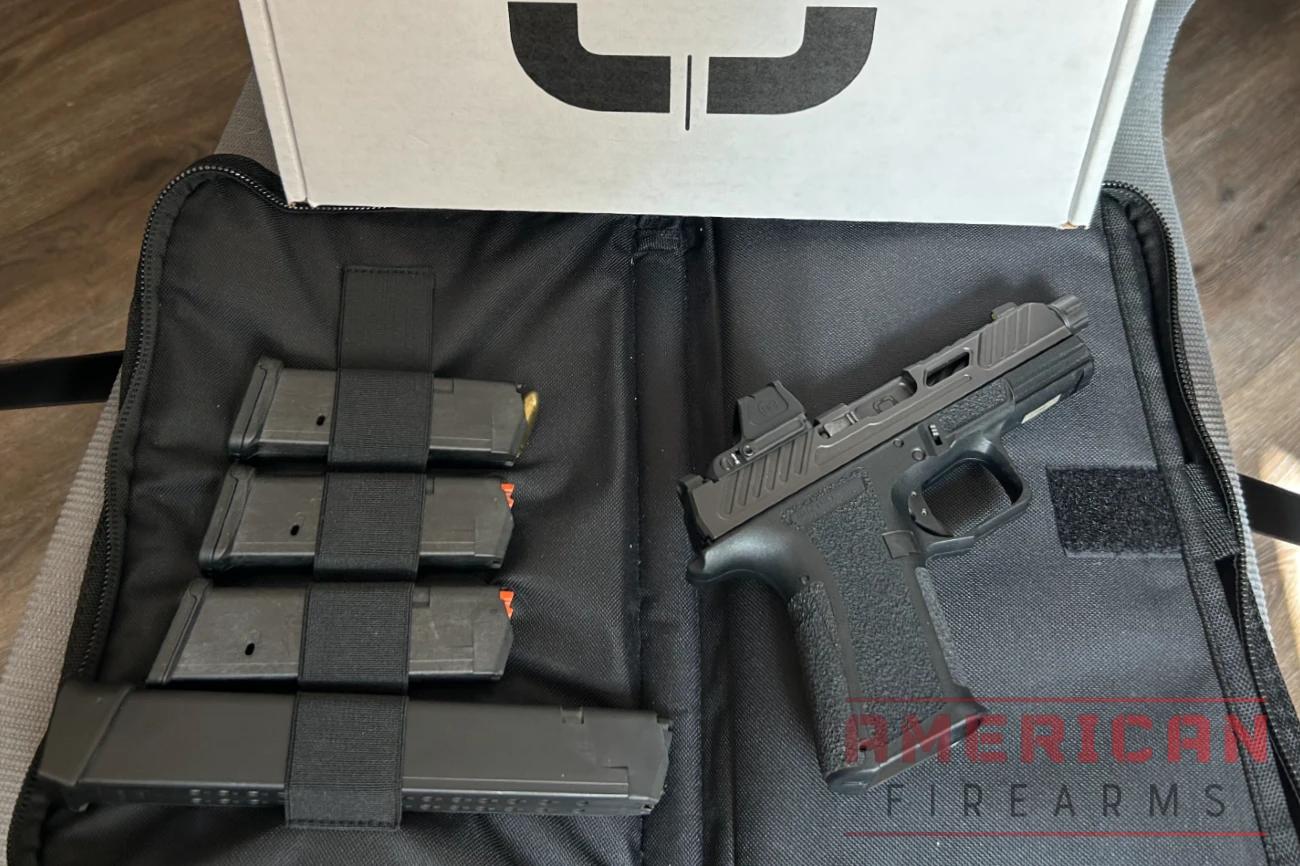 All Shadow Systems pistols include a nice carry case that accommodates 15 and 17-round mags with ease. The 33 round Glock stick, however...
The polymer spacers that come with the pistol allow you various options to support different red dot models by filling in the excess space created by the variety of optic footprints. These spaces have molded tabs that tuck into small slide indentations, ensuring the optic and spaces stay in place when firing. It's a clever design that eliminates gaps in the optics system fitment.
The slide also features a serrated rear sight, and a tritium front dot sight, just in case you don't feel like using a red dot. The Shadow System dovetail appears to be a touch tighter than a factory Glock, and you'll likely need a sight pusher tool to swap to night sights or your preferred irons.
In addition to these features, there are also some add-on features you can select, such as threaded barrels steel sights, and various coatings like TiCN or black nitride coatings to increase durability. The quality sights allow rapid acquisition and engagement of targets.
As a full-size pistol, there is also an interchangeable backstrap to the grip area, so you can custom fit the grip width to your hand size. It came with several different-sized backstraps to customize your grip, I found this to be very convenient.
Aside from all the features you might find on a traditional Glock 17, the DR920 also has some added benefits.
Slide & Optics Support
For me, one of the most important added features is the optics cut slide. Shadow Systems cut the slide and added several mounting hole patterns for various red dot footprints. This makes it easy to add your favorite red dot to the pistol.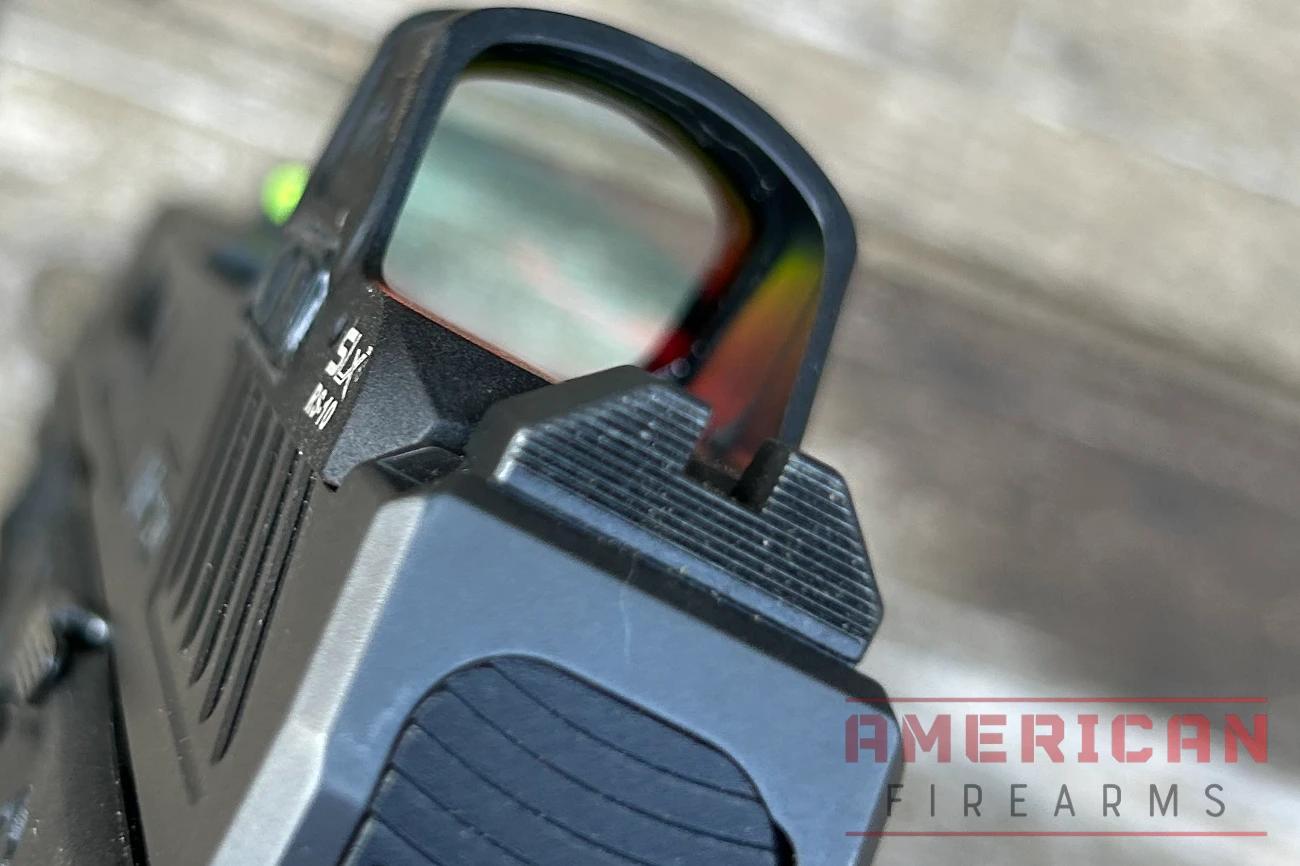 Mounting and zeroing an MRD requires the use of a series of polymer spacers, which means you'll need to read the manual, folks.
Shadow Systems design utilizes polymer spacers to take up the space between the slide cut and optic when needed, some red dots fit the footprint so well they don't even need them (my PA SLX RS-10 fits it like a glove).
This gives DR920 users a lot of choices when selecting a red dot for their pistol.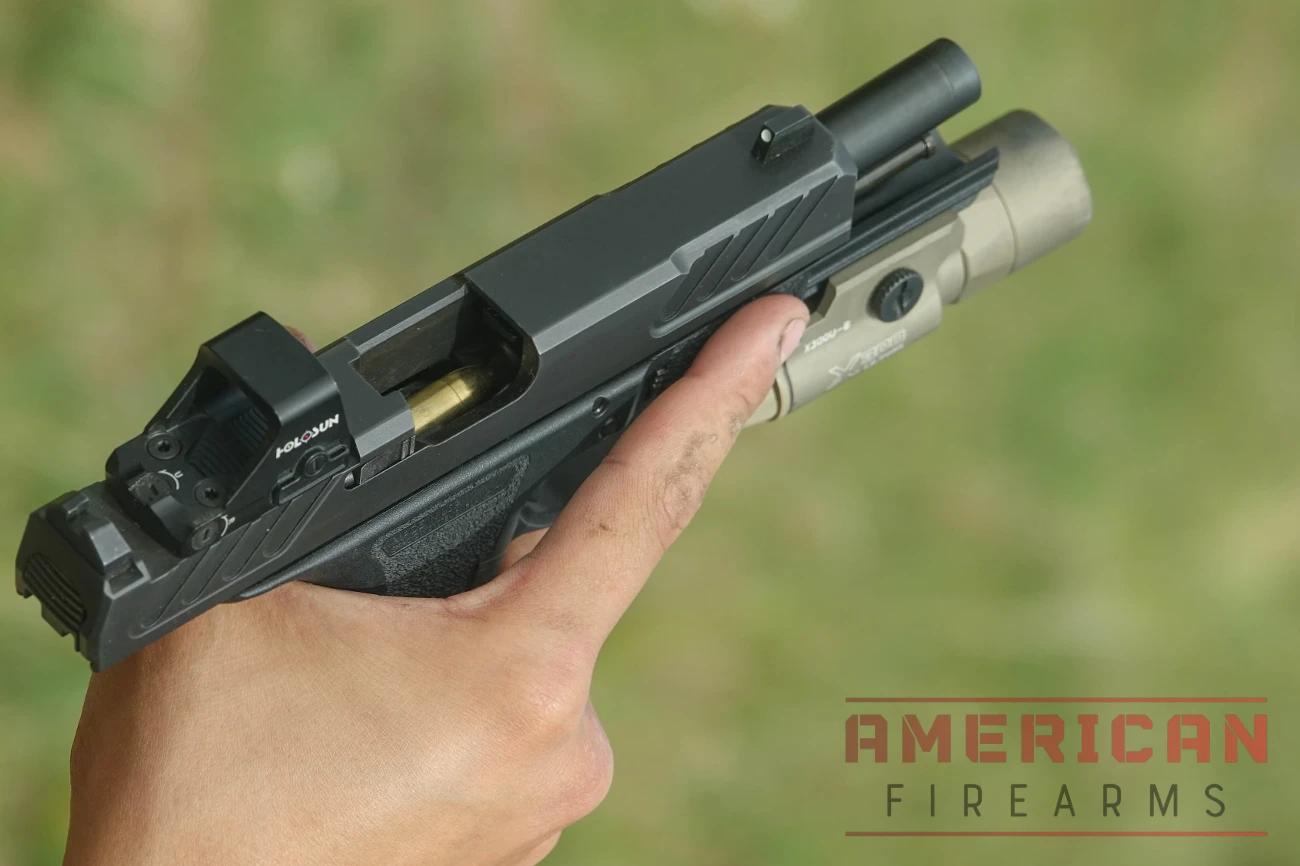 Shadow Systems cut the slide and added several mounting hole patterns for various red dot footprints.
Figuring out which spacers to use, however, takes a minute. You have spacers designated A, B, and C, which are paired with one of three sets of screws — logically labeled 1 , 2 or 3. The brand, model, spacer, screws, and position of the spacer can change, depending on the brand and model of your MRD.
Here's a table that details the optic mounting configurations above:
| Brand | Model | Spacer | SpacerPosition | Screw Set |
| --- | --- | --- | --- | --- |
| Holosun | 407C / 507C / 508T | A | Rear | 2 (V7 models) or 1 (V2/X2 Models) |
| Swampfox | Justice | A | Rear | 2 |
| Swampfox | Liberty & Kingslayer | A | Rear | 1 |
| Trijicon | RMR & SRO | A | Rear | 2 |
| Leupold | DeltaPoint Pro | B | Rear | 3 |
| TruGlo | Trutec | C | Front | 1 |
| Vortex | Viper | C | Front | 1 |
| Holosun | 507K | None | NA | 1 |
| Shield | RMSc | None | NA | 1 |
| SIG | Romeo 1 Pro | None | NA | 1 |
The red dot cut is also cut deeper than just the top of the slide, making your red dot sit lower and allowing using either the red dot or the original iron sights without making any changes.
Co-witnessing iron sights with red dot sights is often a requirement for service and duty pistols, making this feature very relevant.
Frame, Grip & Customization
The frame is smartly designed and includes logically laid out controls and reversible mag release. The slide release is not my favorite, as it's strangely sharp and feels oddly budget for such an otherwise nice pistol. This is one area where I prefer the rounder Glock design.
Beyond the grip itself, the grip texture is also used at the front of the frame, creating ambidextrous index pads for your thumb placement. The front of the trigger guard is also textured, so the pistol is really designed to communicate and reinforce proper form, which is incredibly impressive.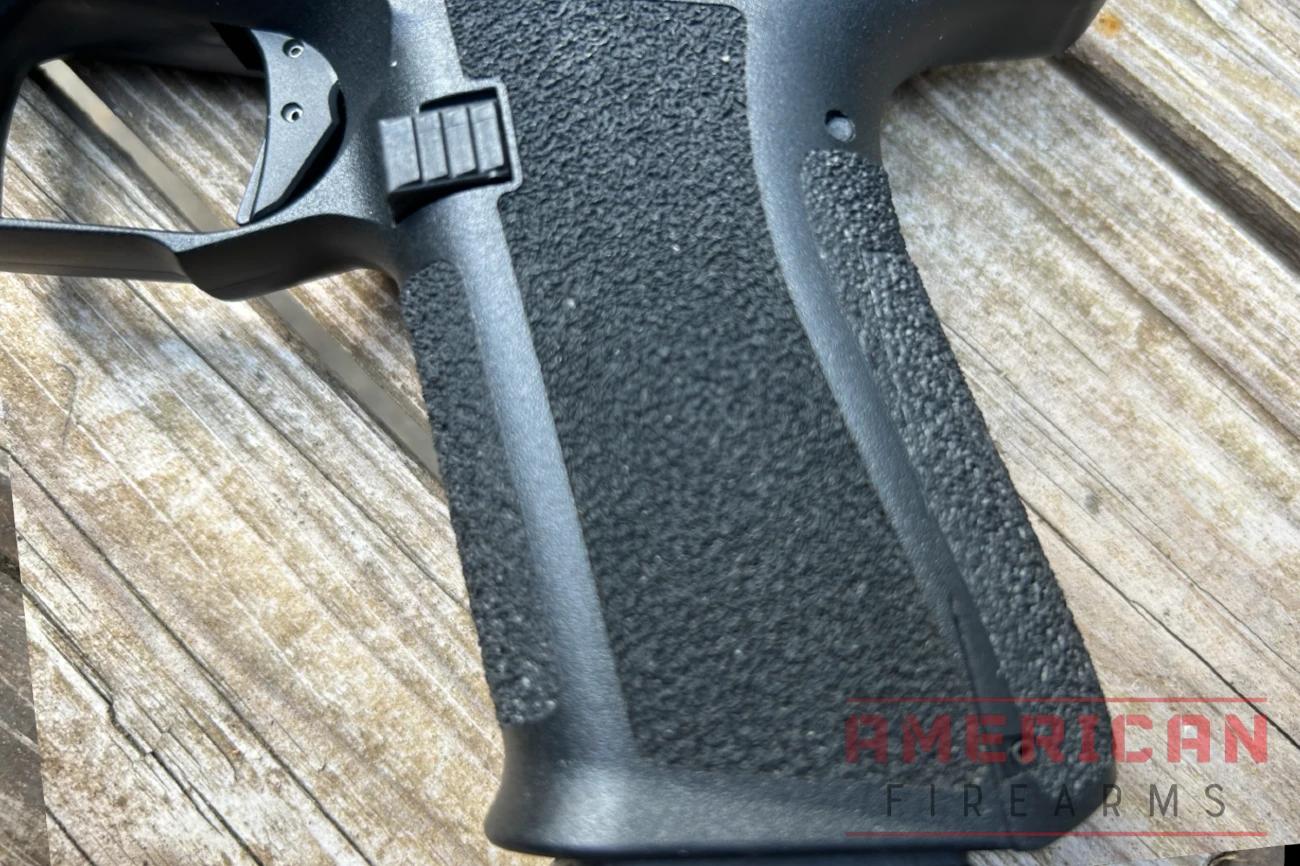 The grip texture feels good in the hand, but curiously the grip itself is as blocky as any run-of-the-mill Glock.
The grip texture feels good in the hand, but curiously the grip itself is as blocky as any run-of-the-mill Glock. A few Glock clones have drastically improved the actual grip shape IMO (even the PSA Dagger feels almost Walther-like in comparison), so I expected more attention to detail on this front.
One great feature included with Shadow Systems guns is the NPOA (natural point of aim) interchangeable backstraps on the grip spine. The different-sized backstraps slide up from the bottom of the grip on a dovetail, and they are secured by a pin that is pressed through the side.
The High, Neutral, and Low backstraps are super easy to swap and try -- just push the retaining pin out with the included punch and slide a new one on.
The three included back straps alter how the pistol points and allow you to fine-tune the feel of achieving the most natural muzzle orientation. Dialing in the point helps speed sight alignment when running irons and helps you "find the dot" more quickly when running an MRD.
The pin is removed and installed using a hand punch that comes included with the shadow systems gun, making no additional tools necessary.
The three backstraps are "H" — or "High" orientation, which positions the muzzle higher and gives the DR920 a more Glock-like orientation. The "N" or Neutral backstrap has a more midrange feel, that points similarly to an M&P grip. This was pre-installed on my DR920 fro the factory and felt good enough to run with.
There's also an "L" or Low backstrap that gives the DR920 more of a 1911-style grip. I tried this for a while as well and felt it left a little too much space at the bottom of the grip for my hands, but could see how it would work well for people with smaller mits.
All of the included backstraps, pins, pin removal tool, and flared magwell come in a nice Shadow Systems soft case, which makes it easy to keep track of the accessories (and now has a permanent slot on my gear shelf).
The front of the trigger guard is also textured
Nice to Haves
Like most modern pistols, the DR920 also features a Picatinny accessory rail under the front of the slide. This allows for adding a weapon light or other aiming assistance accessory without having to alter any part of the pistol.
Other great accessories are also offered by Shadow Systems, for example, I added a flared magazine well adaptor that was easily installed by snapping over the magwell and using the same pin as the backstrap for retention. This added some utility for a small price and 30 seconds to install.
I ran the flared magwell for a few range trips but it created more pressure on my pinky than I liked so I removed it. Luckily I'm no competition shooter.
Precision and Performance
Accuracy
I wouldn't consider myself a sharpshooter so much with a pistol, but I found the DR920 to be as accurate as I could be. Certainly, I could tell it was my fault whenever a miss popped up.
I prefer the precision aim point given by red dot sights, the small dot made it seem very easy to hit my target when the time was properly taken. But most pistol shooting is done hastily and often on the move. The red dot made a great focal point to see regardless of where my focus was, and as long as I lined up the dot with my target the 920 put down some hits.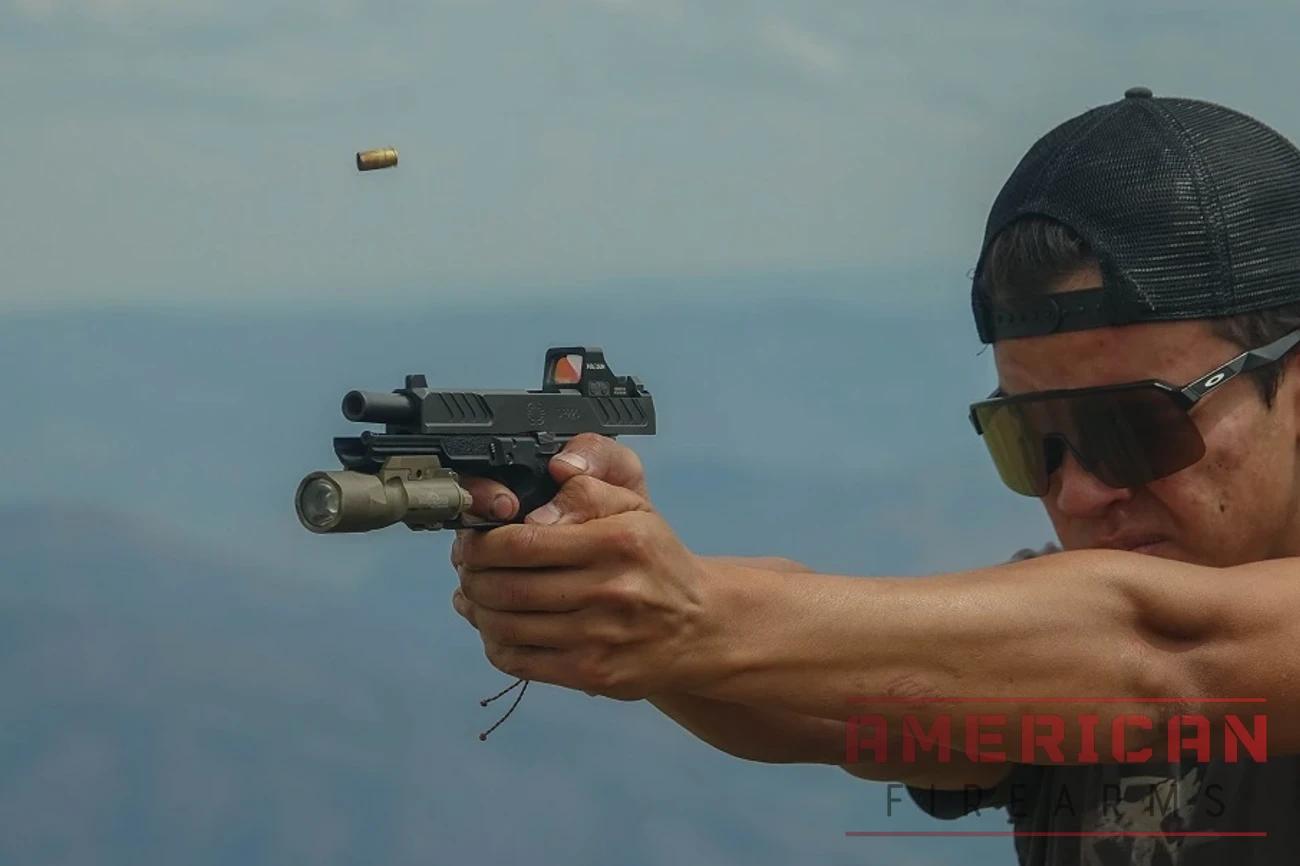 Running and gunning
I shot mainly 124 grain ammunition through the pistol, manufactured by Winchester. Everything shot roughly the same accuracy-wise, I had no trouble keeping groups under 2 inches at 10 yards.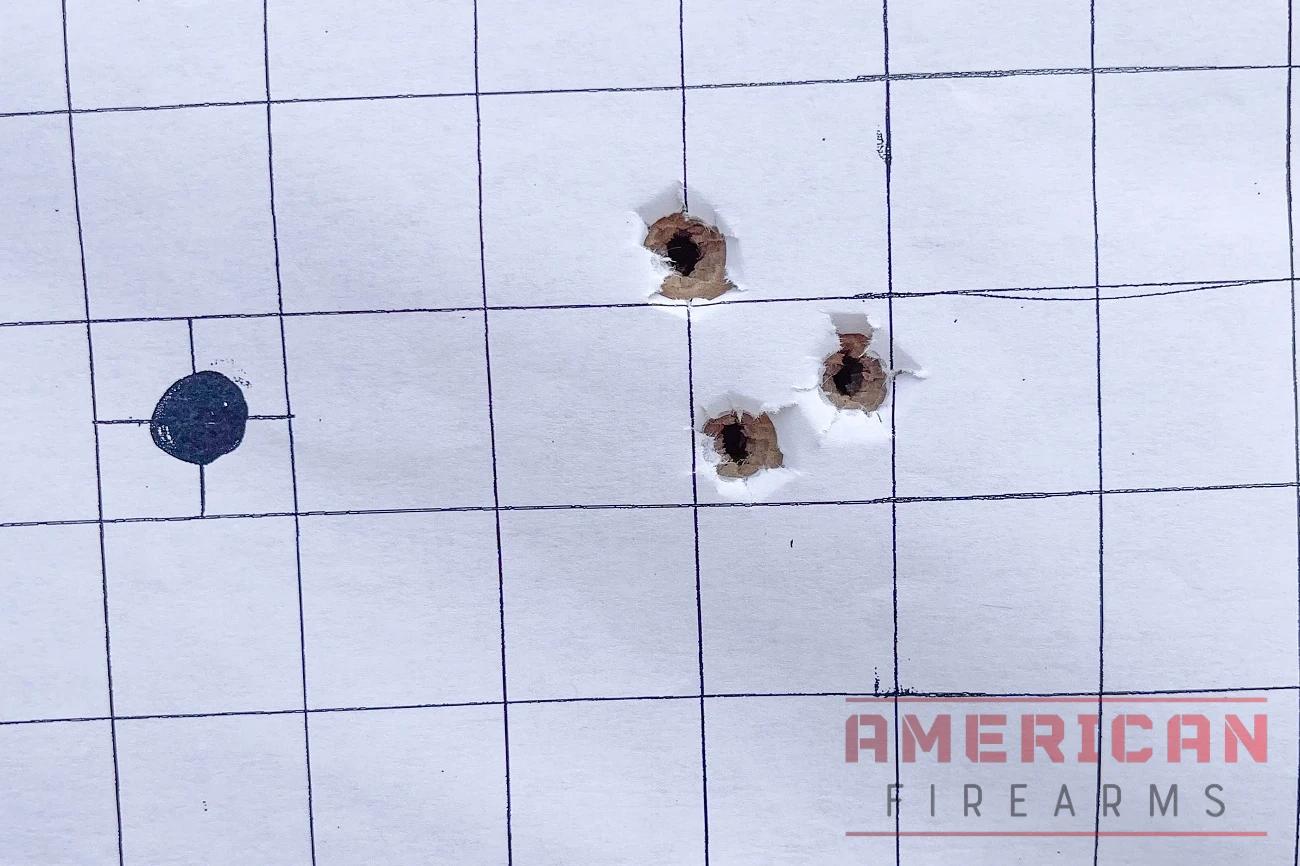 I had no trouble keeping groups within 2 inches at 10 yards.
The good trigger feel and perfect point of the DR920 helped me rapidly line up and execute shot after shot, it was a pleasure to shoot, with ample grip space and easy recoil control. Adding a Surefire X300 weapon light added some additional weight to the front of the pistol, which also made it a little easier to control.
Ergonomics
One of the first things that paired the DR920 to my shooting hand was how the gun immediately has a natural point. I found that every time I presented the pistol it was perfectly pointed at the target, and my sights were already aligned. No doubt this has had a great influence on my ability to shoot slightly better with the pistol.
The PSA Dagger grip (left) has a more ergonomic feel than the DR920 (right), which is very blocky.
In addition to the point, the texture and grip angle gave great purchase with my hands, and even better when wearing gloves. I do like some of the stippling jobs professionally done, and I don't think it would hurt the DR920 to get a good stippling though. I think it might help a touch more, but the grip texture is better than most, and certainly better than Glock's factory texture.
As mentioned above, the grip is indeed blocky, so if you like the traditional Glock feel, running the High backstrap will make the DR920 feel like it came straight from Austria.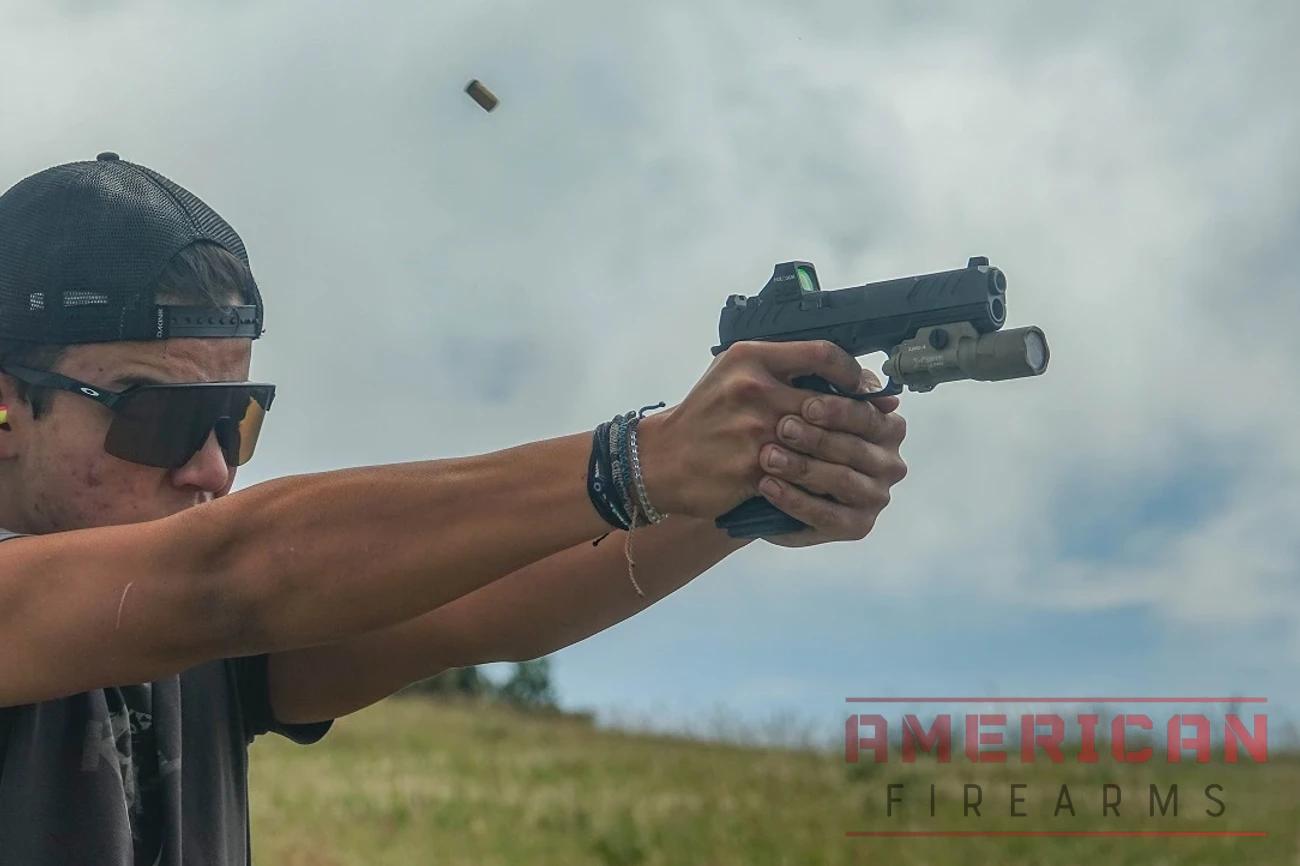 The frame features many of the sought-after features of popular pistols such as a low bore-axis, undercut trigger-guard, reversible mag-release, and easily accessible controls using the strong hand.
The interchangeable back straps are a huge help for fitting the pistol ergos to the shooter, and each changes the grip angle slightly, which can improve feel for some. The undercut trigger guard allows your middle finger to slide up and into the guard ever so slightly. It's not as deep as I'd like, and the undercut feels more like an angle cut into the guard than a rounded cut that's designed to accommodate one's finger.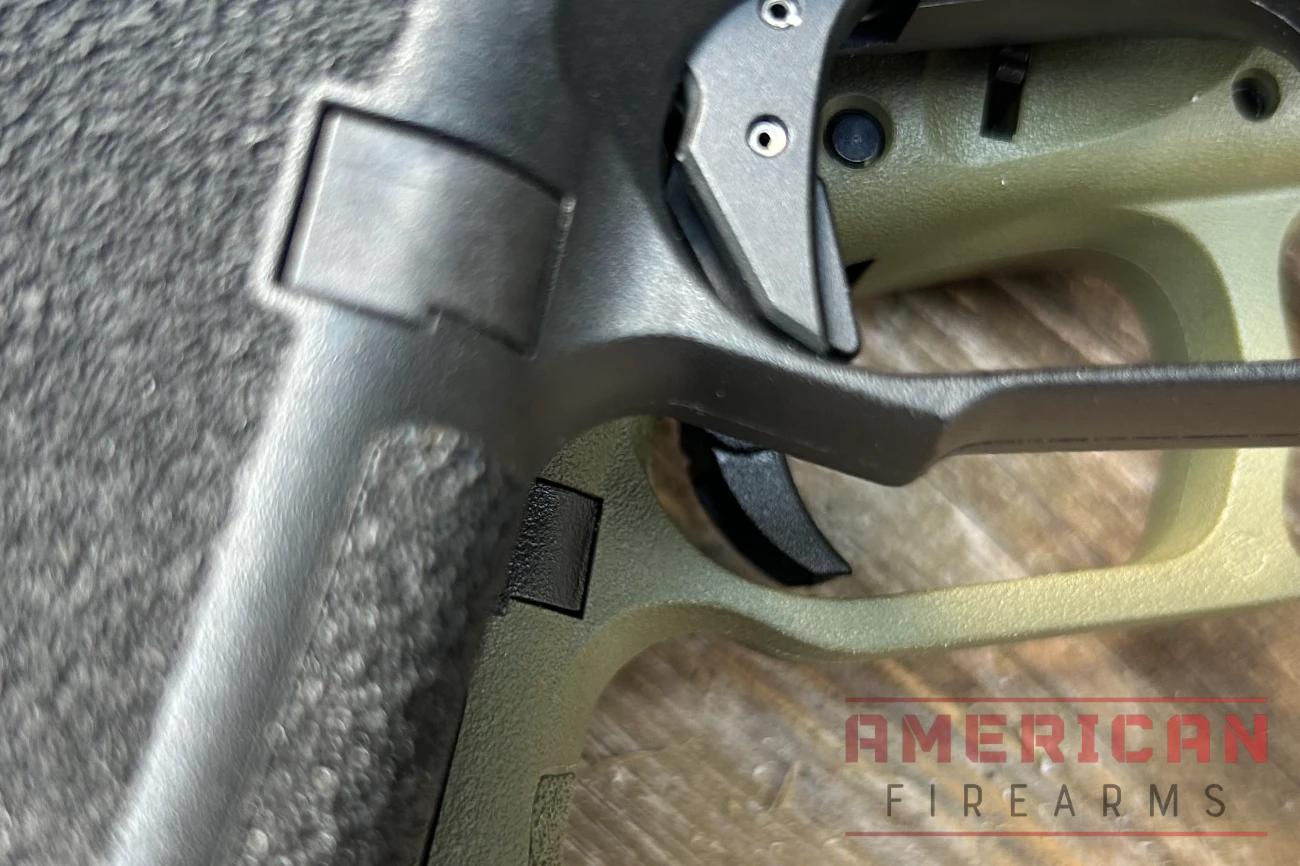 The DR920 undercut trigger guard (top) is less rounded than other Glock clones, like the PSA Dagger (bottom), which I find less comfortable as it places more pressure on the middle finger
There is also a slightly extended grip-heal which will keep the web of your hand away from the slide at the back of the polymer gun, even if you ride your hand as high as you can.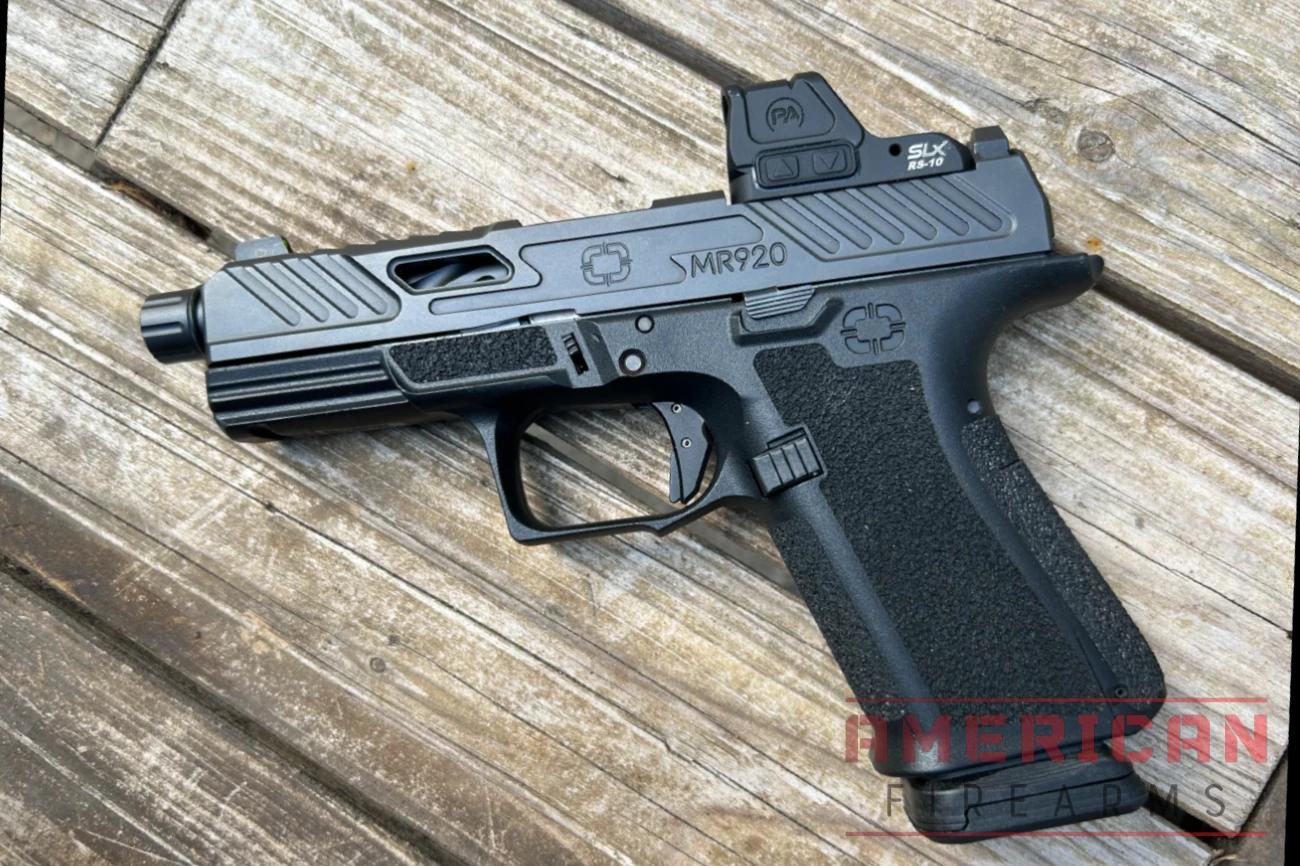 Elite models, like this MR920 Elite, have windowed slides.
The Combat models of the DR920 have both rear and front cocking serrations to give better purchase when operating the slide, or you can get the Elite model that comes with additional cuts for more "Elite" handling and visibility into the colorful barrels, if that's your thing.
Features
The available features of the DR920 make it stand out a bit from its competition, as does the Shadow Systems' reputation.
For me, the best features are things like the optics-cut slide, threaded barrel options, different metal coating processes, suppressor height sights, slide serrations, and adjustable back straps. But there are other great features like the textured grip, accessory rail, and tritium sights.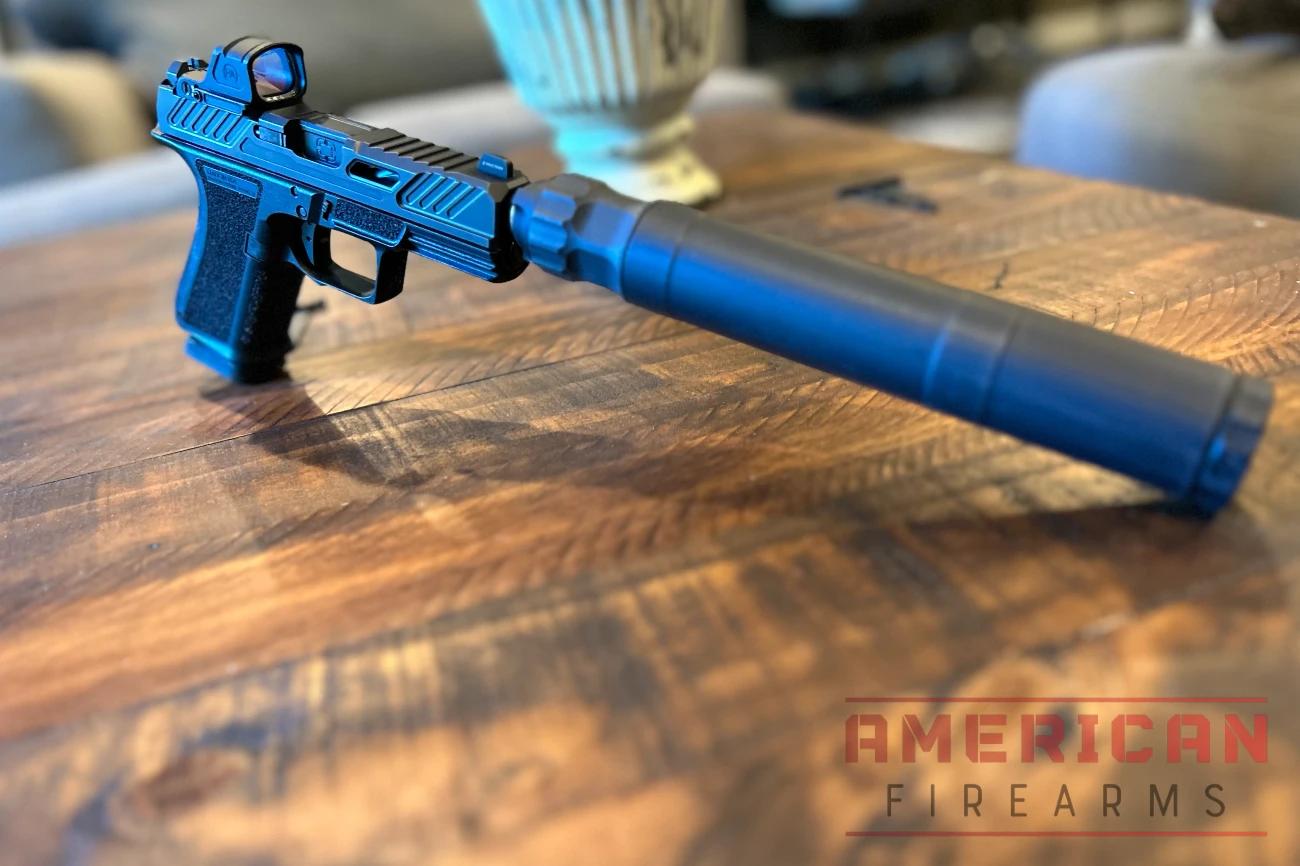 Threaded barrels are available on all Shadow Systems pistols, if you want to run a can.
And let us not forget the huge advantage you get from having the entire Glock 17 aftermarket at your service. This gives you fantastic choices when it comes to things like holsters and other accessories. The pistol comes with Magpul magazines as standard equipment, but there are many other manufacturers that you can also pick from.
Fit & Finish
It took no time at all to notice the quality craftsmanship of the DR920, all the lines and intersections lined up perfectly like a fine piece of art. The intricate machining is perfectly done and the quality coatings used give Shadow Systems guns a very professional look.
Even the add-on parts I put on my pistol seemed to fit as though they'd come on the gun from the factory.
The smooth operation of the controls and textures in all the right places make operating this pistol from pure muscle memory a simple task. Disassembly of the pistol is easy and familiar, making it a simple task to field-strip the DR920 for maintenance or cleaning.
The polymer optics-cut cover conceals the footprint below, where several different screw patterns wait to be used. The strong coating of the slide protects the threads from corrosion and damage.
The overall feel of the DR920 is one of quality, something you'd expect from a service-grade pistol.
Reliability
In the six months or so that I have been shooting the DR920, I have yet to experience a malfunction. Granted, I probably don't shoot it as often as many others, but I have shot it plenty. Every time I take the pistol out, the gun worked flawlessly.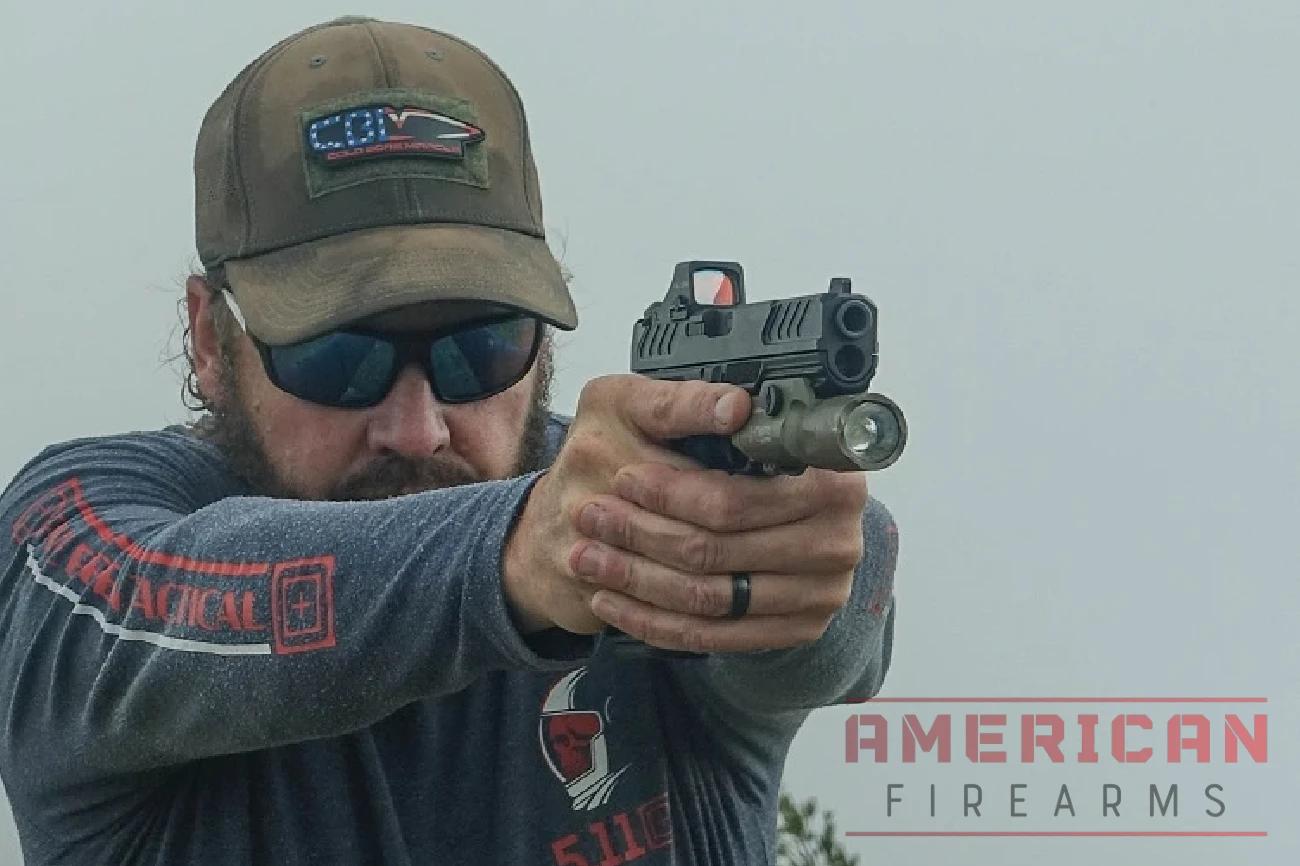 In the six months or so that I have been shooting the DR920, I have yet to experience a malfunction.
It's also hard not to feel that these pistols have a great reputation for a reason, while I haven't shot thousands and thousands of rounds through the pistol I know many have, and it has proven on more than a few occasions to be an exceptionally reliable pistol.
The strong service record by Shadow Systems pistols and their Glock frame ancestors is hard to argue against. I certainly plan to put the Shadow system through years of shooting, so if you'd like to see how that pans out, follow me wherever you please.
Value
I think the value of the Shadow Systems DR920 has gone up for me since I got it. They typically are not cheap pistols, but the model shown here today can be had for just under $700. Which is not expensive, especially for quality handguns.
There are higher-cost Shadow Systems guns, and I have no doubt they are worth their price. There are other models similar to the DR920 Combat we tested, there are also the DR920 Elite models, as well as a long-slide version.
These Combat or Elite models can be had for a few hundred dollars more. As for this one, I think it is an outstanding value.
Glock 17
The Glock 17 is the gun the DR920 is based on, and it certainly offers many of the same features, like the polymer frame, but it also lacks a few. The Glock 17 isn't optic cut unless you pick up a MOS gun. It also features an adjustable backstrap like the Shadow Systems models, and it even has an ambidextrous slide release for the wrong-handed out there.
If you want more check out our Glock 17 review.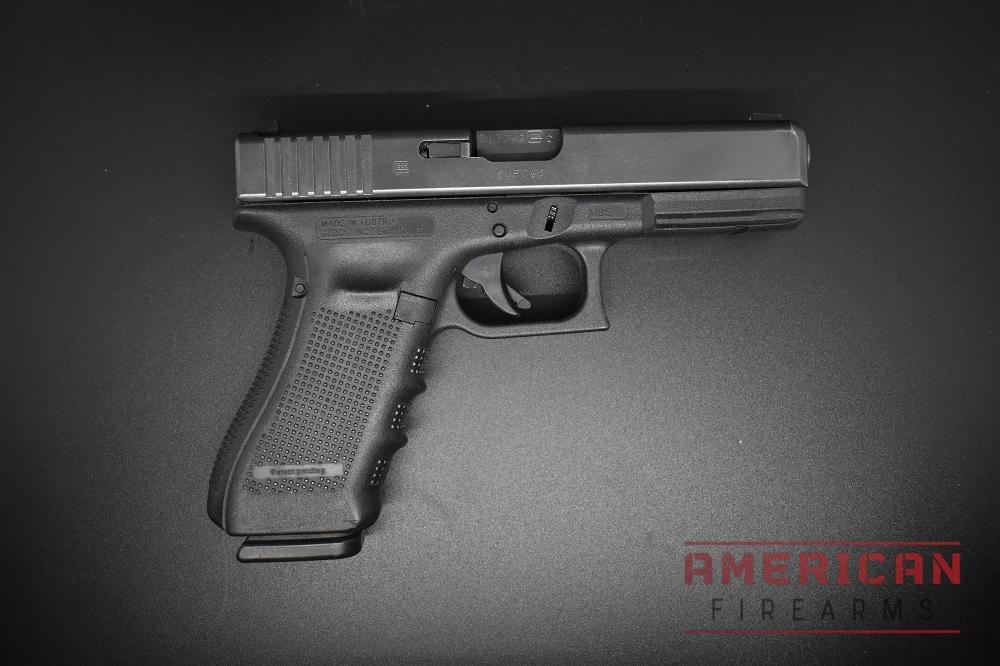 The Glock 17
Sub-$600 Option: Lone Wolf LTD17
Another popular clone of the Glock 17 is the Lone Wolf LTD17, it too shares a great many features with the Glock. The LTD17 is optics-ready for the Trijicon RMR or compatible footprint red dots.
It shares similar slide cuts to the DR920, but not the adjustable backstrap. It's a lot less expensive too, so if those features aren't high on your list you could go for this instead.
Budget Alternative: PSA Dagger
One thing PSA does well is deliver products that punch above their price point, and the Dagger is one of the best budget Glock clones anywhere.
While it's a compact pistol (based on the Gen 3 G19) as we have seen with the DR920 cloning a proven, popular design gets bakes in a ton of advantages.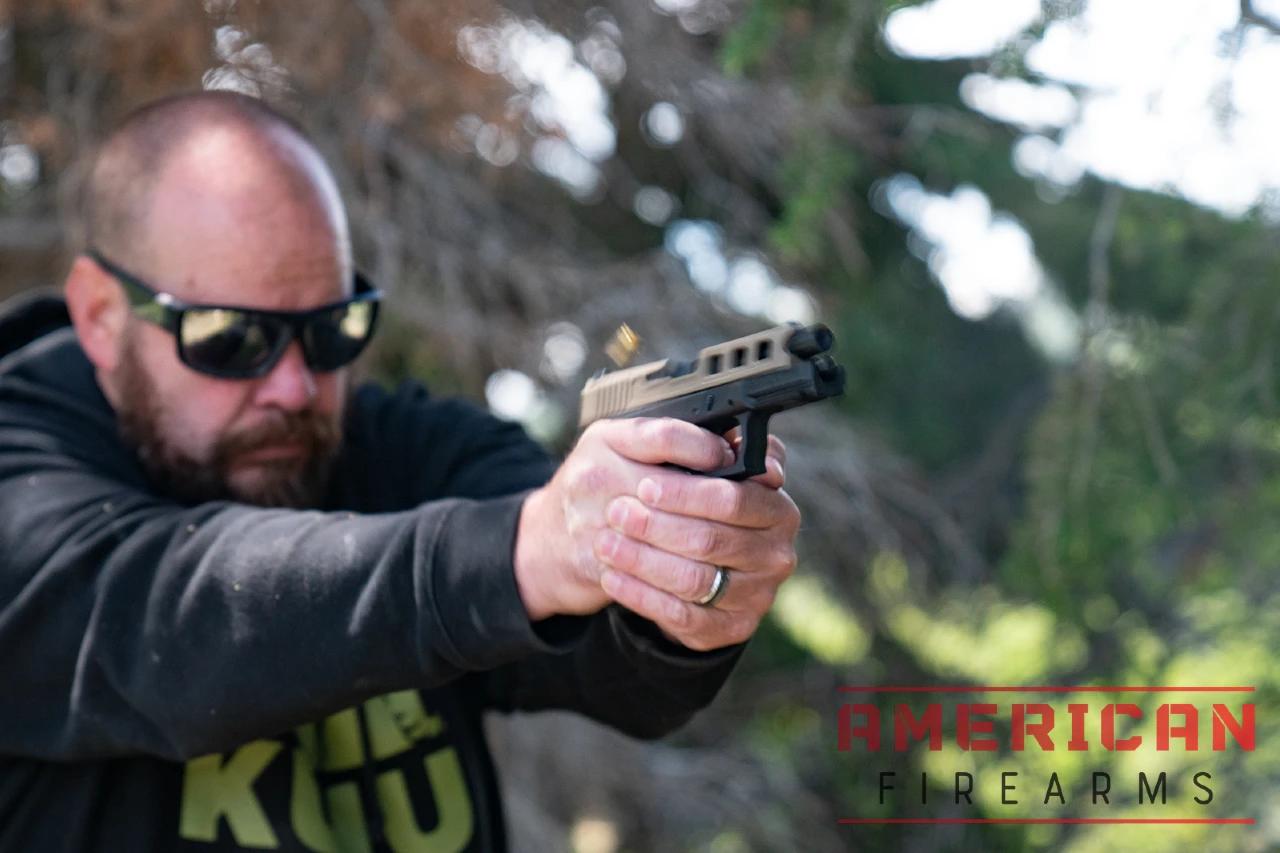 Putting the Dagger to the test
The Dagger gets you that proven model, G19 aftermarket support and compatibility all for less than $300 at certain times of the year.
Don't go expecting Shadow Systems levels of detail — it comes with just a single mag and the trigger is sponge, but the Dagger is a remarkable value that'll accept most of your G19 accessories without fail.
What more on the Dagger? Check out our review.
Must-Have DR920 Accessories
The DR920 for sure needs some accessories to get the full experience. Your needs may vary, but I'll share with you what I have used and shown here.
The first thing is a holster, for that, I chose the very popular Safariland 6354DO holster that I mounted to a Kore Essentials belt. The Safariland ALS system is very handy and fits the Shadow Systems pistols well.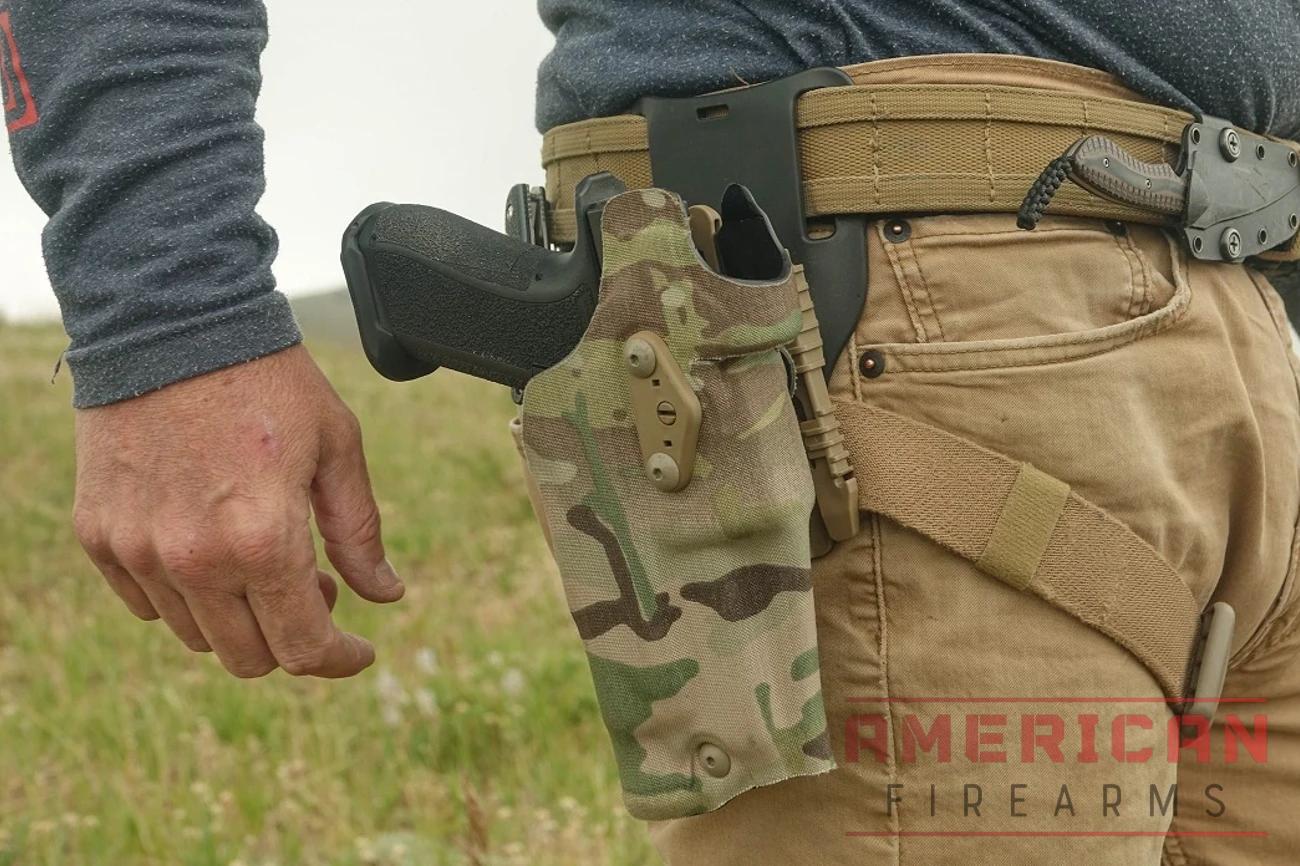 My Safariland 6354DO holster mounted to a Kore Essentials belt fits the DR920 nicely.
The Safariland model I purchased was also compatible with the Surefire X300 Weapon light, which made a perfect companion for the DR920. It mounted perfectly to the accessory rail and allowed easy access to momentary or continuous switch engagement.
For sure you will want to get some extra magazines, if you don't like the Magpul ones I used you can also use the very popular models from Glock.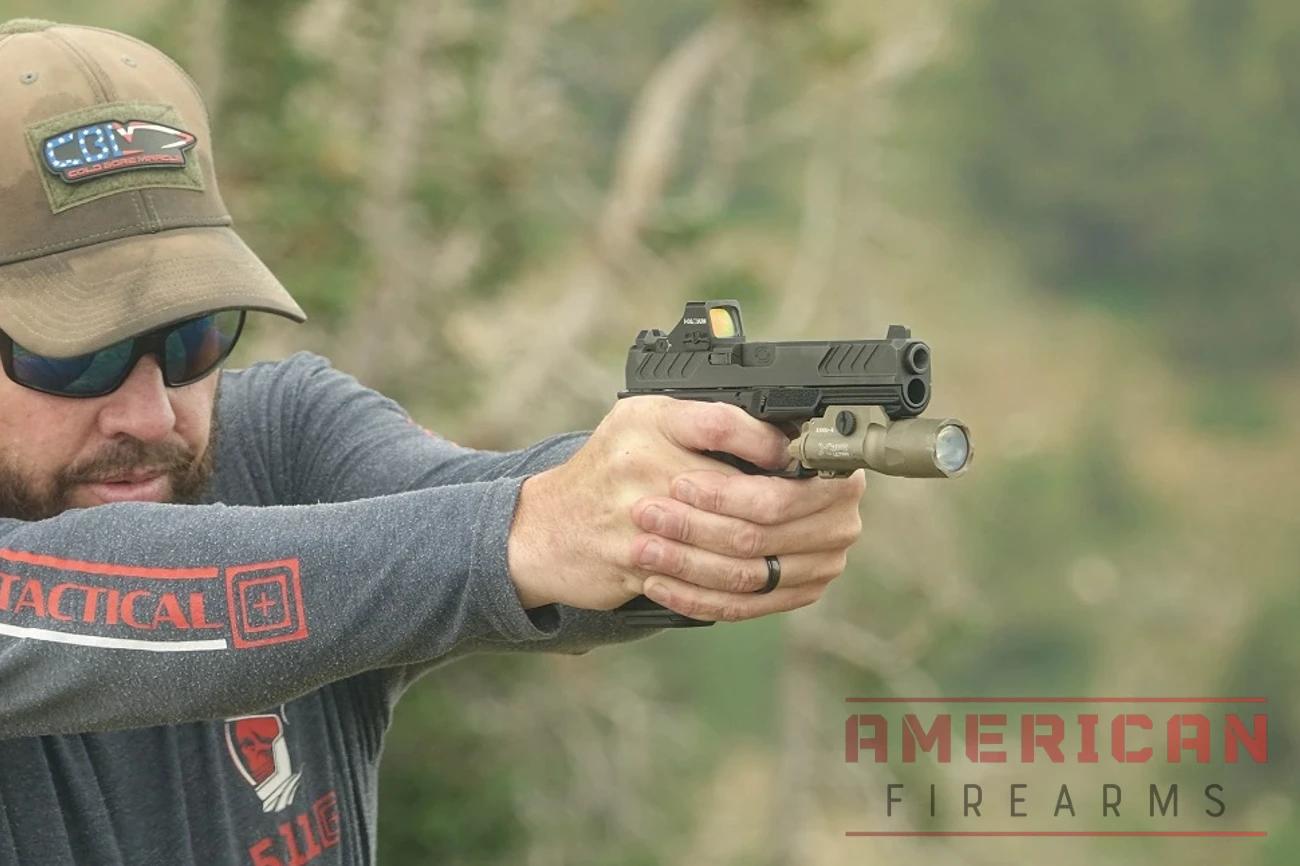 You really can't go wrong with the Surefire X300 light
Is Shadow Systems DR920 a good gun?
Are Shadow Systems as good as Glock?
Is Shadow Systems pistol worth it?
What kind of Glock is DR920?