SIG MPX Review: Understanding SIG's Premier PCC
Dive deep into the SIG MPX's remarkable shooting experience, modularity, and design nuances. We uncover why it's a top choice for PCC enthusiasts.
Written By
Dave Luu
3-Gun, USPSA, IDPA, PRS Competitor
Edited By
Michael Crites
Licensed Concealed Carry Holder
Share:
Products are selected by our editors. We may earn a commission on purchases from a link. How we select gear.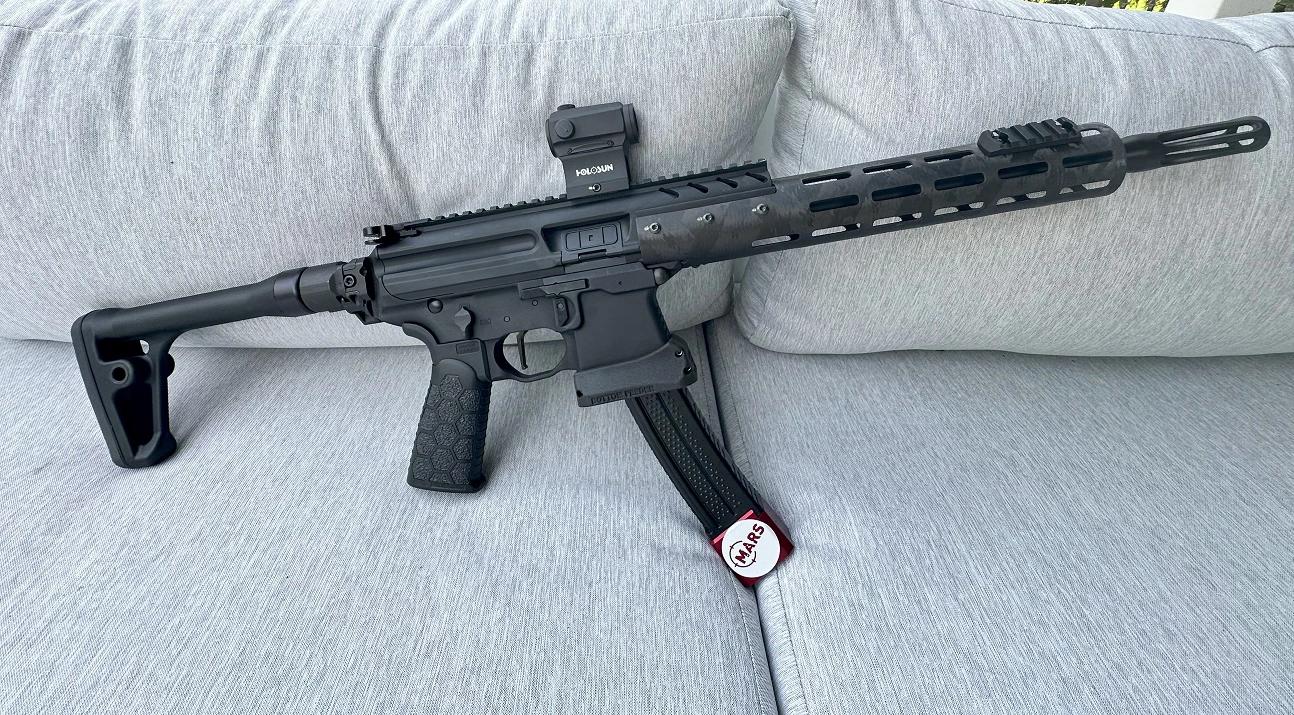 I am a fan of the SIG MPX pistol caliber carbine. Bottom line up front, it's my main PPC competition gun and home defense rifle, so I like it a lot and I have a lot of confidence in it.
However, I don't recommend it to everyone because of its cost and nuances. I would categorize it as a gun for a more experienced shooter who likes to tinker and wants a great shooting experience.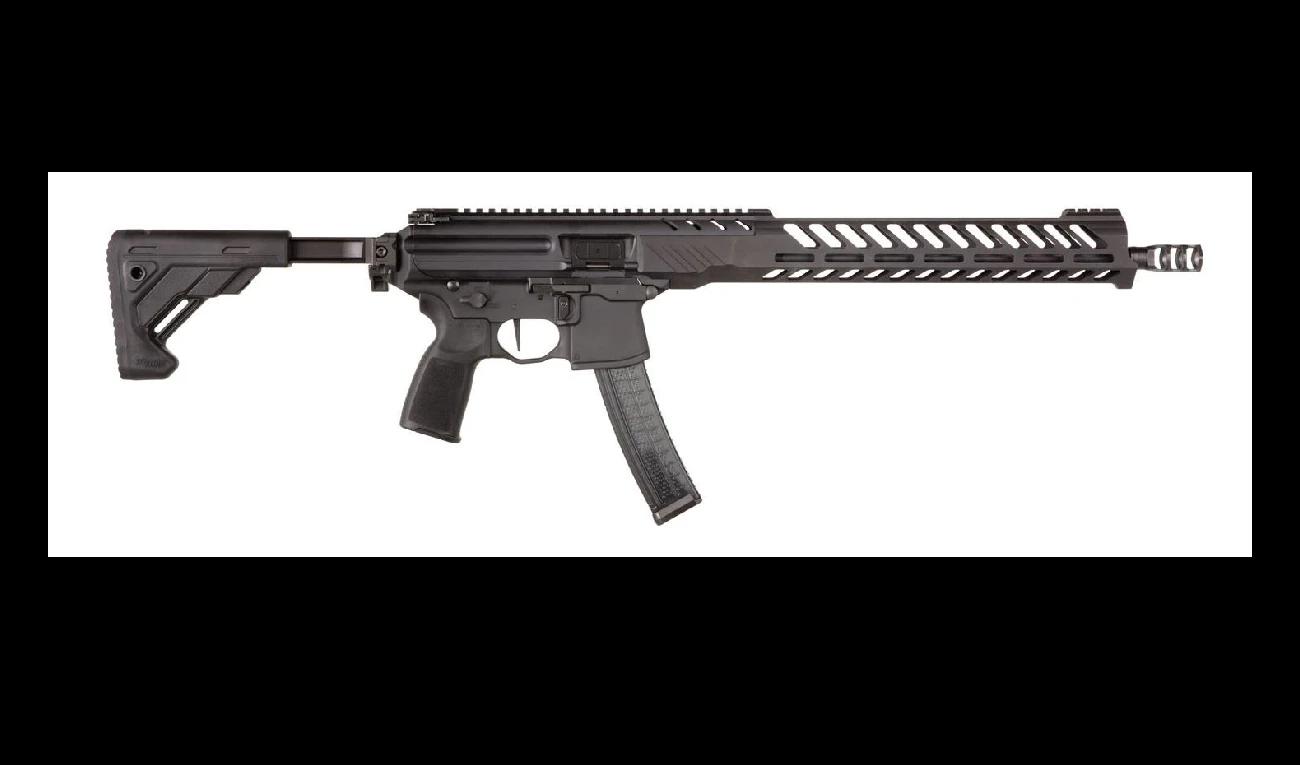 Best For
Superior shooting experience
Light recoiling & fast shooting
Intuitive, ambidextrous AR controls
Exceptionally accurate
Incredibly customizable
Considerations
One of the more expensive options in the PCC category
Hard on trigger assemblies due to the high bolt speed
Tough to determine the generation of a particular MPX model
Uses a non-standard metric M13.5x1mm barrel thread pitch
Magazines are proprietary, expensive, and don't work with any other gun
Can be sensitive to certain types of ammunition, which can affect its reliability
Our Verdict
As you can probably tell, I love this gun. If price is your primary concern, I would say look elsewhere. But if you want the best shooting experience coupled with the modularity to build multiple types of guns, the Sig Sauer MPX is an excellent platform.
How does SIG's MPX stand on our 60-point scale? Here are the scores:
Accuracy: 9/10
The quality of the MPX's build paired with the 16" cold hammer forged barrel makes it tack driver well past 150 yards. It's a standout in the 9mm category.
Ergonomics: 9/10
Intuitive controls and ambidextrous features make the MPX feel natural in hand and easy to operate for anyone who knows their way around an AR.
Fit and Finish: 8/10
The MPX boasts a well-crafted design, but continuous model changes can lead to slight inconsistencies in finish across generations.
Features: 9/10
Its modularity, unique piston system, and ambidextrous controls make the MPX feature-rich and incredibly adaptable.
Reliability: 7/10
While trusted by militaries, there are known issues, especially with the trigger assembly, that can affect its long-term reliability and ammo selectivity.
Value: 6/10
The MPX offers a truly premium shooting experience and fantastic modularity, but its higher price point and additional costs for upgrades might keep it in the niche category for most.
Caliber:

9mm Luger

Finish:

Matte black / Type III black hard-coat anodized

Action:

Gas Piston

Length:

35.25 in

Barrel Length:

16 inch Carbon Steel

Barrel Thread:

M13.5 x 1 mm

Twist Rate:

1:10

Stock:

5-Position Telescoping Folding

Weight:

6.63 lbs (3kg)

Capacity:

35rd MPX Polymer Mag
Before we get into all the nitty gritty, in general, the Sig Sauer MPX is a gas-operated PCC chambered in 9mm that first debuted in 2014.
There was a good amount of fanfare at its release because of in unique design. The MPX uses a short-stroke piston system and fires on a closed rotating bolt system. The most famous PCC, the HK MP5 uses a roller-delayed blowback system. In contrast, most AR-style pistol caliber carbines use a direct blowback system.
A blowback system uses the energy of the fired round to unlock the action and cycle the round. The only thing keeping the action locked is the weight of the bolt carrier and spring pressure. It is a quite simple system, commonly used on lower-power pistol calibers.
Its simplicity keeps it dependable but because of the weight needed to keep the system locked, there is more movement and felt recoil when the gun is shot.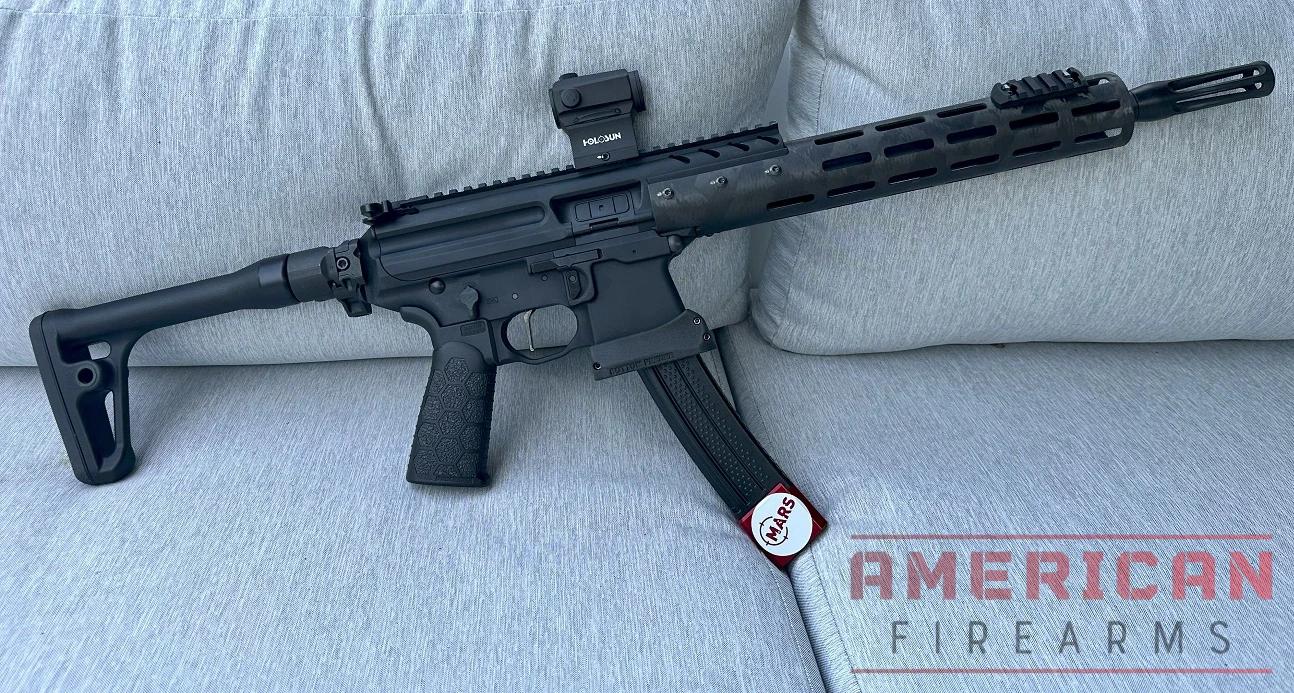 The Sig Sauer MPX is a gas-operated PCC chambered in 9mm that first debuted in 2014.
Short Stroke Piston
SIG's short-stroke piston system is similar to something found in some popular rifles. The HK G36, HK 416, SCAR, and Sig MCX use short-stroke piston actions. T
his system channels the gas from a fire round back into the action to cycle it. The gas enters a tube from the barrel where it pushes on a piston which in turn pushes on the bolt to unlock the carrier and then cycles the action.
This more complicated system reduces the overall weight of the action, allowing for a smoother functioning gun. This results in less movement and recoil felt by the shooter and, therefore, more accuracy and faster follow-up shots.
Reliability
This brings me to my biggest caveat about the MPX, its reliability. Now, don't get me wrong, it's reliable. It's reliable enough to be used by various militaries including the United States Army. However, there are some known issues.
First is the trigger issue. Despite its smooth trigger pull, the MPX is extremely hard on trigger assemblies due to the high speed of the bolt. This is an issue for high-round count shooters. I have had a stock trigger fail.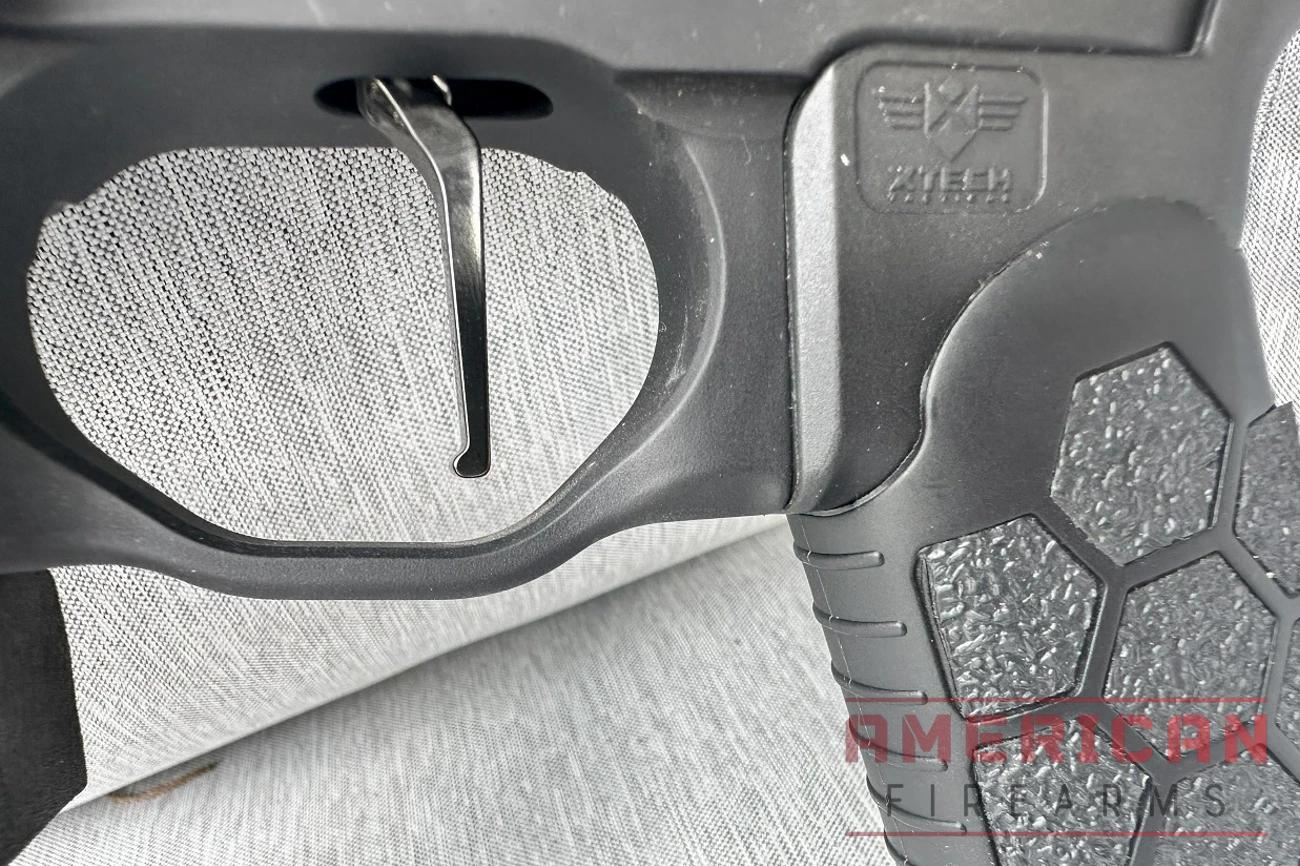 I swapped out the factory trigger with a TriggerTech MPX trigger.
Aftermarket trigger manufacturers have mostly solved this problem. I have a TriggerTech MPX trigger in mine and it has been very dependable. I have heard good things about Geissele triggers as well. If you want to go the aftermarket route, make sure the trigger is specifically designed for the MPX and it is not just an aftermarket AR trigger.
The current MPXs include a Timney trigger. I've heard mixed reviews on the reliability of these triggers, but this leads me to my second reliability gripe.
Continuous Improvement Model
SIG, in general, seems to use a continuous improvement model when it comes to manufacturing. This is a good thing, and it's a very modern approach. What it means is, as issues are identified in their products, they continuously make small design improvements to correct for these problems. So, a SIG produced today is probably better than one produced five years ago.
In contrast, most other firearms companies use a generational, or breakthrough, model. This means, companies collect all the problems and issues of a product and work on a long-term design solution that will address all the concerns.
They will keep the product the same until they come up with a "breakthrough" solution that radically improves the firearm, and it will be released as a Generation 2.
Of course, I'm vastly over-simplifying these business concepts and no company only uses one of these methods exclusively. It's usually a mix. SIG uses both.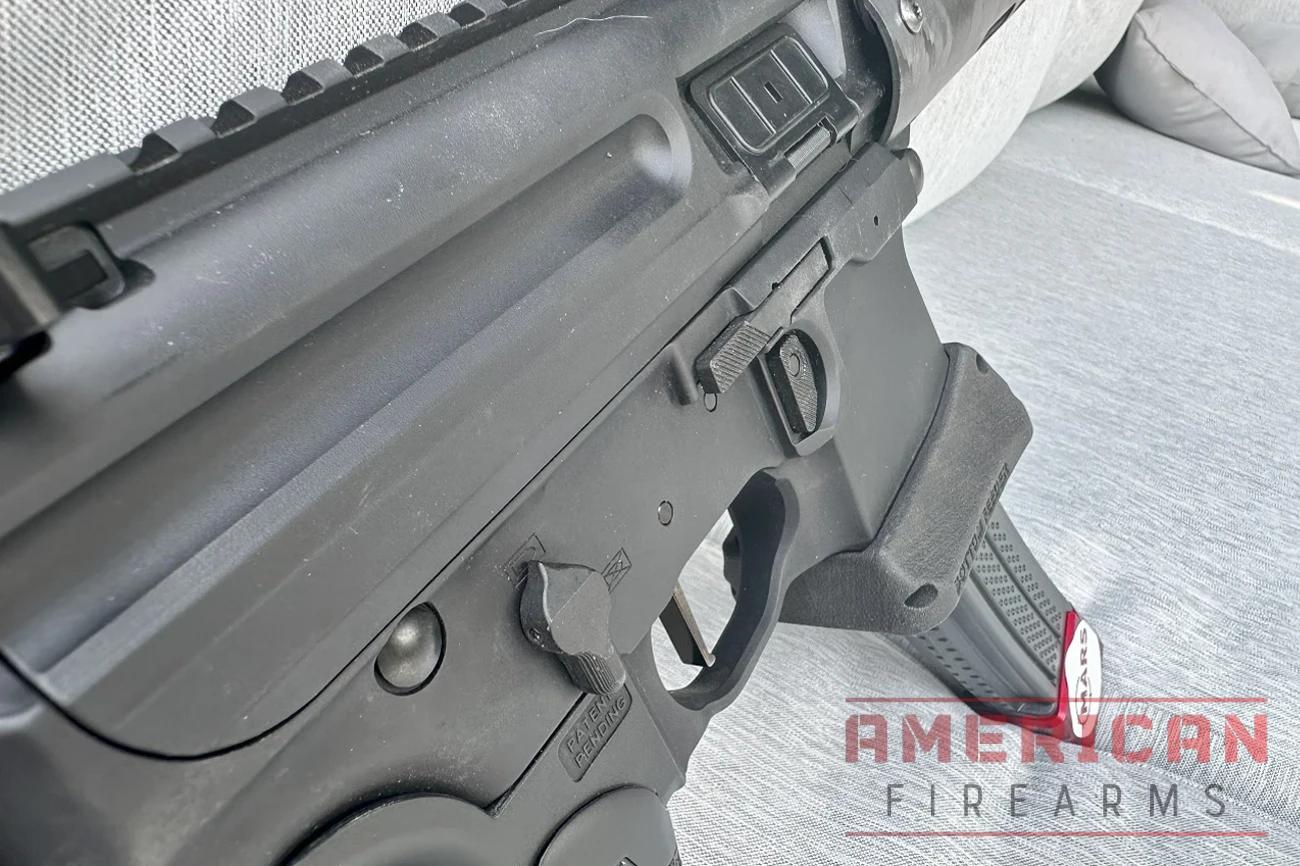 It can be difficult to figure out when SIG makes changes due to their use of the continuous improvement model.
But the problem with the continuous improvement model is that it's difficult to figure out when SIG makes changes. SIG does not always announce these changes or make them easy to find.
In the case of the MPX, there were early reliability issues. SIG has officially released a Generation 2 to fix problems. The current rifle MPX model is called the MPX PCC, which enthusiasts have coined the Gen 3, but SIG has not officially acknowledged it as a third generation.
In addition, collectors noticed changes between Gen 2 and Gen 3, which they named Gen 2.5. I don't know how some of the different pistol models such as the 'K' variant or the Copperhead variant fit into the generational changes.
As you can expect, all these different fixes and generations make purchasing a used MPX challenging. But new ones can also trip you up. Sometimes a gun store might be sitting on a new — but older generation — rifle, so buying new does not guarantee you are getting the newest one.
Some people say you can tell the difference by looking at the exterior of the gun. Gen 2 guns came with a KeyMod handrail and Gen 3 guns came with more popular M-LOK slots. But because of the deep accessory market with the MPX, a previous owner could change furniture from the original.
The only reliable way to know the generation of the gun is to call SIG and give them the serial number. They will be able to tell you the generation.
All this goes to say, is to make sure you do your homework when you are purchasing a SIG and know the generation you are getting. This is why I classify this gun as something for a more experienced gun owner, someone who has some background knowledge and wants to dive into the research.
I have a Gen 2 gun that has been accurate and reliable, other than the trigger issue which I address with the TriggerTech trigger.
There are four other notable nuisances you should know. These are not necessarily bad, just considerations to digest before purchase.
First, the barrel thread pitch is not the standard 1/2×28" TPI. The MPX uses a metric M13.5x1mm. I don't know why they do this, but it does make it slightly more difficult to find a muzzle device or suppressor attachment.
The MPX uses a metric M13.5x1mm thread pitch, which is non-standard.
Second, the magazines are proprietary and expensive. They are excellent magazines. They are polymer with metal feed lips to increase longevity. They are also translucent so you can see your round count. The consensus is that they are very reliable mags, but they are not cheap, and they don't work with any other gun.
Third, it can be ammunition sensitive when it comes to reliability. There are reports that certain powders, especially those used in competition, can cause the gun to foul more quickly. This means you either need to use different ammo or clean the gun more regularly.
Fourth, it's one of the more expensive options when it comes to PCC guns. The initial sticker price is high, but also consider a trigger upgrade and the cost of magazines. It can add up. There are lower-cost PCC solutions.
So, after this laundry list, why do I still like the Sig MPX? Four main reasons.
What makes the MPX special?
The Shooting Experience
First, I like the MPX mostly because of the shooting experience. It's the best shooting PCC, in my humble opinion. As I stated earlier, most PCC are blowback designs. Blowback guns usually have more reciprocating mass and therefore more felt recoil.
The gas operating system delivers a very soft recoil impulse. This makes it fast and natural to shoot. The overall lightweight and balance of the gun makes moving with it and shot transitions quick and easy.
AR Controls
Second, controls are intuitive if you are familiar with the AR platform. But they add near complete ambidextrous controls onto the lower receiver, so it has improved AR controls. There is no learning curve or need to establish new muscle memory.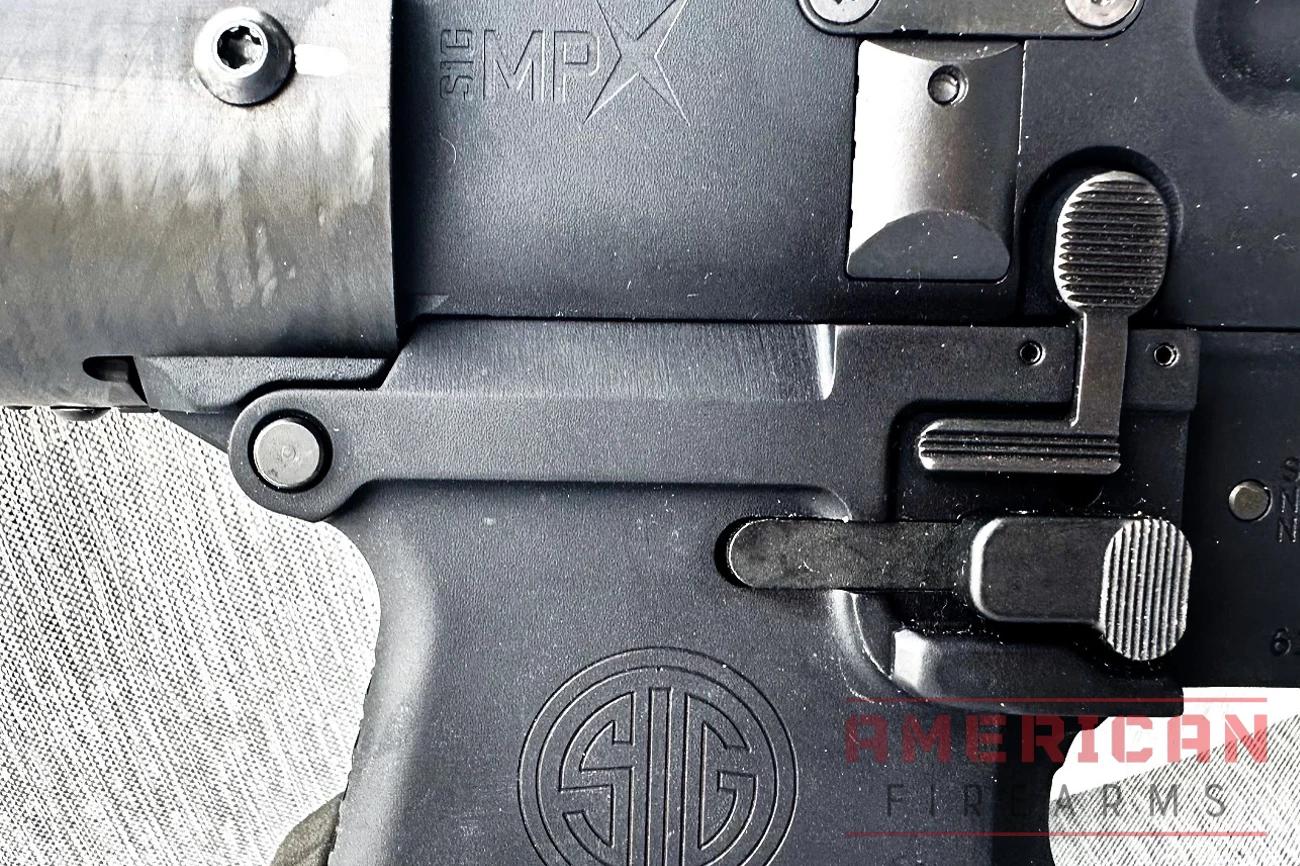 Controls are intuitive if you are familiar with the AR platform
Everything — from the bolt release to the fire selector, charging handle and magazine release is right where it should be, which makes operating it quick and efficient.
Accuracy
Third, it's a tack driver. The 16" cold hammer forged barrel is very accurate out past 150 yards. You can't ask much more from a 9mm. Of course, there are other barrel lengths on offer, but venturing into the 3.5" barrel on the Sig MPX Copperhead or 4.5" barrel on the Sig MPX K may not offer the same level of consistent accuracy at range.
Those shorter barrels also mean much less Picatinny rail space, making it much more challenging to mount accessories.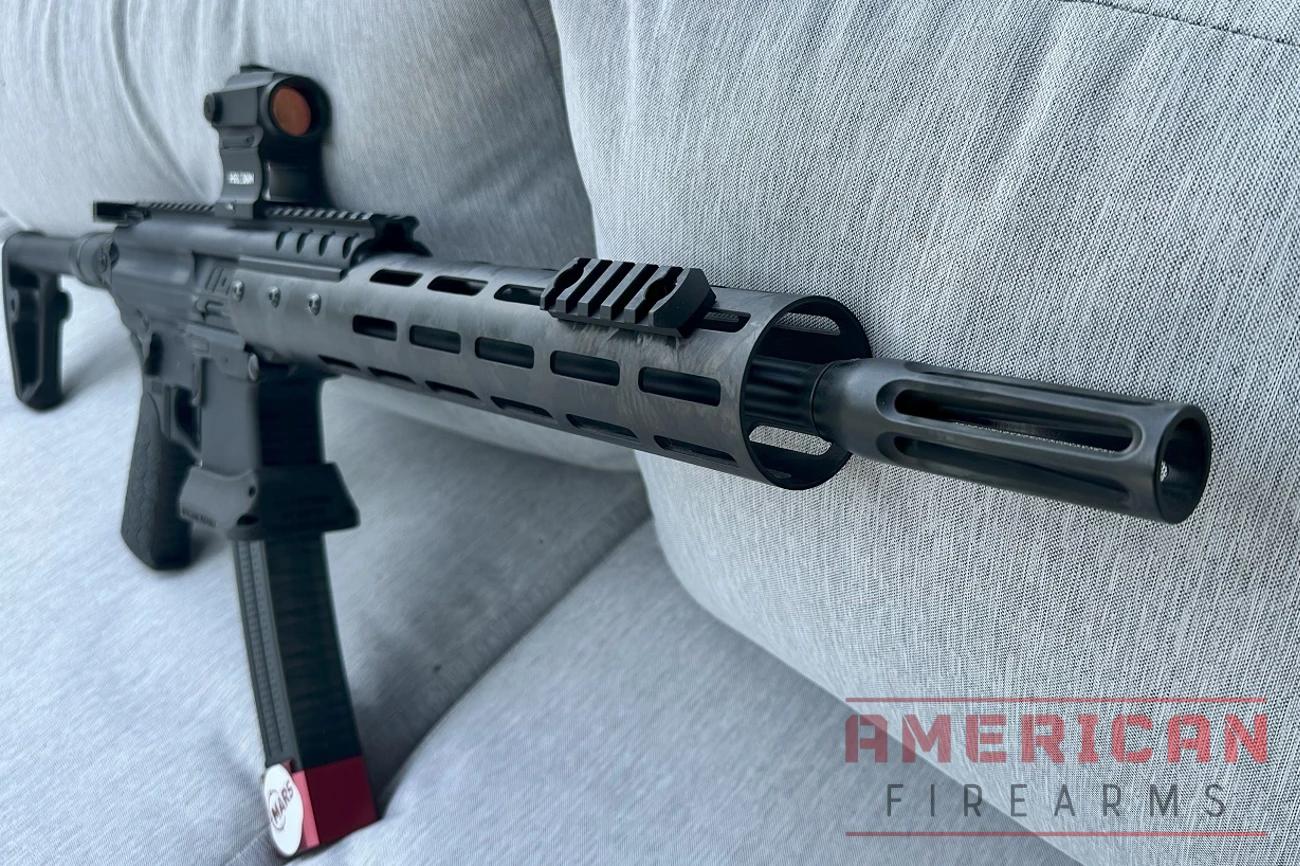 One reason to love the MPX? It's a tack driver.
Modularity
Fourth, my favorite feature is the modularity of the design. Due to its popularity, there are many aftermarket options to convert the MPX into whatever your heart desires.
You can keep the overall length down with a subcompact PDW build with a 4-inch barrel and collapsible stock or take it all the way up to a full-blown 16-inch competition monster.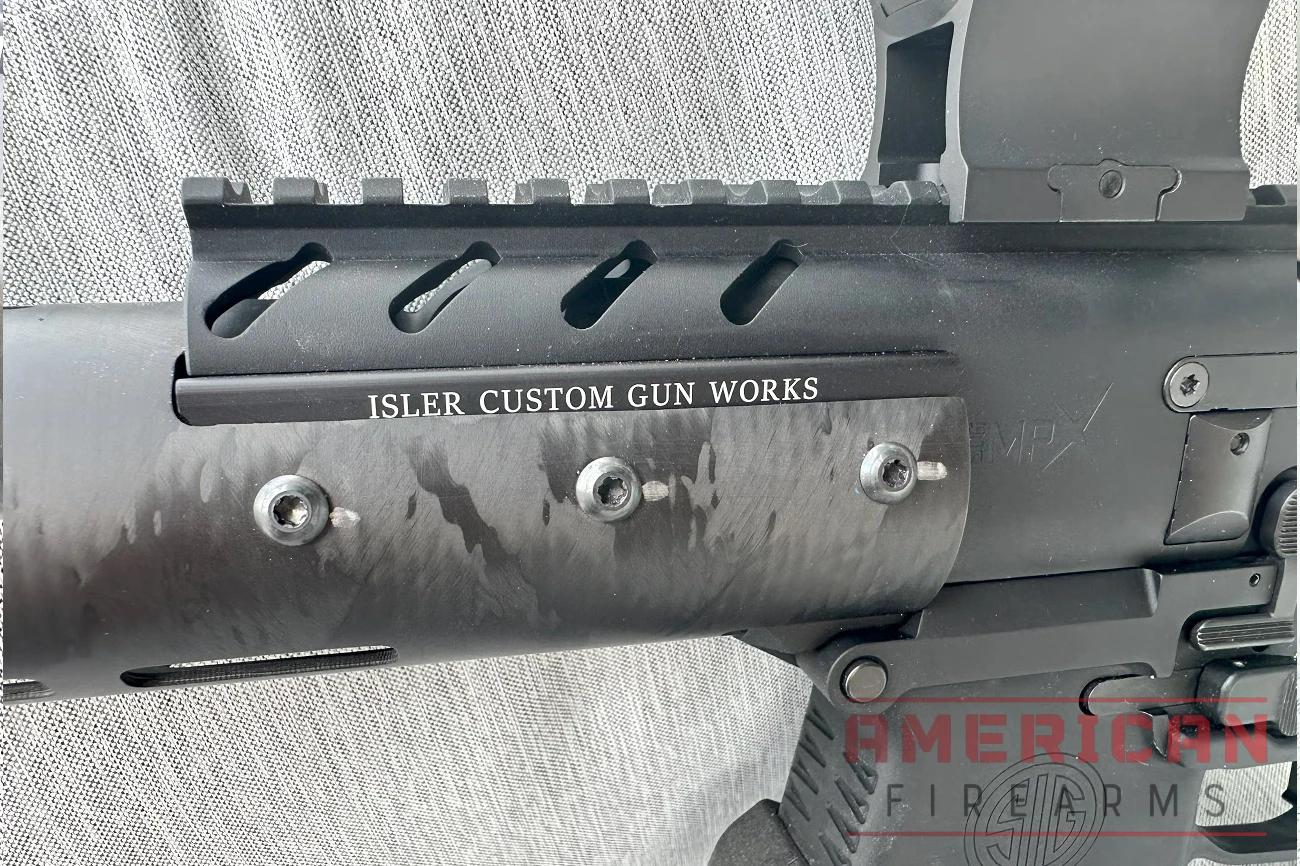 Aftermarket products abound for the MPX, and I love the Isler Custom Gun Works fiber optic handguard.
One of the best-known aftermarket barrel manufacturers is, In Lead We Trust. They sell complete barrel replacement that includes the gas assembly for between $400-$500. They have lengths from 4 inches to 10 inches.
For handguards I recommend either Midwest Industries or, if you want to go super light-weight carbon fiber, Isler Custom Gun Works.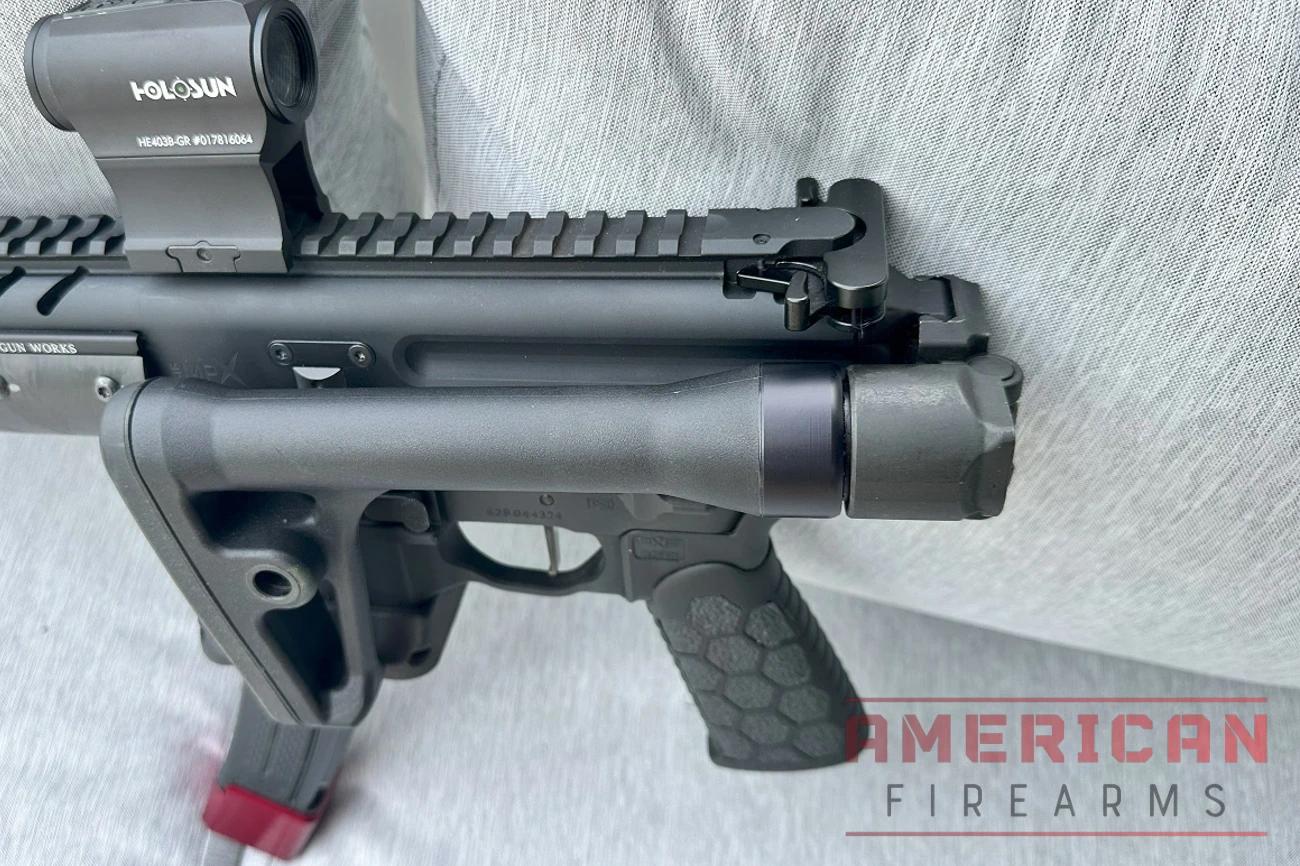 The folding stock is a great way to add mobility and ease storage.
There are tons of stock and folding brace options because the MPX uses a standard Picatinny mounting point on its back end — all NFA rules apply, so be wary of venturing across the short-barreled rifle line. 
My Gun
My personal MPX is a used Gen 2 PCC rifle that came with a 13-inch barrel with a pinned-and-welded 3-inch flash hider to make it the legal 16 inches. I originally built it up as a competition PCC gun.
My MPX uses a 13-inch barrel with a pinned-and-welded 3-inch flash hider to get it over the 16 inch line.
I replaced the Gen 2 handguard because it was very heavy. Luckily it was much easier than swapping an AR handguard because the barrel nut doesn't hold the handguard in place on the MPX, you just pop out the receiver pin and remove the handguard.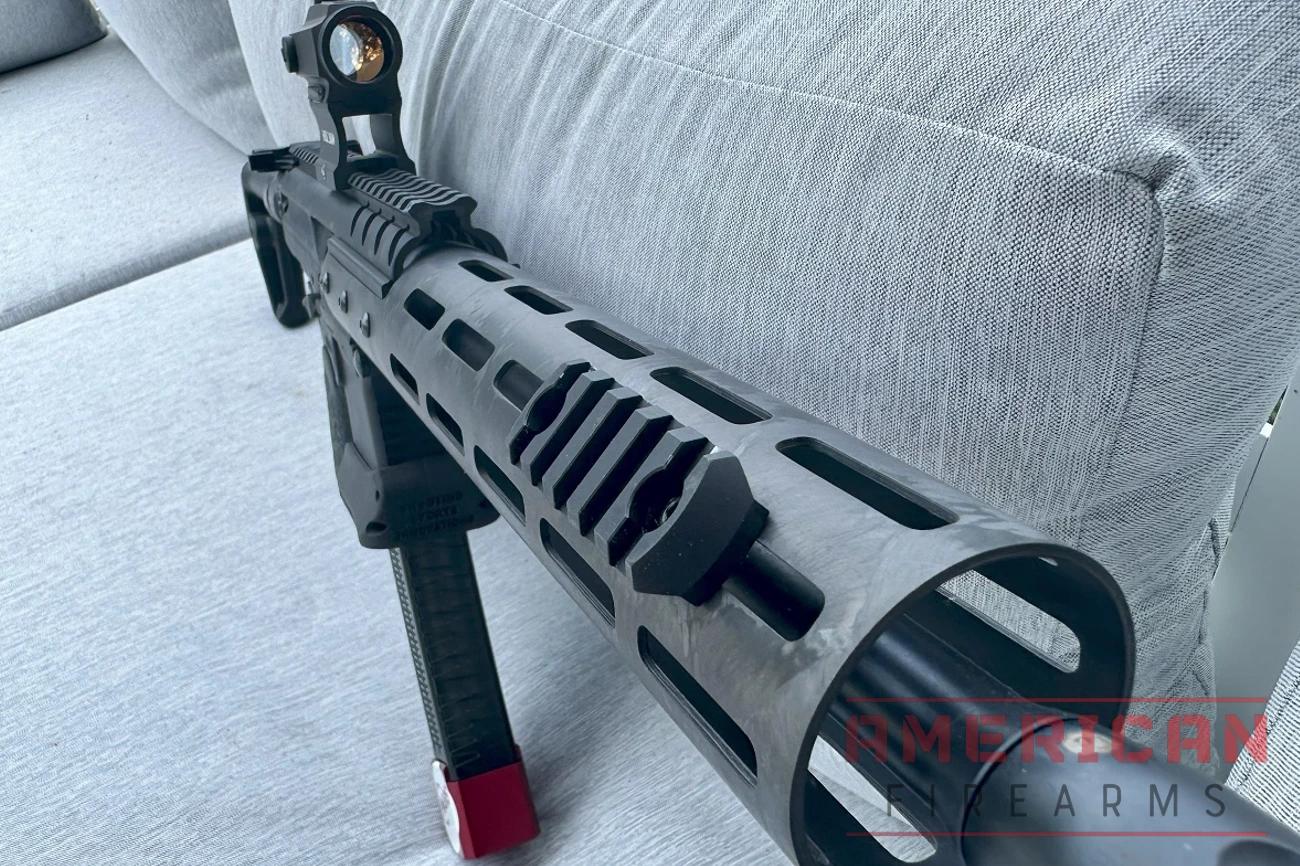 I swapped the factory handguard with a 10-inch carbon fiber Isler unit
I switched it with an Isler 10-inch carbon fiber unit which makes it much faster in transitions. I also changed the stock to a SIG Fixed/Folding stock. I like shorter stocks because I don't have a long length of pull.
The check weld feels good on the rounded arm. This stock is also very solid feeling which is good for a competition gun. And, since it is also folding, it can be transported easily.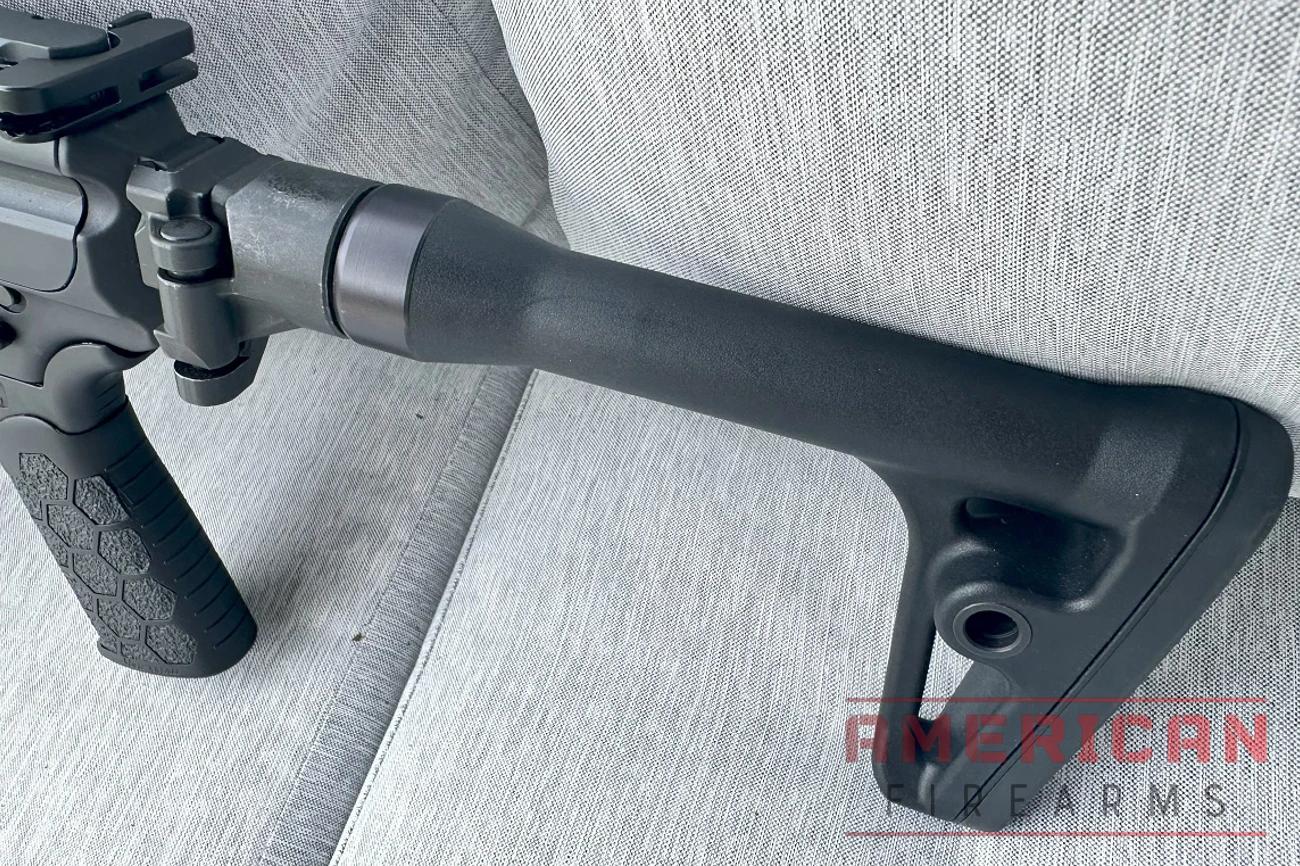 I replaced the factory stock with a SIG folder, which shortened the length of pull and I don't have a long length of pull check welds feel good on the rounded arm.
I also installed a TriggerTech MPX trigger. I love the feel of TriggerTech triggers and I put them in all my guns. They are fantastic and reliable competition triggers.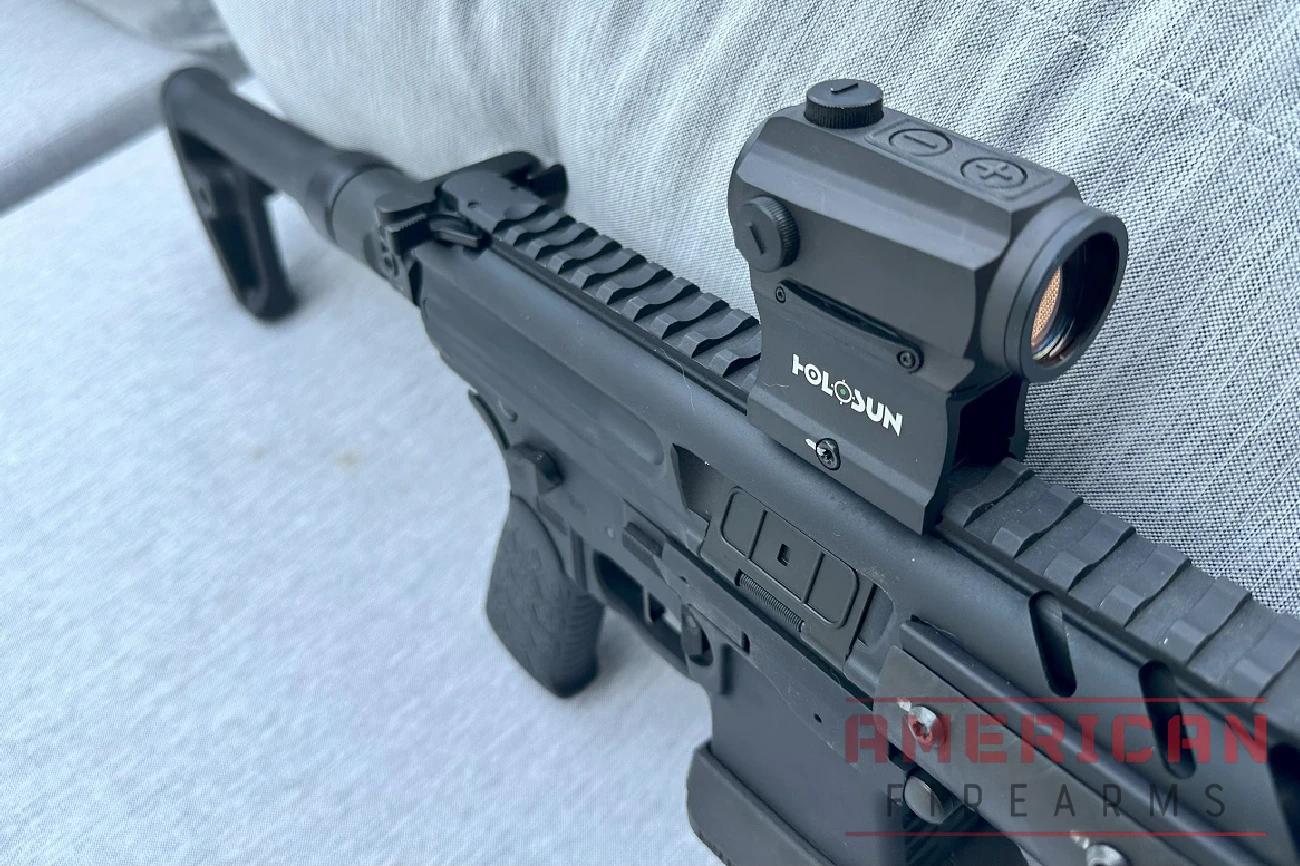 Rocking the Holosun HE403B-GR green dot.
PDW Conversion
However, I also want to get the parts to slap together a go-bag-type PDW. I want something very small and lightweight that can easily be packed in a Get-Home bag. I am eyeing the 4.5-inch ILWT barrel paired with an 8-inch Isler carbon handguard.
I want the handguard longer than the barrel because it gives more real estate to hold on to, and it will partially cover the suppressor I plan to install. I will probably also add a SIG Telescoping stock to make the package as small as possible.
Of course, I will have to SBR the rifle before I install that short barrel. Another option is to just buy another MPX, but this time in a pistol configuration.
But the beauty of the MPX is how easily changes are made. It would probably take me less than 5 minutes to convert it from my competition PCC configuration to that PDW setup. I'll have to think about that some more before I make a decision on which way I'm going.
Value
A final note on cost. Yes, it is not a budget setup. But take for a comparison, the most highly regarded submachine gun in history, the MP5. It's difficult to get a true HK MP5, but there are numerous clones now available.
MP5 clones go for around $2,000. They are both soft shooting and accurate. But consider that the Sig Sauer MPX is much more modular, has numerous optics options, and is, just in general, more versatile. And, it has a more standard battery of arms. Now, the MPX does not seem so unreasonable.
Better Aftermarket Alternative: CZ Scorpion
The CZ Scorpion EVO 3 comes up often when thinking about PCCs and for good reason. Both the MPX and Scorpion are proven pistol-caliber carbines with unique attributes that cater to various shooter preferences.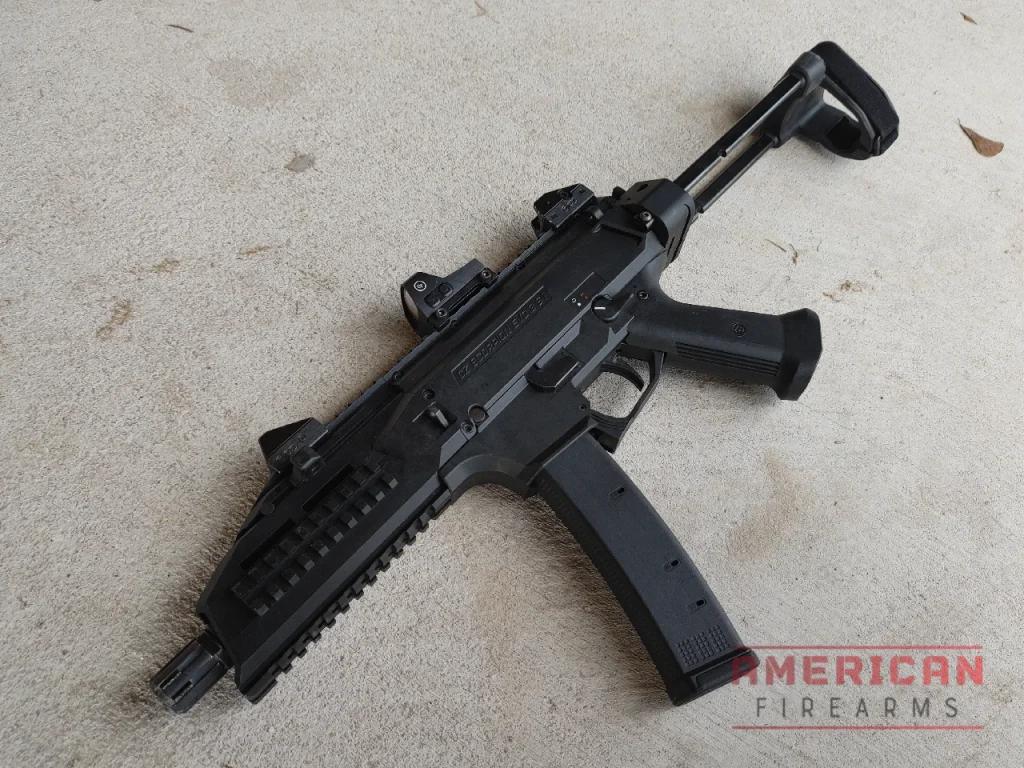 The CZ Scorpion
The CZ Scorpion, a product of early 2000s design, is simple and reliable. It uses a straightforward blowback system, which produces a bit more felt recoil but gets the job done.
Plus, the Scorp is very popular which, when coupled with its time on the market, means it has an extensive aftermarket and is decidedly affordable. It's a top pick for anyone who wants a proven performer but isn't ready to shell out more than a grand.
On the other hand, the SIG MPX uses a ton of modern design cues borrowed from the AR platform and boasts a gas piston system that offers a softer recoil experience. Plus the controls are designed in a much more user-friendly way. The Scorpion's big-ass safety selector can get really annoying, really quickly when it jams into the web of your hand, which we detail in our Scorpion review.
The MPX's design enables a level of shootability that the Scorp can't offer, and modularity that lets you easily adapt the firearm to a functionally unlimited number of configurations. You have to pay to play, however, and while there is aftermarket support, MPX goodies are typically pricier than Scorpion accessories.
Budget Alternative: PSA PA-9 PCC
If you want a blowback PCC and are looking to shave off a few hundred bucks from the price of a Scoprion (or $1,500 off the MPX) check out one of our favorite PCCs, the PSA PA-9 series. These are straightforward 9mm PCCs that don't have the fit and finish of the MPX, but they do offer a similar functional make-up — with 16″ barrels, full M-LOK handguards, and a 6-position stock. It's consistently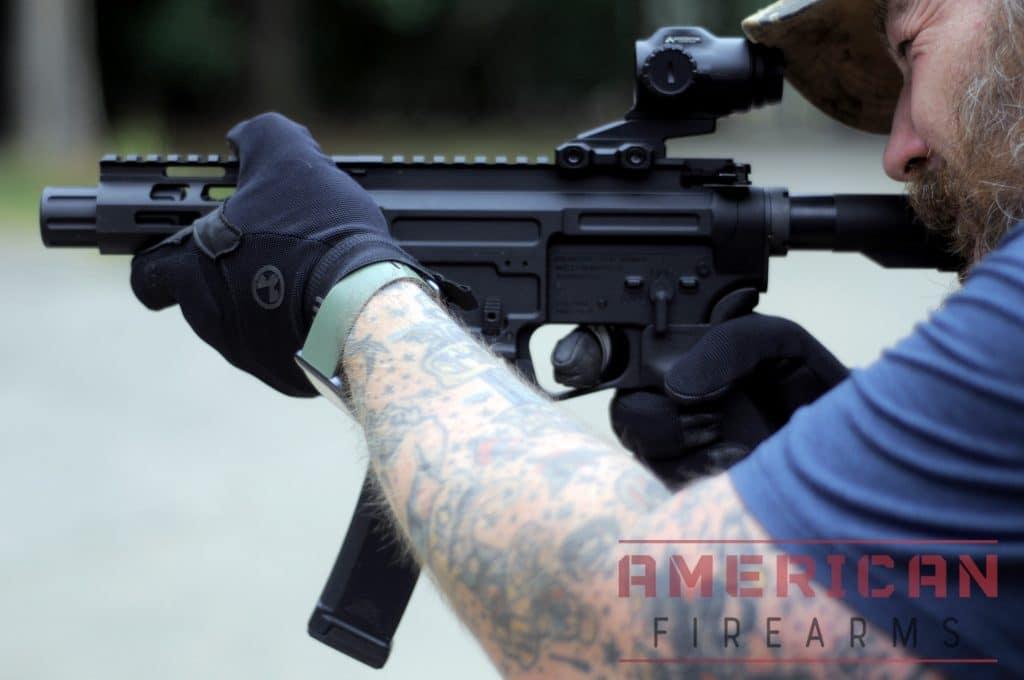 Putting work in with my 4" PSA AR-V PCC
Upsides? Beyond being considerably cheaper than the MPX and the Scorpion the PA-9 use wallet-friendly Glock mags (which we all likely have laying around) and the PSA barrels are threaded in your standard 1/2-28 pitch, so no adapters needed.