Taurus 856 TORO Review: An Optics Ready Revolver To Rule Them All
Taurus pulled a bit of a trick and turned their Defender 856 into a small frame revolver with an optics mount, but does the 856 TORO grab the bull by the horns?
Written By
Coldboremiracle
Precision Rifle Expert
Edited By
Michael Crites
Licensed Concealed Carry Holder
Share:
Products are selected by our editors. We may earn a commission on purchases from a link. How we select gear.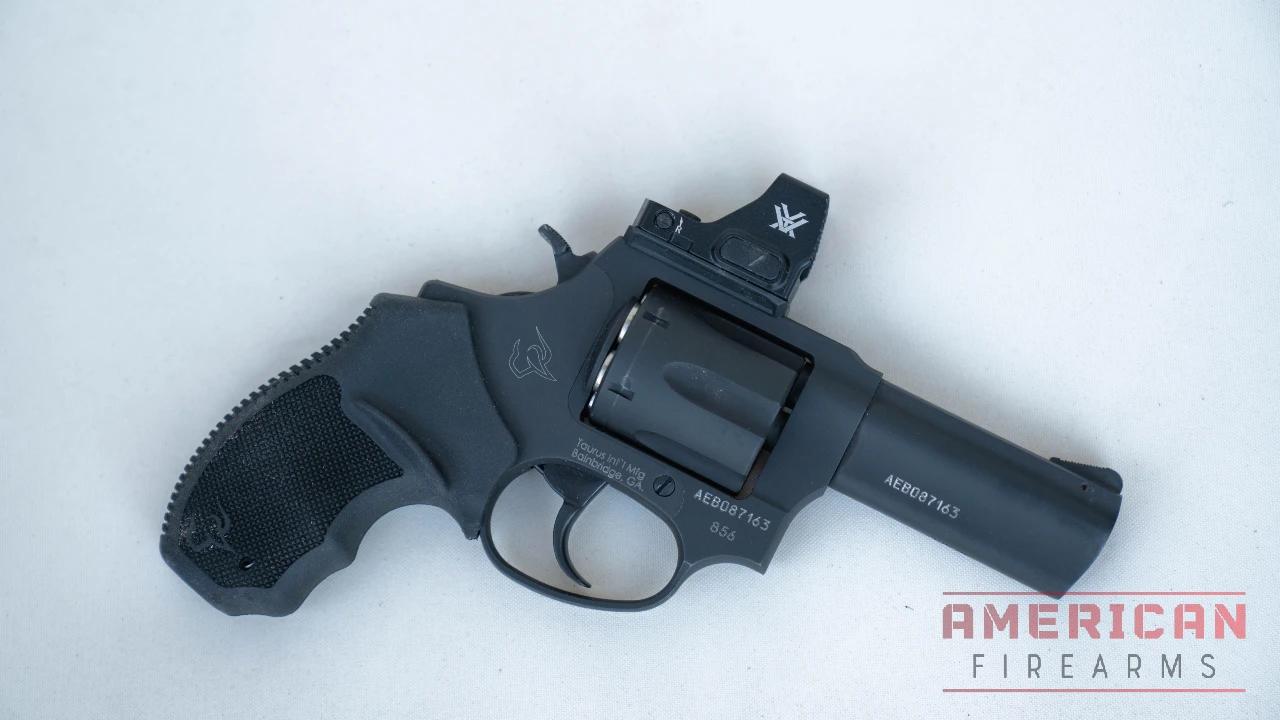 There are many things I never thought I'd see in the firearms world, a bullpup AR15, an 8×57 M1 Garand, and a suppressed shotgun are a few that come to mind. But a red dot mounted on a small frame revolver is a bit more believable, and today we are looking at the first example of such; the Taurus USA Defender 856 TORO in 38 Special.
Best For
Unique TORO optics mounting system
Very affordable
Handsome appearance
Compact design easily concealed
Inexpensive to shoot in 38 Spl
Considerations
Doesn't have the reputation of its competitors
Grip was a bit small for my hand
High optics mount can create issues zeroing
Heavy with optic and ammo
No real holster support with optic mounted
Our Verdict
Carrying a revolver with an optic is a bit like being blasted into outer space; new, strange, kind of disorienting — but despite the journey into unchartered waters, I've been very happy with the Defender 856 TORO these past few months.
I'll circle back to where I started; I have wanted to like the affordable brand of Taurus for a long time. They certainly knocked it out of the park with the TX22, and so far I am liking the Defender.
Both of these products have gone a long way to help me rinse the bad taste once left in my mouth. Taurus has once again flexed its muscle at packaging a performant firearm in an affordable package.
Plus the optic cut 856 TORO version is like $15 more than the non-TORO version of the 856 so if you don't like running an optic on your wheel gun you can always just pop it off, drop a fiber optic front sight on it, and you've got yourself a decent little carry revolver.
If you are looking for an affordable everyday carry revolver in 38 Spl, I think this is a great little option to try out.
And it's affordable enough that if you don't like it you haven't lost a fortune — at this price, I think you'll be hard-pressed to find an optics-ready revolver if you're a bit of a gear junkie like me. Revolver fans should definitely check this one out.
So… how does the Taurus 856 TORO stack up on our 60-point scale?
Accuracy: 8/10
I could get consistent 3-5 inch groups at ten yards and reliably hit targets at self-defense distances. Plus I had no issues zeroing the optic effectively.
Ergonomics: 8/10
The Taurus Defender 856 TORO is small and easy to manipulate, has a comfortable (if a touch small) rubber grip, smooth controls, and it's easy to reload.
Fit and Finish: 8/10
The matte black finish looks good and the laser engraving is sharp. The gun is well-fitted, but the durability of the finish could be improved.
Features: 8/10
The TORO optics mounting system is significant and innovative for a small frame revolver, plus you get a full-length ejector rod and a smartly designed hammer spur, but no holsters at the moment.
Reliability: 9/10
No issues or malfunctions during our shooting tests. It's a straightforward, simple revolver that reliably goes boom.
Value: 9/10
Taurus Defender 856 TORO keeps with the Taurus approach of affordable firearms. It looks good, is easy to carry, and you can blow through .38 Spl ammunition without breaking the bank.
Frame size:

Small

Caliber:

.38 Spl

Weight:

23.5 ounces

Overall Length:

7.5 inches

Height:

4.5 inches

Barrel:

3.0 inches

Twist Rate:

1:16.5 Right Hand

Capacity:

6

MSRP:

$445.99
Taurus is a common name in the firearms world, and in recent years they have been working hard to change their reputation from a poor-quality clone operation to that of a world-class firearms manufacturer.
Far too often gun owners will recount negative stories when Taurus guns come up, I even have a few myself. But for now, let's put that aside.
A few years back, Taurus released one of their many new pistol models. Despite my caution from previous experiences, I had to give the TX22 a try after handling it at SHOT Show. I'll spare you all the details, and just say this; four years later I now have a collection of 4 TX22s, both the standard and compact models, and I have to say I absolutely LOVE them.
Their new products are — in my experience — very reliable, and an absolute hoot to shoot for my entire family. So after having had a great experience with modern Taurus models, I figured I would give the Defender 856 TORO a try.
Taurus has clearly invested in new people, processes, and leadership that has made serious differences in its product development, standards, and QC. The question in my mind was simple — was the TX22 a fluke or has Taurus really turned a corner?
The Model 856 & Its Optic
The Model 856 is part of the Model 85 family of small-frame revolvers. The stainless steel frame wraps around an exposed hammer and six-shot stainless-steel cylinder, adding an extra round over other Taurus Model 85's and the similarly-sized Ruger SP101.
At current Taurus has sixteen 856 variants in their catalog, with different barrel lengths, finishes, and materials — either carbon steel or lightweight aluminum frames — with the "Defender" series the steel-framed 3-inch barrel models and standard 856 with 2-inch barrels.
To create the 856 Defender TORO, Taurus took the steel version of their classic 856 Defender and added an optic plate — specifically a Holosun K optics base plate — that mounts over the rear sight and is attached by two screws. Taurus also released a TORO version of their 605, which is similar to the 856 but chambered in .357 Magnum with a 5-shot capacity.
This makes these Taurus TORO series the first small frame revolvers to come optics ready from the factory. Sure, hunters and competition shooters have had optics in play forever, and there's no shortage of optics plates for medium and large-frame wheelguns, but when it comes carry revolvers you were likely going to have to turn to a custom shop.
Yes, one can debate the logic of even adding an optic to a carry piece, but that is a hill for another day. Chances are this is a "love it or hate it" kind of product for most.
The Defender 856 uses Taurus' target-style double action trigger and is rated for +P 38 Special loads. I almost wish I'd have gotten a 357 model, but to be honest, if I had I would have likely used mostly 38 Spl ammo anyways. My Grandfather was quite a fan of the old Special, and I inherited a massive collection of brass and molded bullets that Grandpa carefully made long before I was old enough to even shoot them.
Like a number of Taurus revolvers, the factory grip of the Defender is a soft rubber one, with a comfortable texture to help grip the small handgun. There is a traditional built-in rear sight as part of the top strap if you happen to be one of those who don't care for red dots, but to be honest, without the optic mount the 856 is really just a basic, affordable, 3-inch .38.
Not that I'm hating on basic revolvers — in my opinion the revolver market is a little too focused on marking-up nostalgia — but the real trick Taurus pulled off here is the optics support.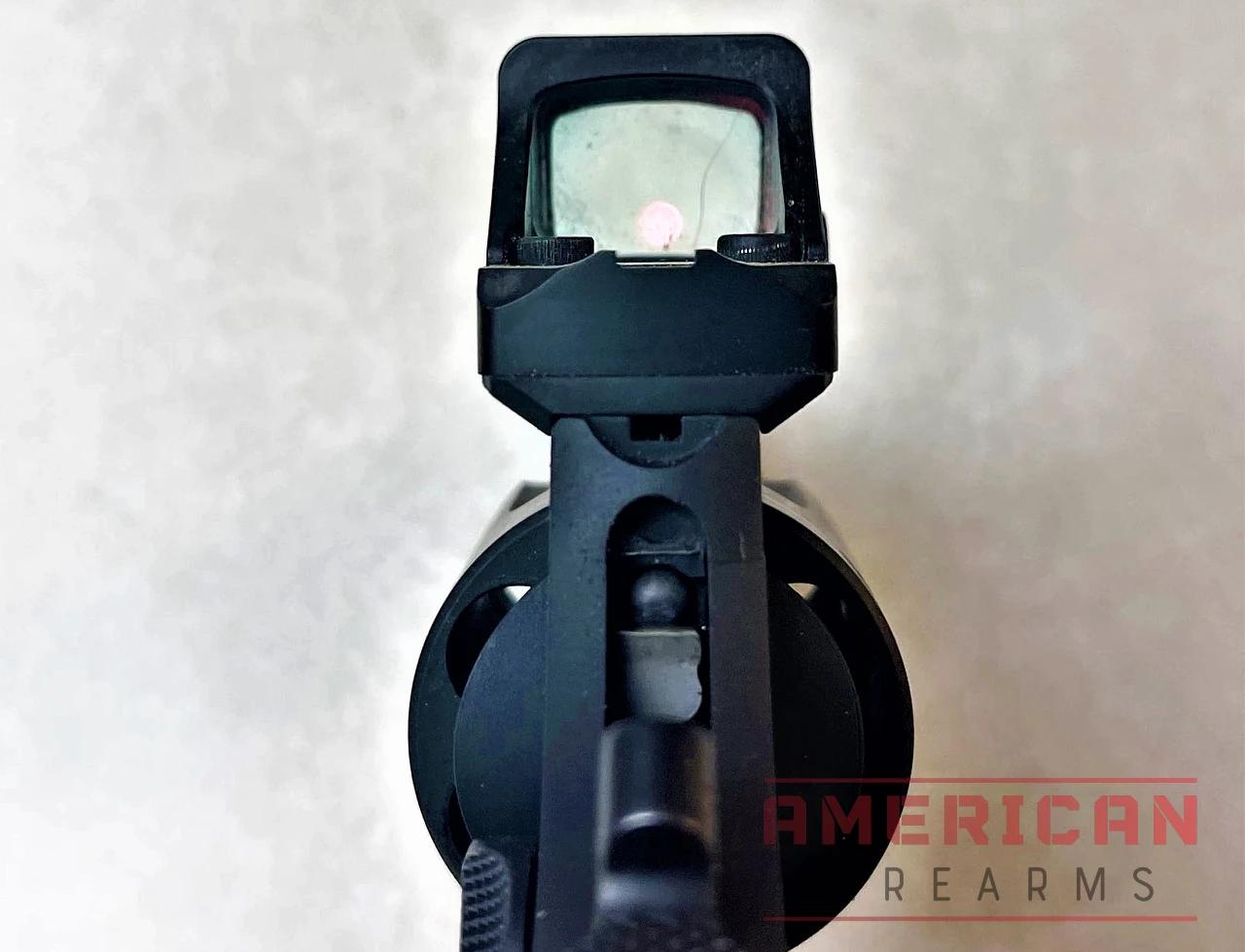 The Defender 856 TORO gives you an optics mount in a small frame revolver.
Action
The Defender 856 is a double-action revolver that uses a safety transfer bar to engage the firing pin. This allows the Defender to be fired from either a hammer-down or locked-back scenario depending on what you desire.
The transfer bar is a more modern development that transfers the energy from the dropping hammer to a separate firing pin. This design is to add a level of safety to the gun, as the trigger must be fully pressed to the rear for the transfer bar to engage the firing pin.
Older revolvers had the firing pin directly attached to the hammer, which meant that any time the hammer came down there was potential for striking the primer. Also, there could be an issue with any kind of impact on the hammer causing the gun to unexpectedly fire. The transfer bar design greatly reduces the possibility of accidental discharges.
The Defender 856 is a six-shot revolver, with a cylinder bored for six, that's one round ahead of other comparable models. The cylinder is released using the traditional thumb button, once unlocked it can be swung out the left side of the firearm. There is also a traditional plunger to push spent cases out toward the rear of the cylinder.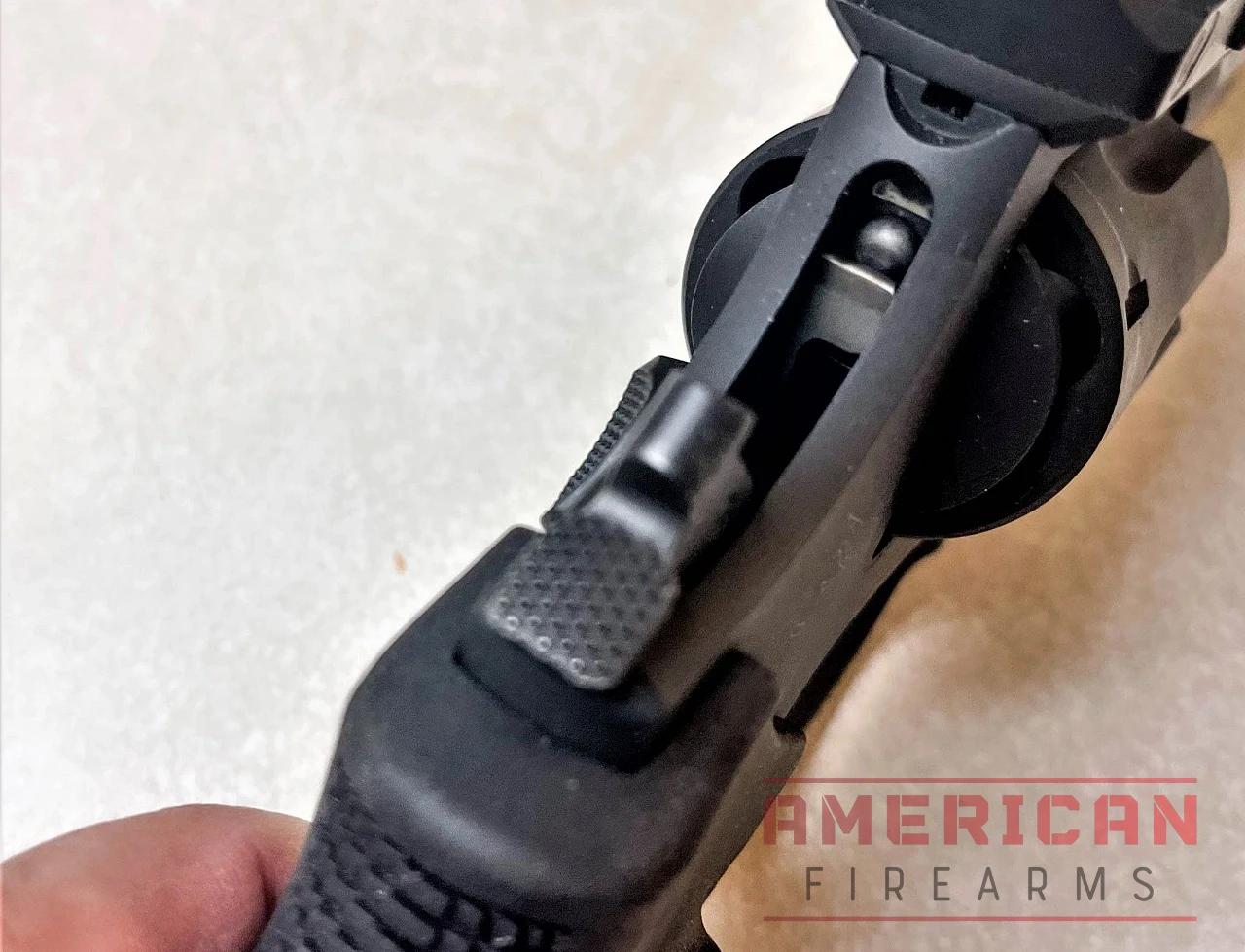 Defender 856 is a double-action revolver that uses a safety transfer bar to engage the firing pin.
Grip
Revolver grips are always imperfect, but the rubber grips on the 856 aren't bad. They have a textured and ribbed backstrap, which made the pistol very comfortable to shoot. Not that .38 Spl is particularly heavy recoiling, but it was still a nice feature.
I don't consider my hands to be particularly big, but I did find the grip to be just a touch small for my liking. Taurus could have added a little more material to the front and rear of the grip to help fill the shooter's hand a little more successfully without compromising concealment.
That said, I understand the Defender is marketed as a CCW so having a smaller grip is certainly an advantage for concealment. Of course, replacing the Taurus grip would be a simple affair with many options available from VZ, Hogue, and others.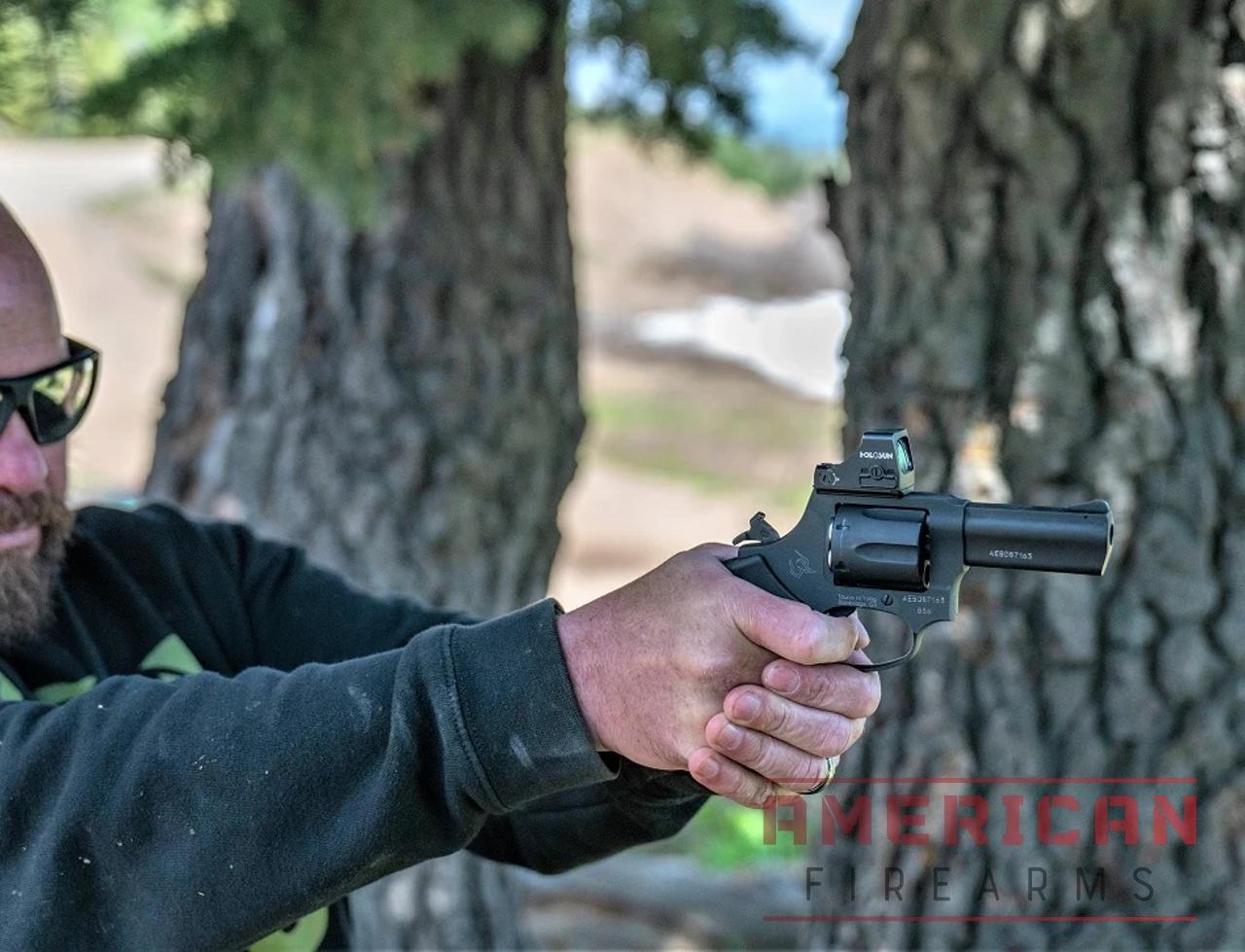 I did find the grip to be just a touch small for my liking.
Trigger
The target trigger included with the Taurus 856 felt perfectly adequate for a CCW pistol. It wasn't anything particularly spectacular, but I wouldn't expect it to be, in fact it reminded me a lot of a S&W J-Frame trigger. The trigger is slightly long, and heavier triggers seem to be standard for personal defense weapons, which I'm ok with. The pull and feel improves with dry practice but is still heavy at the end of the day.
Nobody wants to be the guy that ends up in the ER with a lower torso gunshot, or worse. It's a straightforward, slightly heavy trigger pull, as it should be.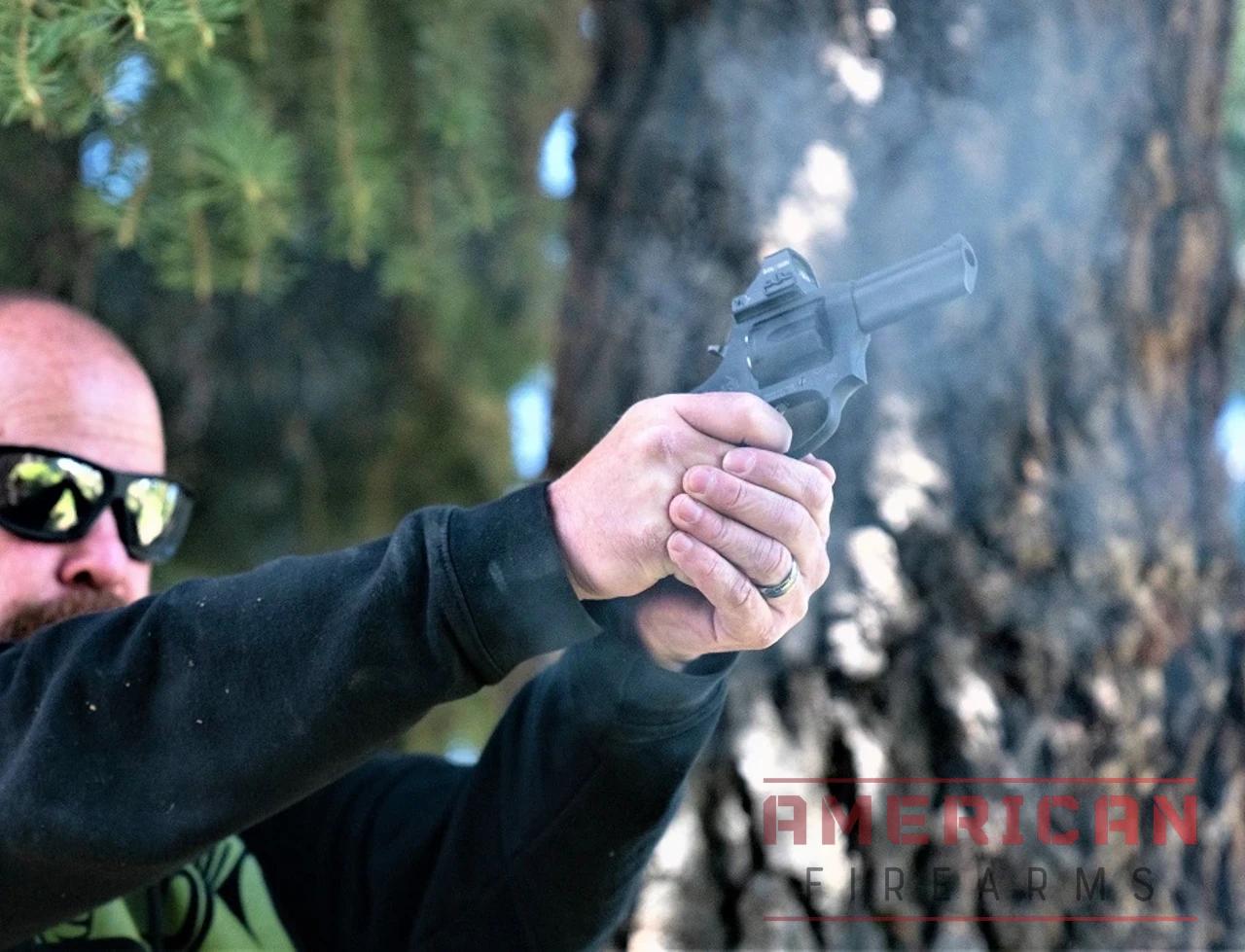 The target trigger included with the Taurus 856 felt perfectly adequate for a CCW pistol.
Barrel
The three-inch barrel seems to have done very well at sending countless 38 bullets downrange for over a hundred years, and this one certainly fits the bill. And as with the grip, the short barrel seems to aid in keeping the little TORO out of sight when carried.
Sights & Optics Support
The irons on the Taurus 856 pair a serrated ramp front sight with a rear trench sight, which is pretty bog standard for small revolvers. Interestingly the front sight is pinned to the barrel rather than machined into it, so if you want to swap the front sight out for a night sight or fiber optic the aftermarket will welcome your dollars.
Perhaps the most important feature to mention is the sighting options with the Defender TORO. As the title feature of the gun, the Taurus Optics Ready Option (TORO) is certainly something interesting. The optics mounting plate is machined to perfectly fit the top strap of the revolver, just in front of the rear sight.
It is attached using two torx screws that thread into the threaded top strap of the frame. The fit was very snug, it fit so well that just setting it in place, it appeared to stick to the frame. 
In addition to the two screws that hold the plate down, there is mechanical engagement to lock the plate against the frame under recoil. On top of the plate, there are two threaded holes in the top of two studs that fit neatly into the base of a Holosun 407K or compatible red dot. With a drop of Loctite each, I snugged down the two screws securing the red dot to the top of the pistol.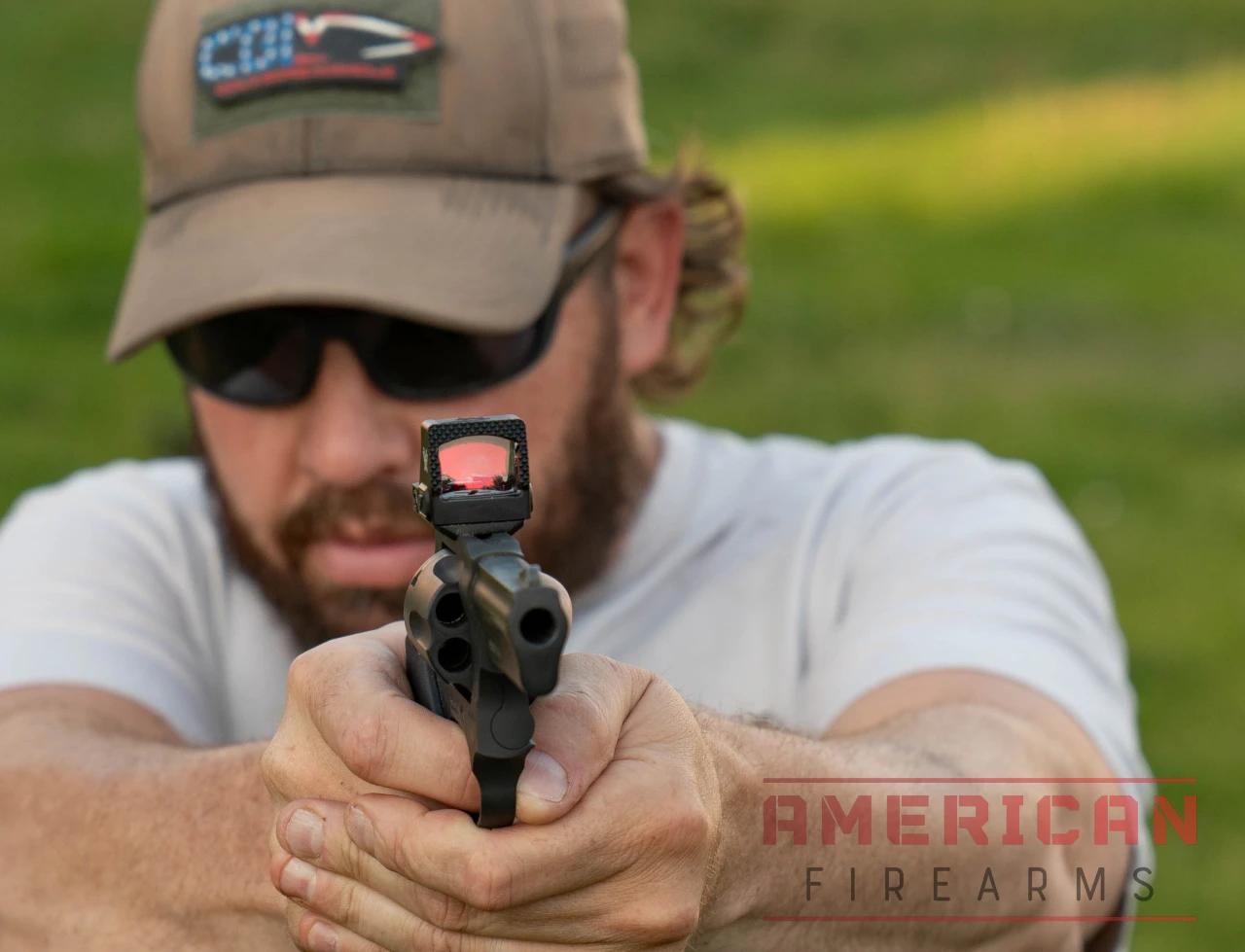 Finding the dot isn't as hard as one might think with the 856 TORO.
In addition to the 407K, I also took the opportunity to mount the new Vortex Defender-CCW red dot. In my mind they seemed like they were made for each other as a perfect fit, I mean they both have Defender in the title! 
I cracked open the box containing the Vortex and pulled it from its packaging. It came with a plethora of different mounting screws and other accessories. After removing the Holosun, I set to mounting the Vortex to the mounting plate of the little Taurus.
The studs on the mounting plate just barely fit into the base of the Vortex red dot, and after tightening the screws it seemed almost like a press fit. 
Once installed, the red dot grew on me a bit. It did seem to have a touch more flare than the Holosun, but it seemed fine to my aging eyes. 
Both red dots seemed a good fit for the Taurus 856 TORO, If you asked me I'd say they were a bit of a toss-up as to which one I prefer. I guess you can pick your favorite and rock it till you run out of ammo.
I am a fifth level black-belt in goofing off in the beautiful Rocky Mountains, especially when guns are involved.
I am a fifth level black-belt in goofing off in the beautiful Rocky Mountains that surround me on any given day. So I figured on this particular trip into the mountains I would bring along the little Taurus to see how it runs.
I had brought along a bag full of 38 Spl handloads that consisted of some 150-grain semi-wadcutters loaded in nickel-plated Federal cases.
Now, history tells us that reliability and affordability often run in different directions, especially when it comes to revolvers, and the 856 TORO is not without its shortcomings, which I'll detail as we come to them.
When it comes to small frame revolvers there really isn't much real estate for an optics plate — there's no slide to burrow into — so you're stuck mounting them on the top strap. That means any optic on a revolver is going to be much higher than the bore, and the Holosun 407K was a good half-inch above it, which means there's no way to co-witness your sights unless you want to mount a shark fin on the front of your revolver (and then good luck with holster fit.)
Of course, not mounting the optic to a reciprocating slide means the optic stays put when firing, and theoretically shouldn't get as beat up with use, helping them last much longer.
After mounting a Holosun 407K, the optic was lined up with the iron sights without any adjustment, which was great because it's possible to run out of elevation adjustment before getting to zero with optics on revolvers. When this happens you're always shooting high, which only becomes more pronounced with additional yardages. I figured I'd just send it and see how it worked out.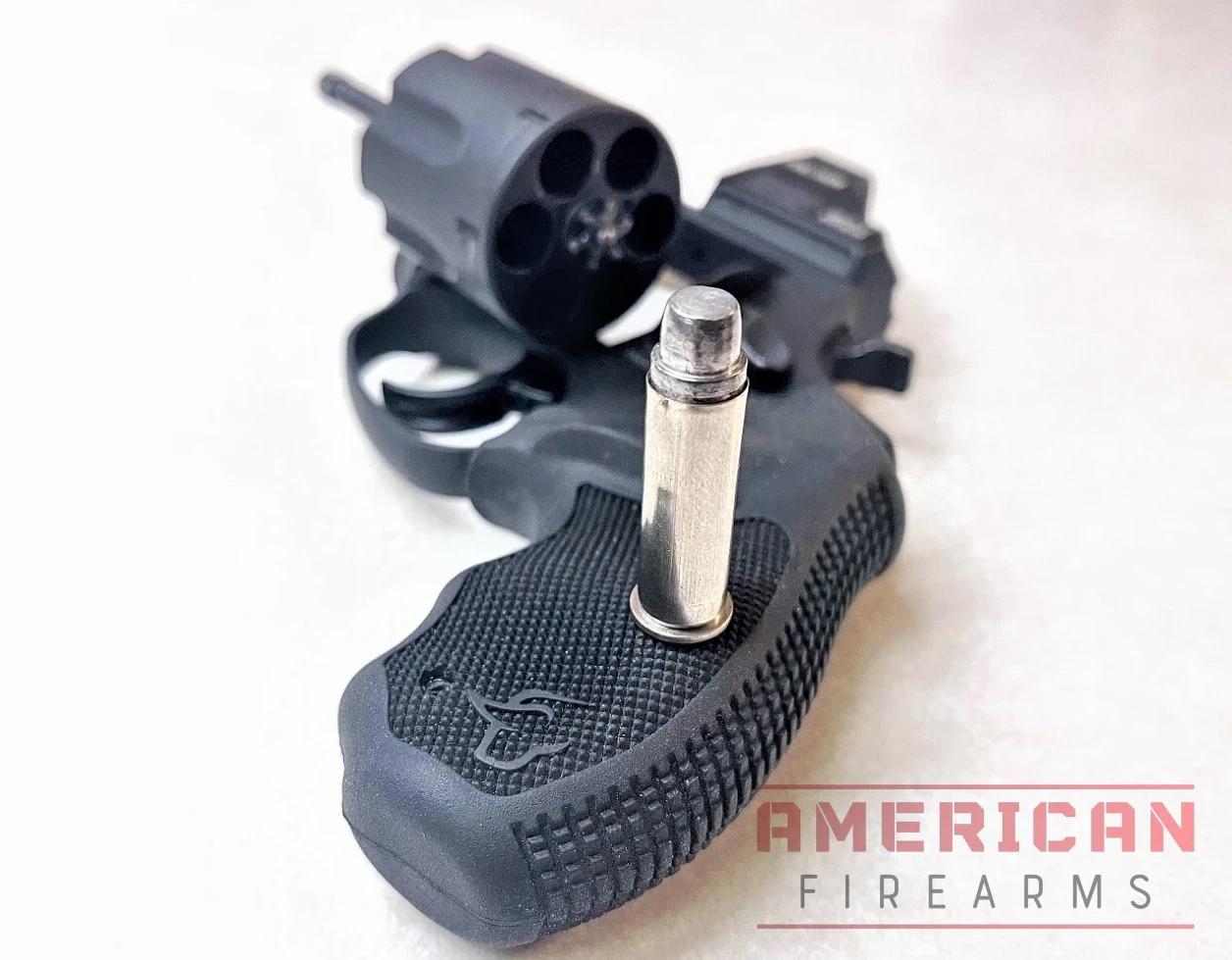 I tested with 150-grain semi-wadcutter 38 Spl handloads in nickel-plated Federal cases.
There's no way around the fact an optic on a revolver is, well, awkward. The combination of a curvy revolver and boxy optic produces something that feels like it came out of a bad episode of Dragnet — one where aliens come to Earth and hand Joe Friday some 50's vision of a futuristic firearm. It's odd looking, for sure.
Oddball looks aside, I fired the first few rounds aiming at a small piece of wood in the dirt. I was quite happy with the point of impact, so I continued shooting. There is a little something about the bark of a straight-walled wheel gun that for some reason seems to make everything seem right in the world.
The height of the optic window on a revolver means it can be much more difficult to "find the dot" on a revolver than with a semi-auto, but I didn't struggle to find it as much as I thought I would.
The recoil generated by the old handloads was quite mild and yet sounded rather peppy. I adjusted my grip to better suit the smaller-than-I-was-used-to grip and it didn't take long at all to get comfortable enough to smash just about anything within a dozen yards or so.
Reloading the little cylinder was fast and easy, empty shells dropped freely from the cylinder ready for another half dozen to go back in.
I had brought along some tools to remove the red dot, so I could see if I showed a preference one way or the other. The iron sights are easy and useful, but I certainly think Taurus is onto something with the red dot.
I have recently been on a red dot kick, so my preference may be due to that as well. As I am absolutely fine running a revolver with iron sights. I think it almost makes more sense, particularly from that traditional perspective.
But for me, the red dot junkie, I will keep the Holosun right where it is. That is unless I don't swap it out for the new Vortex Defender which seems to be the perfect companion for the Defender 856.
I would have liked to have gotten a decent holster for the Taurus before writing this. I frequently carry an assortment of handguns, and I would have liked to carry the small revolver for a few weeks.
The compact size would make it pretty comfortable in an IWB holster like this one from Black Point Tactical or even a pocket holster, but with the optic installed the 856 TORO won't fit in any current 856 holsters, which is a bit of a drag.
I suppose there's always a DIY solution with a box cutter if you're desperate, but I hear there are a few options on the way.
Accuracy
With concealed carry-themed weapons, hitting your target can mean the difference between life and death. While I am in the lucky majority to have never needed to execute such a skill, it is a subject that is always on the mind of concealed carriers.
The ability to hit your target on the first shot, and as many consecutive hits as possible is an extremely valuable feature.
The 38 Spl has a similar ballistic performance to the extremely popular 9mm, and six rounds of these little rascals stacked in the vitals would certainly dampen the spirits of a would-be assailant.
Shooting the Defender at ranges between ten and fifteen yards proved it to be very valuable for the aforementioned purposes. Hitting paper plate-sized targets at those distances was only challenging when having to do so under pressure.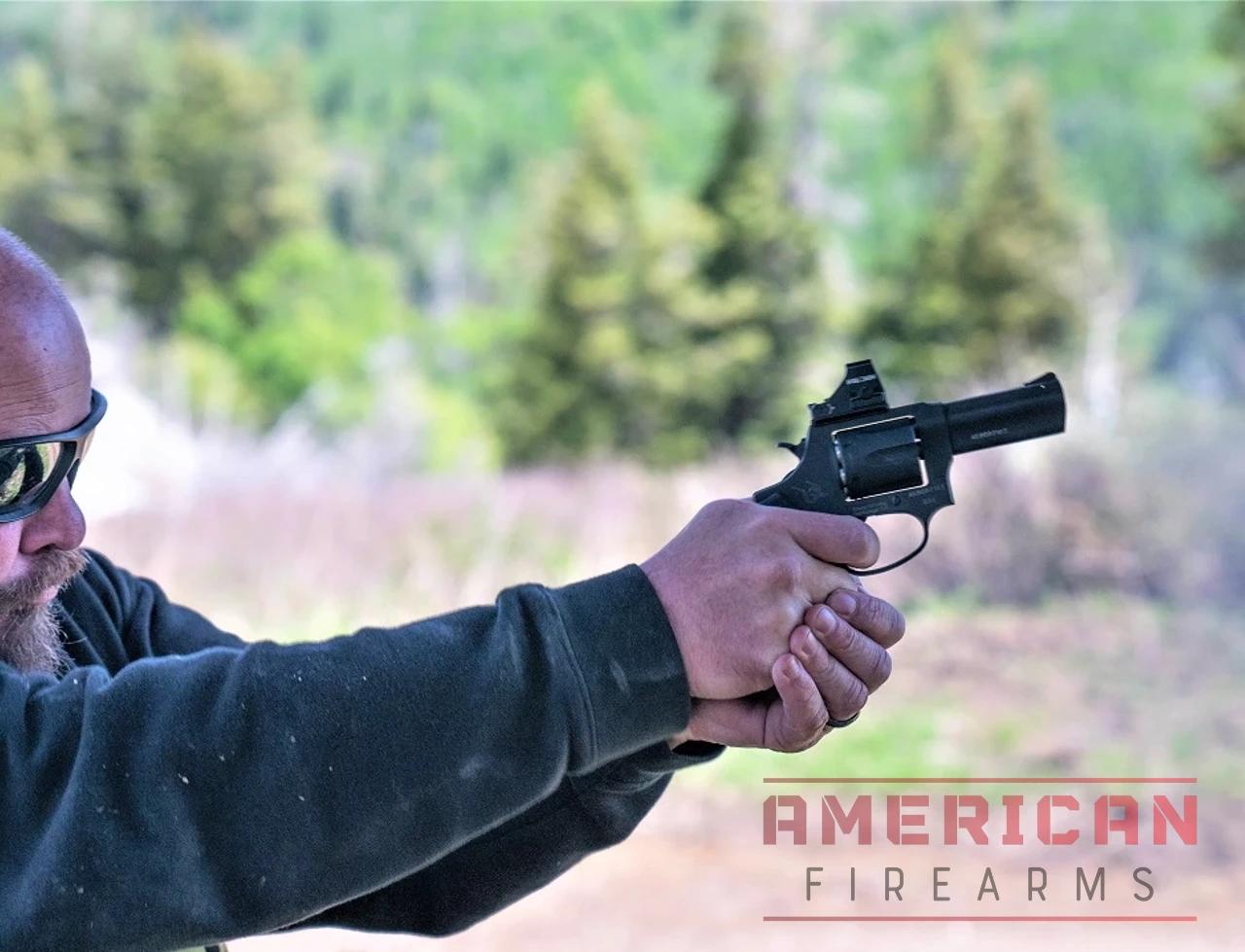 Accurate shot placement was fairly easy to repeat, with groups patterning around 3-5 inches at ten yards.
Whereas shooting a group on paper demonstrated accurate shot placement was fairly easy to repeat, with groups patterning around 3-5 inches at ten yards with both handloads and self-defense loads (specifically Hornady Critical Defense).
If you struggle to achieve zero at 15+ yards and have run our of elevation adjustment, consider running +P bullets, which can help lower the point of impact a touch with the additional FPS.
Taurus has confirmed the 856 TORO will zero effectively with a few specific optics — specifically the Primary Arms Micro Reflex, Riton X3 Tactix MPRD, and Swamp Fox Sentinel.
I also hear that Taurus is working on an angled mounting plate that will further ease zeroing optics on the TORO line.
Ergonomics
The Defender 856 is quite a petite little handgun, which makes it easy to manipulate. For someone with large or very large hands, it might be almost too small. The rubber grip gives an excellent purchase for the hand, though it might be a little short for some. If it was a 357 cylinder instead of 38 Spl, I would probably want a bigger grip to hold onto.
The controls of the pistol are smooth and easy to operate, which is to be expected on a revolver. The smooth spinning cylinder and easily actuated plunger make reloading the pistol a breeze.
I will say that getting used to the elevated optic took a minute to accommodate, as most of you probably are, I am also used to looking down the top strap of the pistol to aim. The red dot mounted on top is a bit taller which took me a minute to get a feel for. But once I did, it felt fantastic.
The little revolver is also quite heavy. Unloaded and without an optic, you're looking at 23.8 ounces. Then add another 4 ounces of optic, optic plate, and ammo and you'll be toting just over 28.2 ounces loaded. Think of the 856 TORO less in the ballpark of an LCR, and more like an SP101 or Kimber K6S. Although the 856 is decidedly more comfortable to shoot than the LCR, so there's that.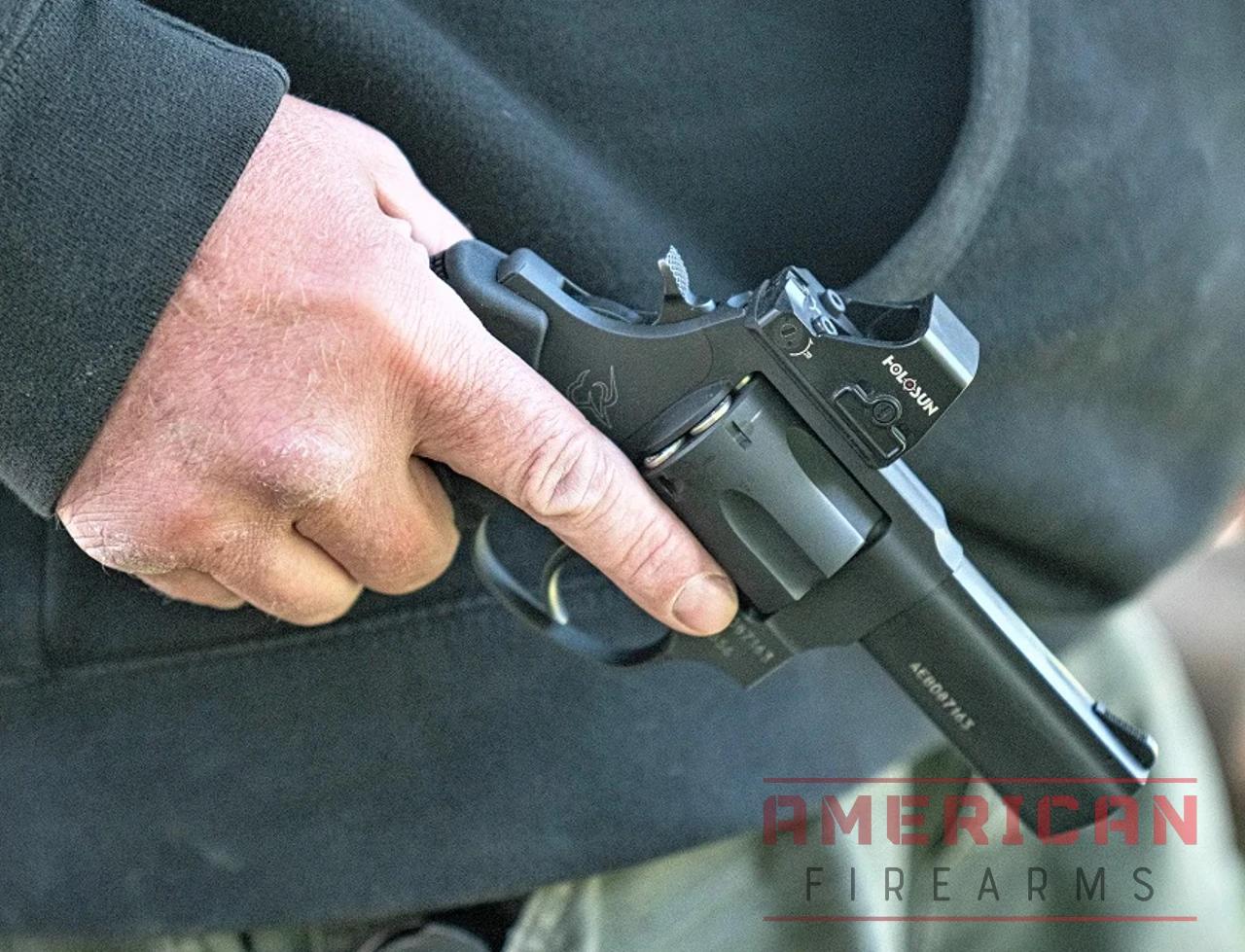 The little revolver is quite heavy with an optic, optic plate, and 6 rounds on board.
Features
Most revolvers are fairly no-nonsense, there are not an incredible amount of features you can add. Things such as sight mounting options, ported barrels, and adjustable sights come to mind.
The Defender comes with its headlining feature which is the TORO system, which is not an insignificant feature. It also doubles as what we'll call adjustable sights, quite the opposite of a poor man's adjustable sight at that.
Beyond sights, there are a few smart features included with the 856 — specifically a full-length ejector rod (most 3-inch revolvers inherit the shorter ejector rod of 2-inch models). The hammer spur is short with rounded corners, and while I would generally opt for no spur on a carry revolver, this one is certainly designed with carry in mind.
The rest of the Defender is pretty standard, and I don't mean that as a knock against it. For a CCW-type handgun perhaps simplicity is a bonus.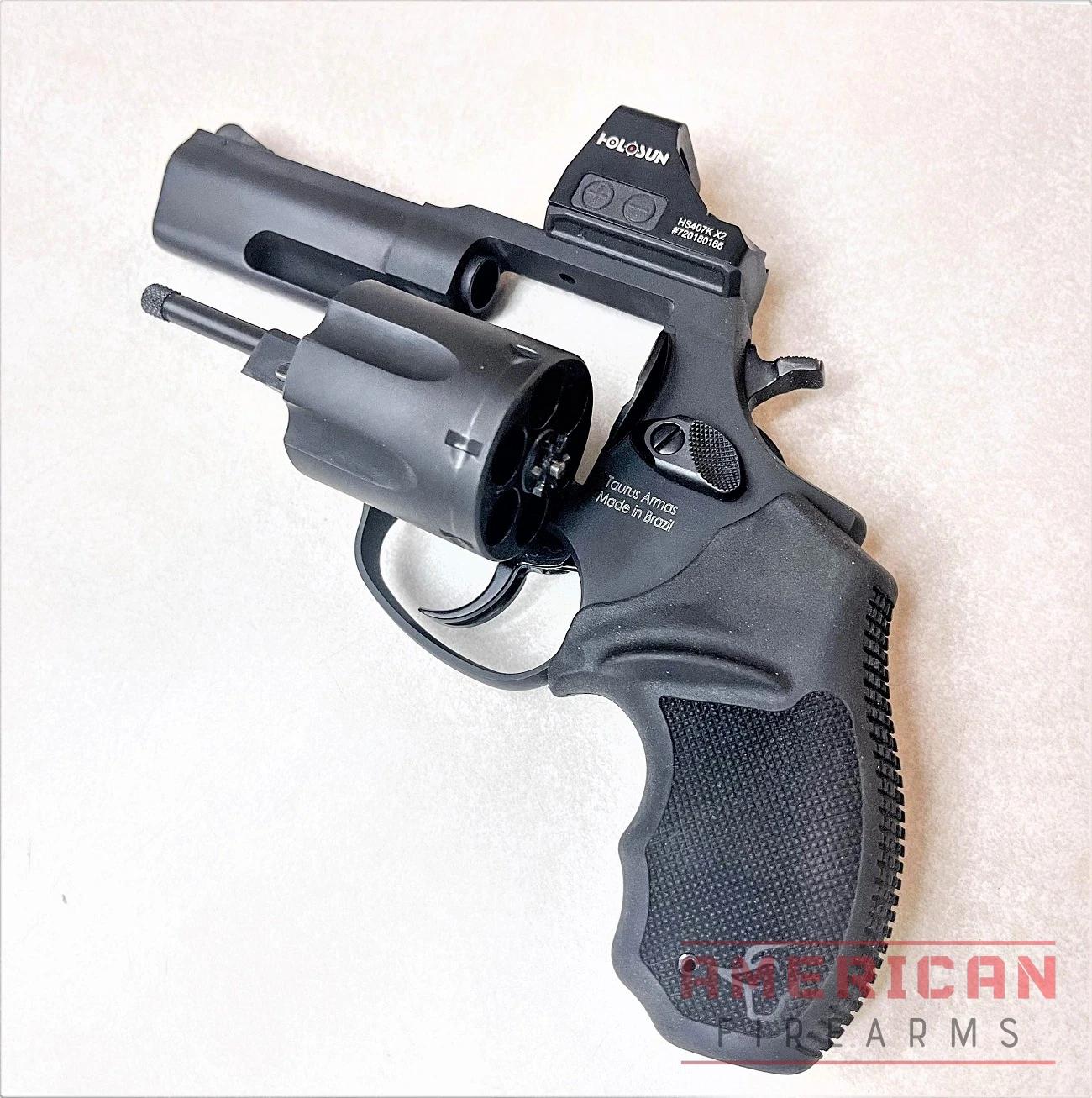 You get a full-length ejector rod and the hammer spur is smartly designed for carry use.
Fit & Finish
I must say that I was very pleased with the appearance of the Defender when I first opened the box. The handsome matte black finish is sexy in my opinion, and the clean laser engraving and the overall appearance of everything just look sharp.
But all the good looks in the world won't do you any good if it doesn't work. It appears that Taurus has taken care to not only make it look good but also to ensure everything fits properly ensuring proper function.
I will say that while the finish looks good, it's not the most durable and is one area where Taurus likely cut a few corners. It looks thin in spots and some of the sharper corners are bare. Not something you'd find on higher-end revolvers.
While the finish looks good, it's not the most durable.
Reliability
One of the revolvers' strong points, or at least one that is frequently shared, is simple reliability. As long as the trigger function works, and the cylinder timing and turning matches, it's hard for anything else to go wrong.
During the hundreds of rounds fired I experienced no malfunctions, which is good news. But a couple of hundred rounds isn't exactly a heavy course of fire. I would love to continue shooting the Defender to see how it holds up over time, follow me if you'd like to hear more about this development.
In terms of speed loader compatibility, shorter reloaders like the Colt D-Frame and S&W K-Frame reloaders work well with it, but longer reloaders may struggle with the lack of room between the frame and cylinder, so your mileage may vary.
Overall, shooting the 856 TORO was a much better experience this time around, and it's clear they've made lots of headway toward becoming a real contender in the revolver space.
Are they on part with the Colts and Kimbers of the world? No. But they don't demand the same prices, either.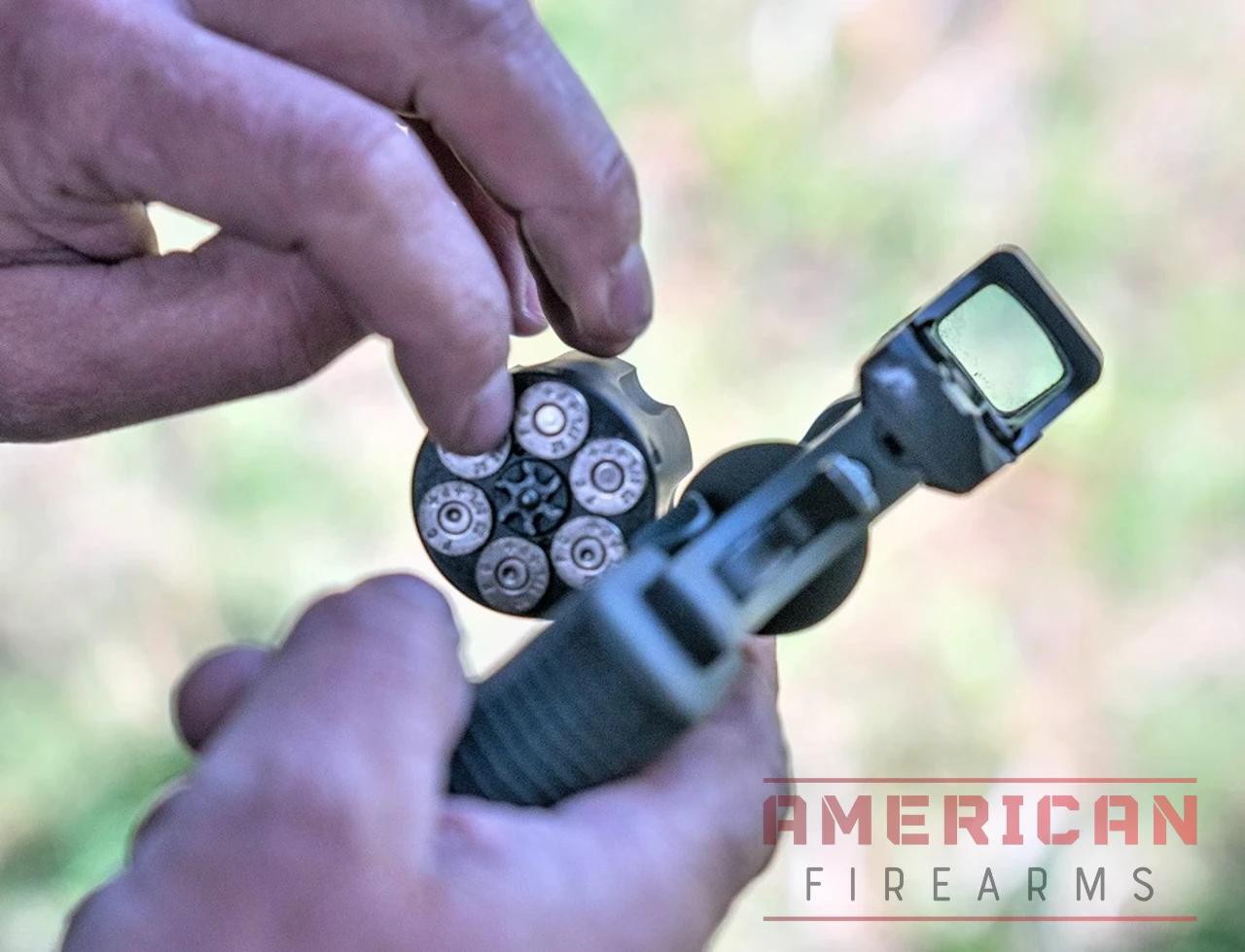 During the hundreds of rounds fired I experienced no malfunctions, which is good news.
Value
With a street price of $350.00, it is a very easy pistol to get a hold of. Compared to American-made revolvers like the Ruger LCR the Smith & Wesson 642 or the Colt Night Cobra the Defender is very affordable. This is partially in part due to the reputations of those names, but I'd like to think that this little Taurus is working on building up a reputation of its own. 
How durable is Taurus 856?
Is the Taurus 856 good for self-defense?
What ammo can a Taurus 856 shoot?