Taurus Judge Review: From The Courtroom to The Range
We put the Taurus Judge to the test: a versatile home defense option, combining .45 Colt and .410 for loads of handheld stopping power.
Written By
Michael Crites
Licensed Concealed Carry Holder
Reviewed by
Editorial Team
Learn About The Editorial Team
Share:
Products are selected by our editors. We may earn a commission on purchases from a link. How we select gear.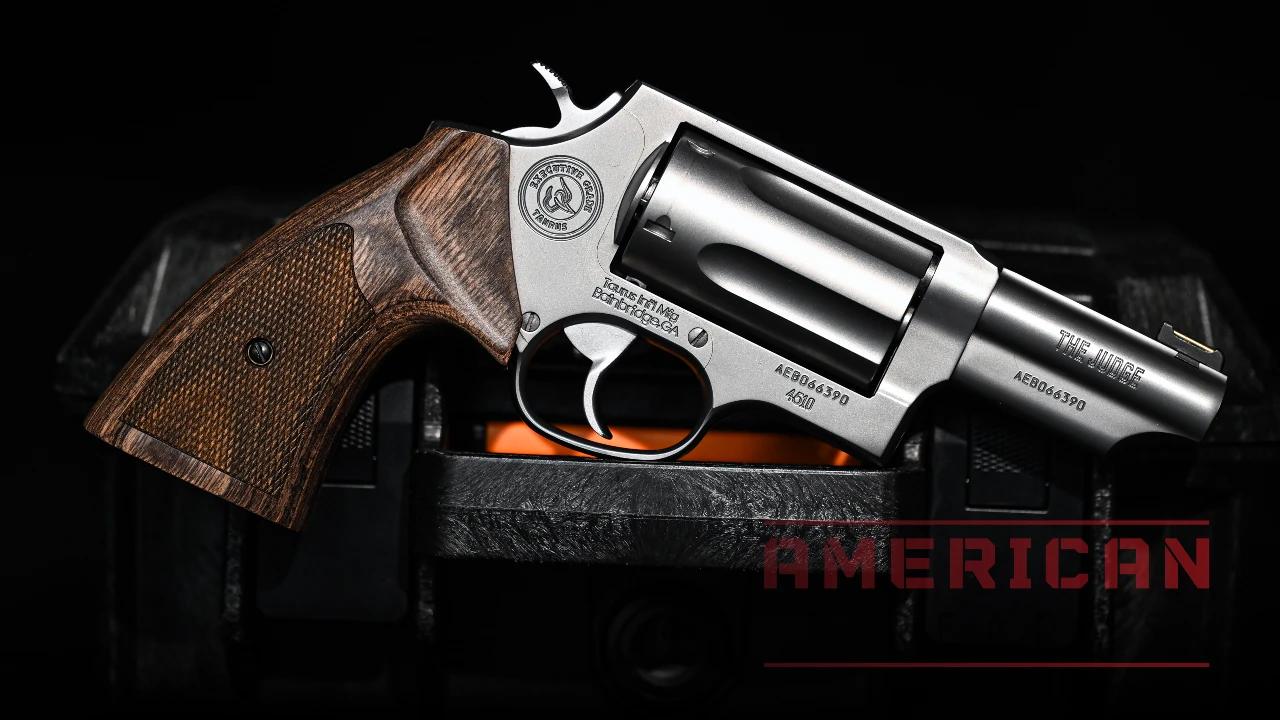 The Taurus Judge, most people know about it and love it but many don't know the importance of this revolver. Before the Taurus Judge nearly every firearm had one intended purpose. A shotgun was for hunting and shooting clays, a rifle was for hunting or defense, and pistols were mainly designed and used for self-defense purposes. 
Well, that all changed in 2006 when Taurus decided to break this mold and came out with a revolver that could pretty much do it all. It was like the Swiss army knife of guns, logically named the 4410. This made absolutely no sense because it shot 45 Colt and .410 Shotgun Shells. Shortly after the original revolver was released the name changed.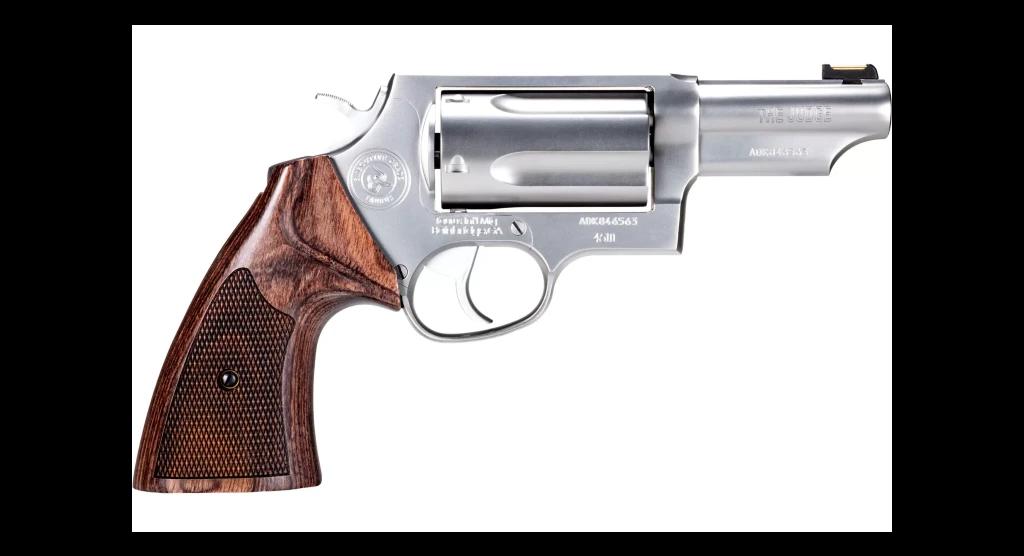 Best For
Really nice wood grips with a great feel
Nicely reworked trigger
Beautiful firearm
Incredibly fun to shoot
Considerations
Less than stellar accuracy with certain shotgun loads
Lack of accessory support
Expensive
Grip is not great for double-action rapid fire
Our Verdict
Taurus threw an MSRP of $949.99 on the Executive Judge, putting it on the higher end of Taurus revolvers with street price is closer to $800 in my experience. However, with the upgraded action, polished satin finish, Pelican Vault case, and the addition of the wood grips, I personally think it is a reasonable price point.
The Judge is a fun gun that will handle anything and everything you throw at it all while looking very classy doing so. I would have no issues at all grabbing the Taurus Executive Grade Judge to do some small game hunting, as a snake gun on the trails, to use for home defense, vehicle defense, or even concealed carry in some situations (maybe with a parka).
From the boardroom to the backwoods, the new Taurus Judge Executive Grade is ready for whatever you throw at it.
So… how does the Taurus Judge Executive Grade stack up on our 60-point scale?
Accuracy: 8/10
The accuracy of the Executive Grade Judge is good for a 3-inch barreled revolver. With the right loads, I was able to get 1.5-inch groups at 7 yards, but it's not designed for distance work.
Ergonomics: 7/10
The wood grips are very ergonomic and feel great in my hands. They help keep single-shot recoil in check but can be a challenge when shooting quickly in double-action.
Features: 8/10
The Executive Grade Judge packs in a lot of great features, including a reworked double-action trigger, crisp single-action, and of course the main attraction — the ability to fire .45 Colt or .410 shotgun shells. It does miss on the accessory front, which isn't uncommon for revolvers
Fit and Finish: 7/10
The fit and finish of the Executive Grade Judge is a step up from the standard Judge, but it's not perfect. In particular, the way the grips fit the frame could be smoothed out.
Reliability: 10/10
I had no reliability issues with the Executive Grade Judge. It fed, fired, and ejected all rounds flawlessly.
Value: 7/10
The Executive Grade Judge is a bit expensive, but it's worth the price if you're looking for a versatile and accurate revolver that really stands out.
Frame size:

Small

Caliber:

.45 Colt & .410 GA

Weight:

36 ounces (dry)

Overall Length:

9.5 inches

Barrel:

3.0 inches

Twist Rate:

1:16.5 Right Hand

Capacity:

5

Frame:

Stainless Steel

MSRP:

$995
The name change came from Bob Morrison, the then Executive Vice President of Taurus, after he learned that judges in high-crime areas of Miami, Florida, were purchasing the revolvers for self-defense in their courtrooms. Morrison quickly decided to change the name to the 4510 to reflect the revolver's abilities more accurately. Taurus then deemed the gun The Judge to play a little homage to the early customer's profession. 
The Judge quickly grew in popularity thanks to the fact you could do it all with one gun. The medium frame size coupled with .45 Colt means you could take it hunting, use it for home defense, or even take it to the range and try your hand at shooting some clays. The Judge immediately hit legend status in the firearm community. The Judge remains a top-selling firearm in Taurus's portfolio still to this day, consistently ranking in the top revolvers sold on GunBroker.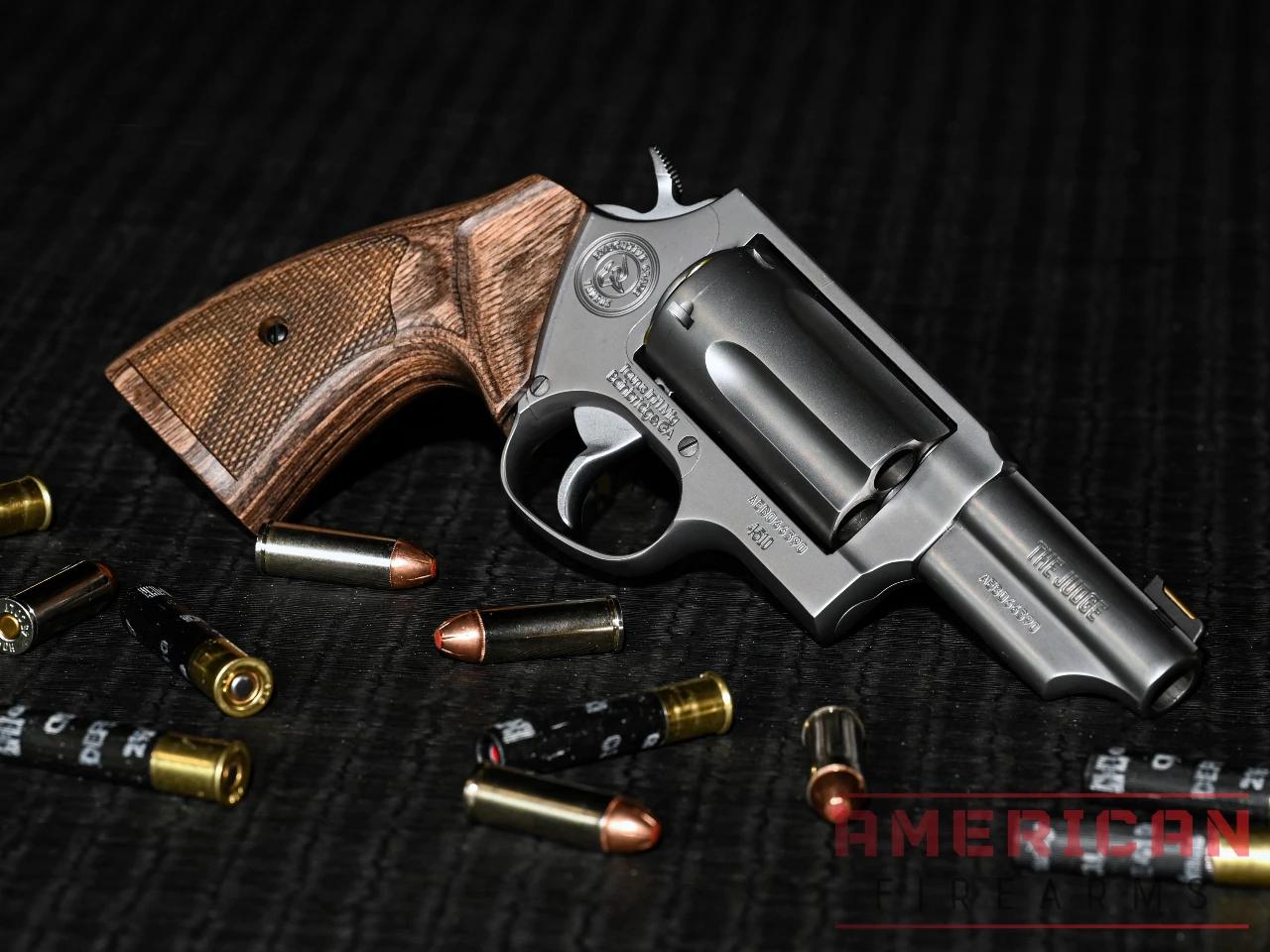 The Executive Grade Judge is a sophisticated revamp of the original revolver.
Fast forward about 16 years, and the Judge has seen a number of evolutions and additions over those years — you now have everything from the standard model Judge to the Judge Magnum (which shoots Magnum 45 Colt), the Public Defender, which is a Judge that packs a 2-inch barrel, the Public Defender Poly, which wraps the Public Defender in a black polymer finish, as well as the 6-round 513 Raging Judge that accommodates 454 Casull — but all building on the same Judge platform.
That is, until now. The iconic revolver has received some very welcome upgrades thanks to the Executive Grade program.
What does Executive Grade mean?
Let me introduce the Executive Grade Judge; a sophisticated revamp of the original revolver. Taurus listened to the customers and evolved the Judge into more than a trail gun by sending it off to their team of gunsmiths who went to work.
With the Executive Grade program, they take the standard Taurus Judge and update it, adding some new parts and reworking others, thoroughly integrating it into the new hand-fitted line of Executive Grade guns, which contains the Judge and 856 in .38 Spl. Each Judge Executive Grade is assembled by a highly trained gunsmith in a separate room of the Taurus factory from where the other models are assembled. This ensures that the fit and finish is perfect and exquisite.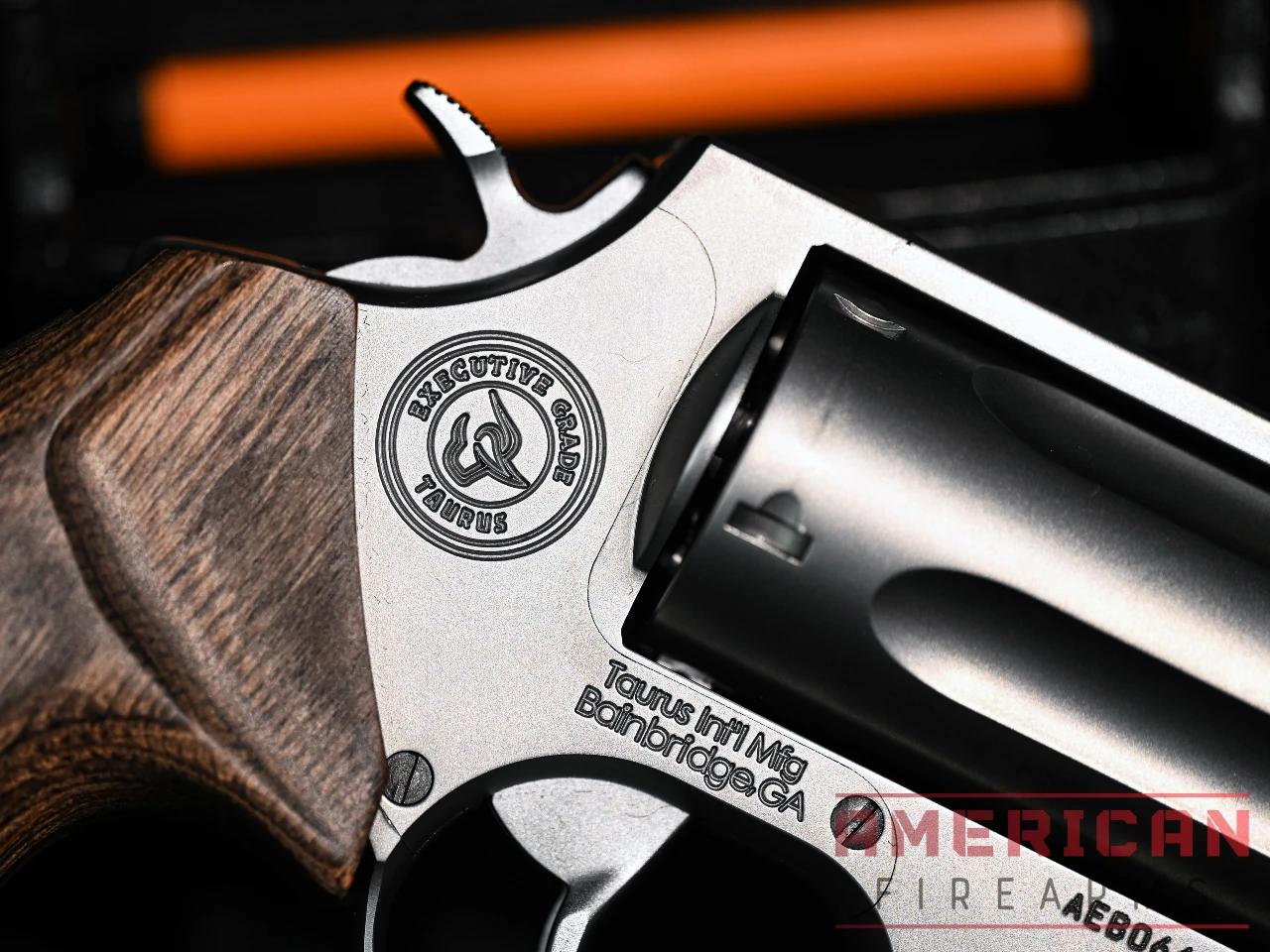 Each Judge Executive Grade is assembled by hand in a separate area of the Taurus factory
The way Taurus describes the assembly area makes me think there is some secret basement at the Taurus headquarters with mad scientists working in labs to make these guns perfect. 
Lots of nice touches
The Executive model ships in a nice Pelican Vault case and from the moment you open the case the presentation just feels special. There's a classy satin black envelope that holds the paperwork inside and emblazoned on the front it says "You've been promoted". I mean, it just makes you feel important from the moment you open the case.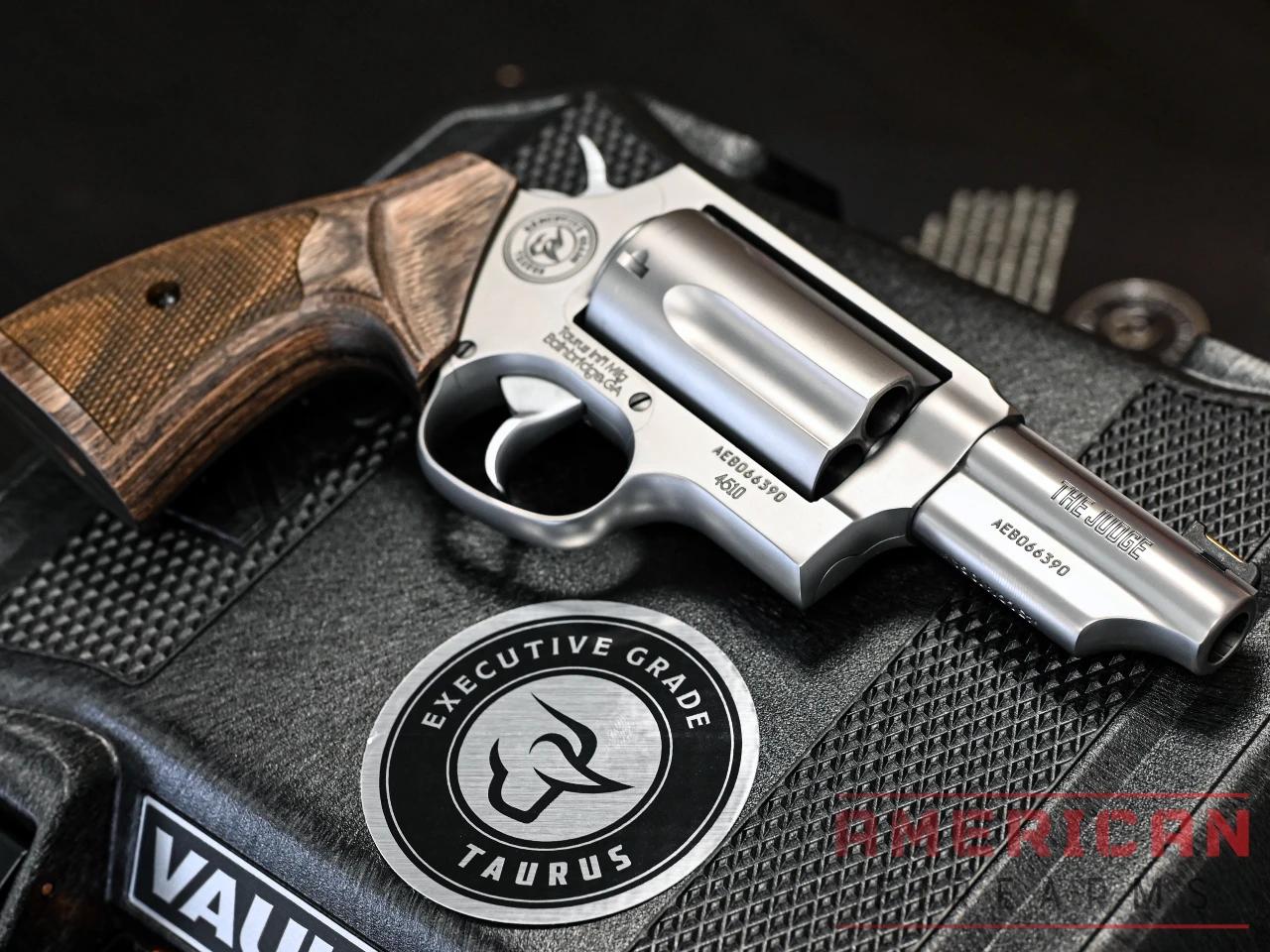 The Executive model ships in a nice Pelican Vault case.
The Judge pistol itself rests in a black velvet insert that's cut perfectly to the shape of the Judge. The brushed stainless steel pops. It's hand polished to a satin finish that is flawless and just, well, sexy. Personally, I love the finish they decided to go with on the Executive Grade line. It just has a very classy look that is easy to keep clean and seems to hold up very well.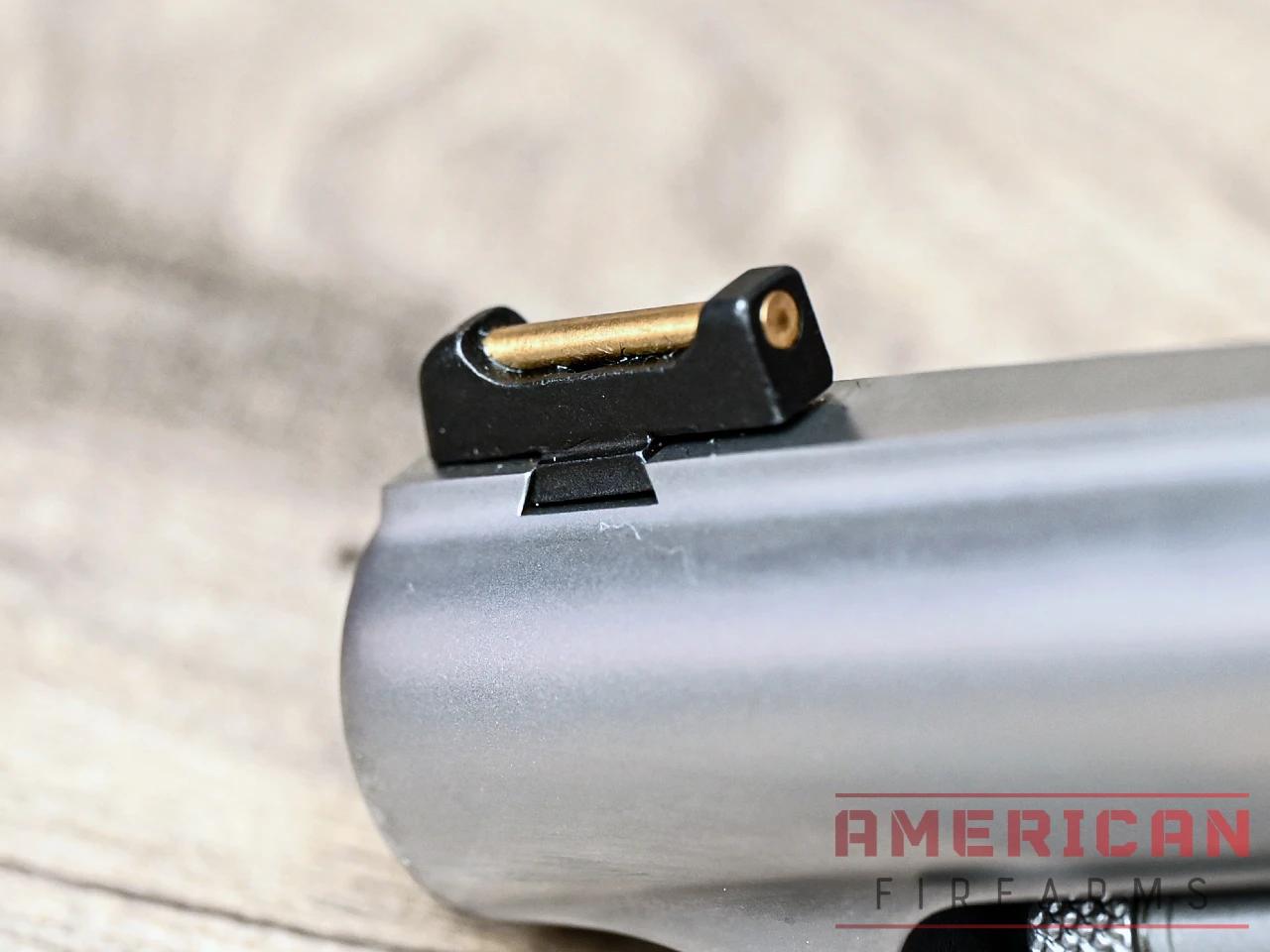 The brass rod front sight is such a nice touch.
On the front of the barrel, rather than something as pedestrian as a fiber optic front sight, you get a classy brass rod front sight which is dovetailed into the barrel, giving you a very nice, yet simple, high-contrast sight picture. 
The Taurus Executive Grade Judge has a three inch barrel and overall length of 9.5 inches. It weighs in at 36 ounces unloaded giving you a very nice balanced revolver when shooting.  
The Judge uses a 1:12 right-had twist rate rifled barrel, in part because a smoothbore cartridge handgun is considered a short-barreled shotgun under federal law (thanks NFA!), creating a number of hoops to jump through.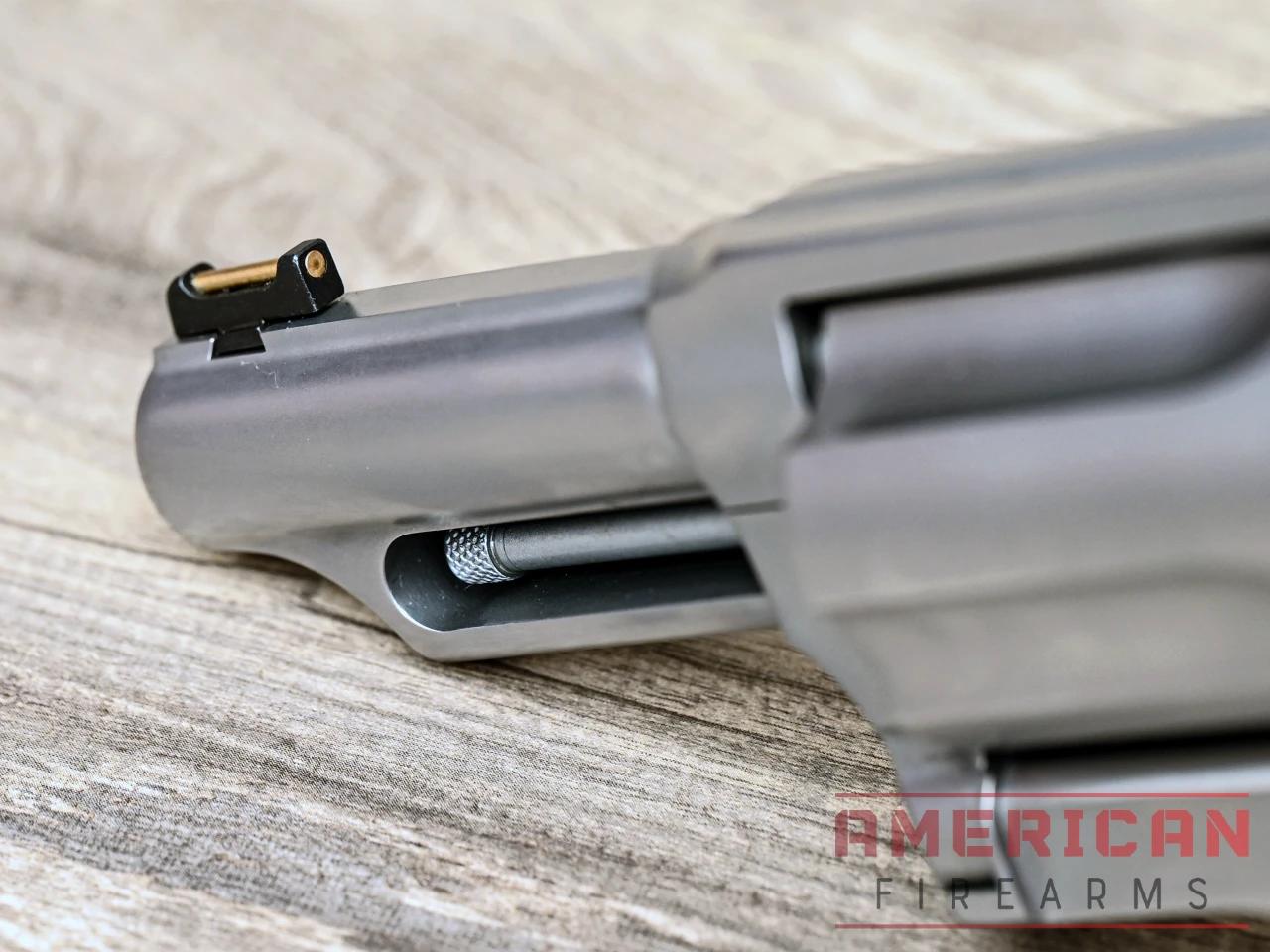 The Judge uses a 1:12 right-had twist rate rifled barrel.
To stay within the law, Taurus paired the smooth bore with a short, shallow rifling, which works well enough to stabilize the .45 Colt for close-range work or personal protection (clearly a .410 shotgun shell doesn't care either way). Yes, the .45 Colt round does have to jump past a good inch of freebore before engaging the forcing cone, then through the smooth bore portion of the barrel before hitting the rifling, which some people report to negatively impact accuracy.
This is similar, for example, to shooting a .38 Short out of a .38 Special revolver. That is to say, it's not that uncommon with revolvers.
I don't anticipate getting decent groups at much more than 10-15 yards from a snub-nosed revolver, so provided you're thinking in those terms there's little to complain about in the accuracy department. Set your sights on longer ranges, however, and you're likely making a poor choice in firearm.
The Wood Grips
Wrapped around the stainless-steel frame is a set of nice wood grips. They did away with the standard rubber grips and upgraded to what Taurus calls "presentation grade wood grips". These are considerably nicer than the traditional rubber grips, which I never liked, personally. The small rubberized grips tend to pick up dirt and debris with normal shooting, and they never felt great to me. Plus many people felt the small grip made the Judge tough to control.
These new wood grips are very ergonomic and feel fantastic in my hands. Almost like the gun is shaking hands with me after making a big deal. 
They are smooth where they need to be and have some light checkering in all the right contact points, giving the shooter a comfortable grip that helps keep recoil in check and gives you a natural point of aim.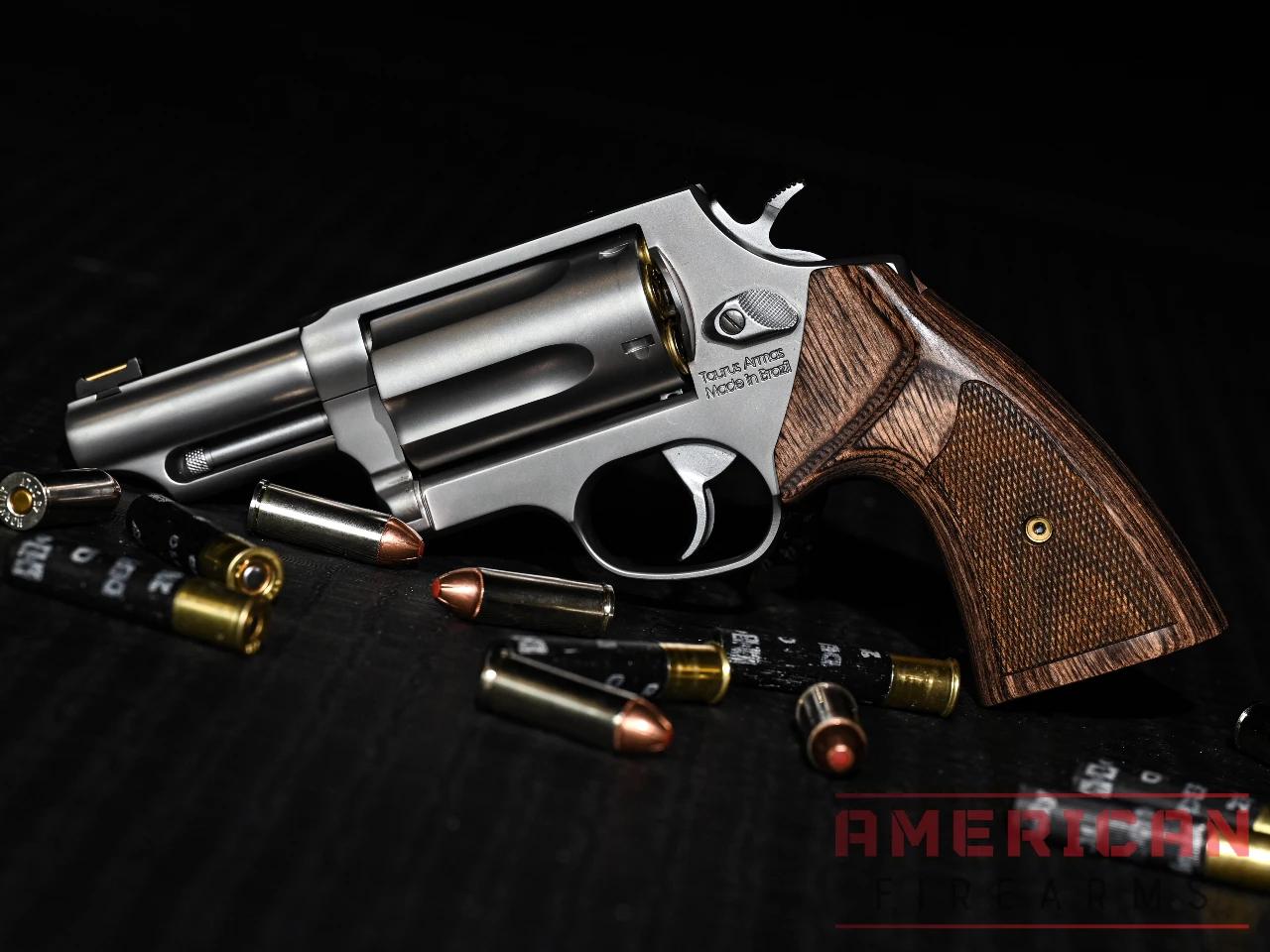 The shape of the grip is similar to a Colt Python, which has a flared bottom that tapers toward the top.
The shape of the grip is similar to a Colt Python, which has a flared bottom that tapers toward the top. This design is great for rolling off recoil when firing individual shots but can sink the grip deeper into your hand when firing quickly. Not great for rapid double-action shooting.
Also, while a nice upgrade, I would really like to see a little better fit and finish where the grip meets the frame. Around the back of the frame by the hammer, the grip is squared off, which gaps away from the frame leaving a less-than-polished look. That finishing approach makes another appearance under the trigger guard — rather than integrating with the frame the grip has a sharp edge that butts up against the stainless. A little more sanding and shaping would have fixed this issue and give the grip a more seamless quality.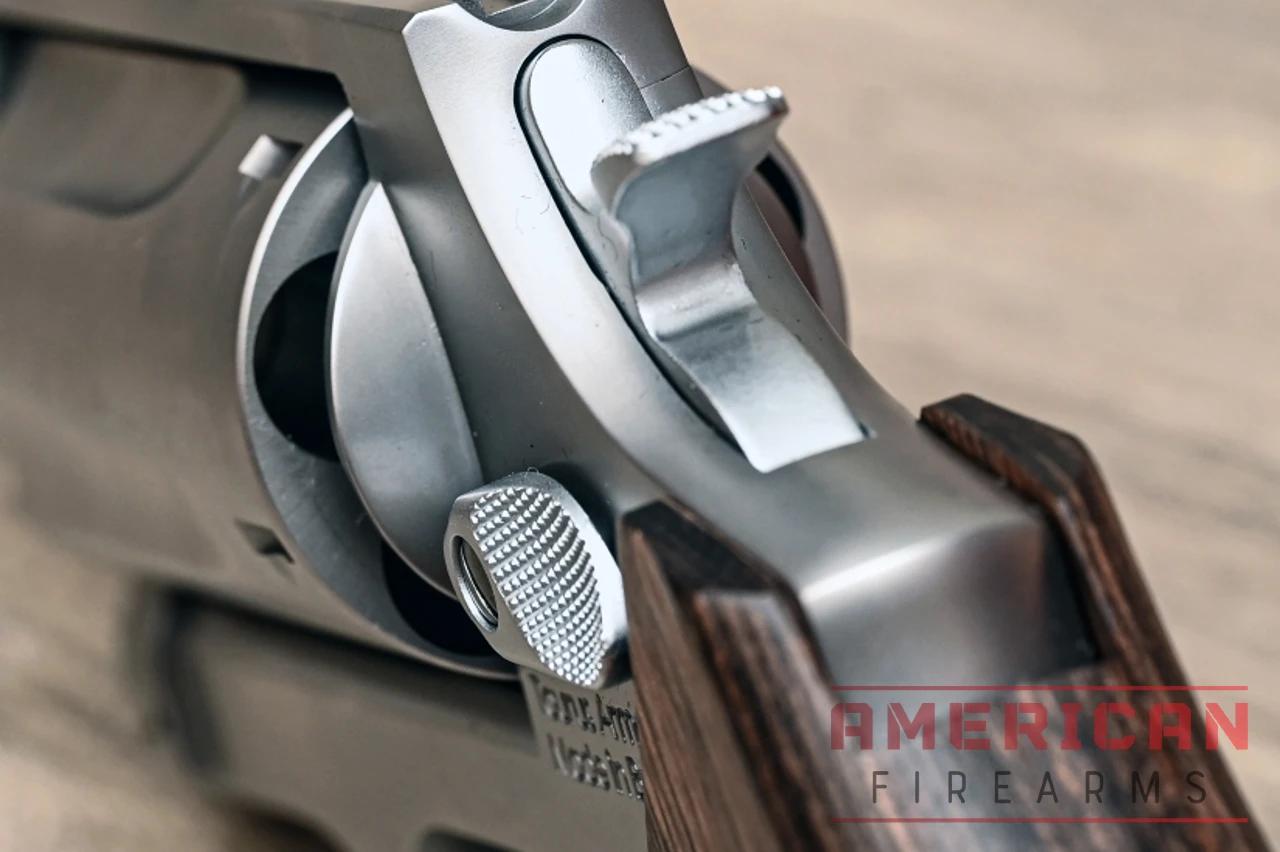 Here you can see both the very nice hammer and cylinder release, and the oddly square top of the wooden grip.
That said, the edge doesn't catch your hand or impact your grip on the pistol at all — it's more of a hit in the fit and finish department. These are little details I feel they could have easily cleaned up, especially when bumping the asking price almost 2X for the Executive Grade build.
Trigger & Action
Moving to the business portion of the Executive Judge. Taurus put some work into the action for sure. Their gunsmiths actually hand-tune each one of these Executive Grade revolvers during assembly resulting in a smooth double-action trigger pull with a very crisp break. 
The travel in the long pull of the double-action trigger is super smooth. Almost feels like the trigger is riding on ball bearings, it is that smooth, making it perfect for rapid shots with less trigger jerk and much better accuracy.
The double-action trigger broke at just under 10 lbs. consistently when tested on my Wheeler digital trigger gauge — which is surprisingly good for a double-action revolver.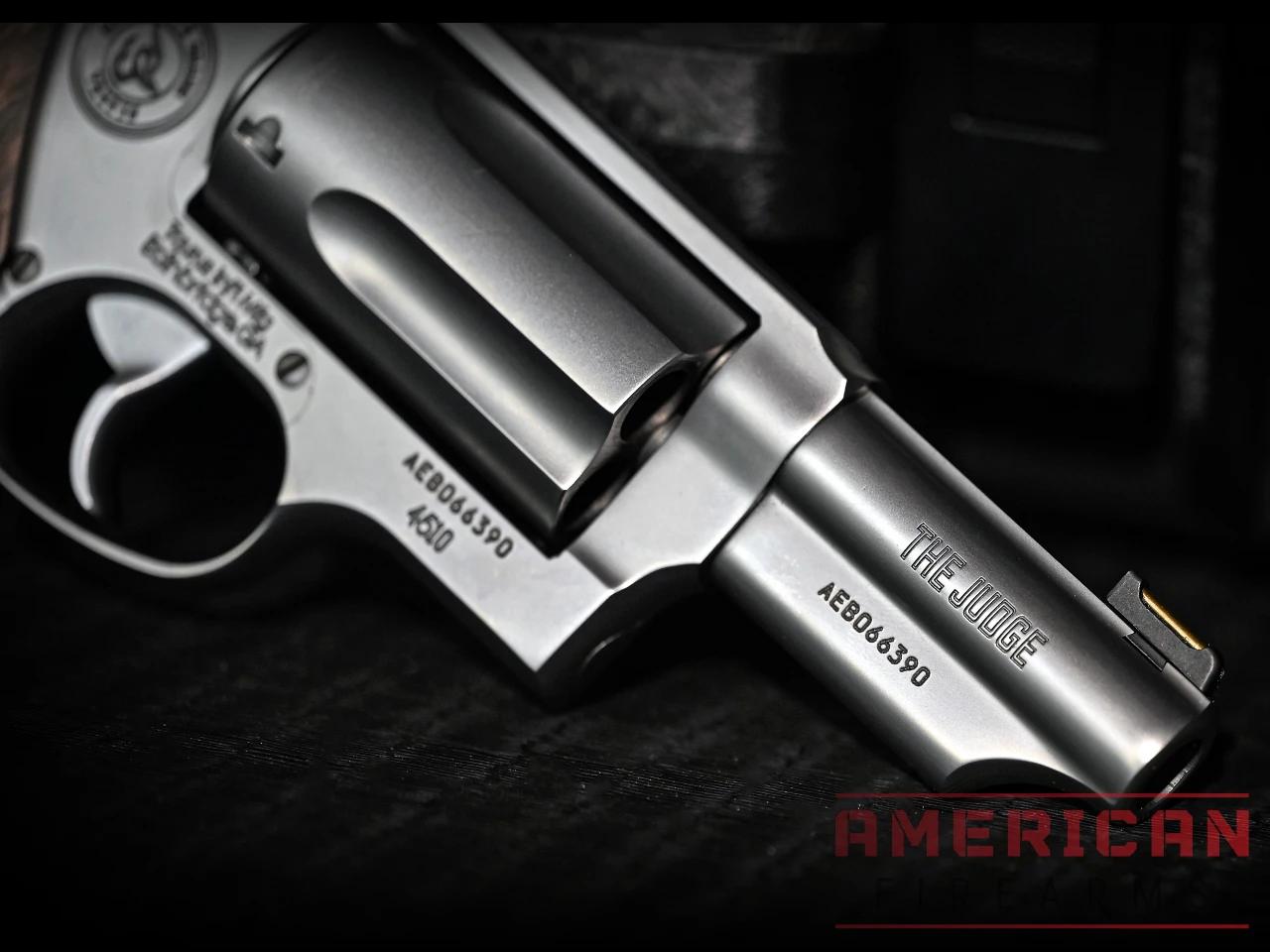 The double-action trigger broke at just under 10 lbs. on my digital gauge.
The single-action trigger lets off at just over 3 lbs. when tested on the Wheeler trigger gauge. The single-action trigger is almost scary because it is so crisp and clean and has virtually no movement when squeezing. 
If you need to really dial in the precision, pull that hammer back and shoot this beast with the single-action trigger.
Versatility and Performance
The cylinder spins freely and holds 5 rounds of either .45 Colt or .410 Shotgun shells or any combo of the two calibers. You could easily set this thing up for a home defense situation by throwing 3 rounds of Hornady .410 defense rounds in it with two .45 Colts behind those. If the .410 shot shell doesn't stop the bad guy the .45 Colts should fold him in half, stopping the threat immediately.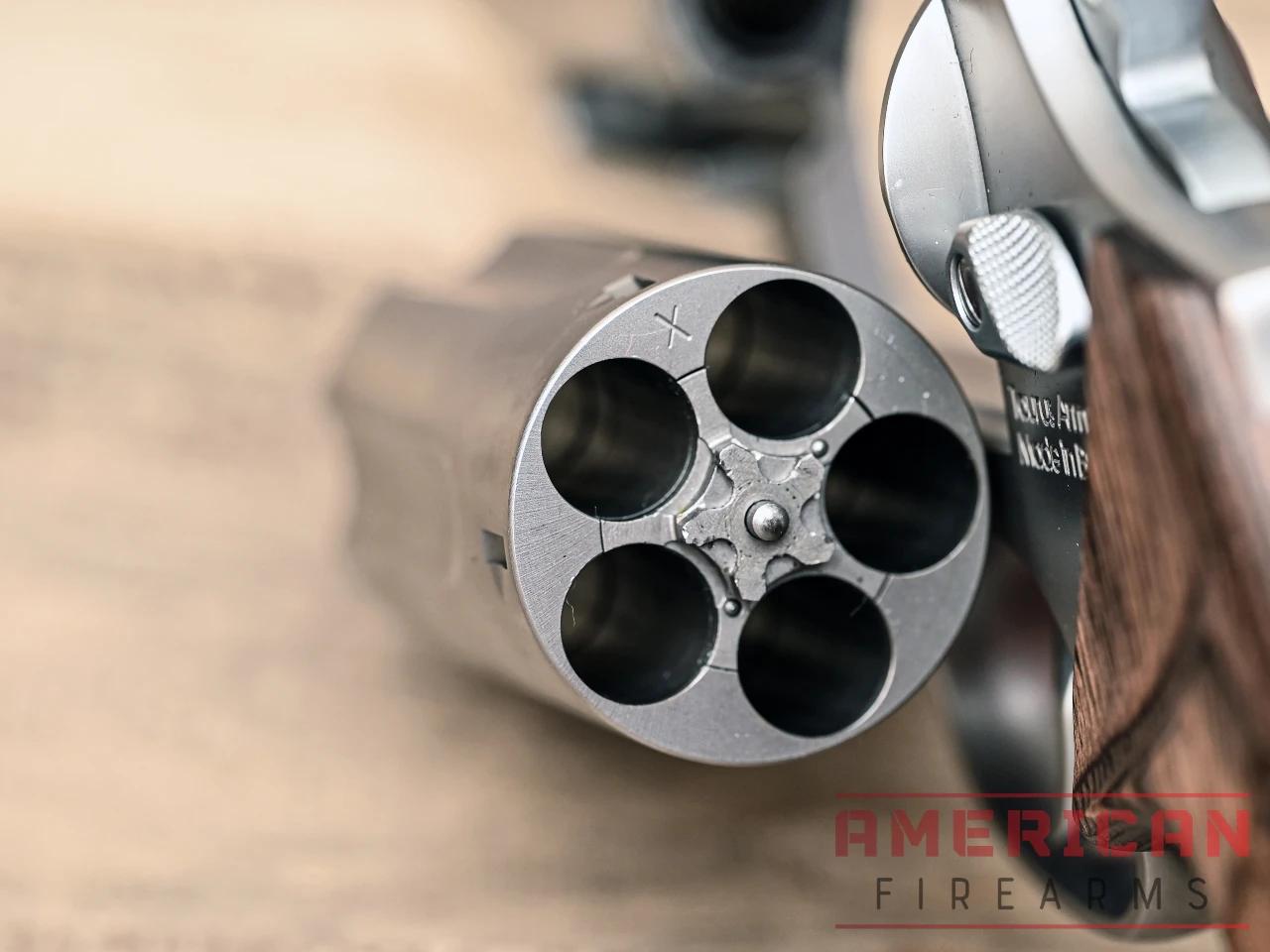 You can run five .45 Colt, .410 shells or any combo of the two.
Of course, the Judge doesn't have a Pic rail or optics cut, so it isn't going to accommodate lights or other accessories that would improve its usability in the dark, putting it more on the "fun" side of the spectrum than a true defensive firearm.
I don't know if Taurus worked on the cylinder at all, but it does seem to spin better and smoother than other Judges I have handled in the past. 
Shooting the Executive Judge is just awesome. You can't help but feel like a legend. You know, like Clint Eastwood in Dirty Harry. There is just something about a big heavy revolver. They are just so awesome to shoot. 
The Executive Grade Judge was no exception. The combination of the reworked and tuned action and the ergonomic wood grip really aids in the shooting experience of the revolver, so I put both .45 Colt and .410 to the test.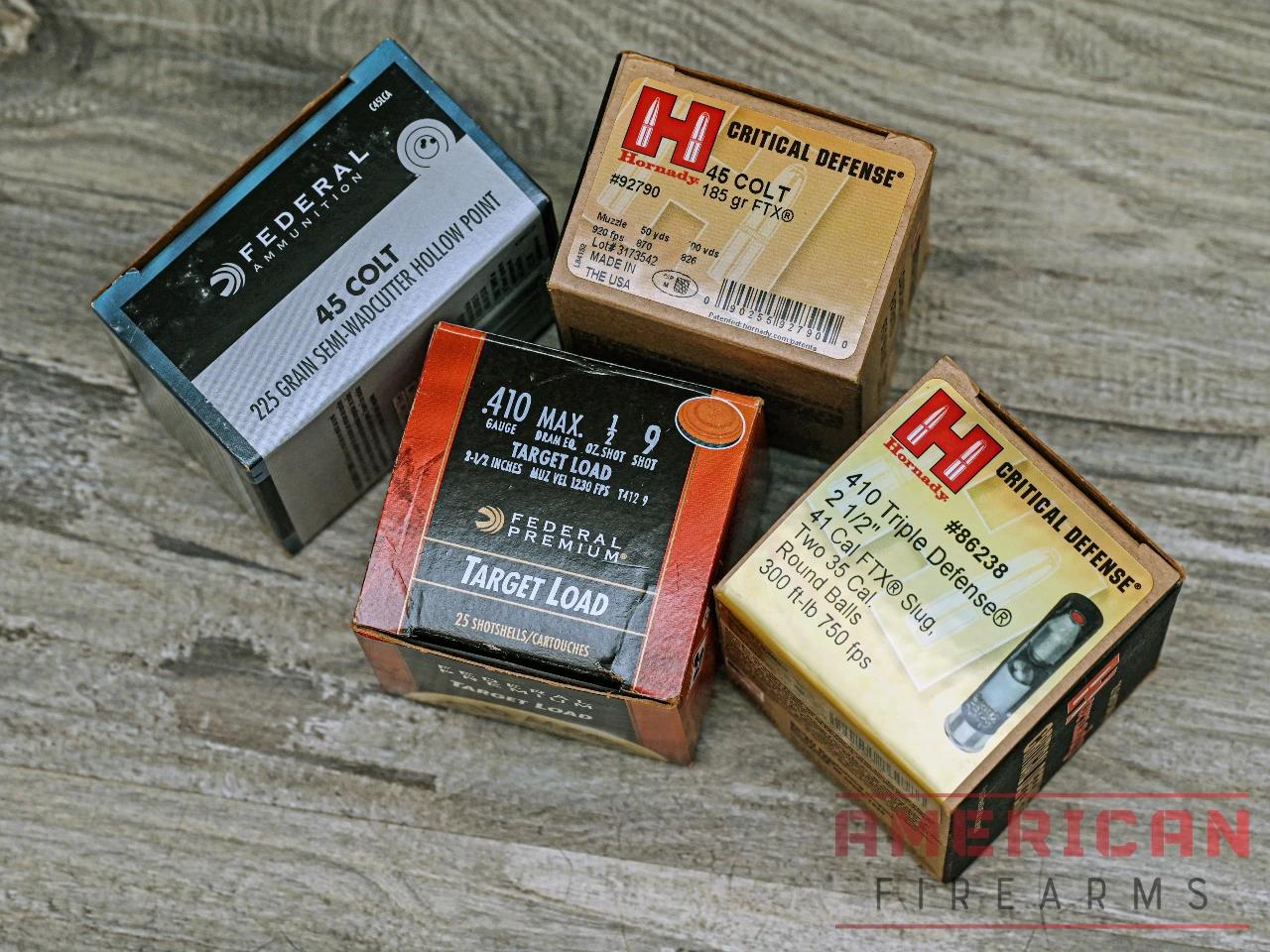 Rounds for the test
Shooting .45 Colt
I started off shooting the .45 Colts and tested with 3 different loads; Federal 225 grain semi-wadcutter hollow points, Hornady Critical Defense 185 grain FTX, and Sig Sauer 230 grain V- Crown JHP. I had no issues with any of these and shot them all very well using both the single-action trigger and double-action mode. 
I started off shooting the .45 Colts
Obviously, I noticed much better accuracy using the trigger as a single-action setup. Shooting the right loads, like the lighter 185-grain round from Hornady, achieved the best results as far as accuracy, with me seeing a consistent 1.5-inch group with the single action trigger. That group opened up to around 2.5 inches using the double action trigger at 7 yards — which qualifies as decent practical accuracy in my book. I have seen reports of 50-100 yard reliable hits on torso-sized targets.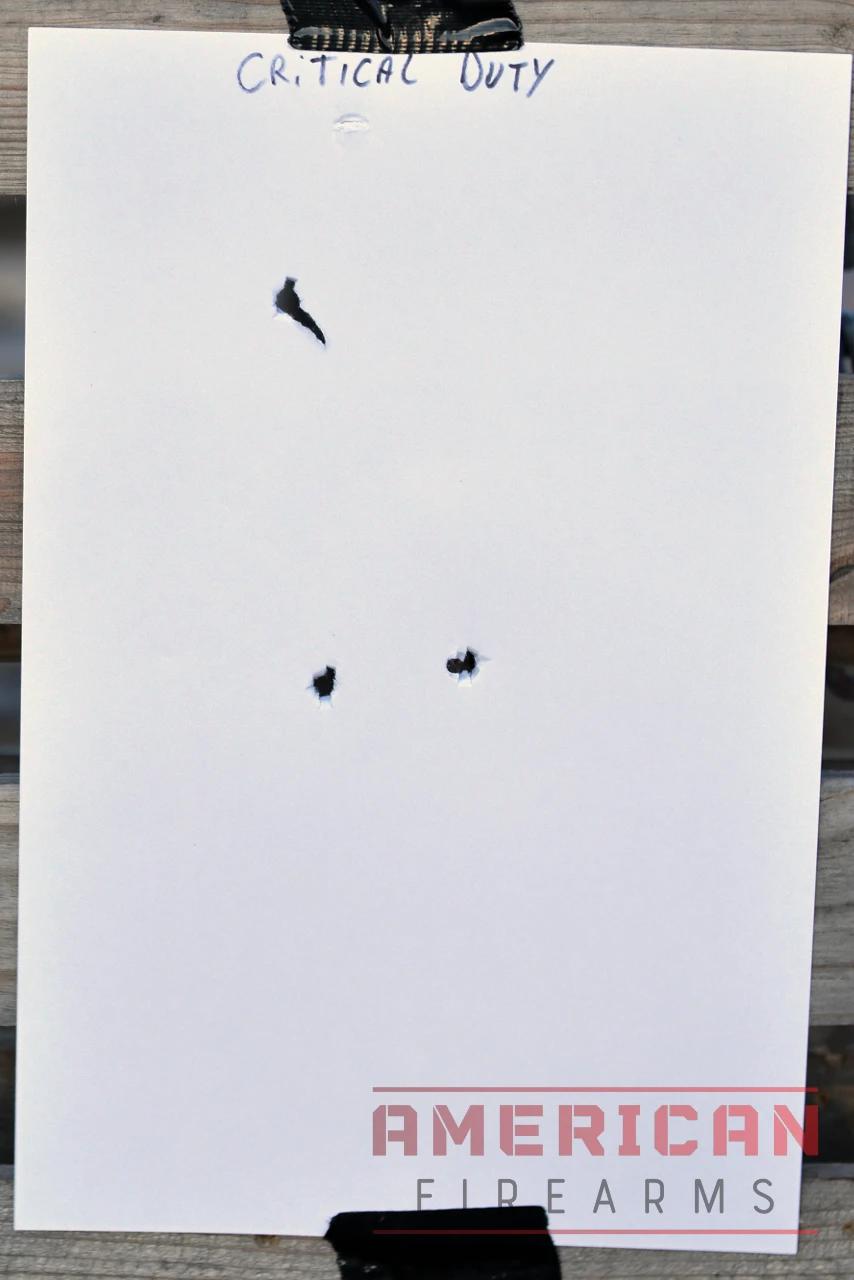 Hornady Critical Defense 185 grain FTX put up 2.5 inch groups using the double action trigger at 7 yards
Shooting .410
I also wanted to test the Executive Judge out with the .410 shells because, to me, this is one of the coolest parts of these Taurus Judge revolvers. I shot the Winchester Super X 2.5 inch 7.5 shot rounds, Federal Personal Defense 2.5-inch 7/16 oz 4 shot rounds, and the Hornady Critical Defense Triple Defense which has a 41 caliber FTX slug and two 35 caliber round balls.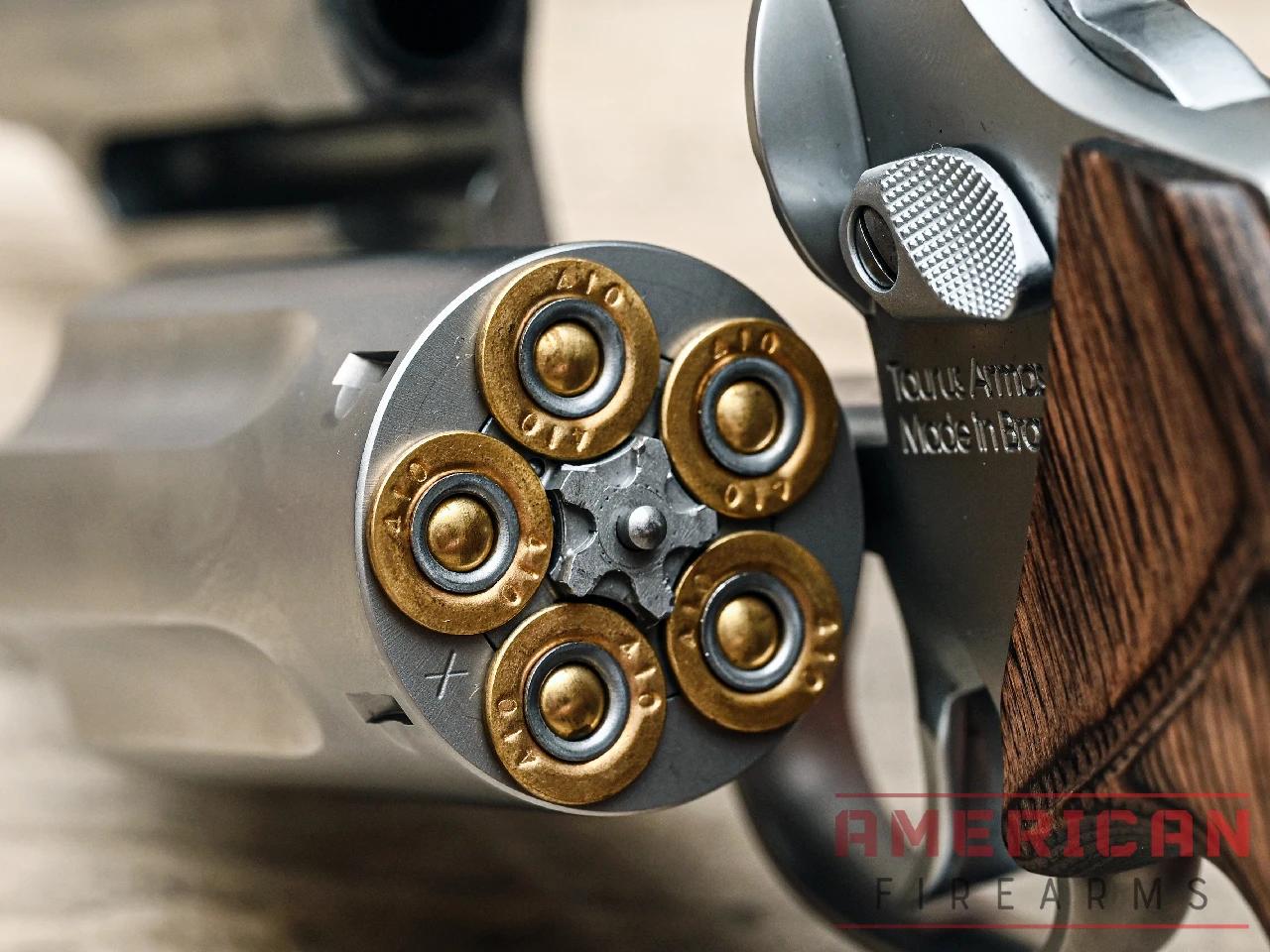 Testing .410
There have been reports of poor accuracy with certain shotgun loads, specifically .410 bird shot or buckshot, producing wide, donut-shaped patterns with gaps in the center of the spread. Some speculate the rifling may spin the wad or shot charge, such as very light or heavy loads, resulting in a donut pattern. I have yet to experience anything like this, but be sure to test a few of your favorite loads to see how they perform with the Judge.
I didn't bother with accuracy tests with the shotgun shells because, well, they are shotgun shells. Instead, I decided to try and have some fun and play with the patterns. Throwing up some paper targets and admiring the spread and stopping power the defense rounds from Hornady and Federal create. 
Then I loaded up 5 rounds of Winchester. Having my friend throw some clays up I attempted my hand at revolver sporting clays. Between the two of us, we burned through 50 rounds of that Winchester Super X smashing a whopping 5 clays between us. I didn't hit my first one until probably 15 rounds in. 
Testing on paper with Winchester Super X , Federal Personal Defense, and the Hornady Critical Defense Triple Defense in .410.
I honestly don't know if we would have hit one without that brass rod in the front sight. It just gives you a very easy reference point when you need to acquire your sight picture quickly. 
Shooting clays with a revolver is way harder than it sounds. Yes, it is a waste of ammo and clay but damn, it is fun and challenging. Either way, it allowed me to gain confidence in the gun and prove that this thing will just run and handle anything and everything you throw at it.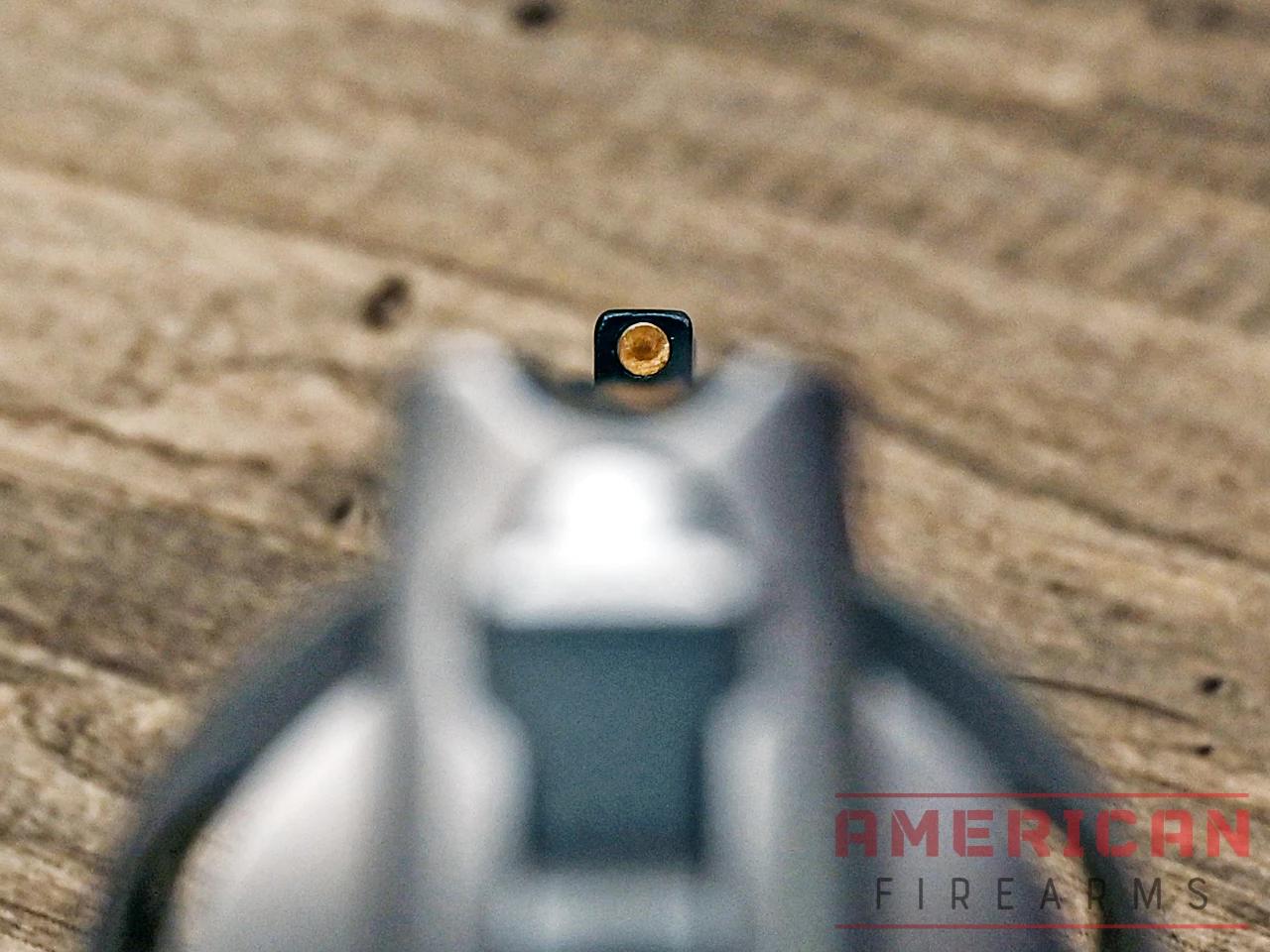 The brass rod sight picture.
I ended up dumping a total of 300 rounds through the Executive Judge during testing with zero malfunctions. The cylinder release popped the cylinder open perfectly every time and the ejector rod grabbed casings with ease.