Taurus TX22 Compact Review: The New Rimfire Champ?
We put the Taurus TX22 Compact to the test: a reliable, compact rimfire pistol that gives you convenience and capacity? Come see how it did!
Written By
Coldboremiracle
Precision Rifle Expert
Edited By
Michael Crites
Licensed Concealed Carry Holder
Share:
Products are selected by our editors. We may earn a commission on purchases from a link. How we select gear.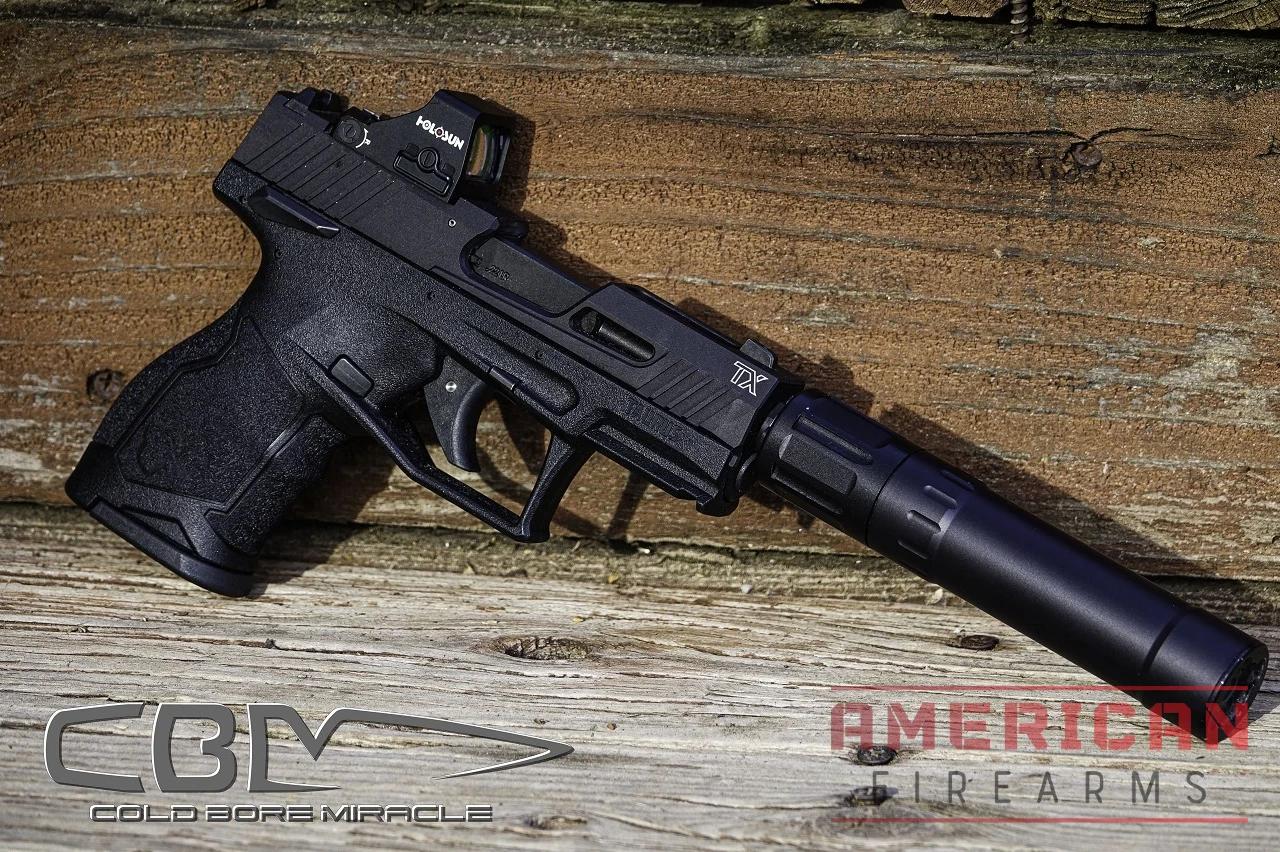 Semi-automatic rimfire pistols have been a bit of a conundrum in the past, it seems every manufacturer has tried to make one that is both reliable and feature-filled. But there always seems to be a shortcoming or compromise.
When I first put my hands on the Taurus TX22 years ago, I had a preconceived notion that it too would become another obligatory .22 pistol that was almost good enough. That was the initial TX22 pistol, but today we are going to look at one of the newest TX22 models and see if it measures up, or exceeds what we are used to.
I am happy to bring you a review of the TX22 Compact pistol from Taurus USA.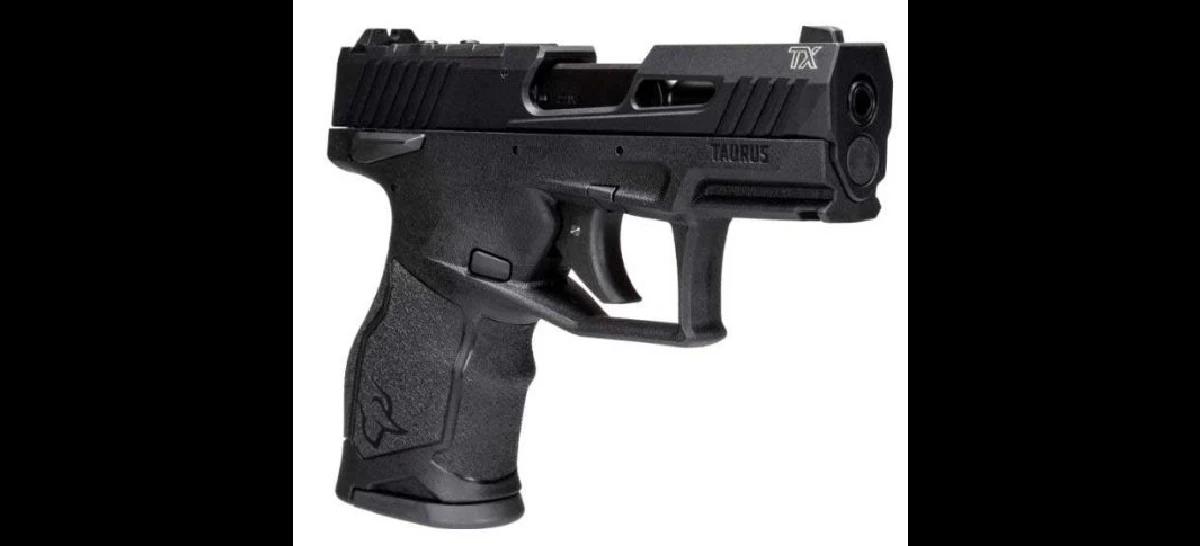 $274.99
Best For
Excellent value
Reliable performance
High capacity magazines
Optics ready
Picatinny accessory rail
Ambidextrous controls
Suppressor ready from the factory
Comes with 2 magazines
Considerations
Magazines could be arguably fragile
Our Verdict
I am a big fan of the entire TX22 family of pistols. I've spent the last three or four years shooting one version or another, and they have proven to be accurate, reliable, and incredibly fun to shoot.
Compact pistols are typically designed for concealed carry purposes, which makes sense. I will say that I am not going to recommend carrying a .22LR as your concealed carry, but I will mention a few positive things for those that might.
The TX22 Compact is very comfortable to carry, it's both small and light so you won't notice it as much as other guns. And if you should ever have to draw it, it can be emptied very quickly, and all thirteen shots can be dumped into a target with great accuracy and speed.
Other features like the threaded barrel and optics cut slide give you many of the more desired features of modern auto-loading pistols. It may not be some top-tier handgun, but when it comes to .22s I don't know of one that I would say is top-tier.
I would say that if you are looking for a fun, reliable, and accurate .22LR pistol, you will not likely find a better option. There might be one that is comparable, but it will be more expensive for sure. I must admit that I have found the TX22 to be well worth the asking price, so much in fact that I have returned to the TX22 again and again. I now own four of them in one configuration or another, if you need a good .22 pistol, buy the TX22 with confidence.
So… how does the Taurus TX22 Compact stack up on our 60-point scale?
Accuracy: 8/10
The TX22 Compact is indeed accurate, with a comically low recoil that's more than suitable for training. It's also great for small targets and well-suited for shooters with smaller hands.
Ergonomics: 8/10
The grip is surprisingly comfortable and the pistol easy to operate. Many shooters — adults and kids — were comfortable using it. It's smooth to reload and the trigger is one of the better I've encountered on a rimfire pistol.
Features: 9/10
The TX22 Compact has some impressive factory features. The optics-ready slide, threaded barrel, and two included magazines make it more than competitive for the price.
Fit and Finish: 7/10
It's a good-looking pistol but not perfect, there are plastic components and a less-than-bulletproof slide coating, but overall it's well-assembled.
Reliability: 10/10
The TX22 Compact is a very reliable little pistol. It certainly requires periodic cleaning but even when running it hard I had minimal malfunctions. Bonus: it ran suppressed without incident.
Value: 10/10
Incredible value for the price. Competing pistols will cost you more or aren't anywhere near as appealing. The performance more than justifies the (very fair) price tag. It's a winner.
| | |
| --- | --- |
| Caliber: | .22LR |
| Weight: | 16.5 Oz. |
| Overall Length: | 6.70 In. |
| Barrel: | 3.60 In. |
| Twist Rate: | 1:10 Right Hand |
| Capacity: | 13 |
| Frame: | Polymer |
| MSRP: | $399 |
The TX22 Compact is a polymer-frame striker-fired pistol with an overall length of 6.7 inches and overall width of 1.25 inches, fed from polymer magazines that hold up to 13 rounds. The compact version of the pistol also has some slide cuts to reduce slide mass, as well as an optics cut at the rear for mounting your favorite red dot sight.
The .22 LR round doesn't have much juice to drive a slide to the rear, so even adding an optic can impact reliability, which is likely why Taurus opted for a lighter slide on the TX22 Compact.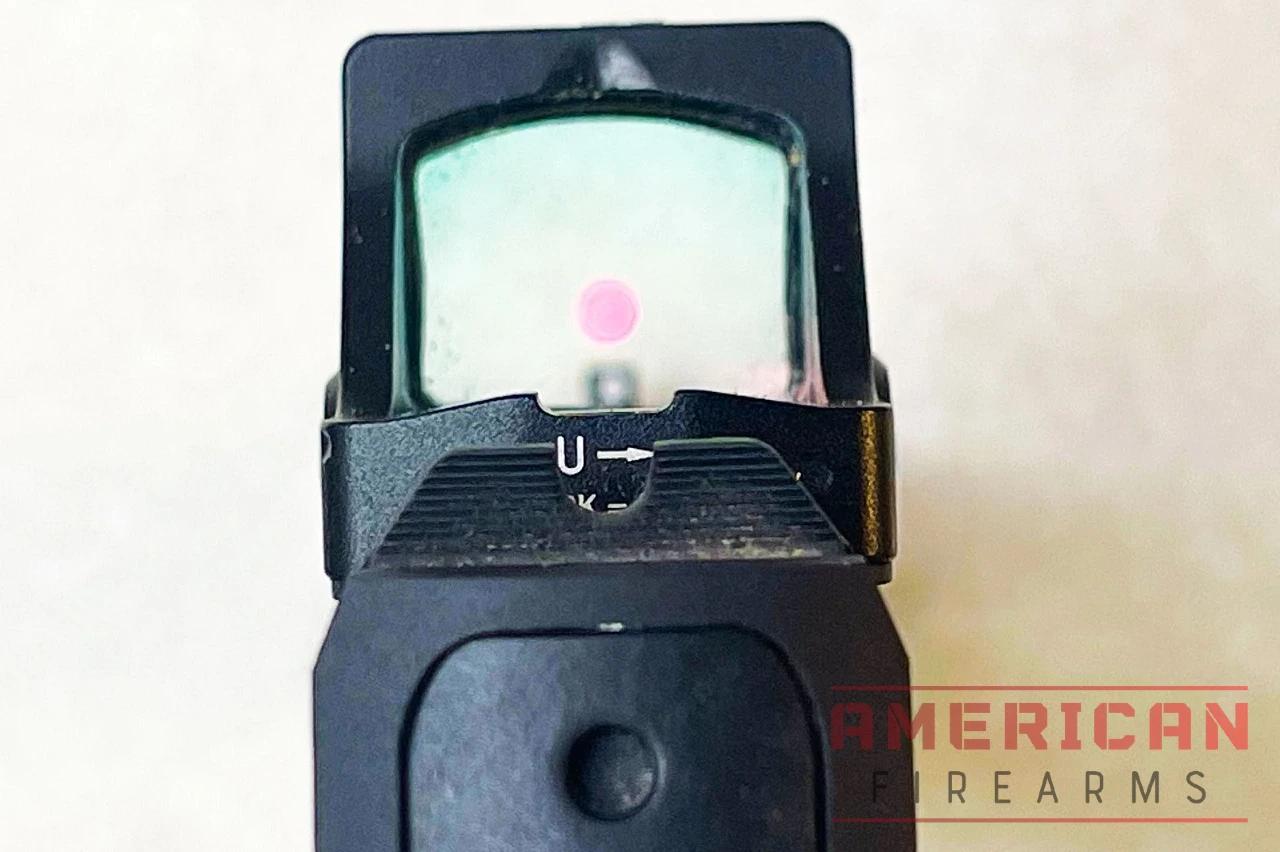 While non-adjustable, the serrated rear sight is blacked out, the low optics cut makes mounting and running a red dot a cinch.
In a departure from the standard TX22, the compact features non-adjustable sights, which pair a blacked-out rear sight with a white dot front sight. The lack of adjustment probably stems from the fact you can mount a red dot and adjust that instead.
The small pistol also features a standard Picatinny accessory rail under the muzzle for mounting weapon-mounted lights or whatever aiming accessory you'd prefer. Like its larger sibling, the TX22 Compact also features a threaded barrel and comes with a suppressor collar to install your favorite hush tube. At the rear of the frame, there is an ambidextrous safety that is easily manipulated with the firing-hand thumb.
The TX22 Compact's fit in my hand had me hooked straight away.
My very first impression of the TX22 Compact how light it was. With an overall weight of 16.50 oz. it felt incredibly light in hand. This is surely due to the polymer construction and aluminum parts. And much the same way as the full-size TX22, I immediately fell in love with the grip.
It fits my hand perfectly and the texturing makes it very easy to keep hold of. The lightweight, comfortable grip had already hooked me, but would it perform as well as it looked and felt? If my initial feelings were right, I was pretty confident that this pistol would be a winner.
The TX22 has a relatively short history. The original model was released in early 2019, and Taurus has since expanded the line with an assortment of models and colors. The competition model uses proprietary slide lightning cuts with a reduced front end on the slide as well as an optics mourning platform.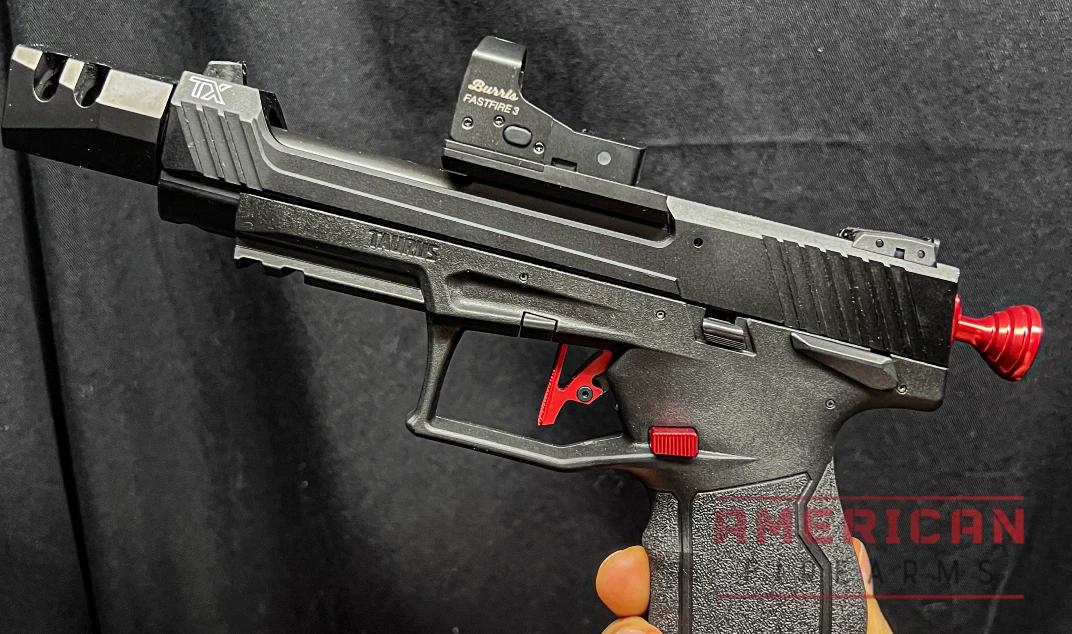 The TX22 Competition model has some serious slide cuts.
The Compact is the most recent development, though I'm sure there will likely be additional offerings.
Let's go over some of the key features that set the TX22 Compact models apart.
Magazines
Perhaps one of the most exciting developments with the TX22 is the magazines. For decades it seemed like most rimfire pistols had but one option for semi-auto capacity; a single stack 10-round.
The TX22 uses what I guess you could call a double stack, in that the rims of the stacked cartridges are offset to the right and left as they are stacked into the magazine. The original full-size TX22 holds 16 rounds, while the flush-fitting magazines of the Compact model hold only 13.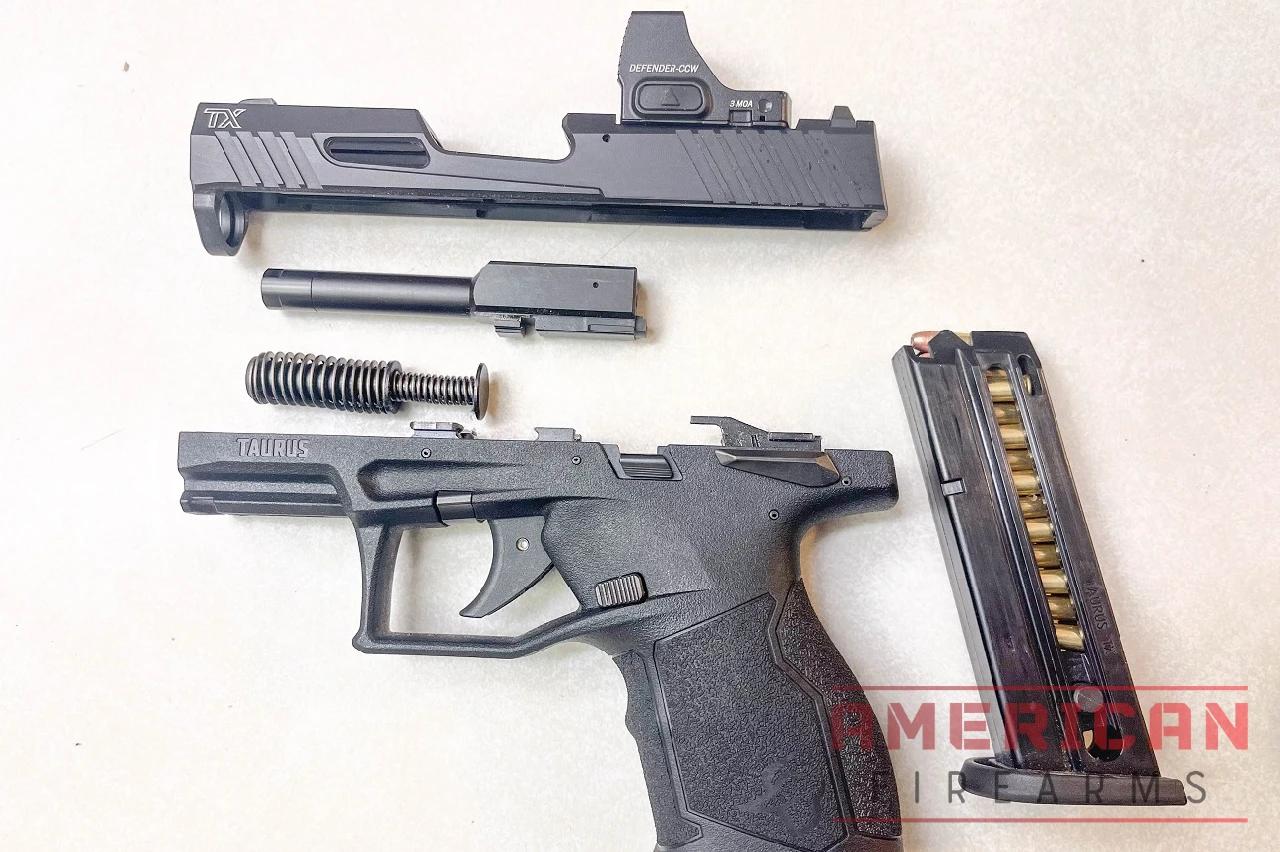 The original full-size TX22 holds 16 rounds, while the flush-fitting magazines of the Compact model hold only 13. 
But to be fair, 13 rounds in a pistol this small, and this light make it very appealing. The 16-round magazines of the full-size TX22 also fit into the compact, though they do hang out exposed.
Trigger
The trigger of the TX22 is another fantastic feature, instead of using a blade safety, the TX22 utilizes the entire shoe. As the trigger is pulled, the shoe pivots into its firing position where the sear can be activated.
It feels quite good considering the inexpensive cost of the TX22s and results in a crisp break.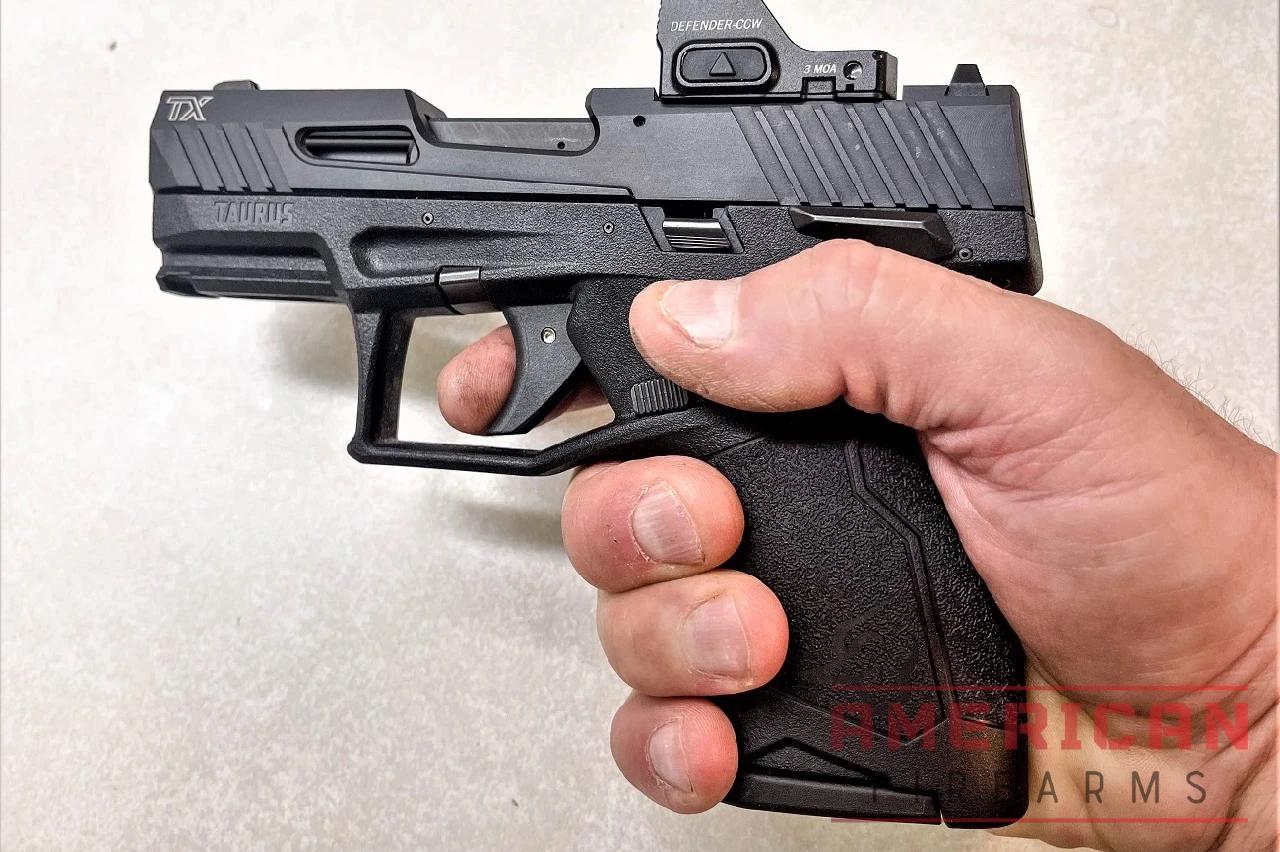 The trigger on the TX22 Compact is surprisingly good.
In addition to the smooth trigger pull you've also got a pretty short reset which I find spectacular and greatly increases your ability to shoot rapidly with minimal movement. The near absence of recoil means you can blast through all 13 rounds before you can finish reading this sentence.
Barrel & Slide
The TX22 uses a compact barrel length of 3.6 inches and a 1:10 twist rate. The alloy steel barrel is threaded from the factory — another fantastic feature.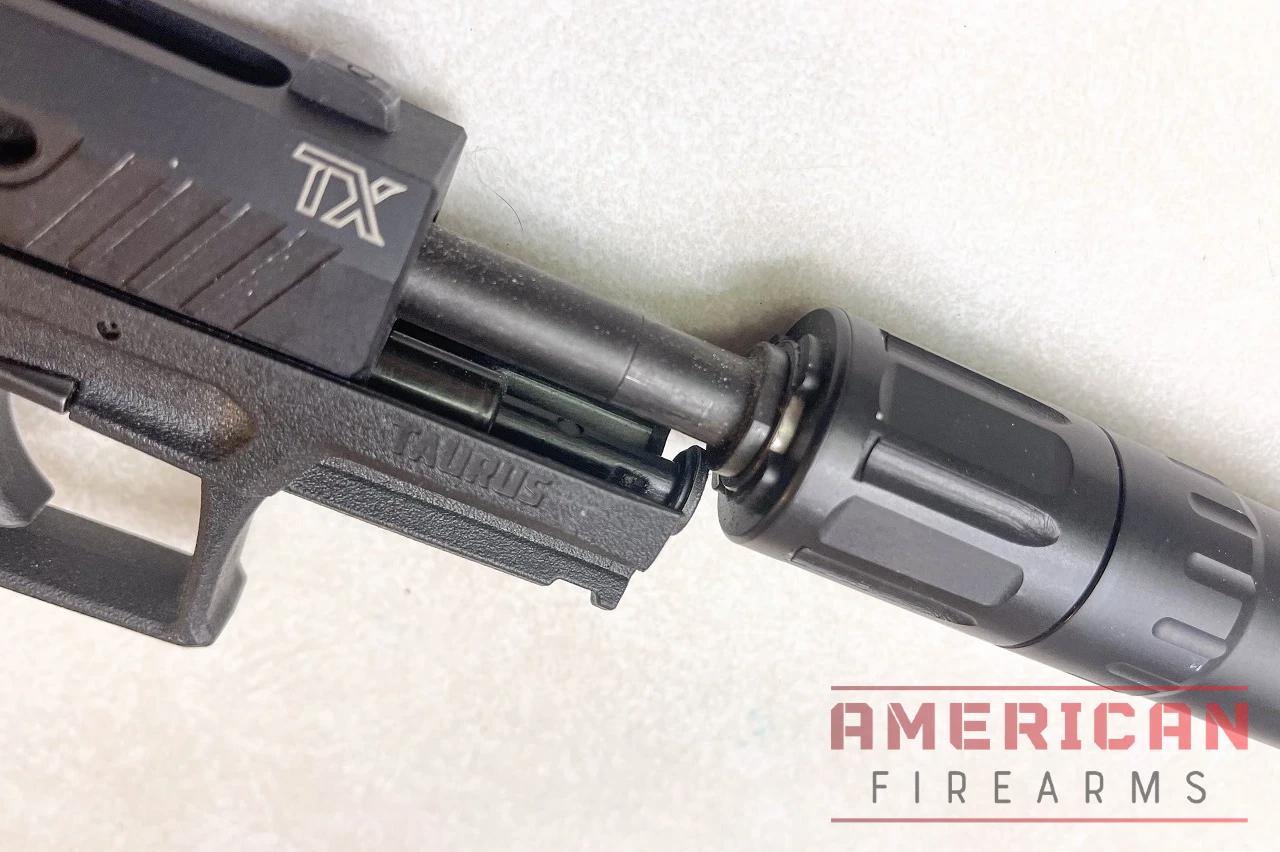 The barrel has a threaded cap installed, which is easy to remove and install a shouldered suppressor collar which you can then thread your can onto.
And the included suppressor collar allows you to go straight to the range with the suppressor in hand. The barrel comes with a thread cap installed, it is easily removed with a wrench using the machined flats on the thread cap. 
You can then install the shouldered suppressor collar, which just threads over the muzzle with a flush fit. The collar also had a nice shoulder to tighten your suppressor against.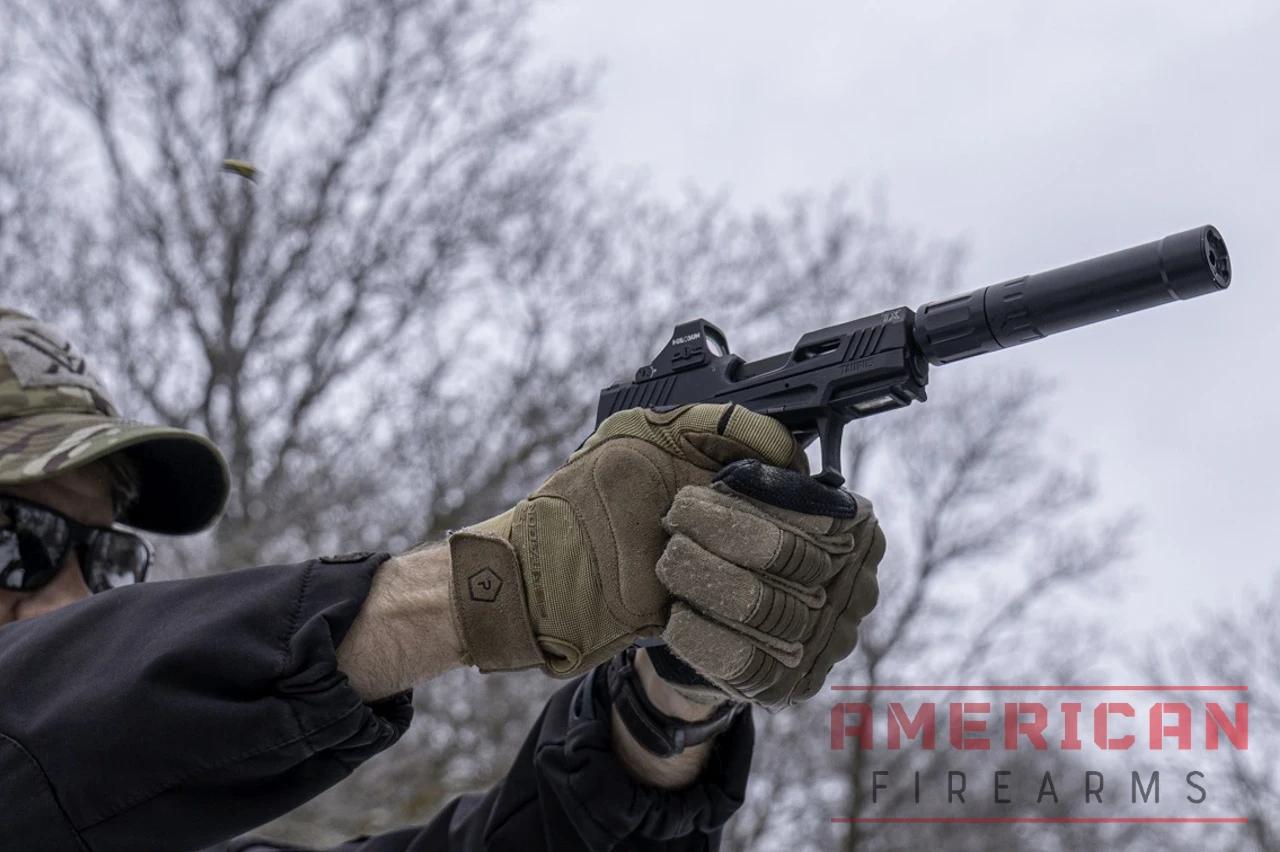 Running a can and Holosun 507K on the TX22 Compact is more fun than one should be able to have with a few bucks worth of rimfire rounds.
The TX22 Compact slide comes pre-cut for Holosun K footprint optics, and it fits micro red dots like the Holosun 407K and the new Vortex Defender. This is such a fantastic feature, especially for me who has become more and more addicted to red dots on my pistols.
The steel plate is easily removed with the two screws, and your micro red dot will take its place.
Controls
The controls of the TX22 are easy to operate and understand, and the slide release is easy to press with the thumb to drop the slide while shooting.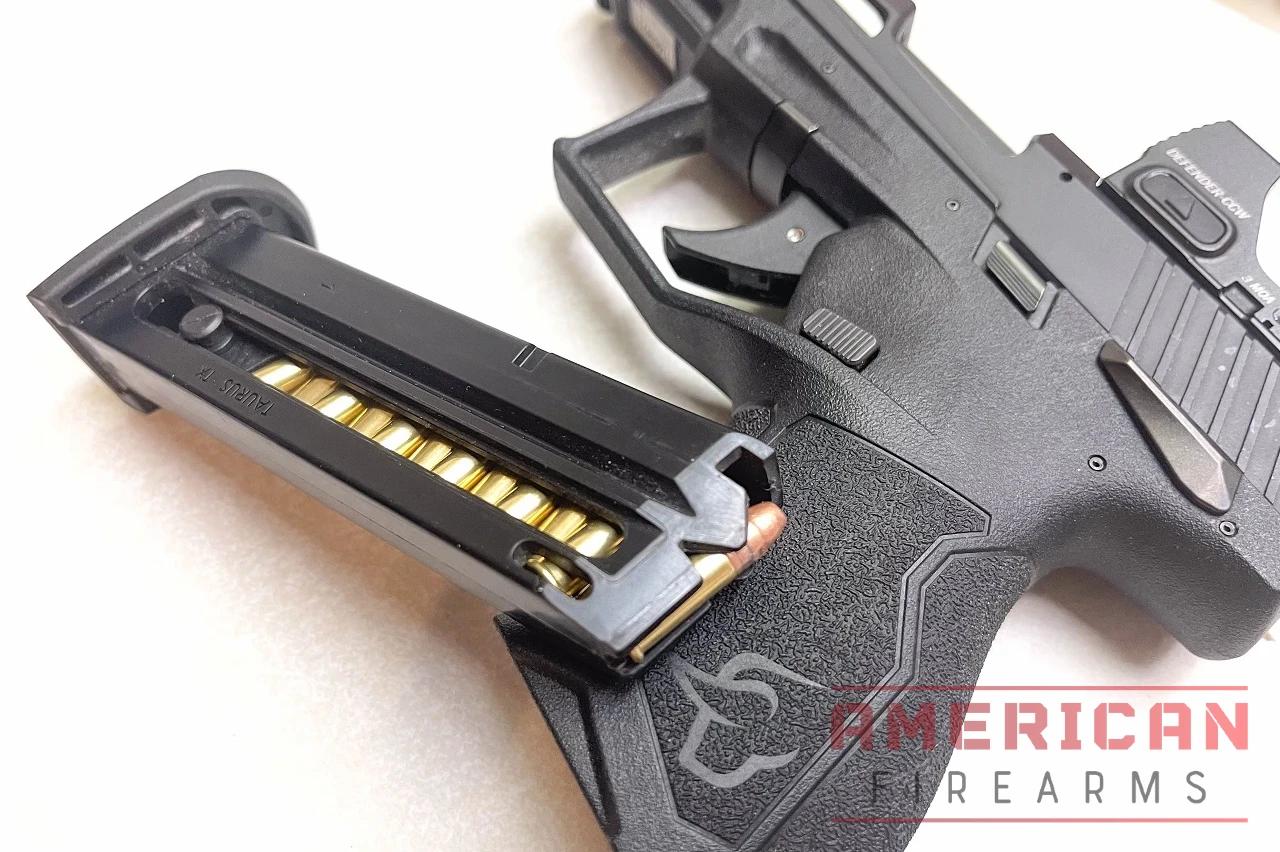 The controls are well designed and easy to active when needed.
The manual safety is not obtrusive but easy to reach and activate when needed, and it's on both sides of the pistol for those wrong-handed folks out there.
The mag release button is small and very functional, it too can be reversed to the opposite side of the frame for left-handers.
Feel
I guess my favorite feature of the TX22 family is that, unlike most .22 auto-loading pistols, it doesn't feel like a toy. While it is very light, even lighter than my son's airsoft pistol, it still feels like a real gun.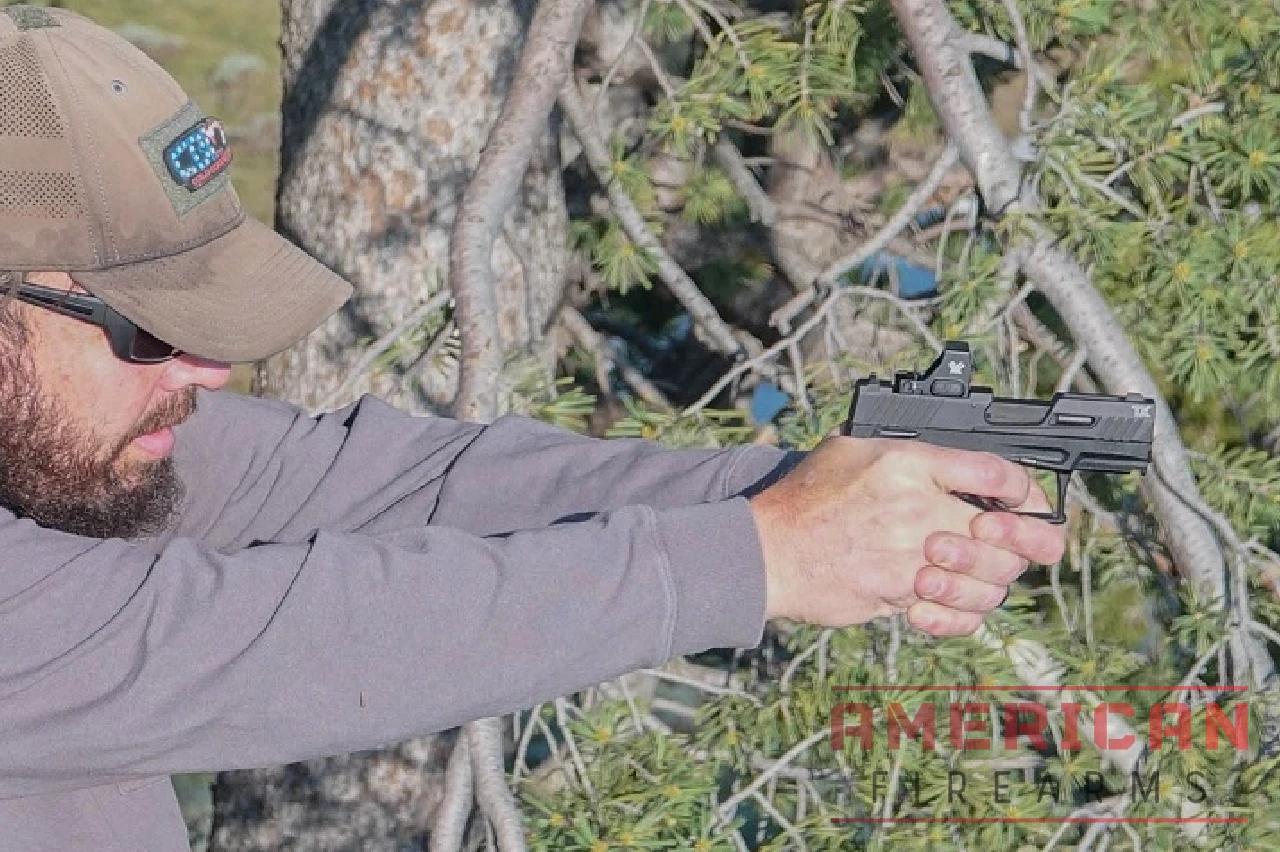 The TX22 is lighter than my son's airsoft pistol, but it still feels like a real gun.
It doesn't have the undersized grip that many others do, when you pick it up it feels like you've got a real gun in your hand.
Add to that the dashing good looks of the pistol, and you've got a winner in your hand.
Performance and Precision
Accuracy
Being a humble little .22LR pistol, I'm not sure what level of accuracy people will expect from it. But I find the pistol to be very accurate for the purposes that I would use a .22 pistol for.
I have used it to train my kids a great deal for pistol shooting, and every one of them loves shooting the TX22. It never fails, every time we go shooting I hear: can we bring the Taurus?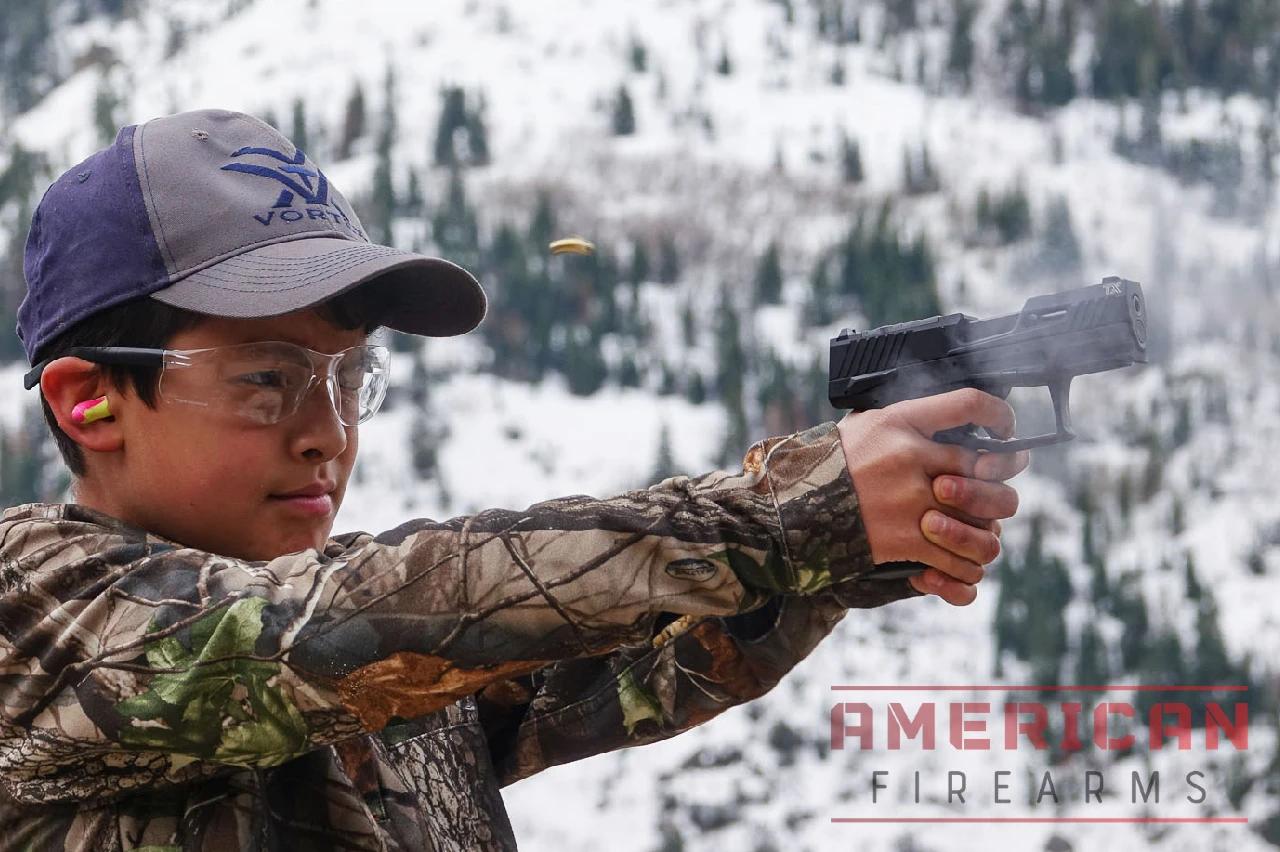 It never fails, every time we go shooting I hear: can we bring the Taurus?
Shooting inexpensive bulk-packed ammunition is what I expect most other people to shoot, as do I. The TX22 Compact is easy to keep on targets as small as squirrels at distances like 15 to 20 yards.
Dispatching small rodents and even rats in the shed is surprisingly easy with the little TX22. 
In addition to its accurate shooting, the near lack of any felt recoil seems to help shoot the pistol even better, especially for shooters with smaller hands.
Ergonomics
As I mentioned above, the fit in my hand is one of the first things that sold me on this pistol. It feels comfortable and fills a man's hand. The texturing on the frame makes it easy to keep hold of when manipulating the pistol, and the slightly flared magwell makes reloading an easy and smooth operation. 
The trigger feels great, and all the controls are right where they should be and easy to operate. Even my wife who has particularly petite hands finds the TX22 Compact easy to operate and shoot well.
Features
The TX22's features are outstanding. Not only does it have almost everything a person could ask for, they are included from the factory. With a price this low you get quite a few features I am both surprised and happy to get. 
The two magazines, the optics-ready slide, and the factory-threaded barrel are probably my favorite features of this pistol.
Fit & Finish
The TX22 family of pistols all come with a pretty handsome look to them. The different color frame options are nice, and the pistol seems to be put together well. I know it's only a .22, and most people aren't going to be betting their life on the durability of the TX22.
That said, I think there are just a few things that do give the impression of a "cheap" pistol, such as the plastic firing pin bushings. And as much as I like the magazines, they are all plastic, and they don't feel like it would be hard to crush them if accidentally stepped on or something. I also noticed that the coating of the slide isn't as tough as I would like it to be, but at this price, I can't complain. 
Despite the few things that may make it seem cheap, I cannot find where the TX22 is flawed or poorly assembled. It's a great-looking pistol.
Reliability
I've been shooting the TX22 compact for nearly six months now, and I've lost track of how many boxes of Federal AutoMatch we've put through it.
But at 325 rounds per box, I'd estimate we have shot nearly two thousand rounds through the Compact TX22, with a negligible occurrence of malfunctions. I was not surprised, as that was the same experience I had with the full-size TX22, shooting through thousands of rounds with nearly zero issues.
Of course, being a .22LR, the TX22 is going to be dirty and will need occasional cleaning to keep it running in top shape. Particularly if you are shooting suppressed, which a great deal of our shooting has been.
I ran my Yankee Hill Machine Phantom 22 on the TX22 Compact, it was a perfect match that provided hours and hours of incredibly quiet fun for the family, and in no way did running a can affect reliability.
You should always wear eye protection when shooting, and it is an absolute must when shooting this pistol suppressed. There is a good deal of debris blown back when suppressed, so keep your glasses on.
Value
With a street price of just over $300, I think the TX22 Compact is an incredible value. Other competitors like the SIG P322 cost a bit more, and offer a higher capacity. The Keltec P17 is more affordable but looks like it was designed by a high school shop class.
I think the TX22's performance and features are well worth the asking price, and having spent a great deal of time shooting this and other TX22s I am quite confident its performance is long-term.
Higher Capacity Option: SIG P322
I mentioned the SIG P322 above, it's one of our favorite .22LR pistols, and would likely be a good alternative to the TX22. It carries a higher capacity magazine and weighs a bit more but that is expected. It also comes with the big Sig Sauer name that so many crave.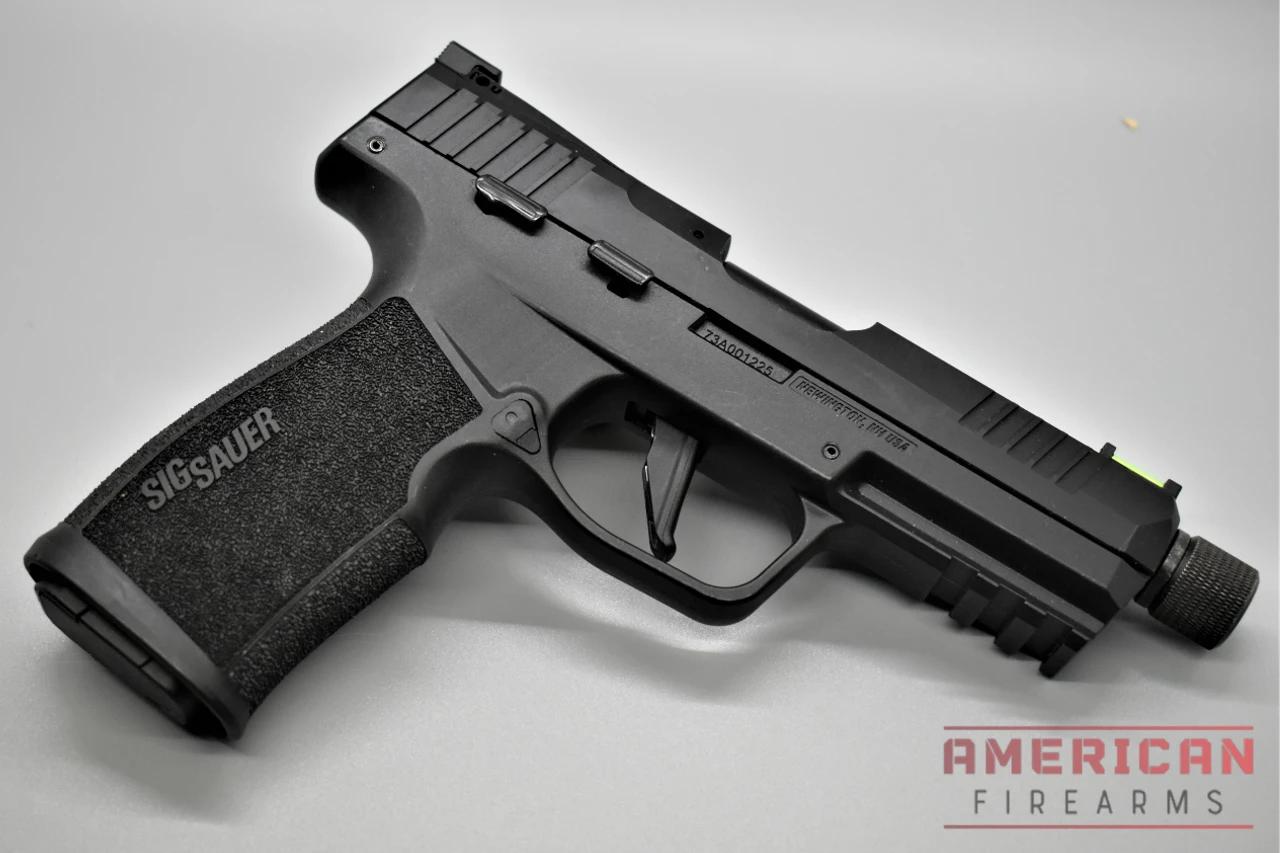 The SIG P322 is certainly comparable to the TX22, you get more capacity and the SIG name, but it'll cost you 50% more.
Budget Option: KelTec P17
The Keltec P17 is another option, with a comparable capacity to the TX22, and at an even cheaper price. It is also lighter than both the SIG and Taurus, but it also appears to come with fewer features.
How much is the Taurus TX22?
Is it safe to dry fire the Taurus TX22?
What red dot will fit the Taurus TX22 Compact?