Tavor TS12 Review
Written By
Michael Crites
Licensed Concealed Carry Holder
Reviewed by
Editorial Team
Learn About The Editorial Team
Share:
Products are selected by our editors. We may earn a commission on purchases from a link. How we select gear.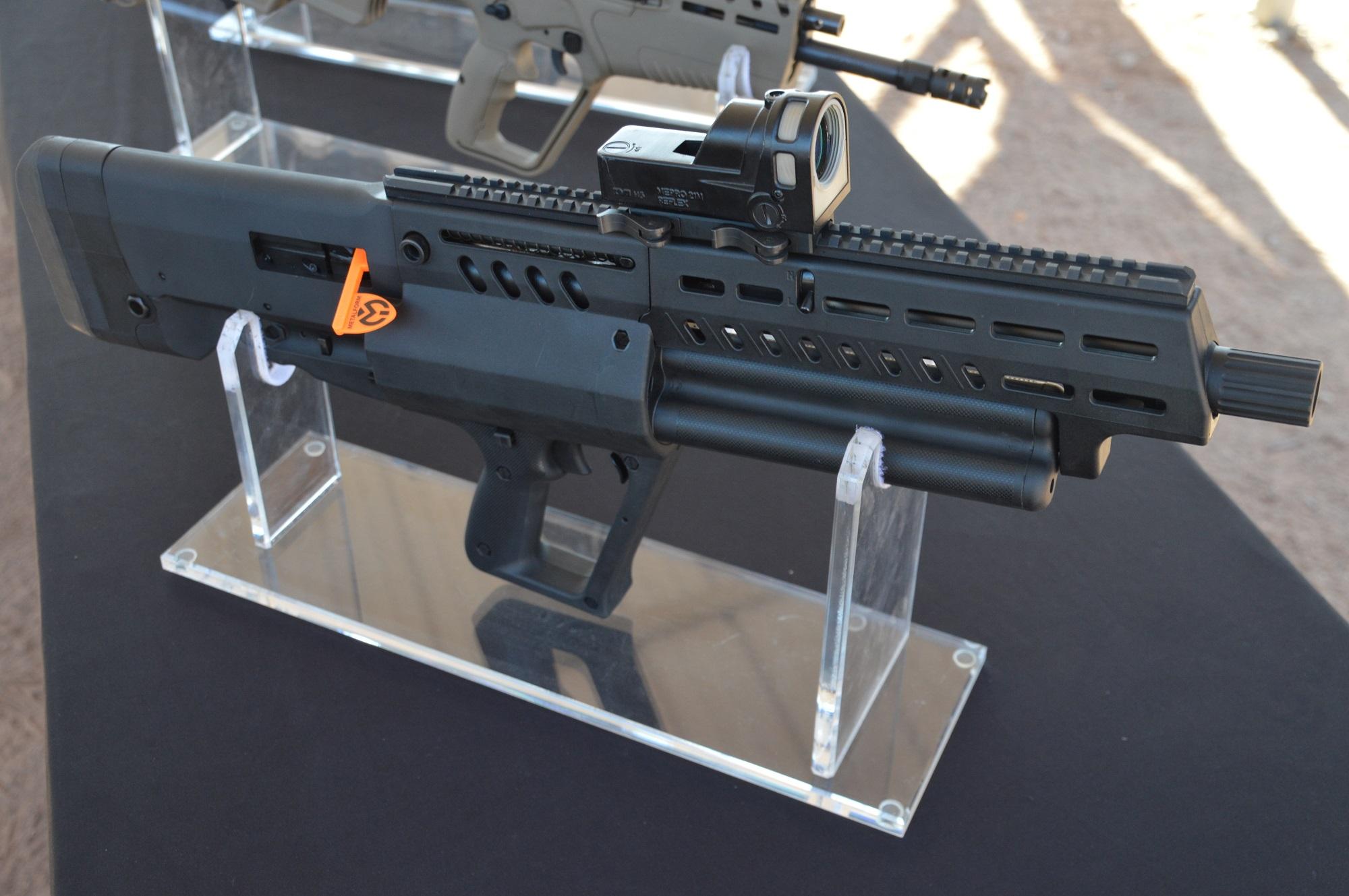 Curious about IWI's space-age bullpup but don't know where to start? We break down the TS12 – warts and all.
The Revolutionary Tavor TS12
Shotguns are easily some of the most versatile weapons on the planet, which is one reason we love them so much. Whether it's grandpa's old break-action or a modern combat shotgun, the reliability, practicality, and flexibility of shotguns make them the favorites of many shooters.
Additionally, the magazine capacity is incredible for such a compact gun. The three rotating magazine tubes can hold a total of fifteen 2.75" shotgun shells. That is to say, this gun, which is only 28.34 inches long, can spit out fifteen 00 buck rounds as fast as your trigger finger and shoulder can stand it. For home defense or even military applications, that level of up-close 12-gauge firepower is genuinely formidable.
In this piece, we're going to take a deep dive into the TS12, exploring its history and our first-hand impressions of the gun itself. The claim to be revolutionary is a big one, and we think the TS12 does, in fact, stack up.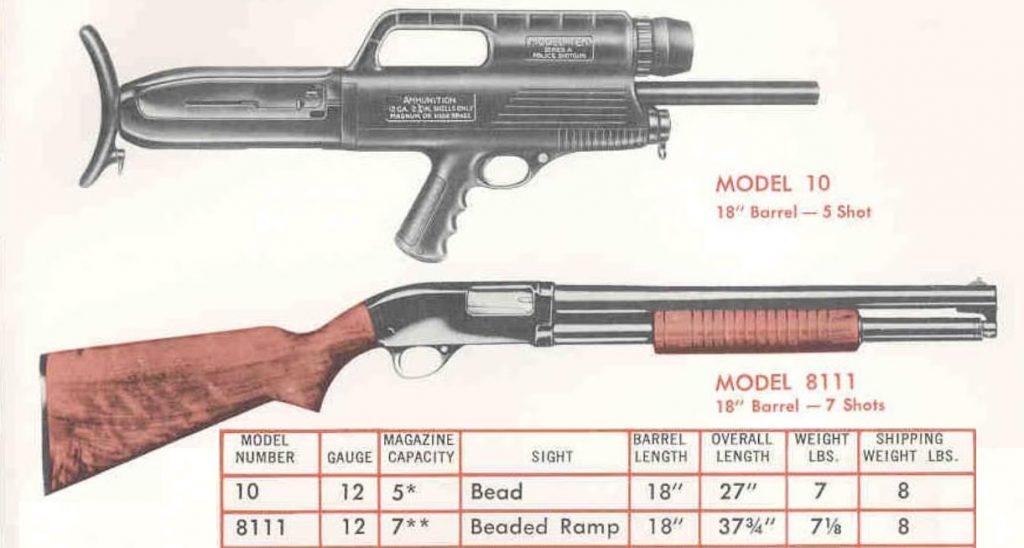 The High Standard Model 10 was one of the first semi-auto bullpup shotguns, and while they function in completely different ways, you can see a family resemblance of sort between the TS12 and Model 10.
Every now again, something comes along that stuns gun reviewers and the general public: that's the case with the IWI Tavor TS12. In a bullpup design, this semi-automatic shotgun was announced in 2018 at SHOT Show, and as of 2020, it was the best-selling semi-automatic shotgun on the American civilian market.
The word "revolutionary" gets used too much in the firearms industry, but in some cases, it is warranted: we think this is one of those cases. The TS12 is a profoundly fascinating gun that takes the shotgun well and truly into the 21st century, and at least in the looks department, we'd believe you if you said it came from the 23rd century.
The Tavor TS12 shotgun is revolutionary in several regards. First, it's a semi-automatic bullpup shotgun. There have been semi-automatics for nearly a century, and bullpup shotguns are have been around since Alfred Crouch repurposed a Remington 11-48 to build the High Standard Model 10, but the Tavor TS12 brings these two features together in a totally unique package.
Where did the TS12 come from?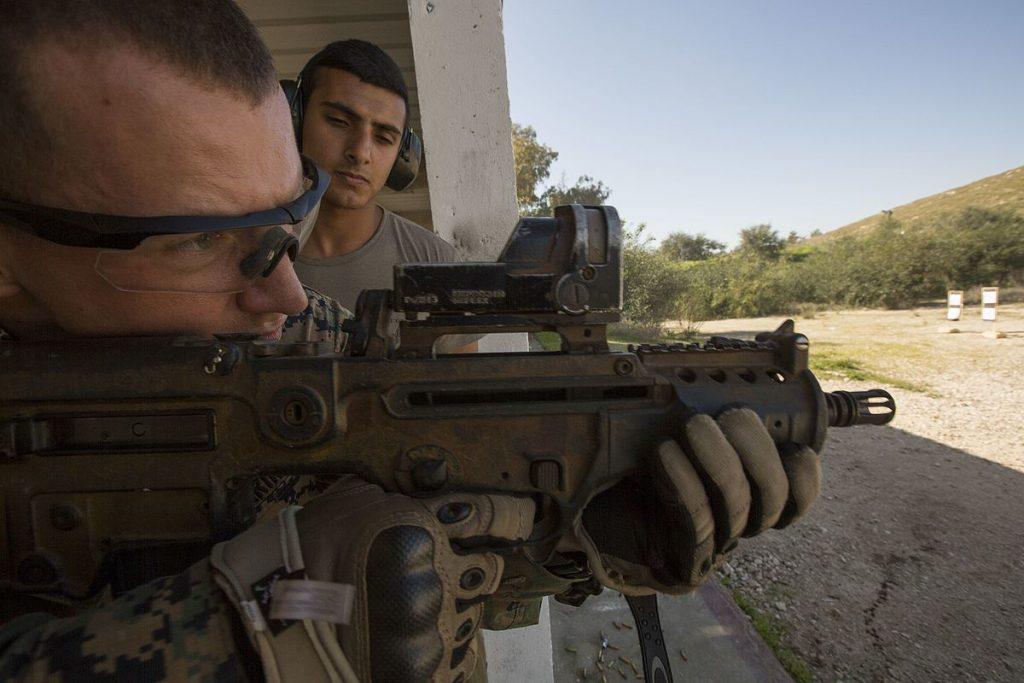 An American soldier trains with the IDF on a bullpup weapon
The IWI Tavor TS12 comes to market from Israeli Weapon Industries or IWI. The Israeli arms industry works a little like that of the United States, with companies working in close coordination with the government to create weapons for soldiers to use in military applications. Later, those same firearms, or more often modified variants, make their way to civilian markets.
This is nothing new: Colt, Mauser, Glock, Sig, and countless others have taken this path over the last couple of centuries.
In cooperation with the Israeli Defense Force, IWI has been pushing the boundaries of firearms development for decades now.
Some of the most innovative and rugged weapons of recent decades have come from IWI, and their current and historical product lineup reads much like our firearm's favorite list.
For close quarters, they have the sturdy Jericho pistol and its big brother, the Desert Eagle. Of course, they also make the Uzi, arguably one of the best submachine guns to have ever been devised.
Their Galil series of assault rifles, which have been produced in one form or another since the 1960s, is a battle-proven design.
Israel's history and geography — putting it right at the crossroads of conflict more or less continually — has resulted in a booming arms development industry for years.
And IWI has been at the forefront of that: now the push to modernize has come to both shotguns and rifles in the Tavor series.
Initially, the Tavor was a series of bullpup rifles; with the TS12, similar design logic and aesthetics have made their way into the shotgun world, and we are certainly here for it.
What makes the TS12 great?
Short Length
The first thing you'll likely notice about the TS12 — beyond its space-age looks — is how short it is: the overall length of the firearm is just under 29 inches, making it long enough to qualify as a shotgun rather than a short-barreled shotgun that would require more ATF paperwork. The TS12 is a bullpup, so it packs a full-length barrel that's 18.5 inches in length.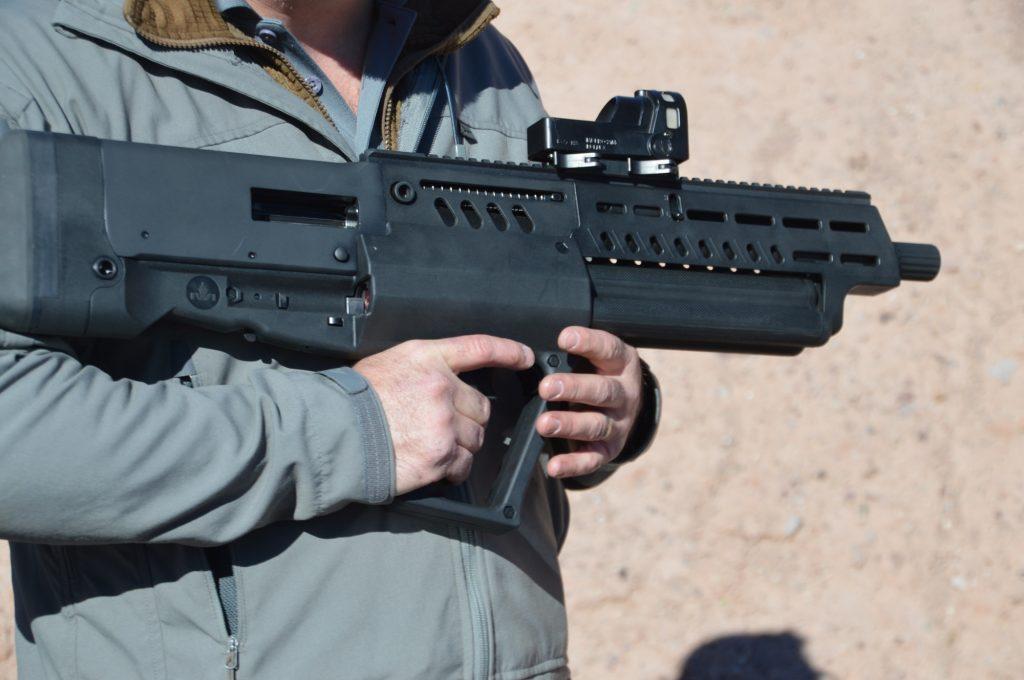 It's a decidedly compact shotgun in hand
Therein lies the benefit to a bullpup: for the overall size of the firearm, you can get more barrel length and thus better accuracy while still maintaining a platform that works well in close quarters.
As a comparison, a Remington 870 Tactical is just under 39-inches in length and only offers 6 rounds on tap, so the TS12 gives you a leg up on capacity and size. It's not a small shotgun, but its compact size paired with a high stock comb gives it a blocky feel in hand.
One fantastic feature is the tubes can be loaded from 2 separate loading ports on either side of the gun, and unloading cartridges is done through a side shell release button, which pops unspent shells out one at a time with a satisfying thunk via a side ejection port.
Barrel
The barrel can accept Beretta and Benelli chokes, too, meaning that you can help pattern the shotgun in whatever way you wish: we do appreciate that this revolutionary gun makes use of primarily standardized accessories.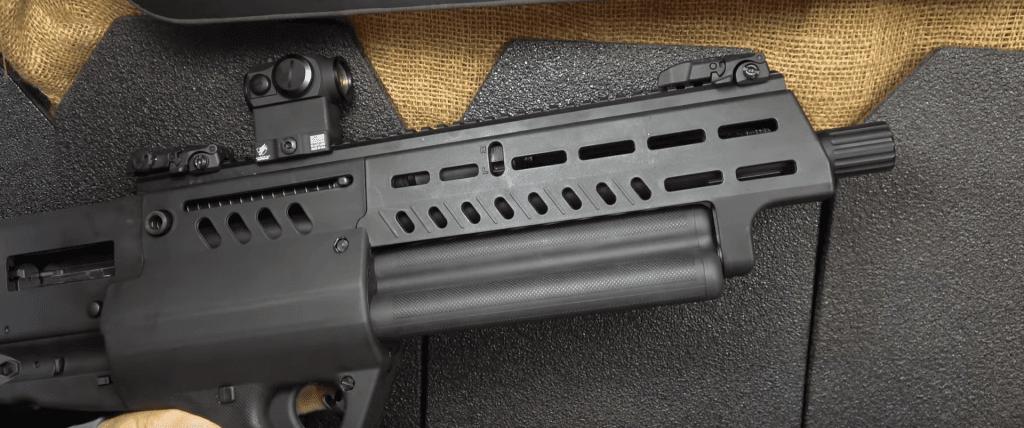 A full 18.5-inch barrel, M-Lok slots, & a swappable choke. Here you can see both the triple rotating tube magazines as well as the H/L selector for tuning the TS12 to either 3-inch or 2 3/4-inch shells.
Speaking of dialing in the gun, a gas regulator can be user-tuned to balance recoil and reliability with whatever rounds you do end up shooting, provided they are minimum 1200 fps and 1 1/8 oz weight.
This is a wise choice considering the sheer variety of shotgun loads out there which will affect how the action cycles, and the H (High) or L (Low) settings have a clear purpose — 2 ¾ shot shells use the "L" setting while higher velocity 3 inch magnum rounds use the "H" setting. A simple and effective feature.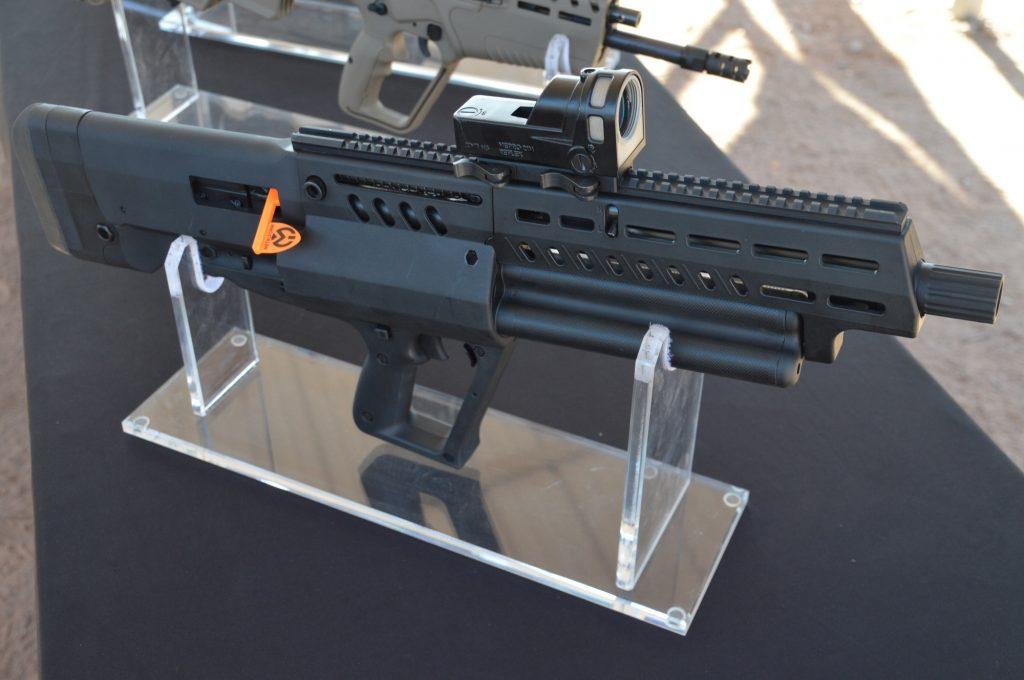 The full-length Picatinny rail up top gives you as much as possible for optics or irons.
Capacity
The other significant innovation here is the tubular magazine system. The series of rotating tubes can be swapped quickly — moving from an empty to a fresh tube in an instant. In those tubes, you can get a total of fifteen 2.75 inch shotgun shells, though the gun can take 3-inch shells as well, which will reduce overall capacity to 12 (4 in each tube).
Aside from the convenience of having that much firepower on tap, there is also the option of choosing different shells for the various tubes, adding a strategic layer to the shotgun. For instance, one could have buckshot, birdshot loads, and slugs all in one loadout.
Controls
Using the shotgun is akin to a mix between SCAR handling characteristics and those typical of a shotgun in a more conventional format. The charging handle is on the left side of the gun, and the ejection port is on the right, making it handle a little like a SCAR or an AK platform rifle.
The safety, however, is more like a typical shotgun, using a cross-bolt safety on the grip. It will take a little practice to get used to it, but overall the TS12 handles incredibly well provided you're right-handed. While the controls are ambi, there's no way to swap the charging handle or ejection port without taking the gun to an IWI-certified armorer to perform a left-hand conversion.
You can also send it to IWI to have them do the conversion for $139 shekels, so factor that into your cost/benefit analysis.
While you can technically shoot the firearm with either hand, we don't love the idea of being hit in the face with spent shot shells.
Furniture
The chassis of the gun is set up for attachments of all kinds: there is ample Picatinny rail space on top for the optic of your choice, M-Lok-compatible rails around the barrel, and sling attachment points on the rear of the gun.
Were we setting this up for home defense or combat, we'd likely add a red dot sight to the rail, a left-side light, and take advantage of those sling attachment points to make this into a great CQB gun.
The TS12 is an innovative shotgun by a company that is known for both innovation and excellence. We think it is, in fact, a revolutionary shotgun that modernizes the 12 gauge such that we expect to see it on the battlefield for years to come.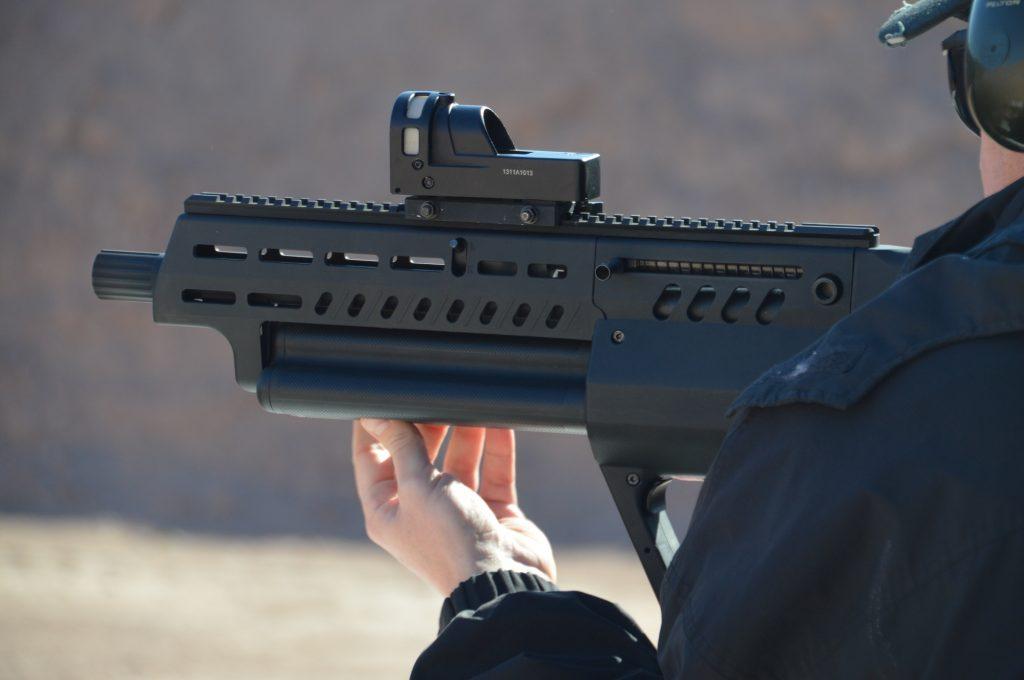 Rotating the tube magazines is enabled with the push of a trigger-guard mounted release lever, and requires some coordination to transition smoothly from one tube to the next.
No innovation is without its fair share of hiccups, and the Tavor TS12 has a few reliability issues. It has a reputation for being very selective about loads, with some folks reporting issues with up to 10% of the fired rounds.
This obviously isn't something to write home about, but as far as we can tell, the majority of the issues pertain to birdshot, which isn't exactly a load one would plan to use with the TS12 for things like home defense. It's also possible that the gun will run more consistently with a significant break-in, which is not something review units can offer.
The other issue is its lack of aftermarket support. Unique designs like this simply aren't going to have the deep well of aftermarket and accessory options of more proven, classic scatterguns. I mean, you can outfit an entire retail store with Rem 870 aftermarket products alone.
You'll be able to mount an optic and a few accessories, but the TS12 that comes out of the box is the one you'll be using for the foreseeable future.
Not sure the TS12 is for you? Here are a few alternatives that give you the same bullpup feel with a little less sticker shock.
Kel-Tec KSG
While not a semi-auto, the fully ambidextrous Kel-Tec SKG is a pump-action bullpup that does a lot of things right. Its ejection port drops empty shells downward, ensuring you lefties aren't scorched with hot brass, and the pump-action goodness will make a wider range of loads available to the shooter – something semi-autos like the TS12 often can't claim.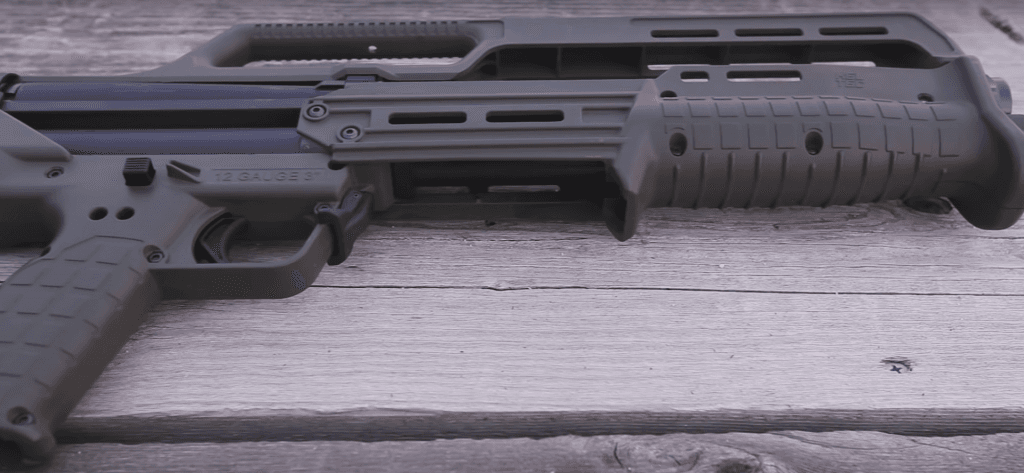 While not as polished or revolutionary as the TS12, the KSG is compact and sports solid capacity.
It's also very short at 26.1-inch overall length, making it almost 3 inches shorter than the TS12. You also don't have to sacrifice much if any capacity — the KSG's unique magazines sport 14+1 shot capacity, and the KSG-25 model gets you 25-shell magazine capacity — 10 more than the TS12.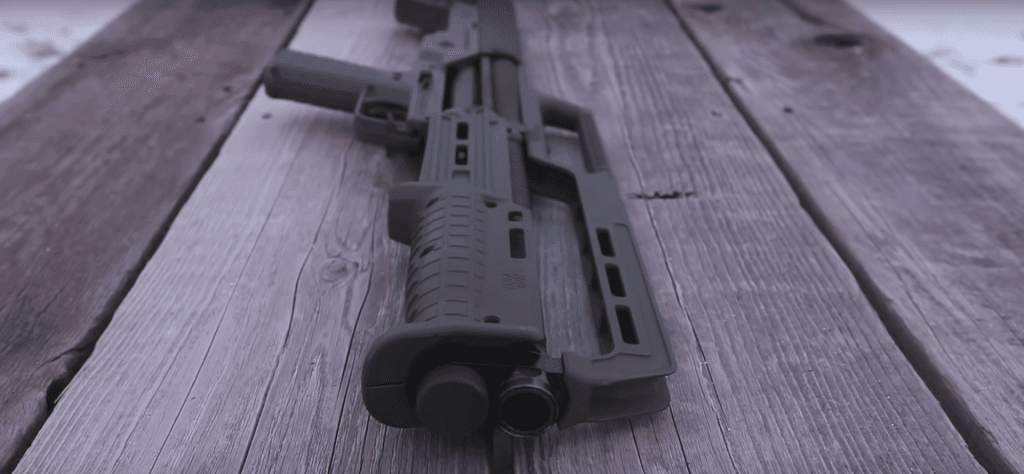 Pump actions offer more reliability, which is something KSG has over the TS12.
Best yet? The KSG can be had for around $900 – about a third less than the TS12.
Black Aces Pro Series
If you're really set on a bullpup semi-auto, but the idea of shelling out $1,500 or more keeps you up at night, check out the Black Aces Tactical PRO series 12-gauge bullpup.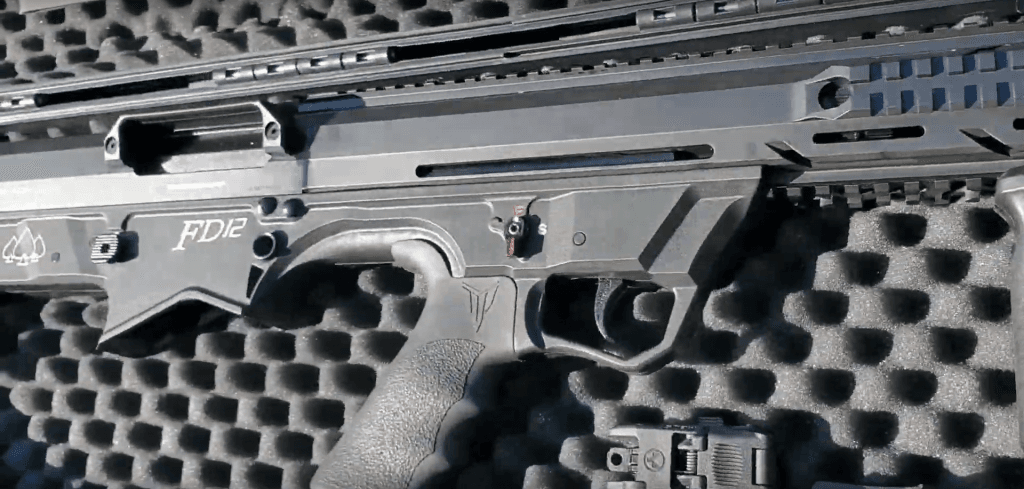 Mag-fed shotguns are all the rage these days, and bullpups help keep the overall length down to a manageable size.
Sure, it's not from an Israeli defense contractor, nor is it particularly groundbreaking, but it's a fantastic mag-fed bullpup shotty that can be had for less than $600 most days of the week.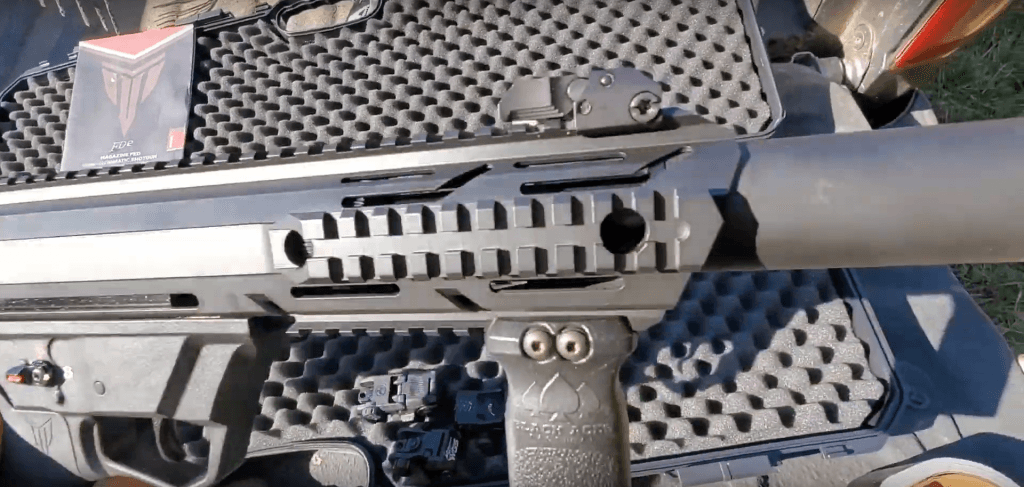 The Black Aces Pro Bullpup has as much rail space as the TS12, but more mounting options, such as this under-barrel grip. Not something you'll be able to outfit the TS12 with.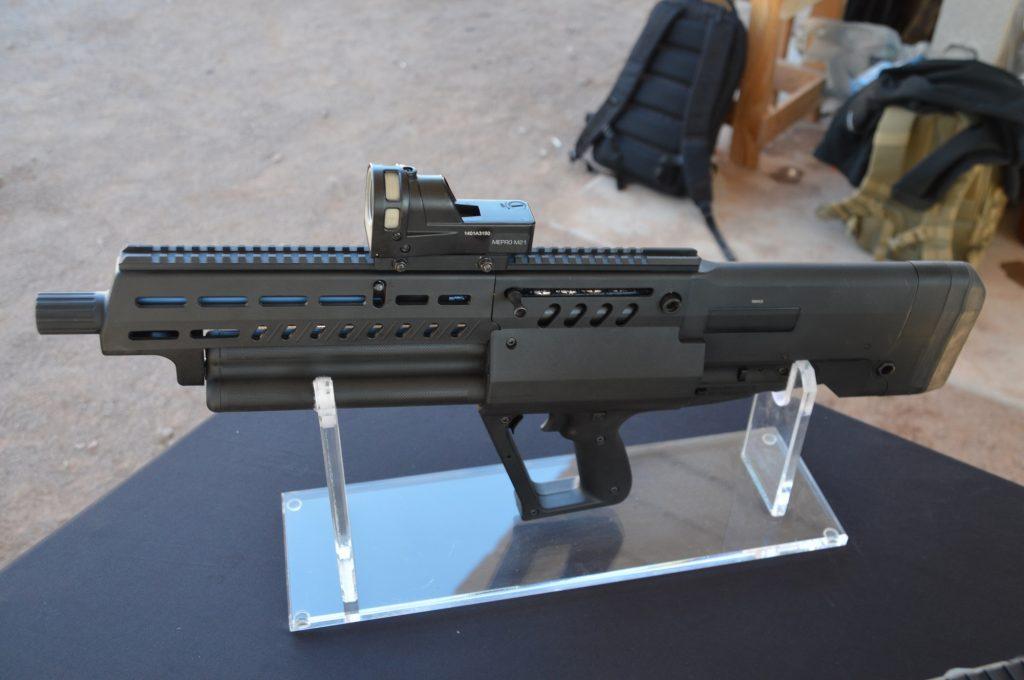 The left-side charging handle and chunky stock give the TS12 a SCAR-like feel.
The Tavor TS12 is one of the most innovative shotguns on the market today, and we think it is a revolutionary bullpup combat shotgun that will keep shotguns relevant for decades.
It's not perfect, but if you can get time in with it and work out around its shortcomings the IWI TS12 seems like a fantastic choice for its intended purpose.
Sources