Guide to the Beretta 92
Written By
Michael Crites
Licensed Concealed Carry Holder
Reviewed by
Editorial Team
Learn About The Editorial Team
Share:
Products are selected by our editors. We may earn a commission on purchases from a link. How we select gear.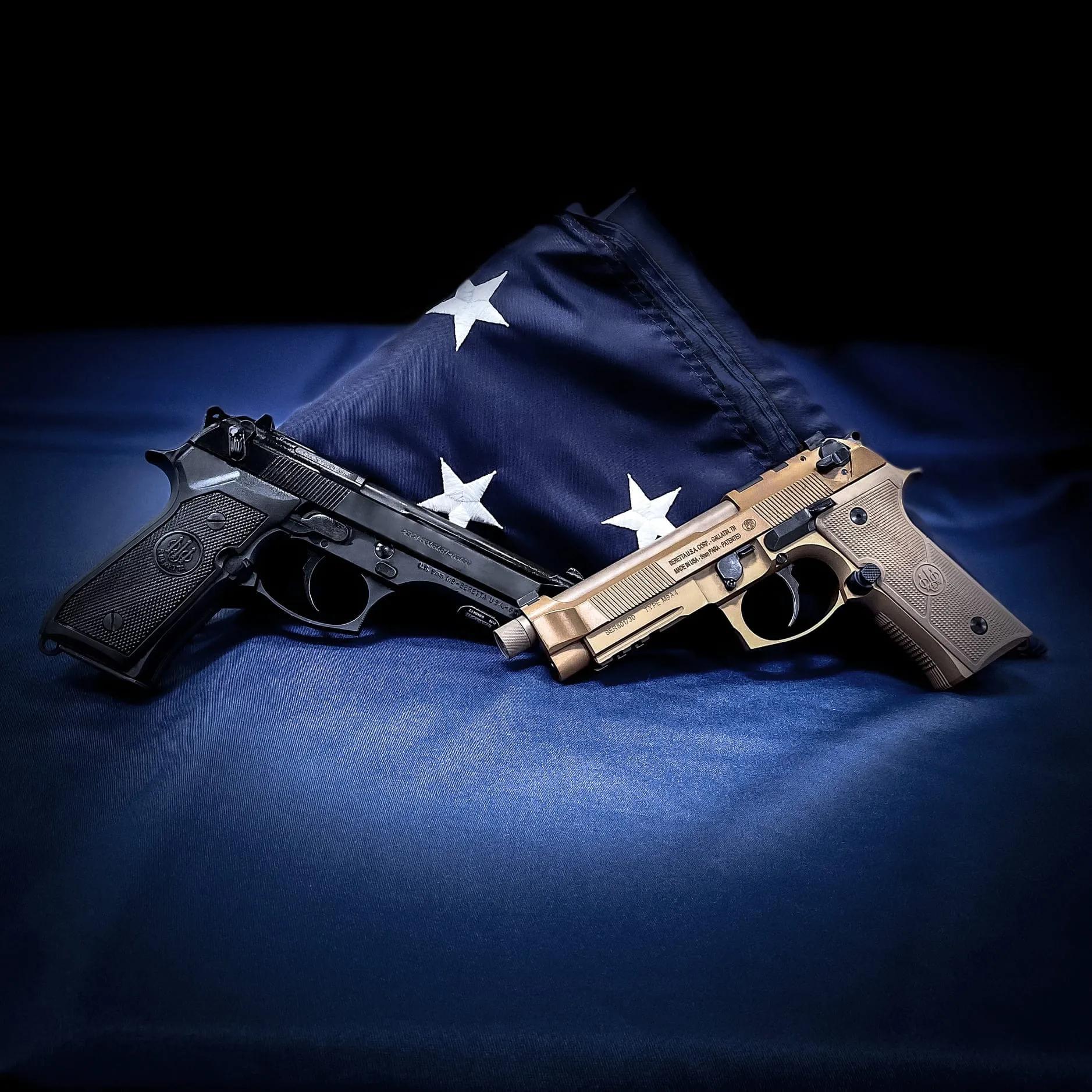 Undoubtedly one of the most popular handguns ever made, the Beretta 92 has been around for a solid half-century and has no signs of going away any time soon.
We detailed the 100-year history of Beretta's pistols previously, but the 92 is a beast of its own. With that, how do you pick a good one that does everything you want?
Buckle up, we'll walk you through it.
Beretta traces its origin to Gardone, Italy, reaching back to 1526 when Bartolomeo Beretta was paid 296 ducats by the Arsenal of Venice for a batch of 185 arquebus barrels. Pushing five centuries into the future, the company is still going strong and has diversified from just making barrels by quite a bit.
These days, they own Benelli, Burris Optics, Franchi, Sako, Steiner eOptics, Stoeger, Tikka, and Uberti as well as a few other companies we probably forgot about.
Truly an international company, Beretta USA was founded in 1986 in Maryland where they built a plant to make the M9 (Beretta 92) for the military and expanded in 2016 to a second factory in Tennessee, giving the giant gunmaker more production space in the United States than anywhere else.
In other words, while Italian-born and bred, today's Beretta has a very American flavor.
Where did the Model 92 come from?
Beretta's first semi-auto pistol, Tullio Marengoni's Model 1915, was a 9mm that was adopted by the Royal Italian Army in World War I. The Model 1915 began an extensive line of battle-proven handguns that would lead to the Model 92 some six decades later.
In the 1920s, the company introduced a shorter replacement of the M1915, the Marengoni-designed M1923, followed by the M1934 (also one of Marengoni's babies), which would prove one of the most popular military and police pistols of the 20th Century with over a million were produced.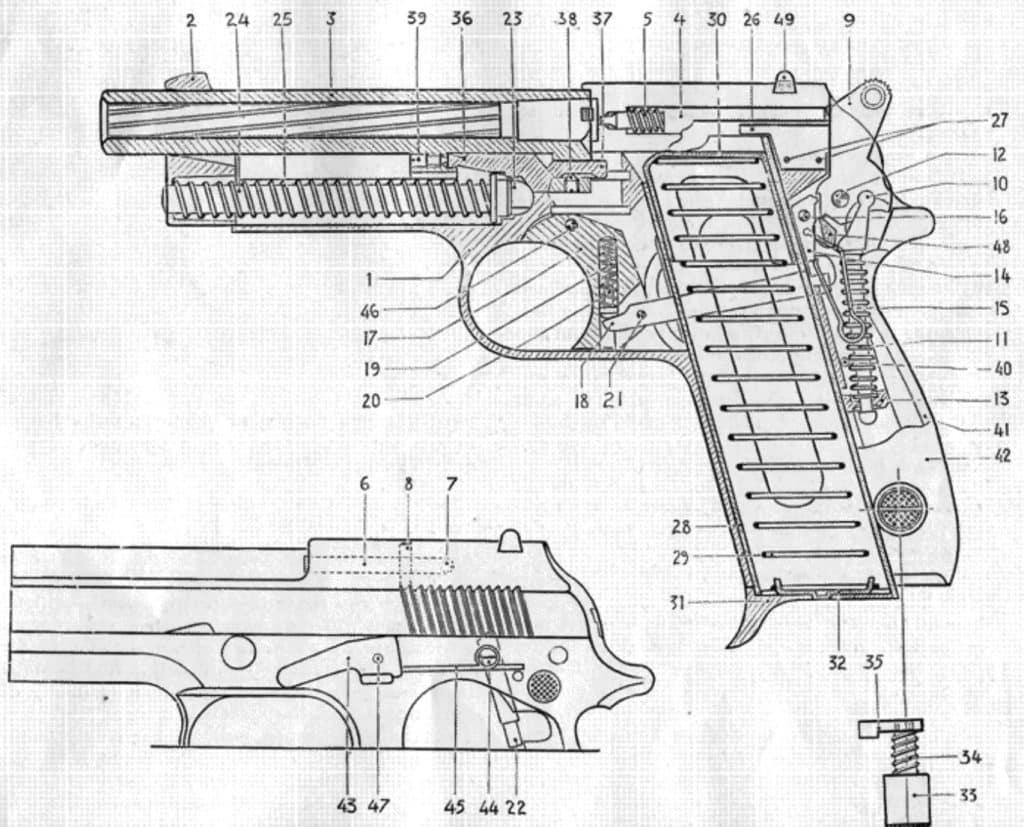 Beretta 1951 schematic. Note the similarity to the Beretta 92
Then, in the early 1950s, Beretta would introduce the slightly larger M1951 (or just 951 to some). A smash hit, the svelte single-stack pistol proved successful, especially in overseas sales throughout the 1960s.
Of no surprise, it was developed by Maestro Marengoni and his key 1950 patent (Nº 467871) for its Walther-style pivoting (dropping) locking block, which looks remarkably like today's Model 92.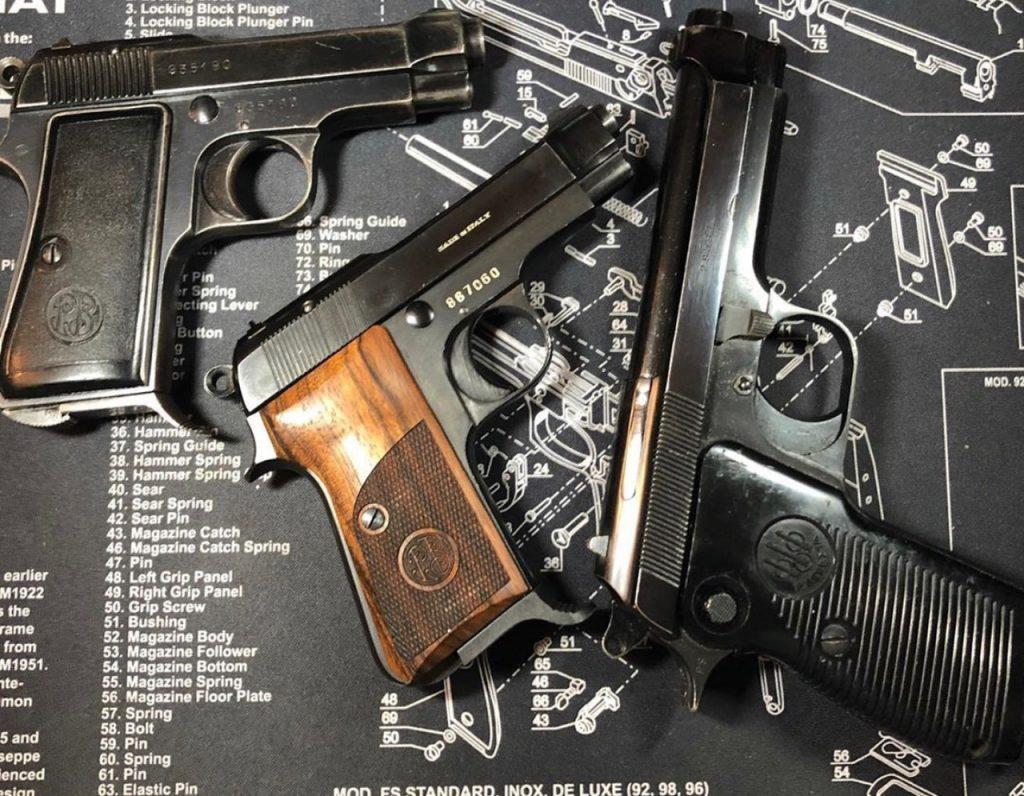 The Beretta M1934, M1923, and M1951 via Beretta. All were designed by the company's genius engineer, Tullio Marengoni, who could rightfully be thought of as the grandfather of today's Model 92.
While the M1951 was well received– after all it was accurate, easy to master, reliable, and compact– it still had room for improvement.
Although Marengoni passed in 1964 at age 85 (and Beretta is probably still lighting a candle for him every night), the company's engineers lost no time in updating his final design for a modern era. This included an alloy frame that saved weight (the steel framed M1951R weighed almost 40 ounces, unloaded) and a redesigned feeding process that all but eliminated the need for feed ramps.
Between the open slide design and the new feeding protocol, the new gun mitigated most of the ammo-induced failures, upping the reliability.
First debuted in 1974, the Beretta Model 92 was truly something special. Using a 4.9-inch barrel and having a 15+1 magazine capacity in 9mm Luger, this double-action combat pistol had a frame-mounted safety.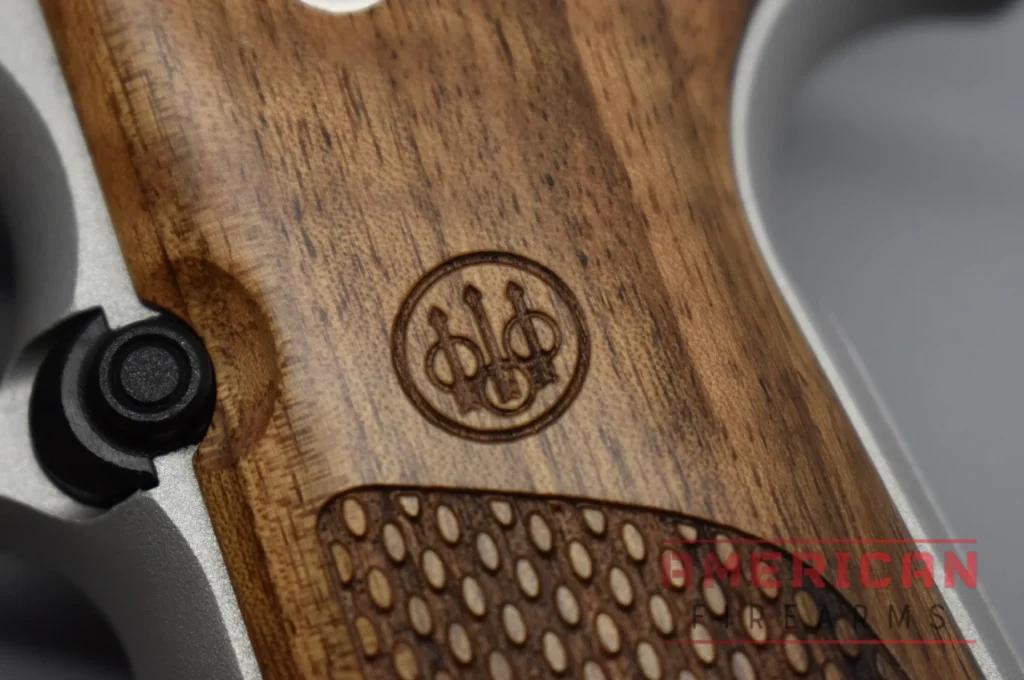 The Beretta 92's Classic Grip Logo
This gave users a more effective operating system than systems floating around at the time such as the Browning Hi-Power while at the same time providing industry-leading magazine capacity.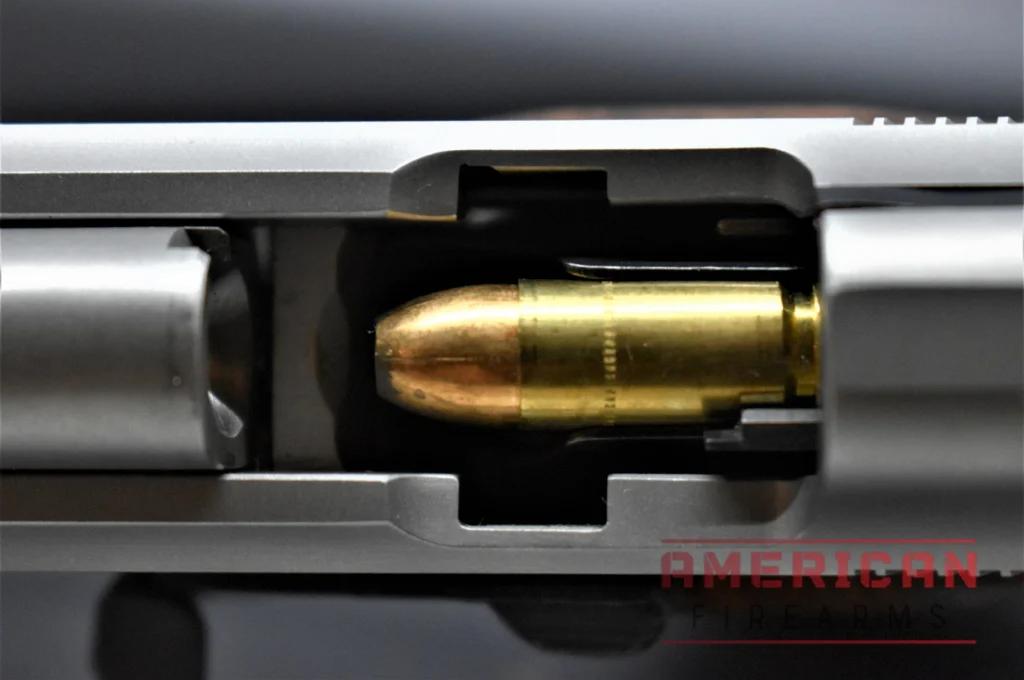 Rather than traditional feed ramps, the Beretta 92 series is almost direct fed into the chamber, allowing a more reliable loading and extraction process and making a more dependable gun. They eat just about any kind of factory-spec ammo.
In 1976, the Model 92 was incrementally improved– something that would be a common theme in the pistol's production to this day– and the resulting 92S model included a slide-mounted safety/decocking lever rather than the original frame-mounted safety lever.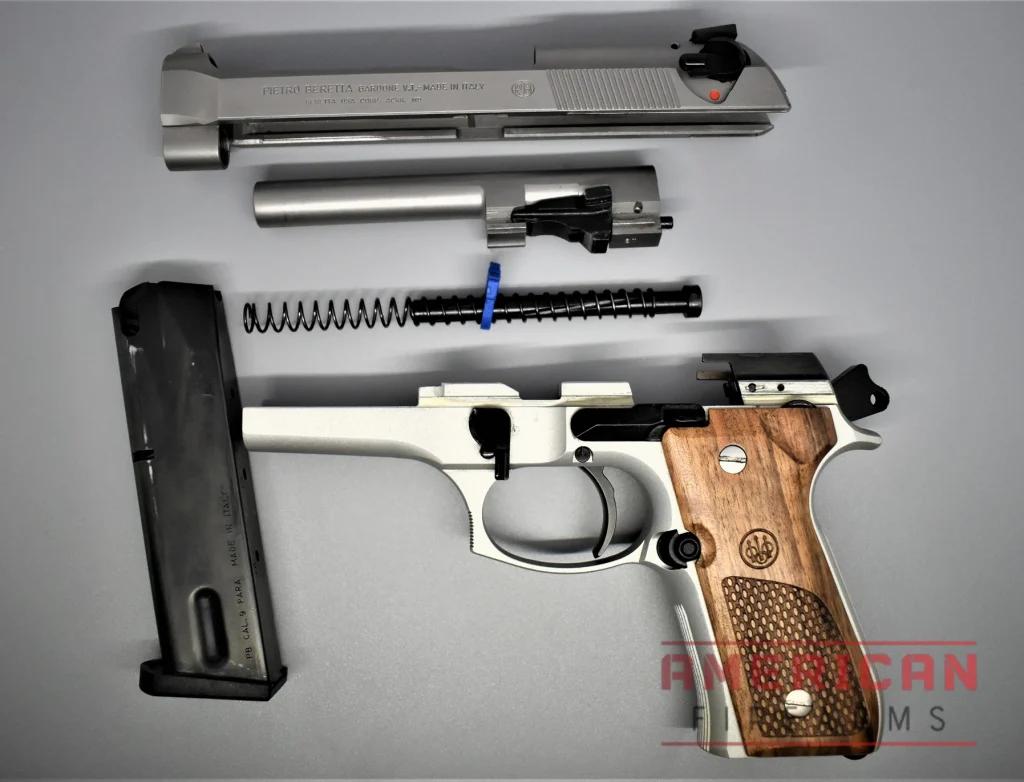 Beretta 92 Disassembled
In the early 1980s, Beretta upgraded the 92S to the 92SD which had an American-style magazine release near the trigger guard rather than a European-style release at the heel of the pistol, a firing pin block, and other improvements.
Further development led to the 92F which switched the commonly seen rounded trigger guard transformed into a squared-off guard with a slightly redesigned grip angle to better allow those with smaller hands to achieve and maintain a solid grip on the pistol. This is the gun that beat out a myriad of contenders to win the U.S. Army's XM9 pistol contract trials in 1984 followed by a second round against different competitors in 1986.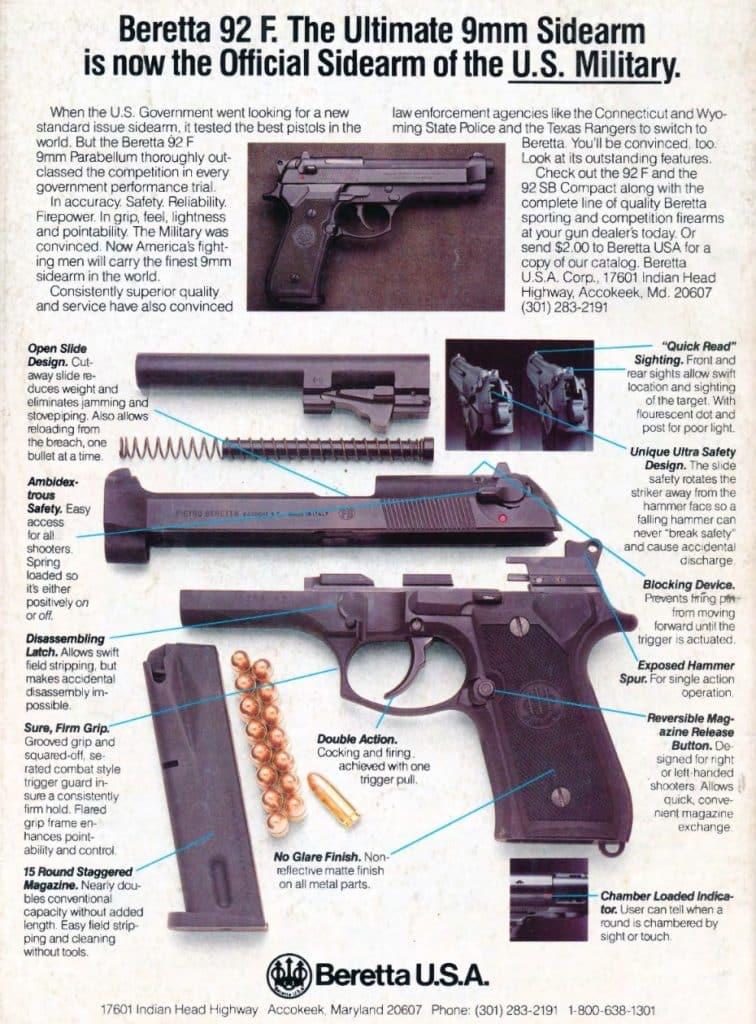 Beretta 92F M9 ad from 1986
In the 1984 trials, it bested 9mm submissions from Steyr, FN, Colt, Walther, HK, Smith & Wesson, and SIG.
In the trials, the worst tested Model 92 still ran through 875 rounds before it saw its first stoppage, while many of the same models went well past 3,500 rounds.
By comparison, the M1911 it was to replace only made it through 93 rounds before it jammed!
To meet durability standards required by the U.S. military, Beretta chrome-lined the barrels and developed a new anti-corrosion coating, Bruniton, to hold up against harsh climates ranging from polar regions to deserts and jungles.
1990s Beretta M9 92 advertisement
The Army adopted the Beretta 92F to replace the long-serving M1911A1 in 1985. After 1988, these guns were fitted with an oversized hammer pin as an extra safety mechanism to prevent slides from separating from the weapon when used with over-proof ammo.
This gun, adopted as the M9, remains in production for the legions of fans and former servicemembers who want to own what they carried in Afghanistan, Iraq, Haiti, Kuwait, Panama, Somalia, well… you get the idea.
The commercial version of this classic, the 92FS, is also still in production.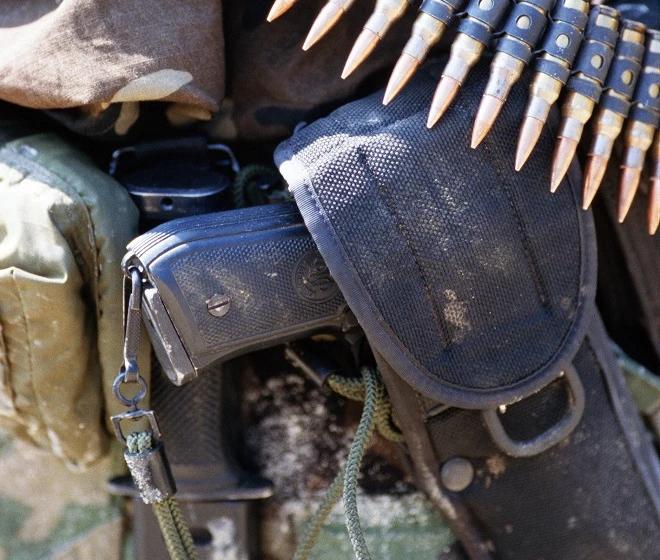 Beretta M9 carried by US Navy Seal circa 1987
Produced and first adopted as a military and police arm in Italy and then soon exported– with the company's skilled legions of traveling salesmen knocking on doors around the globe—the Beretta 92 was a hit from the start. The prior success of the Beretta M1951 series made it easy to follow up with those prior customers with the easy selling point that the 92 was much the same gun but with twice the magazine capacity.
If you knew how to use, clean, and maintain the M1951 already, then picking up the 92 was a snap and you had double the bullets on tap.
What's not to like?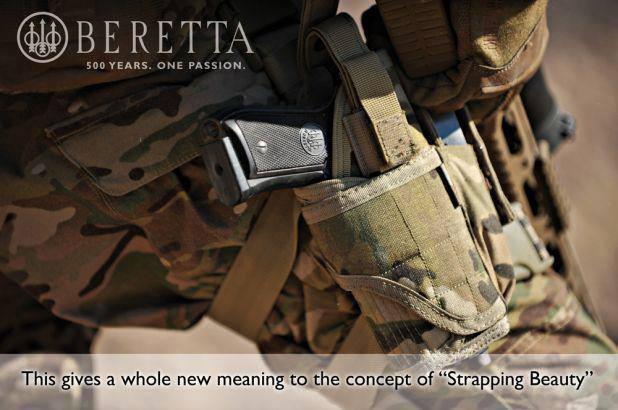 A Beretta army poster
Then came big military contracts with some of the largest armies in the world.
This included Brazil (which included Beretta setting up a factory in Sao Paulo in 1976– that Taurus later bought– to make the guns domestically), Egypt (where it was made as the Helwan 920 on the same line that previously made the Helwan Brigadier, a version of the M1951), France (where it was made under license in the famed MAS plant as the G1), India, the Royal Thai military (another former M1951 user), Turkey, and, of course, the United States.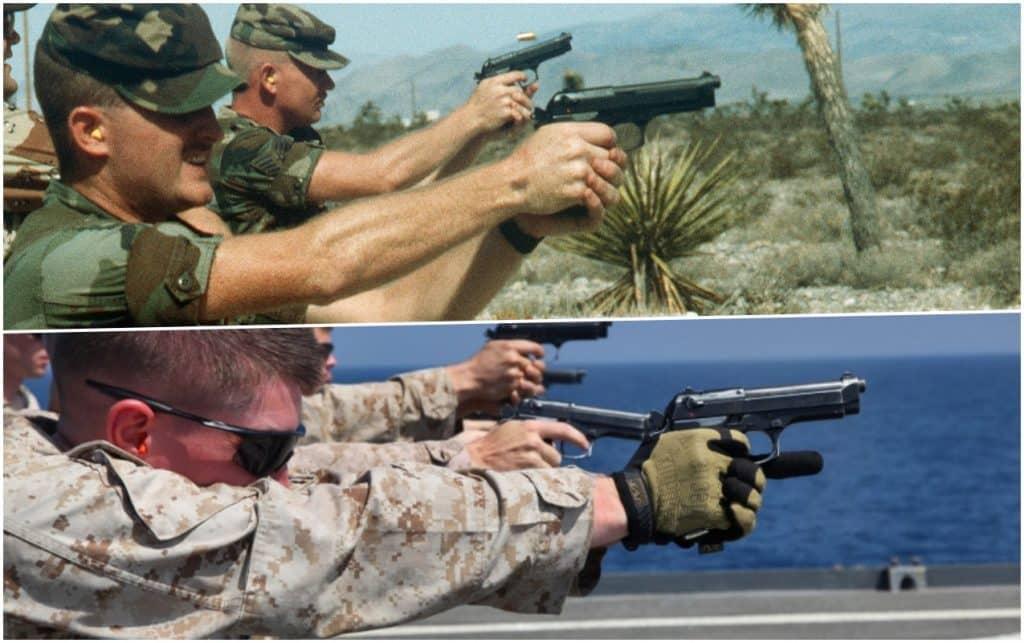 Still used by US Military 1988 (above) and 2022 (below)
Between 1986 and 2022, more than 830,000 Beretta M9 variants were delivered to the U.S. military, making it the most widely used handgun purchased by Uncle Sam for the troops since the World War II-era M1911 .45 Government Issue.
Used extensively by all four main service branches and still held in armories despite the recent adoption of the Sig Sauer P320 as the M17 Modular Handgun System, odds are the U.S. military will still have Berettas on hand for a few more decades.
This of course led to lots of police contracts as well, and the 92 became the standard sidearm of both the LAPD and LASD, among others, with those two huge departments faithfully carrying the 9mm Italian stallion for almost 20 years until later switching to Glocks.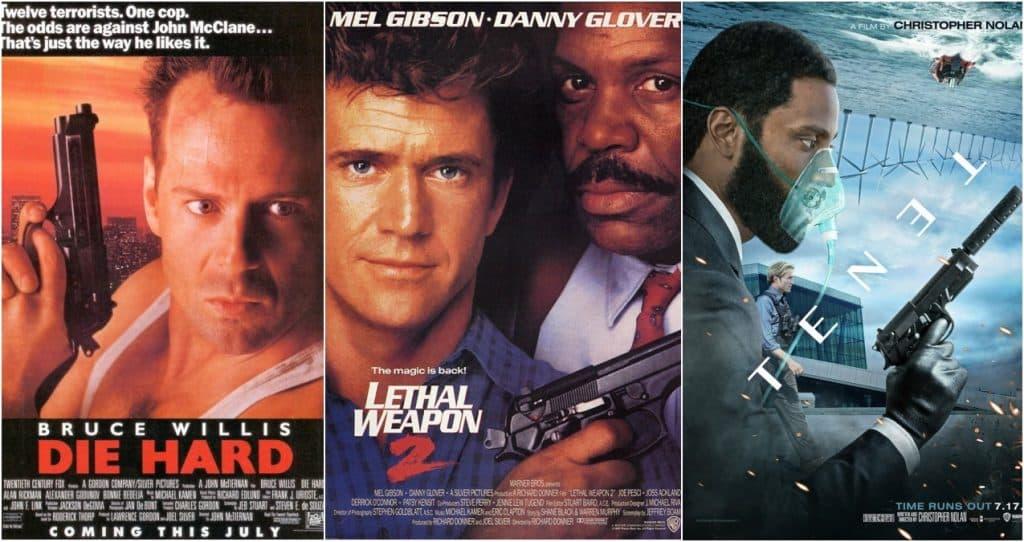 The Beretta 92 has graced an obscene number of movie posters
In the forgotten 1992 classic Kuffs, Christan Slater probably said it best when walking into a gun store and asking, "I'm looking for a really big gun which holds a lot of bullets," and he was promptly presented a Beretta 92 without further discussion.
The Different Flavors of the 92
Centurion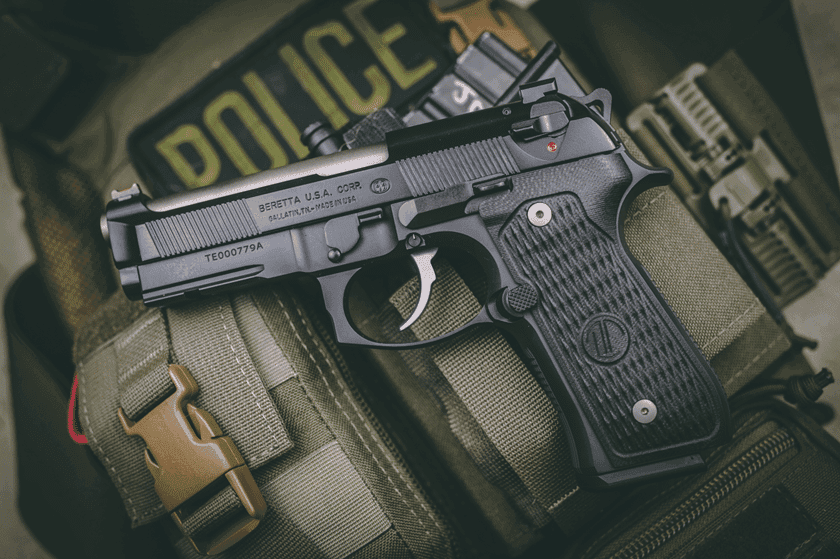 The 92G Elite LTT Centurion
In 1992 Beretta cut the size of the standard 92FS series down — from a 4.9-inch barrel to a 4.3-inch barrel fitted into a shorter slide without the slide-mounted safety, then christened it the Centurion.
As all that changed was slide/barrel length, it still used 15+1 magazines and a full-sized frame, which made the pistol more "carry-friendly" without losing magazine capacity. Beretta still uses the Centurion concept on their new 92X series, as well as LTT Elite models.
Compact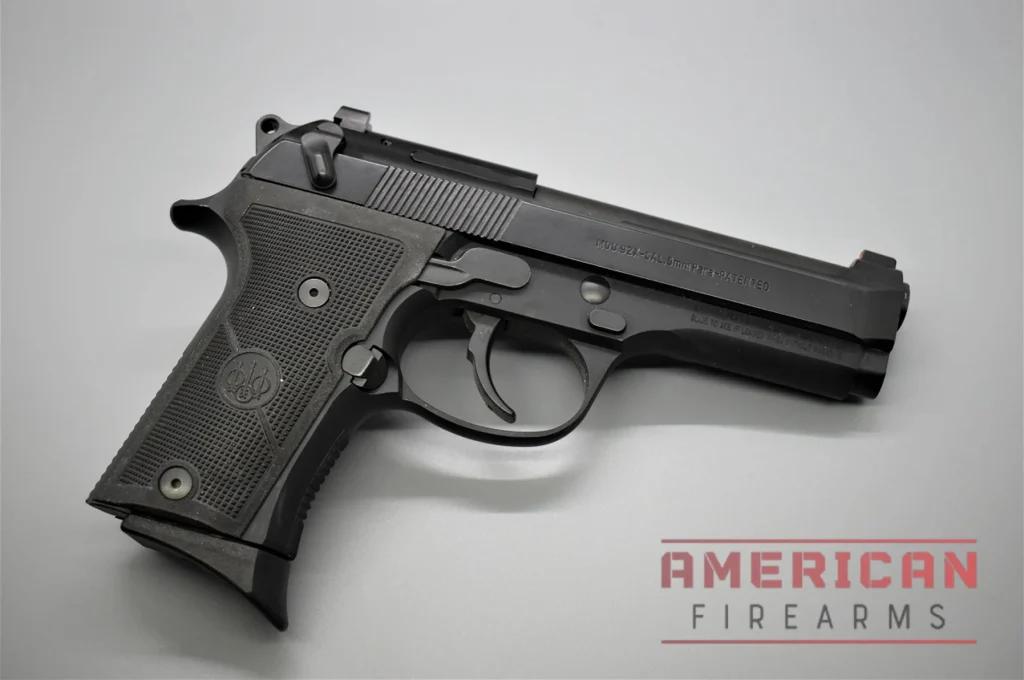 The Beretta 92X Compact
Beretta's 92 Compact takes a Centurion-length slide and 4.3-inch barrel and mates it to a shorter frame. This cuts both weight and height when compared to the Centurion while trimming magazine capacity to 13+1 rounds.
The current Compact 92 variants are a model of the 92X and an LTT 92G.
Brigadier models
Starting in 1999, Beretta began to market a heavier slide to reduce felt recoil, something that was especially attractive to those such as military and law enforcement users who often put a high round count through their guns in a brief period.
Since then, Brigadier models have come and gone from the company's catalog, typically accompanied by wraparound rubber grips and 3-dot combat sights. Today, it is still seen in the company's 92X Performance series of practical competition-ready guns.
Vertec Frame
Beretta M9A3 with Vertec Frame
After more than 25 years of experience and feedback with the Model 92 design, Beretta slimmed down the frame using grip panels with a different geometry, a straight backstrap grip, and a short-reach trigger.
This Vertec treatment took a lot of circumference from the design, thus enabling those with smaller hands to get an easier reach on the pistol's controls. It also allowed users a higher grip on the gun, contributing to better accuracy. Beretta has used the Vertec frame on its M9A3 as well as the 92X series guns.
What about the 92G?
The 92G LTT
Beretta took the 92F in 1987 and, to meet a French Army requirement for the MAS G1 pistol, redesigned the slide-mounted safety lever to work as a decocking lever only to safely lower the hammer without pulling the trigger.
Beretta started offering this same style of decocker slide design as the 92G (from the G1 designation) and both factory-made guns and conversion kits are out there to retrofit 92F series guns to use the decocker. Most of the LTT Elite models offered have been with a "G" slide.
M9A1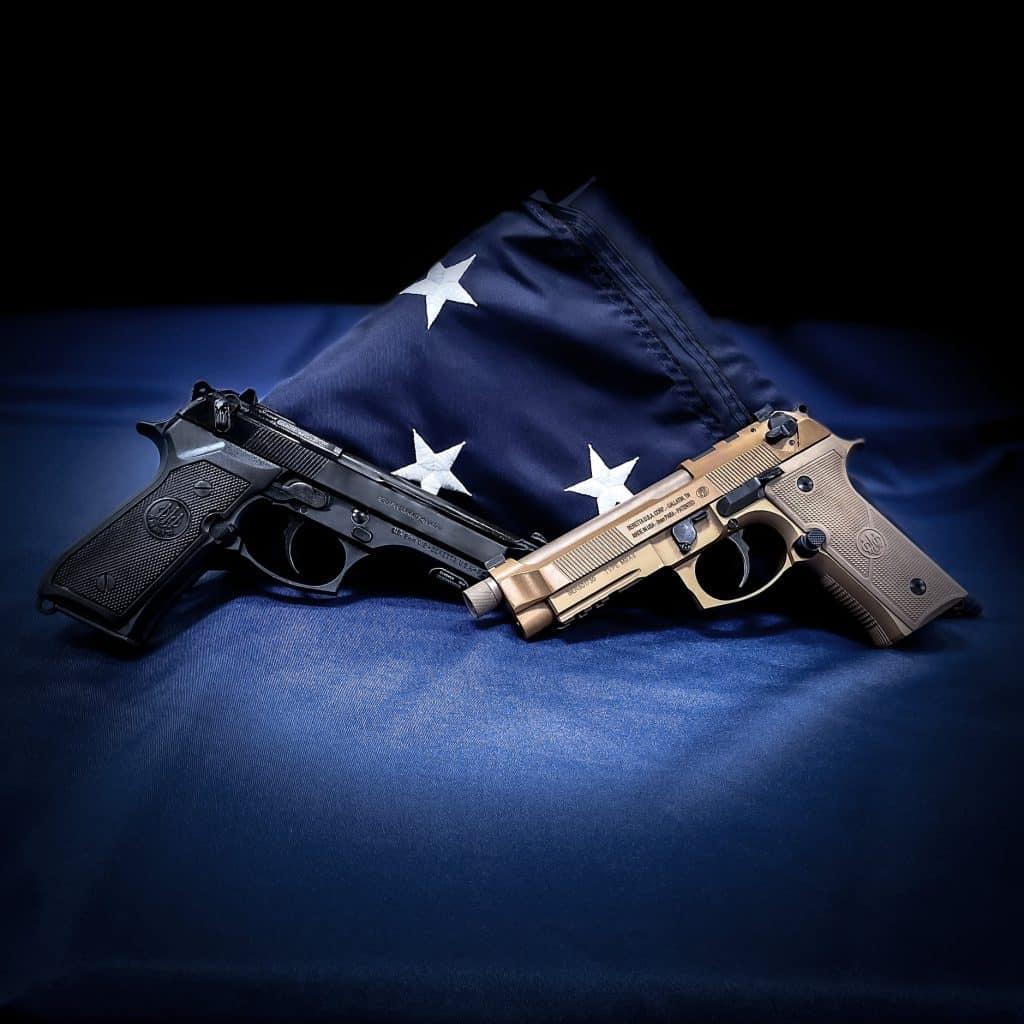 Beretta M9 and the Beretta M9A
Originally developed as a pistol for the Marine Corps in 2006, Beretta took 30 years of experience in building Model 92s to update the design to create the new-and-improved 92A1.
Over the years, the original locking blocks of the 92 series were good for about 10,000 rounds but this has been surpassed to the 20K plus region for any guns made in the past decade, starting with the 92A1, essentially doubling its service life where that component is concerned.
Other adds were a more aggressive back and front strap checkering, a frame-mounted MIL-STD-1913 accessory rail, an internal recoil buffer, and a redesigned captive recoil spring assembly– other updates that increased the pistol's lifespan.
The Beretta M9 in action
This series also saw the introduction of the (gratefully backward compatible) 17-round "sand-resistant" magazine that is the same dimensions as the old 15-shot mag but uses an updated spring and follower. These mags feature a "dirt rail" along their length, which helps collect dust and grit out of the magazine while keeping cartridges clear of the magazine walls.
92A1
In an interesting throwback of sorts, Beretta reached back to the old 92S days and gave the 92A1 a rounded trigger guard.
Other than that, and a better finish, this model had all the improvements the company introduced in the M9A1 series in a more commercial-friendly package.
M9A4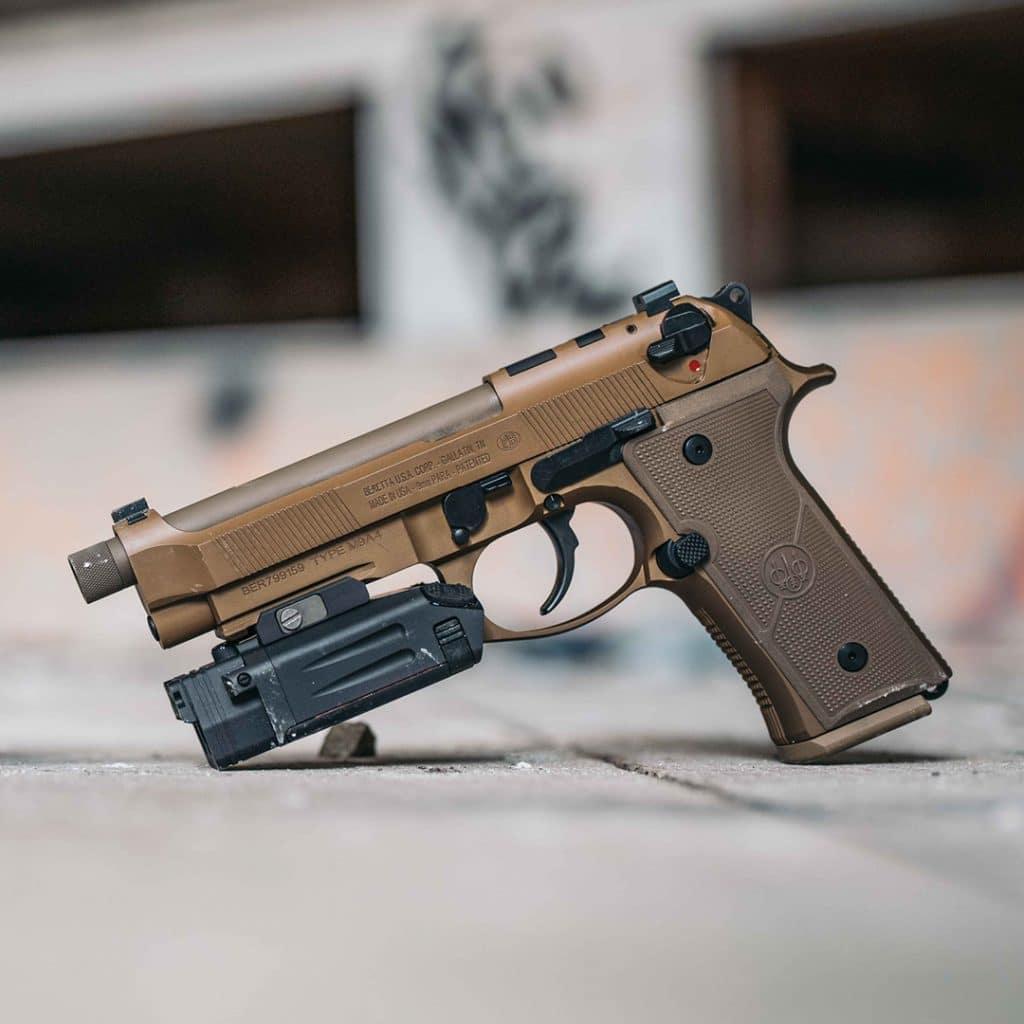 The Beretta M9A4
Beretta's newest platform when it comes to the Model 92, the recently introduced M9A4 adds features such as a factory-cut slide for red dot optics, a beveled magazine well, and texturized Vertec-style thin grips for instinctive control and a more natural fit for all shooters.
It also comes standard with an enhanced short reset Xtreme Trigger System and an 18-round magazine– for folks that wanted more than the regular 17+1 sand mags that came out with the M9A1 series.
92X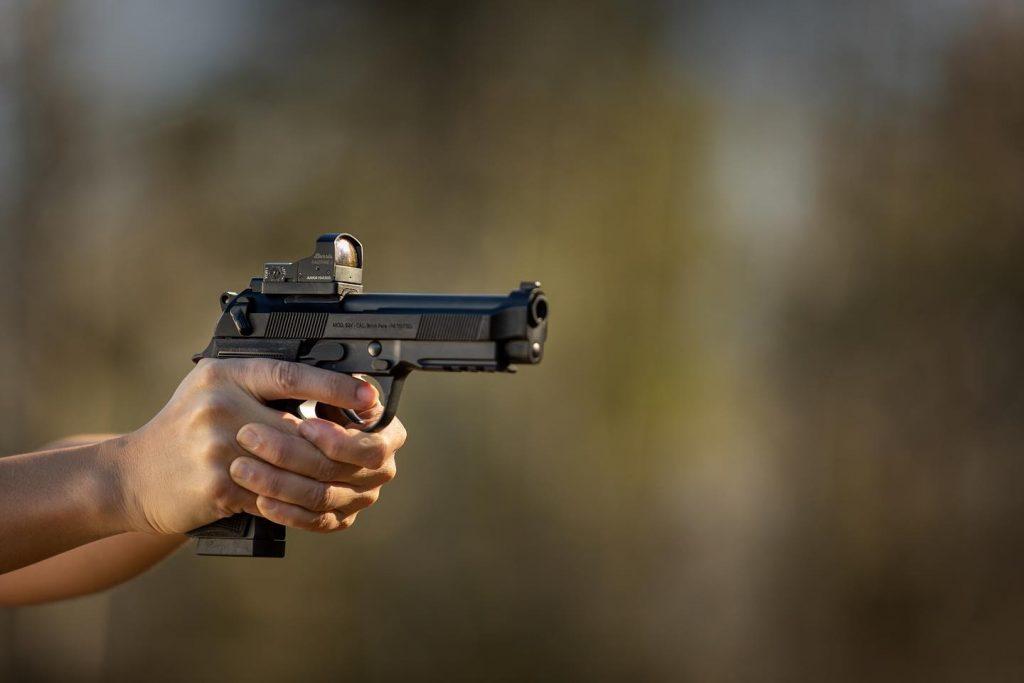 The Beretta 92X RDO
Back in 2019, Beretta sat down and clean sheeted what was essentially the best Model 92 they could offer.
Unlike the Italian-designed guns, the resulting 92X series came from the folks here in the U.S. at the company's Tennessee factory. Starting with the thin Vertec frame with aggressive front and rear checkering, they added a chrome-lined barrel with a recessed target crown.
They next added enhanced surface controls such as an extended magazine release, then blended a skeletonized hammer with a short reset trigger, high-visibility orange/black combat sights, and new-designed wraparound textured grips to the mix.
The guns use the "F" style decocking safety but can be fitted with a "G" style decock-only lever, have a 3-slot Picatinny accessory rail (a Compact model sans rail was discontinued shortly after launch because, why bother, right?), and a Bruniton finish. The line put the M9A3 effectively to bed as the latter was obsolete after the X series came around.
92X Performance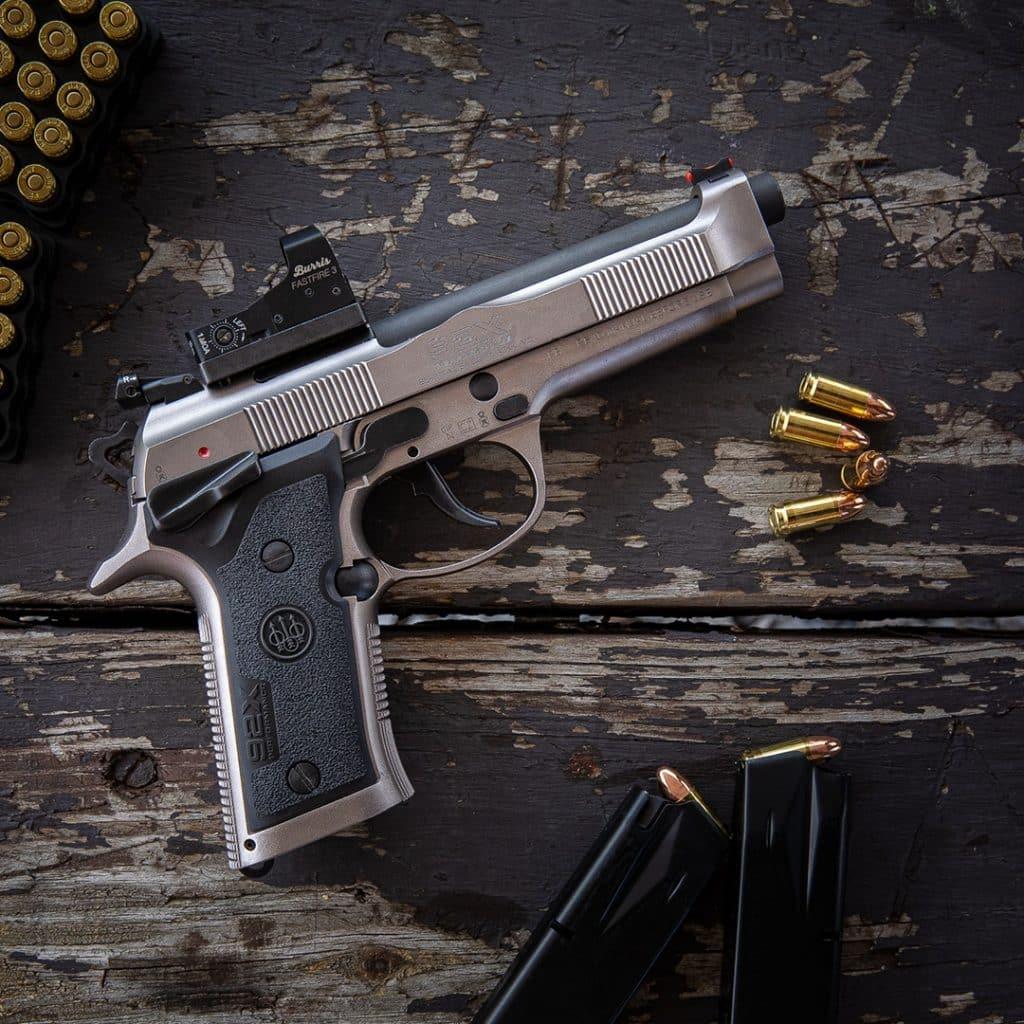 92X Performance Defensive
Confusingly, Beretta also included the 92X Performance in its 2019 92X line release.
We argue it should be its own family as the only thing it has in common with the other "X" guns is a Vertec-sized grip and 9mm chambering. Rather than the Tennessee-made guns, this bad boy is still Italian-crafted. Unlike just about every other 92 made, it uses a stainless steel frame rather than one with an aluminum alloy frame.
This makes it weigh over 3-pounds but allows it to "hang" on target. It also has the heavier Brigadier profile slide and competition-oriented upgrades such as an oversized magazine release, rubber magazine pads, a skeletonized hammer, Beretta's crisp Extreme-S trigger mechanism, and a red fiber optic front sight with a full black serrated adjustable rear sight.
To complement the competition-oriented 92X Performance, Beretta in late 2021 announced the new 92X Performance Defensive, a practical/tactical model that sheds a quarter pound of bulk (making it IDPA production compliant) and an optics cut for popular MRDs ranging from Aimpoint, Trijicon, Burris/Vortex/Docter, and Leupold to the more European C-More red-dot patterns.
Ernest Langdon guns
The 92G Elite LTT Centurion
Renowned shooter and tactical instructor Ernest Langdon have been a staple of the Beretta family going back to his days in the Marine Corps in the mid-1980s.
Once he left the military, he transitioned from combat handguns to working at Beretta– and competing in IDPA with a Model 92G and developing the 92 (Brigadier) Elite series for the company. This evolved into a love affair that ended with Arizona-based Langdon Tactical Technology.
Today, LTT customizes 92s/M9s including optics cuts and trigger jobs, and Beretta has transitioned the old Elite series to now being 92G Elite LTTs– a dedicated series of Carry/Comp hybrids.
Beretta currently offers a full-sized (4.7-inch barrel) 92G Elite LTT, a shortened 92G Elite LTT Centurion with an 18-round mag and 4.25-inch barrel, and the even shorter 92G Elite LTT Compact with 15+1 mags and a Centurion-length slide.
All these pistols can outshoot the shooter.
So, which of these Beretta 92/M9 series 9mm pistols should you pick?
Well, while the company still makes some legacy models– such as the M9 and 92F– as people just love guns with classic styling, it also has a whole batch of extensively upgraded 21st Century models such as the 92A1, M9A4, and 92X series.
In short, the latter guns are not your father's (or grandfather's) Beretta.
While outwardly familiar with past variants, these new models stem from lessons learned after decades of hard use by millions of commercial, military, and law enforcement customers. Other than possibly Glocks or 1911s, there are probably more folks (and gunsmiths) familiar with the Beretta 92 family than any other platform.
They have even been the subject of clones from Taurus and Turkey, as imitation is the sincerest form of flattery.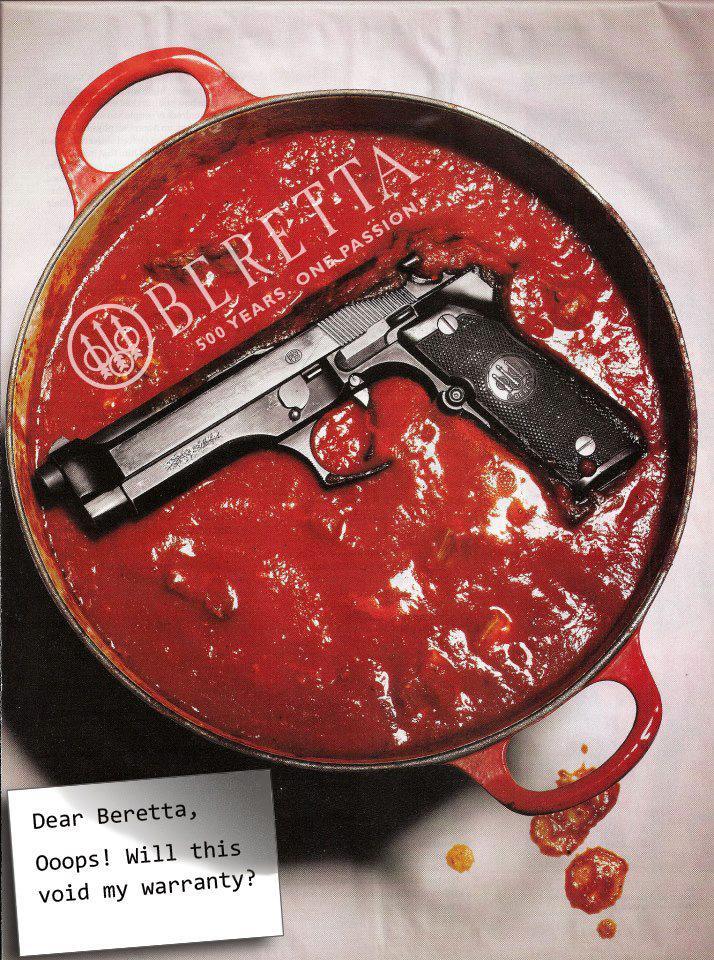 Beretta sauce is betta sauce
Beretta has been around for half a millennium and has been in the 9mm game for over a century– with the last 50 years or so of that dedicated to making the Model 92.
Today, after feedback and experience, these guns are probably about as close to perfect as they can be made. Bottom line is, that it is hard to go wrong with a modern Beretta 92/M9, just pick your features (i.e., do you need an optics cut, would you rather go "F" or "G" style safety levers, how long a barrel do you need, etc.) and take the plunge.
Odds are, you won't be disappointed.