The Best SKS Rifle Stocks
Written By
Michael Crites
Licensed Concealed Carry Holder
Reviewed by
Editorial Team
Learn About The Editorial Team
Share:
Products are selected by our editors. We may earn a commission on purchases from a link. How we select gear.
Determining what to upgrade on a rifle can be daunting. Optics, triggers, rails, & accessories galore all call at your wallet.
A good aftermarket stock will not only give you a huge array of configuration options for your favorite Russian firearm but can also make shooting this particular assault weapon even more fun.
Many folks love buying military surplus firearms – and why not? They're functional and can save you a ton vs buying the latest and greatest – not to mention their historical significance. But the SKS – like other mass-produced firearms – benefits from a little modification. It's wooden stock is heavy and scratch-prone, and the OEM SKS looks like it walked off the fields of Normandy.
Comparison of the Best SKS Stocks
Below is my list of the best SKS stocks. I list the best choices in terms of value, performance, design, and cost.
Click on the name to head to the product page, read reviews and check prices or skip ahead to the list of stocks.
| Name | Selection | Price |
| --- | --- | --- |
| | Best Overall | $81 |
| | Adjustable Stock Pick | $324 |
| | Integrated Rail Pick | $79 |
| | Bayonet Option | $75 |
1. Best Overall: ATI SKS Stock
We considered a number of different SKS stocks and think that both the Tapco Composite Standard SKS Stock and Advanced Technologies Monte Carlo stock are great choices.
The Monte Carlo stock vastly improves the ergonomics and accuracy of any stock SKS. The fit and finish is great, with the added durability of a composite material. Installs with only slight modification for most people and integrates a butt recoil pad and cheek pad.
Preparing an SKS for installation of the ATI Monte Carlo stock
2. Adjustable Stock Pick: FAB Defense
Specifications:
Type: Standard
Weight: 2.85lbs
Series/Collection: Intrafuse
Material: Composite
For Use With: SKS Platform
The most straightforward way to modernize an SKS is with an adjustable composite stock, and the FAB Defense M4 Chassis does the job admirably. We really liked multiple color options and folding stock, which updates a classic carbine in all the right ways.
The shock-absorbing adjustable stock and made of composite materials – so it's lightweight and scratch-resistant – and most importantly it's readily available.
This stock is easy to install and incredibly adjustable. You can dial in the pull for a variety of body types & shooting preferences. You'll get recoil reduction, durability, and a more stable shooting platform that is practically indestructible.
We really liked the straightforward design of this model, which helps reduce weight and prevents odd fitment issues. As we mentioned – one of the key features of an aftermarket SKS stock is minimalism.
The high-quality composite material means you'll rarely find a more durable replacement – which creates an SKS platform that shoots and handles easier – both for target shooting, hunting, or tossing over your shoulder and hiking into the backcountry.
It also provides a quad Picatinny rail system to accommodate accessories and a SAW-style pistol grip for more comfort and control – and it's made by a company that is well known for aftermarket rifle components.
What we liked:
Ambidextrous pistol grip
Composite material offers increased durability
Resistance to heat & humidity
What we didn't:
Will not accommodate bayonet formats
Not configured for scopes
3. Integrated Rail Pick: Tapco Intrafuse
Specifications:
Type: Standard
Weight: 2.85lbs
Series/Collection: Intrafuse
Material: Composite
Color: Black
For Use With: SKS Rifle Platform
This stock offers a bottom rail as well as the standard SKS fit, and the features we've determined make for the best replacement stock composite materials, pistol grip, and a collapsible stock.
It's about the same price as the non-bottom rail option at about $65 so if you need a bottom rail for your SKS, this is the best option in our opinion.
We liked the adjustability quite a bit – you can dial in your length of pull within seconds. The collapsible stock means you can break down your rifle quickly for easy storage in a closet, safe, or tight places like the trunk of your vehicle.
This stock gives you options. It's ideal for both people new to the SKS platform and SKS owners who don't have another rifle.
If you need to use your SKS for a variety of purposes this stock will give you the flexibility to feel comfortable in a variety of shooting configurations.
Need to make room for one more rifle in your cabinet? Pairing an SKS with this stock will give you that additional room.
If a bottom rail, ease of storage, and adjustability are critical for you – this stock is a well-priced fit.
What we liked:
Includes bottom rail
Easy to install
Lightweight
Comfortable grip angle
Engineered to be compatible with a variety of SKS models
What we didn't:
Sling mounts not pre-drilled
May need adjustment to accommodate parts options
4. Bayonet Option: Tapco Intrafuse
Specifications:
Series/Collection: Intrafuse
Weight: 2.85lbs
Material: Composite
Color: Black
For Use With: SKS Rifle
Includes: 6-Position Adjustable T6 Stock, SAW Style Pistol Grip, Upper Handguard Rail
Another fantastic Tapco product – very similar to the  Composite Standard Stock – but with the addition of a bayonet cut.
This opens up the fitment to classic carbines with bayonet fit requirements. It's also damn near indestructible and collapsible – making your rifle much easier to pack, store, and optimal for a variety of body types.
It's a little more expensive than the standard stock system – but at just under $70 it's still a perfectly reasonable price for such a useful upgrade.
The last of our Tapco recommendations, this is a well-made, durable stock that improves the adjustability and storage potential of your rifle – but also adds in fitment for bayonet versions of the SKS platform.
Obviously you still get the improved ease of transport, pull adjustments, and flexibility in a still amazingly affordable package that will transform a classic SKS into a much more functional, modern rifle without permanent (and often expensive) gunsmithing work.
What we liked:
Lightweight
Composite construction
Support for bayonet applications
What we didn't:
Sling mounts not pre-drilledMay need adjustment to accommodate parts options
Sling mounts not pre-drilled
May need adjustment to accommodate parts options
Why upgrade your SKS stock?
Loading & firing a bone-stock SKS
The SKS is a service rifle. As such it was based around an assumed physical average – it's a prototypical "one size fits all" rifle. People, on the other hand, come in a variety of shapes and sizes.
The OEM wood stocks (like those found on the Norinco SKS or Mosin Nagant) are certainly hard – but they're also heavy, cumbersome and can (as with all organic matter) warp or erode with exposure to water, heat, humidity, or simply time.
They also lack support for a picatinny rail or cheek piece, butt pads, tend to nick, scratch, mar, and discolor with (even careful) use.
Aftermarket synthetic stocks are practically (pardon the pun) bulletproof. Their durability and resistance to swelling or warping is a trademark feature.
Besides – which of these would you rather take to the range?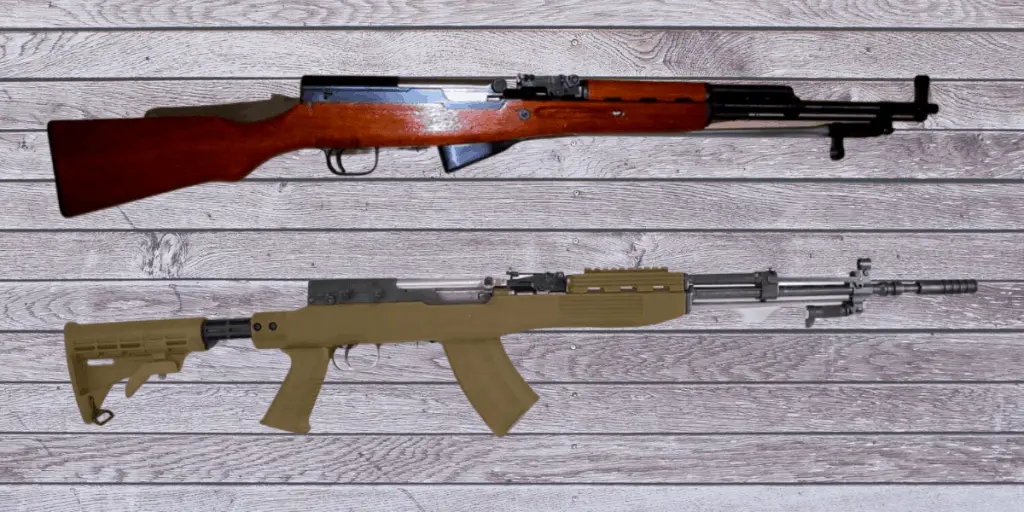 A Stock SKS vs a modernized version
Current SKS owners: add a scope
People considering an SKS: If you're interested in exploring the world of classic rifles and are encountering the array of shortcomings older products can have this guide should point you in the right direction to ensure you have a clear picture of how an updated stock will improve the SKS – and what you can expect to pay for it.
Important SKS Stock Features
Let's face it – OEM SKS components tend to be old.
These guns have been around since the 40s and if you're like me – a bargain shopper – you're probably looking at a rifle that has seen little in the way of upgrades over the years.
Based on our experience, as well as conversations with SKS experts and enthusiasts we think that these are the most important features to look for when you're ready to replace your SKS stock.
To research this guide to SKS stocks we leaned on our own experience shooting and customizing own classic rifles and consulted multiple sources.
We interviewed SKS enthusiasts in and local gun buyers in Oregon, Washington, and Texas; as well as representatives from the major firearm brands. In addition, we spent time researching the top-selling stocks for sales trends  & user ratings.
We did not do any hands-on fit testing for this guide, but we did draw on our familiarity with a variety of available brands.
We used online reviews as they are informed by real customer experiences and exhaustively read customer comments to identify owner concerns. We also read the available product descriptions and manuals to define the most important features for new people looking to update their SKS.
There's a massive variety of aftermarket SKS stocks. You can choose from fixed stocks, collapsible, or foldable stocks. Recoil pads and rail or scope mounts can be found on some options. The general goal with aftermarket stocks is to improve the performance of your weapon – or make it easier to shoot – but not all designs offer the same mix of cost/benefit.
Our goal with this guide is to help you separate the wheat from the chaff.
1. Material:
With aftermarket stocks, you're generally looking for composite materials. An SKS synthetic stock offers considerable weight savings, durability, easily customizable, and resistance to temperature or humidity. Composites can also offer increased stability for bi-pods and other mounting platforms.
2. Price:
We recommend avoiding anything over $100 for an aftermarket stock. These older rifles aren't particularly expensive, so unless you have some desire to drop an unnecessary amount of money into the topic of your next YouTube video – stick with something reasonably priced that hits the major points we've outlined in this guide.
3. Design:
Of course, the design is important if you are going to depend on your rifle, but there is absolutely a standard set of features that will improve the performance and approachability of your SKS. Critical stock features are:
Adjustable Buttstock: this ensures you can pack, store, and adjust to your body type or shooting situation.
Pistol Grip: this makes handing the rifle much easier and opens up the utility to long, mid, and short-range/urban functionality. It will also help improve control.
4. Weight:
Being that most of the options in this guide point to tactical composite stocks they're going to be lighter than any OEM original stock, but not all aftermarket stocks are created equally.
Look for stocks that avoid unnecessary extensions or padding. A lot of folks like the SKS Dragunov Stock but we generally felt that it was a little too much for our applications. Our experts told us that lean and mean replacements are preferable due to their better overall fit, lighter weight, and better overall performance.
Types of Aftermarket SKS Stocks
SKS stocks come in a few different forms and varieties, so if there's a particular type of SKS build you plan on pulling together, it's pretty likely that you'll be able to find an SKS stock that will fit the bill. While swapping an SKS stock requires more labor and effort than other rifle options (cough, cough, AR-15) due to the rifle's age, they're very popular because of the SKS's original wood stock — which is heavy, big, and often rather worn — and it's limited functionality.
Every SKS stock is designed for a specific type of shooting, so make sure you buy one that's right for you.
Tactical Stocks. A tactical stock is designed to extend the functionality of the SKS, making it more mobile, adjustable, and accessory-friendly. Tactical SKS stocks are also generally made from composites or high-strength polymers, which means they'll help you shave off weight while giving you more capability, but may come up short if you're looking to build a long-range tack driver of an SKS.
Conventional Stocks. With a conventional stock you'll get everything you like in the factory SKS stock, but a better, newer version of it. You can find these in both wood and plastics/polymers, so if you want a heavier, classic SKS feel, a conventional wood SKS stock will give you all that and more. Of course, you can shave off a few pounds with a conventional polymer SKS stock, and may also be able to incorporate a few rail slots as well.
Under $100: The majority of SKS stocks will be available for under $100. Stocks in this range still meet fitment and quality expectations, they just aren't going to be chock full of extras like side-folding stocks or dripping with rail space. Store one or two handguns behind thick steel and secure locks.
Over $100: Top-tier SKS stocks feature nice-to-have features, premium components, and will often require less, uh, hand-fitting than more budget options.  Of course, if you're investing the time and energy in your SKS to turn it into a modern performer, a premium stock will give you many more options for the eventual build destination.
How we selected these products
We always prefer a hands-on test, but here are times when certain products or categories are a real challenge — be it availability, cost, or simply a lack of resources — we can get stymied going hands-on with all the potential candidates. Rather than present a never-ending list of all the SKS stocks on the planet, we selected those which we felt best represent the price points laid out above — giving you a solid representational list to serve as a jumping-off point for your own research (you are going to do you own research, right?)
To avoid disappointment or steering you in the wrong direction, we bolster our own experience with conversations with experts, comb through reviews on retailer sites & sales data, review industry publications, other blogs, and otherwise surface the best information available.
We aim for all thriller, no filler, as they say.
Modernizing an SKS is a fun project – and upgrading the OEM stock with a high quality, drop-in alternative is analogous to getting better tires on your car – you get all kinds of benefits. Just make sure you review your local and state laws to ensure you're clear to modify the weapon as you see fit.
Lighter weight, increased flexibility, durability, more storage potential, improved functionality & portability – you name it – an aftermarket SKS stock is (in our humble opinion) a no brainer.
No permanent alterations, low cost, and lots of benefits that can turn that wounded warrior into a modern performer with the potential to quickly convert back to its OEM configuration down the road.

March 14, 2023 — Our SKS stock recommendations remain unchanged after a thorough review of this guide. We've updated images and links where appropriate.
Sign up for our newsletter
Get discounts from top brands and our latest reviews!