Vortex Sonora Reviewed: Affordable Mid-Power Precision
Hands-on with the Vortex Sonora: Does the Vortex's mid-power riflescope deliver on its promise of affordable performance? Come see how it fared.
Written By
Michael Crites
Licensed Concealed Carry Holder
Reviewed by
Editorial Team
Learn About The Editorial Team
Share:
Products are selected by our editors. We may earn a commission on purchases from a link. How we select gear.

Many a rifle whisper will spew forth the advice that one should "spend as much on the glass as the rifle" — but what if that's not in the cards? I'm more of a "spend what you can realistically afford" kind of guy, which means certain brands aren't really on the radar a lot of the time.
One brand that is often in my price point wheelhouse is Vortex Optics — they're known for quality and reliability and offer serious bang for the buck across a wide range of price points. They really deliver for any kind of shooter.
The Vortex Sonora 4-12×44 is one of their value-focused offerings, aimed at providing hunters and shooters with affordable glass that can perform — but does it? In this review, we'll delve deep into the details of the Vortex Sonora, exploring its features, performance, and suitability for various shooting applications.
The Vortex Sonora 4-12×44 falls into the 4-12x magnification range, which offers a lot of versatility but skews toward the distance game. This is no LPVO.
The 4x low-end magnification gets you close up to anything within 100 yards while the 12x is great for situations like mine, where I'm engaging varmints across open fields 150-200 yards away. 
Features & Specifications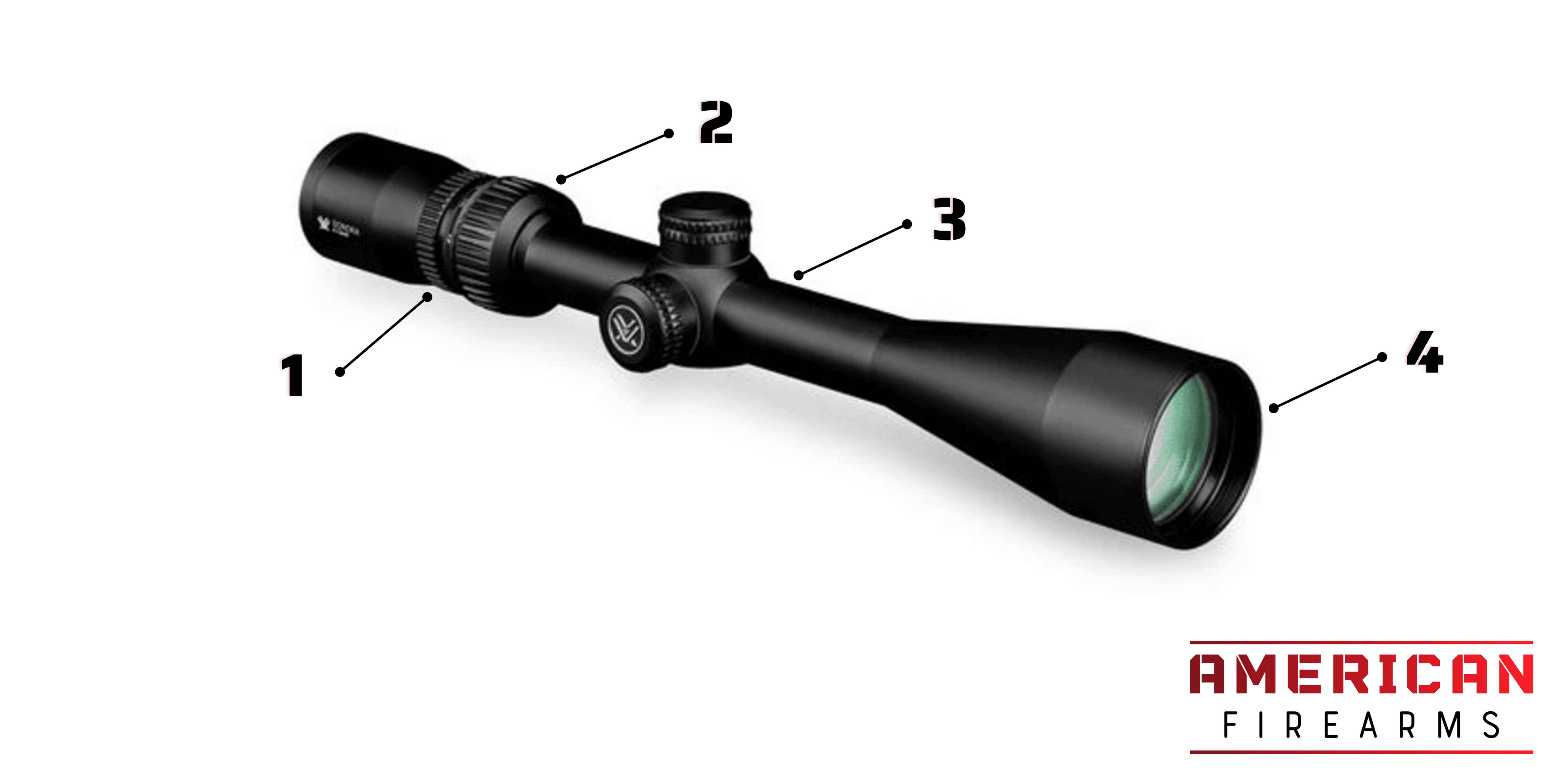 Some of the key Sonora features
1.
Locking Diopter Ring
Set-and-forget diopter adjustments
2.
4-12x Magnification
A fantastic range of magnification options
3.
Vortex Quality
The Sonora is solid, durable, and reliably holds zero
4.
Simple, Effective Reticle
The straightforward BDC reticle makes adjusting to changing conditions easy
| | |
| --- | --- |
| Magnification: | 4-12x |
| Objective Lens Diameter: | 44 mm |
| Eye Relief: | 4 inches |
| Field of View: | 24.7-8.4 ft/100 yds |
| Tube Size: | 1 inch |
| Turret Style: | Capped |
| Adjustment Graduation: | 1/4 MOA |
| Travel Per Rotation: | 15 MOA |
| Max Elevation Adjustment: | 60 MOA |
| Max Windage Adjustment: | 60 MOA |
| Parallax Setting: | 100 yards |
| Length | 13.5 inches |
| Weight: | 15.8 oz |
One of the most crucial aspects of any rifle scope is the reticle, and the Vortex Sonora features a Dead-Hold BDC reticle that's simple enough for basic work at reasonable ranges. Given it's a second focal plane scope, the subtensions are only accurate at maximum magnification, but the reticle design is straightforward such that managing holdover and wind drift correction never feels overly complicated. 
You get clear hashmarks that delineate holds at logical break points — everything from 20-yard breaks for .22LR applications to 100 yards per hash on .223 & higher-power calibers.
The simplicity makes estimating holdover very straightforward, and the included manual has references for a variety of calibers and different ranges, again, making it easy for users to know how to actually use the product.
Of course, dialing in the BDC means zeroing at the max 12x magnification, which feels overwhelming under 100 yards, and will require you to adjust holds when not at full 12x.
That said, the reticle is well-designed, and the .27 MOA lines are small enough that they don't interfere with your target even at 200+ yard ranges. I'd consider the 4 inches of eye release plenty generous, and that long eye relief makes lining up the eye box very easy.
I will say that the reticle was out of focus when I initially unboxed it — it appeared a little shadowed — turns out the diopter adjustment was backed out too far for my eyes, so I screwed it all the way into the scope body, and once the wires were clear as day, set the locking diopter ring and was scoping robins and swallows all afternoon.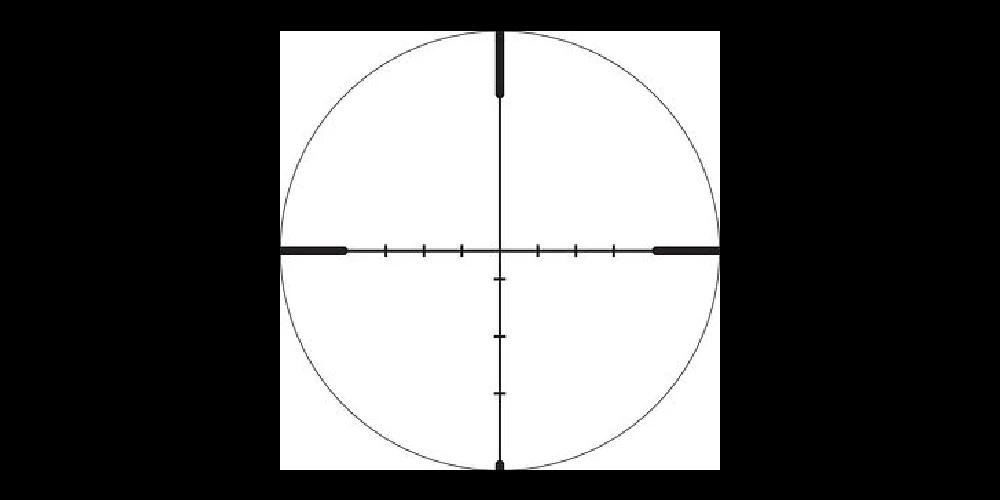 The reticle is nice and straightforward. Managing holdover and wind drift correction never feels overly complicated.
On the locking diopter ring — this is a neat feature that feels very in line with the rest of the Sonora "set-and-forget" design, but it should be noted that it's reverse threaded — you thread it toward the eyepiece, which took me a second to figure out (and isn't noted in the manual.) This scope does not accommodate a lot of in-field flexibility — you get it dialed in and learn to work with its strengths and shortcomings.
The reticle is non-illuminated, so while you don't get anything to assist with target acquisition in low-light settings, you don't have to worry about batteries either.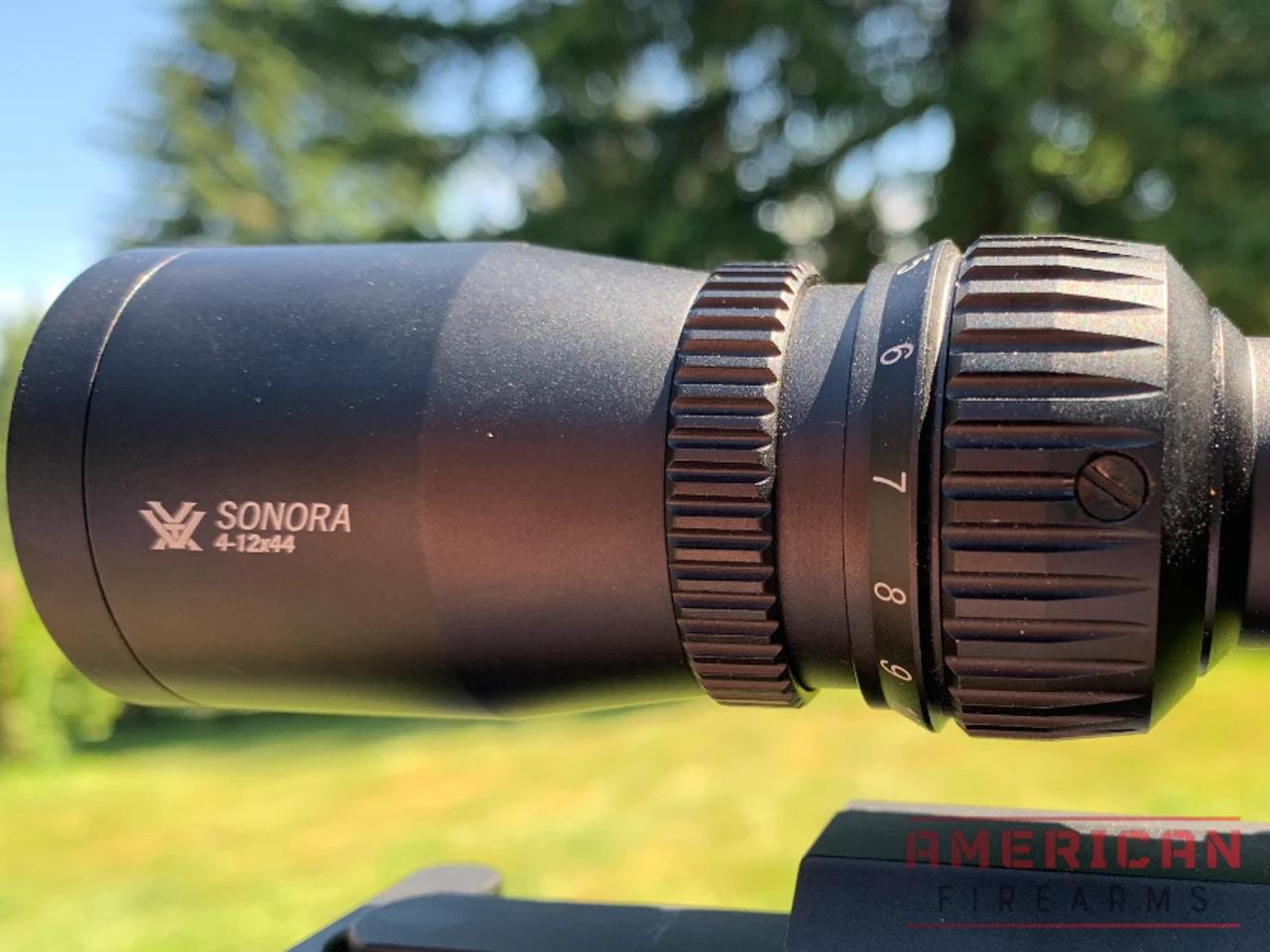 The diopter lock ring (rear of the Magnification Adjustment Ring) is reverse threaded, so it locks when screwed into the eyepiece.
The Sonora keeps with Vortex's commitment to punching above its optical weight for the price point, as it has fully multi-coated lenses, which help with light transmission and provides clear, bright images. We propped up our standard eye chart and viewed the letters from 35 yards.
At 4x you could clearly see the first two rows, and cranking it up to 12x had me reading almost the entire chart. From 100 to 400 yards, the Sonora offers a clear sight picture and should deliver consistent hits — or at least give you one less excuse for missing!
Colors were consistent throughout the magnification range as well.
4x magnification on the left, 12x on the right. This is standard eye chart from 35 yards.
The 4-12 magnification range allows you to adapt to varying distances without much visual distortion. At 4x objects are clear and you have nearly 25 feet of FOV, which makes ranging a breeze at 100 yards or so. Dial that into 12x and your FOV tightens to just over 8 feet, getting you right onto your target and minimizing distraction.
We conducted tests using a Snellen Eye Chart at each magnification stop to assess image consistency. The Sonora displayed consistent image quality throughout its magnification range, ensuring shooters can rely on clear visuals at any zoom level.
I have multiple gun safes in my home, and the one I kept the rifle with the mounted Sonora has, admittedly, too many guns in it. This means, of course, they bump into one another and occasionally get pushed together when I knee the door closed.
I have, a number of times, pulled out lesser scopes after jamming them into the safe only to see the anodizing scraped-off edges or even slight dents. I guess you could say I'm hard on guns.
To my surprise, the main body of the Sonora not only looks brand new but has held zero despite a load of range sessions (which means many trips into and out of my overloaded safe.) It's built to withstand the rigors of use — outdoor and indoor. The turret caps, however, look like they've been dragged behind someone's pickup.
I've been using the Sonora with my HK 416 rimfire, in all kinds of harsh weather conditions, including Oregon's fall and winter seasons, and it's definitely water and fog-proof and holds zero well. I'm planning to put it to use with some larger calibers and stretch it out a bit and see how it fares at varying ranges and on rifles with more robust recoil.
Everything on the Sonora (with the exception of the turret caps) looks great despite being crammed into my safe far too many times.
Adjustments are straightforward — capped turrets offer up 60 MOA of adjustability in ¼ MOA increments for windage and elevation. There are no on-the-fly adjustments, but the Sonora is more of a "set and forget" type of scope, where you lock down your preferred zero and then use the subtensions to eliminate guesswork from 100 to 600 yards.
This is further reinforced by the lack of external demarcation on the Windage and Elevation turret housings. The only way to see the Right/Left or Up/Down notations is by uncapping the turrets and gazing down at the turret faces. Not a killer, but it feels a touch "budget".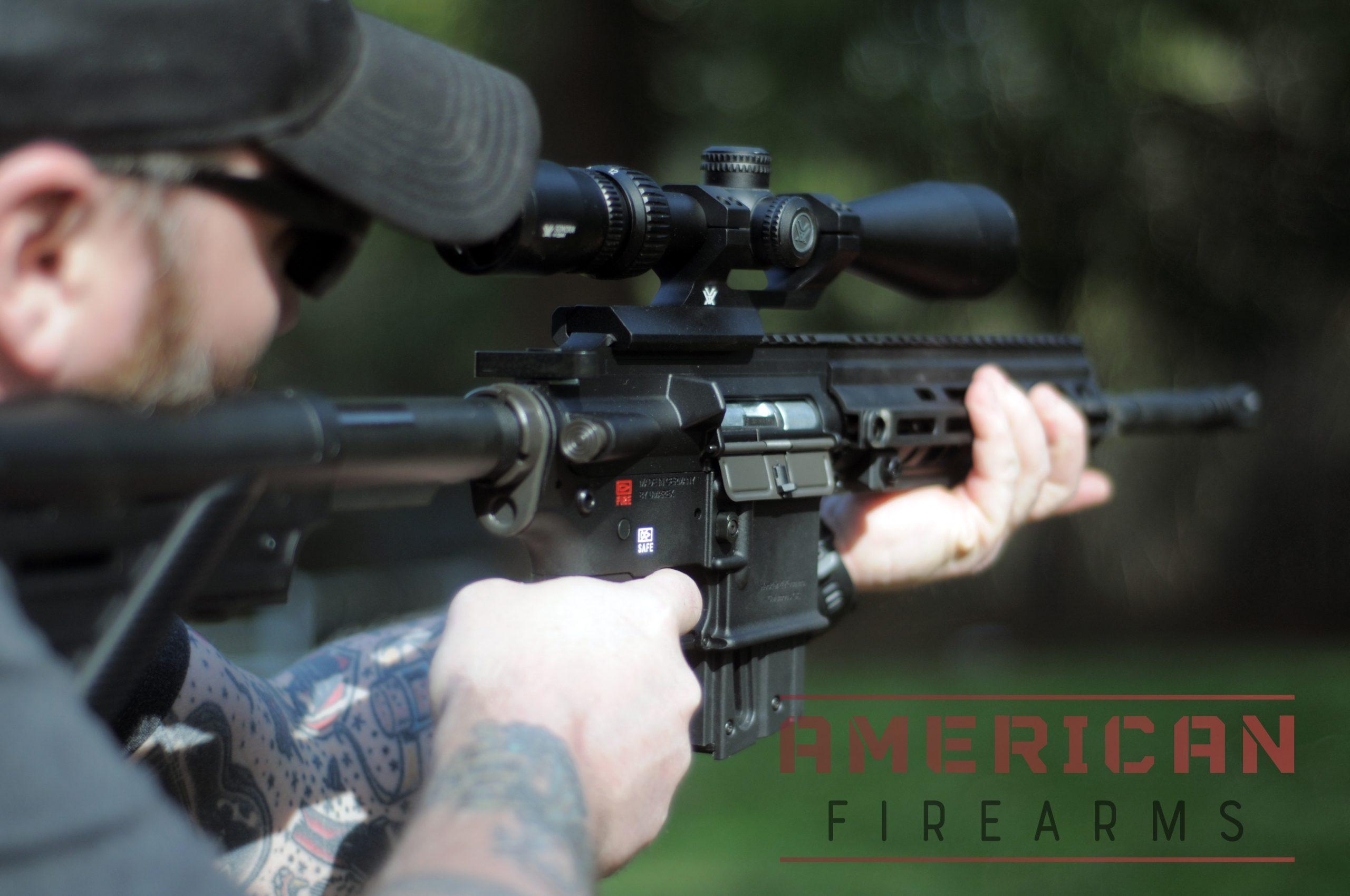 Vortex Sonora on my HK 416 .22LR
We conducted a box test to evaluate the accuracy and consistency of the scope's adjustments. After zeroing the scope at 50 yards on our .22 LR, we shot four targets at 10 MOA up, down, left, and right from the zero position, adjusting the scope accordingly.
The Vortex Sonora was precise, consistently hitting where aimed and knocking out a reasonable box.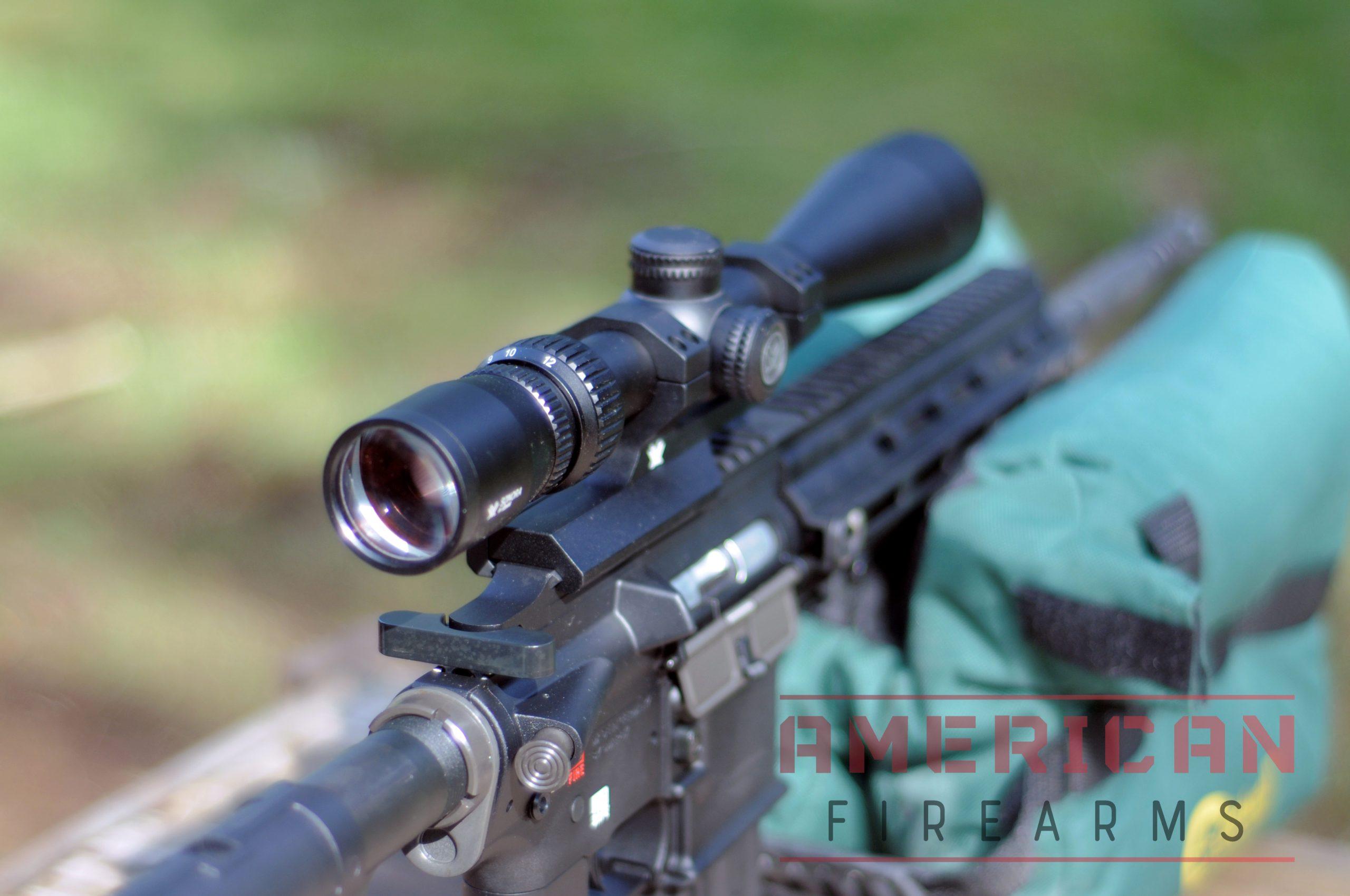 Vortex Sonora on a rest at the range
The scope benefits from a high mount, as popping in some basic low scope rings had me chasing the eye box something fierce. I swapped the lows for Vortex's Sport cantilever, which added a good inch and a half of additional height and was off and running.
One downside: (although not surprising given the price point) the scope does not include rings.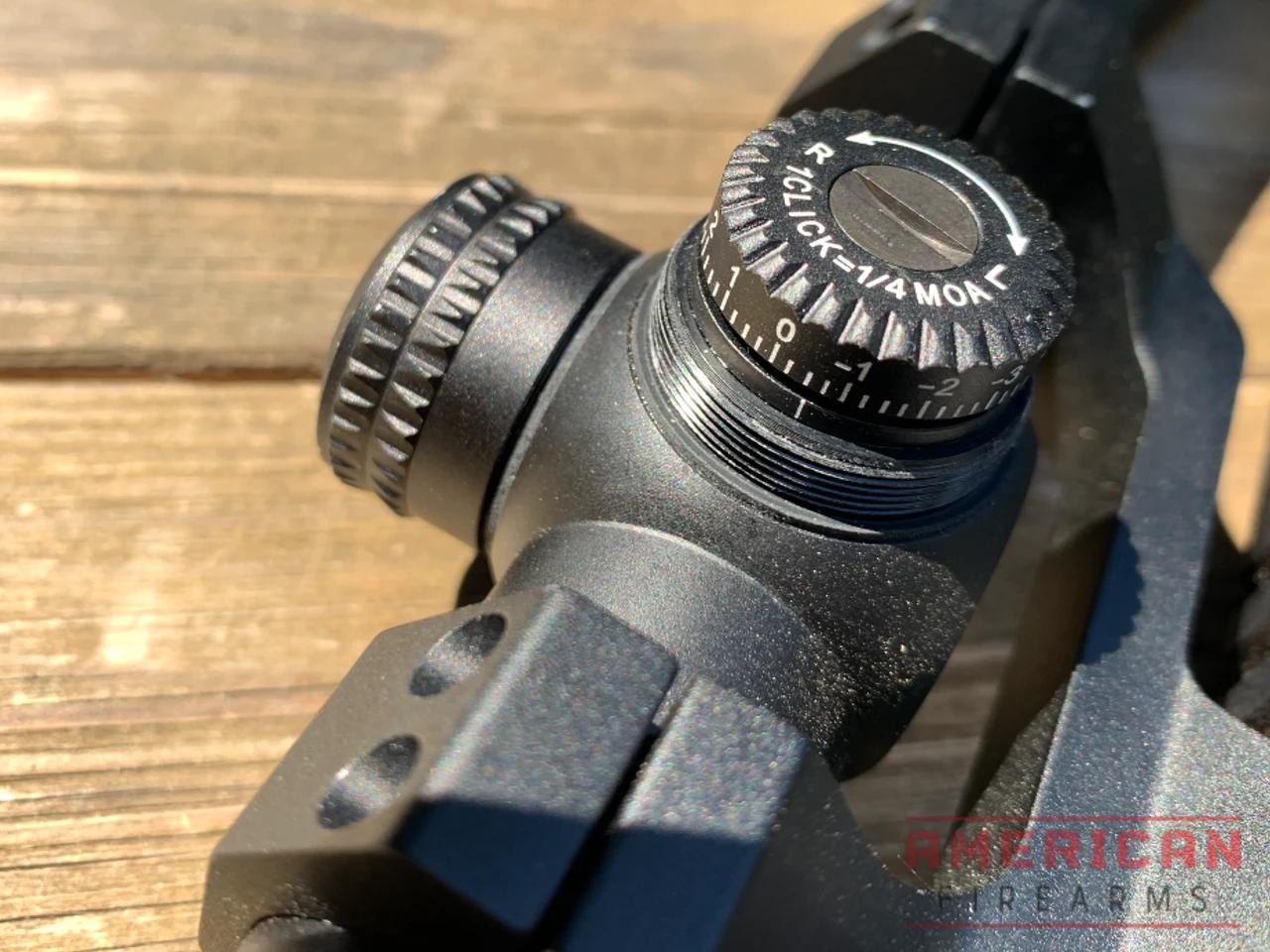 The Sonora is more of a "set and forget" type of scope.
While the Sonora falls into the more affordable range of rifle scopes, generally under $200, the performance and features are really on par with higher-end products.
You get high-quality optics, an aircraft-grade aluminum tube, rugged construction, and reliable functionality at a price point that makes it a no-brainer.
The Sonora 4-12×44 riflescope holds its ground impressively against competing scopes. It's very similar to the Vortex Crossfire II, but smaller and easier to use with similar optical quality, durability, and performance.
The Crossfire tips the scales on the distance game, as a few folks I know use their 6-18x Crossfire for 800+ yard ranges.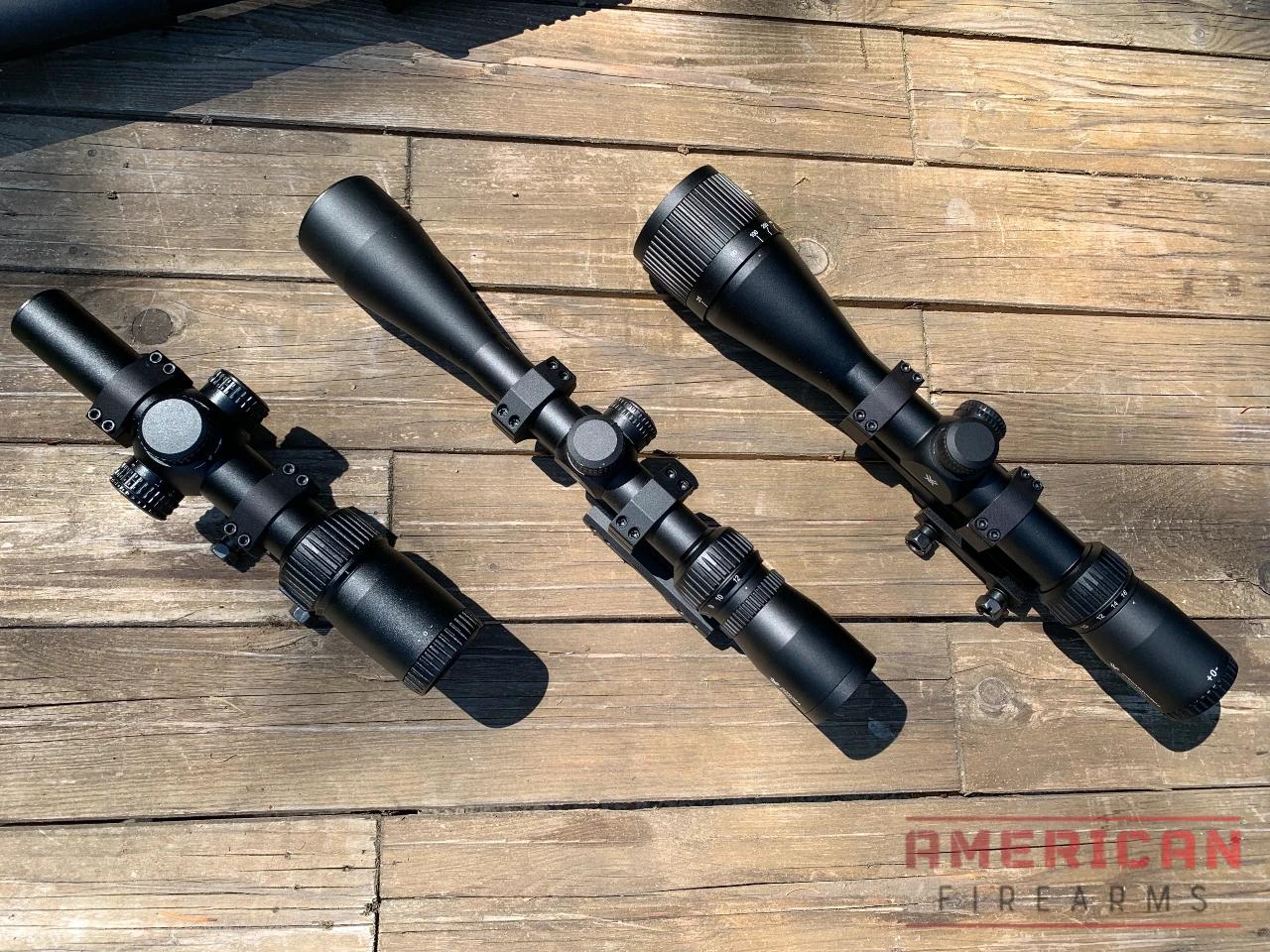 The Vortex Strike Eagle (left), Sonora (center), and Crossfire (right) size comparison.
The Good:
Vortex quality
Great value
Surprisingly durable
The Bad:
Non-illuminated reticle
SFP design means subtensions are only at the max magnification
4-12x magnification range can limit use cases
Reticle may be too simple for some
The Vortex Sonora 4-12×44 rifle scope is a great scope that isn't trying to break any new ground; it's a value-focused optic that exceeded my expectations.
Its Dead-Hold BDC reticle is easy to use for a variety of caibers, fully multi-coated lenses that are clear through the full range of magnification, and tough construction make it a reliable companion for hunters, shooters, and tactical enthusiasts alike.
It's not going to get you to 600+ yards, but for most of us, the glass isn't the problem getting hits at that range. If long-range precision isn't on the menu, the Sonora probably should be one to consider.