The Best AR-15 Cleaning Kits
Written By
Kenzie Fitzpatrick
Certified Armorer & Instructor
Edited By
Michael Crites
Licensed Concealed Carry Holder
Share:
Products are selected by our editors. We may earn a commission on purchases from a link. How we select gear.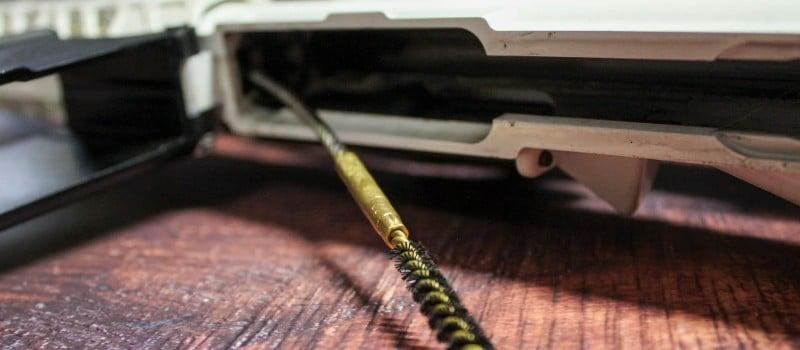 Despite some myths that were circulated in the late 1960s to catastrophic effect in the jungles of Vietnam, the AR-15, like any other firearm, needs to be cleaned regularly to maintain maximum effectiveness.
When it's time to do so, which you should do after every range session, having the right rifle cleaning kit for the job will make cleaning your AR faster, easier, and produce better results. Here's some of the best AR cleaning kits around. This article is part of our ongoing Guide to Everything AR.
AR-15 Cleaning Kit Comparision
| Name | Selection | Price |
| --- | --- | --- |
| | Best Universal Kit | $143 |
| | Best Small Kit | $49 |
| | Best Brush Kit | $28 |
| | Best Travel Kit | $60 |
| | Best Cleaning Mat | $21 |
AR Gun Cleaning Kits Reviewed
1. Best Universal Cleaning Kit: Otis All Caliber Kit
The All Caliber Elite Cleaning Kit, by Otis Technology, is our experts' top pick because the kit contains all the cleaning tools you'd need in a rifle cleaning kit, while also including bore snakes, cleaning patches, and everything you need for any number of other gun cleaning jobs and general gun maintenance.
The inclusion of picks to get at hard-to-reach areas is a great touch, and the kit has a fantastic assortment of brushes, brass rods, pull-throughs, and patches to clean your AR and any other firearm in your collection.
What We Liked
Comes with many of the tools you'd need to clean everything from a .22 to a 12 gauge shotgun
The hard case is a nice touch to keep things organized
Comes with small sizes of both cleaner and lube to get you started
The addition of lens cleaning supplies was a nice touch
What We Didn't Like
Doesn't include CLP
The box is large but not particularly well organized
The hard case is a little flimsy
2. Best Small Kit: Hoppe's Deluxe Cleaning Kit
I've used Hopper's forever on both rifles and handguns.
The all-in-one Hoppe's Deluxe Cleaning Kit is a common place to start: in fact, one of our experts has this one right on his desk. This rod-based cleaning system has some patches, some brushes, a cloth, and the necessary solvents and lubricants to tackle a variety of gun maintenance.
If you already have some tools lying around but want a nice box to put them in, this is a sensible AR cleaning kit.
What We Liked
Comes with a good supply of lube, cleaner, and patches
The wood box is a classic look that we enjoy
Push rod-style cleaner comes with a wide variety of tips and brushes
The silicone cloth is great for cleaning exterior parts
What We Didn't Like
Some people would prefer a bore snake to a rod
The plastic insert of the case is a little flimsy
3. Best Brush Kit: Real Avid Gun Boss Pro Cleaning Kit
The Real Avid Gun Boss Pro toolset is a great one if you want what you need to clean an AR specifically: the scraper and pin pusher are specialized tools that will come in handy for breech to muzzle cleaning, and the bronze bore brushes will ensure you can get all the grime off your rifles without marring the rifling.
With the Gun Boss Cleaning Kit, though, you get cleaning tools but no lubricants or solvents, so don't forget to buy those separately.
What We Liked
Comes with a chamber flag, which we like as a safety practice
The case is compact enough for a range bag
The rod comes with a nice T-handle for leverage
The pin punch will come in handy when things are gunked up
What We Didn't Like
We worry the case might crack over time
You'll need to provide any lubricants or cleaners
4. Best Travel Kit: Otis AR-15 Cleaning Kit
If you didn't already know, standard A2-style pistol grips have a compartment inside of them!  The Otis AR15 compact cleaning kit comes in a carrying case that fits right inside your grip — making it easy to carry — and it has what you need to quickly swab the bore.
It's about perfect in case you drop the rifle in the dirt and want to clear it to be safe, or to use if you want to get a head start in cleaning. We'd especially recommend this kit's bronze bore brush you shoot corrosive ammo.
What We Liked
This fits in the grip of most AR15s!
Perfect for clearing any debris from a rifle barrel
Even the T handle for the bore snake collapses
What We Didn't Like
This isn't a full kit, just an emergency or range kit
You'll need to do a full cleaning later
5. Best AR Cleaning Mat: Tekmat AR-15 Cutaway Mat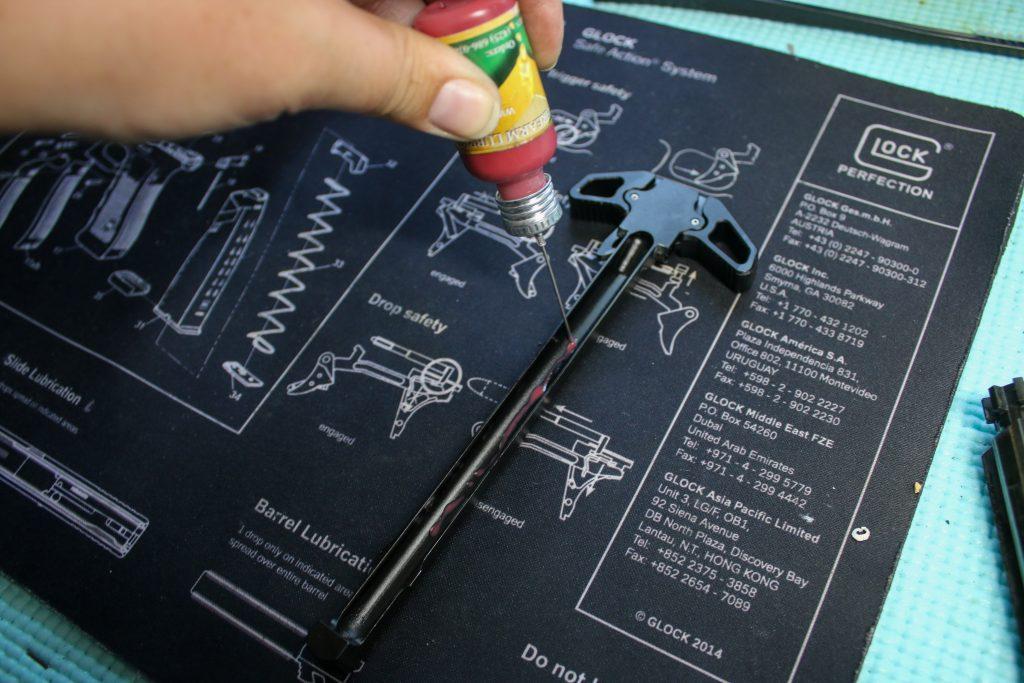 If you don't have a cleaning mat you're gunna have a bad time.
To finish up, we're recommending a cleaning mat that our experts personally use. Tekmats are a great cleaning mat solution, and you can get them with all of the parts of an AR labeled on them, which we like.
These have a good bit of padding, so they stay in place and will save your table from dings and stains.
What We Liked
Durable cleaning mat that will save your table
Come in a wide variety of sizes and patterns
Roll up nicely to carry in a range bag
What We Didn't Like
This isn't a cleaning kit, simply a cleaning mat
Since they do soak up the solvent, they might get a little oily over time
The Importance of Regular Gun Cleaning
When it comes to cleaning, the name of the game is getting carbon buildup (or "fouling") out of all of the nooks and crannies of the gun. "Carbon" in this context refers to sooty deposits that can be found in the barrel, action, chamber, and exterior of the gun. It's such a fundamental component of firearms care that we compiled an entire guide on how to clean a gun.
The fouling is created by unburnt gunpowder which is deposited throughout the components which come in contact with the residue.
No gunpowder will burn completely – and no cartridge will create an air-tight seal in a chamber. These gaps and inefficiencies in powder-burn cause the carbon to work its way throughout a firearm's action as well as onto the receiver, frame, and stock.
The AR runs fairly dirty compared to its contemporary, the AK-47 due to Eugene Stoner's direct gas impingement system. That means that hot, and very dirty, gas from the barrel gets blown right back into the BCG to cycle the action.
This means chamber cleaning is a major part of ensuring your AR doesn't get bogged down with excess fouling, which can cause issues with accuracy, cartridge feeding & cycling, jams, or even failure to fire. We're here to help you pick the best cleaning system to keep your AR running and looking like new.
What To Look for In a Quality AR Cleaning Kit
1. Organization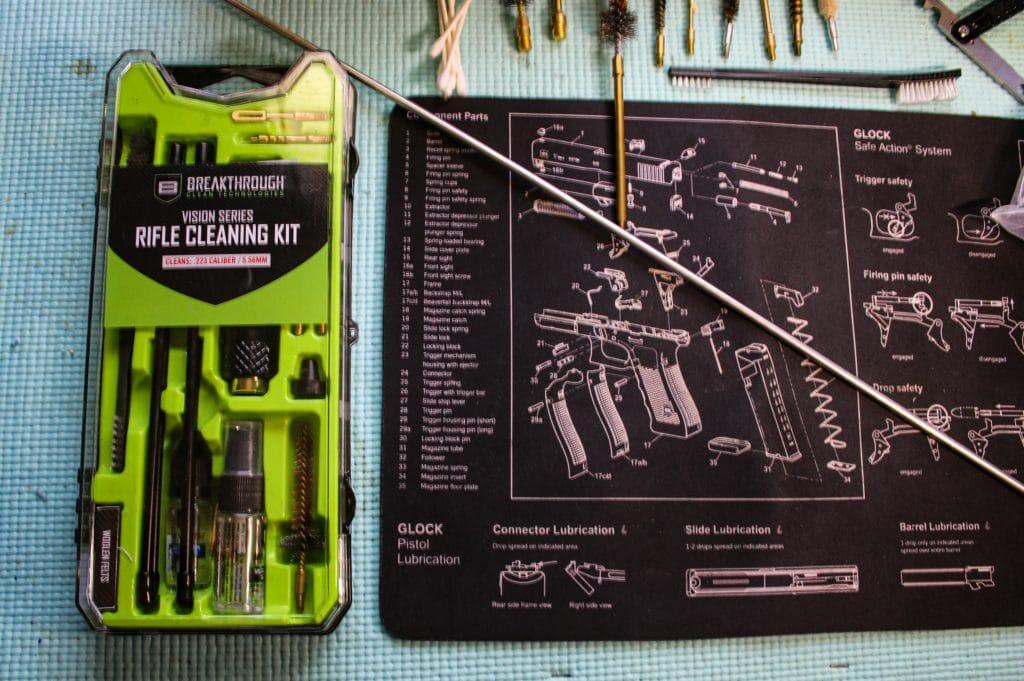 This rifle cleaning kit is a lot like a drill bit set, everything has its own place -- plus it closes and snaps shut to prevent the components from falling out.
Many folks clean their guns out of a box that has their cleaning supplies tossed into it. When they need a brush, they have to go digging past a pile of rags, a few bottles of lubricant, some used cotton balls, and so on until finally finding what they need. We think a good cleaning kit should get around much of this, and thus the kit being organized is one of the most important things that we look for.
We recommend getting a cleaning kit that comes in a case meant to be used and reused for years to come, with organizers for everything you think you might need. We like to see a cleaning kit that looks a lot like a good tackle box for those who are into fishing: there should be a place for everything, a good latch to keep the thing closes, and a handle to help carry it around. In fact, for many people, a tackle box might be a great place to start if you're deciding to build your own cleaning kit.
Whether you're going for a pre-made kit or making your own out of existing supplies, the concept is the same: the better organized you are with the kit, the easier of a time you will have. Not only will this save you time as you clean, but it'll also save you money as you'll avoid spills or losing things due to lack of organization.
2. Solvents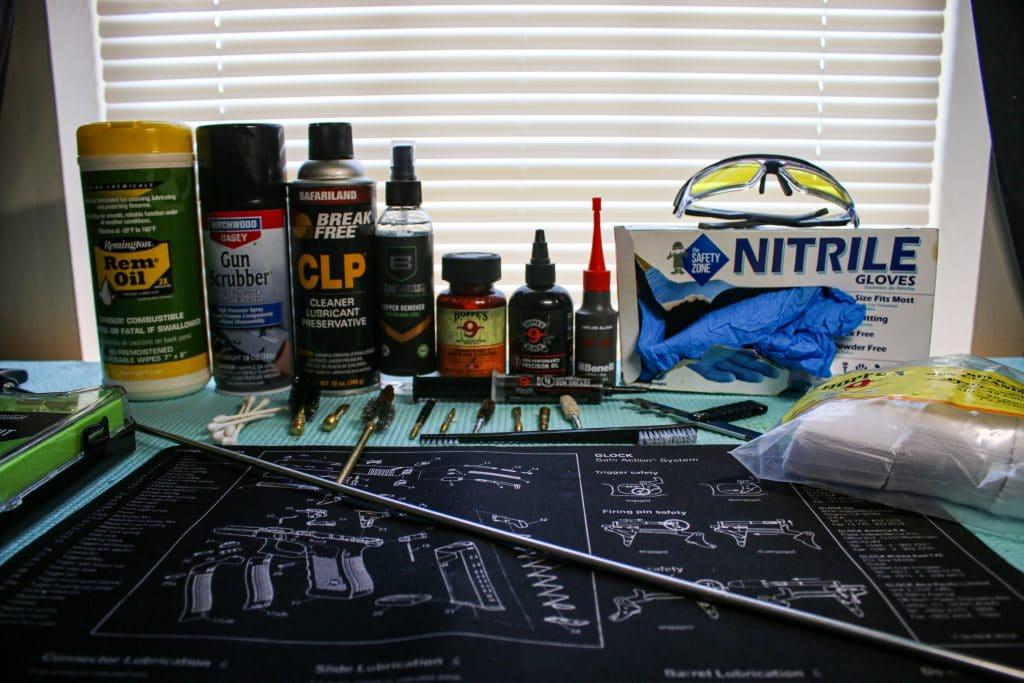 From all-in-one cleaner/lube to brake cleaner -- you'll need solvents if you want your guns clean.
The backbone of a quality cleaning kit is the solvents, the things you'll use to do the actual cleaning. Here, there is about as much debate as there is between AR and AK owners, so instead of recommending a specific solvent or type of solvents, we'll make a few more general comments that should help guide your solvent choice. Most kits are made by solvent manufacturing companies and come with solvents and lubricants right in the box. If you have some, try them and see what works well for you and the way that you clean your AR. Experience is the best teacher for these kinds of things.
From there, make sure that you're using a specialized gun solvent to clean up any metal parts: standard household cleaners, even ones meant to oil and protect things, are not usually formulated to keep firearms from rusting, nor are they meant to stand up to the pressures and temperature generated when guns are fired.
Aside from the cleaning solvent, a quality lubricant is necessary. Some solvents come with lubricants built-in, but a lot of folks use a second lubricant as well to make sure that moving parts experience as little wear as possible: this is especially important on AR bolts, which need a fair bit of lubrication to keep going strong.
There are solvent or lubricant impregnated rags that are now on the market; a lot of people like those for convenience, though they will need to be occasionally replaced.
3. Tools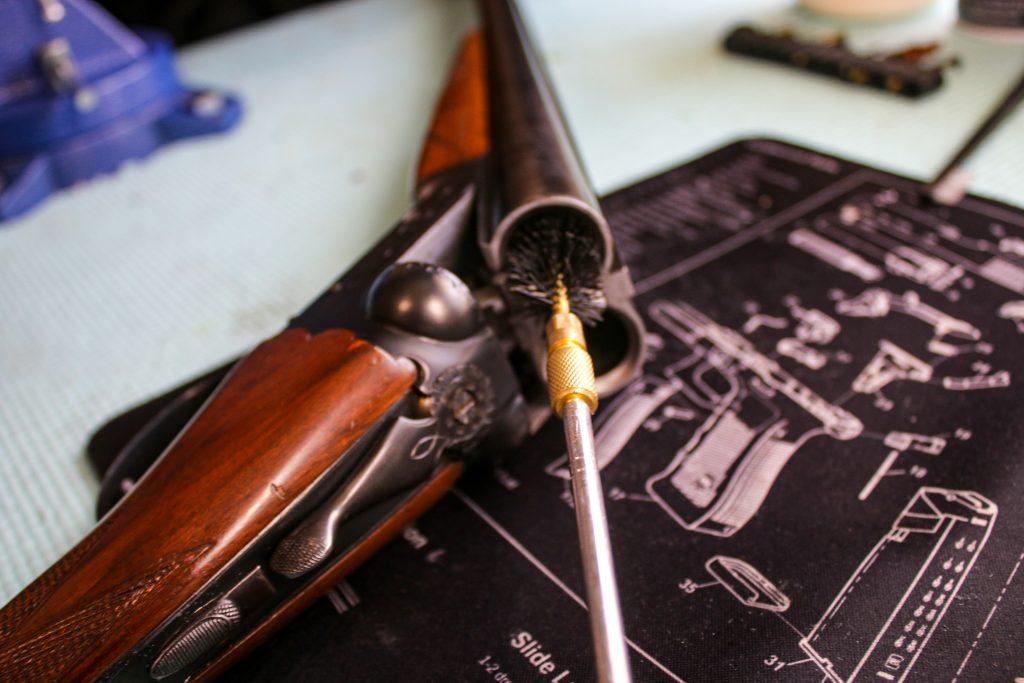 Without a bore brush you won't be able to get much cleaning done.
Any pre-built kit should come with certain tools to make sure that you can complete a basic cleaning job on the AR15. The first among those is a bore brush. This brush usually comes with a few sections of threaded rod and a handle that you assemble to make the full brush.
From there, there should also be a patch puller that you use to clean the bore once you're done scrubbing it: these are usually the same size as the bore brush, and if you do end up losing or breaking it, make sure to get one from the same company as the threads are not universal.
Additionally, a good cleaning kit will come with a fair amount of solvent and lubricant to get you started. To use that, patches are typically included and a rag for cleaning up the outside of the firearm.
The tools themselves should last a long time, so spending a little more upfront for quality is typically worth it. You will run out of solvent, patches, and rags eventually, but think of them as a recurring investment, one that's simply part of a gun cleaning kit.
With the basics of a cleaning rod with brush and patch attachment, it's possible to keep an AR operational, but there are some things that we further recommend to make sure you can do the job well and efficiently.
4. Extras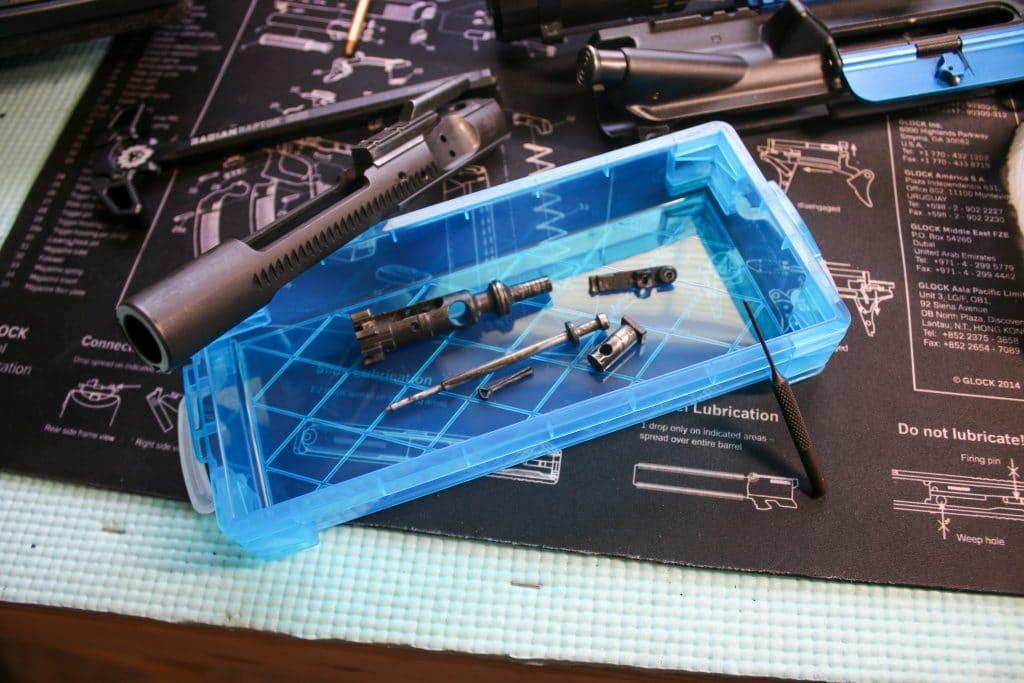 A simple organizational tray will save you lots of time digging small bits out of your rug.
Beyond what comes in your AR cleaning kit, a few things will make your life much easier when cleaning firearms. First is some old T-shirts cut into rags. Rather than spending extra money on special rags to get the first layer of gunk off parts, some old t-shirts do the job wonderfully and won't scratch most finishes. Keeping one or two of these in a plastic bag in the kit is a major time saver.
Second, a toothbrush: cleaning an AR bolt is doable with rags and patches, but a cheap toothbrush is a major tool for the job. Some folks also swear by dental picks to get buildup out of hard-to-reach places.
Cotton swabs are also a must: a baggie full of them to go with your solvent can go a long way to keeping the chamber clean in the spots that are too small to reach even with the toothbrush.
Many folks nowadays are ditching the bore brush entirely and going instead with a bore sneak, which is a washable tool to which you add solvent or lubricant, then pull through the bore. While they're not anywhere near as good for scrubbing if you get a lot of fouling or debris in your barrel, these snakes are a handy and quick tool to expedite cleaning.
Finally, a trash bag is vital: solvents often smell pretty strongly, and if you toss your used cotton swabs, patches, and rags into the kitchen trash can, whoever you live with might not appreciate the smell.
Here, we've looked at some of the best cleaning kits on the market for the AR 15. We think that the Otis All Caliber Elite Cleaning Kit is as good as it gets, especially considering it has everything you'd need to clean about any gun.
With that said, the other kits here meet more specific needs well. Also, no matter what, we recommend picking up a cleaning mat to keep the finish on your rifle, and your kitchen table, looking great.

June 6, 2023 — Our AR cleaning kit recommendations remain unchanged after a thorough review of this guide. We've updated images and links.
Sign up for our newsletter
Get discounts from top brands and our latest reviews!