HK416 Review: A New Take on the Iconic HK416
HK worked with Umarex to bring their HK416 to the masses in .22LR, but how does the tactical rimfire hold up to the centerfire HK416's legacy? Come find out.
Written By
Michael Crites
Licensed Concealed Carry Holder
Reviewed by
Editorial Team
Learn About The Editorial Team
Share:
Products are selected by our editors. We may earn a commission on purchases from a link. How we select gear.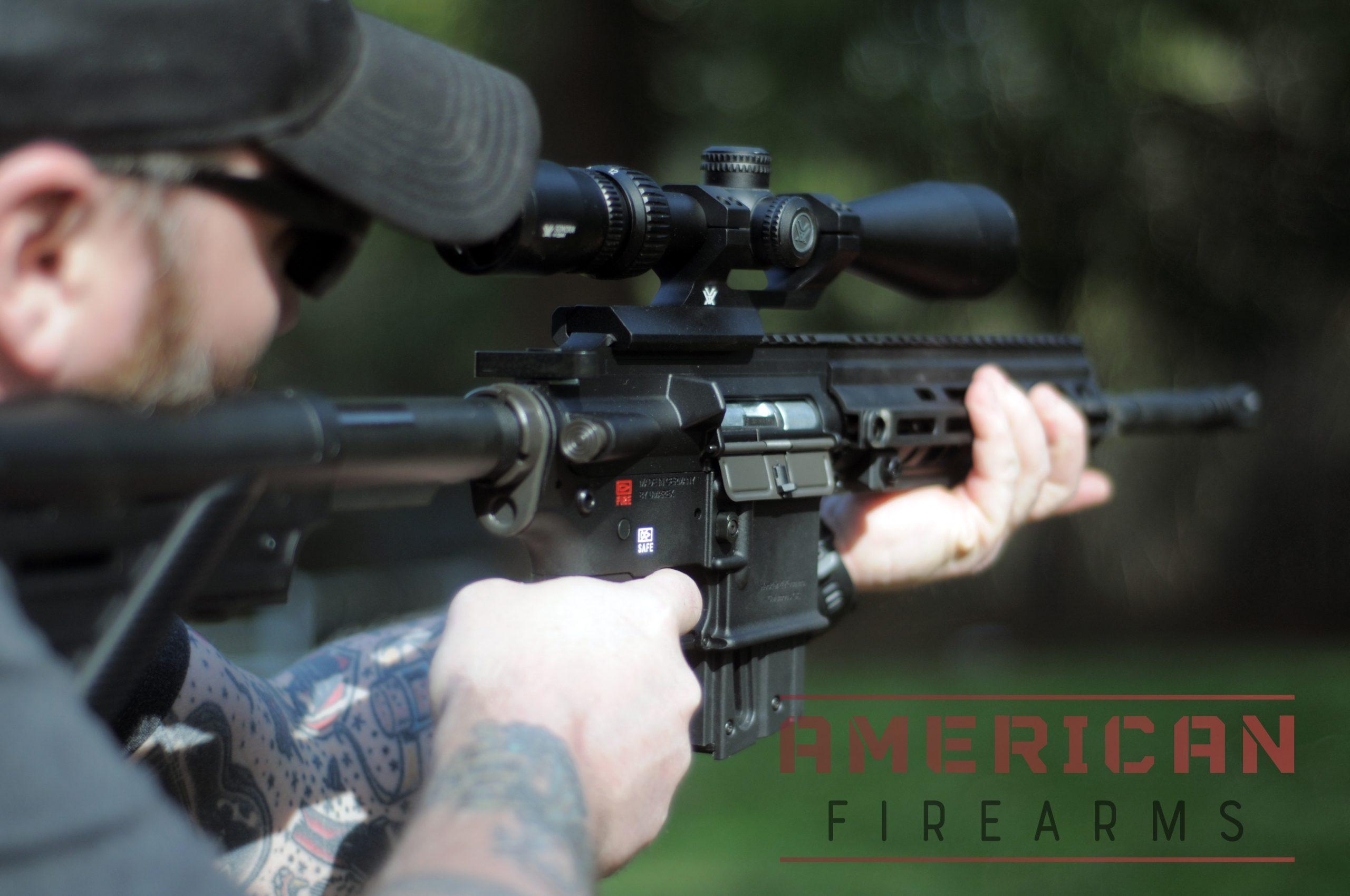 The 5.56×45mm NATO HK416 A5 occupies a kind of iconic status in the world of guns. Its lineage, historical significance, and performance capabilities have made it the go-to rifle in various spheres of the shooting world, from military and law enforcement agencies as well as gun safes of private owners. Its standing is hard to ignore.
But the HK416 in .22LR is, well, not that gun. What it is, however, is a fantastic sub-caliber training rifle that helps assuage the cost of training with centerfire ammunition. HK set out to make exactly like the centerfire version — non-functional bits and all — and I've got thousands of rounds through mine.
The roots of HK's 416 are in attempting to address the shortcomings of the standard-issue M4 Carbine used by the U.S. military. The original HK416, chambered in 5.56x45mm NATO, incorporated a short-stroke gas-piston system drawn from the G36, another Heckler & Koch product, as opposed to the direct gas impingement system of the M4.
This allowed for a more reliable, cleaner running rifle, earning the HK416 respect among military and special forces units worldwide, and helping it become the standard-issue rifle of the Norwegian Armed Forces, U.S. Marine Corps as the M27, and the US Navy's SEAL Team Six, who famously used the HK416 to kill Osama bin Laden in 2011.
It would not be accurate to say Heckler & Koch have succeeded in bringing that same reliability and performance to the .22 LR platform, but what they have done is partner with Umarex to create a reasonable 416 clone that packages the look and feel of the 416 into a more affordable build while still providing a reasonably realistic version of its larger caliber sibling.
Made Famous by HK, Made by Umarex
As mentioned, the HK416 .22LR isn't manufactured by HK, it's produced by Umarex, a German company that has been producing non-lethal airguns since 1972 in response to Gernany's weapons act, which required a permit to purchase lethal weapons. 
Umarex licenses well-known weapons from big brands for the purpose of building replica airsoft guns that can be sold without restriction. They make a great product, including a variety of cool weapons in airgun format, such as (one of our favorites) a full-on Grease Gun. HK turned to Umarex to ensure they built the best, most realistic version of the HK416 possible.
HK working with Umarex means you'll see both brand marks on the lower — and the .22LR HK416 is built with a mix of polymer and aluminum, which shaves off some weight (weight that's unnecessary to tame the already domesticated .22LR round.) That said it's built with enough of the tough stuff in the right places to keep the 416 from feeling like a toy. For example, both the upper and lower receivers are indeed aluminum.
Personally, I love the way the end result looks. It really captures the spirit of the larger HK416 rifle, while the pistol version feels a little too "half-man" for my taste.
All-in the .22LR 416 weighs in at just over five and a half pounds, a good two pounds lighter than the .223/5.56 NATO version of the rifle. It also includes a 10-round mag and fully-adjustable buttstock, which we'll cover in more detail. 
How does the HK/Umarex love child stack up? Here are the scores:
Accuracy: 8/10
It's a .22, so the ammo quality really matters, but with the right round nose rounds, you'll have little to complain about.
Ergonomics: 8/10
The control layout is straightforward, and I love the grip and handguard/rail system. The only real knocks here are the heavy trigger and the inclusion of faux controls like the bolt release, which add nothing to the user experience.
Fit and Finish: 9/10
HK isn't going to let Umarex produce garbage, and the 416 is tight, well-constructed, and feels like a proper rifle.
Features: 7/10
You're not going to find any aftermarket parts for it, and I would have loved a buttstock sling mount, but there's a lot included in the factory package.
Reliability: 7/10
It's, again, at .22, so don't expect centerfire-level reliability. It will slow down considerably when dirty and seems to not like hollow points, which can lead to malfunctions and less than stellar accuracy.
Value: 7/10
I love this rifle, but it's not cheap. You can pick up a basic 10/22 for half as much.
Pros:
Similar controls to the centerfire gun

Incredibly fun gun to shoot

Lots of Picatinny rail

Super low recoil

Fantastic rail
Cons:
Heavy, non-adjustable trigger

Non-customizable, proprietary components

Lots of non-functional bits
Starting at the rear, the aluminum receiver on the HK416 uses an HK-branded, 6-position retractable buttstock that rides on the buffer tube in classic AR fashion. The buttpad isn't rubberized — it's all polymer construction — so it isn't soft nor does it absorb any recoil, but it's not like the rimfire cartridge has much kick to begin with.
The buttpad does, however, have an aggressive surface that makes for a solid shoulder placement. To my disappointment, the buttstock does not have a single sling mount, which can make carrying the rifle with a sling a touch frustrating.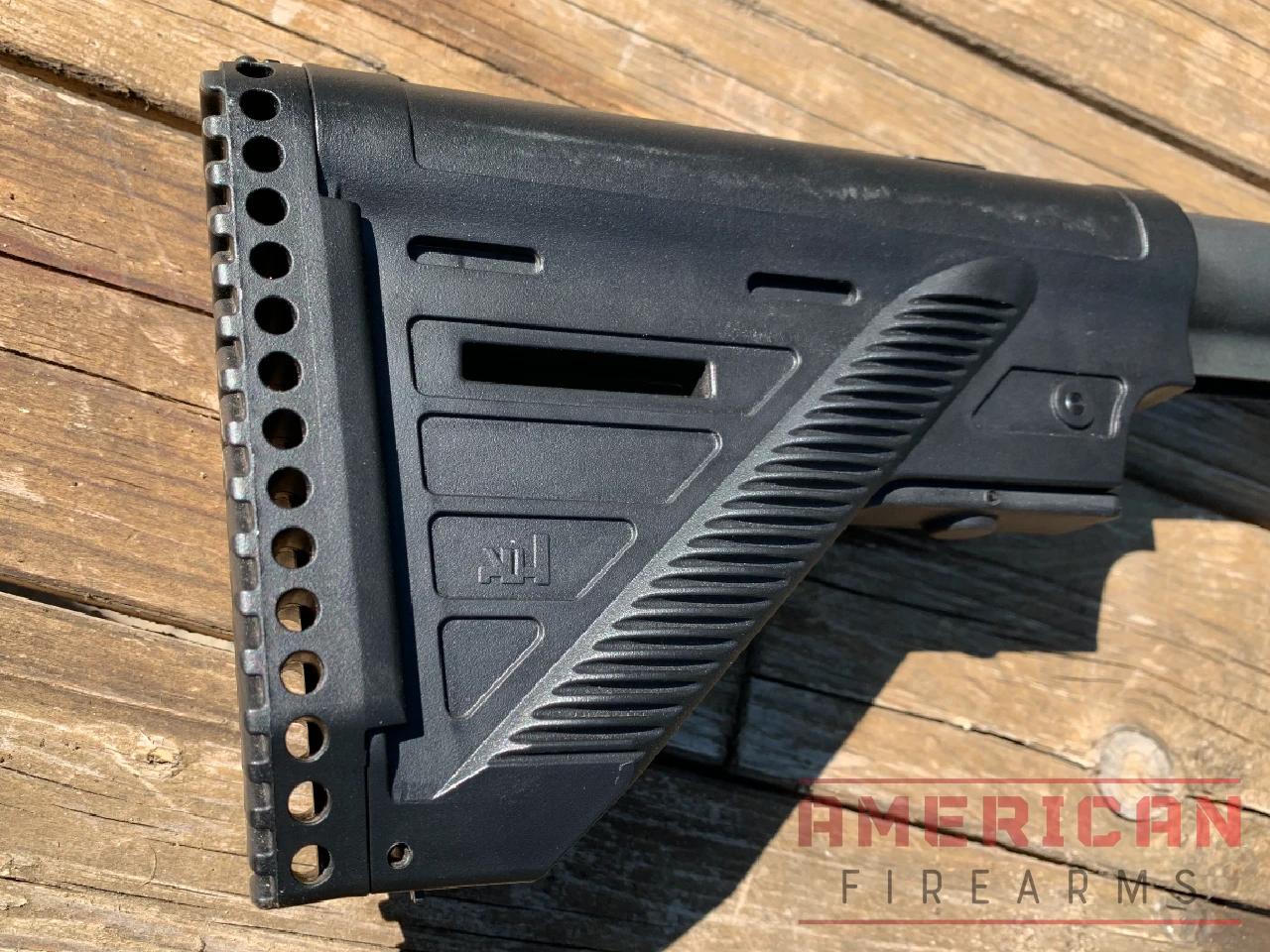 The boot-shaped buttstock is adjustable and totally polymer.
Ergonomics and Handling
One of my favorite aspects of the 416 is the oversize A2-style grip. Sure, its polymer and the texture isn't particularly aggressive, but the rounded palm swells make it very comfortable and ergonomic in hand — it really feels like an HK-quality product.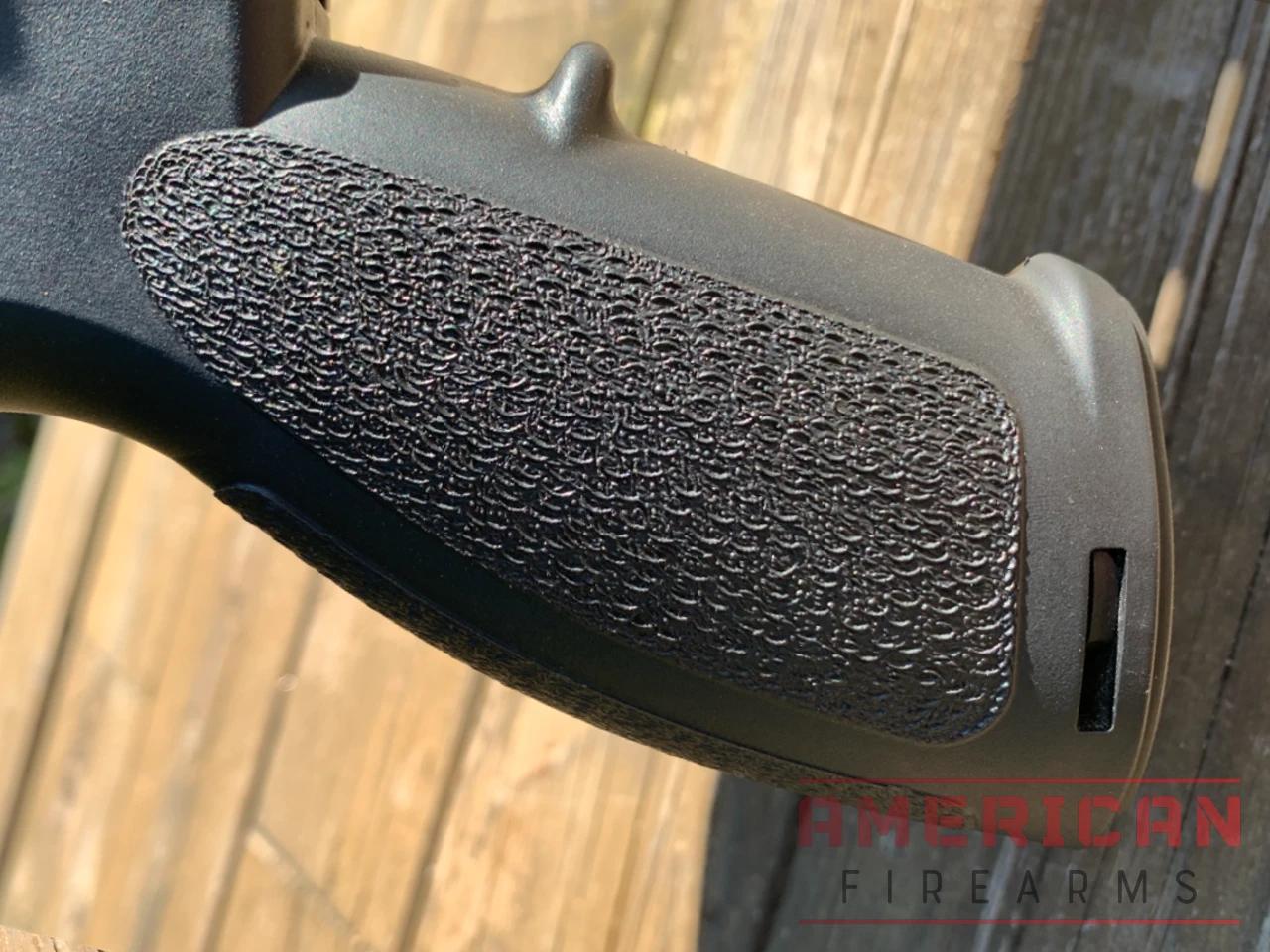 The grip has a nice swell to it, and while there's very little texture -- and what is there isn't particularly aggressive -- the rifle feels good in hand.
The hollow pistol grip houses a locking storage compartment for optic batteries, extra ear plugs, or a snack-size bag of Skittles (I can attest that all three of these fit at the same time.)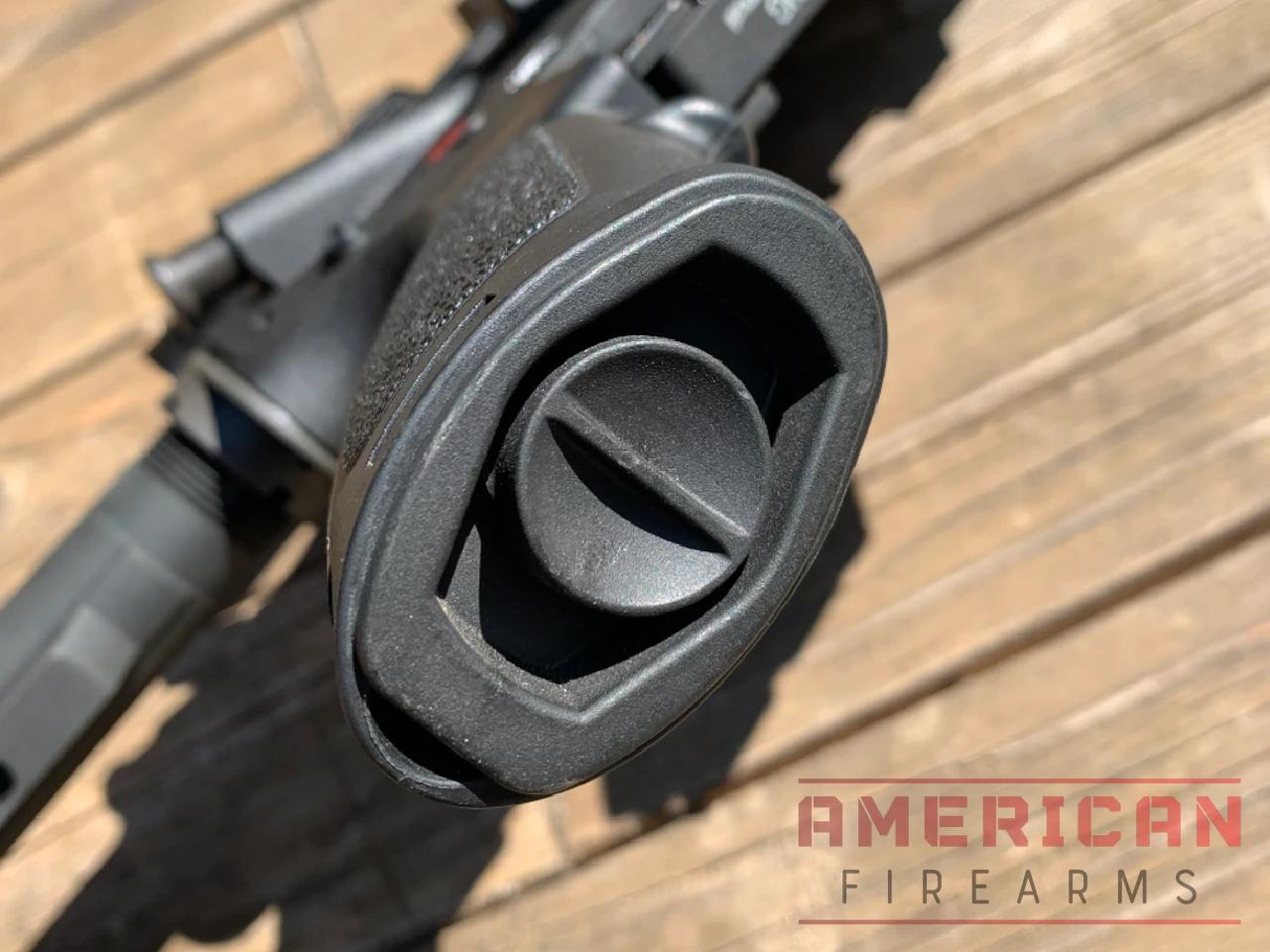 The hollow grip contains a storage compartment that'll accommodate a battery and fun-size bag of Skittles.
The Trigger
The trigger is fair, there's very little take-up before you hit what feels like an almost impossibly stiff wall. The break is clean, but man, this trigger is heavy. It registers 7.5 to 8 lbs consistently on my scale, which can feel like hauling in a trout. Interestingly in the product manual HK lists the trigger pull weight at 6.6 – 12.1 lbs(!).
While getting used to the rifle I, multiple times, incorrectly thought it was on safe after failing to squeeze off a shot. Turns out I'm a Girly Man as far as the 416 is concerned. That stiff trigger is, unfortunately, part of a proprietary Umarex FCG — which means no trigger swaps for you (or me.)
The trigger guard is slightly enlarged and provides sufficient room to operate with gloves or otherwise.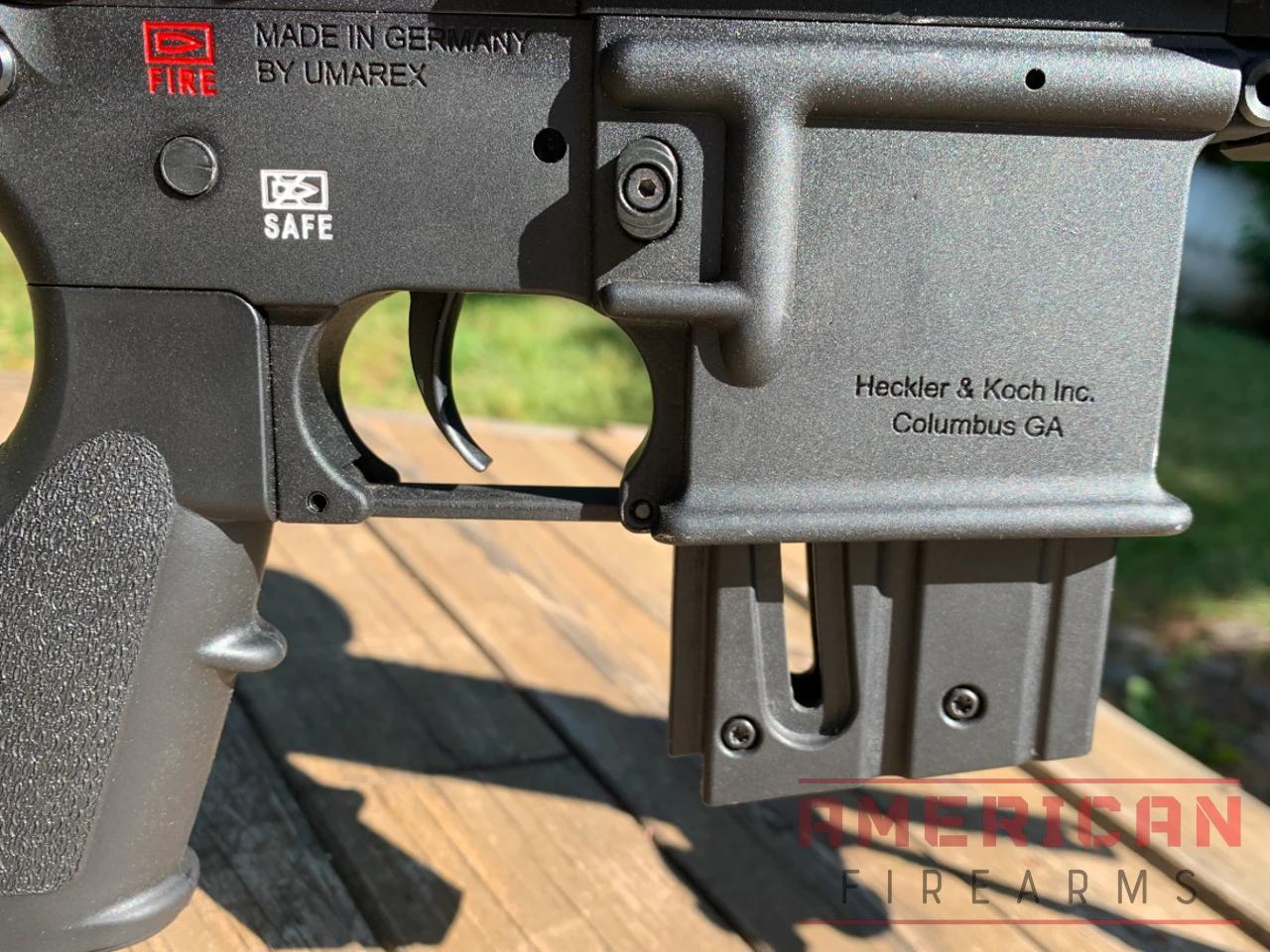 The trigger is indeed heavy, measuring a consistent 7-8 lbs on my scale.
Safety, Controls & Magazines
The non-ambi safety selector is functional, if a little dull, and you'll see safe/fire markings on both sides of the lower, implying the safety is reversible, but no, the markings are just cosmetic. Sorry lefties!
The bolt release is, hilariously, also purely cosmetic. On the right side of the lower, you have a standard AR platform magazine release button that drops the vertical mag reliably. Mine came with a 10-rounder, but there are 20 and 30-round sticks available from Umarex.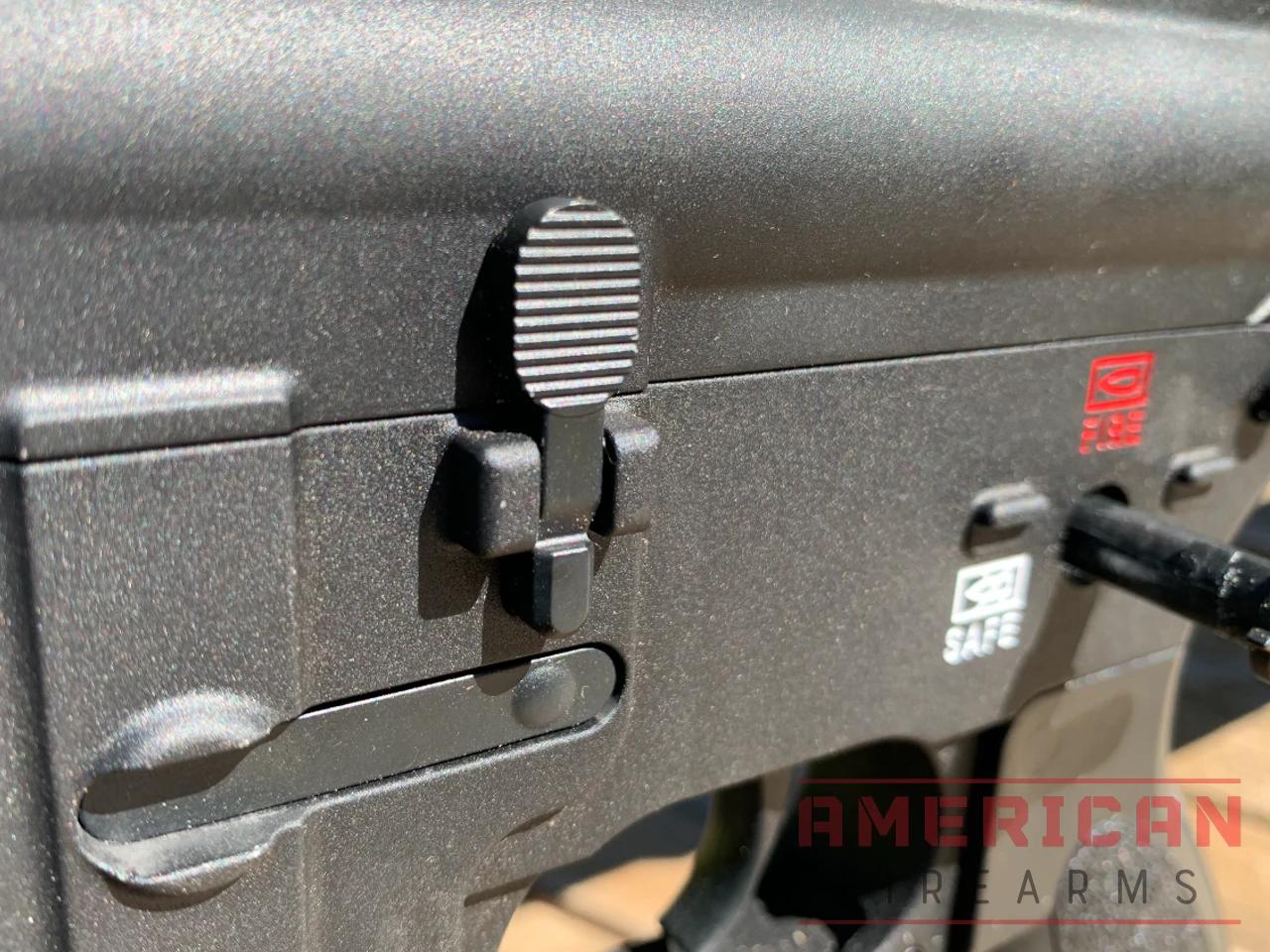 That bolt release is... suspect.
The magazines and mag well are similar in dimension to 5.56 sticks, and the included Umarex magazines are the same mags you'll find on a number of Umarex rifles.
They're smartly designed with rimfire feed lips sticking out from the top of the shell and a side-mounted button that allows you to slide the follower down the magazine to speed loading. I much prefer these vertical magazines to the rotary magazines you'll find on 10/22s — the thumb tabs make them so much faster and easier to load.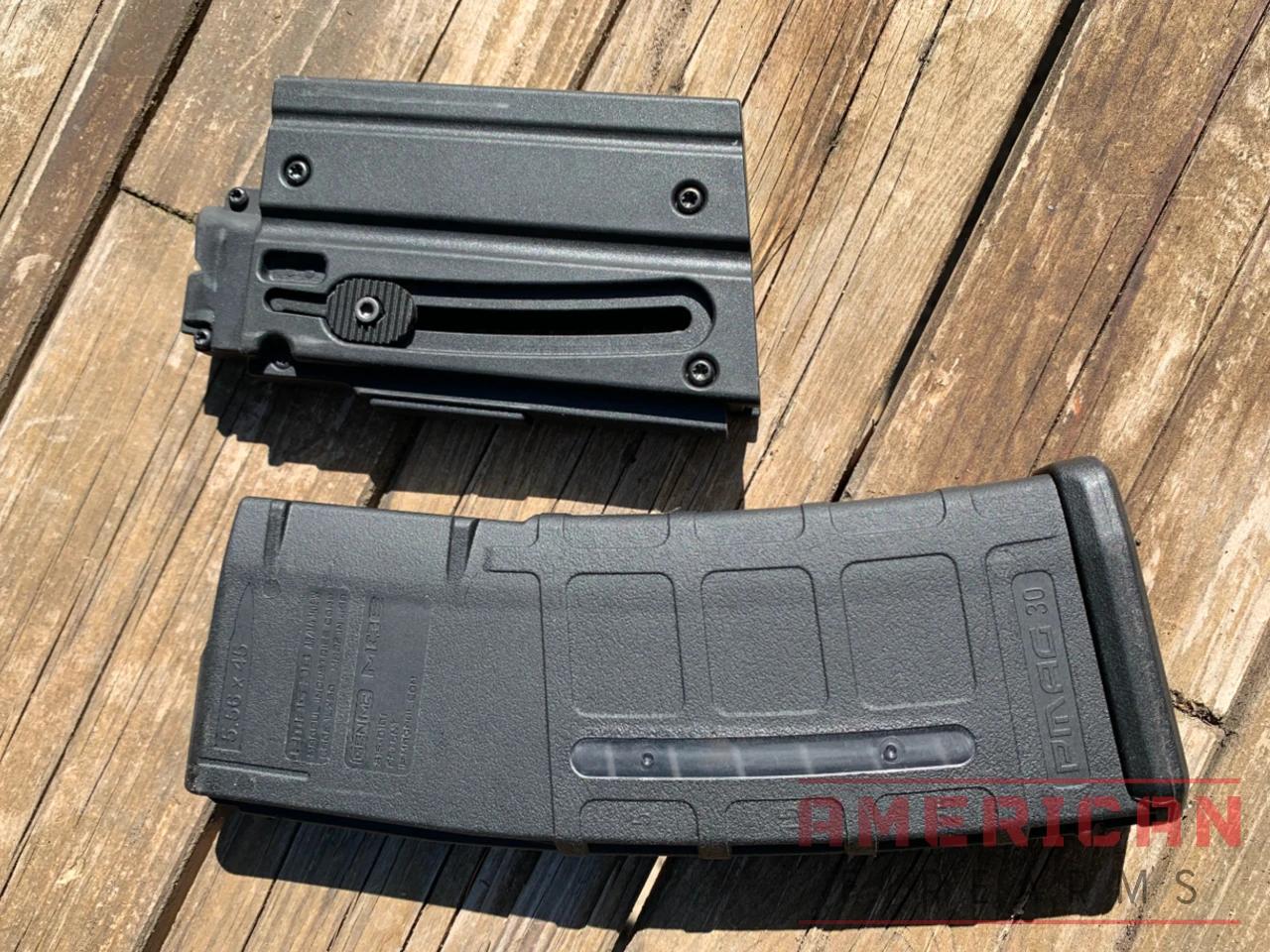 The HK416 mag (top), pictured here next to a PMAG, is dimensionally similar to a standard AR mag.
The 416 magazine is almost entirely polymer (there's no steel feed lip) and has only failed to feed a few times when it's really, really dirty.
At the very front of the lower, the HK brand mark is scrawled in white, so it really pops against the black background, as do the safe/fire markings, which are white and red, respectively.
HK brand mark is scrawled in white, so it really pops against the black background.
One note on the upper and lower receivers — they are non-interchangeable with other AR receivers. They've been designed to work together and will not work with a centerfire upper or lower.
The Bolt
At first blush the upper receiver looks like a standard anodized aluminum upper, but rather than an AR bolt carrier configuration, the rimfire bolt, recoil spring, the extractor are all housed in a proprietary, one-piece aluminum assembly.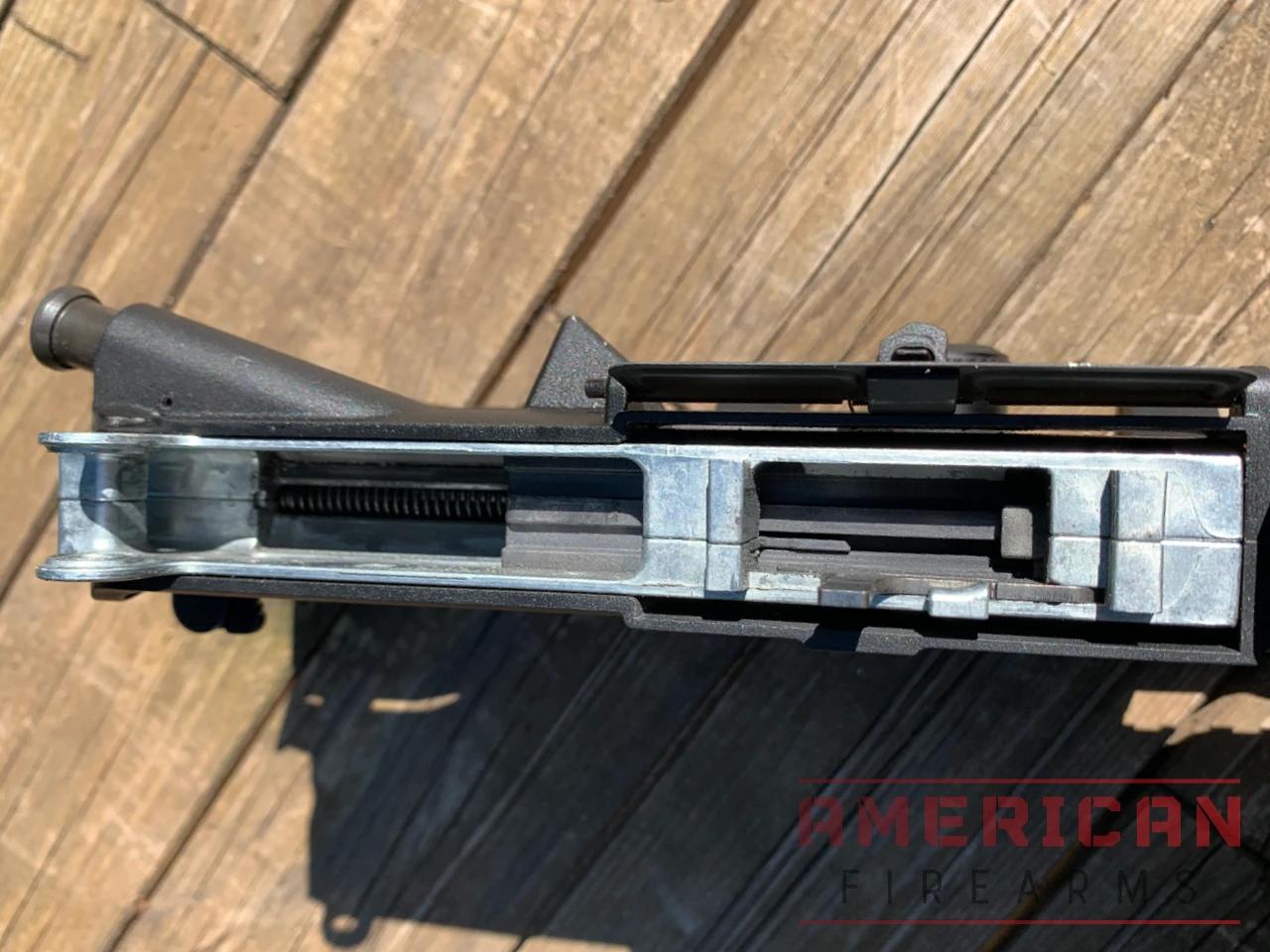 The bolt assembly is a one-piece aluminum unit.
This keeps maintenance pretty simple, as rather than stripping the traditional AR bolt components down, you really only need to put a few drops of gun oil in the action and wipe off any fouling.
The barrel, bolt, and lower are serial-numbered to one another, and the takedown pins are non-captured — meaning they'll slide right out of the lower and need to be considered separate parts.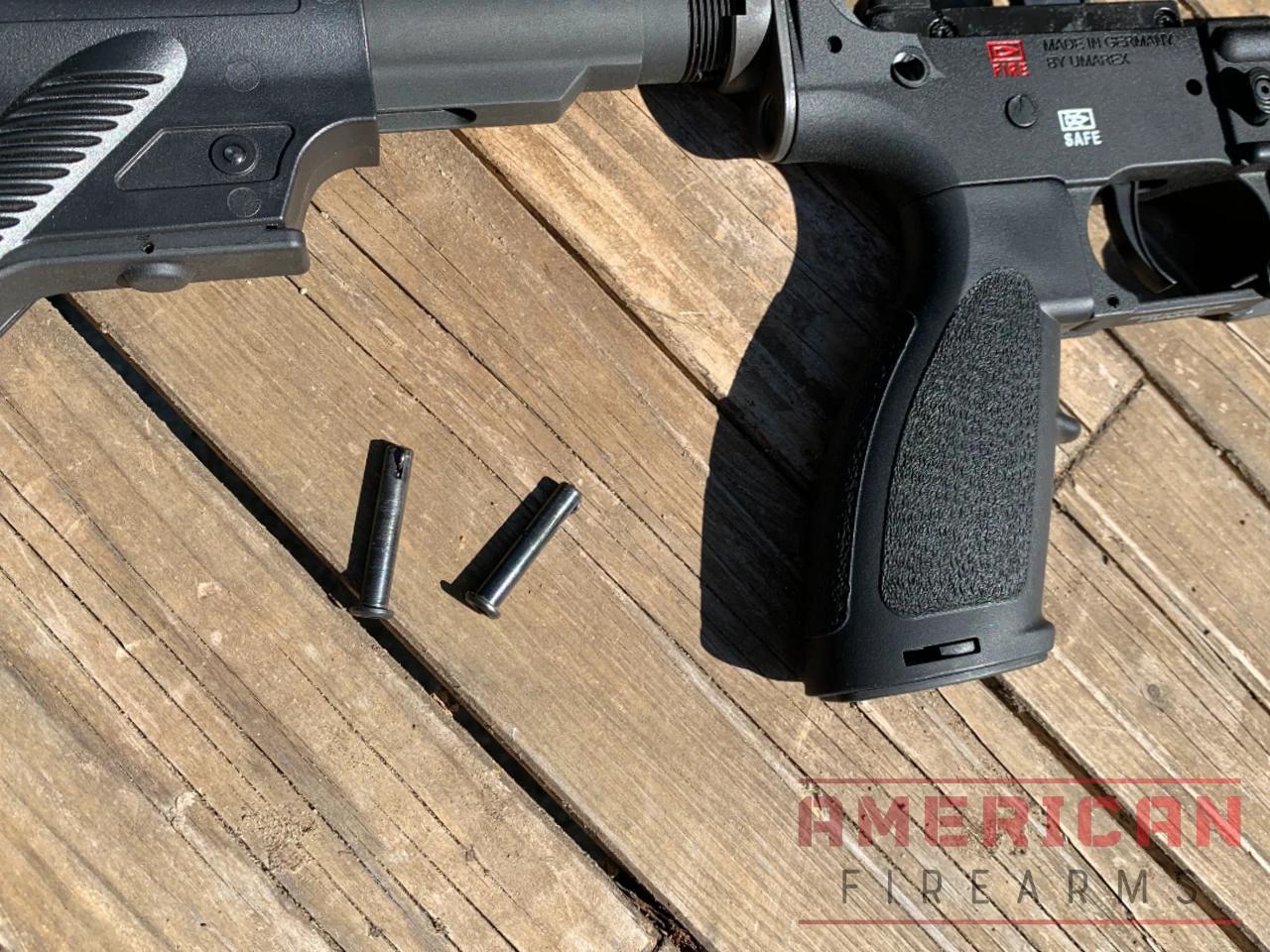 The takedown pins are non-captured, so they'll take a walk on you if you're not careful.
The breech face is visible in the ejection port because rimfire ARs set the barrel and chamber back from the standard centerfire location, which shortens the HK416 by about one inch compared with a centerfire version.
The proprietary blowback bolt assembly also means you won't be able to customize or upgrade it — what you see is what you get. Luckily it works just fine as is. While I haven't had the need, the HK416 also features an adjustable bolt speed for those who choose to run high-velocity ammo or experience challenges running the rifle with their ammo of choice.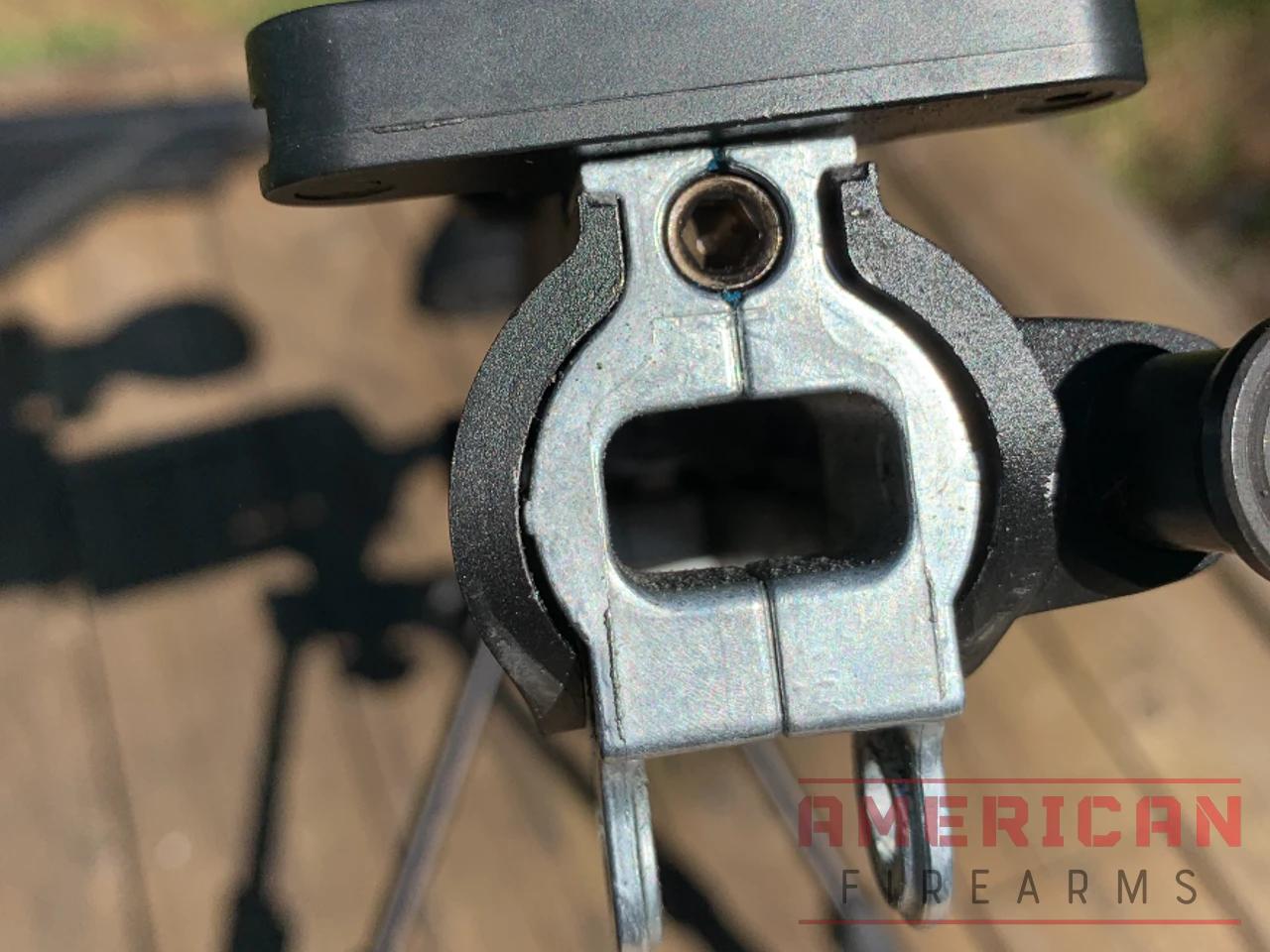 The hex adjustment screw allows you to set the bolt speed for high-velocity ammo.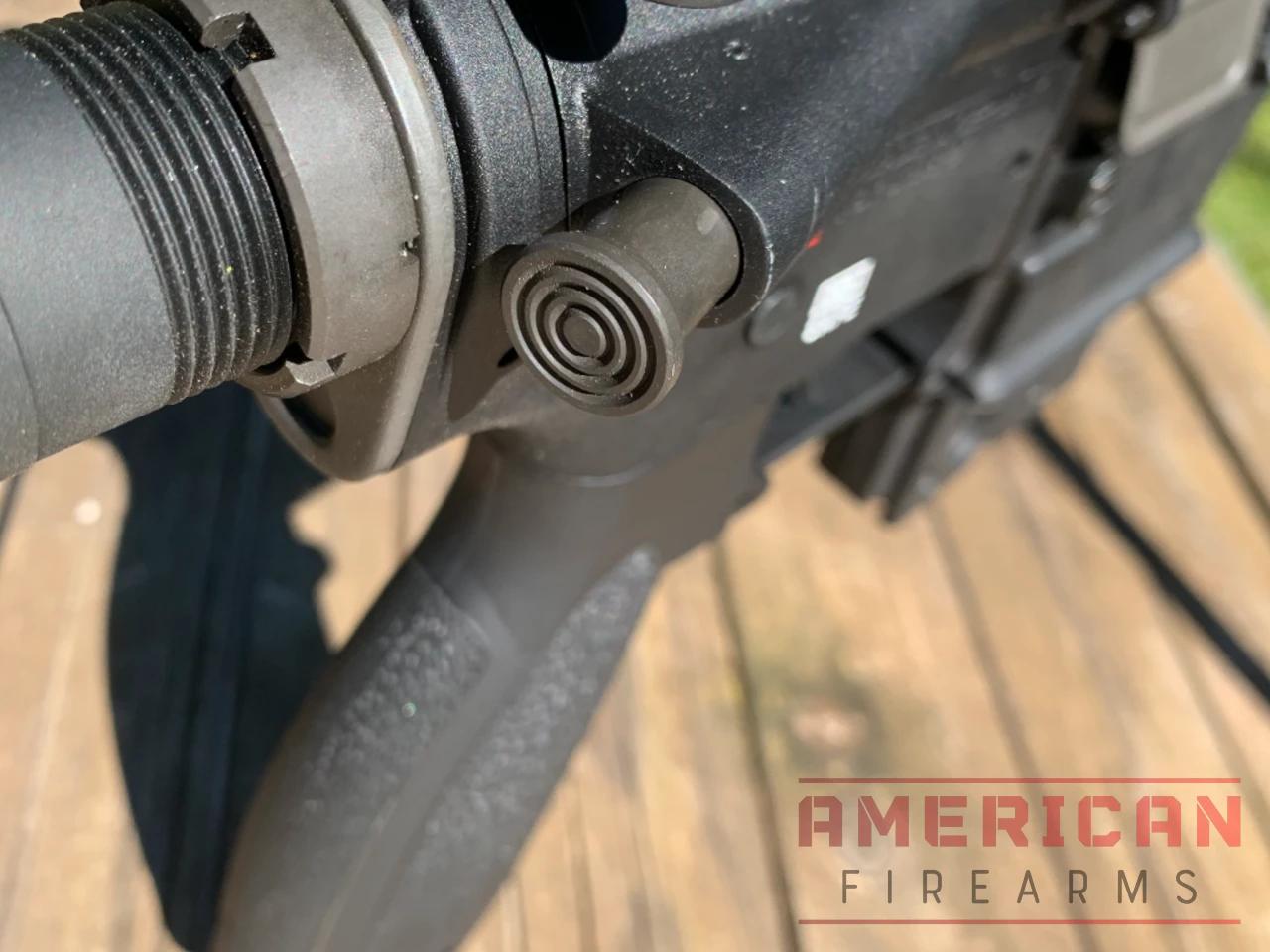 The forward assist is for decorative purposes only.
At the rear of the upper, you have a non-ambi charging handle, which charges the short-stroke bolt easily enough. In front of the charging handle you have another bit of comic relief — a movable but non-functional forward assist (why HK decided to include this is beyond me) as well as a standard AR-style shell deflector.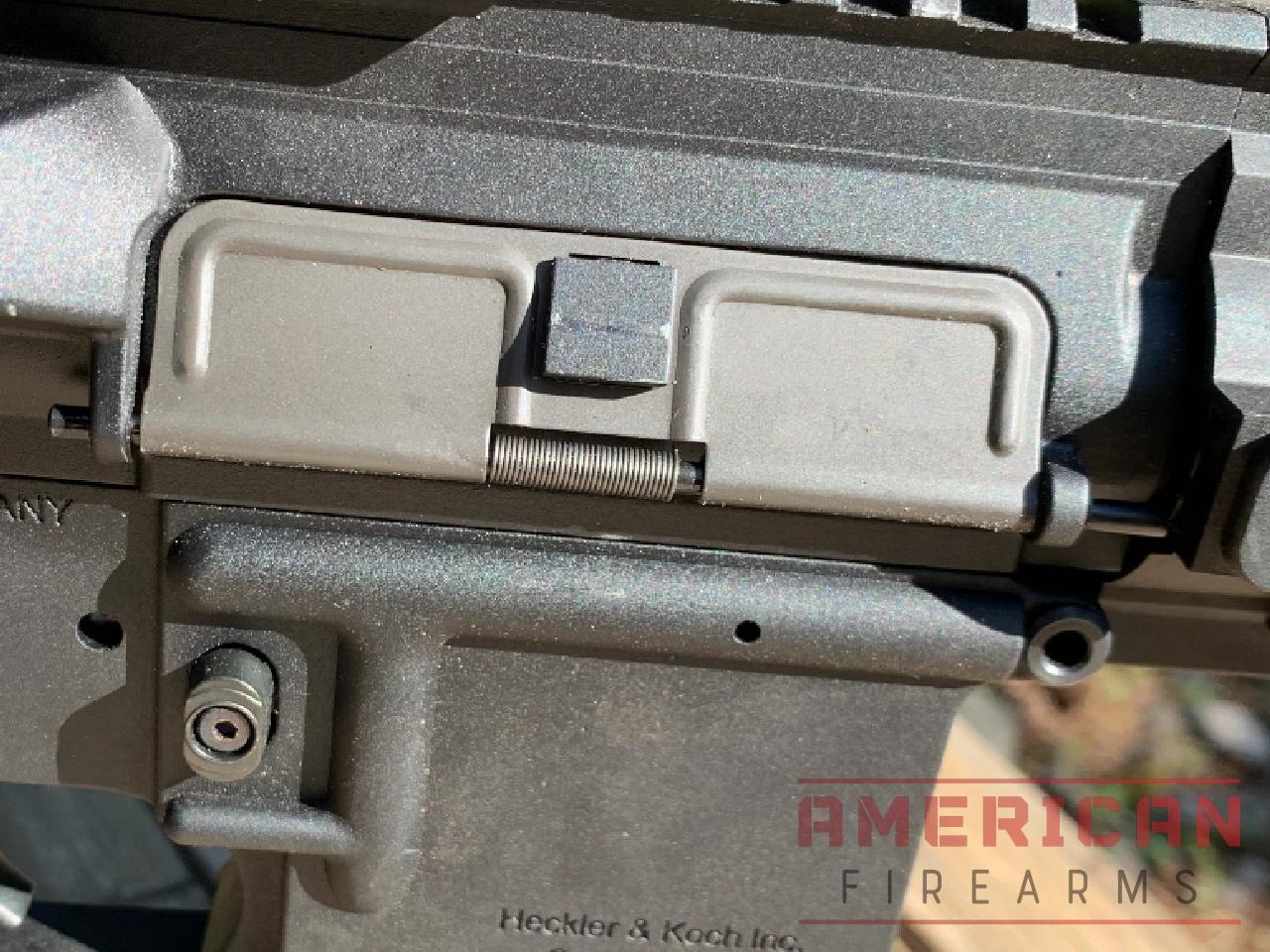 The dust cover...it works!
The dust cover is fickle but it does work, just press on either side of the cover rather than the center latch itself.
Bolt Release
While the bolt release is a cosmetic detail, the bolt system includes a bolt catch that pairs with the magazine to function as a last-round hold open, which holds the bolt open when encountering an empty magazine.
Just drop the mag and pull back on the charging handle to release the bolt, which either simply closes the bolt or loads the first round of a fresh magazine.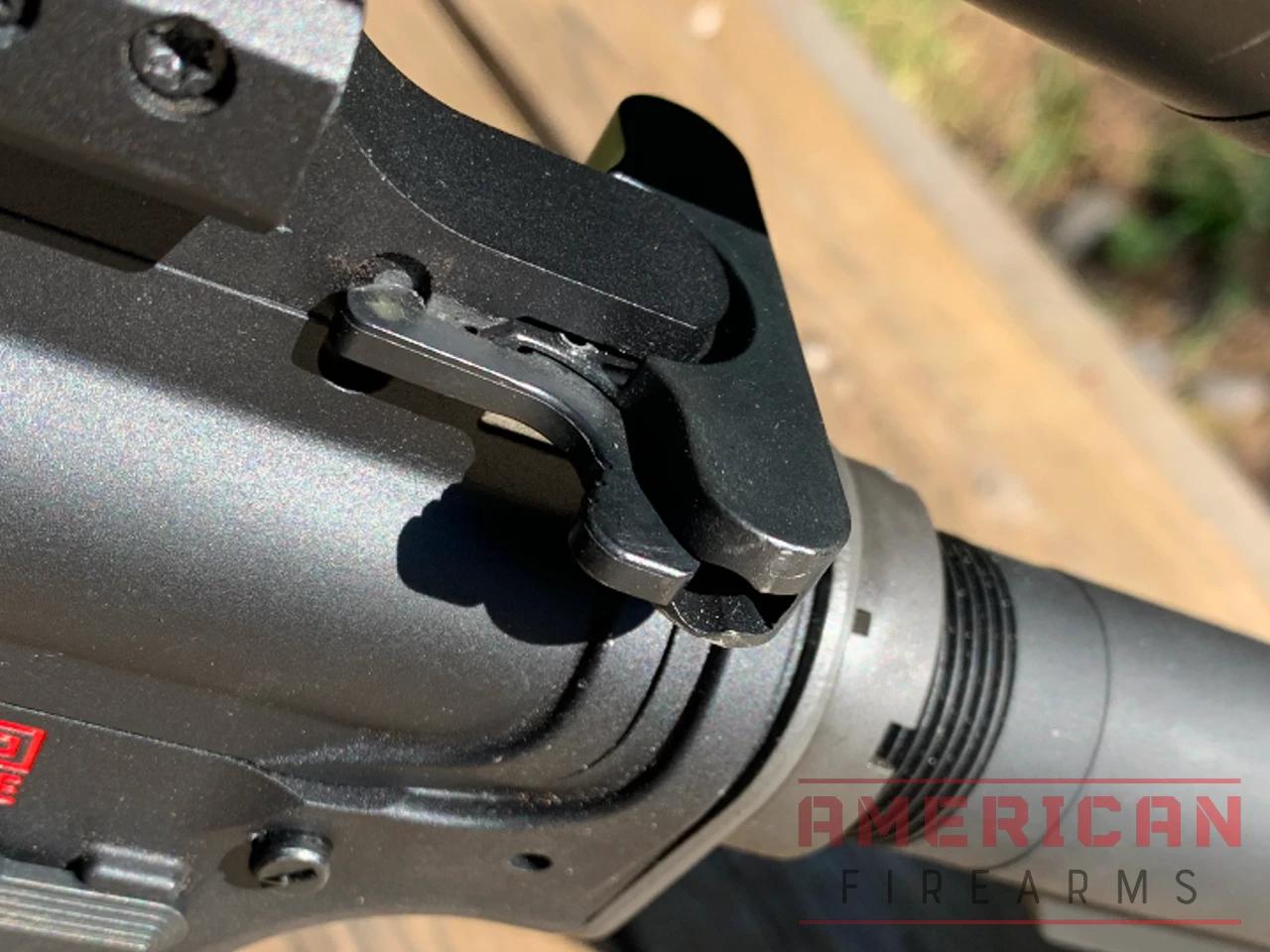 Releasing the bolt involved dropping the mag then pulling the charging handle to release the bolt catch.
Barrel & Handguard
I really like the 16-inch M4 configuration carbine barrel, which ends in an A2-style flash hider with 1⁄2×28 TPI threaded muzzle (I swapped mine out for a Silencer Central Banish 22, but more on that in a minute.) HK lists it as a match-grade barrel, and while I'm not a match-grade shot, the 416 definitely shoots the lights out.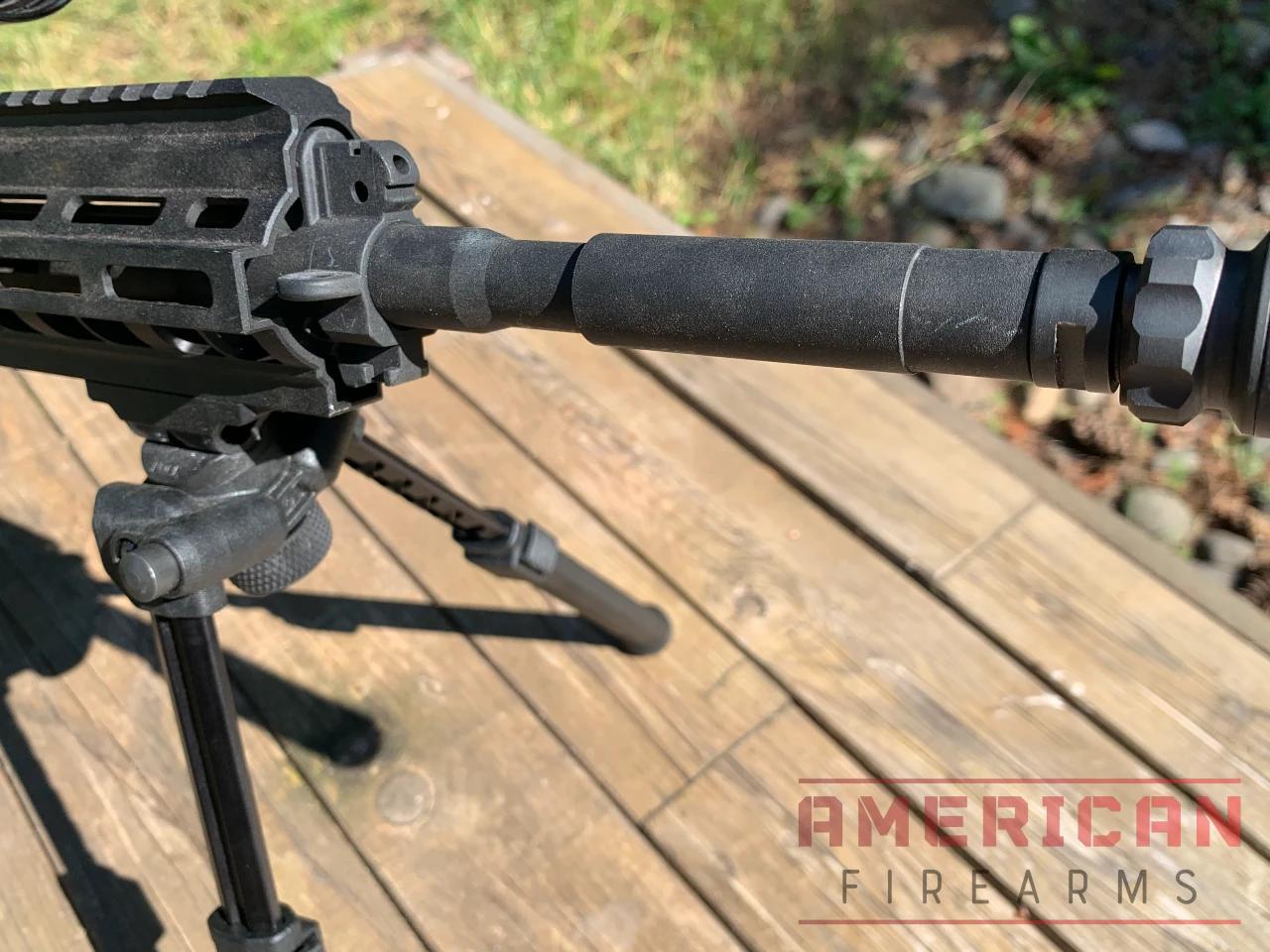 The 16-inch M4 configuration carbine barrel come complete with an M203 grenade launcher cut.
The rail and handguard are near-perfect replicas of the centerfire HK416 setup. The aluminum handguard and top rail aligns with the upper's Mil-Std Picatinny receiver rail, creating a t-marked monolithic rail system HK refers to as their RIS or Rail Interface System.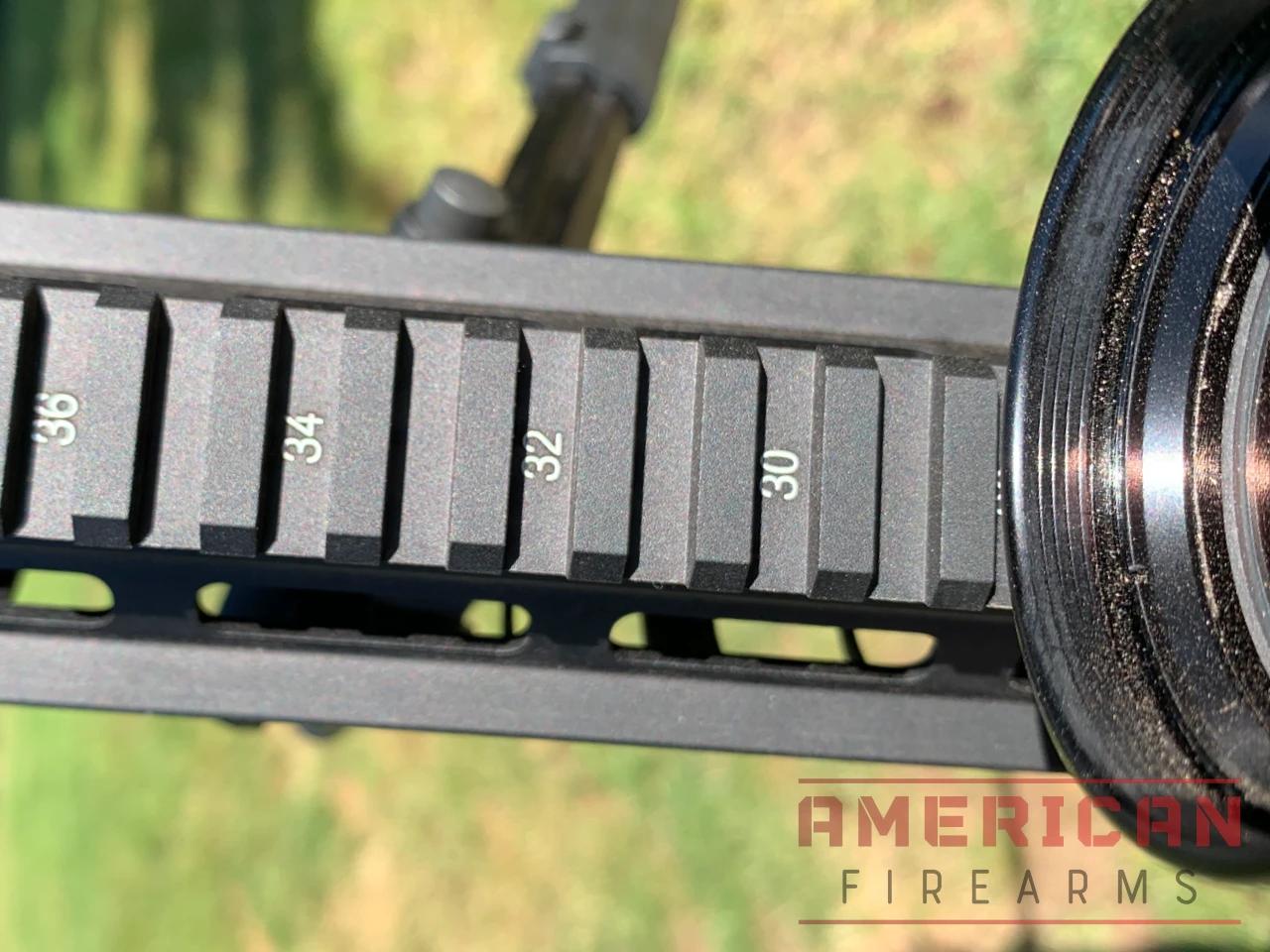 The T-Marked Pic Rail
The handguard houses five M-Lok compatible slots at the three, six, and nine o'clock positions as well as recessed M-Lok slots that are likely just for weight savings or cooling. 
This pseudo-quad rail feel gives the 416 one of the most stable bases for accessories I've found on a .22LR rifle. In hand or shooting off a bipod, it's an incredibly flat shooting, low-recoiling, fun rifle that everyone in my family loves taking out to the range.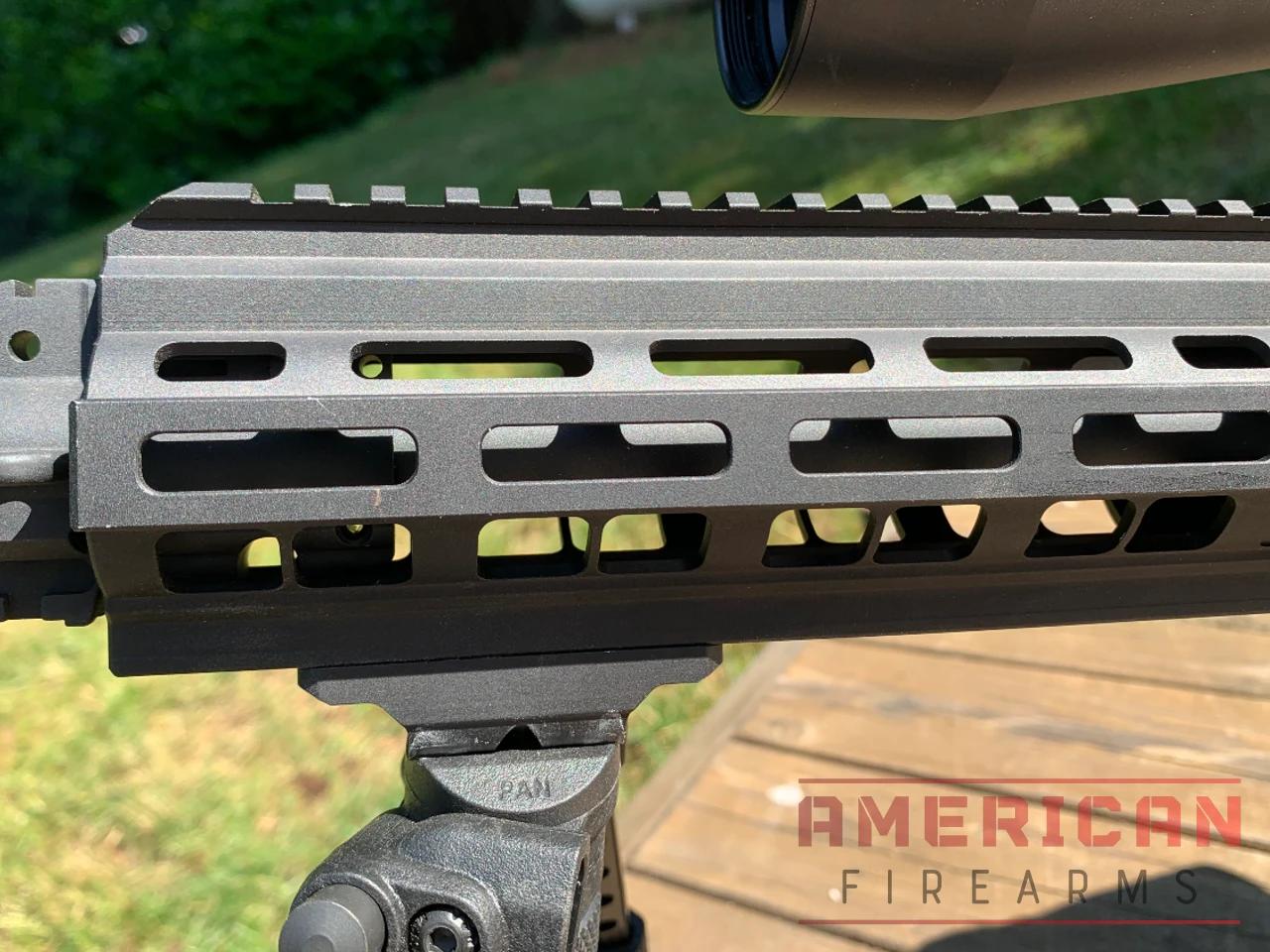 Lots of M-Lok goodness.
On the very front of the barrel, you have two sling mounts (these are not QD mounts mind you — the diameter is too small and they're not even nmoted in the manual) at the three and nine o'clock positions and — again, keeping with the non-functional replica vibe — a non-functional gas block. 
Why include a fake gas block? Well, the centerfire HK416 is a short-stroke piston rifle, and while the rimfire version isn't, HK really committed to replicating the centerfire rifle, and I think this level of attention to detail is impressive. Useless, but impressive.
Also up-front, at six o'clock, you get a bayonet lug. You know, for charging into battle.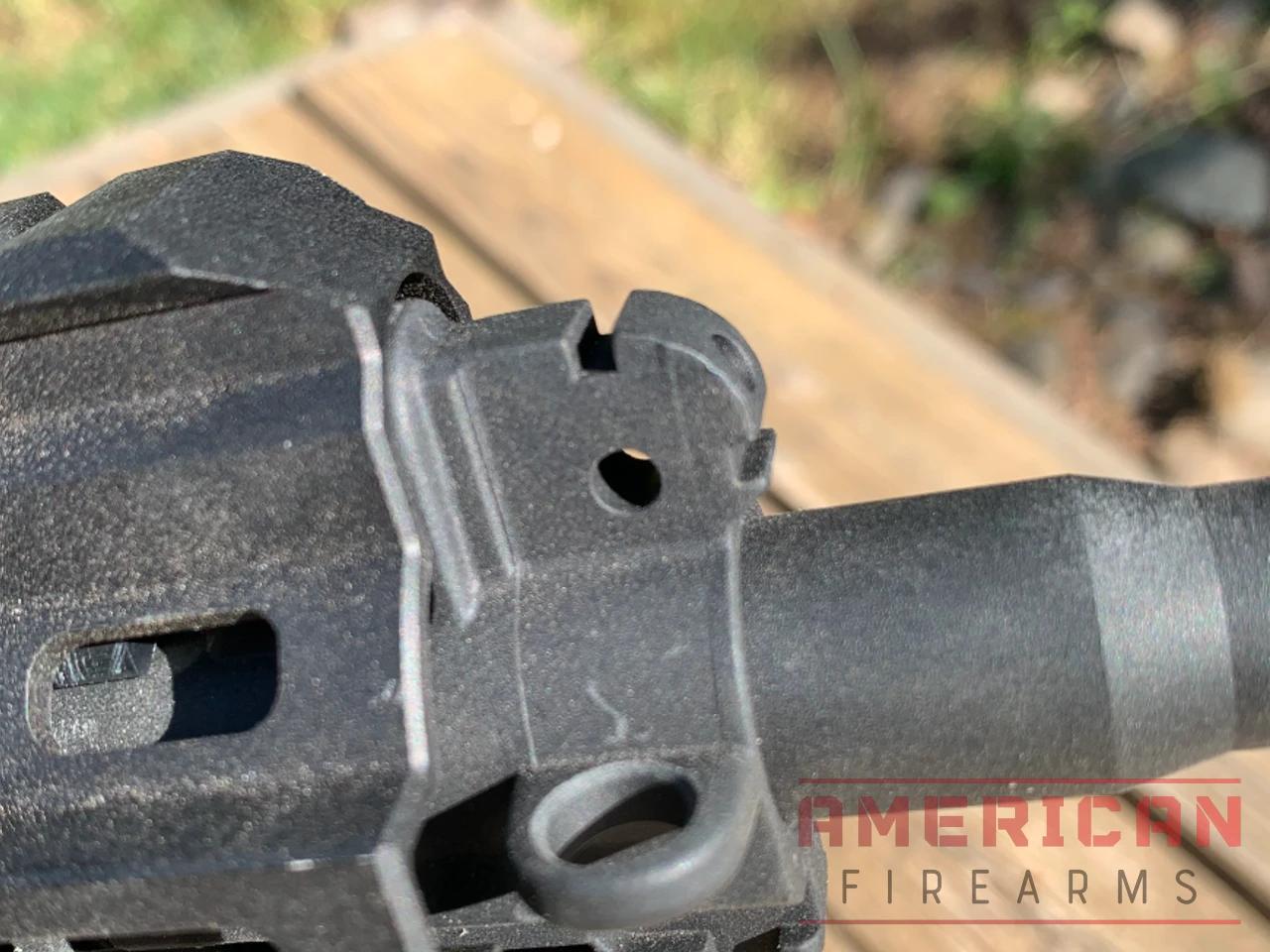 The faux gas block is a hilarious touch. Also, the sling mounts are not QD-spec, so they're more than likely cosmetic.
The wanna-be Magpul factory folding sights are, uh, not good. This is one area that feels lower quality than the rest of the rifle, so I promptly tossed mine in the garbage and tested the HK416 with a red dot sight before opting for some glass.
I've put a few thousand rounds through my 416 at this point, both accuracy testing and just blasting targets largely because it has become my go-to rifle for testing everything from lights to suppressors and accessories. It's so light shooting, recoil free, and incredibly stable I just enjoy shooting it at any distance. 
Yes, the trigger is a stinker but I can typically zero at 50 yards and blow through a few hundred rounds with a smile on my face. I can also repeatedly ring steel at over 200 yards with the HK416, so the trigger isn't bad enough to keep me from reaching out. It's just a load of fun and has me constantly needing to stock up on ammo.
For this review, I set up at 20 yards and pulled two groups — one with a very old box of  Herter's 36 GR Bulk Pack Target Hollow Points and one with a fresh box of Federal AM22 40 GR at 20 yards.
The HK416 doesn't love the plated hollow points. I usually get a flyer or two, and this group included 2 of the 5 shots splashing well outside the bullseye.
Switching to the Federal AM22, I put 5 rounds in about a dime-sized hole. Plenty accurate for me! Just stick with round-nosed rounds and you'll hit everything you aim at.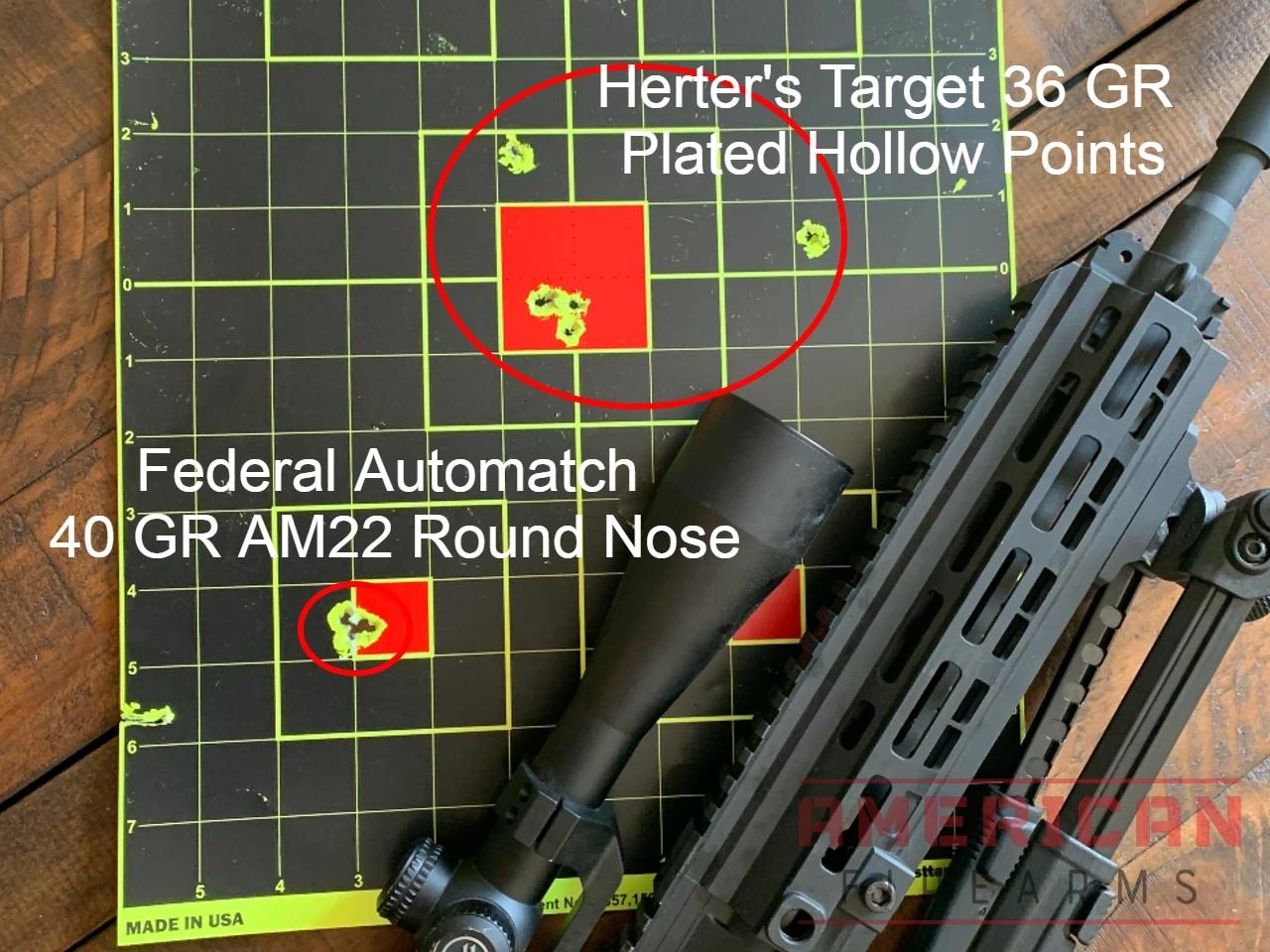 For this review I shot both Herter's 36 GR Bulk Pack Target Hollow Points (top) and Federal AM22 40 GR at 20 yards.
The HK416 is also my go-to rifle for taking down varmints of all stripes, from ground squirrels to rats — basically, anything fuzzy and unwanted meets its end thanks to my 416.
Reliability-wise it prefers to run pretty wet (lots of lube) and will run all day on most boxes of ammo. I generally shoot cheap bulk ammo (think 40-grain Federal AutoMatch) and issues can crop up without maintenance, but a little elbow grease resolves those quickly. Most of the time I'll get a F2F thanks to a mucked-up magazine, which crops up once every 100 rounds or so when clean. Running dirty you're looking at issues popping up 1 in 30 rounds.
It's pretty quiet right out of the box, as most rimfires tend to be, but my real love affair with it started when I tested a Banish 22 suppressor.
Some rifles can get a little needy running a can. You'll be futzing with the gas block, trying different types of ammo, etc. to get smooth, consistent performance. Not so with the HK416.
I slapped the Banish 22 on it and haven't taken it off since. It just runs and runs — all without gassing the hell out of you. Plus, it's quiet enough that is doesn't even spook my chickens with I take down a squirrel or gopher 10 feet away.
I do get some gas backing out by the charging handle after long strings or when I neglect to clean the baffles (Silencer Central recommends cleaning every 100 -200 rounds, but I'm not that dude.) Super impressive performance when running a can on the HK416.
The only danger I've experienced with running it suppressed is how much ammo you'll burn through in an afternoon.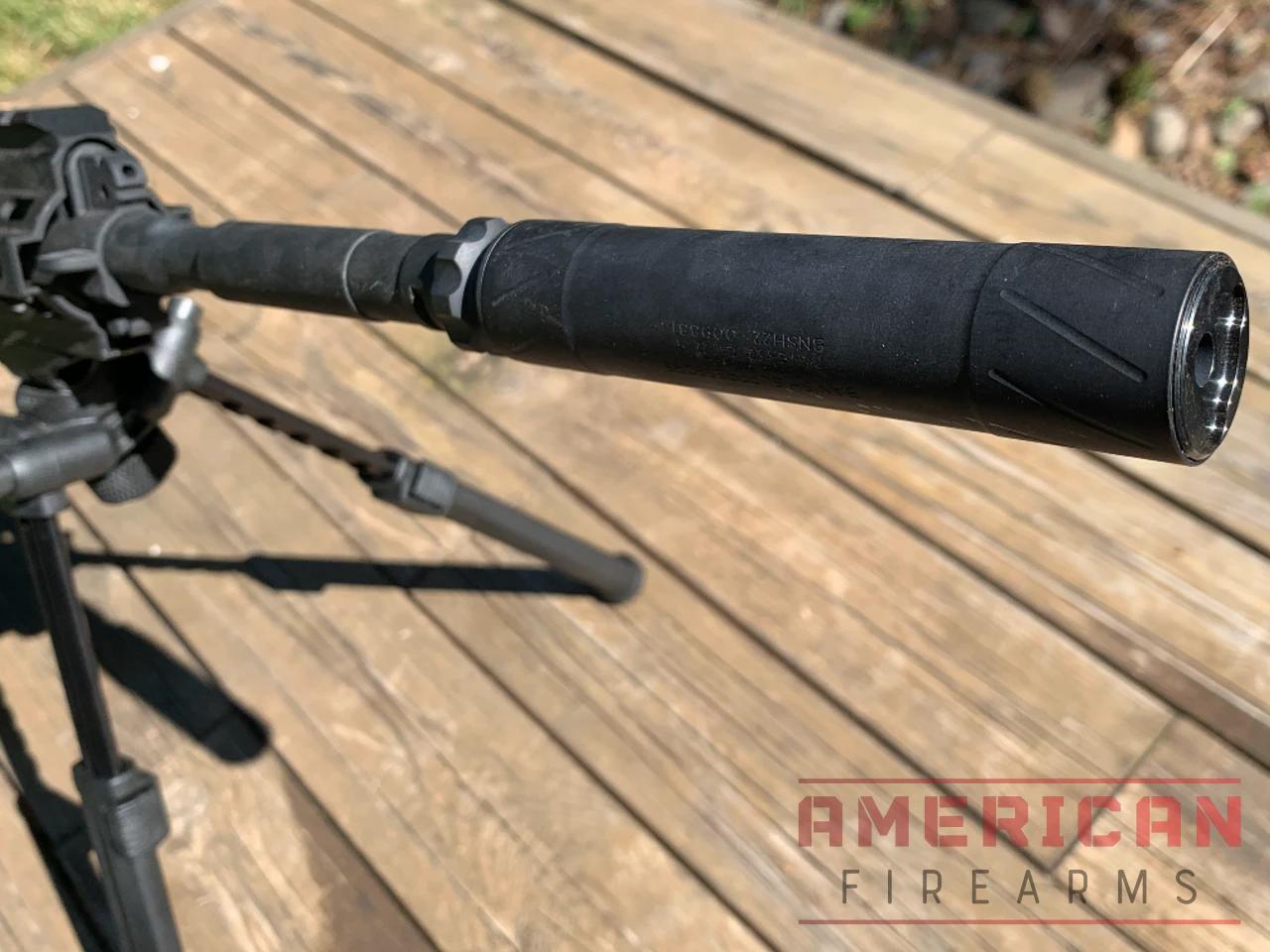 Slipping a can on the HK416 makes for an unbelievably good time.
I'd recommend the HK416 for anyone who wants a tactical rimfire rifle for plinking, varmint control, or as a sub-caliber trainer. The controls are very similar to a standard AR platform rifle, the mags are roughly the same dimensions, and almost any accessory you want to run on an AR will be at home on the 416.
It's not a competition-grade rifle, but it's a lot of fun and enables me and my kids to spend a lot more time at the range than we would otherwise.
Most gun enthusiasts know the HK brand — and the HK416 .22LR is a high-quality rifle that holds up under scrutiny, even with the interesting design choices of all those faux controls and proprietary components. I'd buy it again in an instant.
When it comes to rimfire semi-autos, there are few that excite me (or have spent as much time in my hands) as the HK416. Definitely one that should be on your list.