Ruger Precision Rifle in 6.5 Creedmoor [Hands-On Review]
Ruger's chassis-based Precision Rifle kicked off the current trend of production-level chassis rifles, but how does it hold up a decade after release? Come find out.
Written By
Megan Kriss
Expert Contributor
Edited By
Michael Crites
Licensed Concealed Carry Holder
Share:
Products are selected by our editors. We may earn a commission on purchases from a link. How we select gear.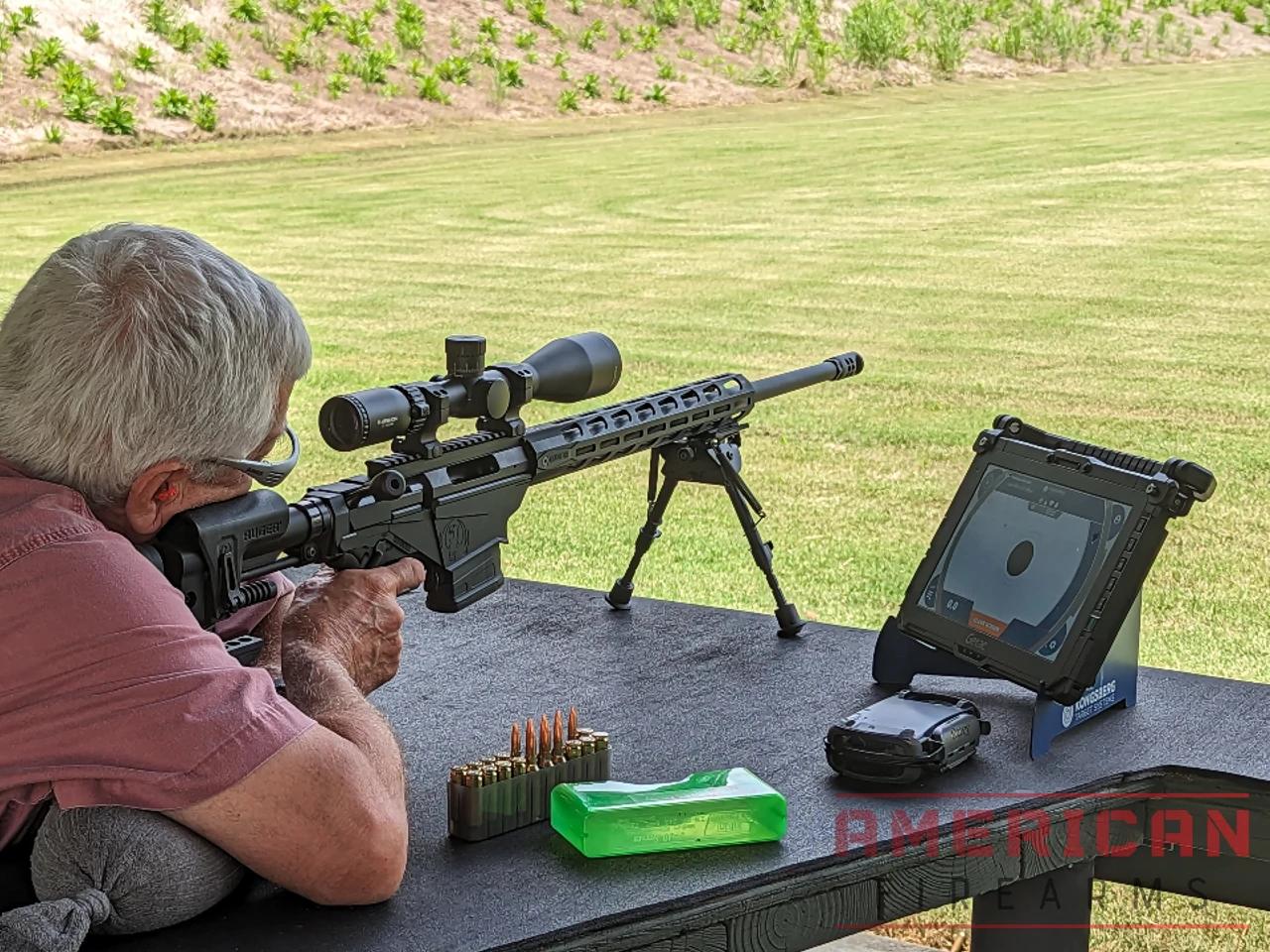 The Ruger Precision Rifle kicked off a huge demand for production-level chassis rifles for long-range shooting. These days, just about every bolt-action manufacturer has a chassis-style rifle designed for long-range shooting and events for PRS, at a reasonable price point that is approachable for those new to the sport.
Of course, that was almost a decade ago now, so we wanted to see how the RPR stacks up to the now-crowded field of production precision rifles that you can just buy off the shelf, and then go ring steel at a thousand yards with.
Here's what I found out, based on some extended time with the gun.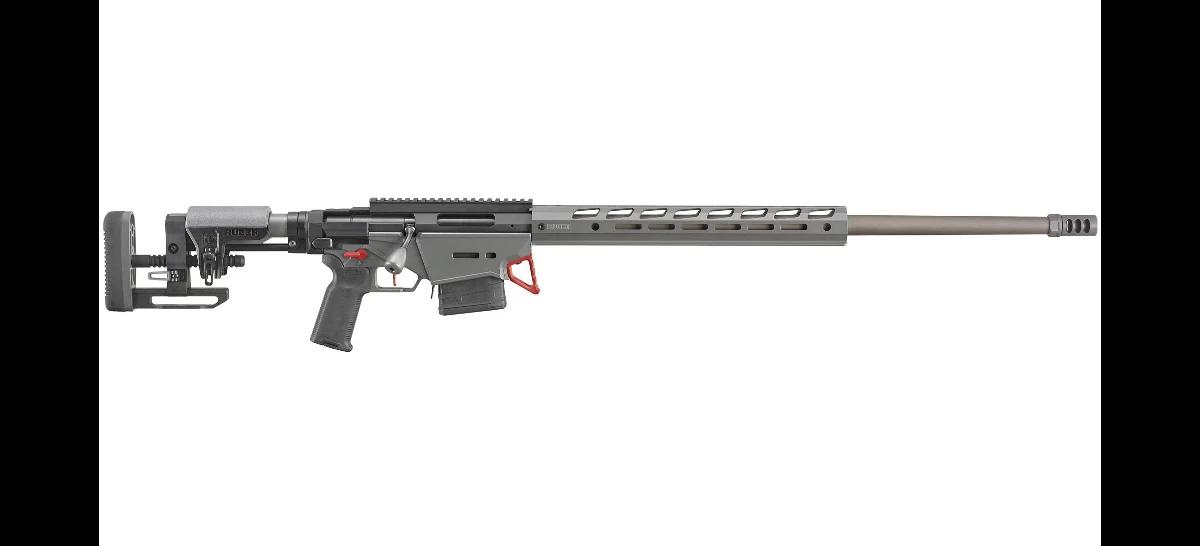 Best For
Exceptional accuracy, suitable for Precision Rifle Series competitions
Modular design makes customization easy
Comfortable and adjustable stock and grip
Effective muzzle brake mitigates recoil
Versatile magazine compatibility
Really nice trigger with adjustable pull weight
Solid value
Considerations
Bolt throw can be fickle
Finish durability is not on par with higher-end rifles
Fiddly cheek comb adjustment
Our Verdict
All in all, I continue to be impressed by the Ruger Precision Rifle. Far from showing its age, all this titan has really done is show us why it has become so popular over the past few years.
To say it shoots well for the price is a massive understatement — sub-MOA (and at times sub half MOA at 100 yards) are certainly possible. It's better than almost anything else on the market at this price point really, and it is customizable to the nth degree while still being perfectly adequate for most shooters right out of the box. Does this put some additional pressure on the Accuracy Internationals and Ritter & Starks of the world? Yes indeed. Is that a good thing? Probably.
If you're looking to get into the sport of precision shooting, or you just want to be able to rock up to your local 1000-yard range and ring some steel, the Ruger Precision Rifle should definitely be in the top three or so rifles you take a look at, in my opinion.
It performed well in our testing and does what it claims to do. And at that price, it's hard to find fault with it anywhere.
How does Ruger's chassis rifle performance stand? Here are the scores:
Accuracy: 10/10
If you don't get in its way Ruger Precision Rifle hits the bullseye every time, with accuracy that rivals even higher-priced custom rifles.
Ergonomics: 9/10
With its highly modular chassis design and adjustable stock, the Ruger Precision Rifle is about as ergonomic as a rifle gets. Yes, it's heavy, but still a still pleasure to handle.
Fit and Finish: 8/10
It's a typical Ruger product, which means it's finished nicely. The slight issues with touchy bolt operation and finish durability can be nitpicked by discerning shooters.
Features: 10/10
Loaded with factory features and built for customization, it's a shooter's playground. From the adjustable trigger to the versatile magazine compatibility, it gives you everything you need to excel at the long game.
Reliability: 10/10
Ruger's Precision Rifle is a reliable workhorse that goes bang without fail. With over 400 rounds fired, we experienced zero issues.
Value: 9/10
It's not a cheap rifle but it does exceptional value — especially when you're talking about PRS-level products.
Generation:

Gen3

Caliber:

6.5 Creedmoor

Finish:

Matte black / Type III black hard-coat anodized

Action:

Bolt action

Bolt:

Three-lug single-piece bolt with 70° throw

Barrel Length:

24 inch (Ruger Precision Rifle Hybrid Muzzle Brake included)

Barrel Thread:

5/8"-24

Twist Rate:

1:8" RH

Stock:

Folding / Adjustable Length of Pull and Comb Height

Weight:

10.7 lbs (empty)

Capacity:

10-round detachable box (AICS & Magpul compatible)

Length of Pull:

12 to 15.50 inches (adjustable)
Background on the Ruger Precision Rifle
Around 2015, the folks at Ruger took a good long look at the firearms market and asked themselves a question that they seem to turn to a lot when brainstorming new products. That question was "How do we take that thing (in this case, chassis rifles) and make it cheap enough for regular people to buy it, but still make it worth buying?"
They have a history of doing this, from their 10/22,  GP-100 Revolver series, the Ruger Pistol Caliber Carbine, the new Ruger-5.7…Ruger likes making affordable, but still high-quality production versions of things that people really want.
Several years ago, they saw the success of chassis-based precision rifles in sports like the Precision Rifle Series and decided to bring something to market that had a lot of the same features as the $4,500+ custom PRS rifles, but at about a quarter of the price.
PRS has become one of the most popular competitive shooting series. Image via PRS.
The Ruger Precision Rifle was the result, and few guns have had the impact the RPR has. It has been incredibly successful in making the bolt action precision rifle world more accessible to traditional AR shooters by reducing the cost of entry to something fairly approachable.
In short, the RPR opened the floodgates to the current spate of chassis-based rifles by proving there was a market for them.
Not everyone loves Ruger and other big players stepping on this market — some would argue it takes business away from custom rifle makers, which has a ring of truth to it. I would argue that rifles like the RPR are "gateway rifles" that ultimately bring more into the world of precision shooting and create a fundamentally bigger market.
Evidence of this is in the growth of the Precision Rifle Series, which is more popular than ever. Something tells me guns like the Ruger Precision Rifle have more than a little to do with this.
The Chassis
First and foremost, Ruger Precision Rifles are chassis rifles. This doesn't make them more accurate than a traditional stocked rifle, but it does make them far more modular. With a chassis rifle, you can swap the grip and stock in just a few minutes and get something that works for you. Want to swap out the folding stock? Done. Really want a Magpul PRS stock? Easy.
In short, chassis-based rifles tend to be easier to customize and a touch heavier than stock-based rifles, which can translate into a more stable shooting platform. Rather than you conforming to the rifle, the rifle conforms to your preferences, creating a better fit between the shooter and the rifle, avoiding a one-size-fits-all scenario.
Adjustable Stock
The RPR comes with a very nice MSR stock from Ruger that is incredibly adjustable and an AR-style pistol grip, both of which can be swapped out in about 30 seconds for any other AR-compatible grip or stock on the market.
It also has a very comfortable recoil pad that helps as well, not that it is necessary with this light recoil caliber. Step up to the Precision Magnum line with .300 Win Mag and you'll be grateful for it though.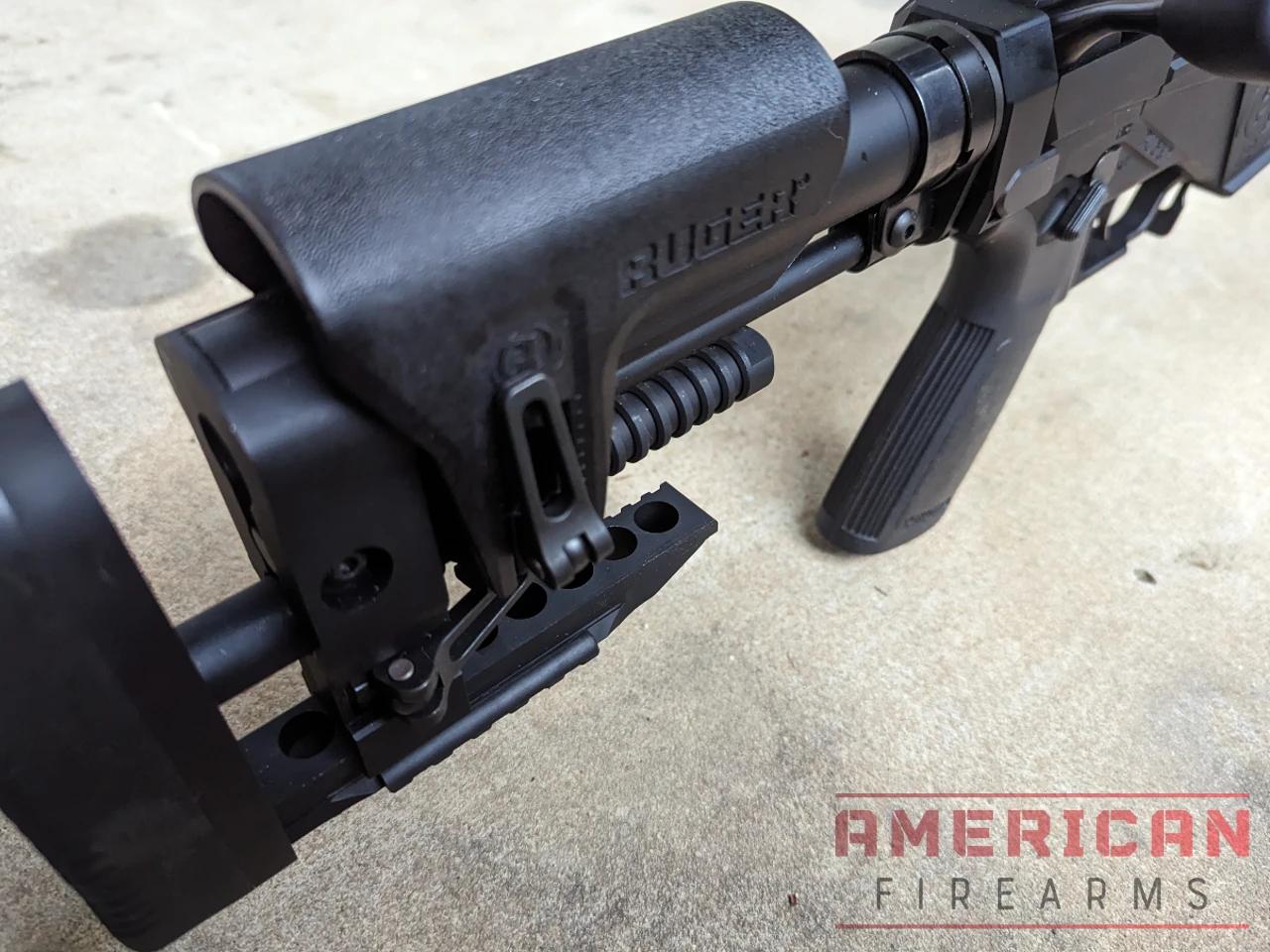 The stock is comfortable and adjustable for managing both length of pull and comb height and it includes a small rail section on the toe.
The stock…stock, is still fine though, especially for someone new to the sport. It is comfortable and adjustable with an Allen wrench for managing both length of pull and comb height, so you can get that custom rifle fit right out of the box. Plus the stock has a small rail section on the toe for a monopod or any other stability-enhancing goody you might want.
Barrel & Muzzle Device
The medium-contour cold hammer forged barrel is tipped with a threaded barrel and Ruger's Precision Rifle Muzzle Brake, which is designed to alleviate felt recoil without blasting those to the side of you on the firing line. Of course, the threaded muzzle means you can drop in any muzzle device you want on the end of the 20" barrel — be it a suppressor or something other than Ruger's hybrid muzzle brake.
Recoil in our 6.5 Creedmoor test gun was non-existent and allowed me to spot my hits (and misses) out to 800+ yards. Being able to keep your eye on the target all the way through impact is a huge benefit, and the overall mass of the RPR helps as much as the muzzle brake.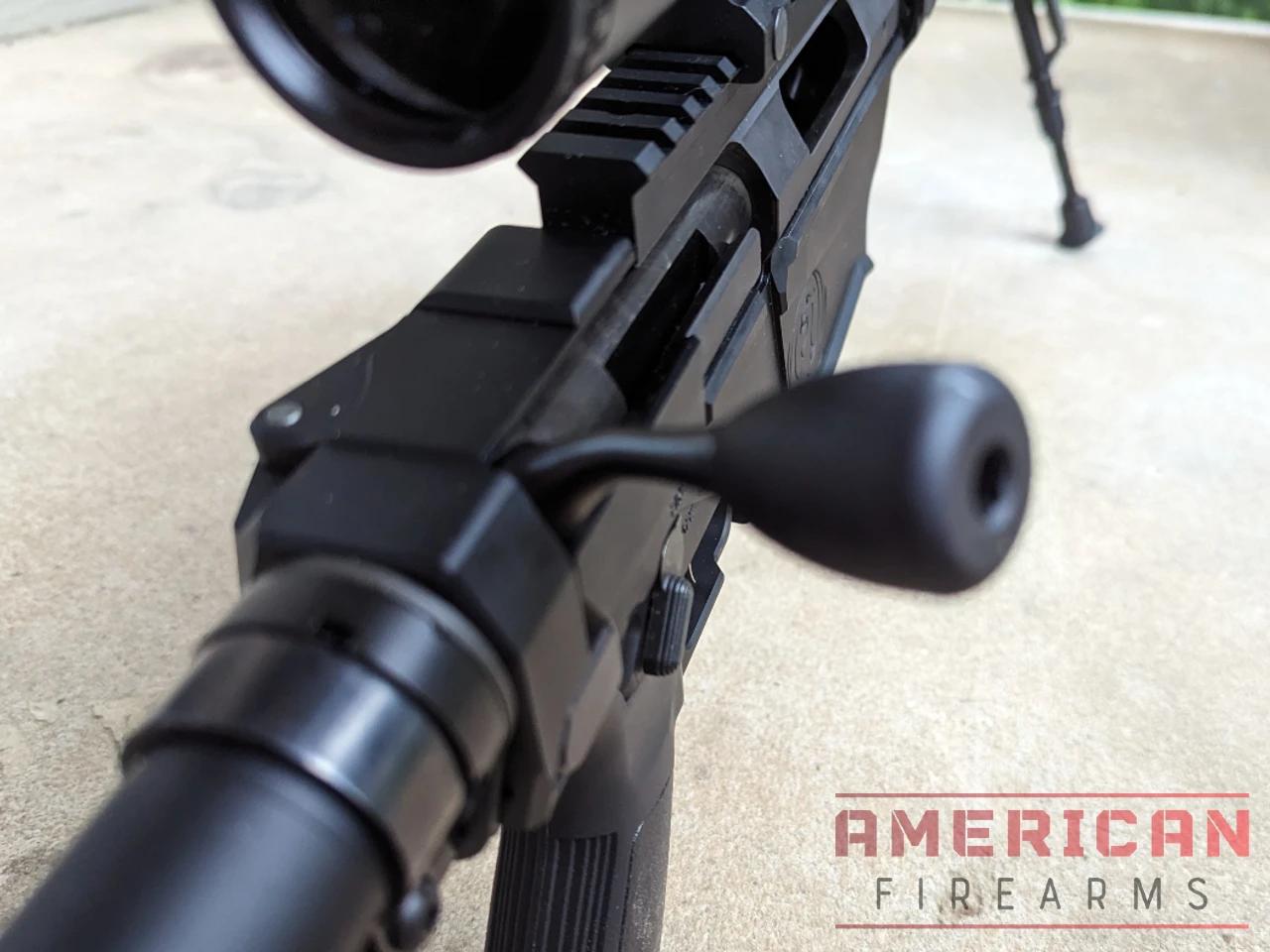 The rifle does has QD sling points and the stock folds nicely at the "buffer tube" via a rear throw lever.
Make no mistake, this is a heavy rifle. It's not lightweight hunting kit, but it's not designed to be. It's designed to be an accurate precision rifle — one that's stable and soaks up recoil, and it excels in those areas.
The rifle does have QD sling points, and the stock folds and locks at the "buffer tube" via a rear throw lever to make transport easy though, so no worries about throwing your back out lugging it from stage to stage at a match.
Another bonus: folding the stock out of the way makes removing the bolt super easy.
The use of AR-compatible furniture means that anyone who has fired any kind of modern sporting rifle before will feel right at home.
Controls & Magazines
The ambidextrous magazine release lever is located just forward of the trigger guard and is part of Ruger's patented multi-mag system. The RPR can accept a variety of magazines, including AICS mags, as well as SR-25/DPMS/Magpul-style mags, as well as newer M14 mags.
In other words, you won't have to spend a mint on extra mags, and they'll be easy to find.
In keeping with the AR-friendly nature, the safety lever appears to be directly from Ruger's AR catalog.
The (Rather Excellent) Trigger
The trigger is Ruger's Marksman unit, with a fully adjustable trigger pull weight from 2.5 to 5lbs, and is just about as good as any you'll find on a production rifle these days. Long-range precision shooters might find it a touch heavy on its lowest setting but for most folks, 2.5 lbs is a great minimum, especially when learning.
It might be the best factory trigger in a bolt-action rifle at this price point. I promise it'll blow your hunting rifle out of the water.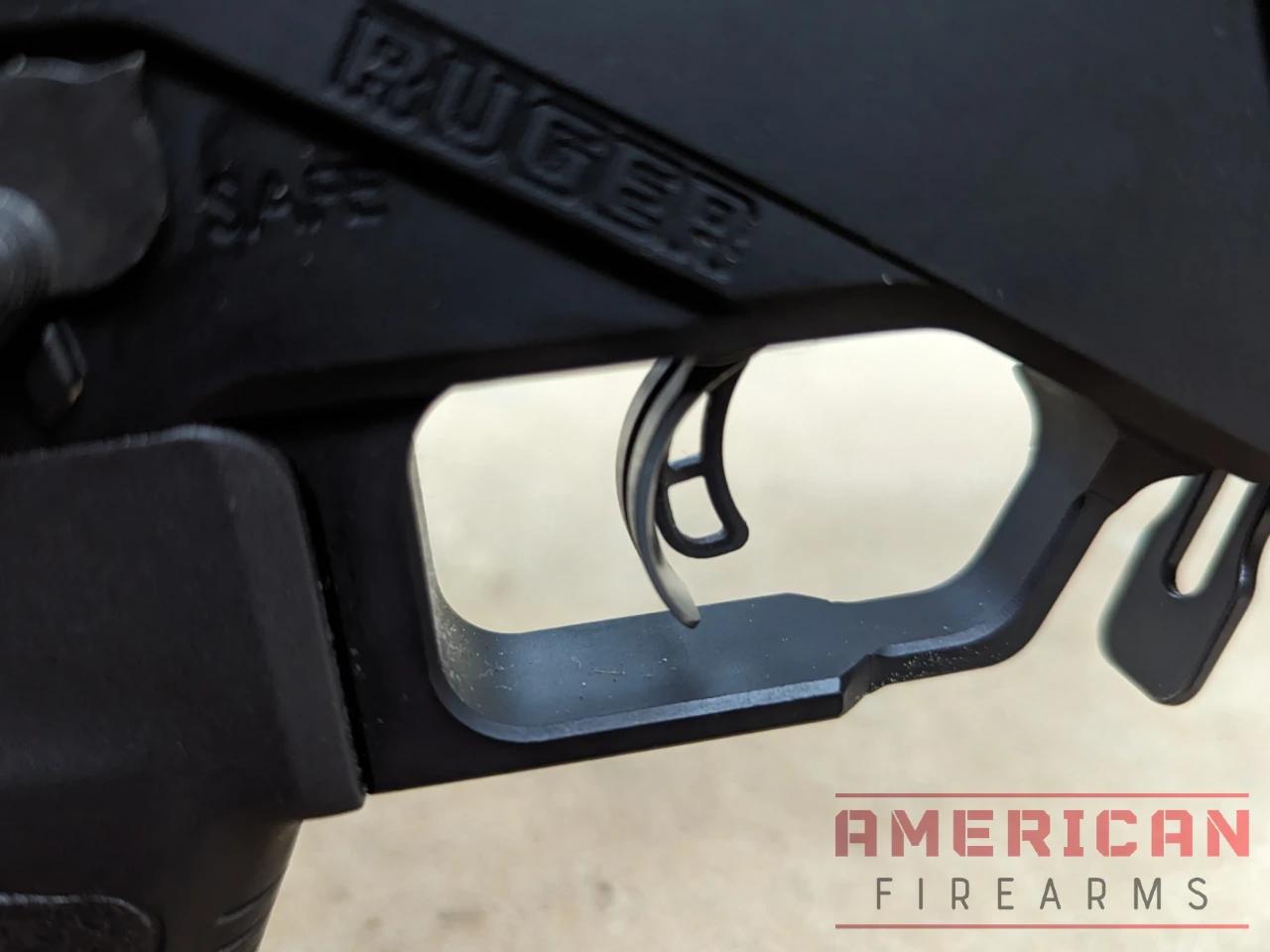 The PRP has one of best -- if not the best -- factory triggers in a bolt-action rifle at this price point.
Rails & Action
The picatinny rail has a built-in 20 MOA of elevation, so coupled with an appropriate scope you can easily reach out to the upper limits of the 6.5 CM's effective range without any issues there.
With the latest Gen 3 version of the PRP Ruger changed gears on the handguard, going from Keymod to M-Lok, which I prefer. I've always run M-Lok bipods, so this makes my life easy, but you may feel differently.
Moving down just a little bit, the bolt is a three-lug affair with a 70-degree throw and dual cocking cams. The bolt body is aluminum, and the bolt shroud contains the disassembly tool, making the teardown and cleaning of the whole unit a cinch.
The threaded bolt handle is oversized, so you can leave it how it is (I did) or swap it out for whatever you want.
Which is kind of the theme here. Everything on this rifle can be swapped around and customized to give you the fit, finish, and feel of a custom rifle, at about a quarter to a third of the price.
But how does it do at the range?
Performance and Precision
All the stats and features on paper don't really matter if the gun doesn't perform at the range, and for something like the RPR, performance is even more important. This is a gun that is, according to the marketing, supposed to get hits at 1600 yards.
We'll just see about that.
Accuracy
Alright, just to get this out of the way, this gun is very accurate, more than accurate enough to compete in something like Precision Rifle Series, and if you've never shot beyond 100 yards or even 300 yards, this gun is more accurate than you are.
No disrespect intended whatsoever, we all start somewhere, and I can promise you the gun is far more accurate than I was when I started getting into true long-range competition shooting eight or so years ago. I'd say that my skills still haven't outgrown the gun, almost a decade later.
With a decent scope my groups at 100 yards ranged from 0.39 inches (with Winchester Match 140gr, the best group) to 0.55 inches with Hornady American Gunner, a nice budget-friendly factory load. Average groups hovered around that half-MOA mark (considerably better than sub MOA accuracy) which is more than sufficient for getting hits past 1,000 yards.
At 300 yards, groups opened up to around 1.85 inches, and at 500 yards and beyond we were staying well within the .5-.75 MOA range, and that's all with factory ammo. As for the price, I absolutely cannot complain about that.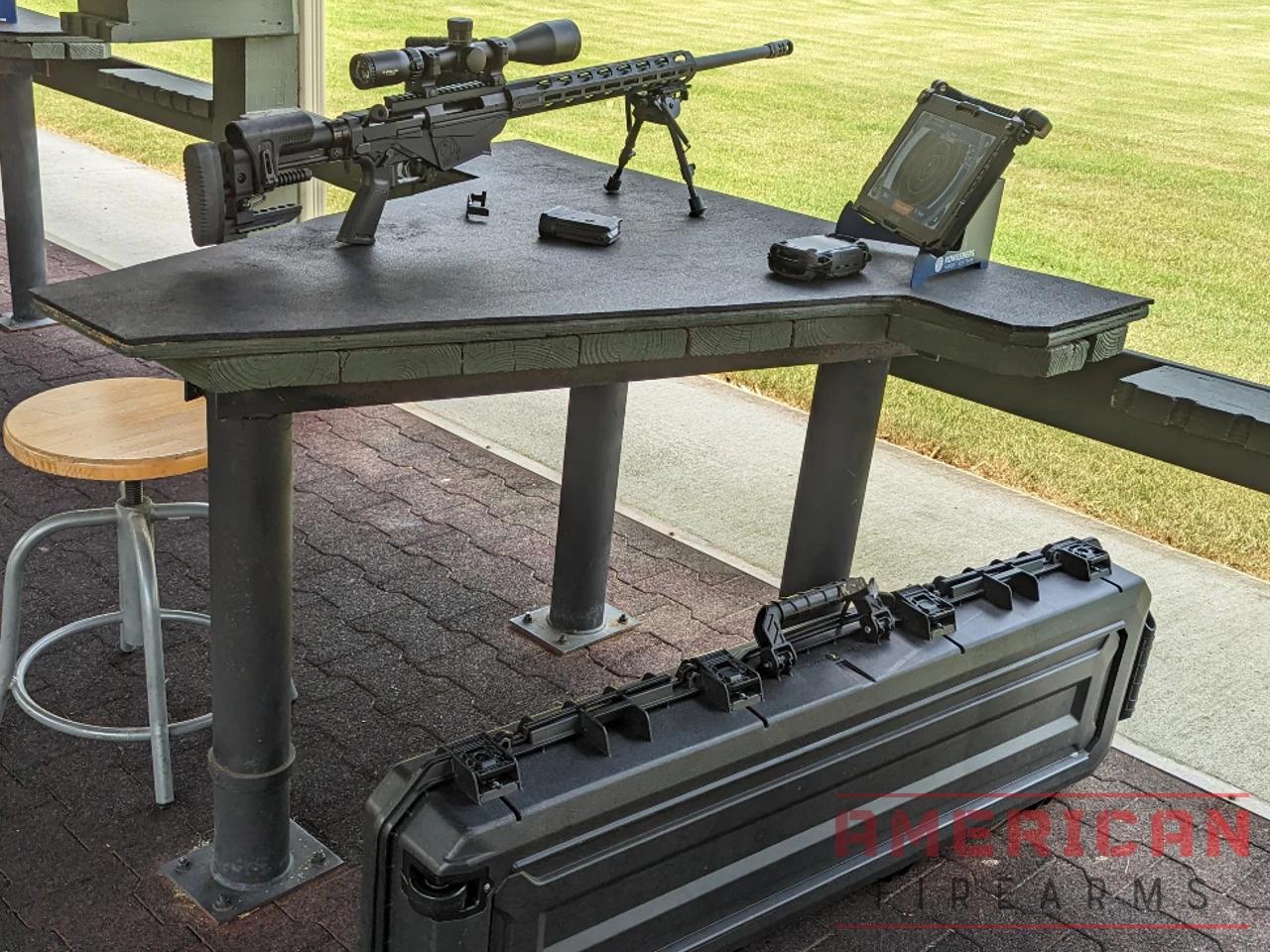 Setting up for testing
Ergonomics
This is another area where the RPR excels. It's actually really difficult to find fault with such a modular setup that is designed to be customized by the end user, but if we're just evaluating performance as it comes out of the box, it's still excellent.
The grip is comfortable, though not my preferred for something like precision rifle shooting. I tend to like a more vertical grip, and I have very, very tiny hands so it wasn't the perfect size for me out of the box. 
Then again, swapping to my go-to grip took about two minutes, and if your hands aren't in the extra-small range you won't have any issues. That said, I recommend experimenting with grips. They're such an easy way to further improve your rifle fit, and let's be honest; precision shooting performance all starts with a secure, comfortable grip.
My one real niggle is that the cheek comb adjustment is a little fiddly and has just one release lever that adjusts both height and front-to-back positioning. 
This can make getting the riser exactly where you want it a little persnickety, but this is really a set-it-and-forget-it thing for most people, so not a big deal at all.
One erroneous complaint I often see has to do with manually feeding single rounds. Some folks have stated that you must insert a magazine to chamber a single round, but that's not true at all. You can chamber a single round with or without a magazine in place.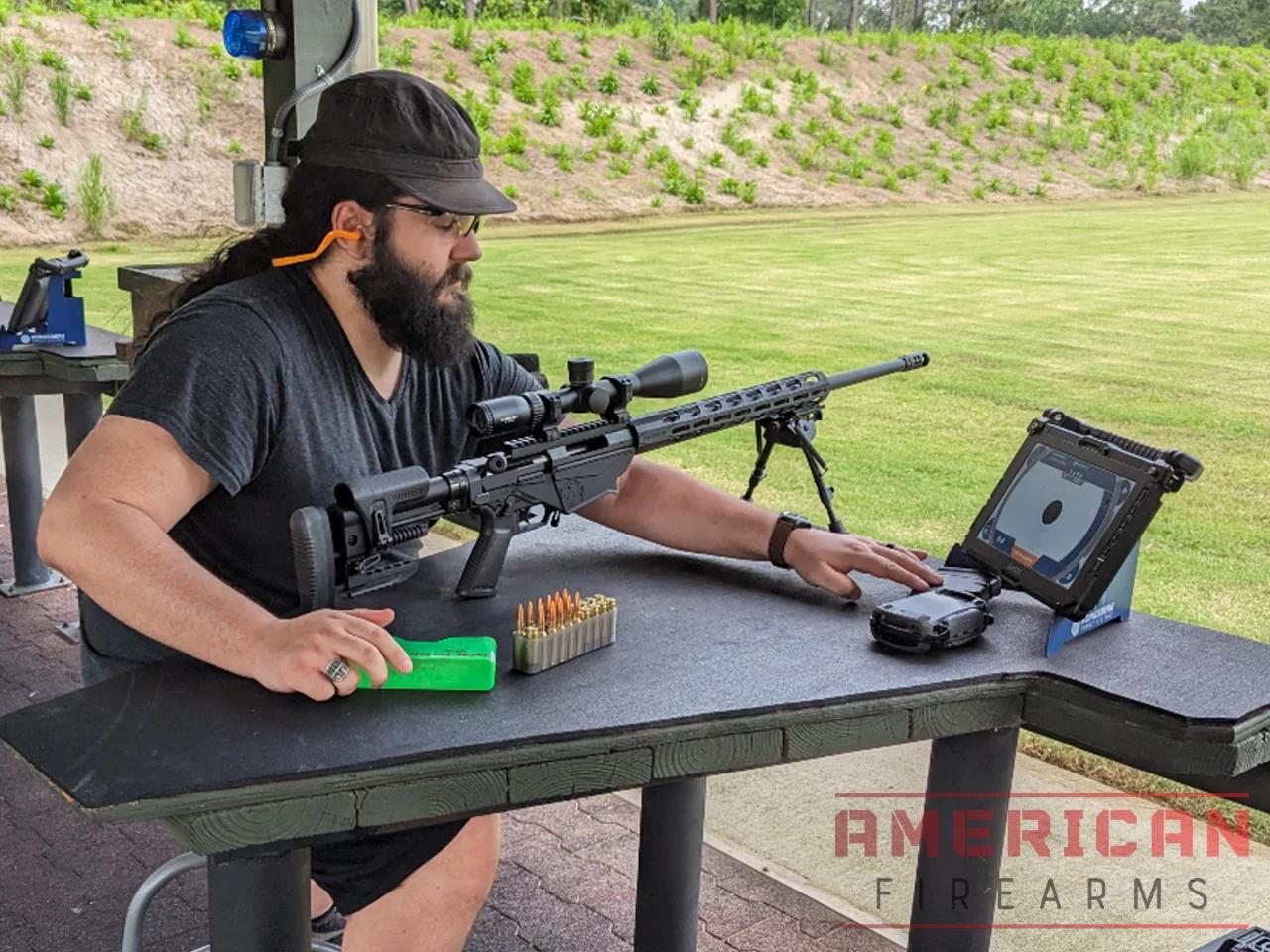 Evaluating shot placement.
Features & Customization
Out of the box, the Ruger Precision Rifle has everything you need to start shooting in something like PRS, at least as far as the rifle itself goes.
Throw an appropriate scope on it, and you can get hits at 800 yards if you have even half an idea what you're doing.
But if you want to change something, you have options there too. The whole world of AR-compatible stocks and grips is just the beginning. You can get a new bolt shroud, barrel, handguard, trigger, or really any other part you want, and you'll have multiple options to choose from.
You can leave it bone stock and have a blast with it and even compete quite seriously with it, or you can tweak, tinker, and upgrade on every little piece of it until there's barely a single stock part left.
And Ruger has gone out of their way to make that kind of modification easy without skimping on the parts you get with the factory rifles. The MSR stock and Marksman trigger are both great parts and won't hold you back compared to the folks spending twice as much on their guns.
You can also swap them out in under five minutes if you want. What's not to love about that?
Fit & Finish
Here's where I'm going to be nitpicky because there's really nothing else to say negative about the gun. I'm coming at this as someone who has spent time behind rifles that cost more than my Subaru Outback, so this is something of a snobby opinion.
That said, the fit and finish on the RPR are good. Not outstanding or amazing, but still well above average and totally appropriate for the price point. In fact, if we're just comparing to other similarly-priced rifles, I'd say the RPR might beat most on the fit and finish front.
Why the points off?
Because I'm picky. The bolt sticks a bit if you don't run it perfectly straight, especially if you apply any downward pressure on either the pull or push forward, as one might when hurrying to finish a stage in an awkward position. PRS match directors like to make you shoot off of uncomfortable and un-ergonomic barricades and out of all kinds of pipe, car windows, or whatever.
It's not enough to be a reliability issue, and the bolt doesn't hang up, you just feel it catch and slow down for a second when you start the bolt lift. As I said, I'm realllllly nitpicking here.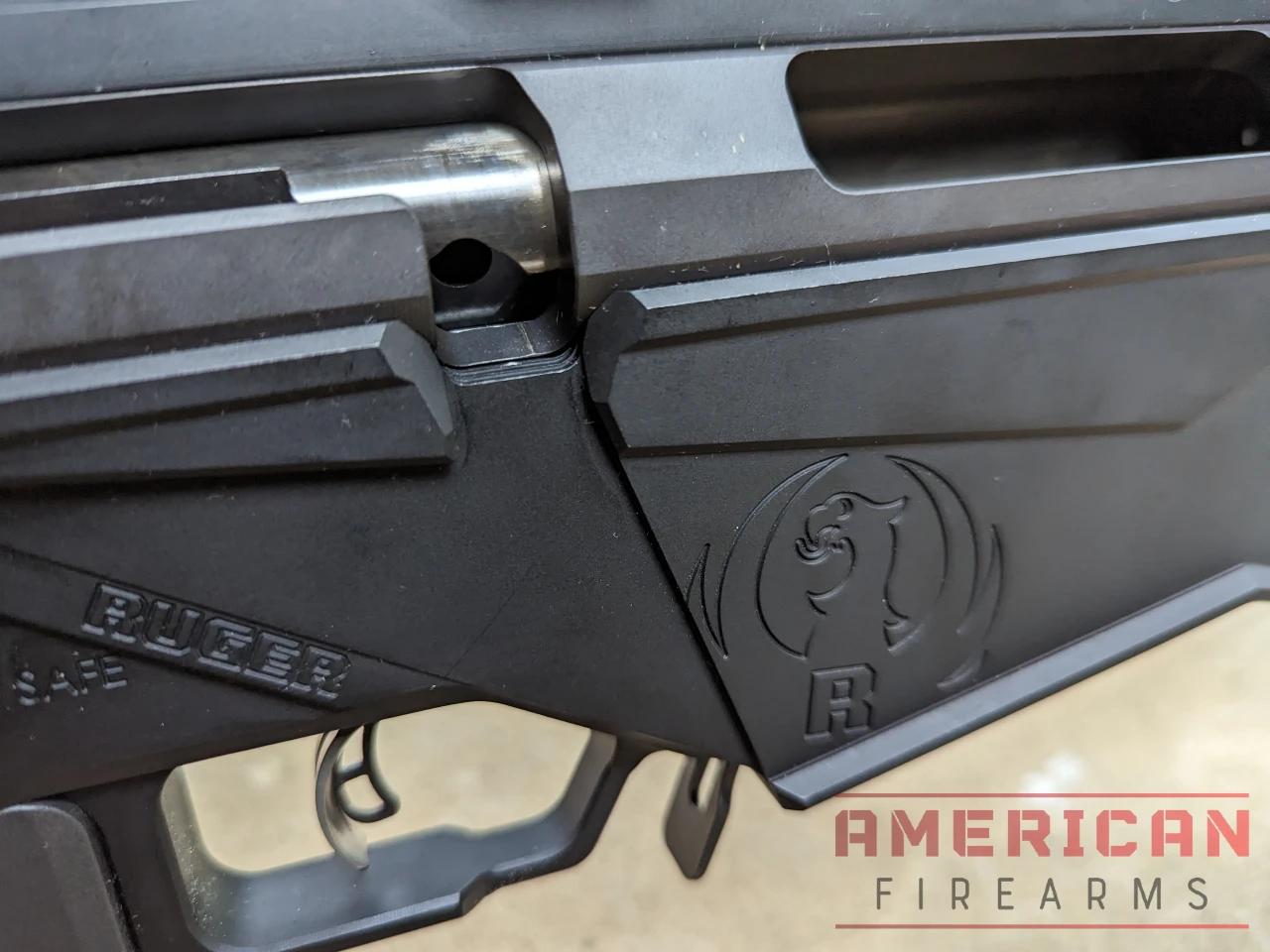 The bolt sticks a bit if you don't run it perfectly straight, especially if you apply any downward pressure on either the pull or push forward.
I also found the finish on the handguard to be less durable than some of my other rifles, and after a few quick moves around said awkward barricades (particularly a concrete culvert pipe) the handguard picked up a scratch. Was it my fault? Sure.
But I gotta come up with something negative to say somewhere in this review or I'm gonna get called a Ruger shill. Which is fine if I'm actually getting paid by a manufacturer, but I bought this rifle with my own hard-earned money just like anyone else.
Reliability
The gun goes bang every time you ask it to, and it puts bullets where you tell it to. In over 400 rounds, we've experienced not a single issue. The biggest issue we've had was an issue with the bolt handle coming unthreaded which…come on. That's not even a real issue, that's just me forgetting to tighten it.
The trigger is smooth and predictable, the barrel is good for 3,000 rounds and replacements can be had for $400 so after you've sent your $6,000 worth of ammo down it you'll definitely feel you've gotten your money's worth.
All in all, no faults here.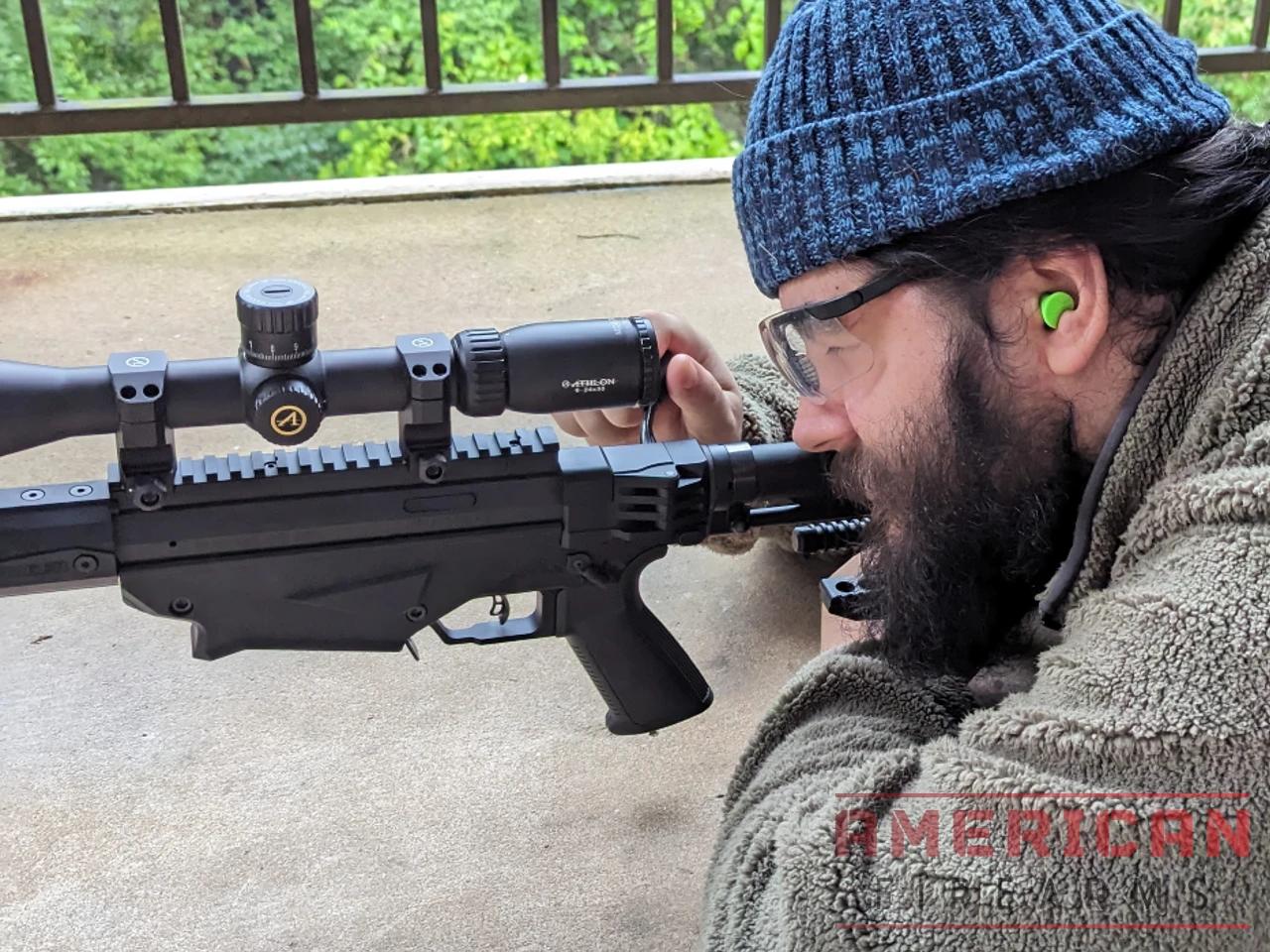 While not a long-term assessment, in over 400 rounds we've experienced not a single issue.
Value
I'm just being nitpicky again here because this really is one of the greatest values in shooting sports right now, but there are technically better rifles out there with more/improved features that come in at a similar price point.
Compared to a $5,000 custom rifle, this gun will do 90 percent of what that high-end Masterpiece Arms or whatever will do, at 25 percent of the price. In that regard, it's an incredible value.
Speaking of competitors though, there are a few more rifles in this general price range that are also very good and possibly worth checking out.
Bergara B14 HMR
I love Bergara rifles, and the Bergara B14 HMR kind of straddles the line between a souped-up hunting rifle, and a true precision rifle. Based on how you set it up, it can either be a backpack rifle for a long-distance backcountry hunt, or a true precision rifle ready to set up on a barricade and ring steel at 1,200 yards.
It has a phenomenal trigger, an industry-leading barrel, and uses an integrated mini-chassis system molded into the stock for repeatable accuracy no matter what kind of shooting you're doing.
Tikka T3x Tac A1
The Tikka T3X Tac A1 features a hammer-forged barrel that is threaded and tipped with a three-way brake and features an M-LOK forend on the chassis so you can attach your bipod, quiver, or what have you as needed.
It uses aluminum bedding blocks for the action and has the same AR-compatible stock and grip setup as the RPR. It might have a slightly better trigger, but it doesn't have the same mag compatibility and is also a good deal more expensive. Still, it's maybe a hair better out of the box.
Ruger American Predator
I would be remiss if I didn't touch on a much cheaper option, the Ruger American Predator. The American Predator line features the same Marksman-style trigger that you get in the RPR, just not tuned quite as nicely.
The stock on the Ruger American rifle is a cheap synthetic affair, but you do get a nice threaded bull-barrel that is plenty accurate for long-range shooting.
If you want to start with something a little more basic than the RPR, an American Predator is a great option to learn on, and will still get you hits out to 1,000 yards and more, it just isn't as convenient or set up to be as easy to make those super-long shots with out of the box.
Some tinkering will be required. Still, if you want something that can go the distance and double as a hunting rifle, especially if you're on a budget (looking at you, college kids) this is an absolutely phenomenal option.