Best Rimfire Scopes: Small Calibers, Big Performance
Written By
Michael Crites
Licensed Concealed Carry Holder
Reviewed by
Editorial Team
Learn About The Editorial Team
Share:
Products are selected by our editors. We may earn a commission on purchases from a link. How we select gear.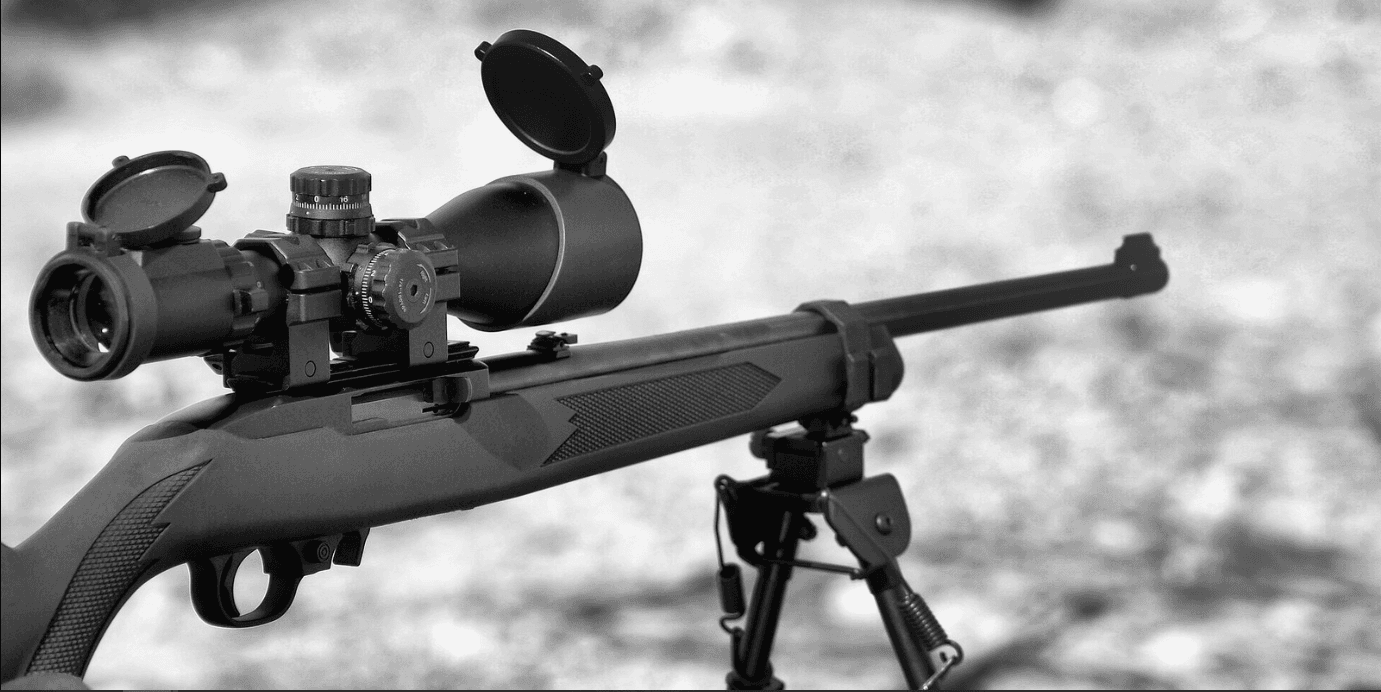 While bigger calibers get all the coverage, using a smaller caliber for plinking, practice, and target shooting can make your experience cheaper and easier while still keeping it fun. Even after more than a century since its invention, the rimfire cartridge is as popular as ever – and there's a lot of innovation in these little plinkers.
After testing more than 17 rimfire scopes we think the Bushnell Optics Drop Zone Rimfire Scope offers the best combination of accuracy, price, and performance.
| Name | Selection | Price |
| --- | --- | --- |
| | Best Overall | $161 |
| | Runner-Up | $114 |
| | Budget Option | $39.99 |
| | Best Hunting Option | $89.99 |
| | Longest Eye Relief | $149 |
| | Budget Runner-Up | $29.99 |
1. Bushnell Drop Zone Rimfire Rifle Scope
What we liked:
High quality build
Holds zero well
Fully water resistant & submersible
BDC marks are easy to see and fun to use
What we didn't:
Heaviest of the top performing 22LR scopes
The Bushnell Optics Drop Zone Rimfire Scope is a slightly heavier option at just over 19 ounces – but if you can hang with the extra weight you get some features that are very rare in scopes under $200, in particular, the side parallax adjustment down to 10 meters – so you can get up-close and personal with your targets, and the name Bushnell – which is synonymous with high-quality hunting optics.
Its Bullet Drop Compensating (BDC) reticle system is not only accurate but gets you on-target over distances up to 500 meters via anticipating bullet drop.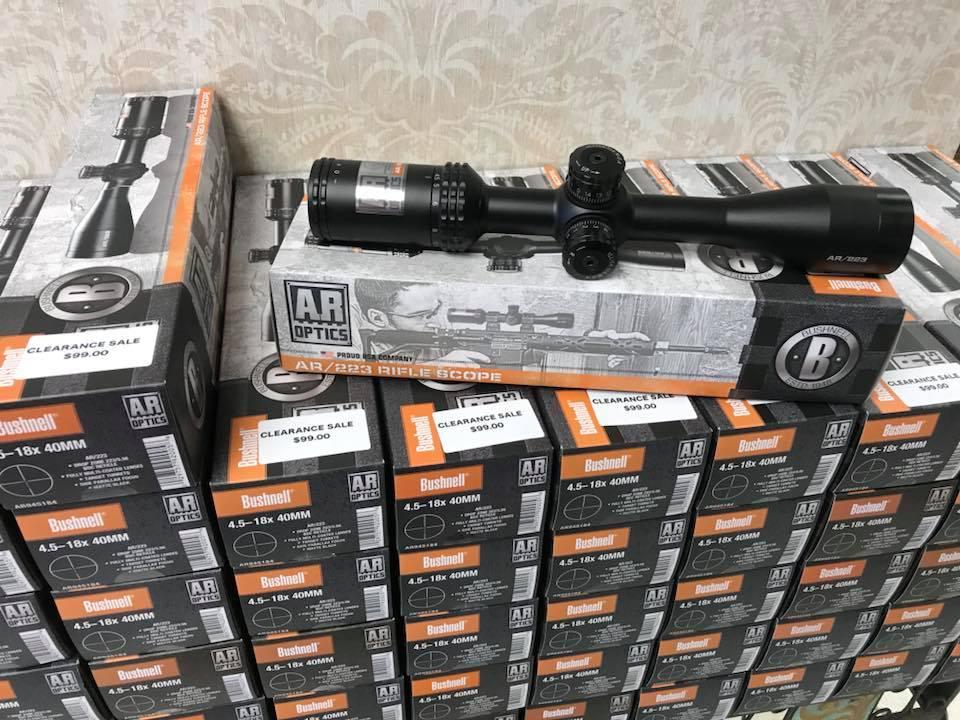 You can also completely immerse the scope in water without damaging any internals, so it's more than adequate for general use in the rain and humidity of hunting season. We tested it in a 5 gallon Home Depot bucket and it lived up to our expectations.
The Drop Zone's clearly identifiable reticule marks are calibrated for 38-40 grain, 22 Long Rifle high-velocity loads, and once you zero at 50 yards you've got clear aiming points up to 125 yards.
These easy to see demarcations invite you to stretch your range a little – and start shooting from longer and longer distances.
2. Prostaff P3 Rimfire Rifle Scope
What we liked:
Rimfire-specific technology
Easy to set and stay at zero
Clear at all distances
Proven Nikon technology
What We Didn't:
Slightly sensitive
Not designed to larger calibers
The Nikon ProStaff Rimfire with BDC Reticle scope combines rimfire-specific BDC 150 lens with 4-12x magnification to make quick work of getting your rifle dialed into zero and keeping it there. This is one of the best rimfire rifle scopes we've tested—equally adept at making it easy to hit steel plates at different distances and satisfying a hobbyist plinker.
Its many thoughtful design details, including optimum light transmission, spring-loaded instant zero-reset turrets, nitrogen-purged o-ring sealed housing, and consistent 3.7 inches of eye relief, set it apart from its competitors.
The size and magnification are average — 13.6 oz and 14.1 inches long with a standard 4-12x — but no other contender offers such a complete rimfire-friendly package with so few weaknesses. The sight picture from the 40mm objective lens competes with sights at much higher price points.
Plus, it's built on proven Nikon technology: after three seasons, our original test model is still working like new.
3. Simmons .22 LR Riflescope
What we liked:
Very small and light
Easy to install
Holds zero consistently
Price
What we didn't:
Included rings may not be compatible with all rails
Dials are softer than higher end models
No audible elevation or windage adjustment click
The Simmons.22 Mag(R) Riflescope not is not only clear and crisp right out of the box, the QTA (quick target acquisition) eyepiece makes acquiring targets at 25, 50, 100 yards or more, absurdly fast. It locks onto targets almost instantly – with none of the wander or blurriness of other scope options.
Savage Model 64 series with a Simmons 3x9 scope
Even with lower light levels, its accuracy remains reliable, giving you the confidence you're on target with every shot.
The Simmons truezero adjustment target turret system lets you get to zero and keep it there. Our test scope was right on zero even after 100 rounds over 3 sessions. Despite a non-adjustable parallax (it's set to 50 yards), our groupings were consistent at any distance.
While you don't get some of the features of much more expensive scopes, you do get a very lightweight, well-made, capable rifle scope with a really nice field of view that's very budget-friendly.
4. Bushnell Banner Dusk & Dawn Rimfire Scope
What we liked:
Great field of view
Holds zero durably
Consistent depth of field
Price
What we didn't:
Hunting focus may not fit every need
Can have QA issues
The second Bushnell product to make the cut on our 22LR-friendly scope roundup, the Bushnell Dusk & Dawn model is hunting-focused and has a specific lens coating designed to optimize visibility in low-light situations (which is when most tags are filled.)
Bushnell Banner Dusk & Dawn in the box
It's considerably lighter than the above Drop Zone scope, offers a fantastic field of view, and the depth of field is consistent across almost all zoom levels (although we did notice slight fall off at the higher end of magnification).
We also really like how the directional arrows are nice and deeply etched and have contrasting visual indications. The turret clicks are nicely positive and give good feedback without being difficult to turn.
Overall a great option for any rifle – and we liked it enough to recommend it on our list of budget AR-15 scopes as well.
5. Vortex Optics Crossfire II Rimfire Scope
What we liked:
Clear, high-quality glass
Stays focused throughout magnification range
Very bright
Precision glide erector system
What we didn't:
Back is larger than the front, which may require risers on some configurations
Heavier than other options
The Vortex Optics Crossfire II Rimfire Scope has a lot of what you want in a rimfire scope: excellent field of view, clear visuals regardless of the magnification setting, high-quality glass, & impressive light transmission wrapped up in thoughtful design (if a little heavier than some other options at 14 ounces).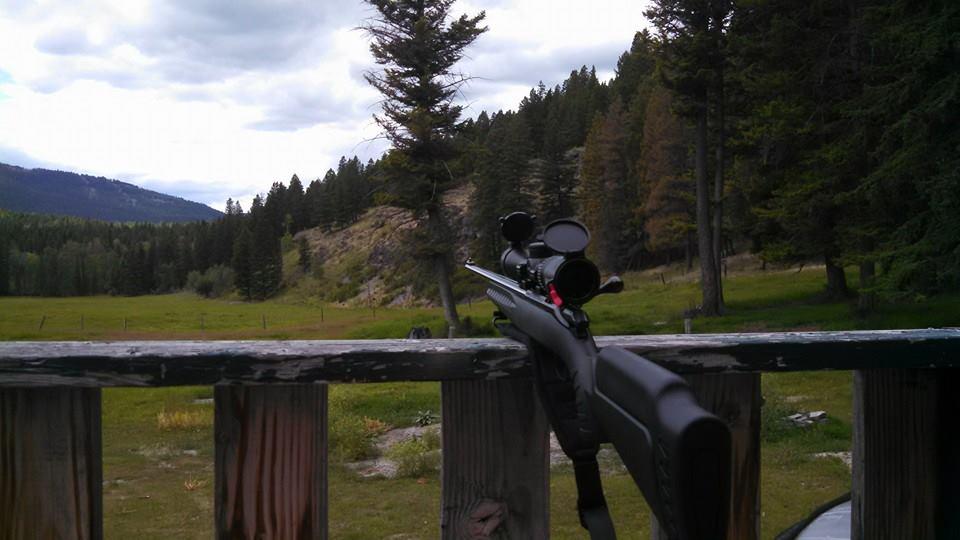 Vortex Optics Crossfire II Rimfire Scope
It combines a number of the features we like on other rimfire scopes but has longer eye relief (at about 4") so you don't have to hug the back end of your rifle to get on target.
6. Barska Plinker Rimfire Scope
What we liked:
Price
Quality glass
Bright visuals
What we didn't:
Can lack durability
More difficult to sight in
If price point is more important to you than features or brand name, I recommend the BARSKA 3-9×32 Plinker-22 Riflescope.
The Plinker-22 is engineered for rimfire rifles and packages 3-9x magnification in a relatively lightweight 11oz package but at a much more budget-friendly price point.
Its 32-millimeter lens captures a lot of light. Despite Barska scopes not exactly being known as high-end units, the Plinker-22 exceeded my expectations – I found it quick to get to zero and easy to adjust. It felt at home on my test rifle, but given that it's intended as a rimfire scope I didn't think this would be a good option for much beyond a .22 or .25 rimfire rifle.
At 100 per cent magnification we did get some blurring around the edges of the reticule, and since this comes with Weaver mounts you may need to replace the rings to get it up and running.
That said, once you get it dialed in it'll give you solid groupings at 50-100 yards, and it'll make your 22LR feel more capable than iron sights alone. Plus you won't have to stretch your budget, as the Plinker-22 costs one-third the price of our top picks.
Why add a scope to your rimfire rifle?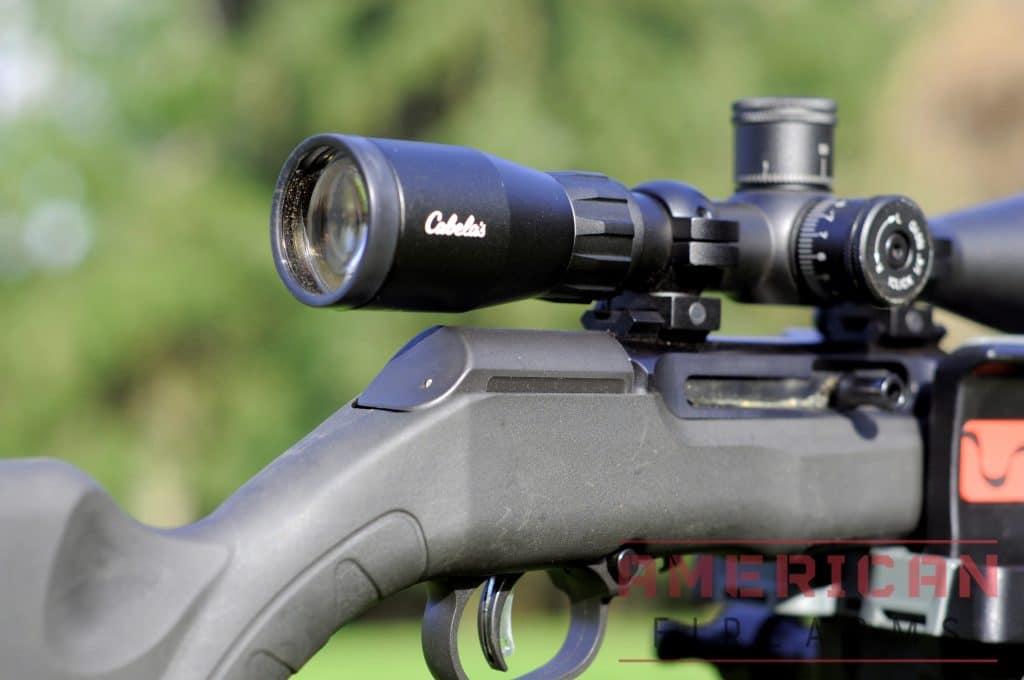 Savage A22 with Rimfire Scope
Magnification improves accuracy at range. Pretty basic idea – the bigger things are the easier they are to hit – but what's the right amount of magnification? And how do you select a scope if you're looking for long-distance performance – even beyond 150 yards?
Magnification
The first reason that most people put a scope on their rimfire rifle is — as you can imagine — to see targets better at longer ranges. This is great for most shooters, but especially for those who, like many of us, can't focus quite as well at long distances as we may have been able to a few years ago.
Whether or not your eyes are starting to show some signs of aging, putting a good quality optic on your rimfire is will without fail result in tighter groups on your selected targets.
But what is the right amount of magnification? The right amount of magnification will be informed by the range at which you plan to shoot.
If you want to shoot at differing ranges you'll want a scope with variable magnification.
Short-range magnification
If you generally shoot under 50 yards — what most would consider close range — a scope offering up to 4x magnification will suit your needs.
Scope made for rimfire firearms generally have a 50-yard parallax setting and are built for short-range and target shooting with light recoil firearms. Using a rimfire scope on a centerfire rifle will result in an inconsistent day at the range. This emphasis on close-range shooting means a rimfire scope should have a parallax setting for 25 yards or 50 yards rather than the typical 100-yard parallax found on centerfire and hunting scopes.
In addition, the low recoil impulse of rimfire firearms means less need for longer eye relief, so rimfire scopes will generally offer less eye relief.
Medium-range magnification
If you shoot beyond 50 yards but up to or less than 100 yards – generally considered medium-range – 4x to 7x magnification will give you the right amount of magnification without overdoing it. This is a good general range for gophers, rodents, and other small targets.
Long-range magnification
For long-distance shooting – beyond 100 yards – look for a scope with 9x magnification and maximum clarity.
Additional Range
Second, a good scope allows you, the shooter, to squeeze some more range out of your rifle. No, the optic itself does not make the gun shoot any tighter groups, or add any special ballistic properties to the bullets.
What a scope does, however, is help the least accurate part of any shooting setup, the shooter, get more consistency in terms of sight picture at longer ranges.
If you want to shoot your .22 or similar rimfire much past about 25 yards with small groups and good, consistent hits, I think that it is well worth considering a scope of some kind or another.
Important Rimfire Scope Features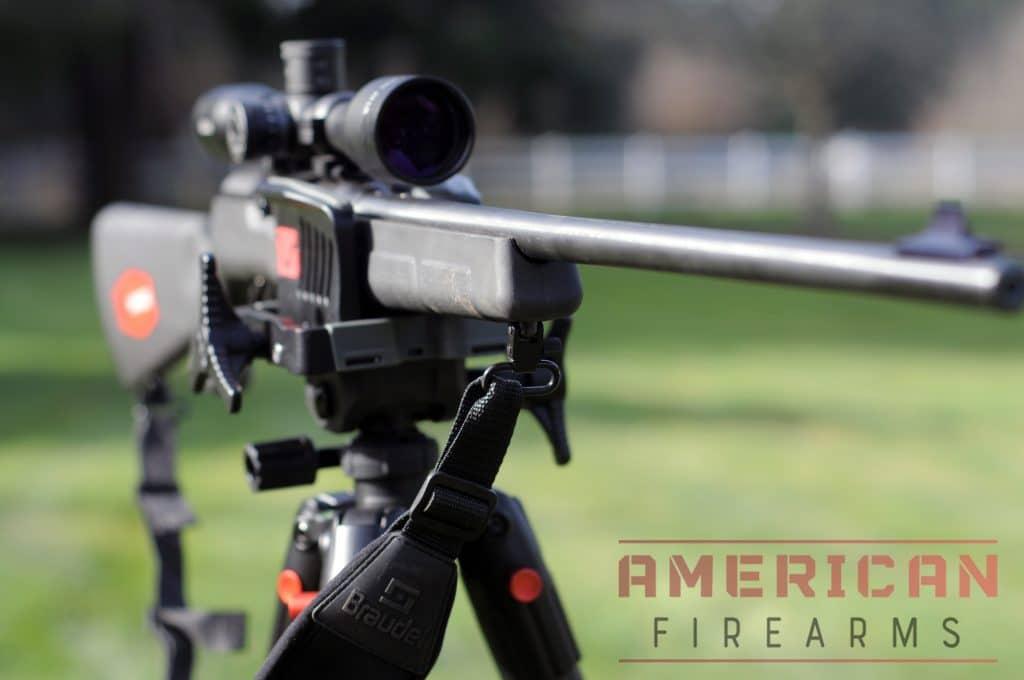 Savage A22 with Rimfire Scope
When selecting a scope for your smaller caliber rimfire rifle you'll want to keep things in mind.
Durability
Even though your 22LR isn't the king of kick, if you're trekking through the brush hunting small game or tossing your rifle in the back of your truck, the last thing you want is to get to the range and have to re-zero your scope.
You want a scope that's easy to get to zero and will stay there.
Clarity & Glass Quality
You can't hit what you can't see, and scope clarity comes in a couple of different forms. You want a scope that allows you to see both the target at hand and the crosshairs or aiming elements within the scope itself. If one or the other is unclear you'll be second-guessing your shots.
The most important ingredient to clarity is glass quality – so if the scope you're considering has consistent complaints about the glass quality or the coatings on the lens – steer clear.
Eyepiece Circumference & Light Transmission
If glass quality & clarity let you see what you're aiming at, light transmission lets you see more of it at higher magnifications – critical for long-range shooting.
The higher the scope's magnification the less light you get at the eyepiece, which means better transmission makes it easier to see further – and the bigger the eyepiece the more light it can transmit.
Magnification
Shooting at range requires magnification — and the ability to use magnification effectively depends on lens clarity,  light transmission, as well as windage and elevation adjustments.
Make sure the degree of magnification aligns with your goals — and if you're looking to shoot over long distances you'll want a scope that has more magnification, higher light transmission, and a larger eyepiece to transmit that light more efficiently to your eye.
Weather & Fog-Proofing
Shooting is a year-round sport – which means you'll often get wet, occasionally soggy, and from time to time totally soaked.
Make sure your scope isn't going to fog up on you when you need it – so anti-fog coatings on lenses and sealed housings will keep moisture from building up on the inside of your scope – and prevent condensation from ruining your day at the range or in the field.
Fixed-Power Scopes. In terms of magnified optics, these are the most simple, and often most affordable options out there. A fixed-power scope can't have its magnification changed, so all it does is magnify the target a set amount. Because of their simplicity in manufacturing, many of these scopes can offer good quality glass at an affordable price point, which makes them popular options for rimfire rifles, since rimfires themselves tend to be guns that people who are somewhat budget-conscious train with on a regular basis. Since most people do not plan to shoot their .22 much past 50 yards or so, one of these can be an excellent, practical option.
Variable-Power Optics. Other scopes give the user the ability to change the magnification between two set points, often called a FFP or fixed focal plane scope. These are variable-power optics and have grown in popularity in the AR world in the past few years. A variable-power optic is a great choice for someone who wants maximum flexibility in their rimfire rifle, whether they plan on engaging targes up close or trying to see what kind of range they can get out of their firearms. These can get fairly expensive. However, if you get a good quality option, you can get lots of life out of it since it will also go great on other rifles in larger calibers that you might either own now or buy in the future.
Red-Dot Optics. Though most red dot sights are not magnified scopes in the traditional sense, I think that it's worth taking a second to mention them here. With more .22 models coming with some kind of rail system on top of them, it's possible to mount the wide range of red dot optics on your .22 as well. Red dot optics are meant, mostly, for engaging at close ranges, but having a single, fixed point of aim can be useful out to some pretty impressive distances if you're willing to put in some effort in terms of training. It's a good idea to at least think about adding a red dot sight to your rimfire rifle if you want a flexible optic that is likely useful out to the distance that you'd usually shoot a rimfire cartridge out to, and can often be had for a reasonably good deal.
Under $100. For less than $100, it is entirely possible to ger a reasonably well-made fixed-power scope or one of the cheaper red dot options that are available today. These scopes often provide an excellent value, but they're not likely to come with the best glass in the world, or much in terms of shock resistance or anti-fog coatings. At this price range, though, you can expect a reasonably clear optic that will help you extend the range of your rimfire rifle beyond what you could do with the naked eye. For those on a budget, this is a good time to get into optics, as it's a lot easier to get a decent optic for a low price now than it has been in the past.
$150-$200. At around $150, you can find a wide variety of fixed optics, as well as some good red dot options and basic versions of variable-power scopes. For a lot of folks, I think that this price range is the sweet spot: for a little bit more than the absolute base model scopes, it's possible to get an illuminated reticle, clearer glass, and often larger fields of view thanks to larger diameter lenses. If you're looking for an optic that might also serve you well on other rifles in the future, something in this price range is likely to give you a robust optic that will get the job done for years to come.
$200 and Over. With optics, the sky is truly the limit and it is entirely possible to spend more on a scope than I paid for our first car. With that said, at about the $200 mark, you can expect to start seeing more features such as shock and water resistance to your variable power optics. If you're willing to lay out several hundred more, then you can get features like ballistic computers and digital scopes, but I doubt that too many people will be doing that for rimfire rifles, even if those rimfire rifles are accurate firearms in their own right. Y9ou'll see products in this price range like the Vortex Crossfire and Leupold VX Freedom rimfire.
Each of these scopes offers advantages for different users, but our top pick is the Nikon ProStaff Rimfire with BDC Reticle. It was easy to install, get to zero, and the BDC markings were surprisingly effective. It's a scope that was designed from the ground up to make rimfire rifles more fun at range. It also has all the features that I look for in a rimfire scope:
Nice amounts of eye relief
Quality glass that's nice and clear
Fog-proof coatings and a sealed housing (bonus: it's nitrogen-filled)
Fantastic light transmission
There are quite a few options out in this category, but I hope this article steers you in the right direction. If you have any questions or feedback please drop us a line. If you're in the market for a rimfire rifle check out our guide to the best 22 rifles – or for optics check out our scope reviews, guide to the best rifle scopes, tips for selecting the best pistol red dot sight, selection of recommended long-range rifle scopes, and best budget AR-15 scopes.