The Best 6.5 Creedmoor Rifles
Be it hunting or target shooting, the 6.5 Creedmoor is one of the most exciting calibers around, so we break down some of the best 6.5 Creedmoor rifles on the market today.
Written By
Michael Crites
Licensed Concealed Carry Holder
Reviewed by
Editorial Team
Learn About The Editorial Team
Share:
Products are selected by our editors. We may earn a commission on purchases from a link. How we select gear.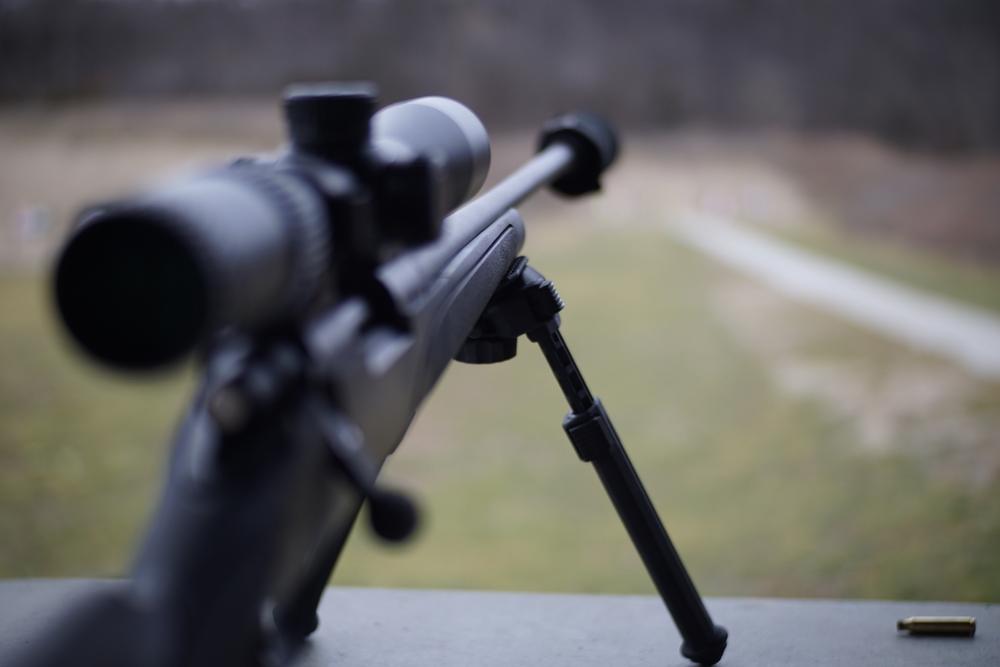 The Bergara B14 HMR is the best 6.5 Creedmoor rifle for most people. You get one of the best barrels in the game coupled with a highly adjustable stock and a super light 3 lb trigger pull.
It's not cheap or light — costing 4x lower-end rifles and weighing in at 9.5 lbs — but if you want to maximize the Creedmoor's potential the Bergara is a laser beam machine.
6.5 Creedmoor Rifle Comparison
Below is my list of the best 6.5 Creedmoor rifles. I list the best choices in terms of value, performance, design, and cost.
Click on the name to head to the product page, read reviews and check prices or skip ahead to the list of rifles.
Precision Performance
We kept our recommendations to brands with a reputation for precision shooting.
Barrel Materials
We looked for rifles with high-quality barrel materials that offer durability and performance.
Adjustability
We paid close attention to adjustability, as a custom fit will help with accuracy at longer ranges.
Quality Triggers
We highlighted products with precision trigger systems.
More on our selection process
The Best 6.5 Creedmoor Rifles
1. Best Bolt-Action: Bergara B14 HMR
The Bergara B14 HMR is our pick for the best overall 6.5 Creedmoor rifle. While it won't be the best bench rifle, nor the best hunting rifle, it occupies a real sweet spot that makes it a great rifle in terms of balanced performance and price point.
Our experts think it's heavy enough to get great bench accuracy without sacrificing its capability as a reasonable hunting rifle.
The long barrel comes threaded from the factory in Bergara, Spain – making it easy to attach a muzzle brake or suppressor that would soften the rifle and make it an even more approachable platform for basically any distance.
What we liked:
Adjustable chassis, cheek weld & length of pull
Detachable 5 round magazine for fast reloads
Snappy three-pound factory trigger pull
The muzzle is threaded from the factory
Comes with a ton of sling mounting points.
What we didn't:
The finish won't be to everyone's taste
You'll need to have it drilled and tapped for a scope
While not deal breakers, we wish it offered a top rail for scope mounting and you'll want a bipod to maximize accuracy at range – but this is still a more than capable rifle out of the box.
2. Bolt-Action Runner-Up: Ruger American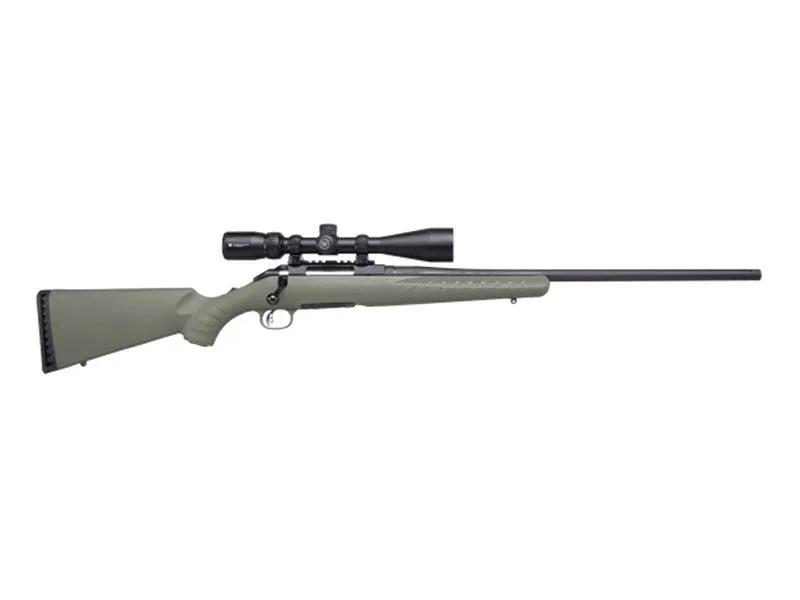 The Ruger American series of rifles is always on our list of favorites, and this 6.5 Creedmoor entry is no different.
If you took, conceptually, your awesome old hunting rifle and updated it in a modern caliber with a composite stock, this would be what you would get.
What we liked:
Very lightweight rifle at 6.6 pounds
Comes with Vortex Crossfire II scope
Threaded barrel ready for muzzle devices
User-adjustable trigger
Two different color options
What we didn't:
Only has a three-round magazine included
Could use more length of pull adjustment
Recoil pad could be better
This light and handy rifle is just about ideal for most hunters, especially with the top rail and threaded barrel for customizing optics and muzzle devices. We love how this package includes the Vortex Crossfire II scope, so you have the optics tacked right from the start.
I have two minor issues with this one. First, we'd like to see a larger capacity magazine.
The 3-round capacity is more than enough for most game, but if you wanted to stretch it as a tactical rifle, a capacity of 5 or more would be ideal.
Second, the recoil pad isn't adjustable, which we would like to dial in for a better individual fit.
Both of those said, we still think this is about the best overall hunting rifle on the market today in terms of quality and value. With that said, this would be the rifle we'd want to take into the field for long distances in rough terrain: it's simple, rugged, and accurate
3. Lightest: Savage Axis II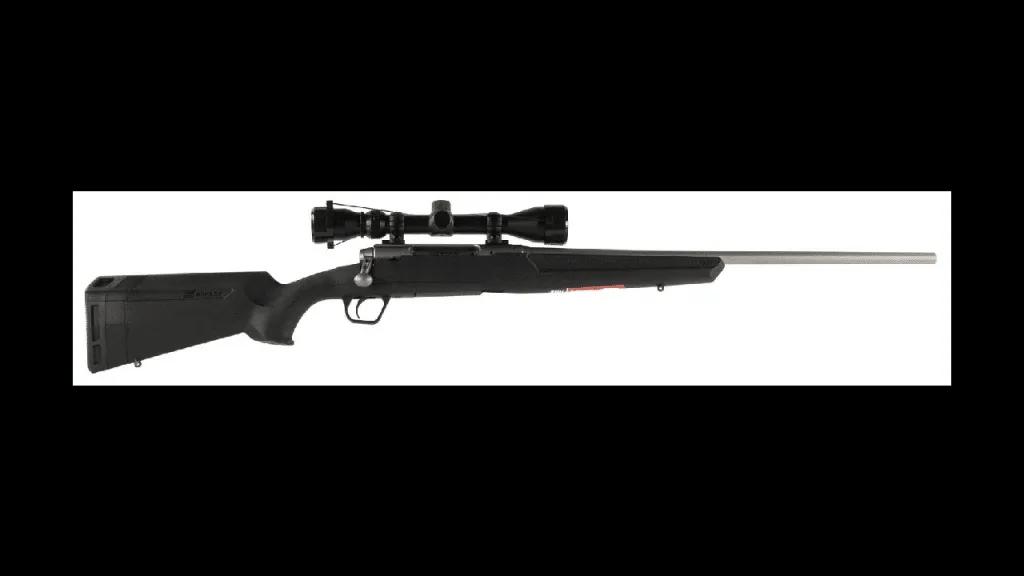 The Savage Axis represents, out of all of the rifles on this list, the one most dialed in for hunting specifically.
It comes with a 22" blued barrel and a four-round magazine. Add that to the two, and only two, sling swivels and you have a rifle that is meant to be taken out in the field and used rather than fussed over endlessly on the workbench.
What we liked:
Ready for the range out of the box
Matte black stock & blued barrel makes for a handsome rifle
Barrel is bedded in the stock for maximum accuracy
Designed to just work – no tacticool doodads needed
What we didn't:
Only comes with a four-round magazine
Barrel isn't threaded
One thing we really like about this one is the included scope. Again, Savage delivers a complete package with a single purchase. All you'd really need is some 6.5 Creedmoor ammo and you'd be good to go out on the range or in the field.
4. Best Semi-Auto: Springfield M1A Precision
The Springfield M1a, the civilian version of the M14, came out of the same thinking that led to the .308 in the NATO trials.
It's fitting, then, that it gets an update to meet the modernized 6.5 Creedmoor round.
What we liked:
Ten round magazines makes this a ideal semi-auto tactical rifle
Stainless steel, match-grade barrel
Includes national match features like upgraded trigger mechanism
Comes with iron sights, which we always like on a rifle
Stock is a modern update to the classic M1A design
What we didn't:
Semi-autos are generally less accurate than bolt action
Will require a new handguard or adapter to mount glass
This one comes with all the National Match goodies including a great barrel and trigger. One thing we do wish it has are easier ways to mount optics, but you can buy adapters that fit right above the action for that. Overall this is an excellent range and tactical rifle that would be more than capable of hunting as well.
5. Tactical Pick: S&W M&P 10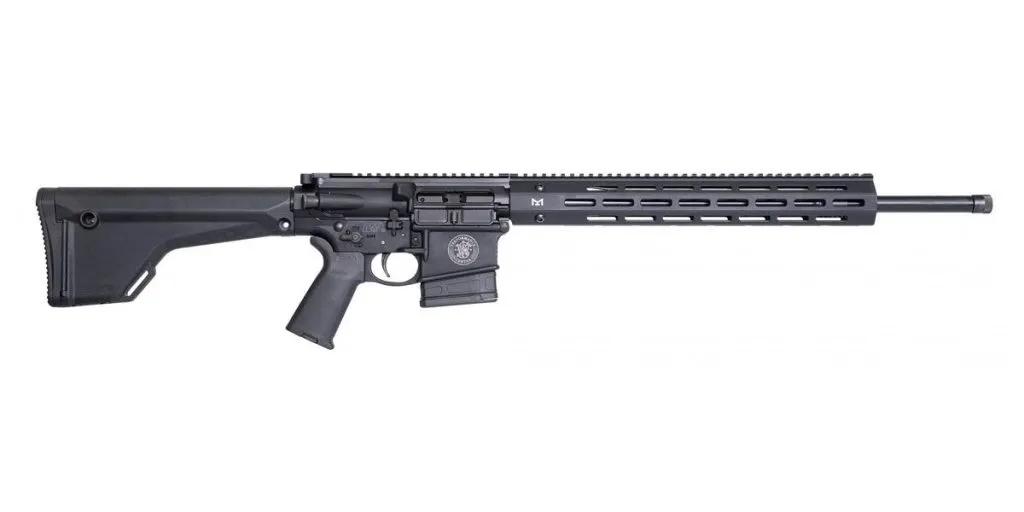 AR-pattern rifles and pistols come in every caliber under the sun, so we wanted to end this list with one of them in 6.5 Creedmoor. This one, by Smith and Wesson, is a great entry into the AR space for this new round.
What we liked:
Easiest platform for mounting accessories
Rifling in 1-10 twist ideal for 6.5 Creedmoor
AR10 platform will be familiar to a lot of users
Ambidextrous controls from the factory
Threaded muzzle & thread protector
What we didn't:
No iron sights by default
A little bit hefty at 9.5 pounds
Is this basically an AR-10 chambered in 6.5 instead of .308? Yes. But this means that all the training, familiarity, and accessories from other AR-10s will transfer to the M&P rifle – with the benefit of shooting much longer distances than an AR chambered in 5.56 or even 7.62.
We would have liked them to lean a little more in the direction of tactical, however, and include a set of iron sights or BUIS, and a folding stock, but those are things that you can remedy with relative ease.
What to Look for in a Quality 6.5 Creedmoor Rifle
Today, shooters have a choice between an increasingly large variety of calibers that are designed to be good at one thing or another. If you're one of the people looking to do some serious, long-range precision shooting, the 6.5 Creedmoor is a round that you're going to want to check out.
This cartridge is flat shooting from 100 yards out to 1000 in the right rifle, and we think it is likely to become the premier precision rifle cartridge.
6.5 Creedmoor rifles come in various configurations, ranging from bolt action rifles that will make excellent hunting rifles to semi-automatics that would be awesome for defense if you have a lot of land to cover. They're certainly no slouches at the range, either. Here's we're going to take the time to walk you through what you need to know in picking a 6.5 Creedmoor rifle.
In this guide, I look at various rifles, from some meant for target shooting at extreme ranges to more tactically themed semi-automatic options.
While these rifles differ in terms of price point, looks, and functions, they all have the same general idea at their core: make long-range precision shooting a real possibility for more people. We think that any of the below recommendations will do that job impressively.
With a little bit of information at your disposal, you'll likely find a rifle that fits your needs well. Or, if you're like me, fill another few slots in your safe with rifles in the process.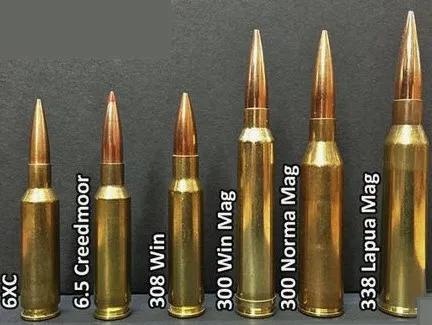 A comparison of the 6.5 Creedmoor round to other cartridges. Via MCARBO
Hornady rolled out the 6.5 Creedmoor for Across-the-Course, 1,000-yard long-range target shooting, and 3-gun competitors in 2007.
Dave Emary, Senior Ballistician at Hornady Manufacturing, worked with Dennis DeMille, general manager of Creedmoor Sports and two-time NRA National High Power Rifle Champion, to craft a premier match rifle cartridge designed specifically for longer ranges. Still, this new cartridge has found its way into the hands of many hunters as well.
The 6.5 Creedmoor is an update on the idea of the .308 round. At the end of WWII, when NATO was forming, the members wanted a flat shooting cartridge good out to seriously long-range, without the weight of a full-sized rifle round like the .30-06.
What they came up with, the .308 Winchester, was basically a shortened American round that was still more than capable in battle rifles and big game hunting but never quite kept its punch at extreme range.
The 6.5 CM uses a smaller, lighter round than the .308, with a case that's 1.920 inches from base to mouth — smaller than a 260 Remington but larger than a 6.5×47 Lapua, so still it can still be chambered in short action rifles but with less recoil than similar cartridges. While the 6.5 Creedmoor is the smaller of the two cartridges, the bullet is longer — improving its ballistic coefficient, sectional density (the ratio of bullet weight to its diameter), and lowering wind drift by almost 30%.
That means that with the same amount of powder behind it, the bullet flies a lot faster, and thus a lot flatter, out to ranges in excess of 1,000 yards — all while offering softer recoil.
The 6.5 Creedmoor is on the cutting edge of long-range precision rifle rounds, packing unparalleled range into factory ammo –whether for target shooting or use in a hunting context.
1. Accessory Support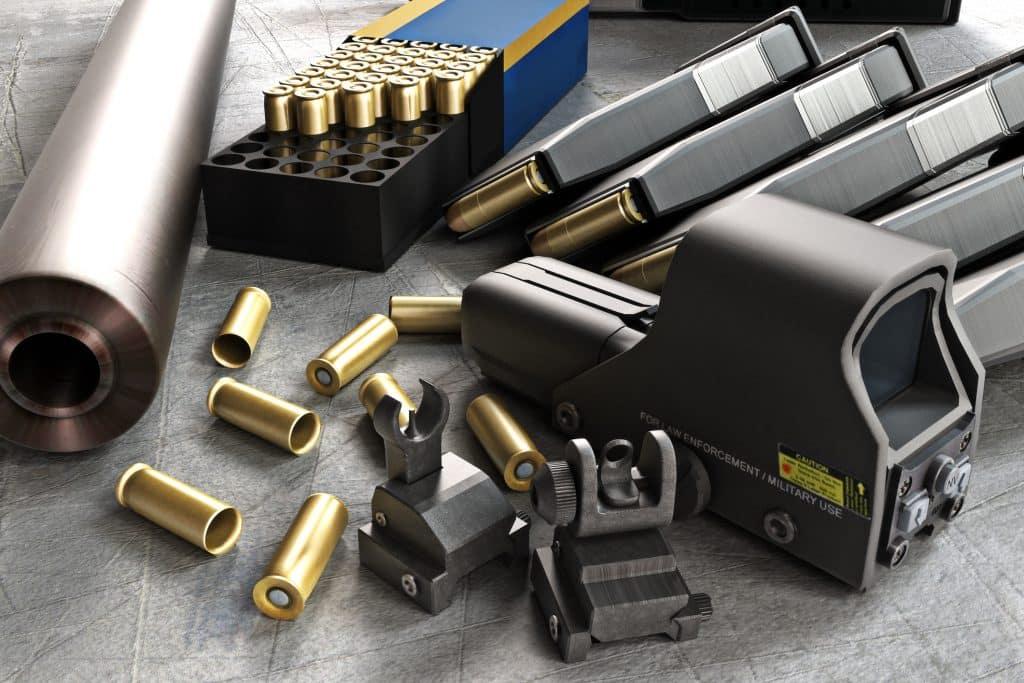 Some times you just want some accessories.
The 6.5 Creedmoor was engineered for long-range performance. So, we certainly understand that you might well want some tactical bench shooting rifle with a match-grade barrel, pistol grip, and polymer stock.
In those cases, the addition of a higher magnification scope and bipod will let you flex the muscles of the round really nicely. Your choice of rifle should allow you to add the kinds of accessories that will be necessary to fulfill its purpose.
2. Fit with intended use
A general-purpose rifle chambered in 6.5 Creedmoor set up for hunting is a great option for those looking to take medium to large game out to long distances in the field: saving a little weight over the bench shooting models is more than worth the potential accuracy reduction.
If you're going to be hauling your Creedmoor rifle into the backcountry, a lighter-weight option will be a much better fit than a rifle intended to be shot from a bench.
3. Type of Action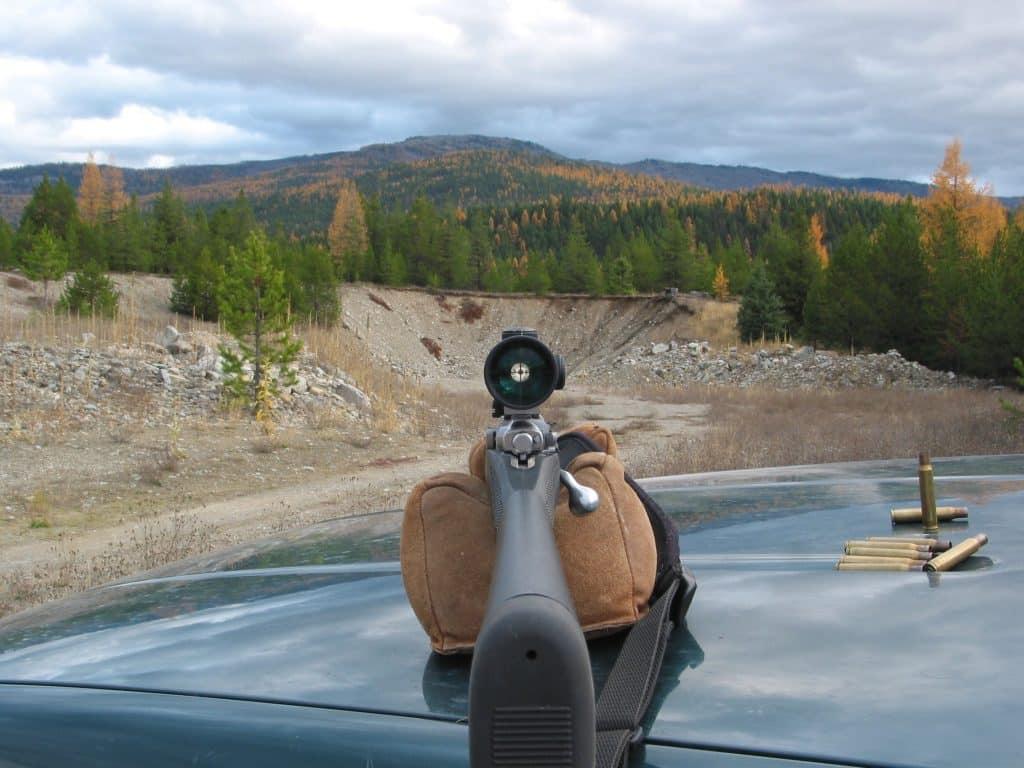 Sighting in a bolt-action 6.5 Creedmoor rifle.
There fantastic semi-automatic and bolt action options available in 6.5 Creedmoor — some of which push the concept of the rifle while still taking advantage of the 6.5 Creedmoor's ballistics.
If you're looking for the absolute maximum long-range performance, there's no arguing with a bolt-action rifle's ability to drive tacks at incredible distances.
However, of you're more interested in the ability to execute follow-up shots quickly, reload with ease, and pack more than 3-5 rounds in a magazine then a semi-auto rifle will be a much better fit.
Here, I've tried to cover some of the best rifles in 6.5 Creedmoor that you can find today. I'm tough to convince when it comes to new 'gee whiz rounds, but this one has some staying power thanks to its excellent ballistics, making it one of the more popular hunting rounds available today.
I recommend the Bergara H14 above the other excellent rifles we talk about here. Yes, the Smith and Wesson, as well as the Springfield, are excellent tactical rifles. But, their being semi-automatic does cut down on consistency and, thus accuracy just a little bit.
Similarly, the Savage and Ruger offerings are excellent and a little lighter than our winner, but we think that the 6.5 Creedmoor shines out of a heavier bolt action rifle that can soak up the recoil and really deliver rounds down range when you need them.
With that said, any of these rifles are more than capable of extreme distance shots in the hand of patient and trained long-range shooters, so we'd be more than happy to own any (or all) of them when it comes to taking advantage of one of the newest and most interesting long-range shooting cartridges out there.

March 21, 2023 — After careful reexamination of this guide, we stand by our present 6.5 Creedmoor rifle recommendations. We've added and updated images and links where appropriate.
Sign up for our newsletter
Get discounts from top brands and our latest reviews!