Stag Arms Stag 10 Review: Solid Contender or Overpriced AR?
From its history to its key features, we've got a comprehensive overview of the Stag 10, the AR-10 that's captured the attention of more than a few rifle enthusiasts.
Written By
Coldboremiracle
Precision Rifle Expert
Edited By
Michael Crites
Licensed Concealed Carry Holder
Share:
Products are selected by our editors. We may earn a commission on purchases from a link. How we select gear.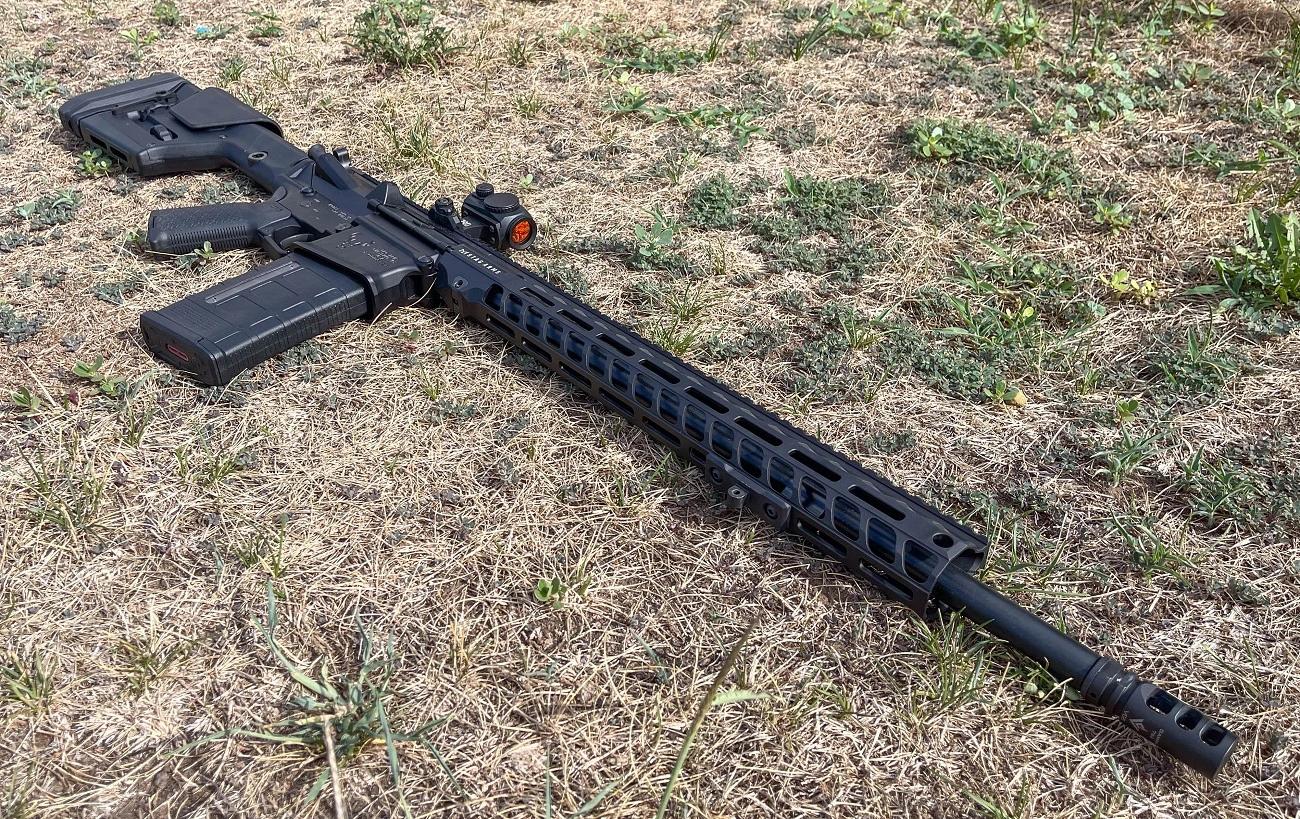 The AR-15 is America's favorite rifle, and since its initial release, it has been altered and redesigned in a million different ways.
The development of the AR-10 platform has heralded even more revisions of the rifle. The AR-10 is a .308 chambered version of the rifle, and today we are going to take a look at one of the variants of the popular 308 rifle from Stag Arms. the Stag 10.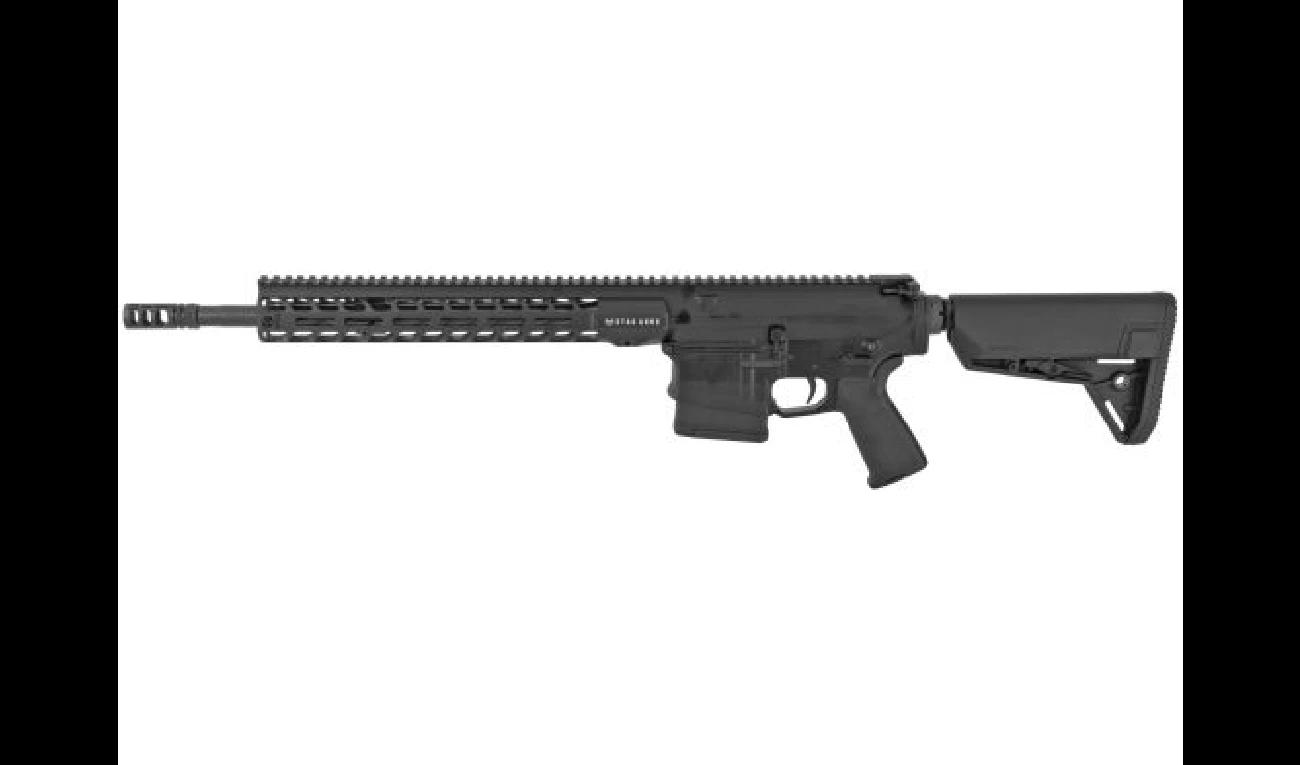 Best For
Ran flawlessly during testing
Significant firepower
Loads of accessory space
Includes the Magpul Gen3 PRS buttstock
Highly accurate, especially with match-grade ammunition
Comfortable despite its size
Available in both right and left-handed models
Considerations
Big and long
Small charging handle makes it a bit challenging to operate
So-so trigger
Overpriced
Our Verdict
I'll admit that I am a bit biased when it comes to certain firearms, having shot 308 bullpups for years now, a standard AR-10 semi-auto rifle seems incredibly long and awkward. Keep that in mind as you evaluate my pros and cons.
But I can recognize my bias, and I can understand why folks would want the Stag 10 over the bullpups I love to shoot.
The Stag 10 certainly offers all the benefits of the AR-type platform, and it brings its quality and features with it. The rifle shoots great, and its reliable function consumes whatever you want to feed it. Its smooth operation keeps you on target and allows good follow-through and additional shots on target.
All this with the increased power of the .308 Winchester cartridge makes the Stag 10 a great choice for a marksman rifle or hunting selection. If you want more on the differences between the AR-15 and AR-10, we covered those in our comparison guide.
The few complaints I have mentioned about the rifle are certainly subjective, and may or may not apply to your plans for it. But these are all good things to know before buying a rifle.
The Stag 10 is a solid choice for AR-10-type rifles, all you need to do is look at the features you are looking for, and see if it fulfills your needs.
How does Stag 10 stand on our 60-point scale? Here are the scores:
Accuracy: 7/10
The Stag 10 was consistently under one MOA with match ammo and around two MOA with ball ammo. Solid all around.
Ergonomics: 8/10
As an AR, it feels familiar in the hands, but it's very large. All that length and weight might not be ideal for everyone.
Fit and Finish: 8/10
The Stag 10 doesn't skimp on quality components, coatings, and engraving, giving it a professional appearance.
Features: 6/10
The rifle includes essential features but lacks more polished options like a larger ambi charging handle and higher-end trigger.
Reliability: 9/10
The rifle put on a flawless performance throughout testing, handling various ammunition types without a single issue.
Value: 6/10
While the Stag 10 is a fair value, its price point puts in in league with rifles that pack in a lot more polish.
Caliber:

.308 Winchester

Finish:

Mil-Spec hard coat anodized or FDE Cerakote

Action:

Direct Impingment

. Length: 35.25″ collapsed

38.50

Barrel Length:

22 Inches

Barrel Threads:

⅝-24TPI threads

Twist Rate:

1:10

Stock:

Magpul PRS Gen 3

Weight:

8.2 lbs.

Capacity:

10 and 20 round magazines
The Stag 10 from Stag Arms
Stag Arms has been manufacturing AR-15s and AR-10s for a long time, they were one of the first manufacturers to embrace the left-hand versions of the rifles.
They have since broadened their line of rifles to include almost every size and type of rifle imaginable.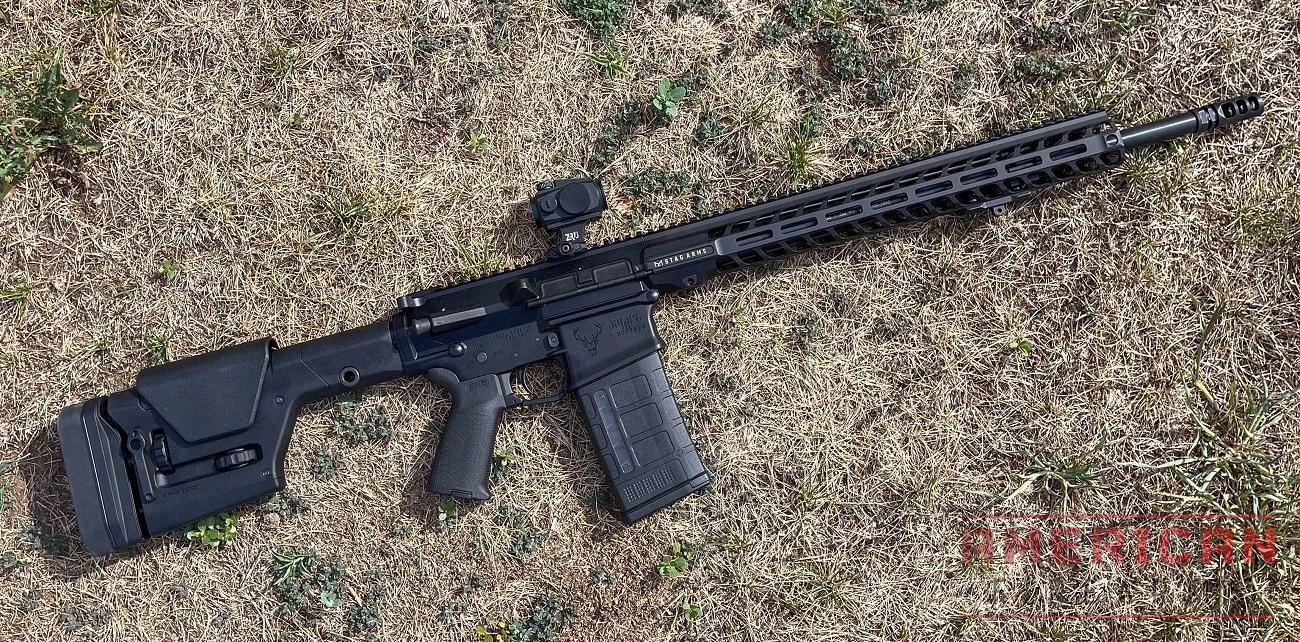 The Stag 10 Marksman rifle in all its glory.
The Stag 10 Marksman rifle that we are looking at today is a large-frame AR chambered in the powerful 308 Winchester.
The rifle comes with either a sixteen-inch or twenty-inch barrel, we will be testing the latter.
The Stag 10 uses traditional SR-25 pattern magazines, it also includes furniture by Magpul. The PRS Gen 3 buttstock makes customization of the Stag10 a little easier. The rifle uses a Stag Arms two-stage trigger as well as a VG6 Gamma muzzle brake threaded to the muzzle.
A full-length handguard and optics rail allows the installation of countless accessories and optic options.
The Stag 10 is a derivative of countless design advancements over the years, and like most Stag Arms models, it is also available in a left-handed model as well. With its 20-inch barrel, the Stag 10 takes full advantage of the powerful 308 cartridge.
It does this while still retaining the features that make the AR-type rifle so desirable, and so many of its parts are interchangeable with the adult tinker toys that the AR-type rifle has become.
Stag Arms began doing business in the state of Connecticut, like many firearms companies that began on the East Coast.
But as we all know, these states have been far less than friendly to the 2A community. Stag Arms has since moved its operation to the much friendlier state of Wyoming, where it continues to thrive.
Let's take a look at the major aspects of the Stag 10.
Action
The direct impingement action of the AR-type rifle has become one of the most common in America. There are some great benefits to it, particularly a tried and proven design with countless subject tests.
The Stag 10 uses a rifle-length gas tube to funnel the pressures generated by the cartridge into the action. There it is used to push the bolt carrier back, unlocking the bolt and compressing the buffer spring. The spring's energy then pushes the bolt carrier back forward, stripping a fresh round into battery.
The Stag 10 BCG
The safety and trigger designs are extremely well-tested and quite reliable. The whole system works like a Swiss watch when everything is right, and the Stag 10 had it all in place.
Grip
The grip of the Stag 10 is a standard AR pistol grip, specifically the Magpul MOE Grip. has a great angle and is perfectly comfortable from almost any shooting position.
The foregrip area of the handguard is of machined aluminum, the facets of the handguard are ideal for gripping the rifle.
Buttstock
The Magpul Gen3 PRS buttstock is adjustable for length of pull, as well as adjustable comb height.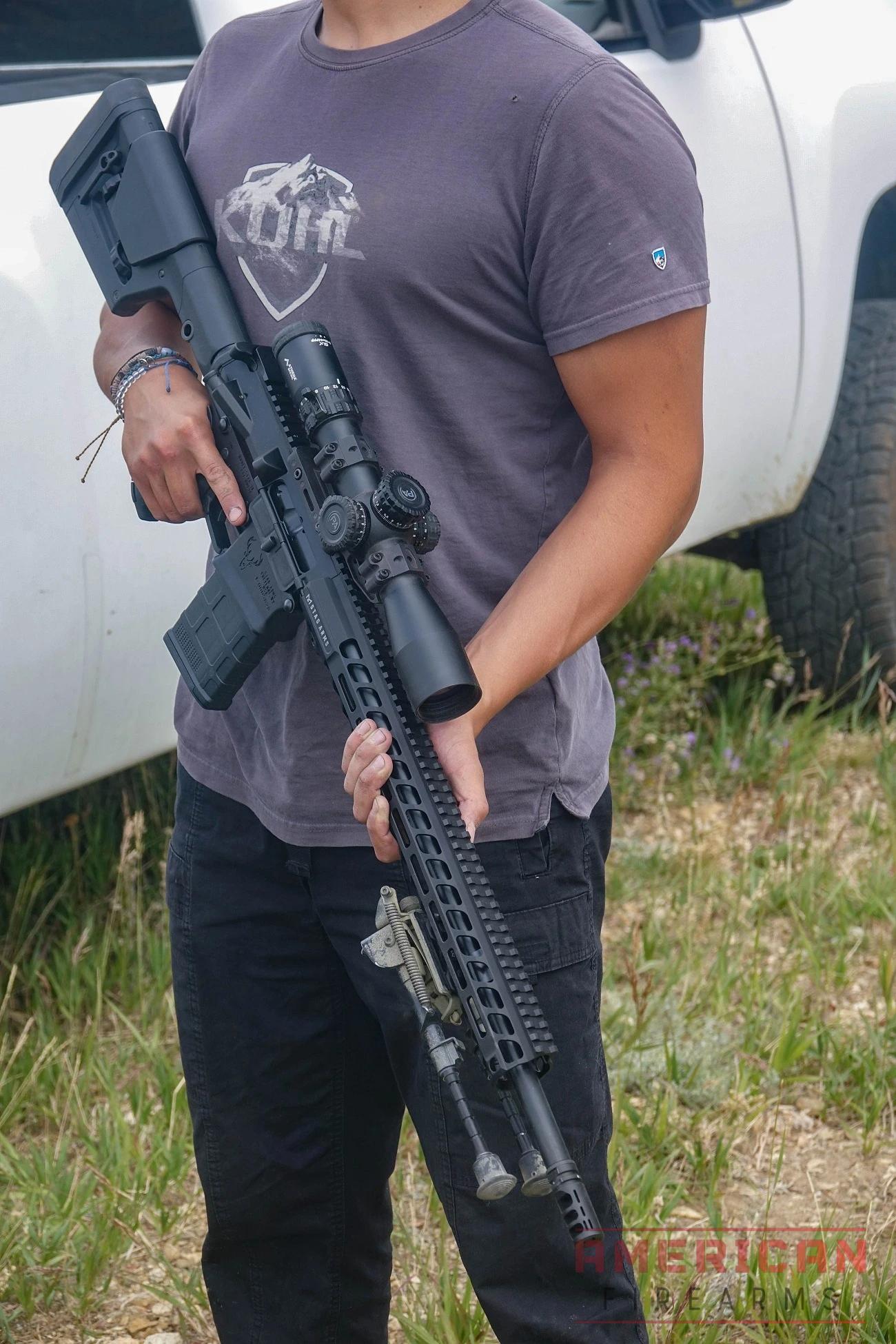 The PRS buttstock is great, but adds length and weight to an already large rifle.
This makes the rifle easier to customize to the shooter, and the additional features like QD sling-cups and pic rails for mounting accessories like a monopod make it a very nice addition.
Trigger
The Stag 10 comes with Stag Arm's standard two-stage trigger. It's a step above a mil-spec trigger but nothing out of this world. It's certainly serviceable. That said I wouldn't mind upgrading it to something better if I were going to spend much time shooting this rifle.
There was a slight scratchy feeling on the second stage, but the pull weight was still quite good, and it certainly didn't prevent me from shooting the rifle well enough to impress me.
Barrel
The twenty-inch barrel of the Stag 10 is made from ChroMoly steel and is finished with a nitride coating. It's threaded at the muzzle with ⅝-24TPI threads which allow you to use a variety of accessories, muzzle brakes, and suppressors.
The Stag 10 barrel is a quality 1:10 twist, ChroMoly steel barrel that's fronted by a VG6 muzzle brake.
The barrel uses a 1:10 twist, which is ideal for a variety of ammunition for bullets as heavy as 210 or more grains. The Stag 10 comes standard with a VG6 muzzle brake to help reduce recoil, and from my experience shooting the rifle, it works very well.
Handguard
The Stag 10 handguard is M-Lok compatible, with M-Lok slots at the three, six, and nine o'clock positions on the handguard. This is very handy for adding accessories like a bipod, additional grips, or whatever else you'd like to add to the rifle.
The handguard attaches with a seamless (and quite slick) clamp.
The full-length Picatinny rail also leaves plenty of room for additional optics options like night vision or thermal clip-ons.
How we tested the Stag 10
To test the function of the Stag 10, I took it into the mountains to shoot the rifle for accuracy and also to stretch it out a bit to see how it does with some distance.
Before doing that, I mounted up one of the new Primary Arms GLx 3-18X44 rifle scopes.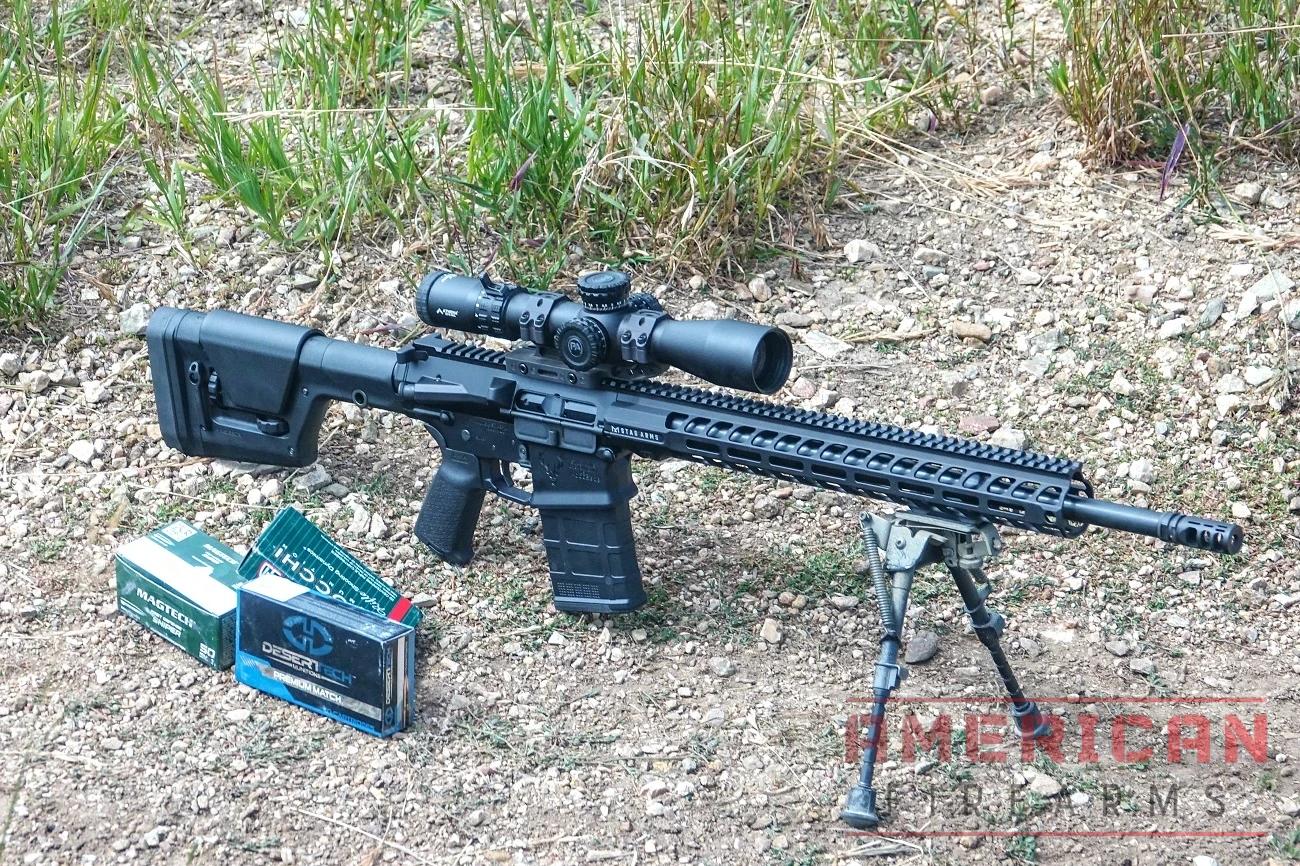 We tested the Stag 10 with Primary Arms GLx 3-18X44 on a Zro Delta one-piece scope mount.
Using a Zro Delta one-piece scope mount to get the proper eye relief and scope height.
I also mounted a Magpul bipod sling stud to the front of the handguard using the M-Lok slots. This allowed me to attach a Harris bipod, in preparation for shooting the rifle from the prone position for accuracy.
With the rifle in hand, I grabbed a few different selections of 308 Winchester ammunition to shoot from the rifle. I also grabbed both a ten-round and twenty-round magazine to ensure I could shoot uphill should I need to (which I did).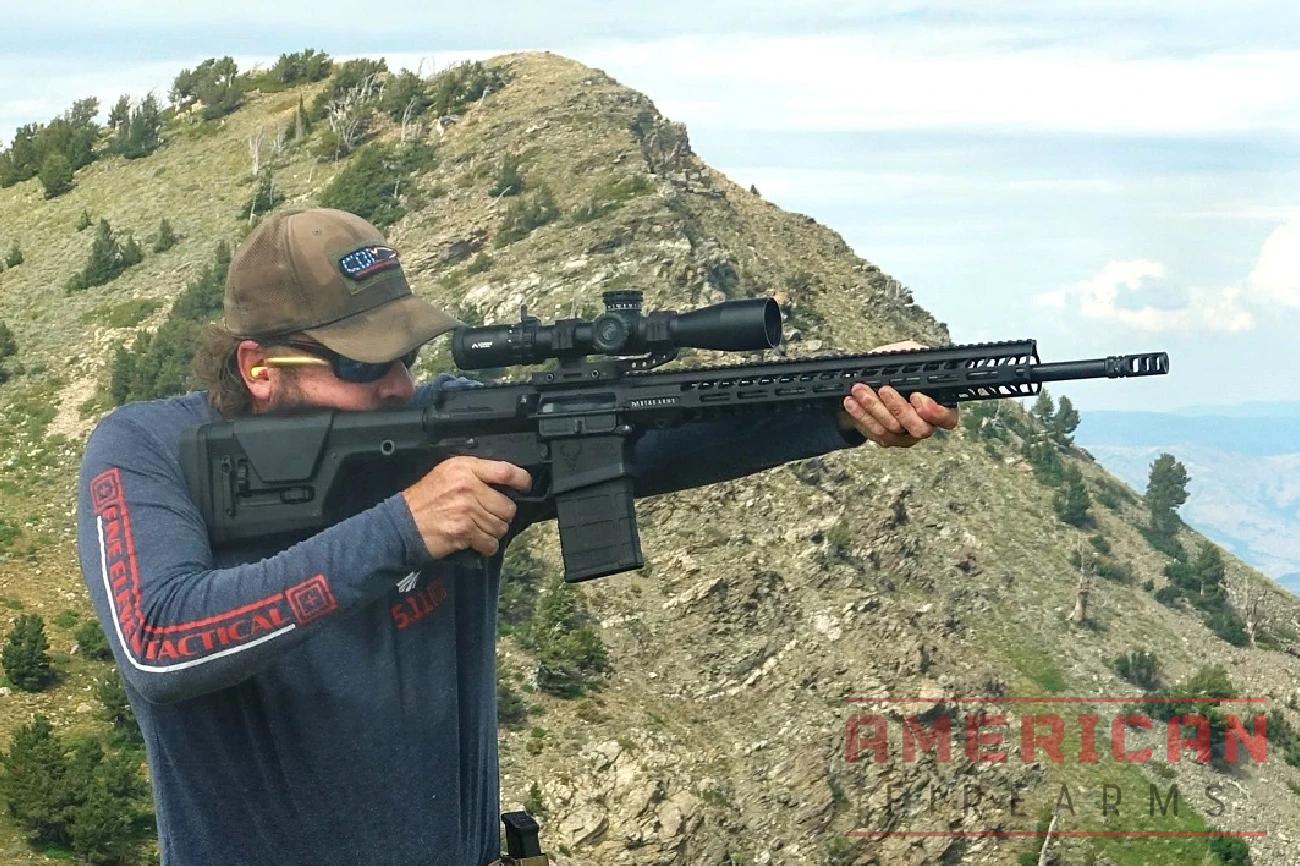 I used the rifle for an assortment of drills, shooting various targets inside of 100 yards.
With a target hung at 100 yards, I zeroed the rifle and adjusted the scope accordingly. With the rifle zeroed, I shot a couple of groups to see how the rifle patterned.
Using both match-grade ammunition, as well as what I would call cheap ball ammunition (150 Grain). The Match grade ammo shot better, but that is no surprise. But even the cheap ammo shot well enough to be quite dangerous downrange.
I used the rifle for an assortment of drills, shooting various targets inside of 100 yards, just to see how this big rifle handled. It surely wasn't as nimble as smaller carbines, but it also wasn't as bad as it could have been.
I was surprised at how I could transition with the rifle from one target to another.
The large size of the rifle, and its significant weight probably also aided in keeping the rifle on target. The impulse of the rifle was quite modest, and I'm sure the muzzle brake had something to do with that as well.
I also shot the rifle at some further distances, engaging targets as far away as five hundred yards. The rifle was quite useful for such tasks, it was not hard at all to hit two MOA targets at that distance.
Shooting off a bipod we could engage targets out to 500 yards with around 2 MOA accuracy.
It may not be as precise as some of the precision bolt action rifles you are used to, but for a marksman-type rifle, it is still quite useful.
No doubt that any target bigger than five inches would certainly be in danger if it was inside 500-600 yards.
Stag Arms has a solid AR-10, but other guns can also scratch the .308 itch if you're a "pass" on the Stag 10.
For an Upgrade: LMT MARS 7.62
A definite step up in price and quality would be the LMT MARS. The rifle features LMT's monolithic rail platform, which also allows easy swapping of different barrels.
High-quality components and finishes are why LMT is often the choice of professionals worldwide.
Budget Alternative: Springfield Armory Saint Victor
One of our favorite AR-10s, the Saint Victor is perhaps a little more affordable option. The Victor comes with a nickel boron bolt carrier group and M-Lok handguard, as well as Bravo Company furniture.
The Saint comes in at 7.8 pounds, which is also appealing, though it may not perform as well as the Stag 10 or LMT for accuracy.