Best Belly Band Holsters: Carry In (Relative) Comfort
Belly band holsters aren't all the same, but narrowing in on what makes one different or better can be a challenge. Here, we'll list the best belly band holsters for all kinds of users.
Written By
Kenzie Fitzpatrick
Competitive Shooter
Edited By
Michael Crites
Licensed Concealed Carry Holder
Share:
Products are selected by our editors. We may earn a commission on purchases from a link. How we select gear.
While many individuals use traditional belt holsters for any situation, there's an emerging appreciation for the versatility and comfort of belly band holsters. What sets the belly band holster apart is its adaptability to a huge variety of situations, whether you're embarking on a casual jog, hiking under a hot sun, or dressing in attire that just isn't belt-friendly.
The Kydex material, prevalent in many of today's belly band models, provides a robustness that rivals conventional holsters, but when paired with the elasticity and fit of the belly band itself, offers unparalleled concealment opportunities without compromising firearm retention.
As someone who has carried concealed every day since the age of 21, I've tried every holster under the sun, and I can say belly bands offer an unmatched blend of concealment, comfort, and accessibility. The beauty of these holsters lies in their ability to accommodate different clothing styles – from workout gear to trail wear and formal attire.
They fill a unique gap, especially for those occasions when traditional belted holsters are too cumbersome or downright incompatible. Both men and women can attest to moments when fashion and function clash – the belly band is the bridge that marries the two.
But as with all things firearm-related, it's crucial to approach the world of belly band holsters with knowledge and awareness. Not every holster is created equal. The choice of materials, design decisions, and even weight distribution can make a world of difference.
Furthermore, it's essential to stay updated on legal requirements and concealed carry permits in your state or county.
As we delve deeper into this topic, remember that while a belly band holster might not be everyone's daily go-to, its innovative design and versatility make it an indispensable tool for those moments when conventional options fall short.
Let's take the plunge.
| Name | Selection | Price |
| --- | --- | --- |
| | Best Overall | $75 |
| | Kydex Belly Band Runner-Up | $80 |
| | Budget Option | $32 |
| | Most Storage | $29 |
| | Also Great | $70 |
Secure Fit
We kept our selections to adjustable bands that fit a wide range of shapes.
Comfort
We selected belly bands that are comfortable to wear all day & for extended time periods.
Solid Retention
A holster that doesn't keep your pistol in place is a liability. We highlighted belly bands that keep pistols secure.
First-Hand Experience
Our experts are CCW cardholders who own or have first-hand experience with our selections.
More on our selection process
Belly Band Holster Reviews
1. Best Overall: Crossbreed Modular Kydex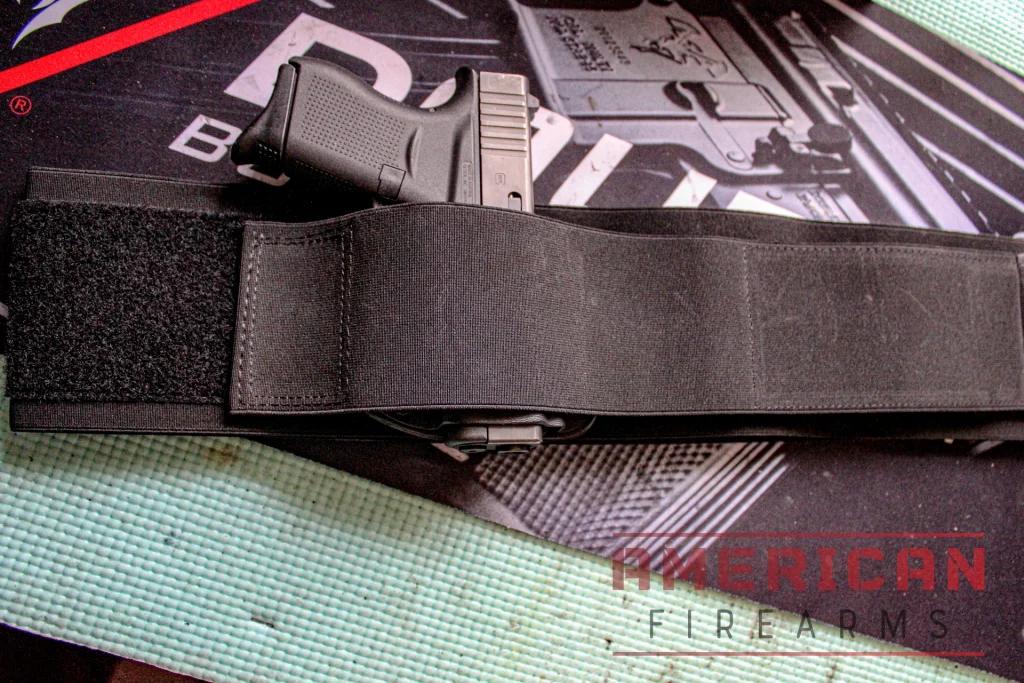 If you're not wearing a belt (say, in Summer months) or need deeper concealment than belt-carry (IWB or OWB) the Crossbreed Modular allows for centerline or behind the hip placement and has kydex holsters molded for dozens of handgun models.
The CrossBreed Modular Belly Band
The Crossbreed integrates a molded Kydex holster with an elastic belly band, giving the wearer more stability than just an elastic belly band but more comfort than a rigid Kydex IWB holster can offer.
I took it hiking as part of our Crossbreed Holster review, and it officially displaced my previous favorite, the Liberty Band, also from Crossbreed.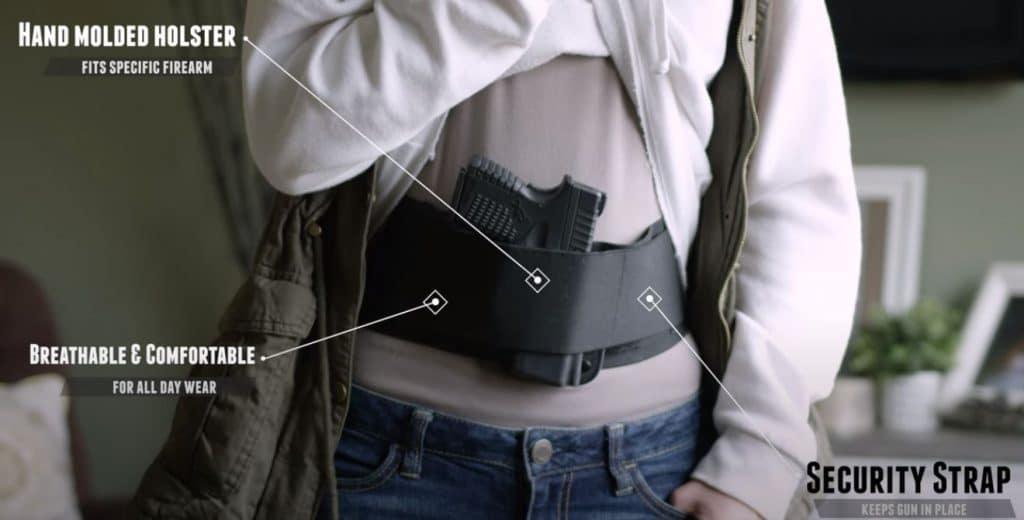 There's 3 distinct components to the Crossbreed's Modular belly band, all engineered to work together seamlessly.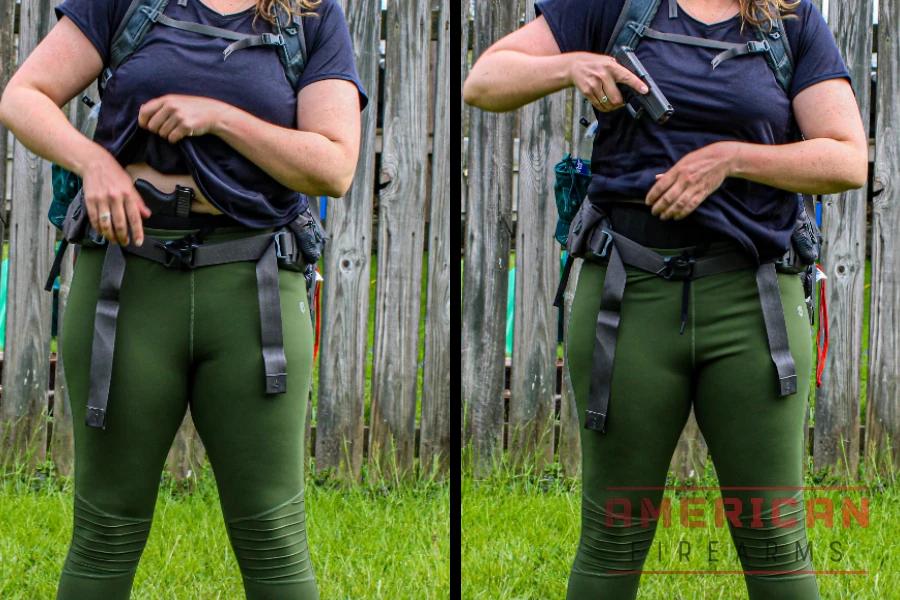 The Modular Belly Band is unbelievably secure for a belly band, thanks to the use of an integrated Kydex holster and the way the band wraps back over the firearm.
2. Kydex Belly Band Runner-Up: Tactica
Things we liked:
Very slim and concealable
Mix of Kydex and neoprene makes for a fantastic fit
Works with a variety of sized weapons
Easy draw angle
Things we didn't:
No safety strap for the holster
Expensive
Single position holster
Designed to be invisible
This holster is designed to be extremely tough to see. It will fit under practically any clothing from a t-shirt to a dress shirt or even scrubs and uniforms.
The beauty is the position of the Kydex holster means there are no compromises in the comfort department, which is rare.
Works well with most firearms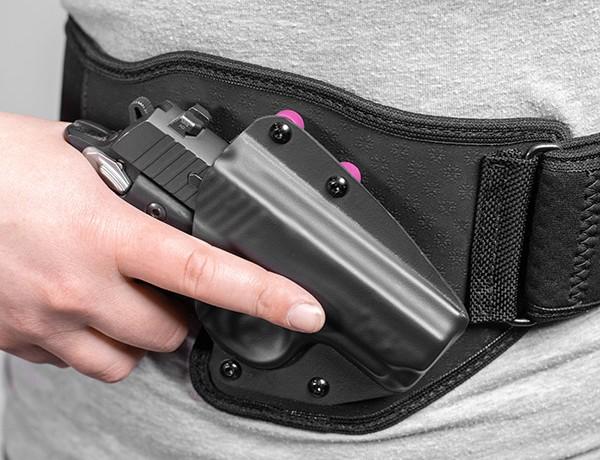 Tactica pairs a molded kydex holster with a solid belly band, giving you secure retention. Photo via Tactica.
Our testers found this holster works well for all sizes of pistols – even full-sized semi-autos – thanks to how the Kydex holster is vacuum formed to each specific gun. This gives you an incredibly stable fit, which is hard to achieve with most belly band holsters, which tend to be fully elastic.
However, there's little chance you'll get anything with an optic or big sight into these, as they're formed for just the pistol. If you have a designated concealed carry pistol with low-profiles sights, you should be fine.
Stays cool
The Tactica uses "CoolVent Neoprene," which is thick enough to be comfortable but still breathable to prevent irritation and hot spots on the wearer.
Flaws worth noting
First off, it's spendy. You'll probably pay 2-3x what you might for a generic elastic holster, so it's not exactly a budget option.
Second is the firearm's position, which means that without a snug fit, the pistol may want to sag, and without a hip to stop it, it can want to fall forward. The belt is sturdy and high quality, but gravity can be unforgiving.  It's also a single position holster, so you can't move it around to find the perfect fit.
That said, few belly band holsters pair the stability of a Kydex holster with the comfort of a neoprene band better.
3. Budget Option: ComfortTac
Things we liked:
Neoprene construction
Soft material and comfortable
Works with sweat pants, gym shorts, jeans or any garment
Holster fits up to 54 inches
Works with any size pistol
Things we didn't:
Can ride up depending on your body type
Retention strap be more secure
Can get hot
We like the ComfortTac Ultimate Belly Band HolsterBest Holster For Running
Room for everything you need & nothing you don't
This belly band holster has a holster for your weapon and an additional magazine, making it ideal for semi-automatic pistols. However, the universal holster would work for a variety of revolvers.
The ComfortTac holster offers the best blend of concealment, comfort, and ease of use of all the options we came across. Our testers found the neoprene material to be favorable to elastic used in many other bands.
Elastic holsters aren't as durable as neoprene, and we feel neoprene material is, in general, the better option.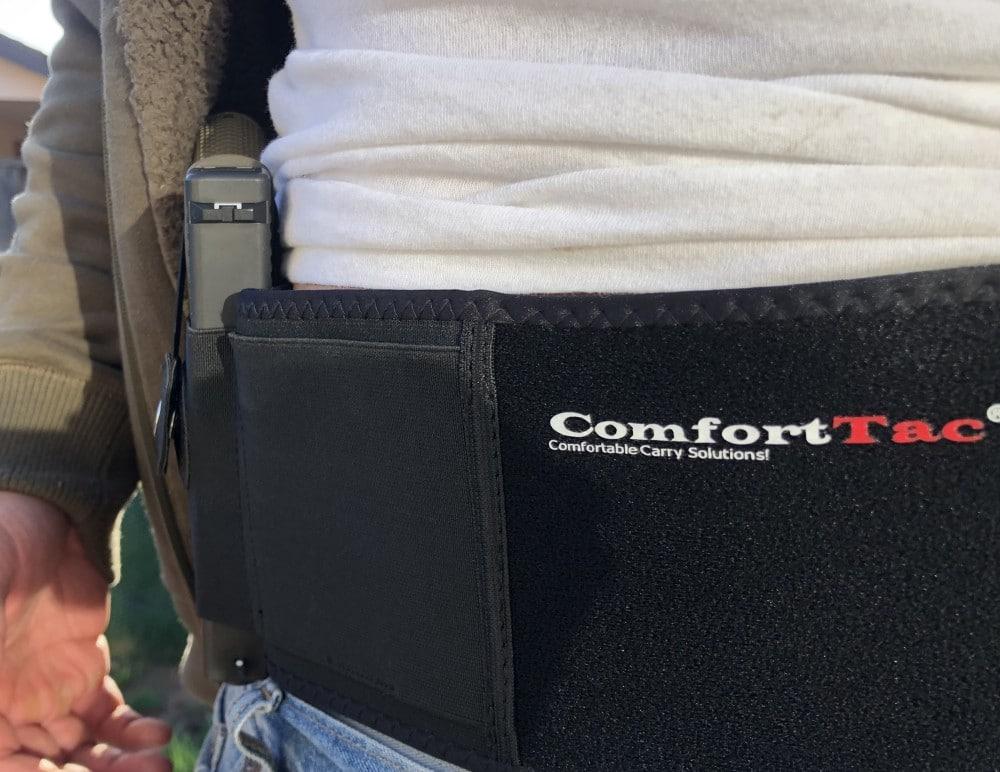 The ComfortTac's simple design give the wearer many options for carry placement.
Works both IWB & OWB
We also liked the fact that this holster could be worn as an IWB holster or outside. Either way, it will stay in place and doesn't require you to wear a belt.
The sturdy elastic band makes it easy to wear this holster when jogging, hiking, or simply going out for a walk. It's easy to wear and is available in both right, and left-hand draw — or even a cross draw — giving those southpaws out there a fantastic option.
There's a metal snap to help hold your pistol in the holster. Some of our testers noticed this snap easy to accidentally open with an upward movement due to the way the snap lays against the body, but this was the only real issue with the holster.
Otherwise, we found it to be an excellent holster for concealed carry.
4. Most Storage: Bravobelt
Things we liked:
Flex fit design
Ambidextrous, modular holster system
Perforated neoprene construction
Works with any apparel
Works with practically any pistol
Things we didn't:
Bulkier than some other options
Can be hard to re-holster
Only fits up to 44-inch waists
The makers of the BRAVOBELT Belly Band Holster designed it with comfort in mind. This belly band holster features neoprene like the ones above, but this particular holster has perforated neoprene for extra breathability.
The neoprene makes it better for active people or wearing a belly band holster while running.
Works with almost any apparel choice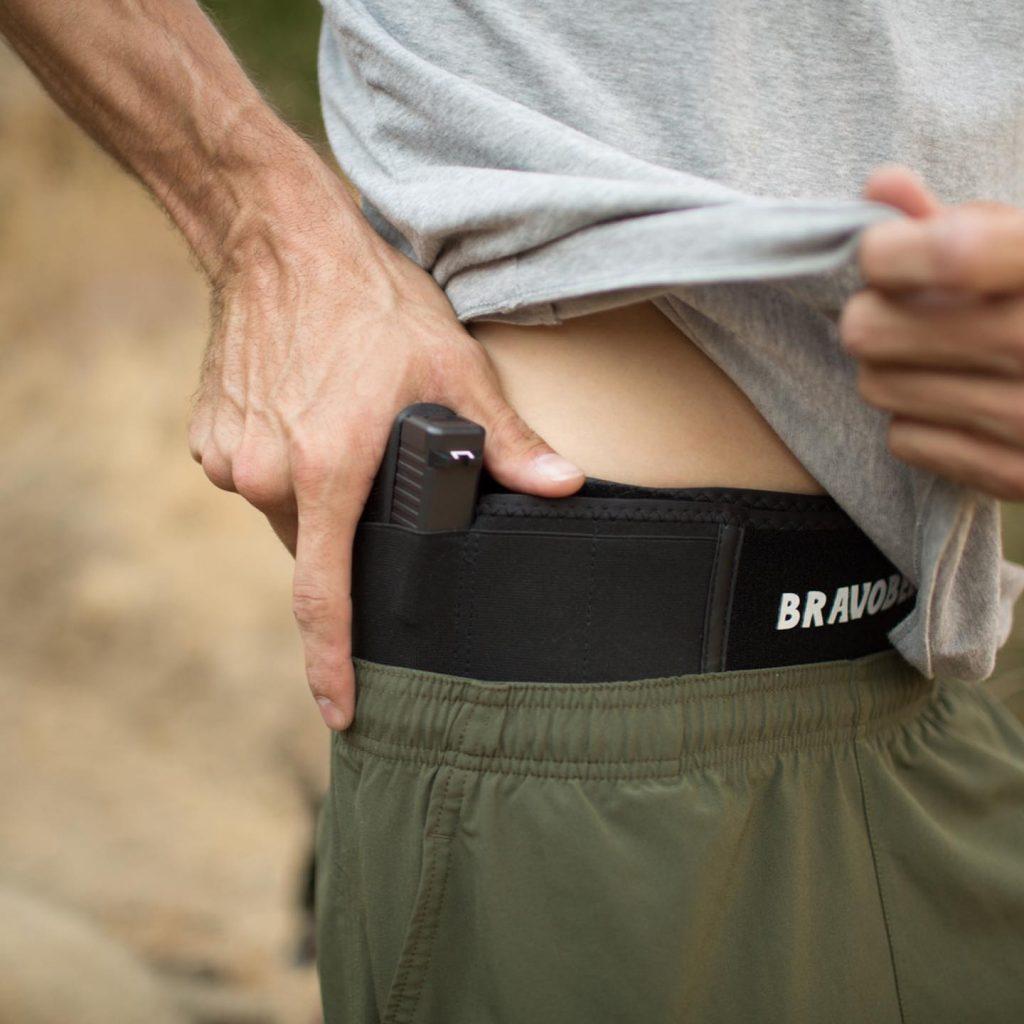 The Bravobelt performs well even with lightweight shorts and gym apparel.
Additionally, the fit of the belly band holster is specifically designed to be more comfortable and work with any apparel that you choose to wear, whether that be shorts, sweatpants, leggings, or jeans.
It's not quite as slim as some other options out there, meaning you may not be able to wear a form-fitting shirt and still conceal your weapon, but you should be able to wear this holster all day long comfortably.
Ambidextrous & modular holster system
One of the unique things about this holster is that it offers an ambidextrous and modular holster system.
You can easily rotate the holster or adjust it to draw with your right or left hand.
While other holsters offer left or right and draw availability, the option to switch and still have the holster feel comfortable is a major plus.
Pair that with the soft & comfortable material wherever the holster touches your body, and you have a fantastic option.
Shortcomings
The lack of a rigid holster means your target when re-holstering your weapon is the built-in band, which may require two hands to pull off consistently, making it a little more complicated than traditional OWB/IWB holsters.
Also, the Bravobelt fits waists up to 44 inches, so if you're larger than that, you'll need to look elsewhere.
5. Also Great: Can Can Concealment
Things we liked:
Designed specifically for women
Low profile and easily concealable
Easy to draw your weapon
Easy to re-holster your weapon
Things we didn't:
Elastic instead of neoprene
Magnet retention system can fail
Not as comfortable as BRAVOBELT
Doesn't work with every handgun
Despite the benefits women can glean from wearing a belly band holster, finding one that checks all the boxes for the female form can be a challenge.
Fortunately, the Can Can Concealment Hip Hugger Elite was made with women shooters in mind.
Made to fit a woman's body
This holster features a design made to fit a woman's body, specifically around her hips. Our testers found that the Can Can isn't fantastic for revolvers.
However, it will work with most compact or small frame pistols and offers a holster on both the left and right sides of the body. We also found that it's a fantastic option for joggers and people who are active outdoors.
It sits lower on the hips.
Many of the belly band holsters sit up higher than this option. This one puts your weapon closer down towards your hips for a more natural draw of your weapon. With all that said, the elastic material may not hold up exceptionally well over time, and we'd have referred a Velcro or snap retention system to the magnet they use.
Make sure you measure before buying.
The largest option for the Can Can is 45 inches. Our experts noted the importance of accurately measuring your hips to ensure you purchase the correct size.
The size of the holster is not the same as what you might buy in pants or leggings. You need to measure your hips and then select the size that's appropriate for you. If you do that, you should be pretty happy with this holster.
What to Look for in a Quality Belly Band Holster
A belly band holster can accommodate almost any kind of handgun.
A belly band holster is one of the easiest and most comfortable ways to use deep concealment with a pistol or revolver.
While many concealed carry users prefer a typical hip holster, a belly band holster can be a more flexible option due to its improved concealment factor and support for a wide variety of pistols with a single holster.
They're also usually more comfortable than traditional gun holsters and don't require a gun belt.
Finding a belly band holster that's right for you isn't always easy. With plenty of options out there these days, and we wanted to showcase some of the best. With our guide, you no longer have to dig through hundreds of products without a sense of what to look for.
To find the best belly band holsters, we spent a week field-testing eight options in various everyday carry situations and handguns.
After testing this collection running around town & tackling different tasks, our experts broke down the best-performing belly band holsters by specific use case (and provided a few general recommendations), which offered the best mix of performance, functionality, and price.
Three things matter most when it comes to a belly band holster: comfort, concealment, and ease of use.
It would be best to look for an option that correctly balanced these three things, as the best holsters do these three things well.
1. Secure Fit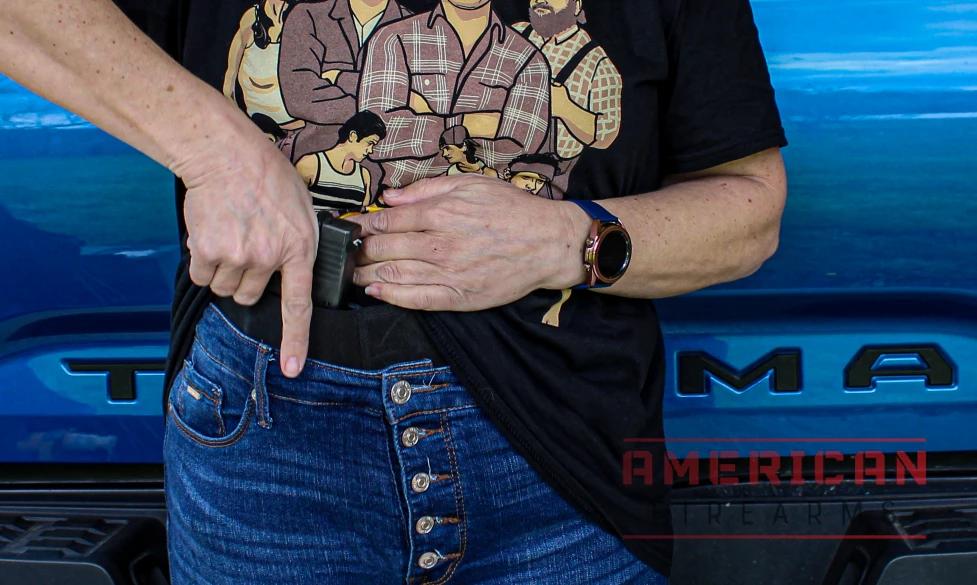 Without a secure fit, smooth draws will be challenging -- as will keeping the firearm where you want it.
One of the best aspects of belly band holsters is the way they secure a firearm to your body. Other holsters generally rely on a gun belt or external apparatus to clip the holster onto.
Belly band holsters have a snug, elastic band that holds the pistol more closely to your body, ensuring the firearm will stay put even when jogging or exercising.
2. Flexibility
Given that belly band holsters tend to use elastic pouches as a built-in holster (rather than a separate leather or Kydex holster) the pouch is very stretchy, which means you can generally use a single belly band holster with a wide variety of handguns – from micro-compacts to your Government 1911.
3. The Right Number of Pockets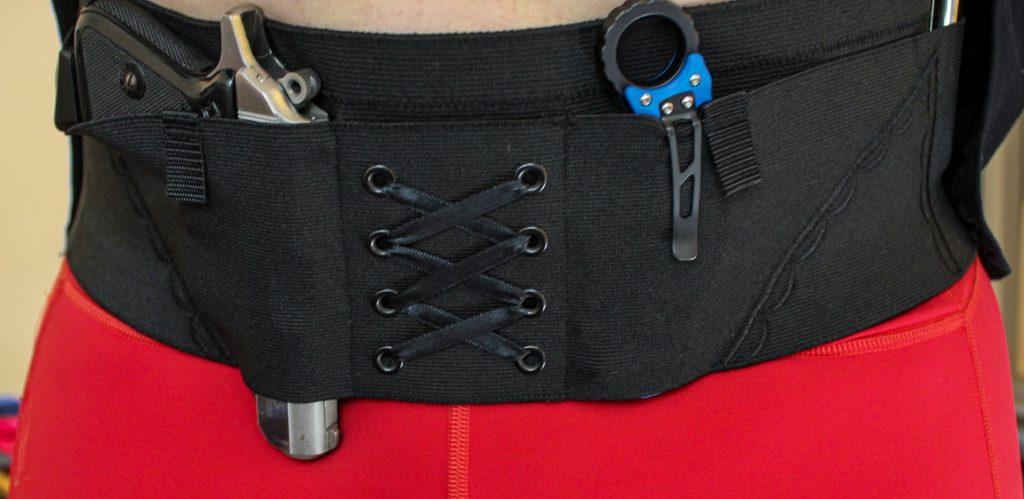 Our field tests noted that when belly band holsters have too many pockets, they can make the band bulky, so we eliminated those from our recommendations.
While this might seem advantageous — the point of a belly band holster is to conceal — and pockets both have their own dimensions and tend to fill with stuff, making the holster bigger, heavier, and defeating the purpose.
Overpacking a belly band also makes concealment difficult and negatively impacts comfort.
A better option would be something with only a couple of pouches and pockets explicitly designed for a firearm, a magazine pouch, or maybe something slim like a smartphone.
Any more than that, and you'll struggle with comfort or concealment.
Shortcomings of Belly Band Holsters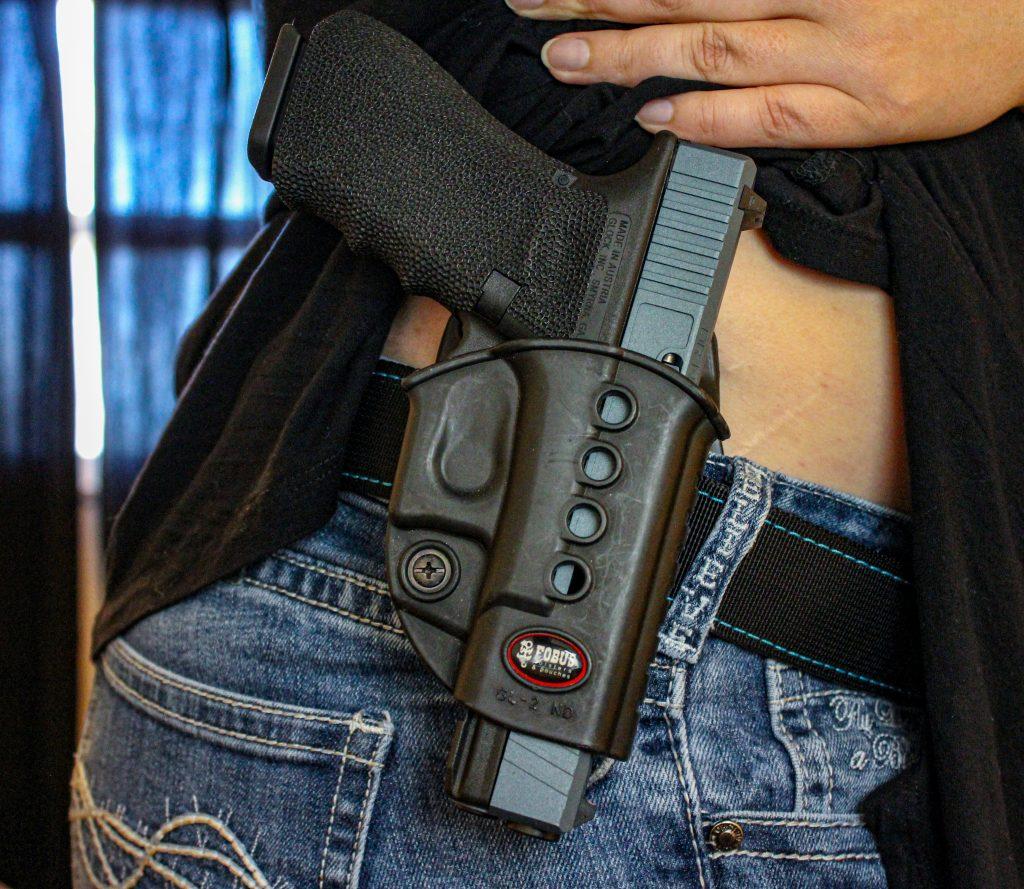 Belly band holsters generally don't give you the precise fit and control of other holster styles.
Belly bands are big elastic bands, which means — unless they're paired with a Kydex or molded holster — they're not engineered for a precise fit. This means draws can be slower than IWB and OWB holsters. You'll likely need to move your shirt or jacket to get a grip on your gun, which will slow you down.
The "holsters" in a belly band aren't exactly holsters either — they're pockets — which means the pockets will close as soon as you remove your pistol, requiring you to use both hands to re-holster your gun. Not a massive issue, but one that leather and kydex holsters don't have. The soft holster in a belly band concealed carry holsters also tend not to offer much in the way of trigger guard protection.
Also — belly band holsters absorb whatever liquid they come in contact with, which — more often than not — will be your sweat. They hug your mid-section, which generates heat. That heat means sweat, especially when on the move or exercising. This means they will eventually stink like a gym shirt, and you'll want to wipe down your pistol to prevent rusting or discoloration from the slight acidity of your sweat.
Having the best belly band holster will ensure that you have your weapon when you need it. These kinds of holsters can be used in different situations where other holsters might not. It's the unique design of the holster that sets it apart from the competition.
Our hope is that one of the choices highlighted above will be the right option for you so you can feel safe and secure no matter where you go. With the various options showcased here, you should be able to find at least one holster that will work for your needs.
Of course, if you're in the market for a new holster, be sure to check out all of our holster reviews – including guides for ankle holsters, as well as our guides to concealed carry belts, jackets, pants, & CCW vests.

April 20, 2023 — We're testing a number of belly band holsters for this year's version of the guide, including products from Alien Gear, Blackhawk, and Galco. We'll update with our findings once testing is complete.
Sign up for our newsletter
Get discounts from top brands and our latest reviews!